2021 • 5 • 29
The Ilocos Region is gradually reviving tourism and has reopened its provinces — Ilocos Norte, Ilocos Sur, La Union and Pangasinan — to tourists. However, because the pandemic is still around, certain safety regulations and health protocols are still in place.
Among the necessary steps to take prior to the trip is scheduling a visit. You must be able to do this at least 5 working days prior to your intended travel date. Approval of Tourist Passes are processed within 48 hours.
In this post is the step-by-step guide on how you can do that. Before you could schedule a visit, you need to sign up for a TARA NA! account first. Here's how:
WHAT'S COVERED IN THIS GUIDE?
How to Create a TARA NA! Account
1. Prepare the following identification documents.
Profile Picture
Valid Government ID (with photo)
Selfie of you holding your valid ID
Note: Make sure that the file size of your photos are 4MB or less.
2. Go to the Tara Na! VISITA website.
Log on to region1.tarana.ph and click REGISTER.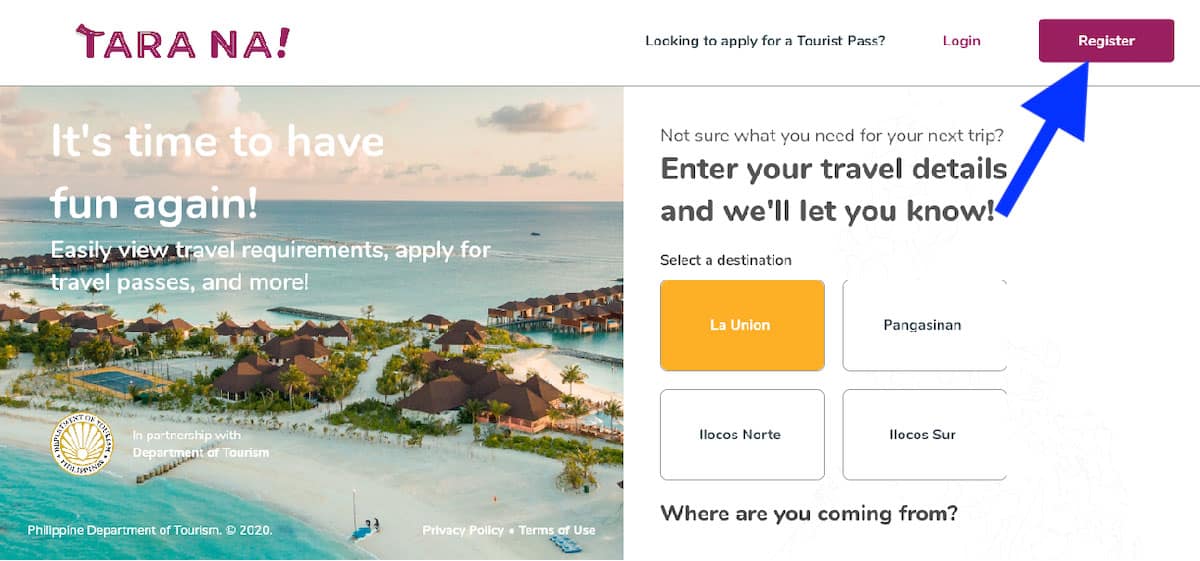 3. Fill out the registration form.
Enter your birth date and click CONTINUE.
Enter your First Name, Last Name, email address, and password then, click SIGN UP.
Fill out the details of your personal info then, click SAVE & CONTINUE.
Enter your current address and click SAVE & CONTINUE.
4. Upload your IDs.
Choose which type of ID you have and type in your ID number.
Upload your identification proof: profile picture, valid government ID, and Selfie holding your ID.
Click SAVE & CONTINUE.
5. Review all details.
Make sure they are correct. If everything is accurate, click FINISH.
6. Download your QR Code.
You will need this on your visit. Then, click proceed to Tara Na!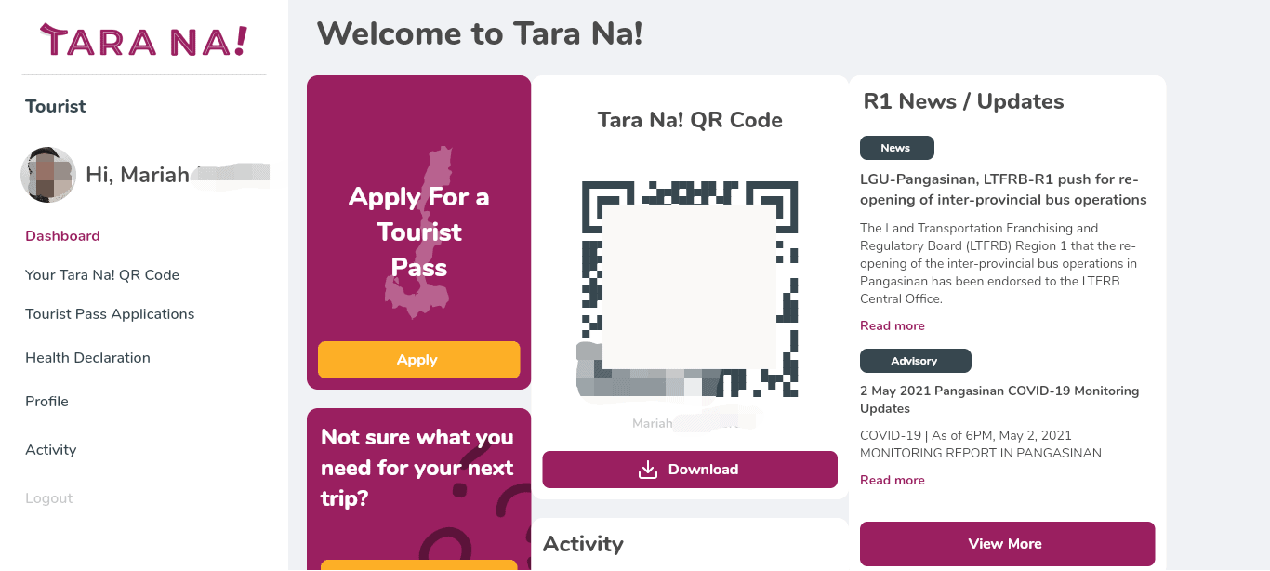 ---
How to Schedule a Visit
1. Sign in to your Tara Na! account.
You may skip this step if you've newly created an account. If you don't have an account yet, follow the steps above.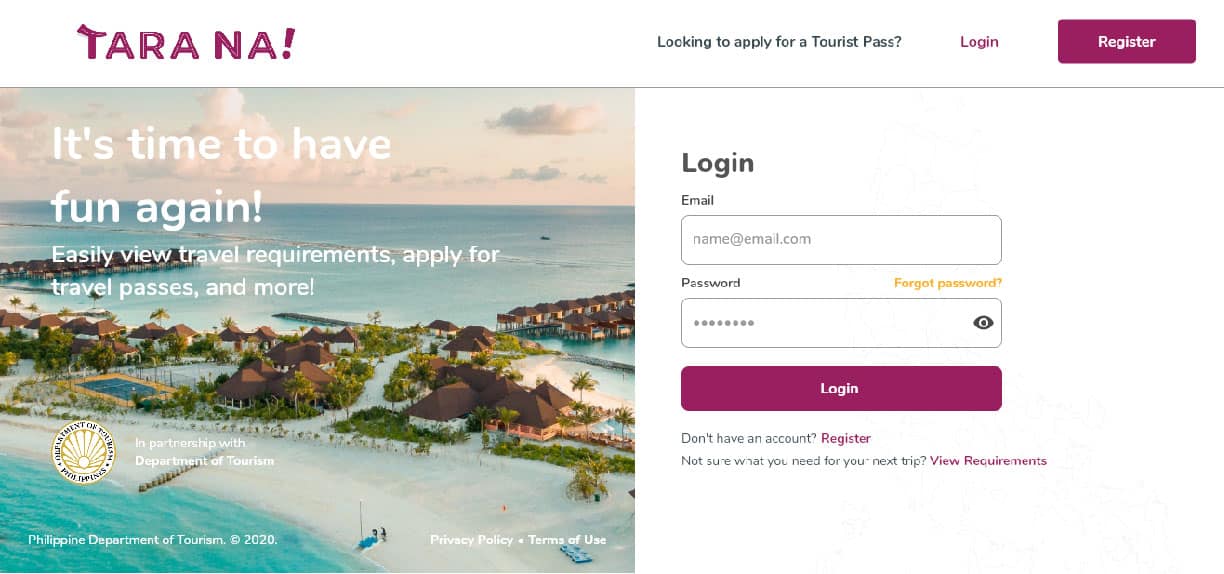 ---
2. Apply for a Tourist Pass.
On your dashboard, go to TOURIST PASS APPLICATIONS and click APPLY FOR A TOURIST PASS to schedule your visit.
---
3. Select your destination.
You have four options: LA UNION, PANGASINAN, ILOCOS NORTE, and ILOCOS SUR. Just pick the destination you want to visit.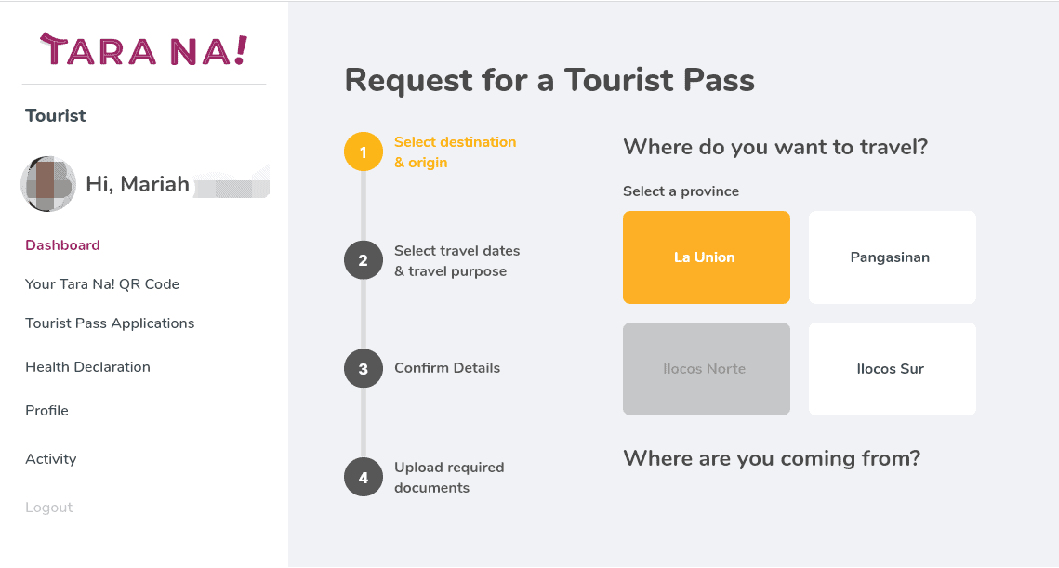 ---
4. Enter your origin.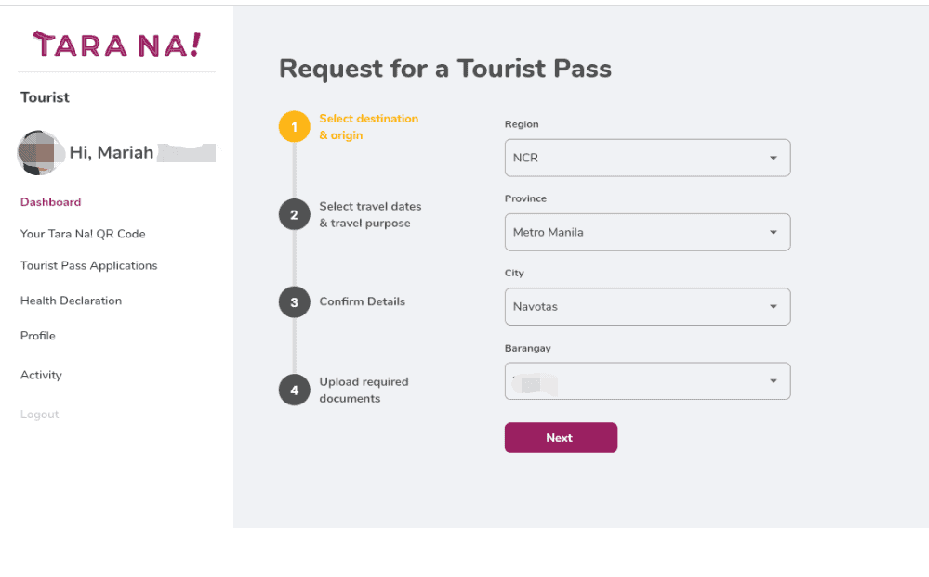 You'll be asked for the following information:
region
province
city or municipality
barangay
Click NEXT.
---
5. Enter your purpose and travel dates.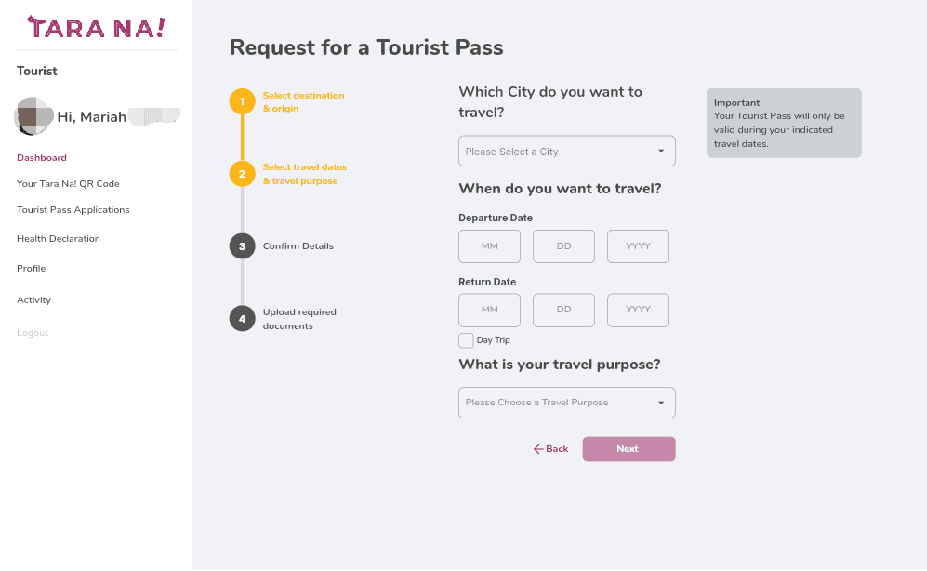 You need to declare the specific area (city or municipality) you plan to visit.
Select your date of arrival and departure. Your travel pass will only be valid within these dates. If you're going on a day trip, tick the DAY TRIP box.
Select your travel purpose. If you're traveling for leisure, choose Tourist.
Confirm your travel details. If everything is in order, tap SUBMIT APPLICATION.
---
6. Upload required documents.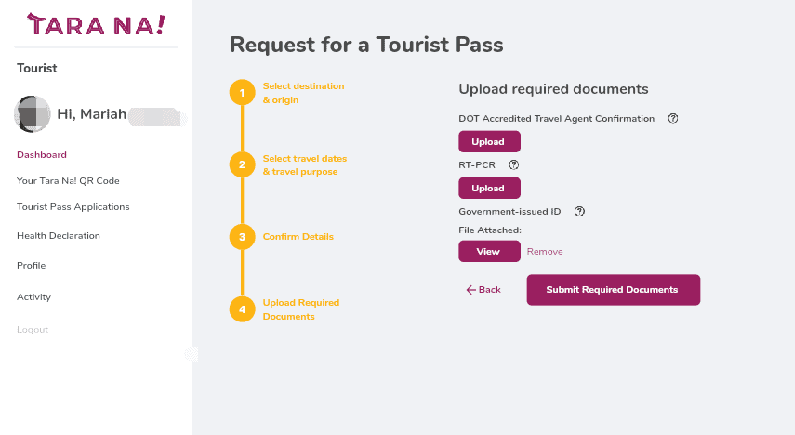 Once your application is submitted, you may upload the requirements. You may do this now if you have them ready, but you may also choose to do it later.
The list of requirements vary depending on your specific destination and your origin, so it will be hard to list them all down here.
If you want to have an idea what additional documents might be needed, you may check via S-PASS.PH website. Just search for the province and then the specific destination. Then click on VIEW DETAILS. The updated list of requirements will be presented on the next page.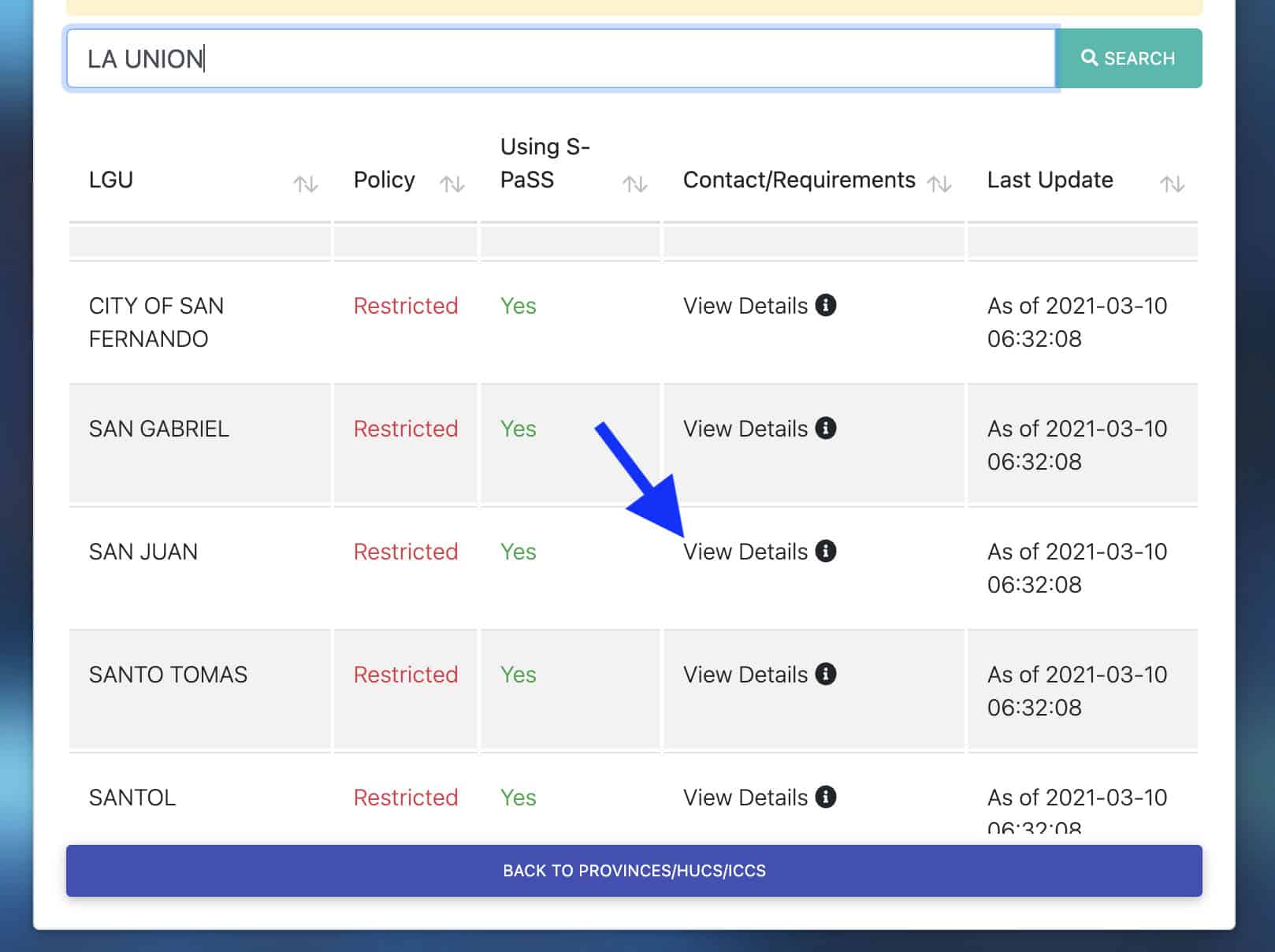 That's it! Travel safe and enjoy your trip!
---
---
Published: 29 May 2021