As of: 9 January 2022
After a couple of months of travel leisure suspension, the City of Baguio is once again opening its doors to tourists! But this time around, they are only accepting fully vaccinated travelers for now. This is part of efforts to slowly revive tourism in the city.
However, visitors are required to sign up for a Baguio VISITA account, schedule their visit, and follow the health protocols during their stay. If you're considering a trip to Baguio soon, we'll share with you the requirements you need to present and steps you need to take in this article.
WHAT'S COVERED IN THIS GUIDE?
Who can visit Baguio?
Only the following travelers are allowed to enter Baguio City:
Fully-vaccinated adults. You're considered fully-vaccinated 2 weeks or 14 days after receiving your second shot for 2-dose vaccines (only shot for one-dose vaccines).
Unvaccinated minors aged 12-17. A negative antigen or RT-PCR test result conducted within 72 hours before arrival or during Triage screening upon arrival is required.
Minors aged 11 or below. Minor shall be tested at the option of the parent or adult guardian accompanying them.
---
Who are NOT ALLOWED to Enter Baguio?
The following are NOT allowed to enter Baguio City for now.
Travelers from ECQ, MECQ, Alert Level 4 and Alert Level 5 areas. The community quarantine status of your origin may change so ask the LGU for the latest update. These restrictions may also change in the future.
Unvaccinated or partially vaccinated ADULTS. If you only got one shot of a two-dose vaccine, you are considered "partially vaccinated."
---
What are the requirements to visit Baguio?
Negative Test Result. Effective 10 January 2022, this is required from travelers coming from areas under ALERT LEVEL 3 (e.g. Metro Manila), including fully vaccinated adults. This may be an RT PCR test done within 72 hours prior to arrival or antigen test done within 24 hours prior to arrival in Baguio. See list of accredited and licensed testing laboratories below or here!
Baguio Visita QR-coded Tourist Pass (QTP) and confirmed schedule. You may need a valid ID and a recent photo to complete this. You'll find a step-by-step guide on how to get a QTP below.
Vaccination card or certificate (for fully-vaccinated adults). You will be uploading a copy of this and you need to bring this when you travel. You're considered fully-vaccinated 2 weeks or 14 days after receiving your second shot for 2-dose vaccines (only shot for one-dose vaccines).
Proof of accommodation. If you're staying in a hotel, book an accommodation establishment that is listed on Baguio VISITA. You can also find below a list of accredited hotels in Baguio.
Triage upon arrival. Rapid antigen testing may be done here. More info below.
Here are other important notes to keep in mind.
Schedule your visit at least one (1) day before your trip.
Only 3,000 travelers per day will be allowed entry so make sure you schedule your visit beforehand.
Your travel request will be approved only after the authorities have verified or confirmed your booking with the hotel or accommodation establishment that you indicated.
No QTP, no entry! QTP refers to the QR-coded Tourist Pass, which will be issued to you when you register or schedule your visit. No walk-ins or on-the-spot registration. Travel only once you have a QTP.
---
What to Do Before Visiting Baguio
Here are the steps you need to take before your trip.
1. Create a BAGUIO VISITA account.
To do this, go to the official website of BAGUIO VISITA at visita.baguio.gov.ph.
Baguio VISITA is a new arm created by the local government, in collaboration with the Department of Tourism and the Tourism Promotions Board, to facilitate tourist processes in the city. VISITA stands for VISitor Information and Travel Assistance.
The website looks like this: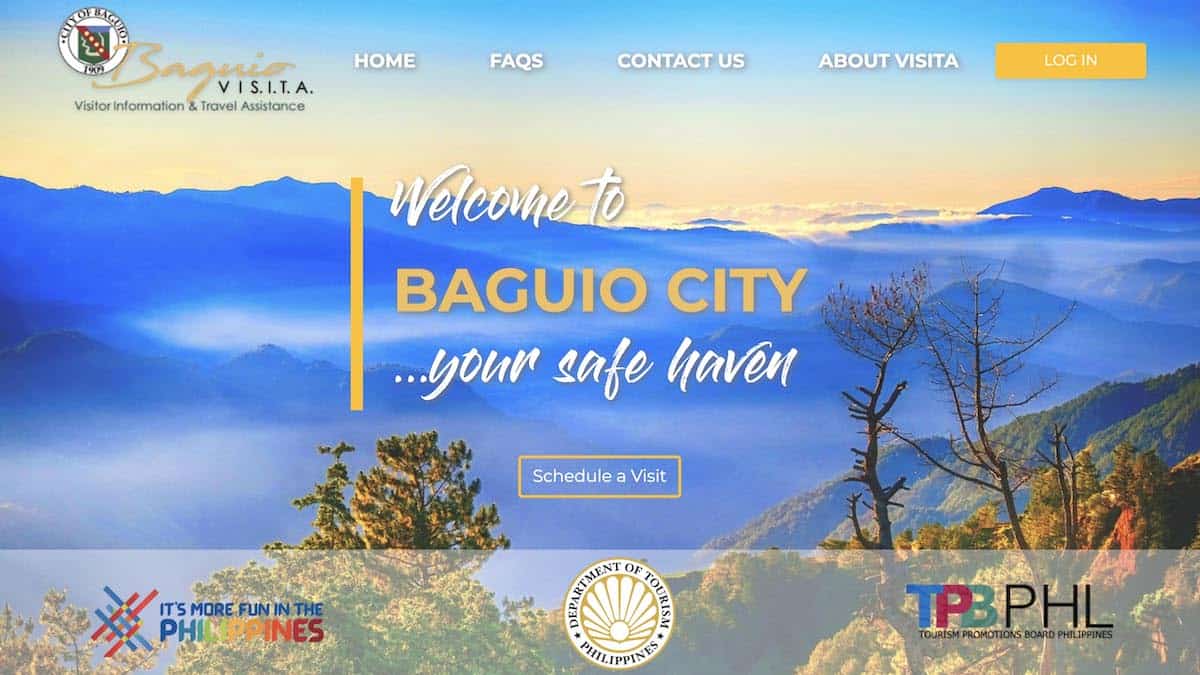 To sign up for an account, follow these steps:
Accomplish the sign-up form. Enter your personal info (name, nationality, birth date, etc.), current address, and contact details.
Upload a valid ID and current photo for identification. Most government IDs like passport, SSS/UMID, driver's license, senior citizen ID, and voter's ID are accepted.
Read the Data Privacy and Consent Agreement. Click Confirm if you accept the terms.
Check your email inbox. A verification link will be sent to your email address. Click on that and you'll be redirected back to the VISITA website.
Login again to finalize verification process.
That's it! You now have a BAGUIO VISITA account.
---
2. Schedule a visit.

Log in to your account. You will be greeted with an illustrated menu.
Click on SCHEDULE A VISIT. You will be presented a form.
Complete the scheduling form. You will be asked to provide details about your trip including your point of origin, purpose of travel, mode of transportation, your travel dates, your travel agency, your hotel or contact person in Baguio.
Accomplish the HEALTH DECLARATION FORM. You will be asked questions about your current health (whether you're experiencing symptoms), exposure history, and other clinical information. Click SUBMIT!
Upload a copy of your VACCINATION CARD. Once you have uploaded the documents, click CONFIRM. Although your registration can still be processed even if you skip this step, it's highly recommended that you upload a copy of the vaccination card or certificate. Either way, you must bring your vaccination card when you travel as it will be checked at Triage on arrival day.
Check your email. After completing the Health Declaration Form, your application will be reviewed, which can take up to 24 hours. Once done, you should receive an email confirmation with a link to a QR Coded Tourist Pass (QTP).
Download your QR Coded Tourist Pass (QTP). This code is unique to you and it contains your name, photo, and travel dates in Baguio. You must print it or save on your device.
The QTP is essential. You have to keep a copy with you at all times when in Baguio because you will need to scan it at certain checkpoints including the triage area, hotel reception, and key attractions around the city.
The QTP looks like this: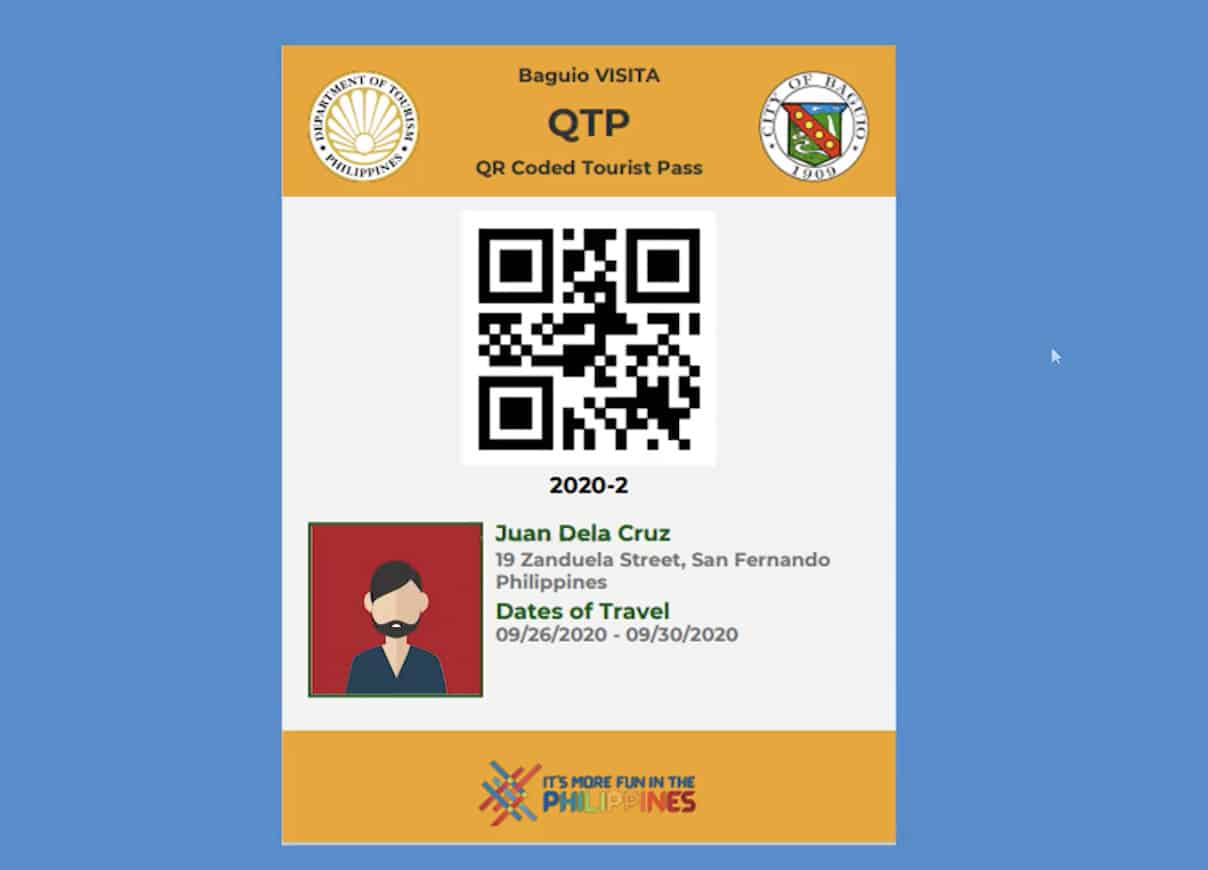 ---
3. Upon arrival, proceed to TRIAGE.
All tourists must undergo triage when they arrive in Baguio City.
We're still trying to confirm its updated locations but before the recent closure, these spots are the Camp John Hay Triage and the Central Triage near Baguio Convention Center.
Visitors who are showing symptoms, regardless of the test result or their vaccination status, will be tested, isolated, and referred to health officials for next steps.
---
4. Follow all health and safety rules within the city.
Wear a face mask at all times.
Observe physical distance of one meter.
Wash or sanitize your hands whenever possible.
Try to avoid crowded places as much as you can.
---
FREQUENTLY ASKED QUESTIONS (FAQs):
Are children / minors allowed to visit?
Yes. But remember:
For unvaccinated minors aged 12-17, present negative antigen or RT-PCR test result conducted within 72 hours before arrival or during Triage screening upon arrival.
For minors aged 11 or below, minor shall be tested at the option of the parent or adult guardian accompanying them.
Are there available public transportation options to Baguio?
Yes, visit this page for your options: BAGUIO BUS SCHEDULE!
Within the city, taxis and jeepneys are operational.
Where can we stay in Baguio?
It is highly recommended to book an accommodation with a Certificate of Authority to Operate (CAO) from the Department of Tourism. Here are just a few of many options: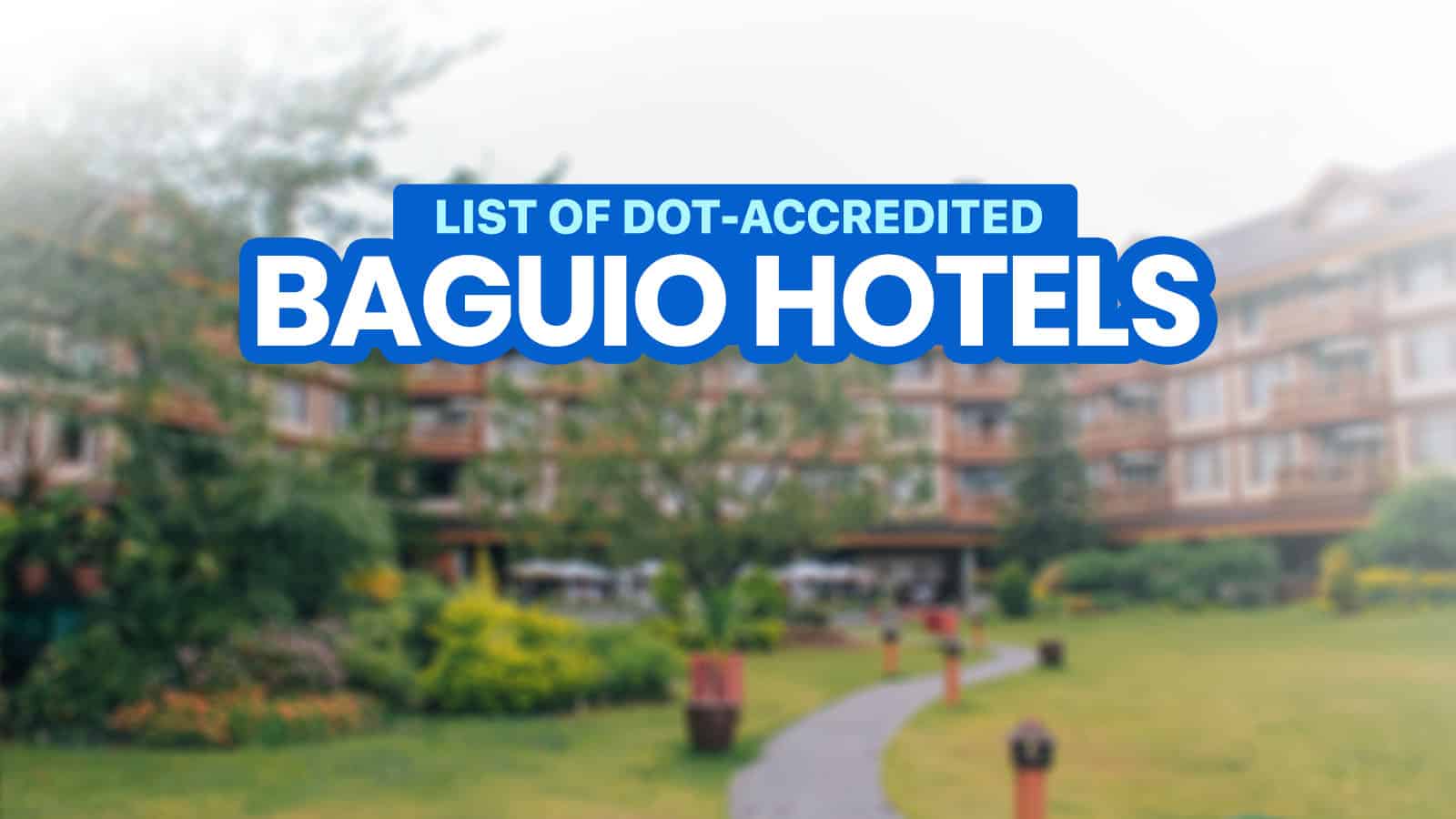 For more options, check out this post: LIST OF DOT-ACCREDITED HOTELS IN BAGUIO! ✅
Staying in a stranger's residence for a fee is NOT ALLOWED and is punishable by law. If you're paying for lodging, make sure you book an authorized hotel or inn.
What are the accredited COVID-19 testing centers?
There are dozens of licensed COVID-19 testing laboratories around the Philippines. But here are a few that you may book online via Klook.
SEE FULL LIST OF ACCREDITED TESTING CENTERS IN THE PHILIPPINES!
Are leisure tours allowed in Baguio?
This section is as of August 2021:
All types of tours including DIY or same-day tours are already allowed.
However, if you want to visit attractions in Baguio, La Trinidad, Itogon, Sablan, Tuba, and Tublay (BLISTT) it must be coordinated with the local government. For your convenience, you may arrange a tour in these areas with accredited tour and travel agents.
---
UPDATES LOG:
2020 November 19 – Originally published
2021 March 2 – Removed swab test as requirement. Added public transportation options. Expanded scope to all tourists from PH.
2021 March 19 – Negative RT-PCR/Antigen/Saliva test requirement is reinstated.
2021 July 5 – Vaccine card/certificate is now accepted for fully-vaccinated travelers.
2021 October 26 – Baguio reopens to leisure travelers. Only fully-vaccinated adults and minors aged 12-17 with negative antigen or RT-PCR test are allowed. More details above.
2022 January 10 – Leisure travelers coming from areas under Alert Level 3 (including Metro Manila), even those who had been fully vaccinated, are required to present a negative test result.
---
More Tips on YouTube ⬇️⬇️⬇️