Schedules last updated: 6 SEPTEMBER 2021
More and more popular tourist destinations in the country are gradually opening their doors again to visitors to help the economy bounce back. One of them is Baguio. Of course, guidelines and protocols are still implemented and must be strictly followed by inbound travelers, especially tourists.
Following the reopening of Baguio, bus companies are doing the same for their routes, especially the Manila to Baguio trips. If you are traveling to Baguio from Manila soon, here are the bus schedules for both Genesis Transport (including JoyBus) and Victory Liner bus companies.
---
WHAT'S COVERED IN THIS GUIDE?
Genesis Bus Schedule
Genesis has daily trips from Manila to Baguio and Baguio to Manila. As of this writing, there's only one bus per day.
CUBAO TO BAGUIO Bus Schedule
7:00 am (Joybus)
9:00 am (Deluxe)
1:00 pm (Deluxe)
3:00 pm (Deluxe)
BAGUIO TO CUBAO Bus Schedule
6:00 am (Deluxe)
9:00 am (Deluxe)
11:00 am (Sunday/Monday only)
1:00 pm (Deluxe)
3:00 pm (Joybus)
6:00 pm (Deluxe)
Note that Genesis and North Genesis buses have 2×2 seating arrangement while the more upscale JoyBus follows the 2×1 arrangement. All premium buses have a restroom (CR) on board.
---
Victory Liner Baguio Schedule & Fare
Unlike before, Victory Liner only publishes their first and last trips. There are more trips in between but exact departure times vary and are not communicated.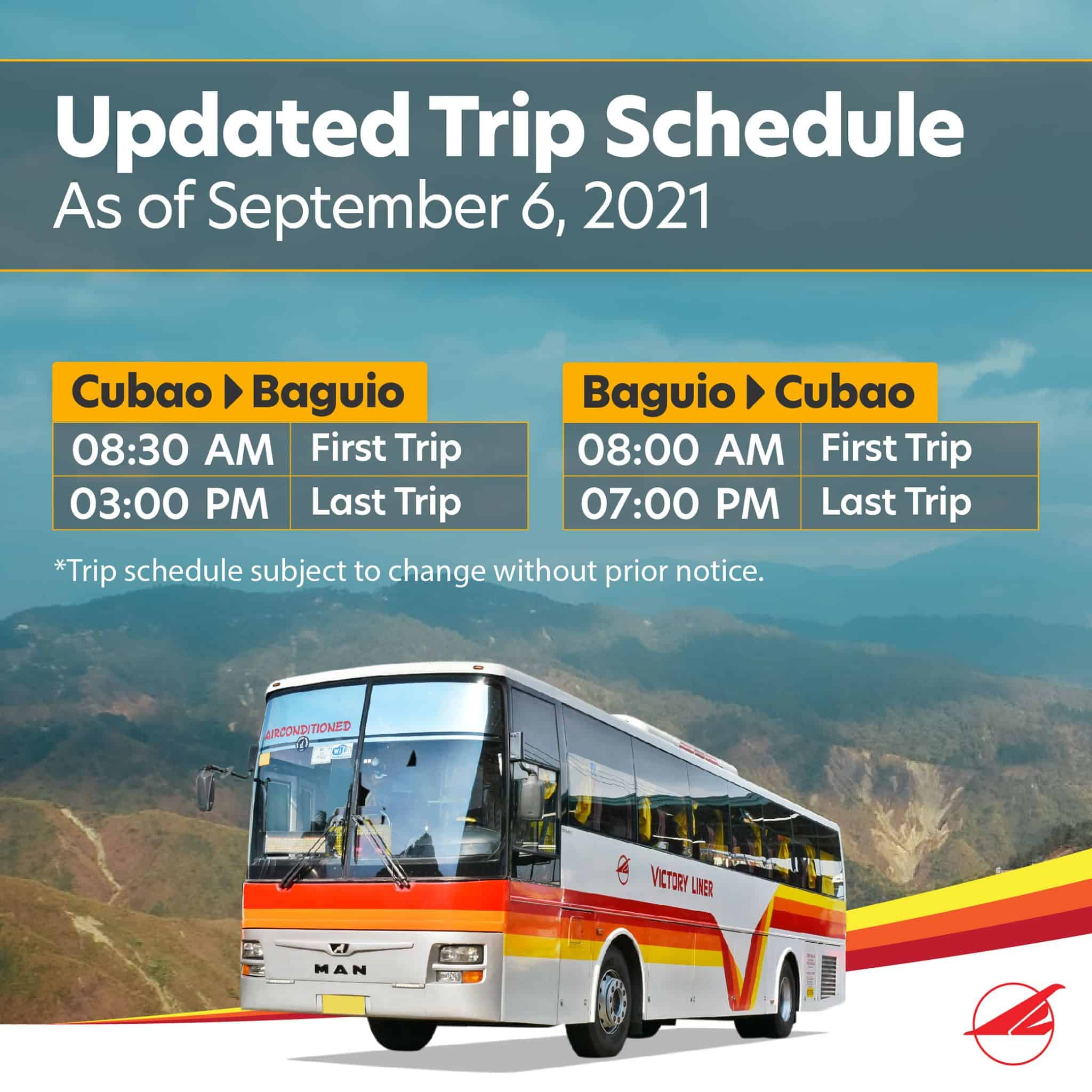 BAGUIO TO CUBAO Bus Schedule
8:00 AM – First Trip
7:00 PM – Last Trip
Point-to-point fare: PhP 576
CUBAO TO BAGUIO Bus Schedule
8:30 AM – First Trip
3:00 PM – Last Trip
Point-to-point fare: PhP 576
---
Requirements When Traveling To Baguio
Requirements vary depending on what category of traveler you fall under. Check out the matrix below.
---
DOT-Accredited Baguio Hotels
If you're traveling for leisure and you're looking for a place to stay, it is highly recommended to book an accommodation with a Certificate of Authority to Operate (CAO) from the Department of Tourism. Here are just a few of many options: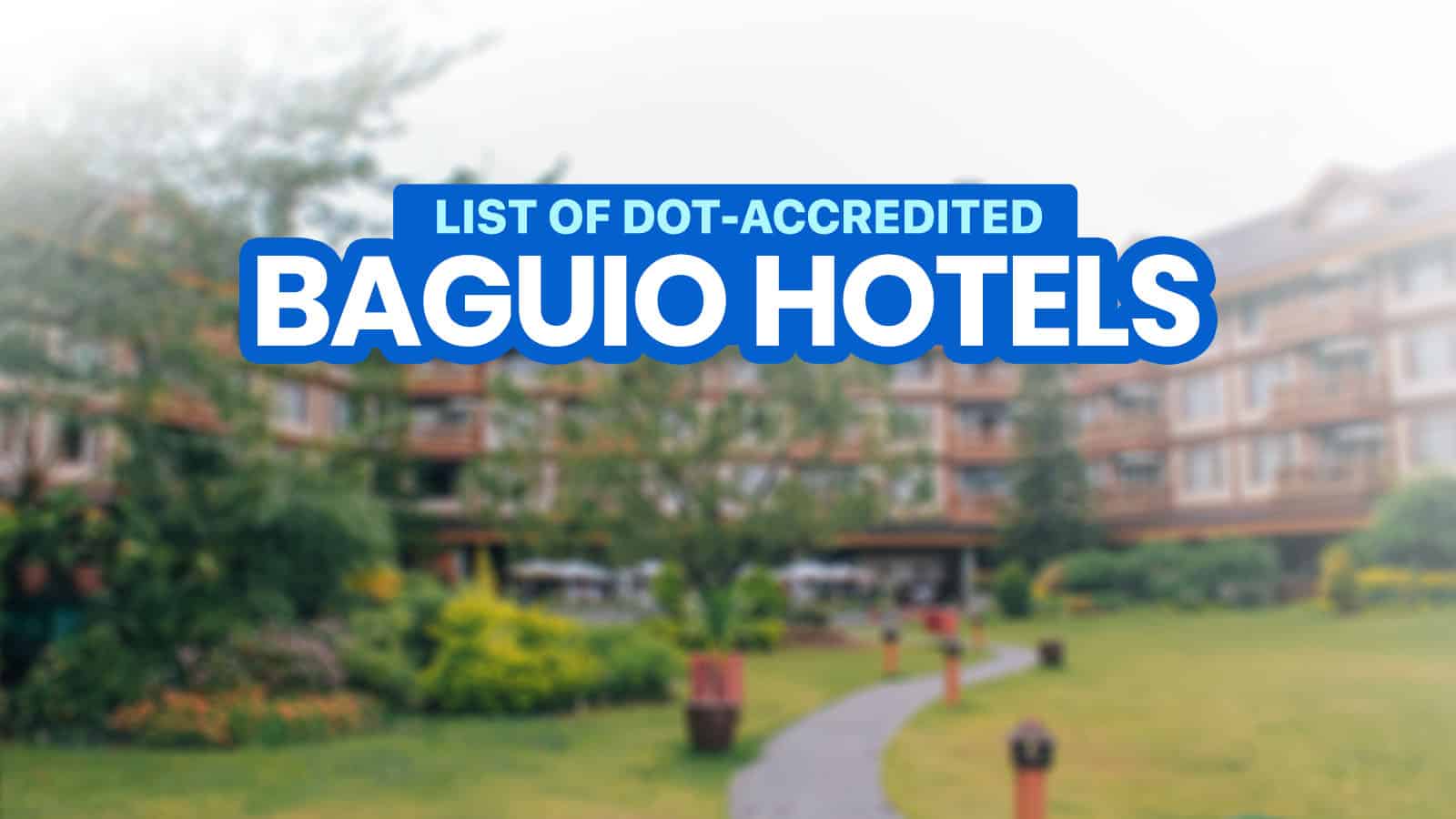 For more options, check out this post: LIST OF DOT-ACCREDITED HOTELS IN BAGUIO! ✅
If you know a local, you may also stay with a relative or a friend as long as the area is not on hard lockdown. However, staying in a stranger's residence for a fee is NOT ALLOWED and is punishable by law. If you're paying for lodging, make sure you book an authorized hotel or inn.
---
Other Baguio-Related Posts
---
More Tips on YouTube ⬇️⬇️⬇️