Update: Ketchup Food Community has permanently closed.
My bowl was brimming with hot tom kha gai but the brewing envy inside me bubbled over through my eyes as I threw wanting looks at the other bowls and plates on our table. We were a big group, celebrating the recent success of the 2nd Baguio Blog Conference, where I gave a short talk. The organizers treated the speakers to dinner at Ketchup Food Community, a foodie's haven that I had not tried before.
A relatively new dining destination, Ketchup Food Community was established in March 2012. It is actually a cluster of five small restaurants, each offering a different cuisine, perfect for those who want to try a plateful of everything in one seating.
Canto is a steakhouse famous for its lomo ribs;
Happy Tummy serves Thai favorites;
Rumah Sate boasts an Indonesian-Malaysian menu;
Green Pepper offers Western sandwiches and pastas;
Rancho Norte completes the list with their Filipino dishes.
The best part, you can order from any (or all) of them even without changing tables.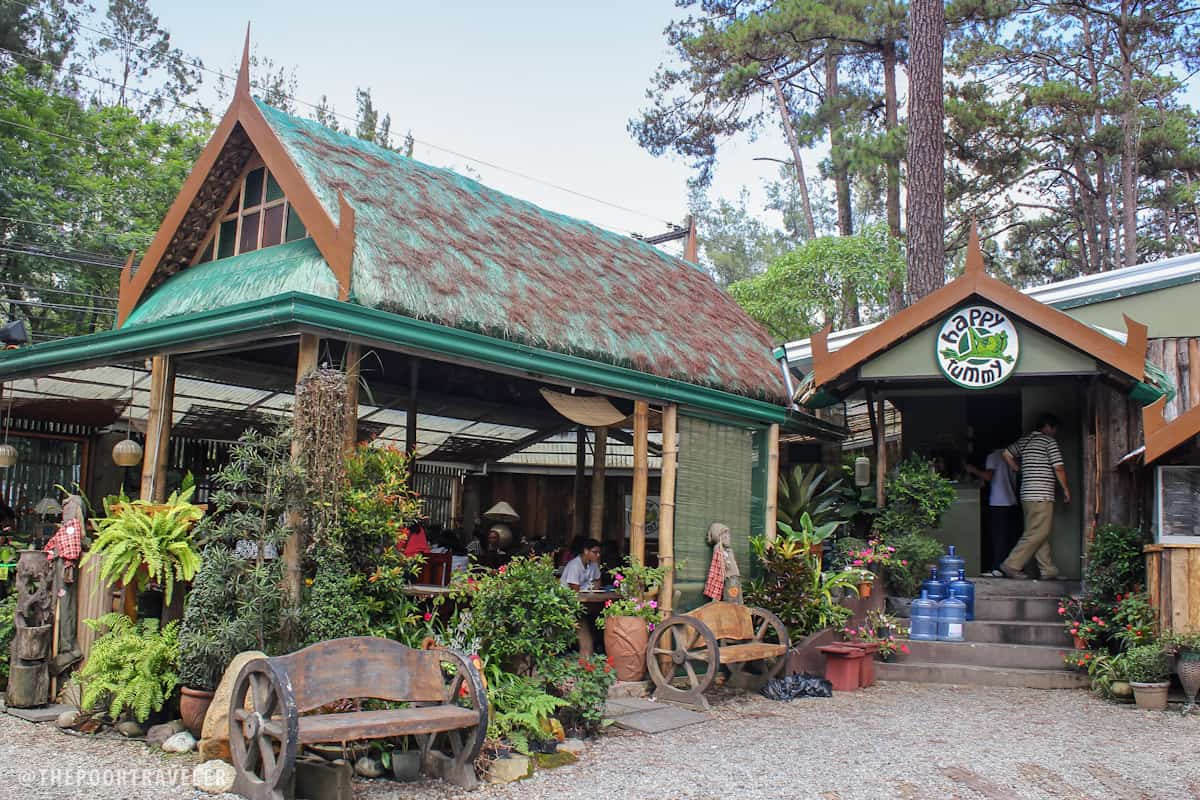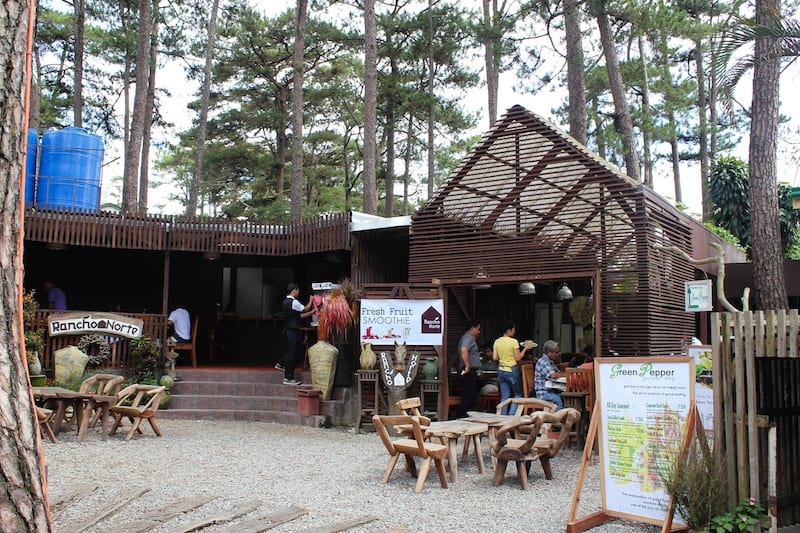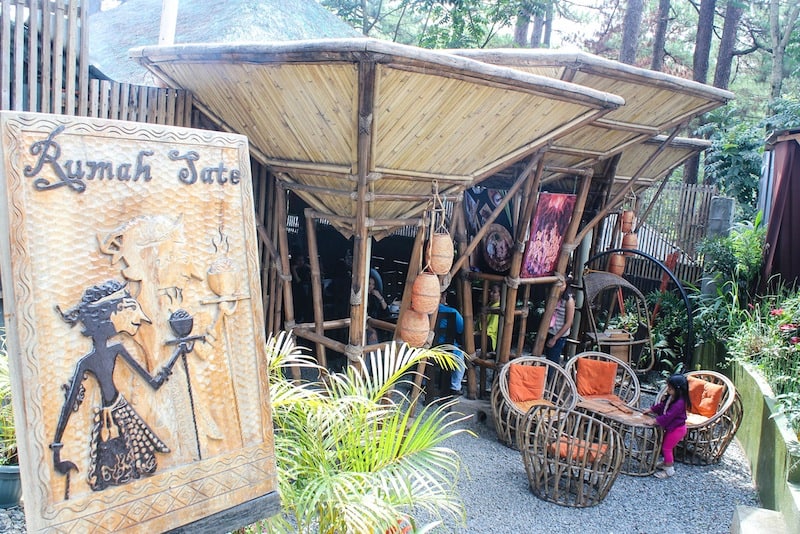 In our case, we settled down at Canto. While most of us ordered a half slab of their famous lomo ribs, Mica (Senyorita), Nikka and Owen (Two to Travel) and I opted with having a variety and had our waitress make a quick run to the other restaurants by ordering something more Asian. Nikka and Owen fancied a bowl of laksa from Rumah Sate. Mica and I went Thai and had pad thai and tom kha gai. (Hey, rhyming!) The whole concept of order switching was refreshing especially upon learning that all dishes would appear on just one bill.
The laksa was first to be served and my eyes immediately turned green with envy. I am not a laksa kind of guy (as I have told a number of times in my Malaysia posts) but that soup looked rich and tasty. The head of the shrimps peeked above the surface, as if taunting me but I was too shy to ask Owen and Nikka for a spoonful. They looked extremely satisfied, though. Owen and Nikka, not the shrimps.
When the ribs followed right after, Mica and I looked at each other in an instant. Those were huge slabs! The plates traveled across the table and in front of me and I wanted to grab one and just beg whoever ordered it to switch it with my life and pride.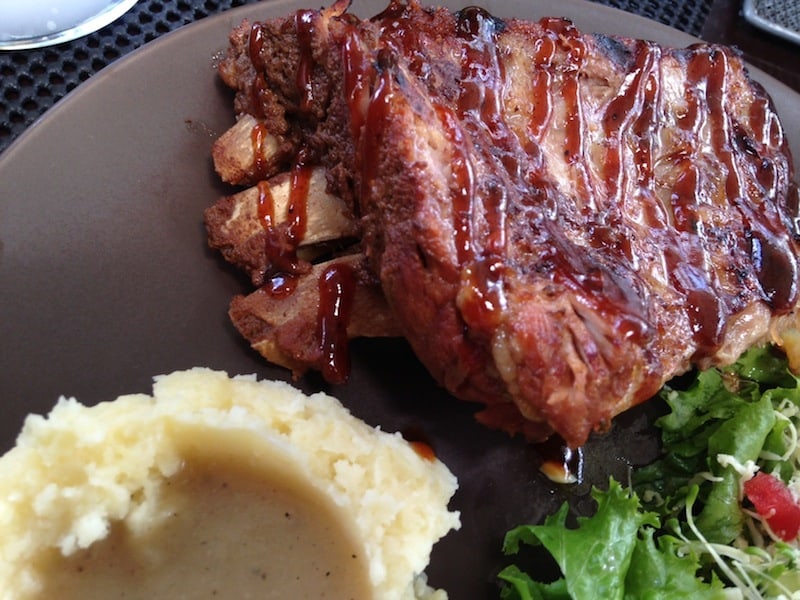 It took 15 more minutes before our Thai delights finally made an appearance at our table. Even before I had a taste of my tom kha gai, I knew I made a great choice as soon as I touched the warm bowl. It had been raining the entire day and in the chilly Baguio atmosphere, I need some warming up, which the soup successfully delivered. The soup was rich and milky (coconut milk?), loaded with a mixture of herbs and mushrooms. Its aroma allowed a sampling of how far in the gastronomic scale it would reach.
I dipped a spoon and finally had a taste, washing away all my infidelities — my longing for the other dishes. The sour broth that drowned the soft chicken bits tickled the palate. My only complaint was that it was not pungent (hot/spicy) enough, which I had come to expect in all tom yums and tom kha gais in the world. Still, in the Philippines, it was one of the best Thai soups that graced my tastebuds.
But the image of the ribs floating just inches from my face made a deep mark on my very malleable memory. The next day, Mica and I decided to go back to Ketchup for lunch. This time, I went for those lomo ribs!
Like the night before, the serving was humongous, especially considering the price (P190). Four ribs marinated and grilled to perfection, and scribbled with a zigzag of sweet (barbeque?) sauce sat pretty on my plate next to a scoop of mashed potato and a bunch of salad. The ribs were meaty and so tender, the flesh easily let go of the bones with a gentle fork poking. The sweetness of the sauce mixed well with the smoky taste of the meat — immaculate!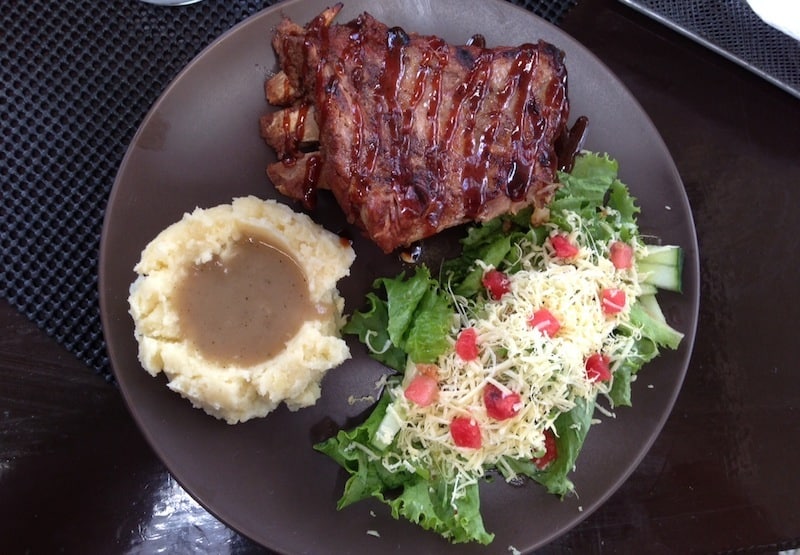 The mashed potato was nothing remarkable but the salad was something else. Topped with bits of watermelons, it has a sugary rough taste and texture that pushed this side dish to the dessert border. The lettuce looked bright and had that crisp that screamed freshness. I just wish the serving of both the carbs and the vegetables were larger, though.
The service was a bit slow on both occasions, but that might be because the place was packed. The servers were polite but they forgot that I ordered a glass of almond-lychee gulaman. Still, the food made up for whatever glitches in the service I encountered.
Ketchup is an al fresco dining destination. The garden setting reinforces the natural and breezy atmosphere that many popular restaurants in Baguio fosters. Out of the five restaurants, I only tried two — Happy Tummy and Canto — leaving something for the next visit. Now, if only I had stayed a little longer in Baguio.
Posted: 2013 • 5 • 17