Schedule last updated: 12 MARCH 2022
More bus companies are re-opening their routes from Manila to Baguio. Genesis Transport Service was one of the first to announce through their Facebook page that their Cubao to Baguio route had become available again including their North Genesis and JoyBus Premier buses.
In this post is the schedule of trips of Genesis Transport going to and from Baguio and the requirements for tourists traveling to the city.
If you're more interested in Victory Liner, we have a separate post for that here: VICTORY LINER BAGUIO SCHEDULE!
WHAT'S COVERED IN THIS GUIDE?
Genesis Bus Schedule
Genesis has daily trips from Manila to Baguio and Baguio to Manila.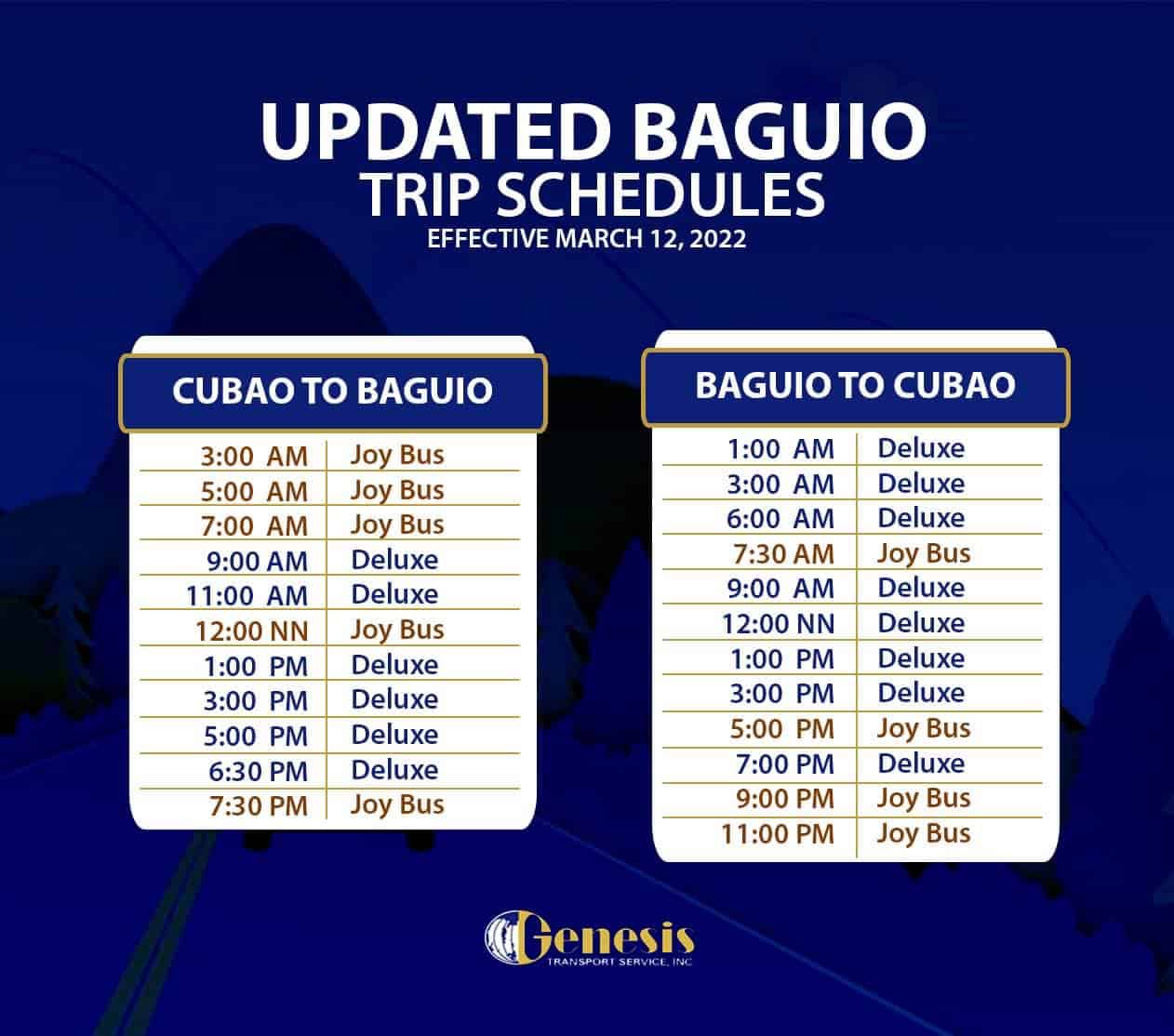 CUBAO TO BAGUIO Bus Schedule
3:00 am (Joy Bus)
5:00 am (Joy Bus)
7:00 am (Joy Bus)
9:00 am (Deluxe)
11:00 am (Deluxe)
12:00 nn (Joy Bus)
1:00 pm (Deluxe)
3:00 pm (Deluxe)
5:00 pm (Deluxe)
6:30 pm (Deluxe)
7:30 pm (Deluxe)
BAGUIO TO CUBAO Bus Schedule
1:00 am (Deluxe)
3:00 am (Deluxe)
6:00 am (Deluxe)
7:30 am (Joy Bus)
12:00 nn (Deluxe)
1:00 pm (Deluxe)
3:00 pm (Deluxe)
5:00 pm (Deluxe)
7:00 pm (Joy Bus)
9:00 pm (Joy Bus)
11:00 pm (Joy Bus)
Note that Genesis and North Genesis buses have 2×2 seating arrangement while the more upscale JoyBus follows the 2×1 arrangement. All premium buses have a restroom (CR) on board.
---
Baguio Travel Requirements
Genesis Transport will be following the health protocols set by the national government for public transportation. Wearing of face mask is required for passengers.
Aside from these, the Baguio City local government unit (LGU) also implements protocols and requirements for travelers including securing a schedule on the BAGUIO VISITA website. If you have plans to go to Baguio, make sure to read up on the policies and find out the necessary documents you will need to be allowed entry.
For more detailed instructions, check out our step-by-step guide here: BAGUIO TRAVEL REQUIREMENTS!
---
DOT-Accredited Baguio Hotels
If you're traveling for leisure and you're looking for a place to stay, it is highly recommended to book an accommodation with a Certificate of Authority to Operate (CAO) from the Department of Tourism. Here are just a few of many options: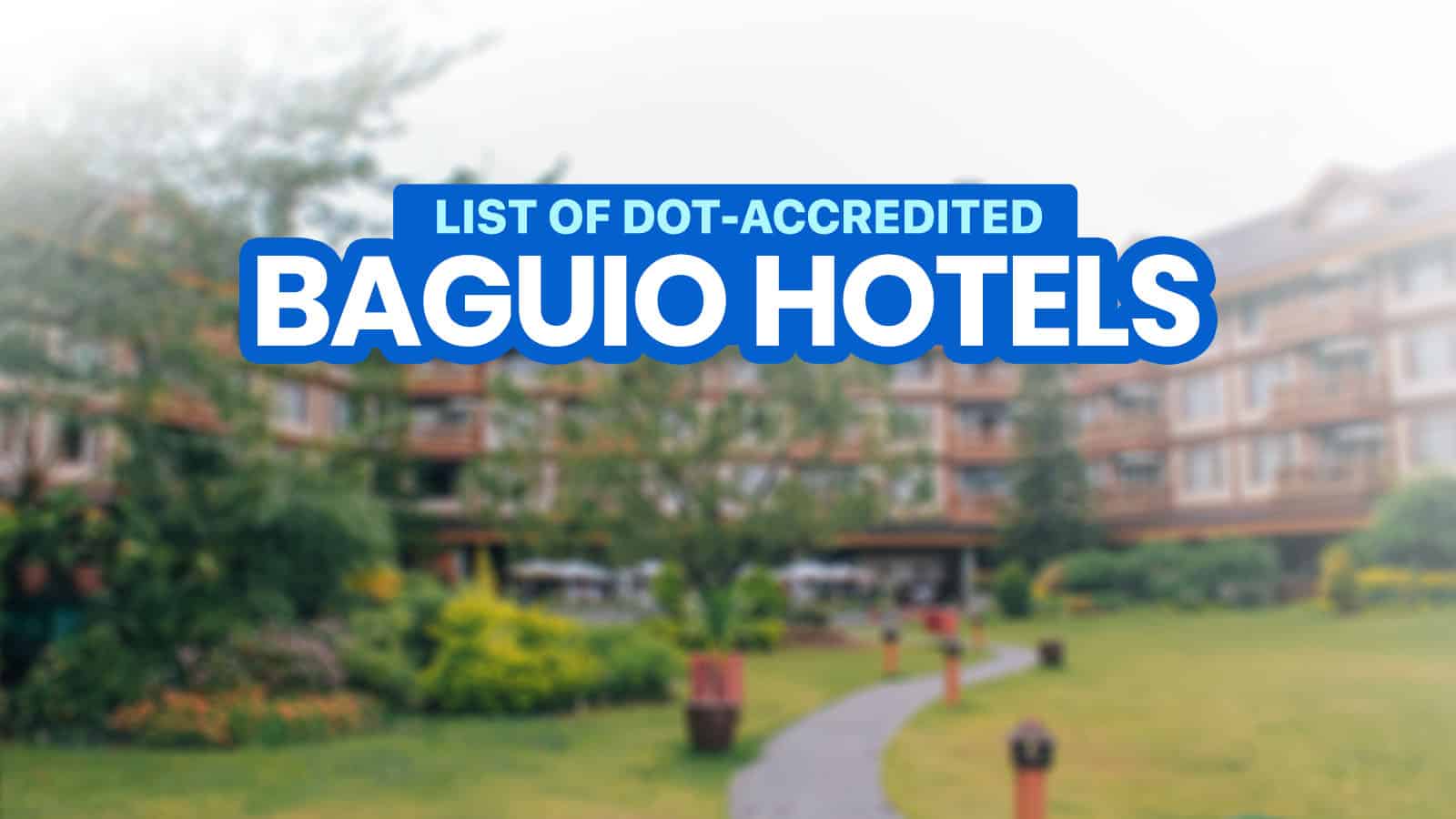 For more options, check out this post: LIST OF DOT-ACCREDITED HOTELS IN BAGUIO! ✅
Staying in a stranger's residence for a fee is NOT ALLOWED and is punishable by law. If you're paying for lodging, make sure you book an authorized hotel or inn.
---
More Useful Baguio Information
---