Baguio has always been one of the top destinations in the Philippines. Because of its chilly temperature, pine-dominated landscapes, and overall romantic atmosphere, this mountain city has attracted tourists especially in summer and the holidays like Christmas and New Year.
Although a highly urbanized city, Baguio retains its rustic charm in spots. From natural sites to modern ones, Baguio has something for each type of traveler and each age group. Moreover, the food culture and shopping districts have become attractions themselves.
Whether you're a regular or a first-timer, here are some of the best things to do and places to visit in and near Baguio City. In this list, we are also including attractions in the neighboring municipalities like La Trinidad and Tuba.
Note: Baguio is geographically within Benguet but is not under the jurisdiction of the province. It has its own charter and administration.
WHAT'S COVERED IN THIS GUIDE?
TOP BAGUIO TOURIST SPOTS & ACTIVITIES
Baguio is bursting with interesting places to visit and things to do. But here are some of our top recommendations!
Mirador Hill and Eco Park
JAPAN IN BAGUIO! Easily a highlight of our most recent trip, the Mirador Heritage and Eco-Spirituality Park is a rising tourist destination, boasting a combination of local and Japan-inspired attractions.
This 5-hectare property is scribbled with hiking trails leading to different sites including the Rock Gardens, the Pandemic Healing Memorial, the La Storta Garden, Ifugao Houses, and the Circular Seismic Chamber (closed when we visited). But perhaps the most popular is the iconic Mirador Peace Memorial, a red-painted torii gate atop the hill, overlooking the city and the surrounding hills. It is a favorite photo spot for many visitors.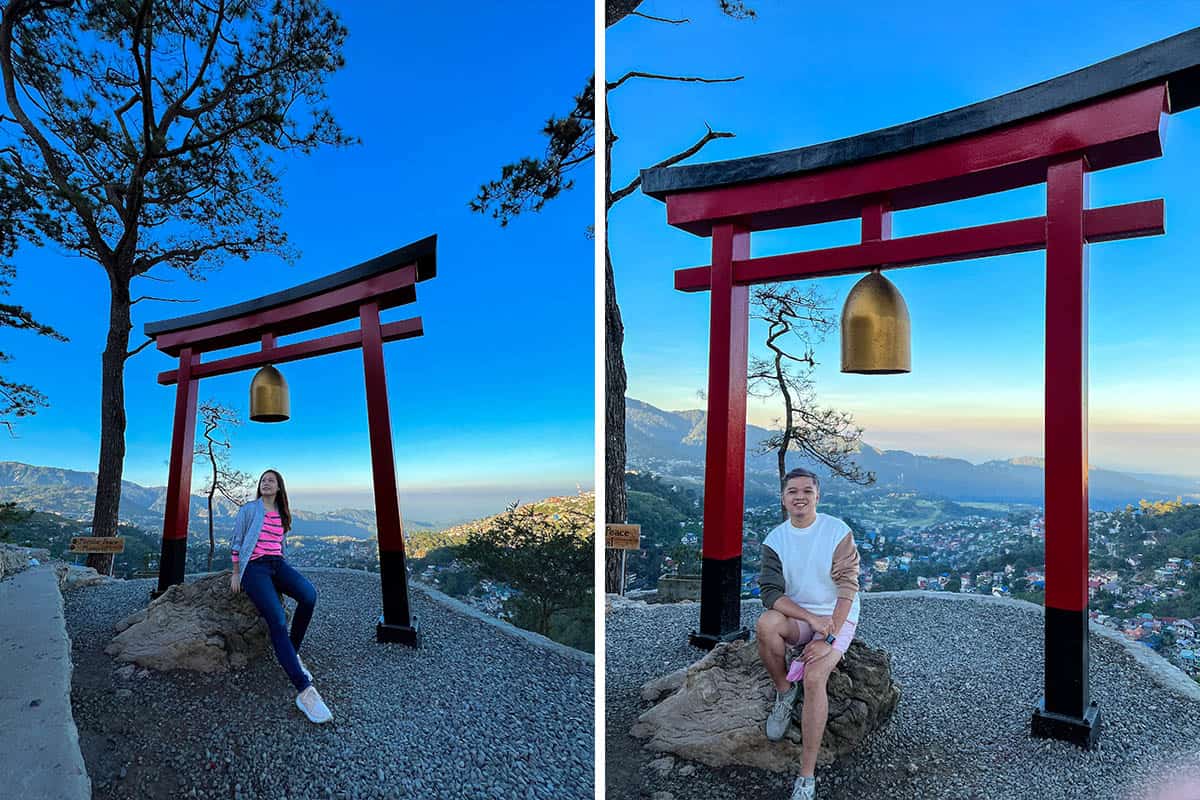 Another crowd-drawer is the Arashiyama Bamboo Grove, perhaps named after the bamboo forest of Kyoto's temple district. While the bamboo trunks are not as big or tall as those in the Japan site, it still makes for a refreshing resting and photo spot.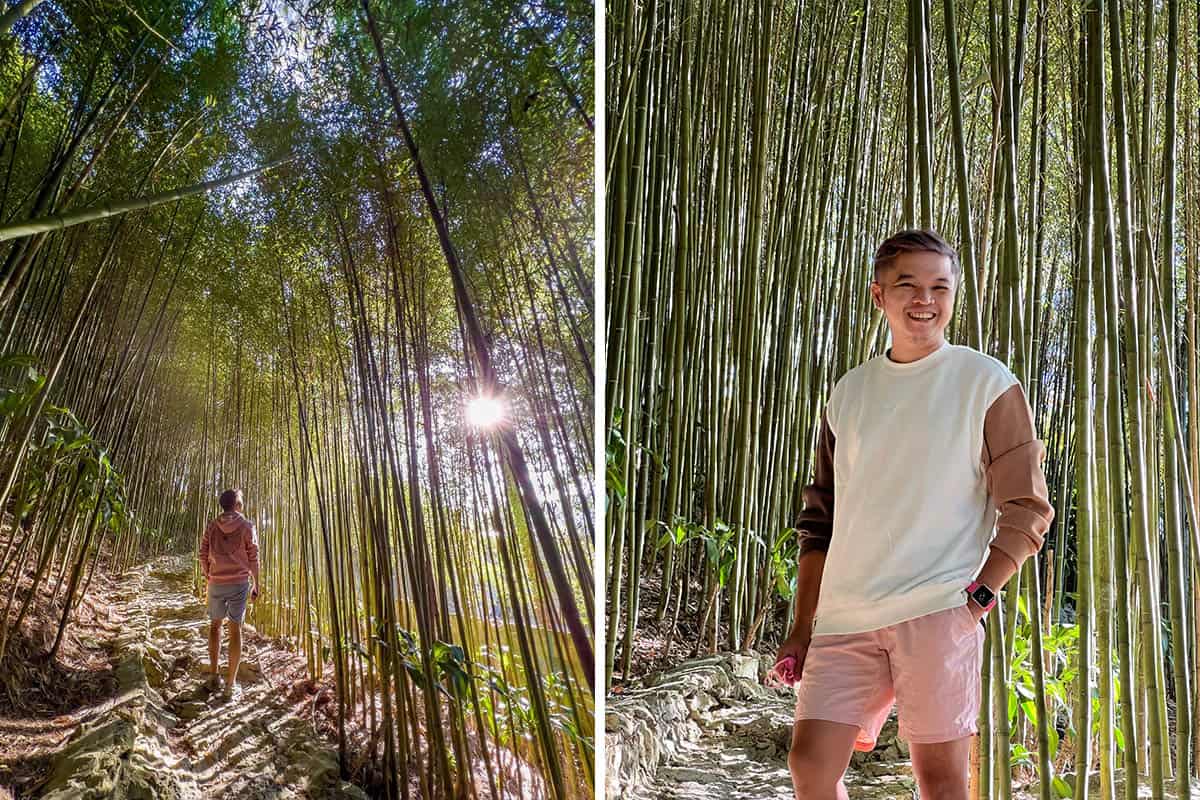 Aside from the park, Mirador Hill also harbors the Grotto of Our Lady of Lourdes, Kapilya ni Hesus at Maria, Café Iñigo, and the Mirador Jesuit Villa Retreat House.
Address: Mirador Hill, Barangay Dominican Hill-Mirador, Baguio City
Opening Hours: 6:00 AM – 6:00 PM (Daily). The opening hours might change, so please check the official website or Facebook page before visiting.
Entrance Fee: P100 (Regular); FREE (Below 12 y/o)
Oh, by the way, if you're interested in only the newest attractions, we have a video about that here:
---
Igorot Stone Kingdom
Launched to the public in the second half of 2021, the Igorot Stone Kingdom is Baguio's newest attraction. So new that construction of some parts were still ongoing when we visited. The park showcases both modern and traditional Igorot culture as well as the values of the Cordillera Region.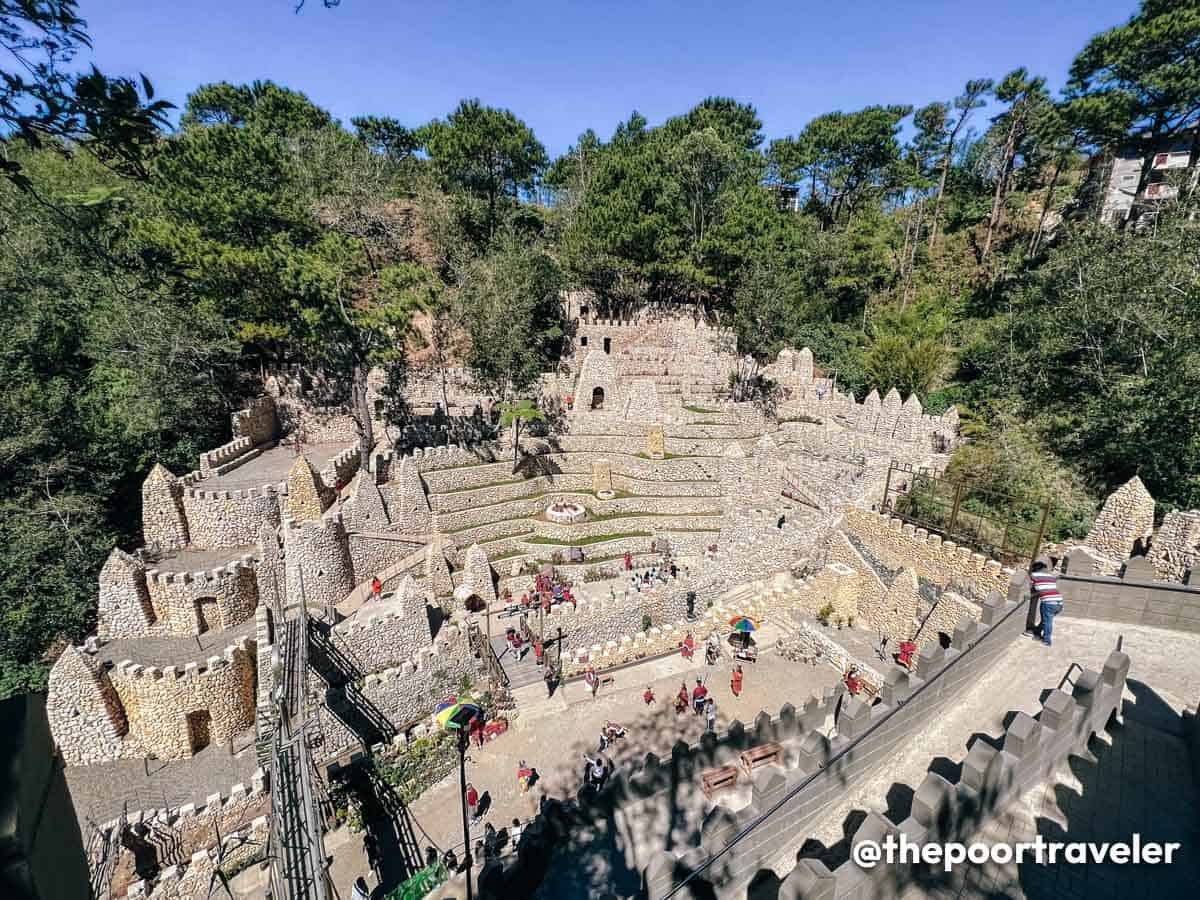 The whole area covers about 6,000 square meters and is dominated by two massive structures facing each other — a modern-day castle and an old-school stone wall. Made of hollow blocks and cement, the modern-day castle is etched with walkways, punctuated by statues, photo spots and viewing decks. It also crowned by a food court, serving mostly Pinoy snacks.
The stone wall, on the other hand, resembles the rice terraces that feature the rock-laying skills of the Igorot people. As you climb, you get to see the Fertility Stone Tower, the Temple of Kabunyan, Bangan's Dome, the Tower of Gatan, the Face in the Rock, and many more.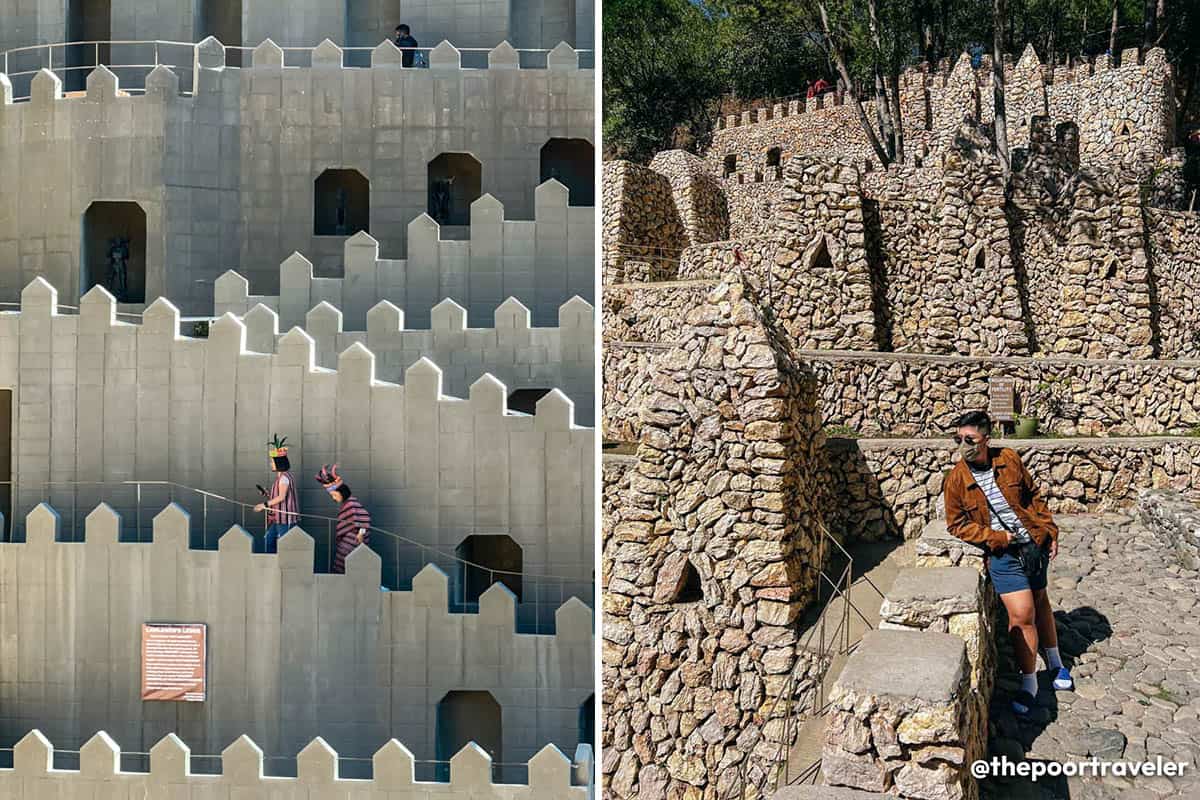 Other attractions are the Igorot Gold Mine, the Wishing Well, and the Igorot Golden Bridge. Soon, the park will also have life-size statues of prominent Igorots.
Address: #86 Long-long Benguet Road, Pinsao Proper, Baguio City
Opening Hours: 6:00 AM – 6:00 PM (Daily). The opening hours might change, so please check the official website or Facebook page before visiting.
Entrance Fee: P100 (Regular); P80 (Senior & PWD with ID); P80 (Kids 4-12 y/o); FREE (3 y/o and below)
---
Tam-awan Village
Just a stone's throw from Igorot Stone Kingdom lies Tam-Awan Village, nicknamed Garden in the Sky. It was commissioned by the Chanum Foundation in 1998 in order to create a model village showcasing reconstructed traditional Cordillera houses and make them accessible to more people.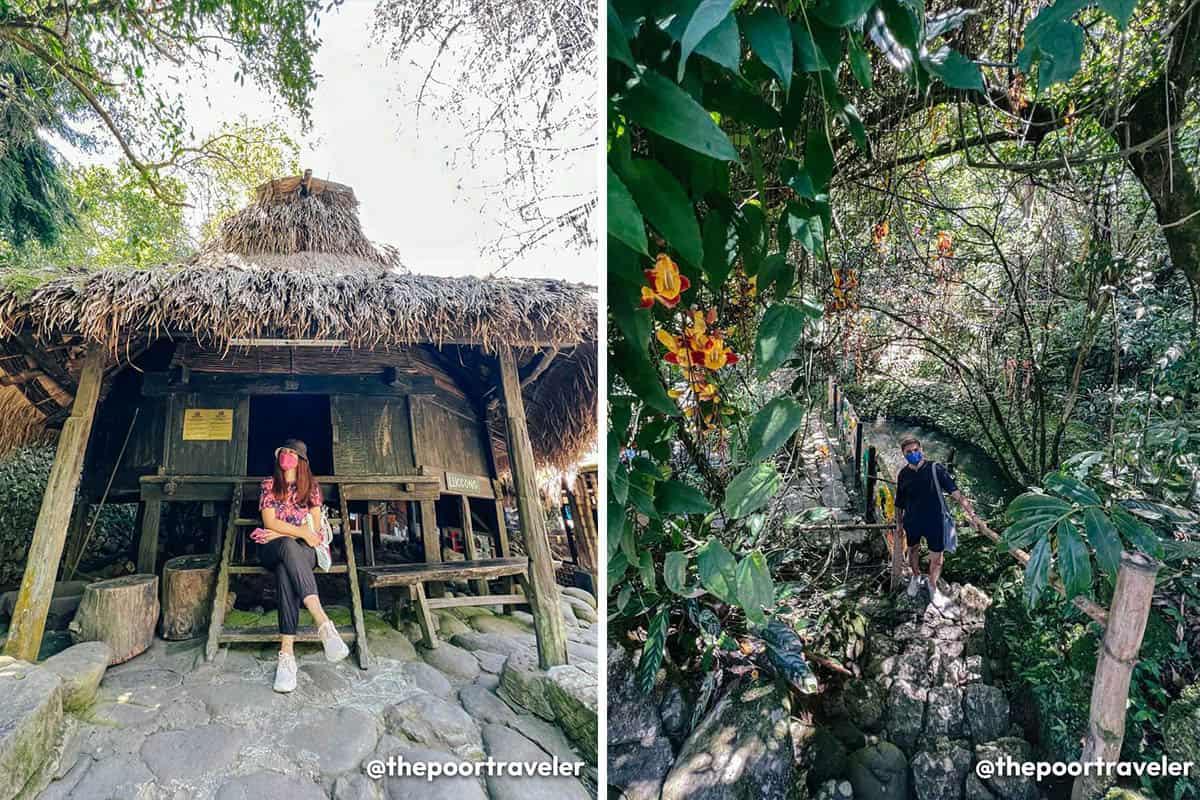 The village highlights the indigenous craftsmanship and aesthetics of the region and its local artists. From three huts transported from Ifugao, the village now has nine traditional houses — seven Ifugao huts and two Kalinga houses. These structures were reconstructed using mostly the original materials.
If you want to immerse yourself more, you can also book your lodging here.
Address: 366-C Pinsao Proper, Long Long Benguet Road, Baguio City
Opening Hours: 8:00 AM – 6:00 PM (Daily). The opening hours might change, so please check the official website or Facebook page before visiting.
Entrance Fee: P60 (Adults); P40 (Students & Seniors); P30 (4-10 y/o); FREE (3 y/o and below)
---
Baguio Walking Tour
Thanks to its chilly weather, Baguio is one of those destinations that are great for a stroll! And while you can easily stumble upon pretty and curious finds, you can also pick up historical lessons or discover picturesque spots as you walk around, especially if you're led by a local guide.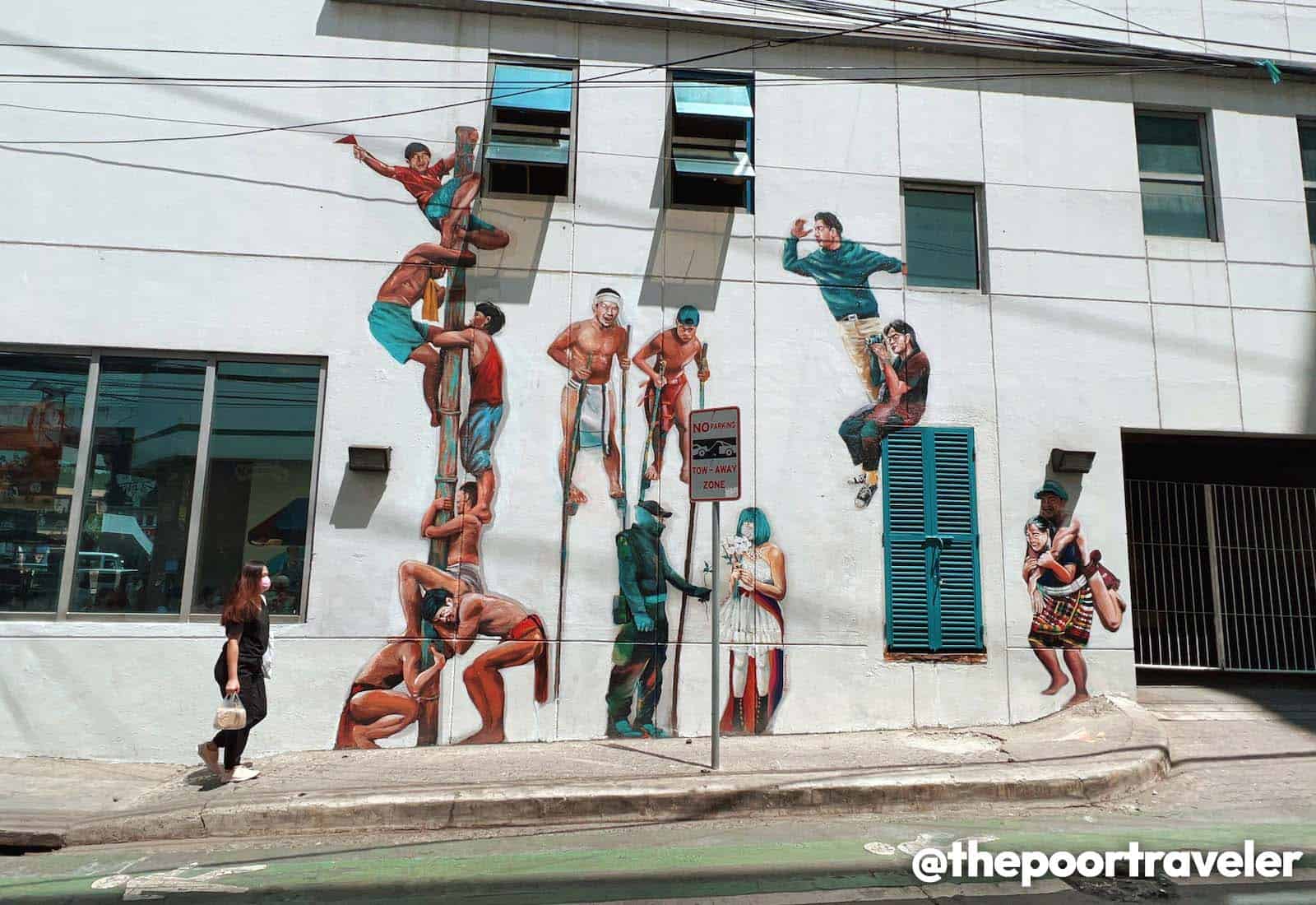 If you want to know more information about the places you want to visit, you can join one of the guided walking tours offered in Baguio. Choose the one that suits your interest or if you want to try more than one guided tour, go for it! Here are your options:
✅ BAGUIO HISTORICAL WALKING TOUR: Check Rates or Reserve Here!
✅ BAGUIO CREATIVE WALKING TOUR: Check Rates or Reserve Here!
✅ BAGUIO INSTAGRAM WALKING TOUR: Check Rates or Reserve Here!
---
Diplomat Hotel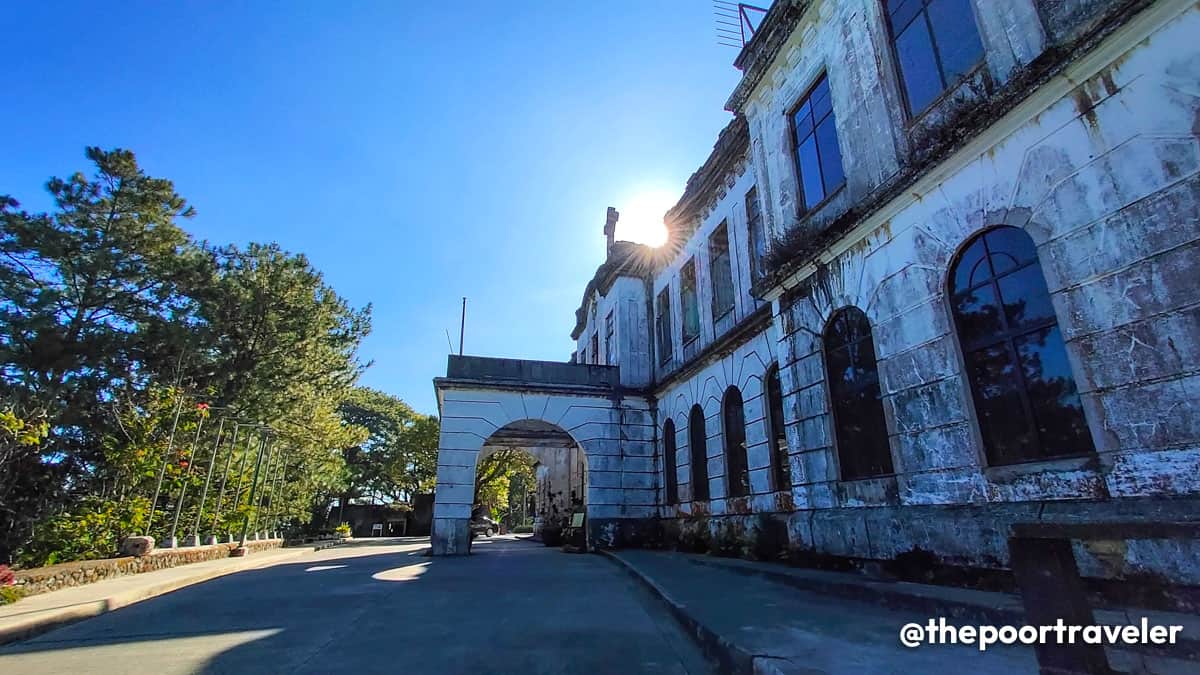 Officially named the Dominican Hill Retreat House but popularly referred to as the Diplomat Hotel, the 17-hectare property is sprawled atop the Dominican Hill. It was originally built as a retreat house for the Dominican priests and nuns in the first half of the 20th century until World War II, when the Japanese took over and turned it into a military garrison and war prison.
After restorations and remodeling, the Diplomat Hotel was launched and operated between the 1970s and the 1980s. Given its history, especially the atrocities of WWII, it gained notoriety for paranormal activities, consistently putting it on the list of most haunted places in the Philippines.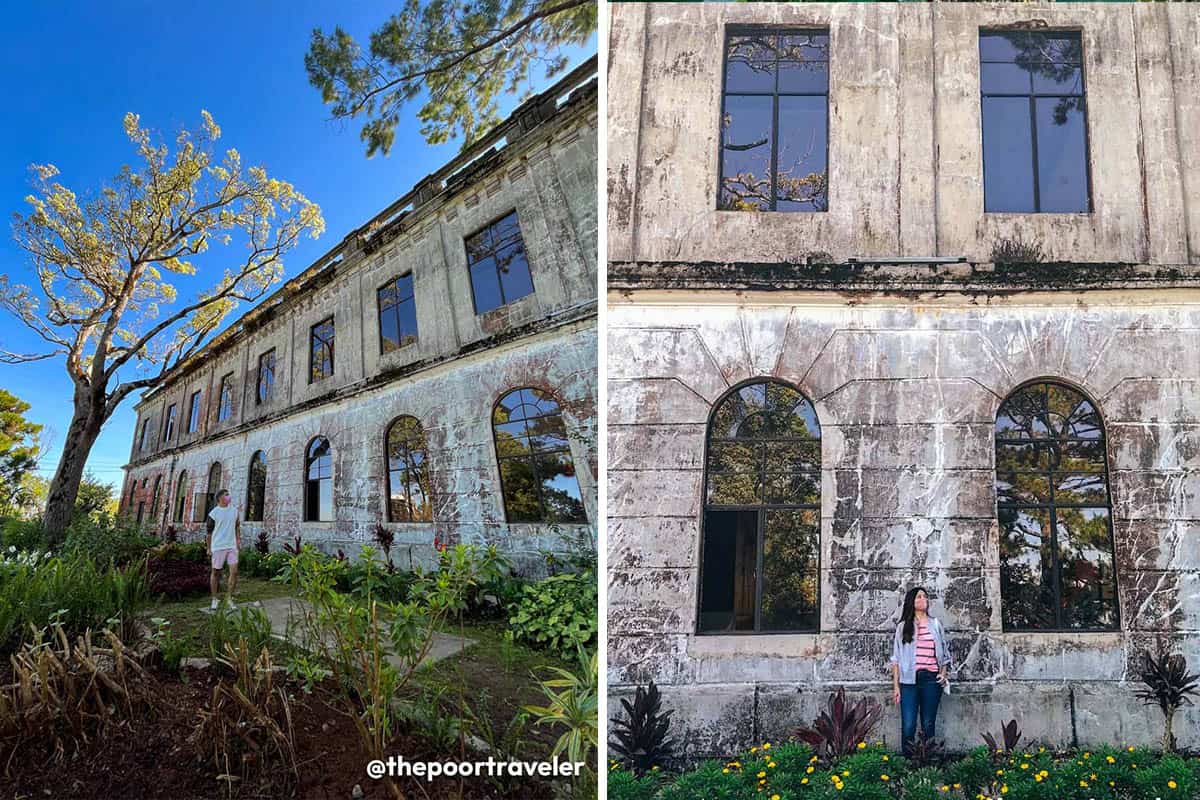 Today, the whole hill area is declared a heritage and historical site by the local government of Baguio and was named Dominican Heritage Hill and Nature Park. The property is undergoing rehabilitation and development for tourism and is open to photoshoots, filmmaking, wedding receptions, and other events and functions.
Address: Dominican Hill, Diplomat Road, Baguio City. The best way to get there is to take a cab from the city center.
Opening Hours: 7:00 AM – 5:00 PM (Daily). The opening hours might change, so please check the official website or Facebook page before visiting.
Entrance Fee: P10 (adult), P5 (kids)
---
Bencab Museum, Tuba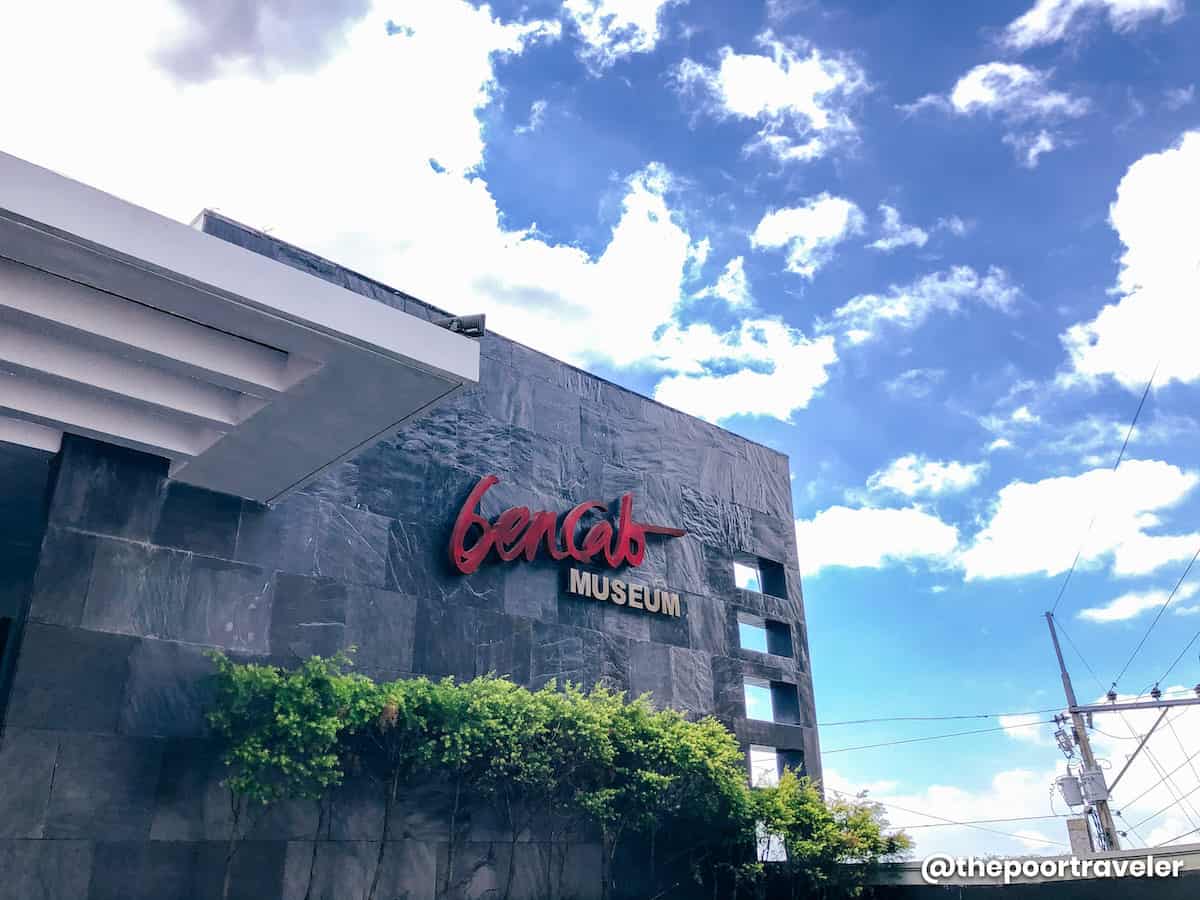 Just a short drive from Baguio is the BenCab Museum in the town of Tuba. The private museum is founded and managed by the artist himself, Benedicto Reyes Cabrera (BenCab), a Philippine National Artist for Visual Arts.
The museum was launched to the public in February 2009 and showcases BenCab's own masterpieces along with other works by other distinguished artists and emerging contemporary artists. Aside from promoting the arts, it also aims to highlight environmental conservation and cultural preservation of the Cordilleras heritage. The museum has a café, an organic farm, and a mini forest.
For more info, here's our BenCab Museum Guide!
Address: Kilometer 91, #6 Asin Road, Tadiangan, Tuba, Benguet
Opening Hours: 9:00 AM – 6:00 PM (Tuesday – Sunday). Note that last entry is at 5:30 PM. CLOSED on Mondays, Christmas, and New Year's Day.
Entrance Fee: P150 (General Admission); P120 (Students); P100 (Senior Citizens and PWDs); FREE (Children below 42″ height)
---
Before we share more attractions that await you in Baguio… Have you thought about your budget for this trip? When traveling, it's often difficult to keep track of the expenses. Thankfully, one handy app can help you watch your spending so you won't run into some unexpected moolah troubles!

And we're talking about LISTA! This app was originally meant for small businesses (like stores), but it's so flexible that travelers can use it to take note of expenses! You can enter the budget you have for this trip and then type in the cost of items that you spend on along the way. This way, you know exactly just how much wiggle room you still have, money-wise. The app works offline, so you don't have to have an internet connection to use it.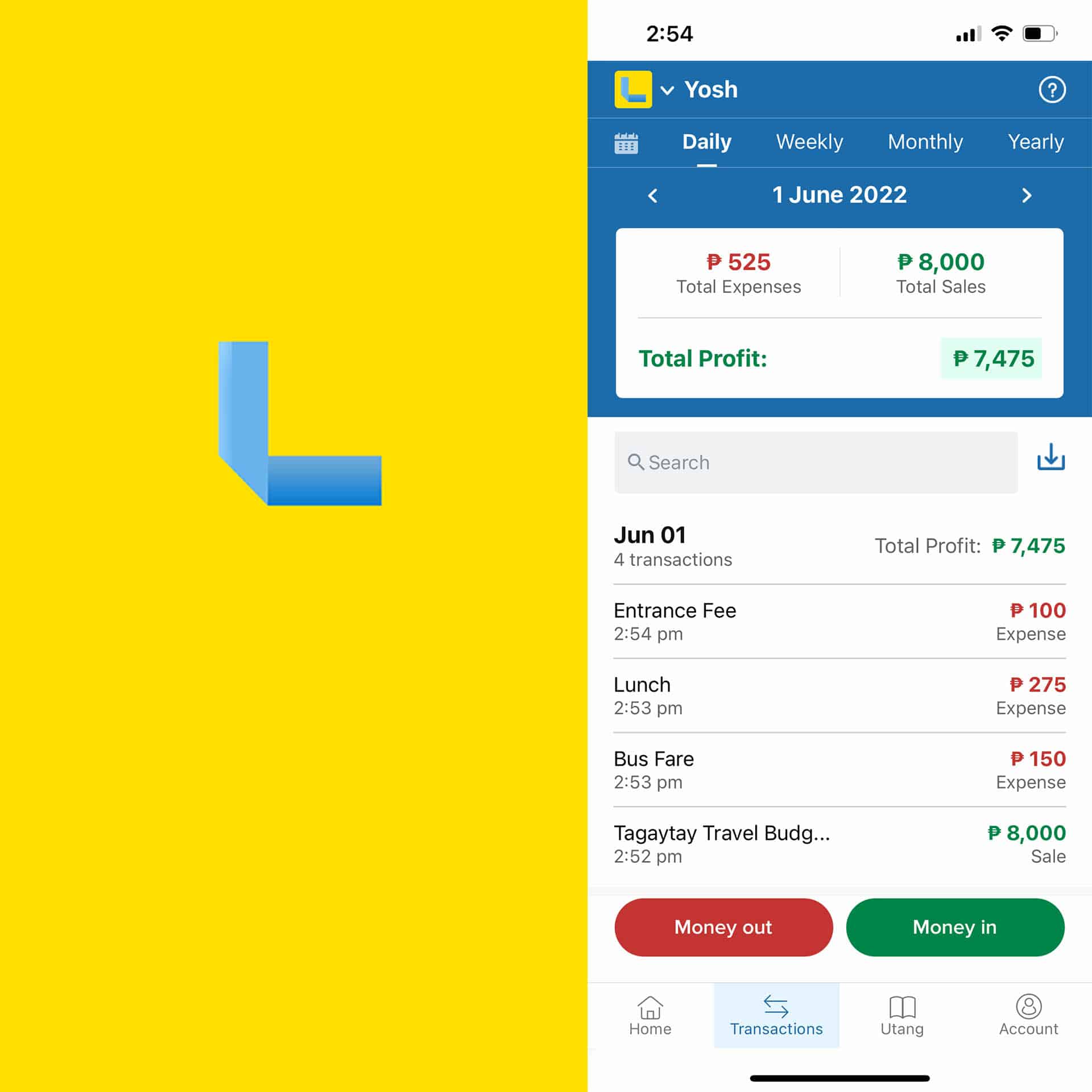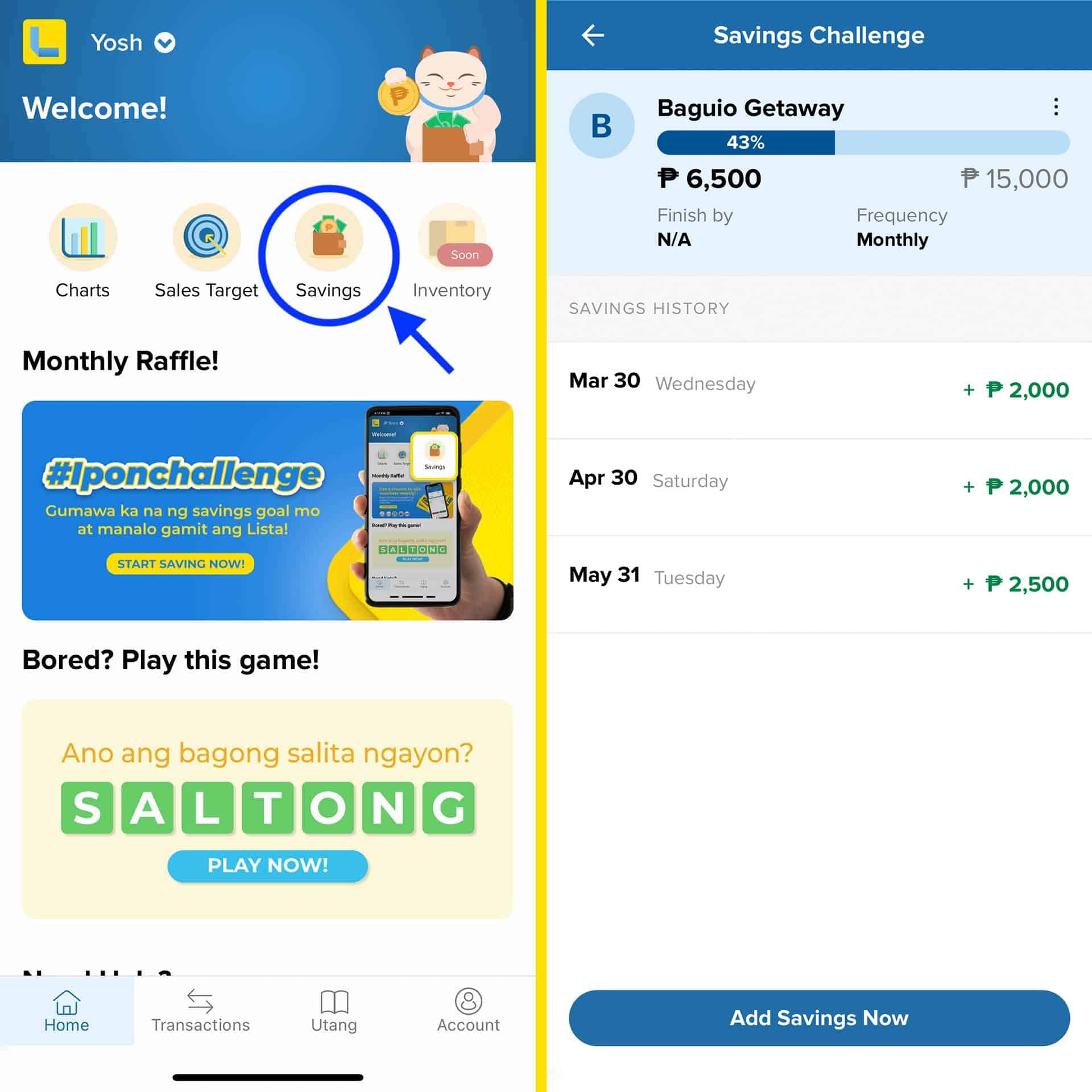 Another key feature is the SAVINGS CHALLENGE! Using the LISTA app, you can set a target amount, the target date and the frequency you're comfortable with so you know the exact amount to save per day, week or month to turn your Baguio goals into reality.

May next travel ka na ba? I-LISTA mo na!
---
CAMP JOHN HAY Tourist Spots
Yellow Trail
The Yellow Trail, also called Forest Bathing Trail, meanders about 1.5 kilometers across the pine-covered Camp John Hay.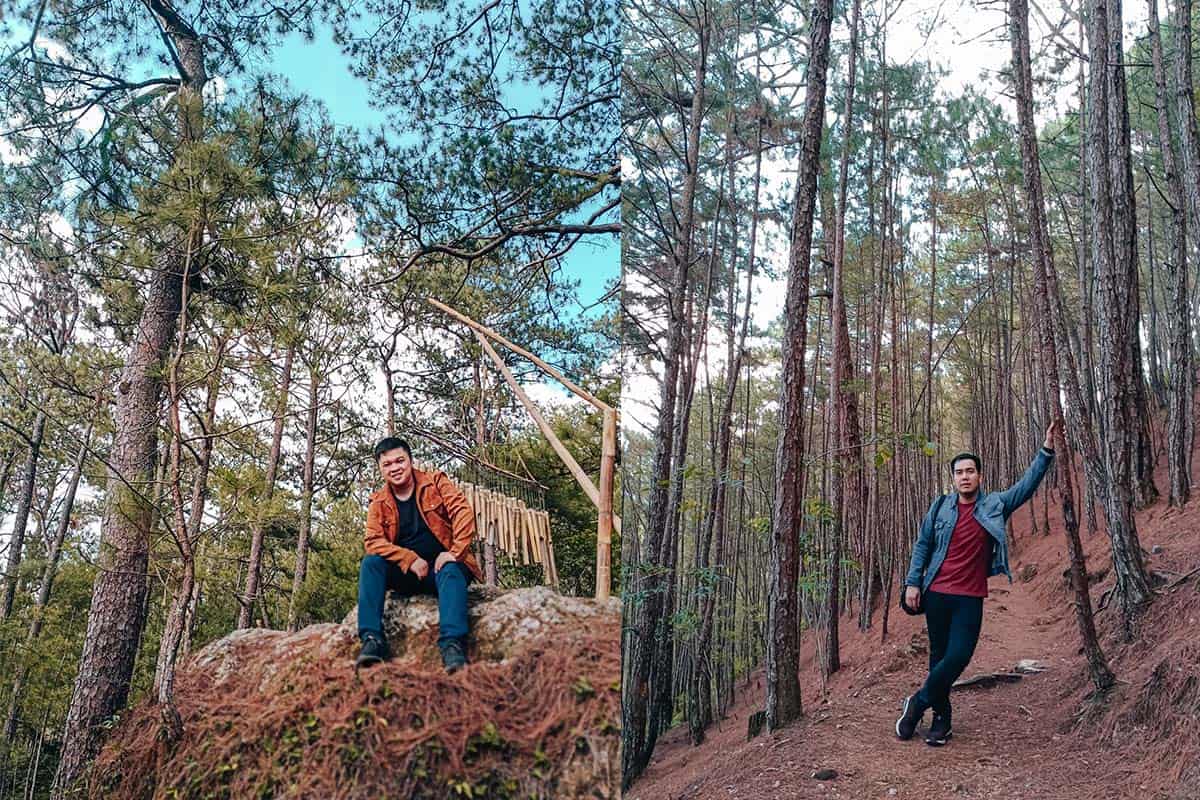 The walking path links Le Monet and Tree Top Adventure — the two jumping-off points. From the Tree Top Adventure, the trail goes further to Scout Hill, the final stop.
If you want to challenge yourself, take the uphill route that starts at Le Monet Hotel and ends at Scout Hill. If you just want to enjoy nature the easy way, take the reverse downhill route — starting at Scout Hill and ending at Le Monet Hotel.
The team took the easier path and thoroughly enjoyed basking in nature.
Address: Camp John Hay (Scout Hill or Le Monet Hotel), Baguio City
Opening Hours: The trail is open 24/7, but it is advisable to hike during the day.
Entrance Fee: FREE
---
Tree Top Adventure
Are you an adrenaline junkie? Then Tree Top Adventure inside Camp John Hay is your playground! This adventure park offers thrilling activities that will make your heart race.
The most popular attractions are the Superman Ride (zipline), Canopy Ride, and Tree Drop (harnessed free fall). If you have companions that are not really into extreme activities, they can still use the consumable entrance fee of P100 for trekking or ride the cable cars/seats to a viewpoint. Each ride/attraction will incur additional payment, but the 100-peso entrance fee will be deducted since it's consumable.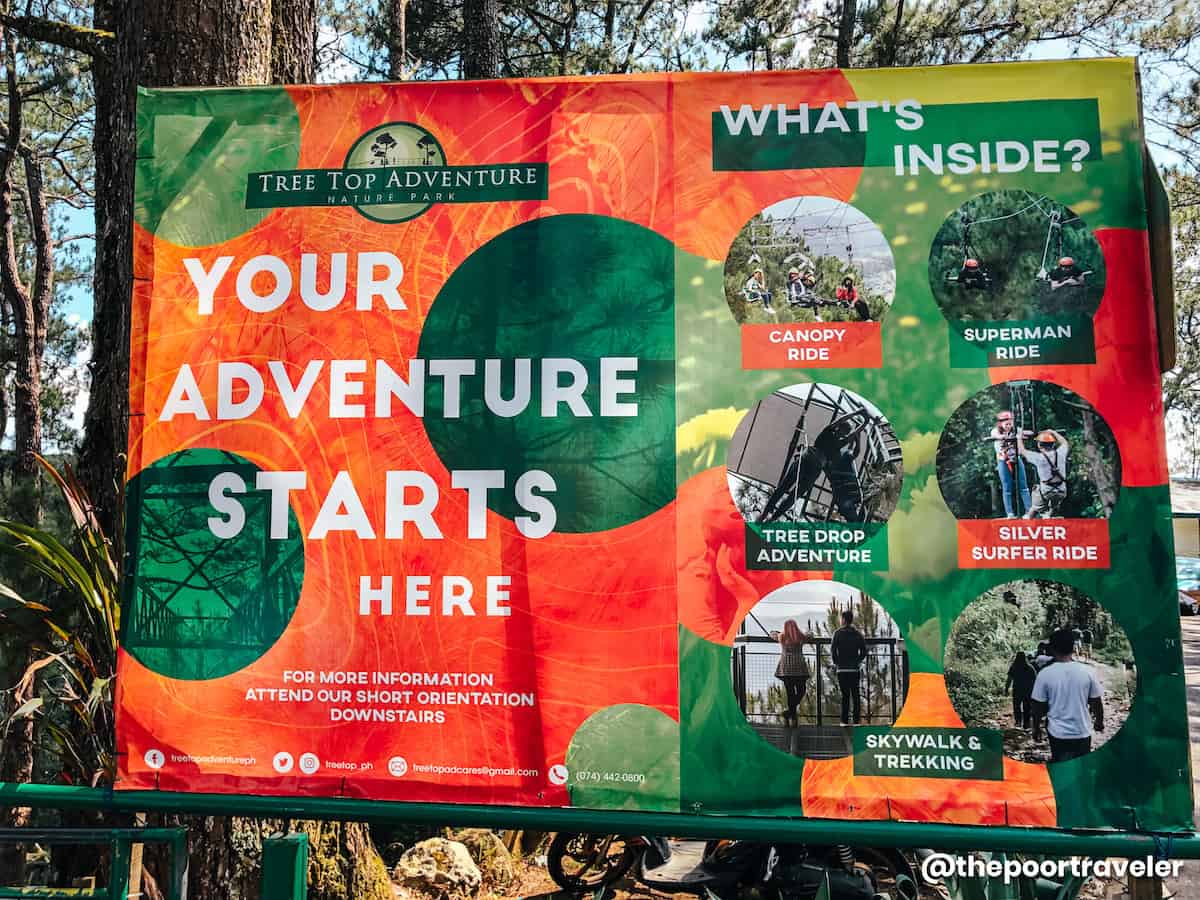 Here are the rates:
Superman Ride: P300
Silver Surfer Ride: P200
Canopy Ride: P250
Skywalk + Trekking: P150
Tree Drop: P150
There are also combo packages offered. Here are the rates:
Canopy Ride + Silver Surfer: P400
Canopy Ride + Superman Ride: P500
Canopy Ride + Silver Surfer + Superman Ride: P700
All activities: P900
Note: You can customize the package to your liking; the rate will vary depending on your choices.
Address: Scout Hill Dr, Camp John Hay, Baguio City
Opening Hours: The usual daily schedule is from 8:00 AM to 5:00 PM. The schedule may change depending on the weather. When we last visited (first week of March 2022), the property was CLOSED.
Dress Code: A pair of shorts are allowed but make sure that it will be no shorter than two inches above the knee.
---
Bell House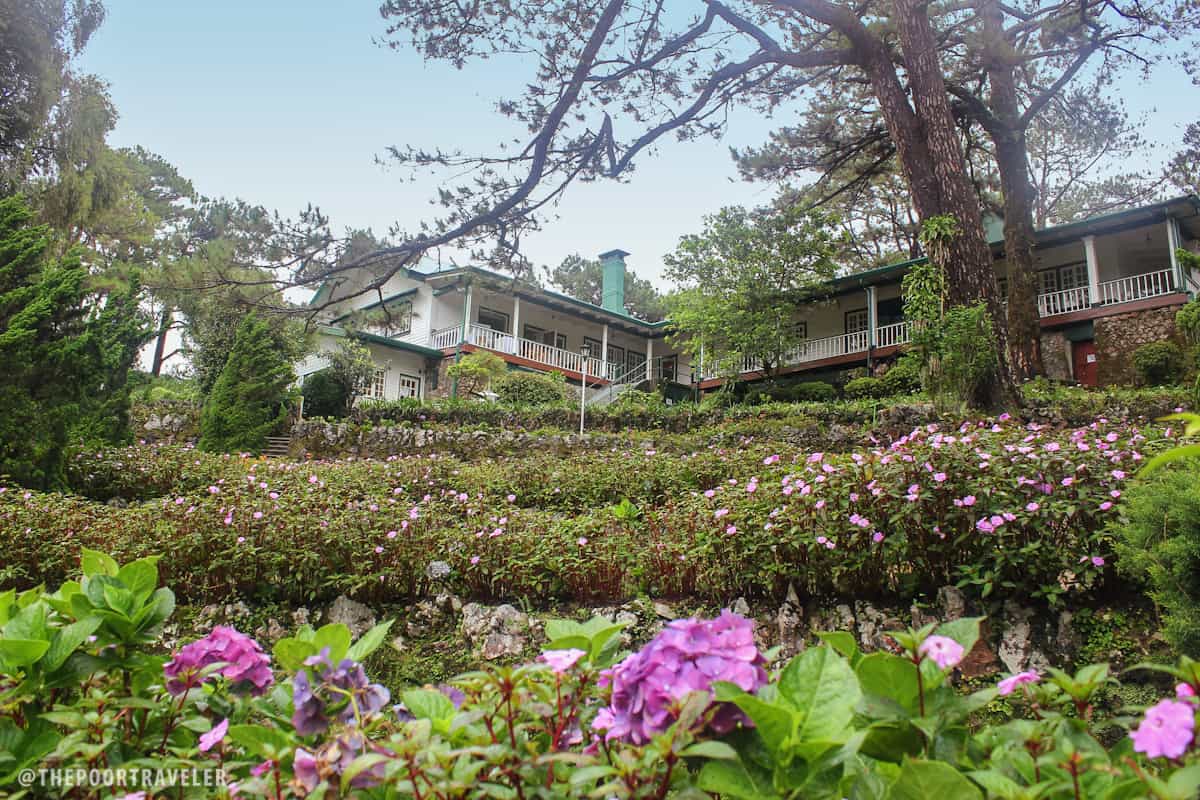 Also located within the perimeter of Camp John Hay and not far from Tree Top Adventure is the Bell House, named after General J Franklin Bell.
This former official holiday residence of the Commanding General of the Philippines has been converted into a museum. The well-preserved building reflects the American colonial architectural style. It features an amphitheater that also functions as a garden.
Address: Historical Core, Camp John Hay, Baguio City
Opening Hours: 9:00 AM – 5:00 PM (Daily). The opening hours might change, so please check the official website or Facebook page before visiting.
Entrance Fee: P75 (Historical Core Entrance Fee). This fee also allows entrance to the Cemetery of Negativism.
---
Cemetery of Negativism
Located on a hill's slope between Bell House and Camp John Hay Picnic Area, the Cemetery of Negativism (also called the Lost Cemetery) was commissioned in the early 1980s by the base's commanding general John Hightower.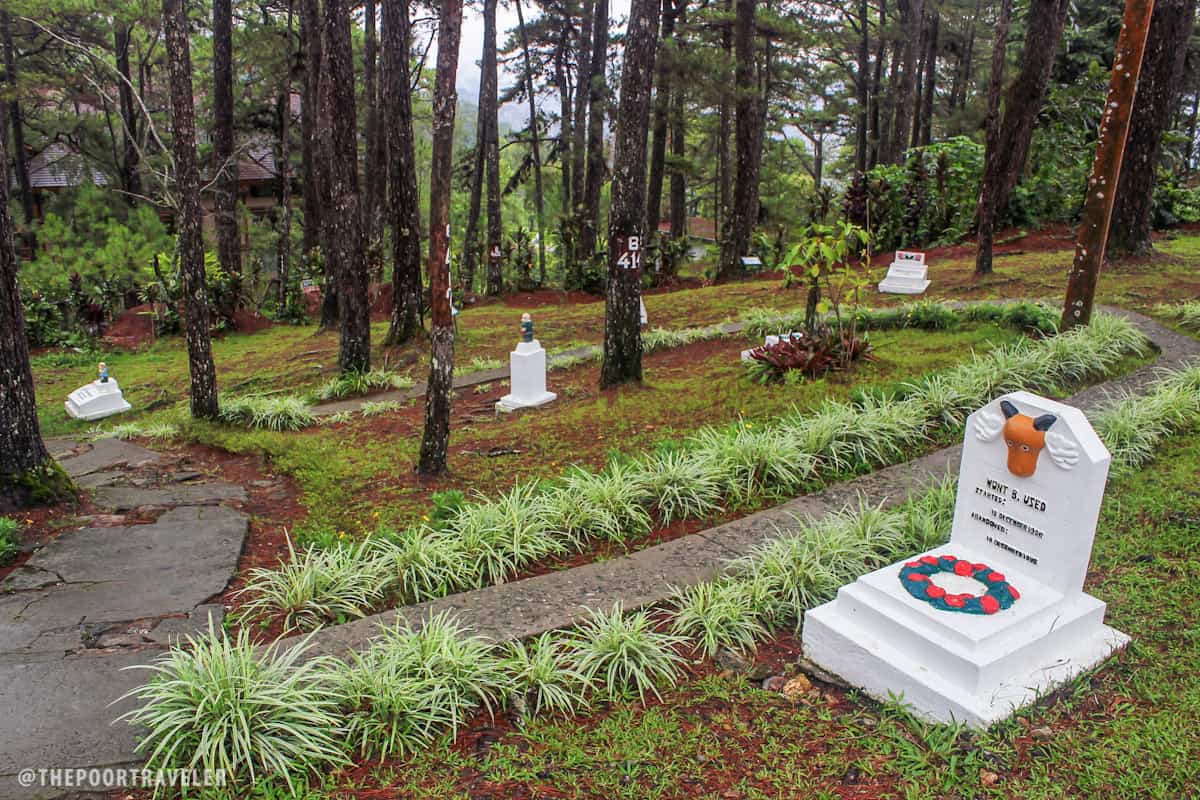 But this cemetery is not the usual site for burying human bodies but rather a symbolic place for burying negativities. The tombstones were inscribed with witty and punny "eulogies" which may sometimes require a dash of sarcasm to understand.
One tombstone reads "Itz Not Possible", conceived November 11, 1905 but "still not born". Another one has "Know Dam Way" engraved on it, then below it, "Conceived New Years Eve 1910. Didn't work out."
If you are looking for something unique, funny, and inspiring at the same time, head over here and scare the bad vibes away.
Address: Historical Core, Camp John Hay, Baguio City
Opening Hours: 9:00 AM – 6:00 PM (Daily). The opening hours might change, so please check the official website or Facebook page before visiting.
Entrance Fee: P75. This fee also allows entrance to the Bell House.
---
Picnic at Camp John Hay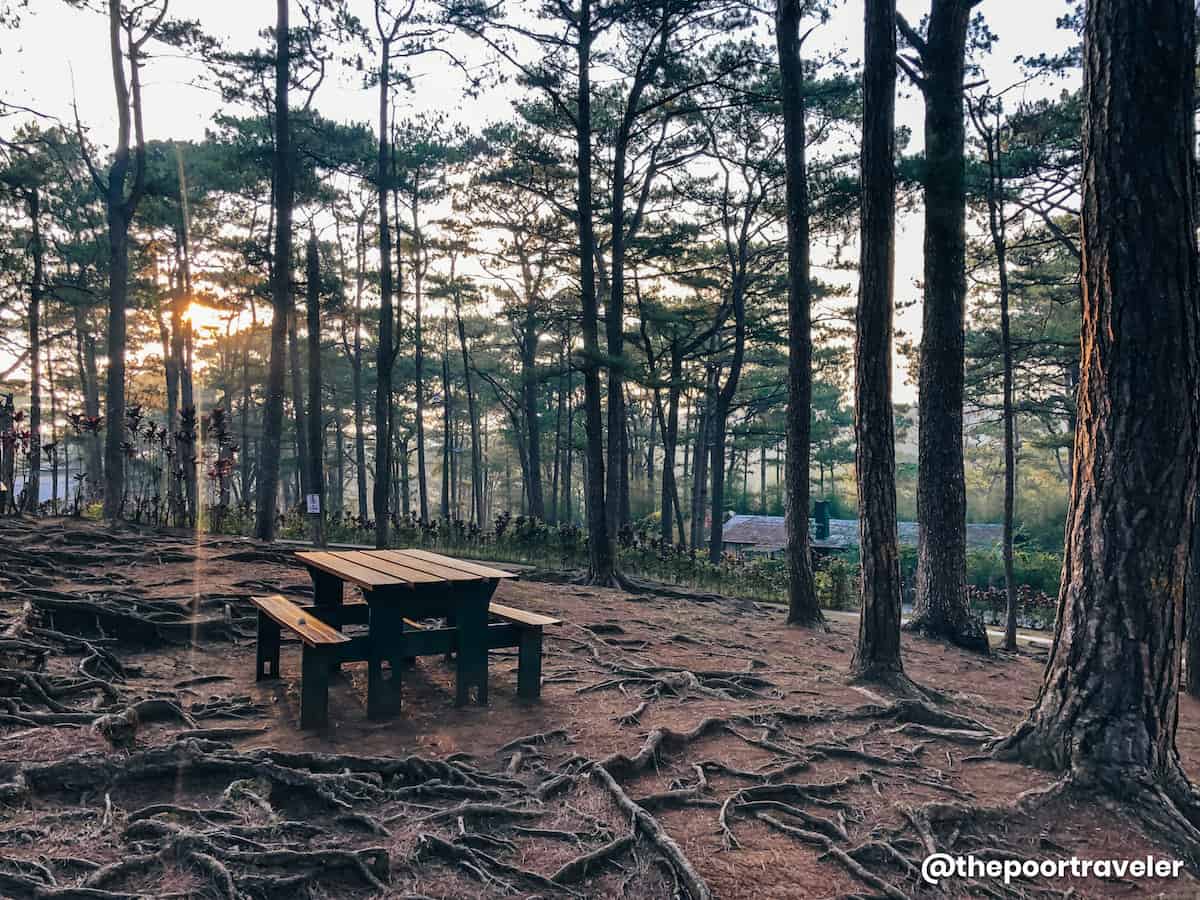 The cool temperature of Baguio makes outdoor activities like having a picnic with your friends or family attractive to visitors. Bring your own food and ready the things you will need for a fun bonding with your loved ones while admiring the natural scenery.
You can spread out a mat on a chosen spot or find a picnic table. Camp John Hay has a picnic spot dotted with picnic tables for rent. The rate is P200 for the first three hours and P300 if you go beyond that.
You can also do it at Burnham Park. Wherever you choose to do it, please don't forget to clean up your mess after.
---
LA TRINIDAD Tourist Spots
La Trinidad Strawberry Farm
Situated about 30 minutes north of Baguio is the most popularStrawberry Farm in the area. It's often associated with Baguio City but is actually part of La Trinidad.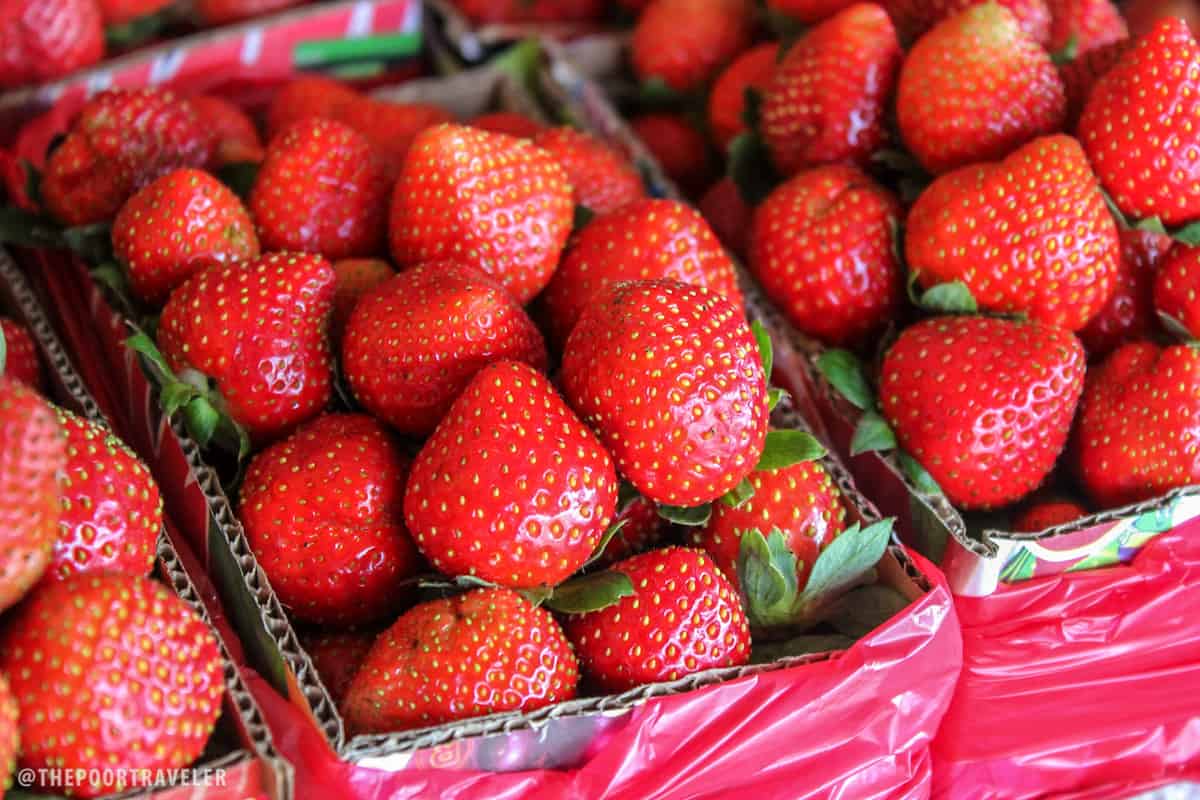 Buying strawberries here will cost you P250-P300 per kilo. If you want to experience picking your own strawberries, which is the main draw of this place, you have to pay an additional P200. The strawberry-picking season is from November to May.
The farm also has a pasalubong center, composed of several souvenir stores. Don't forget to try strawberry taho and strawberry ice cream! Aside from strawberry products, the farm also offers fresh produce and plants.
The La Trinidad Strawberry Farm is managed and owned by Benguet State University.
Address: Barangay Betag, La Trinidad, Benguet
Opening Hours: 7:00 AM – 7:00 PM (Daily). The opening hours might change, so please check the official website or Facebook page before visiting.
Entrance Fee: FREE. The rate for Strawberry-Picking Group Experience is P600. This rate is good for five (5) people already. If you will buy strawberries, the price is P360/kilo for small strawberries and P400/kilo for large strawberries.
---
Colors of StoBoSa, La Trinidad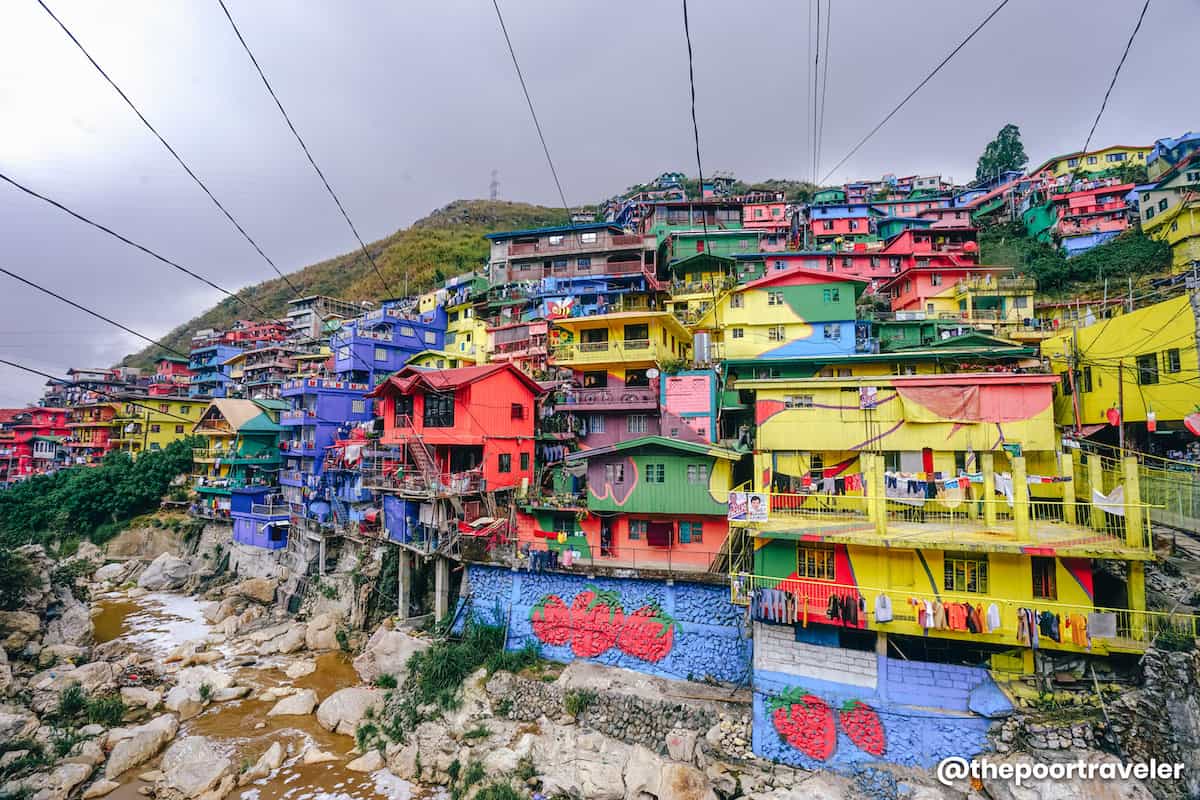 The Colors of StoBoSa is another popular tourist attraction in La Trinidad. Officially named StoBoSa Hillside Homes Artwork, it was the brainchild of the DOT-CAR in collaboration with the Tam-Awan Village group which came up with several design proposals and over 500 residents/volunteers.
The vast mural encompasses the hillside houses of three sitios in Barangay Balili namely Stonehill, Botiwtiw, and Sadjap, hence the term "StoBoSa". The Colors of StoBoSa was launched to the public in 2016.
Address: Barangay Balili, La Trinidad, Benguet
Opening Hours: 24/7
Entrance Fee: FREE
---
Bell Church, La Trinidad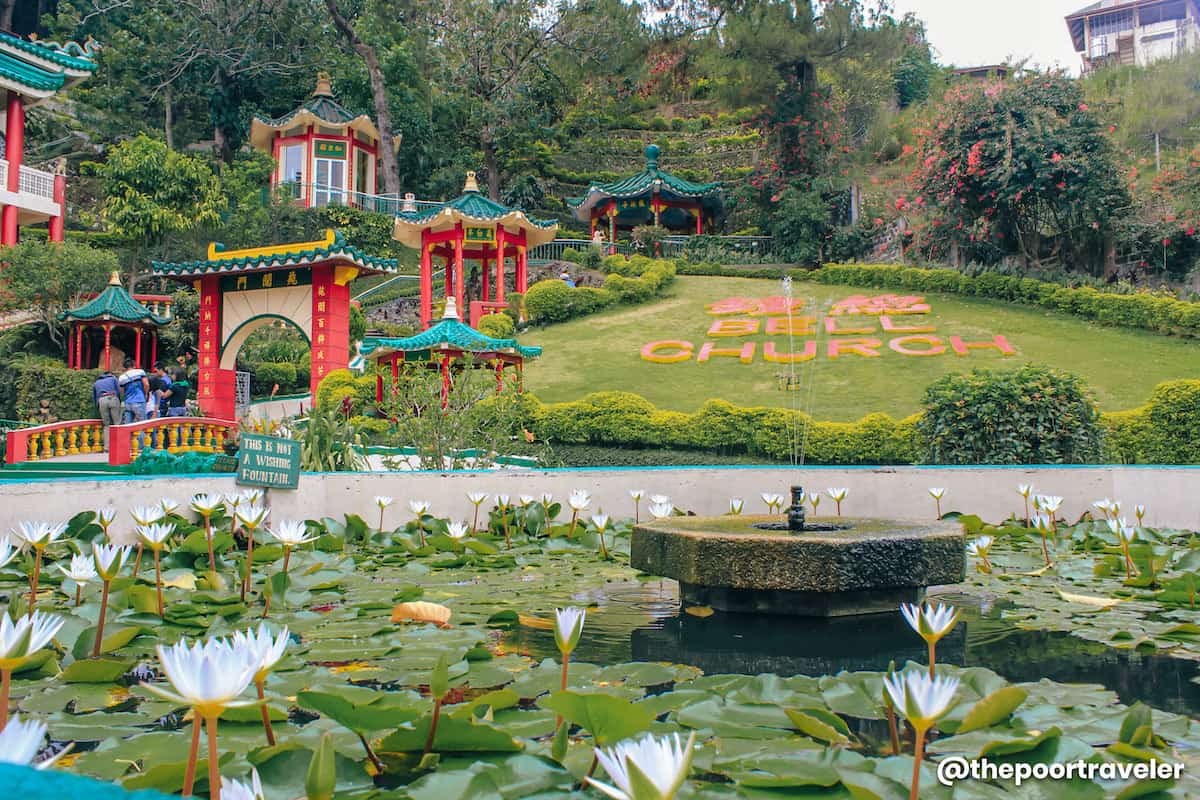 Also located in Barangay Balili near StoBoSa and the border of Baguio and La Trinidad, the Bell Church is a temple founded by Chinese immigrants from Canton (Guangzhou) in 1960.
The serene atmosphere and the view while strolling around the courtyard attract a lot of tourists to the temple, making it a major tourist destination. It also features a small lily pond.
Address: FA 347 Bell Church Road, La Trinidad, Benguet
Opening Hours: 6:00 AM – 5:00 PM. Note that it closes at lunch time between 12:00 PM and 1:30 PM. The opening hours might change, so please check the official website or Facebook page before visiting.
Fees: P20/head (Entrance Fee); P20 (Parking Fee)
---
DOWNTOWN BAGUIO Tourist Spots
Baguio Night Market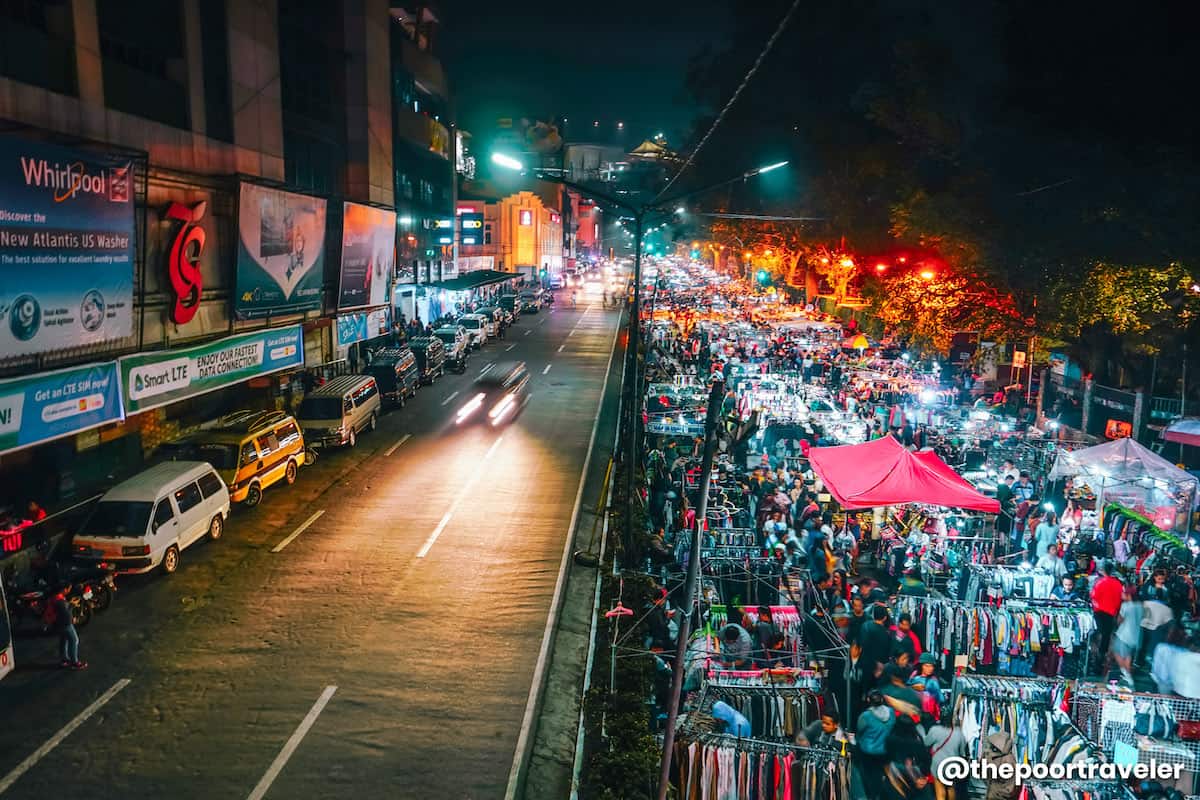 The concept of night markets in the Philippines might not be as grand, but it is slowly weaving itself through the fabric of market consciousness.
Baguio is developing a strong night market culture, drawing tourists to the area along Harrison Road in the Central Business District. This is perfect for those who want to score bargain items or fill their tummies without digging deeper into their pockets.
Whether going here to shop or to eat, always keep an eye on your belongings.
Address: Harrison Road, Baguio City
Opening Hours: 9:00 PM – 2:00 AM (Daily). The opening hours might change, so please check the official website or Facebook page before visiting.
---
Sky Ranch Baguio
Sky Ranch is not unique to Baguio, as similar theme parks are also present in Tagaytay and Pampanga, offering pretty much the same rides and experience. But if you haven't been to one yet, then you may add Sky Ranch Baguio to your itinerary.
Here are the prices of tickets to some of the most popular attractions inside:
Baguio Eye: P150
Super Viking: P100
Sky Cruiser: P100
Drop Tower: P100
Double-Decker Carousel: P50
If you plan on trying multiple rides, consider getting a RIDE-ALL-YOU-CAN DAY PASS! It will give you access to the amusement park's 11 best attractions at a lower rate.
✅ RESERVE A DISCOUNTED PASS HERE!
---
Burnham Park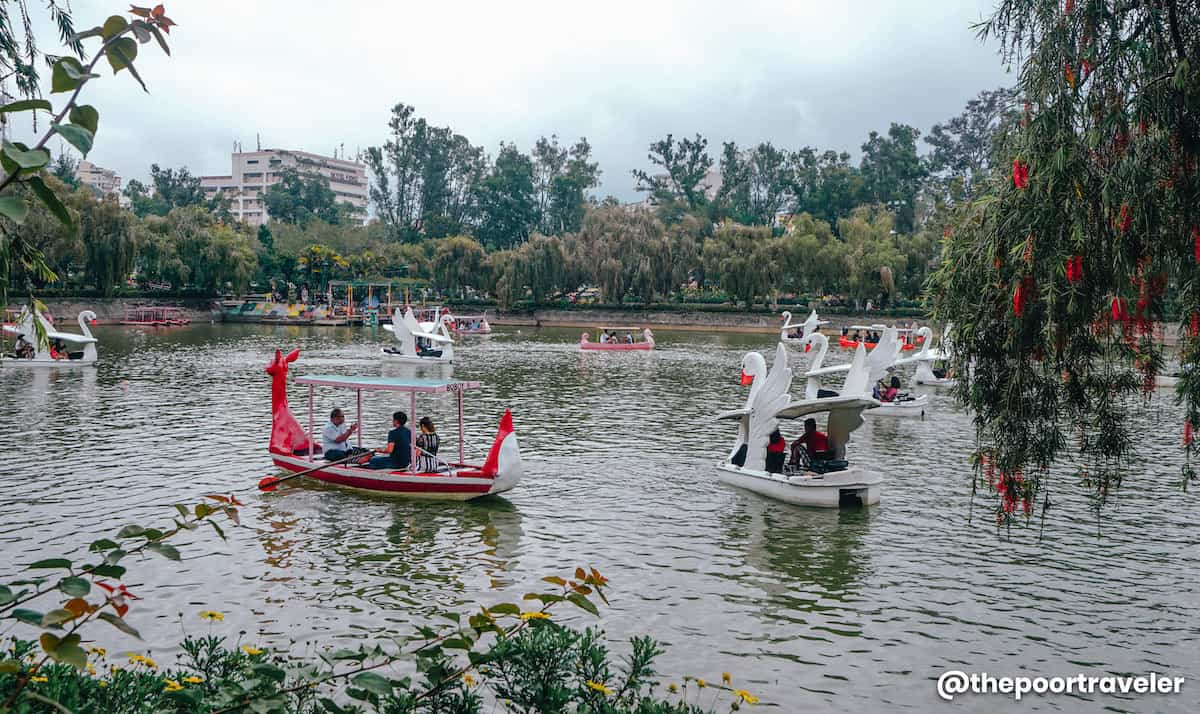 Located at the heart of Baguio, Burnham Park is the most famous attraction in the city. It is dominated by Burnham Lake (or Lagoon) and dotted with other interesting spots like the Rose Garden, a recreational park with a skating rink, the Orchidarium, the Children's Park, and the Melvin Jones Grandstand.
The park is bustling with lots of fun activities such as renting paddle boats (swan boats), biking, and go-karting. If you get hungry while enjoying the activities around the park or if you just want to go food tripping in the area, food stalls and street food vendors abound so you and your tummy are pretty much covered.
Address: Burnham Park, Jose Abad Santos Drive, Baguio City
Opening Hours: 24/7
Entrance Fee: FREE
Rental Rates: P75/30 mins (Chopper/Big Bike); P50/30 mins (Go Kart); P125/30 mins (Grand Tour); P100/30 mins (Boat, good for 5 pax) + P50 if you want to hire a rower
---
Baguio Museum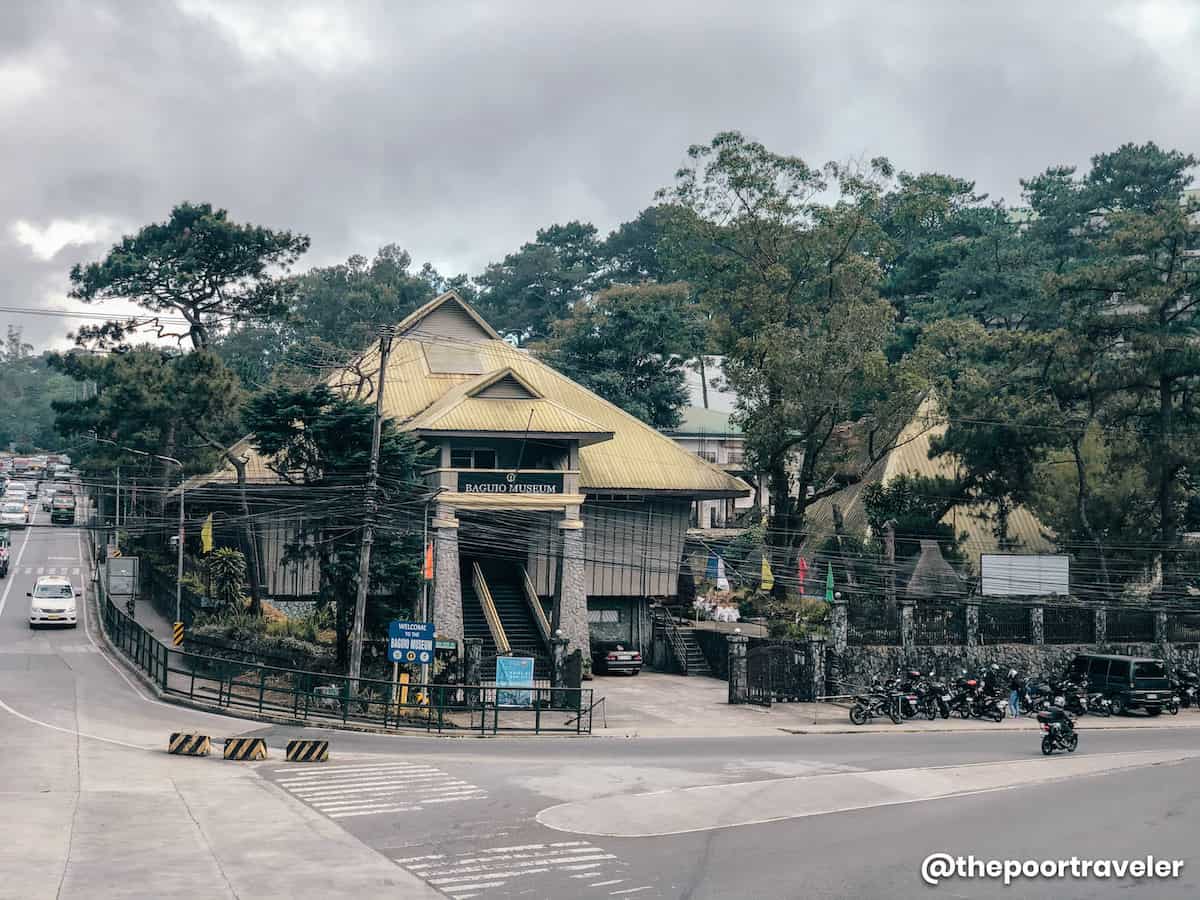 Just a short walk from Burnham Park stands the Baguio Museum. It is not hard to find as it's surrounded by prominent landmarks like the University of Baguio, University of the Cordilleras, Baguio City National High School, and SM Baguio.
The museum's collections tell the history of the city and showcase the culture of the Cordillera region. The four floors host all the collections classified into categories — Baguio Gallery, Cordillera Gallery, and the Alternative Gallery.
The building also has a training floor and a multi-purpose hall. The museum started rehabilitation and renovation in 2017 and is targeted to finish in 2020.
Address: Dot-PTA Complex, Gov. Pack Rd, Baguio City
Opening Hours: 9:00 AM – 5:00 PM (Tuesday – Sunday); CLOSED (Mondays). The opening hours might change, so please check the official website or Facebook page before visiting.
Entrance Fee: P40 (Regular); P10-20 (Student Discount)
Baguio Cathedral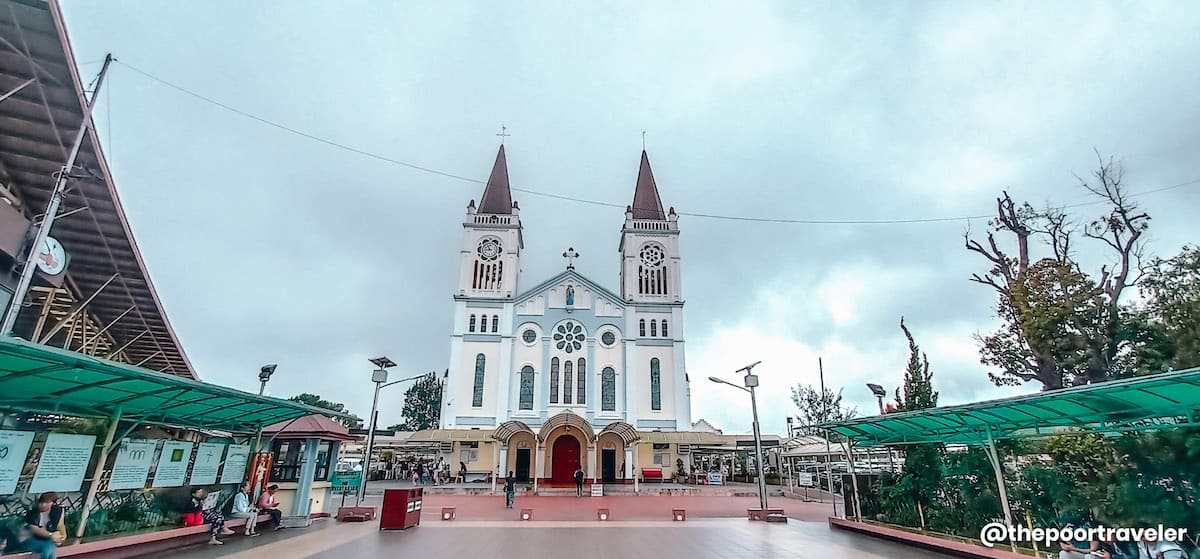 Baguio Cathedral, officially named Our Lady of the Atonement Cathedral, is a hilltop cathedral overlooking Session Road and the busy downtown streets. It was launched in 1936 and dedicated to the Virgin Mary.
It follows a neo-Romanesque architectural style that features twin belfries/spires, a rose window (facade), and stained glass windows. It is one of the prominent landmarks in Baguio and is located beside Saint Louis University.
To access it from Session Road, visitors have to climb several steps, leading to the courtyard and the cathedral. Alternatively, you can go to Porta Vaga Shopping Mall and use the escalator leading to the cathedral's courtyard.
Address: Our Lady Of Atonement Cathedral, Session Road, Baguio City
Opening Hours: Tourists are welcome anytime but please be considerate when mass is ongoing. You can check the mass schedule on the official Facebook page.
Entrance Fee: FREE
---
Ukay-Ukay Stores
Baguio won't be Baguio without "SM" — Segunda Mano stores. These second-hand stores, locally called wagwagan but popularly called by tourists ukay-ukay, littered the busy streets and corners of downtown Baguio. Tourists will find themselves easily getting lost in the mountains of options for pre-loved items. The pieces vary — clothing, bags, shoes, belts, scarves, and others.
Honestly, the wide range of choices can get really overwhelming. But if you have the patience and the stamina (haha), you might dig up some vintage and rare items. The popular ukay-ukay areas are Skyworld (Session Road), Hilltop (at the back of Baguio City Market), and Bayanihan (near Burnham Park). You'll also find some, well, good finds, at the night market!
Happy bargain hunting!
---
Session Road Nightlife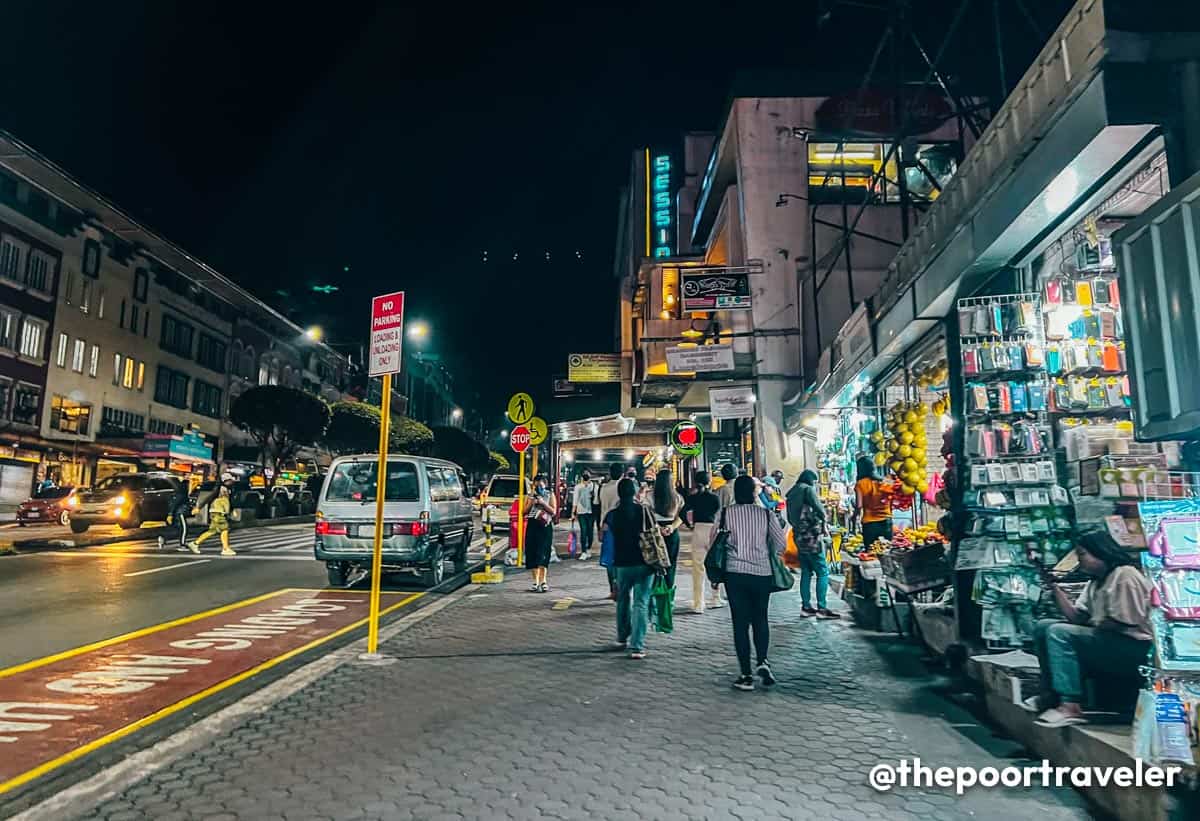 One of the city's major arteries, Session Road is the most famous street in Baguio. It is abuzz with locals and tourists going about their business during the day, but it becomes livelier at night as bars and hangout places pulsate with good music and great conversations.
If you want to have dinner first before losing yourself in music and booze with friends and maybe new acquaintances, Session Road hosts numerous international restaurants and fast-food restaurants.
But if you want to try the local offerings, it is also home to several homegrown restaurants including Sizzling Plate, Ocha Asian Restaurant, Vizco's Restaurant, Volante, Oh My Gulay, and Drop Out, among others.
---
Baguio Public Market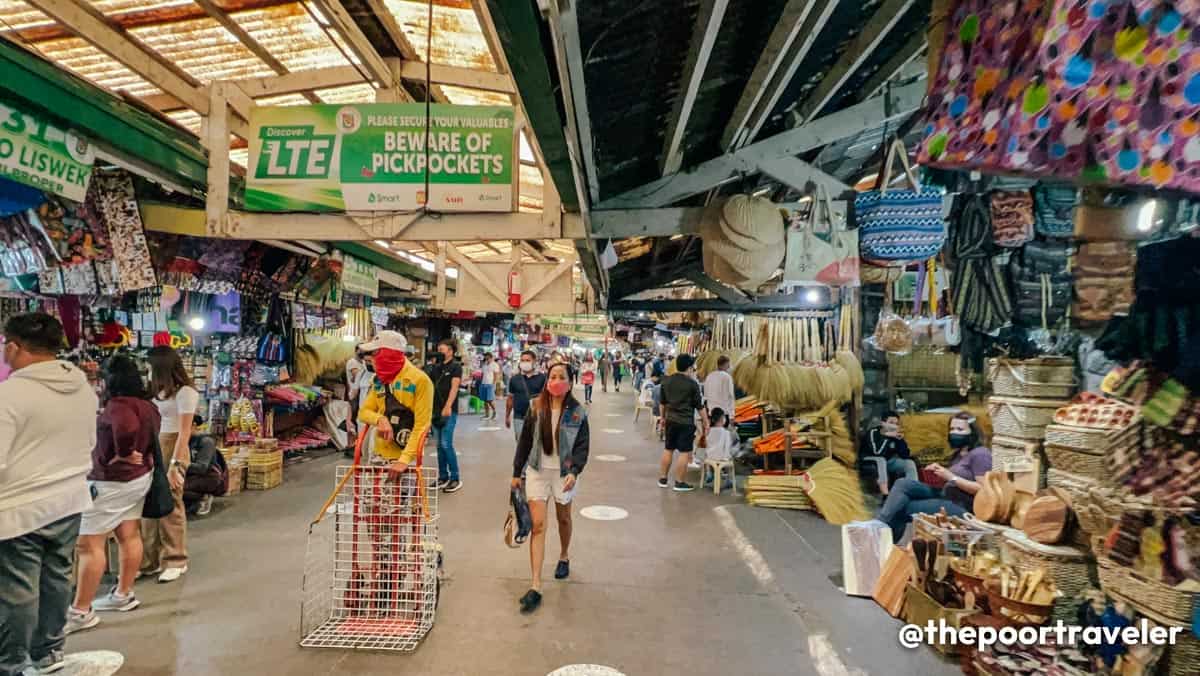 For pasalubong, make your way to the Baguio Public Market, which houses countless stalls selling products that are synonymous with the region — fresh strawberries and Sagada oranges, strawberry and ube jams, peanut brittle, fresh vegetables, and souvenirs!
And of course, grab a walis tambo!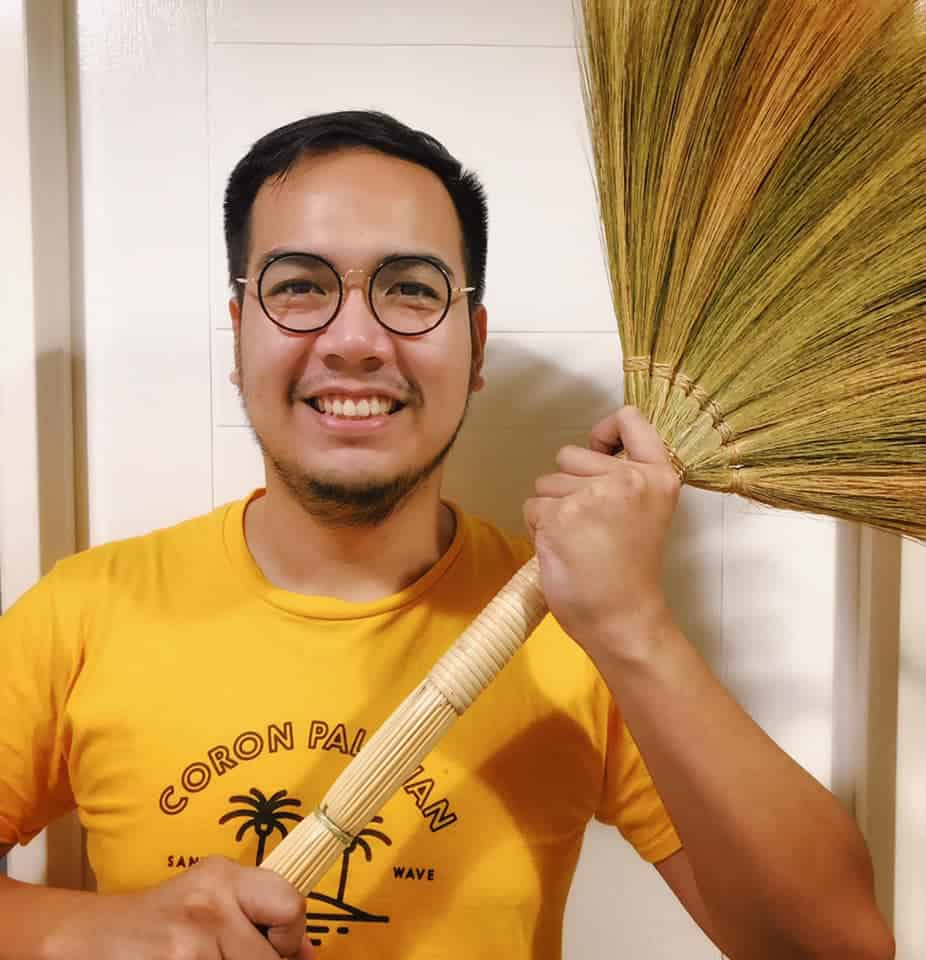 There's something about Baguio's walis tambo that makes it consistently land in the top items of pasalubong from the city. For some reason, my mom and aunts never fail to buy one when we're in Baguio or request it from loved ones visiting Baguio. I asked my mom about it and she casually told me that the walis tambo from Baguio is sturdier and thicker.
---
LEONARD WOOD & MINES VIEW Tourist Spots
In this section are attractions situated northwest of the city center, usually reached by taking the Leonard Wood Road.
Baguio Botanical Garden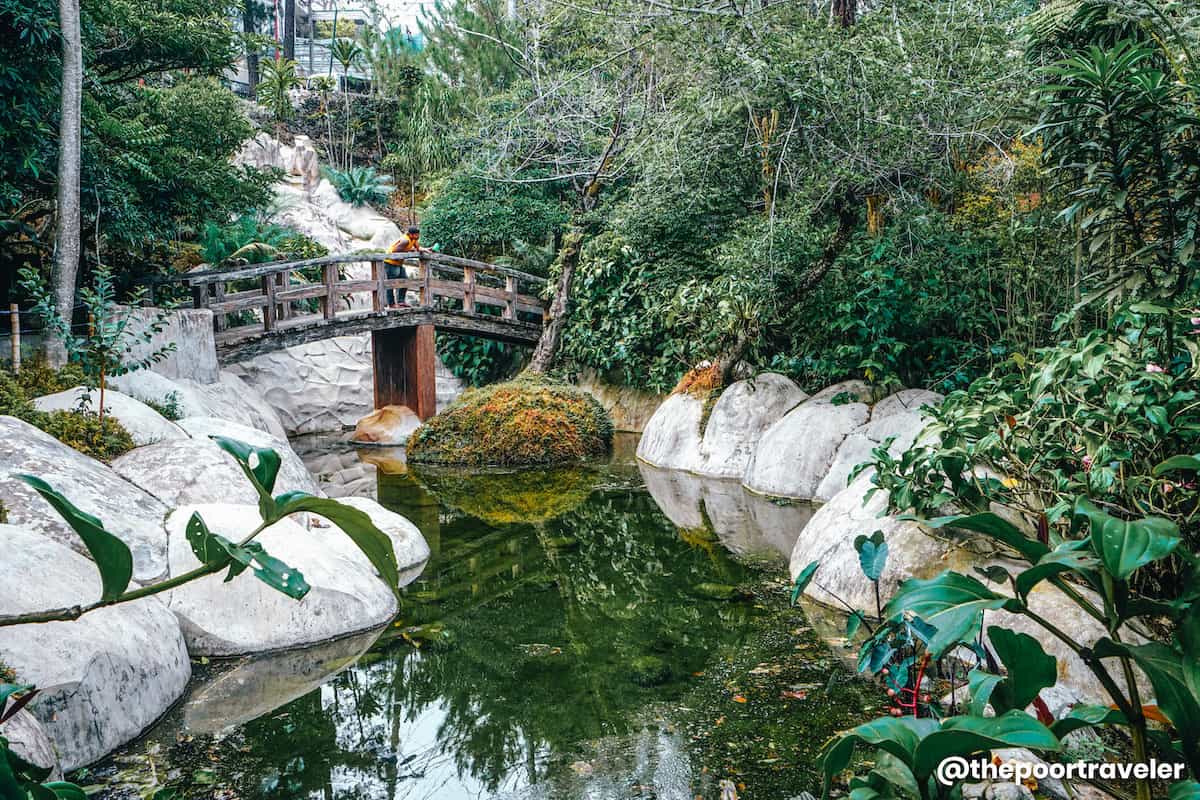 One of the many green spaces in the city, the Baguio Botanical Garden (renamed Centennial Park) is located between Wright Park and Teacher's Camp, along Leonard Wood Road.
This is another popular attraction in the city where visitors can enjoy the relaxing atmosphere of the verdant surroundings. The extensive garden park is just a short drive from Baguio's Central Business District. It has many walking paths where you can see many photo-worthy spots. It also harbors the Baguio Arts Guild and the Igorot Village.
Address: 37, Leonard Wood Road, Baguio City
Opening Hours: 6:00 AM – 6:00 PM (Daily). The opening hours might change, so please check the official website or Facebook page before visiting.
Entrance Fee: FREE
---
Wright Park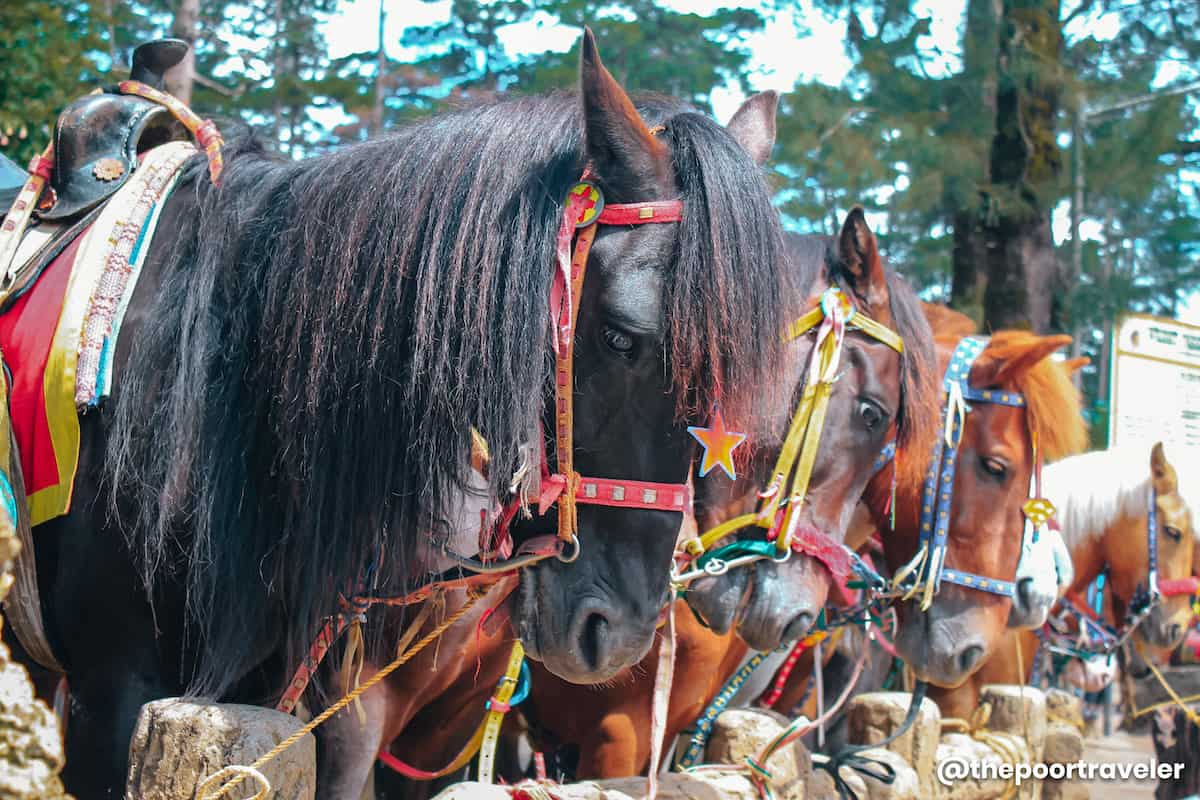 Another vast greenery is the Wright Park, named after the former Governor-General Luke Edward Wright.
This is a favorite leisure spot for both locals and tourists. It's a lush park that offers walking and jogging trails, biking paths, and rest spots. It features a long pond or pool that almost covers the whole stretch of concrete path linking the Wright Park Kiosk and The Mansion facade. It also has a pine tree-covered forest hill adjacent to the horse stable.
If you want to go horseback riding in Baguio, Wright Park provides quite a number of horses to choose from, plus it's not too far from the city center.
Address: Wright Park, Pacdal Circle, Baguio City
Opening Hours: 6:00 AM – 7:00 PM (Daily). The opening hours might change, so please check the official website or Facebook page before visiting.
Entrance Fee: FREE
Horseback Riding Rate: P200 for 7 rounds
---
The Mansion
Wright Park's long concrete path with a pool leads to the gate of the Mansion House, popularly referred to as The Mansion. It was commissioned in 1908 to serve as the official residence of the US Governor-General in the Philippines. It underwent reconstruction in 1947 after sustaining huge damage during the Second World War.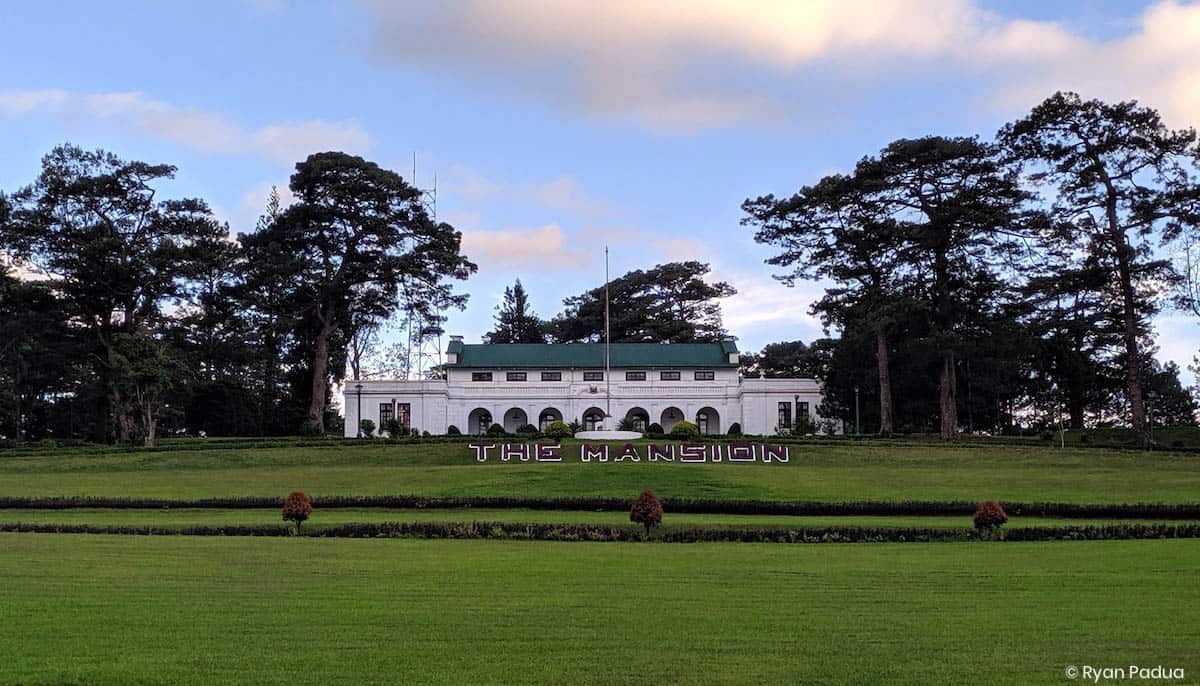 Presently, it functions as the official summer palace of the President of the Philippines. It is also the site for other important state functions and international gatherings.
Address: The Mansion, Baguio-Bua-Itogon Road, Baguio City
Opening Hours: 24/7 (Mansion Gate). Most of the time, the Mansion is closed to the public, so visitors can only get a glimpse of the actual mansion from the entrance gate.
---
Mines View Park
Usually crowded with hordes of tourists, Mines View Park is definitely one of the most popular tourist spots. My local friends say that this is more like a tourist trap, but we're tourists so go check it out still and see why it's popular in the first place.
It features an observation deck that presents a panoramic view of the former gold and copper mines of Itogon town below and the mountains beyond. This is also one of the best spots for sunrise watching.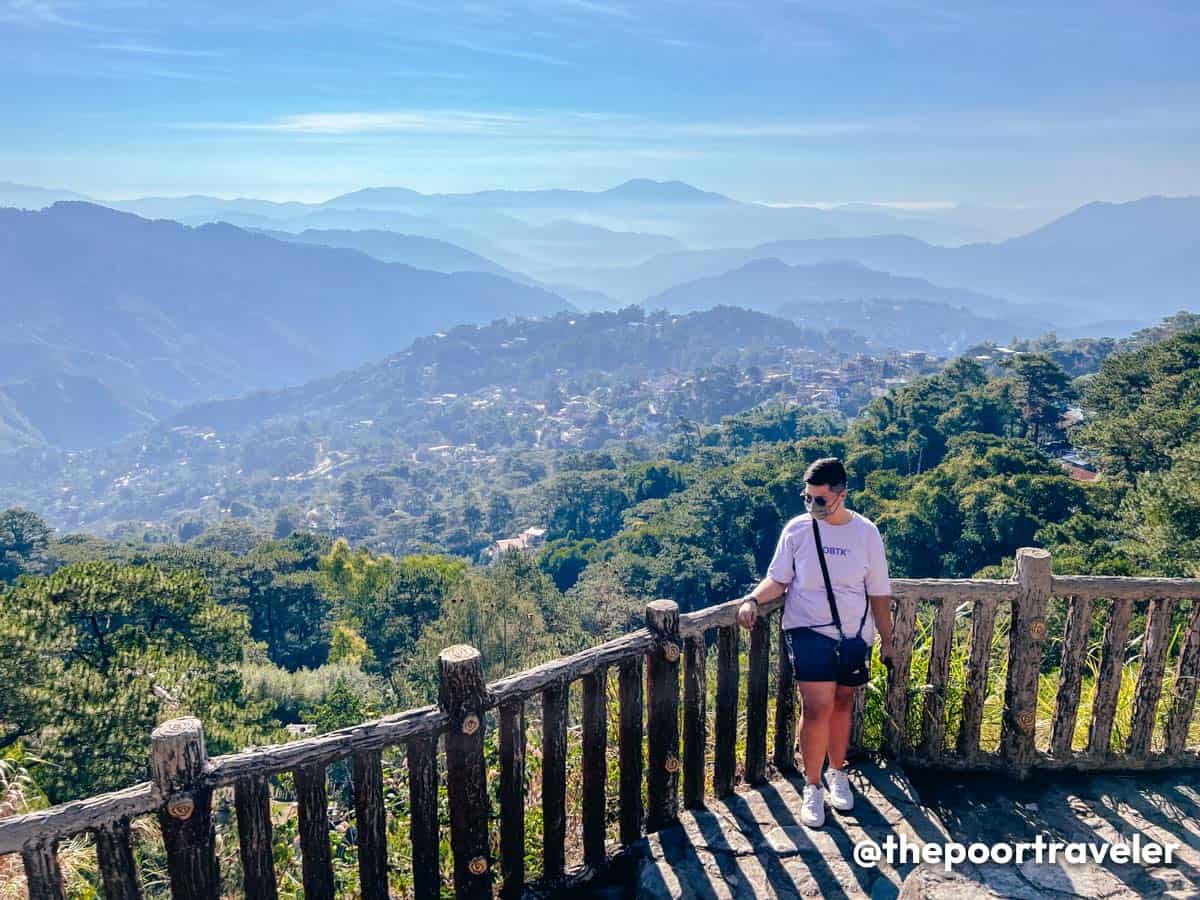 If you want to avoid the crowd, go there early in the morning. The place is peppered with numerous shops, stalls, and peddlers selling souvenir items, clothes, trinkets, food, and even plants! The entrance to the park is located along Gibraltar Road.
Plant sellers also abound in the area. Baguio's chilly atmosphere makes it favorable for growing plants — flowering, herbs, and ornamental. The wide range of choices will make veteran and newbie plantitos and plantitas go gaga over these bloom and foliage babies.
Address: Mines View Park, Gibraltar Road, Baguio City
Opening Hours: 6:00 AM – 8:00 PM. The opening hours might change, so please check the official website or Facebook page before visiting.
Entrance Fee: P10 (Adult); P5 (Children)
---
Good Shepherd Products
Not far from Mines View Park is a place where you can get the famous ube jam. It's a quintessential pasalubong stop in Baguio where tourists willingly wait in line for the signature ube jam and other favorite products.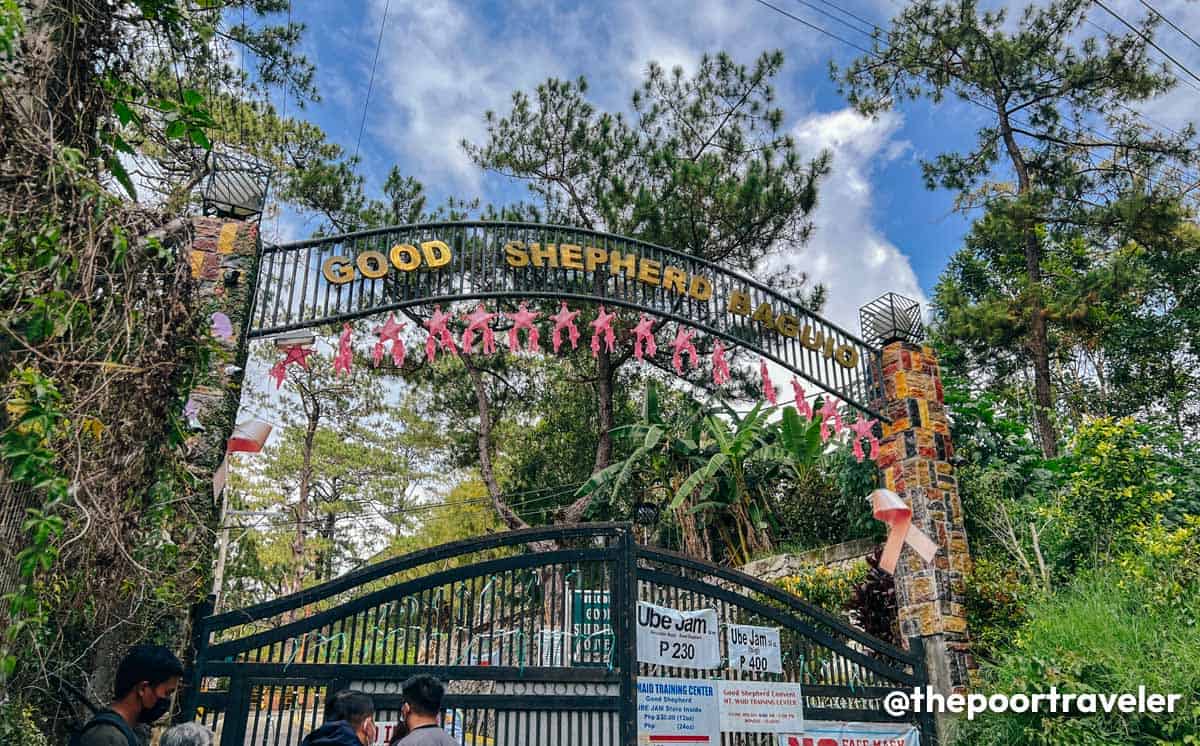 What makes buying from Good Shepherd special and fulfilling is its advocacy. Good Shepherd has built a good reputation for producing quality products for a cause. So where does your money go? Check the packaging (usually printed on the lid): "You help send us to college each time you buy our products". The proceeds will be used to help send the Cordillera youth to college.
Other products are strawberry jam (seasonal), blueberry jam (seasonal), peanut cluster, cashew brittle, lengua, snowballs, angel cookies, choco flakes, alfajor cookies, banana chips, sampaloc candy, and more. There's a strict ordering system — write down your orders first, queue, and hand over your order and payment to the attendant.
Also, don't forget to try some of their Take Out Products which are basically snack/merienda items. Note that the lines can get too long during the peak season and there is an order limit per person. When they products are sold out, they close the site (like during our last visit).
Address: Good Shepherd Convent, 15 Gibraltar Road, Baguio City
Opening Hours: 8:00 AM – 5:00 PM (Daily). The opening hours might change, so please check the official website or Facebook page before visiting.
Entrance Fee: FREE
---
CULINARY ATTRACTIONS
Sample Local Dishes
Baguio takes pride in its robust local culinary scene. Making the most of the abundance of ingredients, the locals came up with lots of innovative ways to create dishes and food products that embody the Cordillera region and neighboring Ilocos region, whose influence also seeps into the city.
Many of these dishes are available at various restaurants and eateries around Baguio. Some of the most well-known are pinikpikan (chicken soup), pinuneg (blood sausage) and kinuday (smoked meat), as well as dinakdakan (boiled, sliced and grilled pig's head parts) and bagnet (deep-fried pork).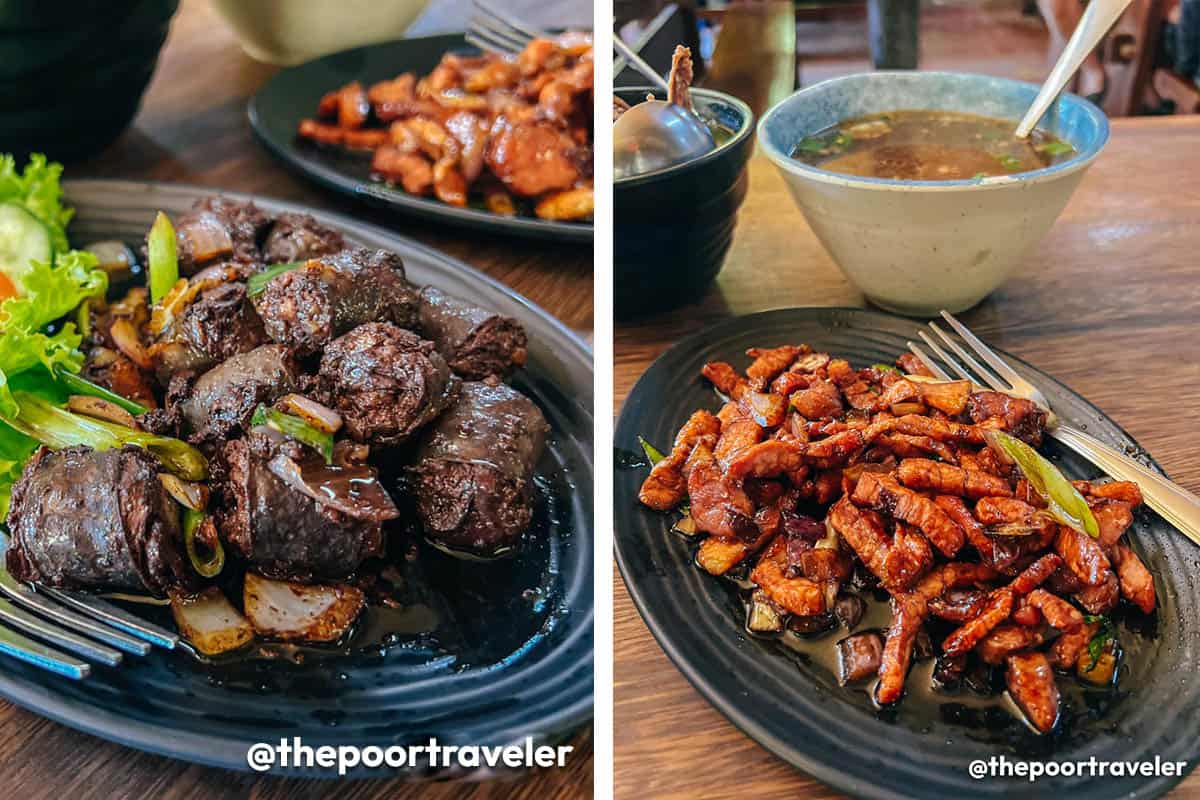 But if you want to sample a lot of delicacies at once, head over to The Farmer's Daughter Restaurant, situated just next to Tam-awan Village. They serve mostly Cordilleran and Ilocano fare, prepared traditionally.
If you prefer a more modern twist, Cafe by the Ruins is an established name in the city's food scene.
Local restaurants also add their Baguio twist to other Pinoy favorites. Mines View Park Hotel's ZENZ Bar and Restaurant serves strawberry sinigang and strawberry adobo.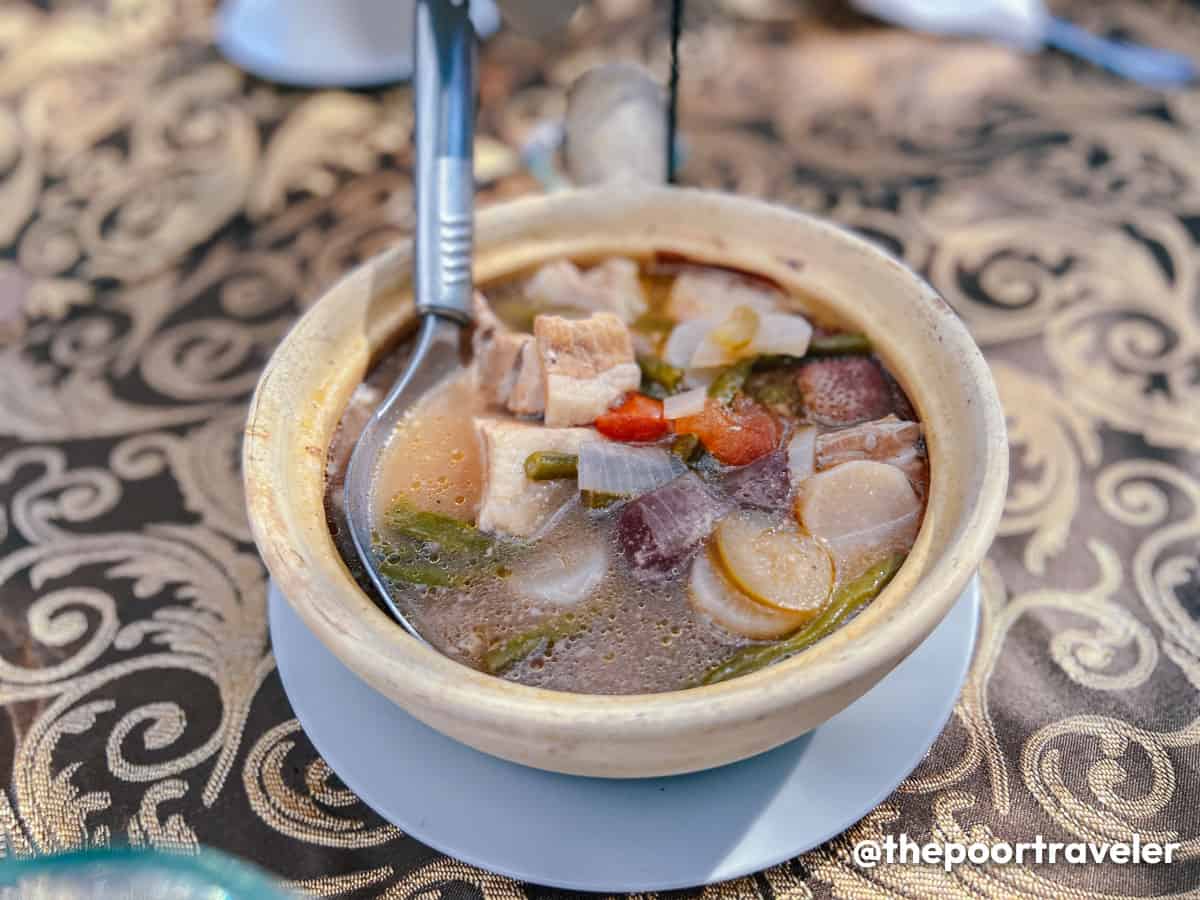 You can also go food tripping at the night market, Burnham Park, Ili-Likha, Good Shepherds, and Session Road, just to name a few.
---
Oh My Gulay Artist Cafe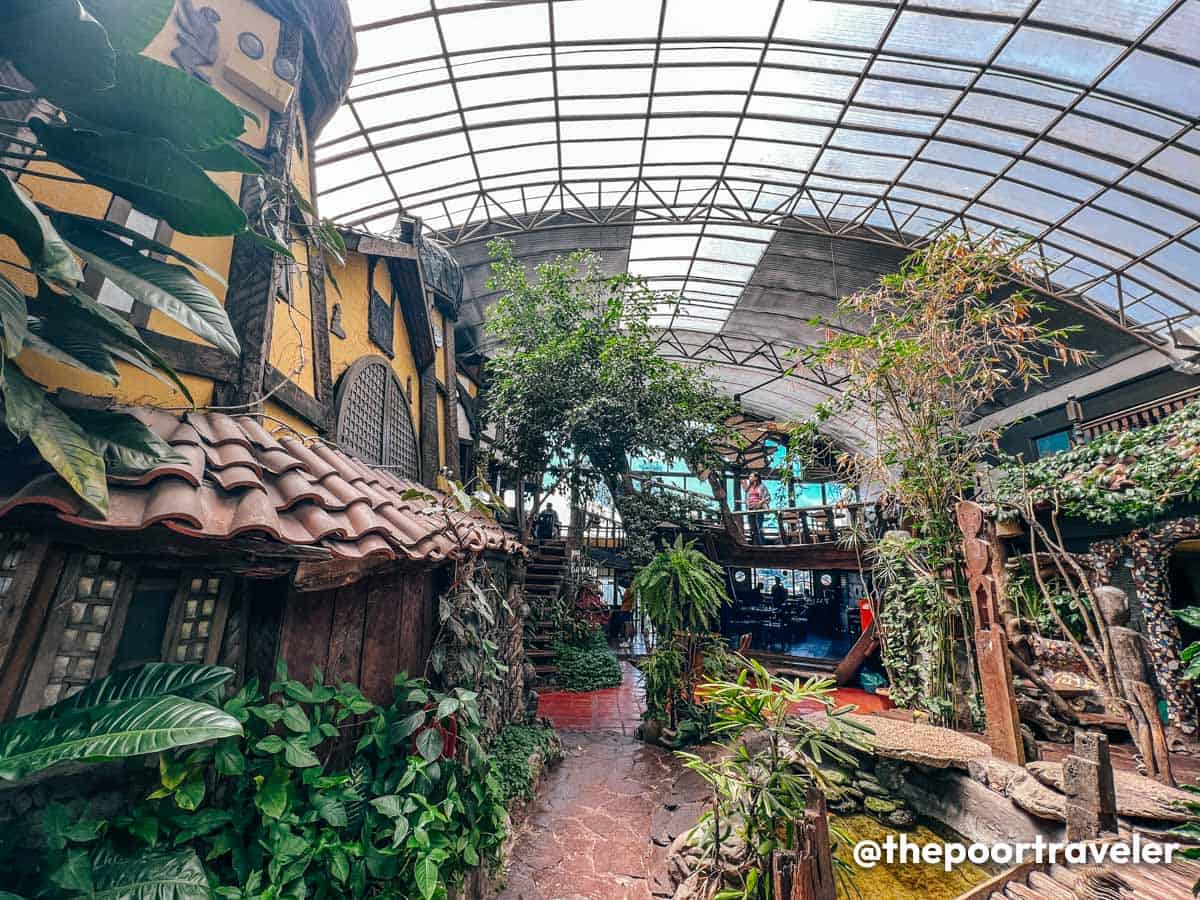 You might be thinking, Oh My Gulay is a local restaurant. Why does it have its own entry? Well, if you've been to this art cafe, you know it deserves its own spot!
Nestled on the top floor of an old building along Session Road, I was not expecting anything for that day's lunch stop. And to be honest, I was not too excited at first because I'm not really into vegetables. But when I took the last flight of stairs, boy was I blown away by the quirky interiors and decorations! It was like being transported into a secret, mystical world. And the indoor garden setting has its own small pond, too!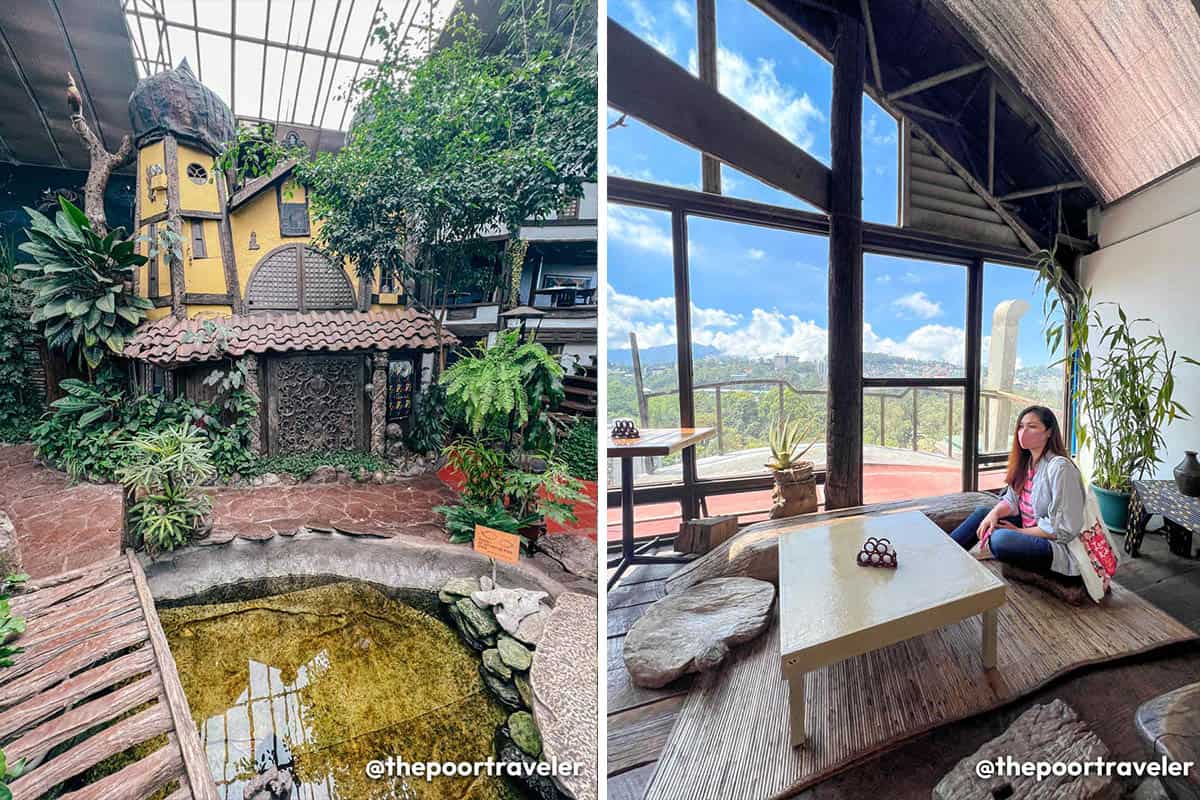 The restaurant has two-level dining areas. The upper level has two separate sections connected by a short wooden hanging bridge. The lower-level dining area has indoor seatings as well as veranda seatings with a view of the city. A collaboration of Oh My Gulay and Vocas, the place also features exhibit areas for local artists. As the name of the restaurant suggests, it serves affordable vegetarian and vegan meals.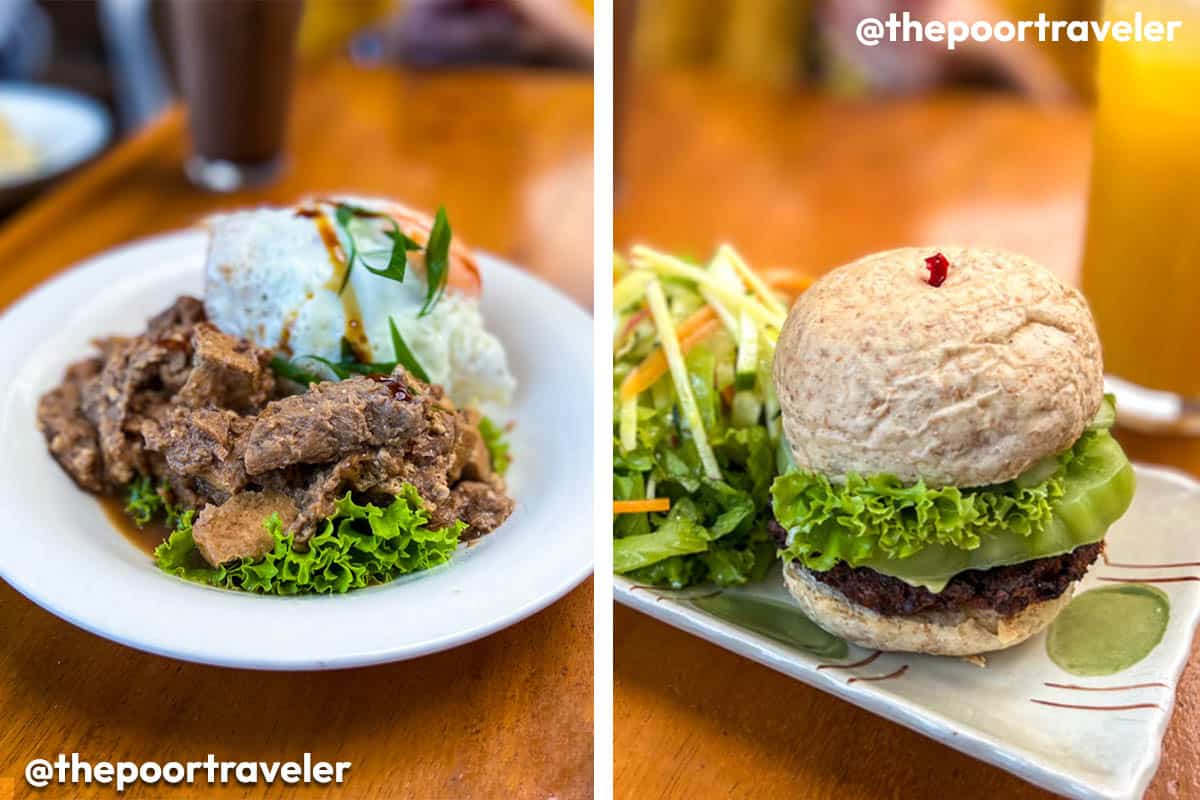 Address: 108 Session Road, Baguio City
Opening Hours: 11:00 AM – 7:00 PM (Monday, Wednesday – Thursday); 11:30 AM – 7:30 PM (Friday – Sunday); CLOSED (Tuesdays). The opening hours might change, so please check the official website or Facebook page before visiting.
---
Ili-Likha Artist's Wateringhole
Lying along Assumption Road is the very peculiar Ili-Likha Artist's Wateringhole, also known as Ili-Likha Artist Village. It was built by artist and filmmaker Eric de Guia (Kidlat Tahimik), who transformed a vacant lot into this whimsical treehouse-themed food park in 2014.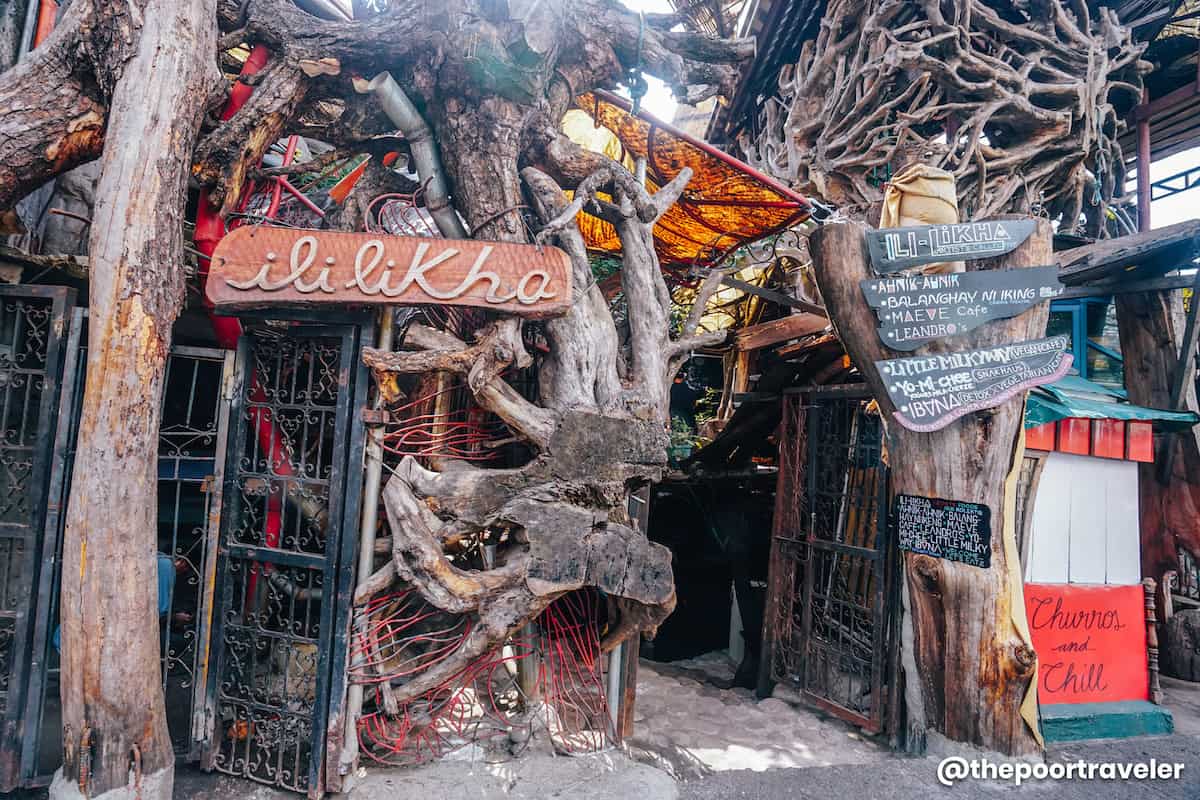 The place highlights the importance of preserving nature and culture through arts and food. It is an evolving work of art with several interesting corners and iconic features like the mosaic-covered staircase.
The homegrown restaurants serve healthy, preservative-free, and organic food. Some of the restaurants are Balbacua, Leandro's Bistro, Yomichee, Ibana, Little Milkyway Vegan Café, Oh My Gulay, Café Cueva, Kape Kullaaw, Waynu, Scout Burrows, and Natengan Ed Ili.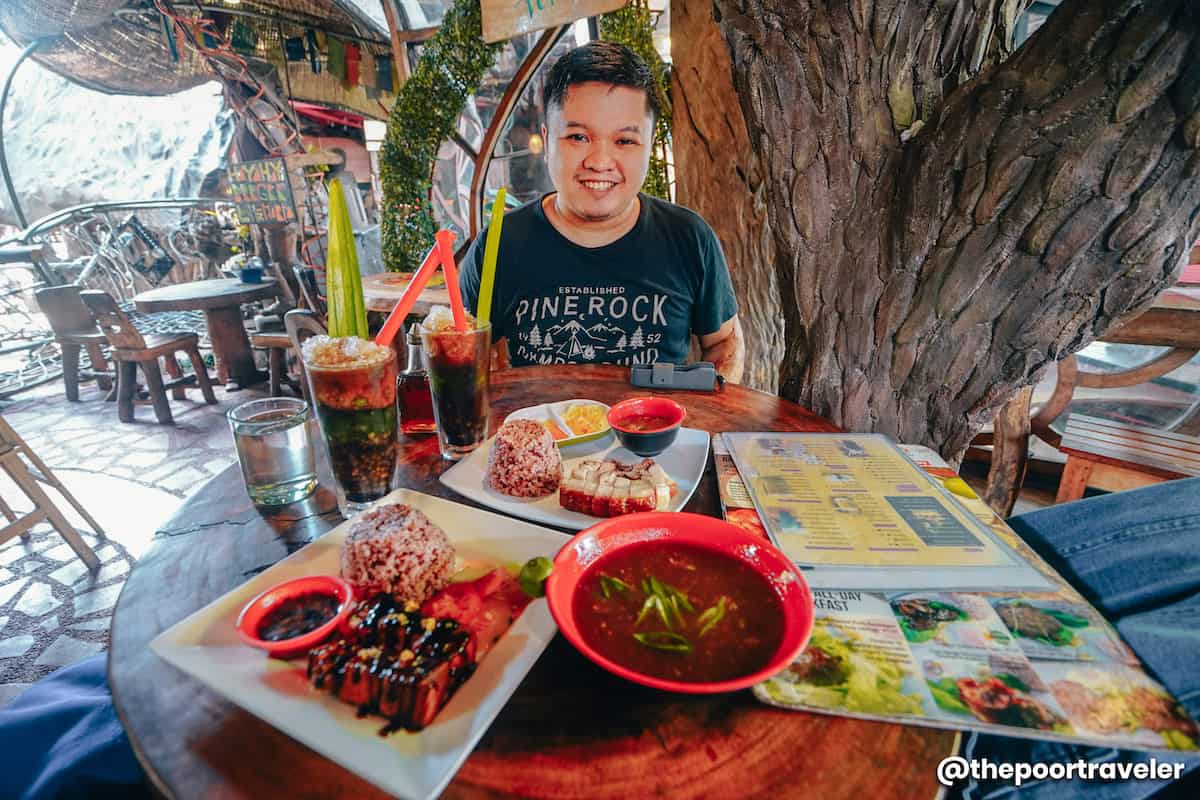 It also houses arts and crafts shops and hosts different events and workshops. The whole place is photo-worthy and visitors will enjoy the relaxing and creative atmosphere.
Address: Ili-Likha Artists Village, 32 Assumption Road, Baguio City
Opening Hours: 10:00 AM – 6:00 PM (Daily). The opening hours might change, so please check the official website or Facebook page before visiting.
Entrance Fee: FREE
---
Baguio's International Restaurants
Aside from the homegrown restaurants, Baguio also offers diverse international cuisines — Korean, Japanese, American, Chinese, and Vietnamese, to name a few. We will write a separate article about it with more details soon so watch out for that.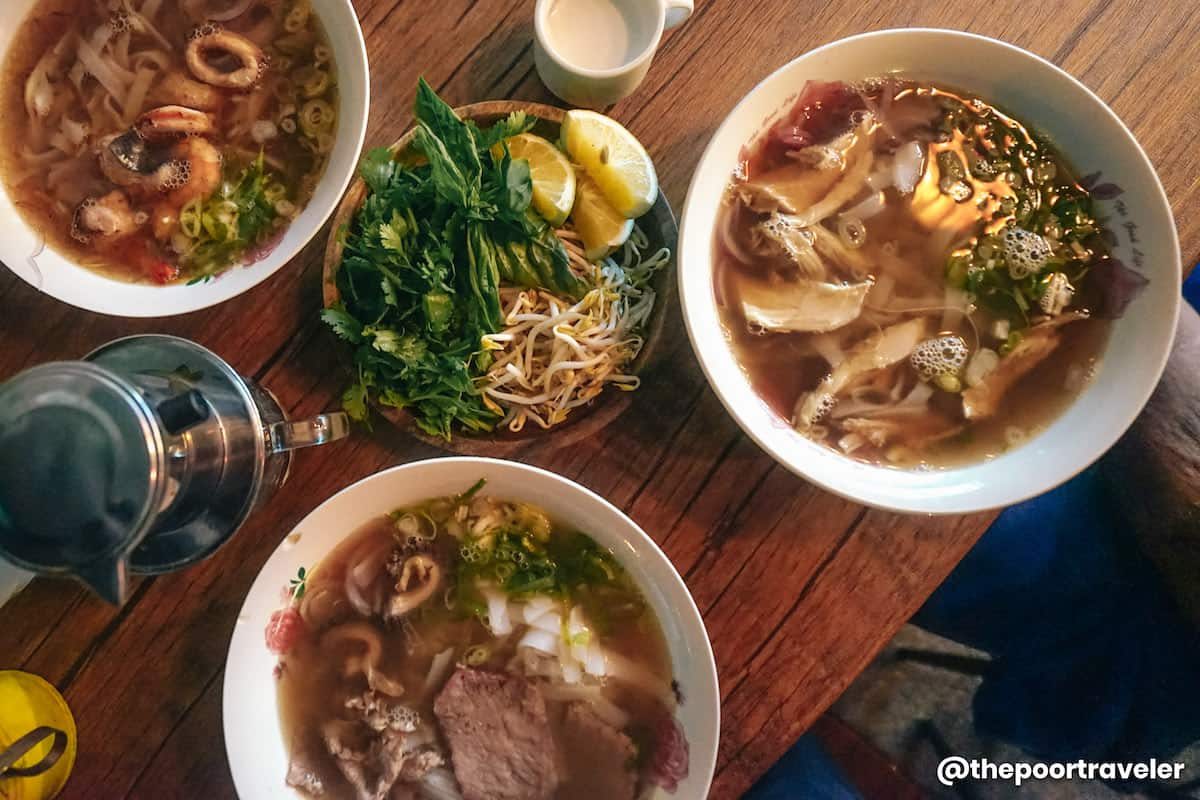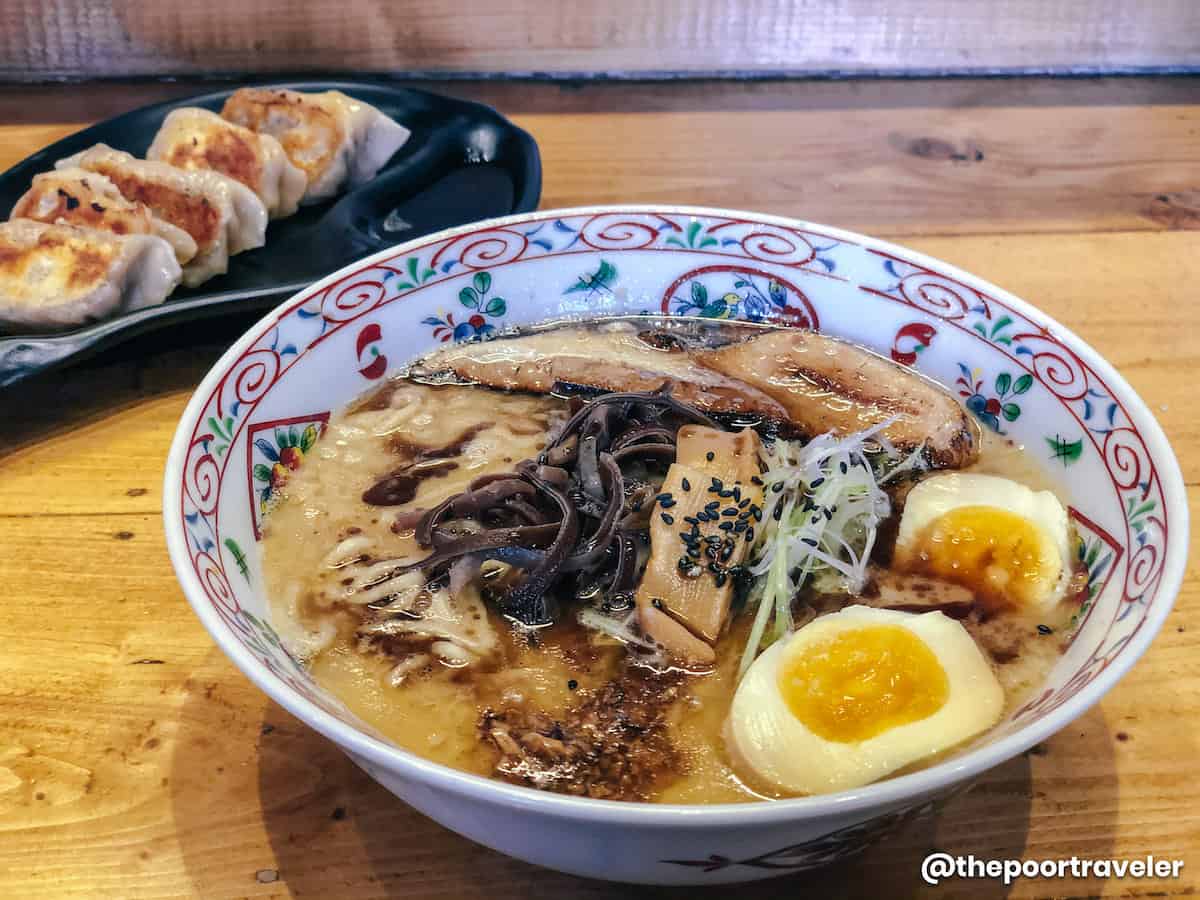 ---
Baguio Craft Brewery and Craft 1945
Enough about food! How about some drinks? And by drinks, we mean beer!
If you are the type who likes hunting for local craft beers or you just want to have a chill dinner-and-beer type of night in Baguio, there are good watering holes in the city where you can quench your thirst for beer.
Baguio Craft Brewery is a favorite among locals and tourists alike. It offers a wide selection of craft beers, including its signature craft beers named after Ifugao's mythic characters.
Craft 1945, partly managed by Baguio Craft Brewery, is a Spanish-themed restaurant serving premium craft beers, tapas and other Spanish dishes.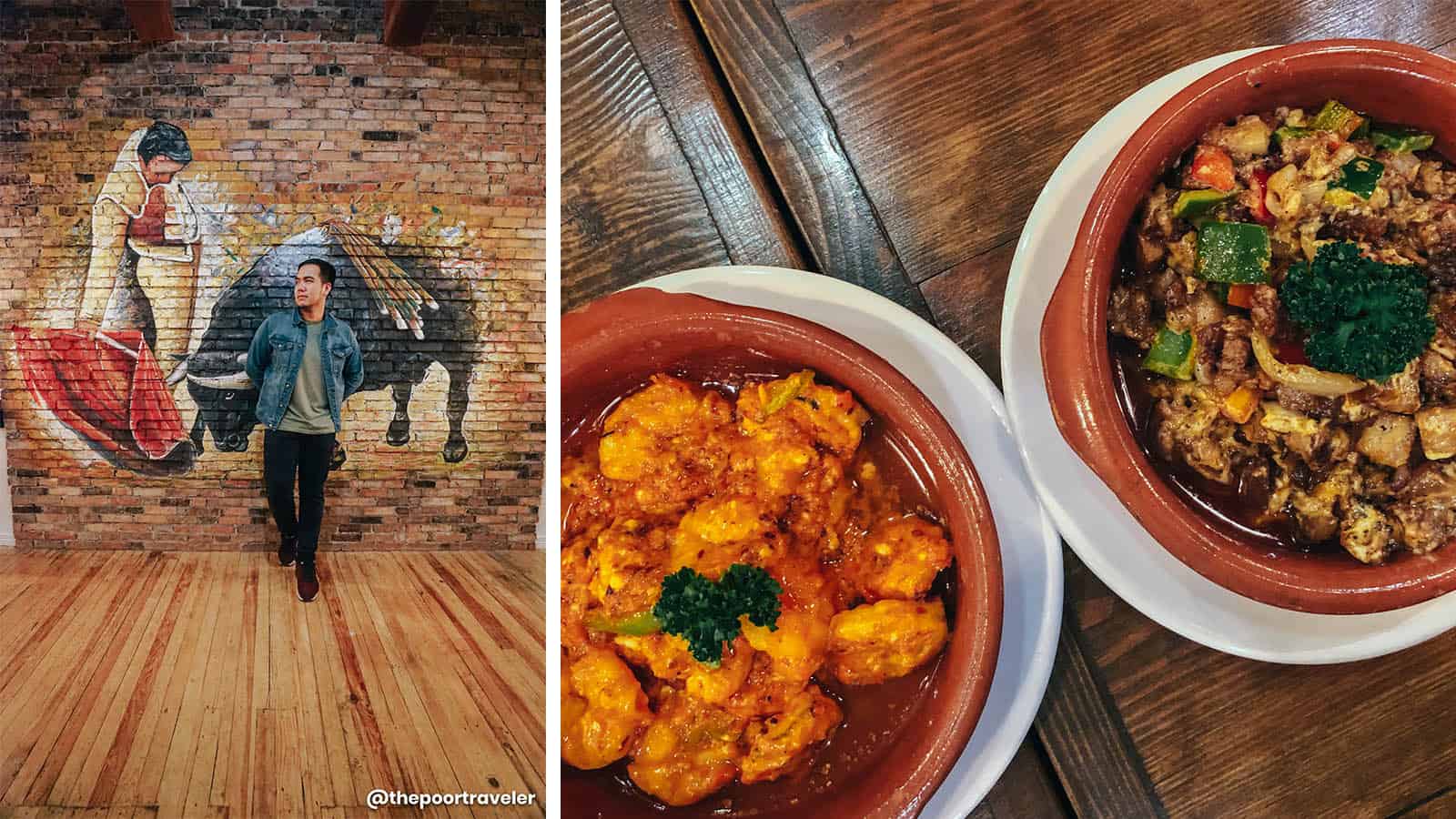 Here are their addresses and operating hours.
Baguio Craft Brewery
4 Ben Palispis Highway, KM 4, Baguio City
5:00 PM – 12:00 AM (Monday – Friday)
1:00 PM – 12:00 AM (Saturdays & Sundays)
Craft 1945
9 Outlook Drive S, Baguio City
1:00 PM – 9:00 PM (Daily)
Reminder: The opening hours might change, so please check the official websites or Facebook pages before visiting.
---
Benguet Coffee
Coffee is everywhere in Baguio, and it's not hard to score Benguet coffee when in town. The city's high altitude and cooler temperature make it one of the best places in the Philippines to grow coffee.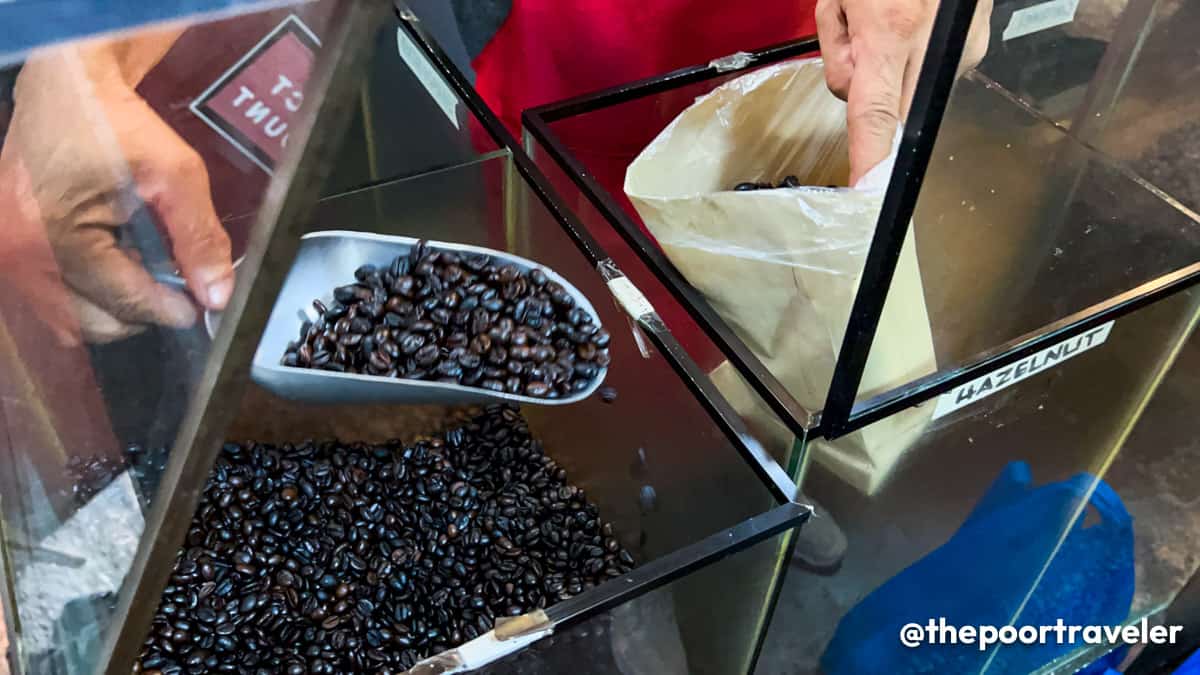 You can actually buy some at the public market or at cafés like Kape Umali, which is also the biggest coffee supplier in the province and other parts of northern Luzon. The café serves traditional brews as well as specialty brews like liquor coffee and gourmet coffee. Enjoy the music and appreciate artworks at the cafe's gallery too! The three branches are located in Shangri-la Village, Mine's View, and Baguio Market.
---
Ube and Strawberry Taho
Don't you dare get out of Baguio without trying strawberry taho. They are everywhere, especially in the vicinity of popular tourist spots including Burnham Park, Session Road, and Mines View Park to name a few.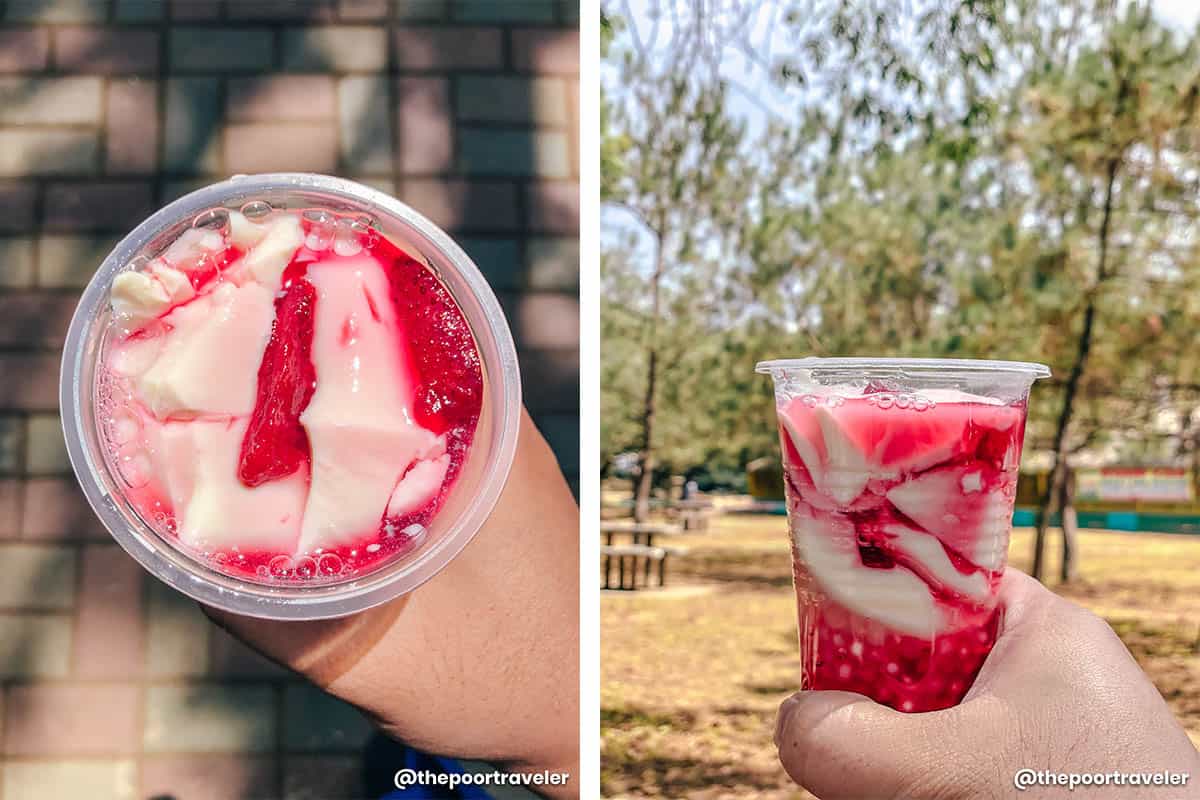 Taho is a distinct Filipino snack made of silken soybean curd (tofu), brown sugar syrup, and tapioca (sago pearls). It's traditionally served or peddled in the morning but nowadays, it can be consumed any time of the day, depending on availability.
Since strawberries are plenty in Baguio, the locals made their own version by replacing brown sugar syrup with strawberry syrup. And boy did they own it!
If you feel like you've had enough of strawberries, ube taho is also available.
---
Strawberry Ice Cream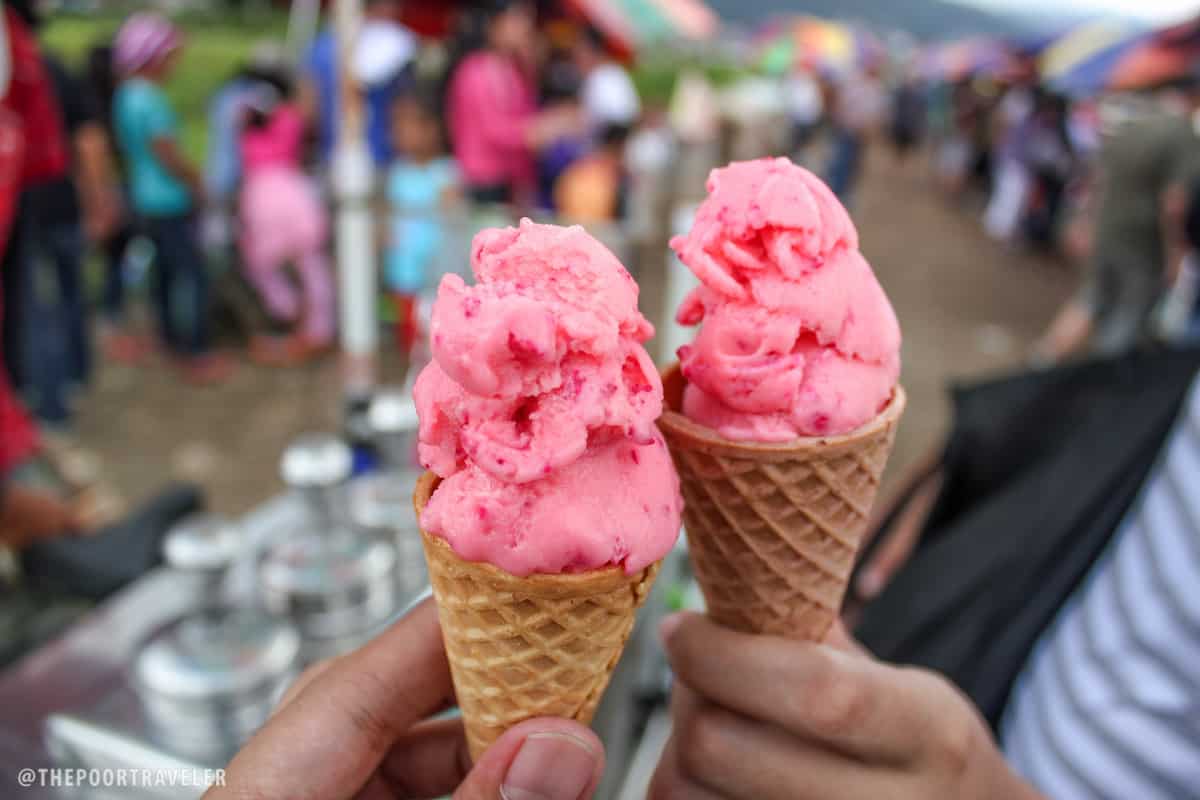 Still on the topic of putting a twist on regular snacks, the locals are really making the most of their strawberries by coming up with their own strawberry-flavored ice cream. Fine, strawberry ice cream is not new to the market BUT the ones in Baguio taste different. And we mean in a good way.
For us, the best that we've tried are those sold at La Trinidad Strawberry Farm. But if you are pressed for time, you can easily find it in downtown Baguio.
---
Top Baguio Hotels
Here are some of the many top hotels with Certificate of Authority to Operate (CAO) from the Department of Tourism in Baguio.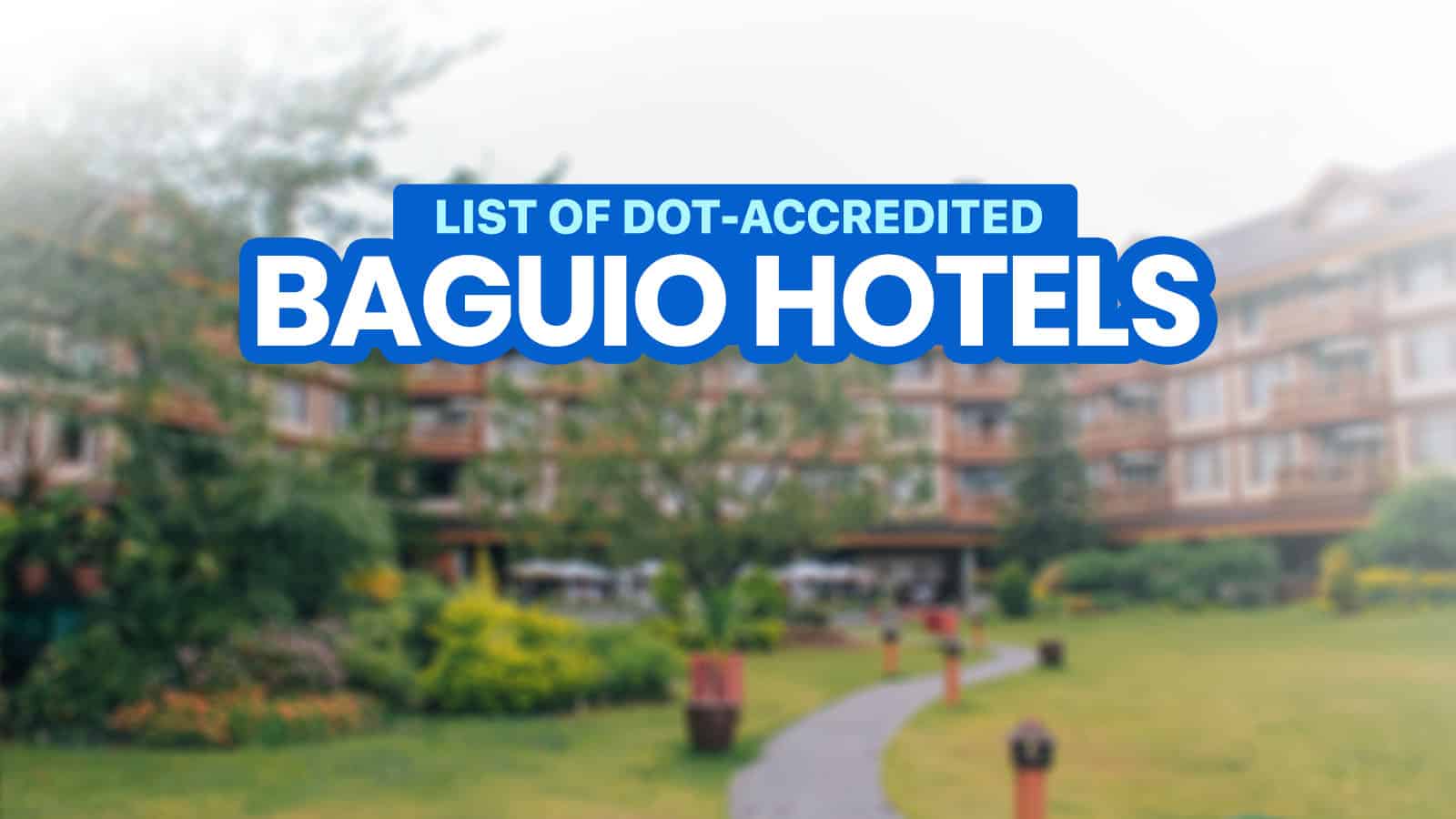 For more options, check out this post: LIST OF DOT-ACCREDITED HOTELS IN BAGUIO! ✅
---
2️⃣0️⃣2️⃣2️⃣•4️⃣•1️⃣4️⃣