Last updated: 9 December 2021
Best known for its stunning beaches and limestone cliffs, El Nido has been a part of numerous lists of the most beautiful beaches not just in the Philippines but in the world. Thanks to its truckload of natural attractions like the 7 Commando Beach, Hidden Beach, and Small and Big Lagoon. You can go swimming, snorkeling, and even kayaking on these island hopping adventures. You can also visit inland beaches like the twin beaches of Nacpan and Calitan, and Marimegmeg beach and soak up the sun by beach bumming.
When the pandemic hit, El Nido closed its doors to tourists. But now, it has been welcoming leisure travelers again. That said, a lot of things have changed since. Because we're not out of the COVID-19 woods yet, certain protocols must be followed to be allowed entry to the destination. If you're planning to go on a trip to El Nido, here's our step-by-step guide!
---
WHAT'S COVERED IN THIS GUIDE?
1. Book an accredited hotel or resort.
A confirmed booking in an accommodation with a Certificate of Authority to Operate (CAO) from the Department of Tourism (DOT) is required for tourists traveling to El Nido.
Here are just a few of the many hotels, resorts, hostels and inns with CAO:
➡️ SEE THE FULL LIST HERE: ACCREDITED EL NIDO RESORTS & HOTELS!
2. Complete the requirements.
Here are the documentary requirements that tourists from outside Palawan need to prepare before the trip:
Roundtrip ticket
Confirmed booking with an accredited resort/hotel
For fully vaccinated tourists: VaxCert PH or vaccination card/certificate
For unvaccinated or partially vaccinated tourists: negative RT-PCR test result, accomplished within 72 hours prior to arrival
All these documents will be subject to verification.
3. Secure an S-Pass Travel Coordination Permit (TCP).
You need an S-Pass account to be able to apply for a permit. Your S-Pass QR code will be scanned upon boarding your flight, upon arrival in El Nido, and when visiting attractions.
If you don't have one yet, read: HOW TO CREATE AN S-PASS ACCOUNT!
Once you're registered, follow these steps:
Visit s-pass.ph and log in again.
Tap the APPLY PERMIT tab and complete the succeeding form. Make sure to choose "LOCAL TOURIST" under Type of Traveler. For the destination, choose EL NIDO (BACUIT).
Upload the listed requirements: valid ID, hotel booking, roundtrip ticket, and RT-PCR test result for unvaccinated or a copy of VaxCertPH or vaccination card for vaccinated tourists.
Click SUBMIT. It will present a summary of your application with a PENDING mark. When it is approved, the mark will change to APPROVED.
IMPORTANT NOTES:
Upload the VaxCert or Vaccination Card under RT-PCR section. When uploading documents, you won't see an item asking for a vaccination certificate or card. If you're fully vaccinated, upload them under the RT-PCR section.
Under OTHER DOCUMENTS, you're only allowed to upload one file per item. When uploading multiple documents as one file, upload a Word or PDF file.
Make sure you choose EL NIDO (BACUIT) when entering destination. Otherwise, the municipal tourism office of El Nido won't be able to receive your application.
The number of days/nights indicated in the hotel booking and the roundtrip tickets should match. Booking multiple hotels is fine as long as they are all DOT-accredited.
4. Coordinate with El Nido Tourism Office
After submitting your application, tourists must coordinate with the Municipal Tourism Office of El Nido through their Facebook page, contact numbers or email address for the approval or release of the S-Pass Travel Permit. Follow up if necessary.
Here are their contact details:
Municipal Tourism Office
(048) 433-2802 / 0969-013-7720
0919-002-1339 / 0906-449-0282
elnidotouristspass@gmail.com
---
Guidelines during Island Activities
Tourists must bring their own food and drinks for the tour to lessen person-to-person contact. Take note that single-use plastics are prohibited so it is best to bring a reusable water bottle.
Always observe at least the minimum health protocols such as wearing of face masks and temperature checks upon entering establishments.
Observe proper physical distancing at all times. The new island hopping tours are designed to maintain physical distance off-boat.
Make sure to bring a copy of your S-Pass QR code when exploring.
Keep your life jacket on at all times. Sharing is not allowed.
Best to bring your own mask and snorkel and other similar gear.
---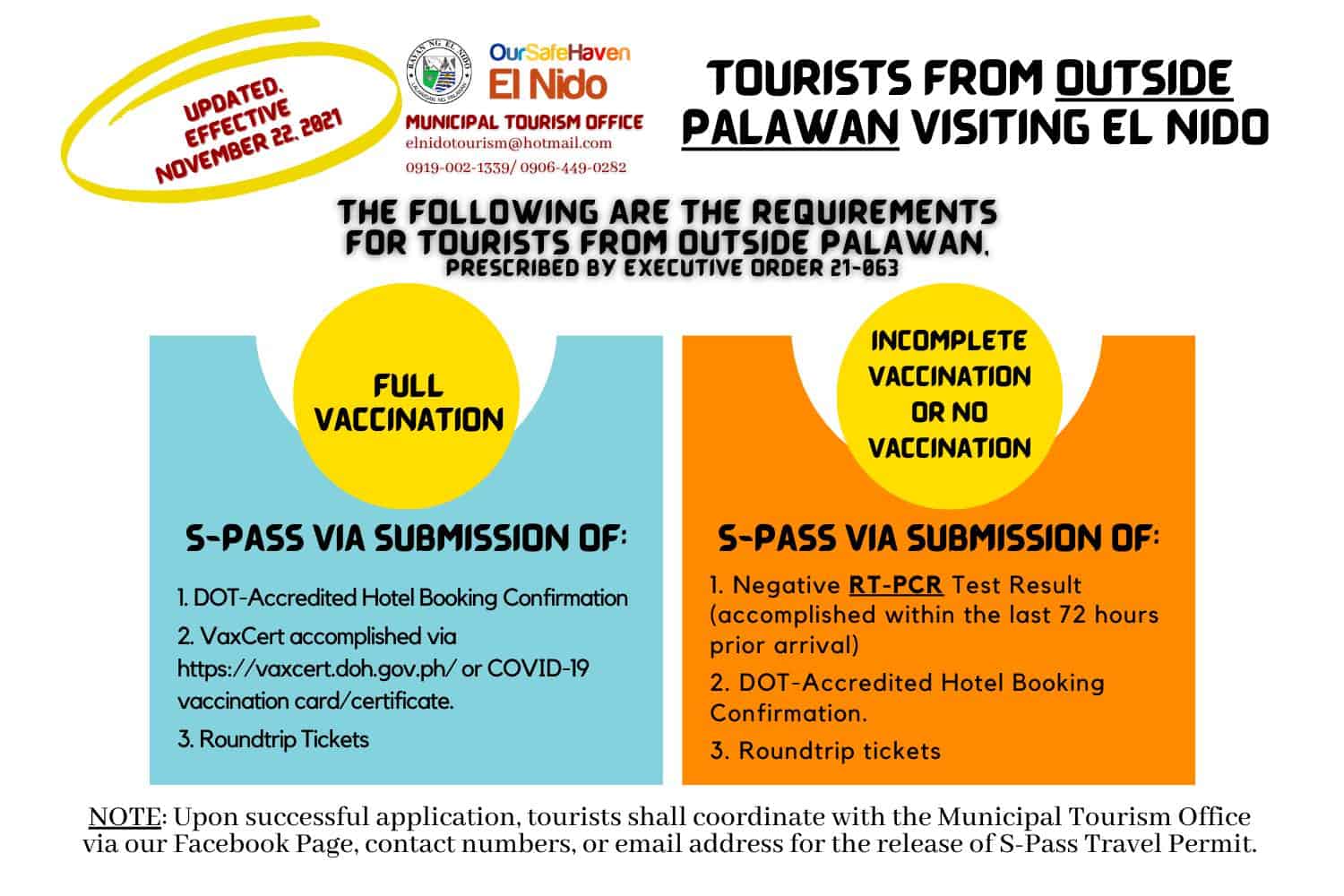 ---
More Tips on YouTube ⬇️⬇️⬇️