Last updated: 2022 • 03 • 23
Because of the COVID-19 pandemic, travel has been a big question mark. A lot of us have not been able to travel to explore new destinations during the past year or even visit family or friends. Making plans became difficult too because it's impossible to predict what the situation would be and what travel restrictions would be in place. To offer more flexibility to travelers, Cebu Pacific Air released a treat that could help you with your travel plans even if you don't have much plans yet.
Cebu Pacific Air's CEB Super Pass voucher allows you to buy a ticket now and decide when and where you're flying to later. This is a limited-time offer as part of their 25th anniversary celebration. The CEB Super Pass is up for grabs from March 21 to March 27, 2021.
The one-way voucher costs only P99 (base fare) and can be used for flights to ANY Philippine destination. This does not cover the government taxes and terminal fees.
Sale period: 21-27 March 2022
Redemption period: 21 March 2022 to 23 April 2023
Travel period: 28 March 2022 to 30 April 2023
How to Purchase
Go to the CEB Super Pass page. Click on BUY CEB SUPER PASS.
Enter the number of passes you want to purchase. You can purchase up to 10 passes per transaction. Then click BUY NOW!
Type the passenger names. You can also buy passes for your loved ones. You simply have to indicate their passenger details during purchase. That said, the CEB Super Pass is NON-transferable. Make sure to enter the correct details and that it matches the details on your government-issued IDs.
Pay for your passes. The payment options available are credit card, PayPal, and Travel Fund. Once successful, your CEB Super Pass will be sent to your email.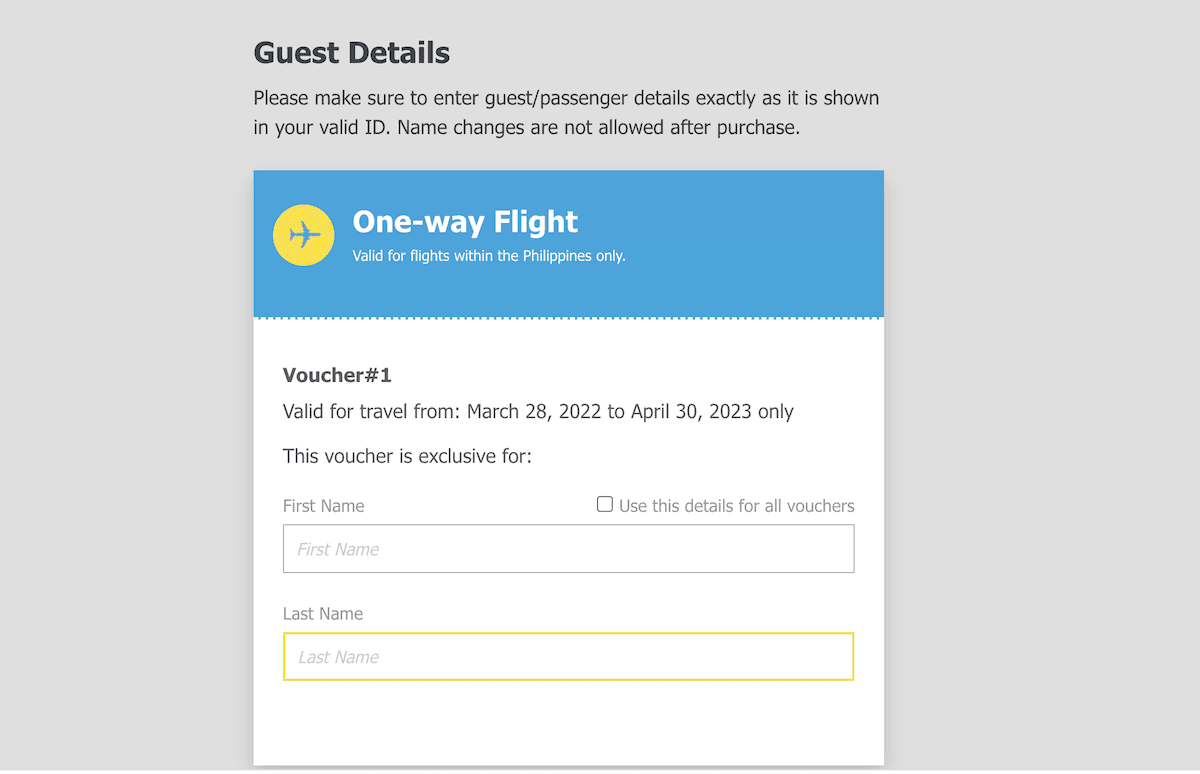 ---
How to Redeem
You can book a flight using your CEB Super Pass as early as 30 days before your chosen travel date or until 7 days before the flight's departure, as long as there are available seats.
To redeem your vouchers, follow the steps below.
Visit cebupacificair.com and click on the 'Redeem CEB Super Pass' tab.
Enter the booking reference you received during purchase and the last name of any passenger in the booking reference.
The CEB Pass vouchers you purchased will be displayed. If you're booking a round-trip journey, tick the round-trip box. Then, click the voucher/s you will use. Note: To book a round-trip journey, 2 vouchers are required to be used. Multiple guests traveling together may be booked at the same time by selecting their vouchers.
Search your desired flight and select based on the available list of flights.
Fill in the necessary details on the Guest Details page.
Purchase add-ons if you need any. This is subject to additional fees and charges.
Pay for the remaining amount.
Once the payment is successful, you will be redirected to a confirmation page where you will get a new booking reference number.
---
---
More Tips on YouTube ⬇️⬇️⬇️