As of 15 September 2021
If you are planning to go on an international trip soon, here are the travel requirements and procedures you must follow on your departure if you're flying with Philippine Airlines (PAL).
Travel protocols and requirements have been continuously changing due to the COVID-19 pandemic, so also check with the concerned government authority for updates.
---
WHAT'S COVERED IN THIS GUIDE?
1. Pre-register and fill out the PAL Passenger Profile and Health Declaration form (PPHD).
You should do this as early as 5 DAYS before departure.
You must first accomplish the pre-registration form here: https://bit.ly/PALIntPPHD. This is step one of the 2-step registration process for passengers departing from the Philippines.
After submitting this form, you will be sent the following via email:
a list of requirements of your destination
a unique reference code
the PAL Passenger Profile and Health Declaration form (PPHD form)
Save or print the unique reference code that will be sent to you. You might need to use it later on so don't forget this step.
---
2. Complete the requirements.
The requirements below are applicable for all outbound Filipino travelers except OFWs and students enrolled abroad or exchange program participants.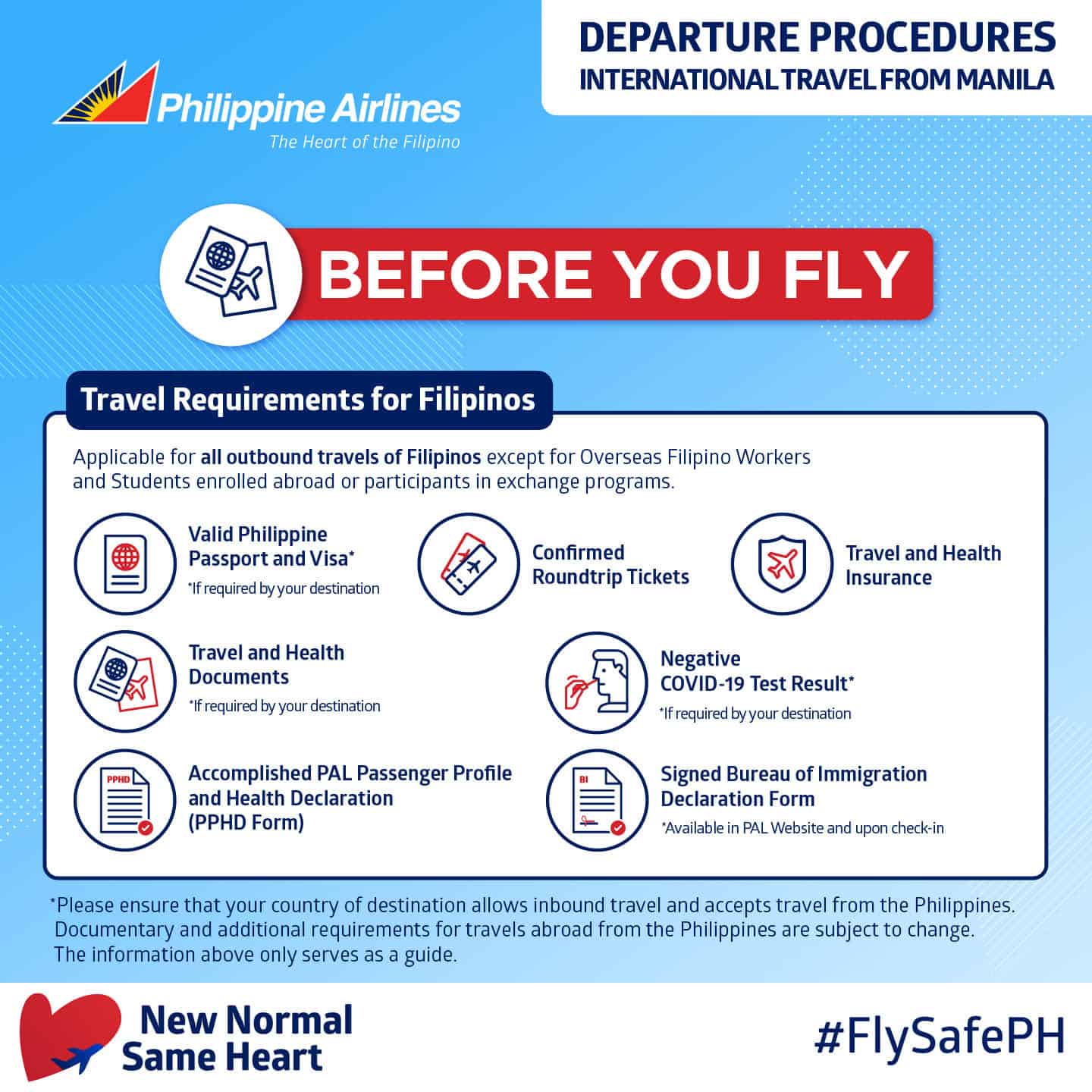 Valid Philippine passport
Confirmed roundtrip tickets
Travel and health insurance
Accomplished PAL Passenger Profile and Health Declaration Form (PPHD Form). You can find it here.
Signed Bureau of Immigration Declaration Form. Available upon check-in and on PAL website.
In addition, some countries may have additional requirements such as:
Valid visa (if applicable)
Travel and health documents (if required by destination country)
Negative COVID-19 Test Result (if required by destination country)
Note that these are just the requirements for leaving the Philippines. Your destination country most probably has additional ARRIVAL rules and restrictions that you must follow. These entry requirements vary per country. For example, some countries may require a negative COVID-19 test result prior to departure but some don't.
If you're flying with PAL, you may check the requirements here! On that page, scroll down to the bottom and you'll find a menu. Click those that apply to you and they'll reveal a list of requirements per destination and passenger classification.
It is also important to note that NOT ALL countries accept travelers from the Philippines. It's best to contact the authorities in your destination directly to make sure and get their updated policies.
---
3. Undergo a COVID-19 testing, if required by your destination country.
You can get discounted rates and quicker release of results with PAL's accredited testing partners. You can find the list here: PAL-accredited testing partners!
---
4. On departure date, proceed to the airport.
Arrive at the airport at least 4 hours before the scheduled time of departure or before 8PM latest.
The extra time is due to the additional protocol for COVID-19 done at the airport.
In addition, the government also requires airport passengers to download the TRAZE app, a contact-tracing mobile application. More info about that here: HOW TO USE TRAZE APP!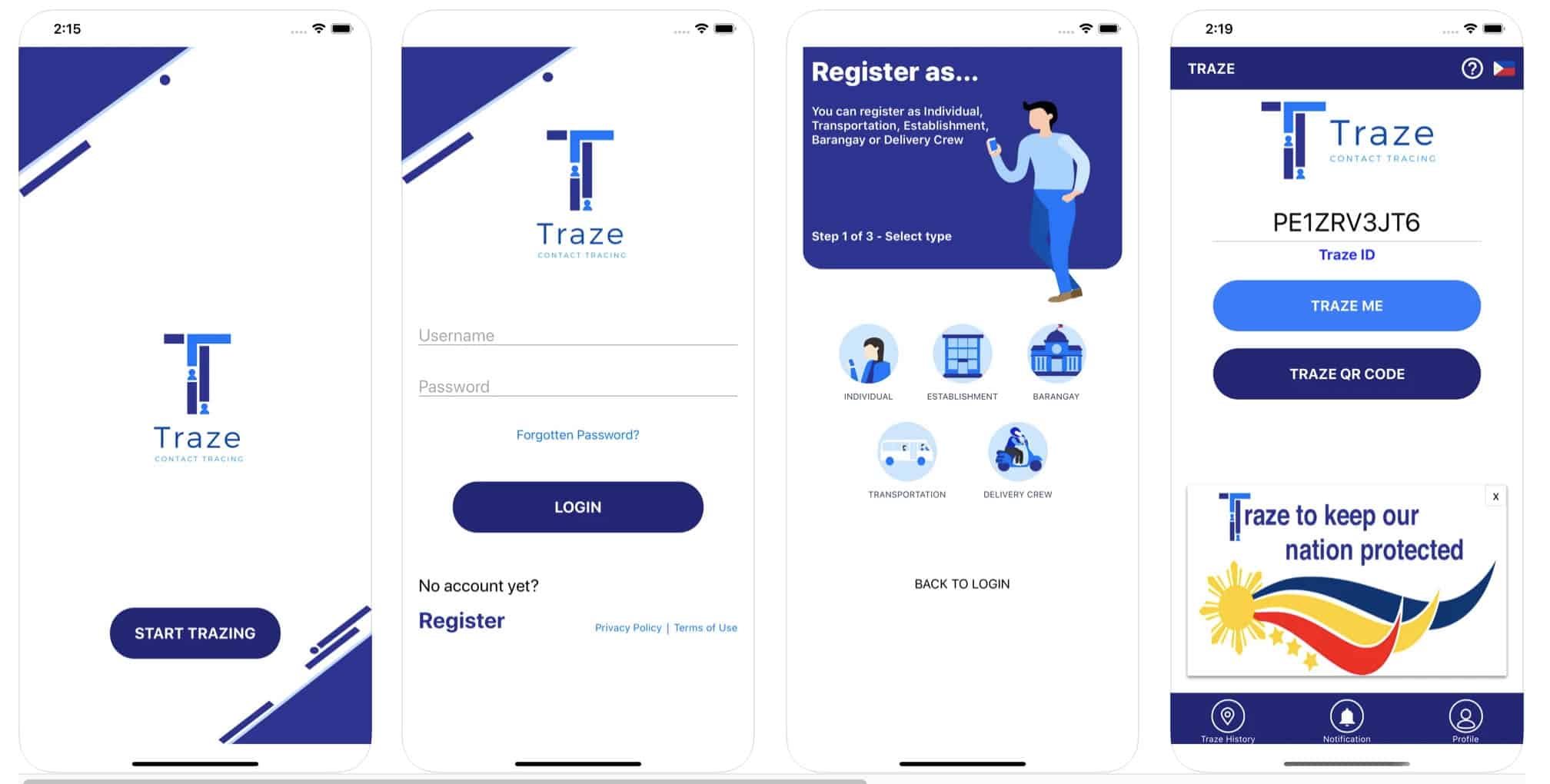 ---
5. Follow safety procedures at all times.
Wear a face mask and a face shield at all times inside the airport and during the flight. The face shield must be of clear and sturdy and must cover the entire face.
Have your temperature checked at designated spots.
Use foot baths and disinfection facilities at designated stations.
Observe physical distancing at all times. Minimum contact must be ensured during all procedures from check-in, boarding, in-flight, disembarking, to retrieving of check-in baggage.
---
6. Check in and clear Immigration and Security checks.
Check in to your flight as usual. The check-in staff will check your requirements.
If you don't have an Immigration Declaration Form yet, you may get one from the check-in counters too.
---
Other Useful Articles
---
---