Traveling outside the Philippines for the first time? You might be very excited but I bet you're a little anxious, too! There might be a lot of questions brewing in your head right now so here's a little something to shed light on some of the things you need to know before your trip. (These tips are for Filipino travelers only.)
Every country has its own Immigration rules. Some require visas from Filipino visitors, others don't. Some have stricter rules, others don't. It is important that you know these rules and requirements before your flight.
But here are some frequently asked questions that I thought I could answer. Again, I'm only relying on personal experience and some knowledge that I gained in my years of working in the airline industry. Some of these might already be outdated but I'll try my best to keep them current.
WHAT'S COVERED IN THIS GUIDE?
What are the processes at the airport?
The usual process is this:
Pay the Travel Tax. IDEALLY, the travel tax and departure fee are already included when you book your ticket, so please check your ticket. But there are times when it isn't the case. If not sure, check-in first. The check-in agent will tell you if you still need to settle the tax. At NAIA Terminal 3, the travel tax counters should be on your far right when you're facing the check-in counters. It's P1,620 per person.
Check in! Present the Departure Card together with the Travel Tax receipt, printed ticket and passport to the check-in agent. The Agent will give you your boarding pass.
Fill out a copy of Immigration Form (aka Departure Card). You will get it at the Check-in Counter. Note that you will need to indicate your address abroad (address of the hotel or the friend you're visiting).
Proceed to the Immigration Booths. They will be asking questions like: How long will you be staying abroad? What are you going to do there? What's your occupation? Where will you stay? The key is to convince them that you're going there to tour and not to find work. When they're satisfied, they will put a stamp on your passport.
Final security check. Remove all gadgets and metal items (including belts and coins) from your body. Remove your shoes only when instructed.
That's about it. It's a long process and it involves a lot of queueing so make sure you're at the airport at least 2 hours before your flight.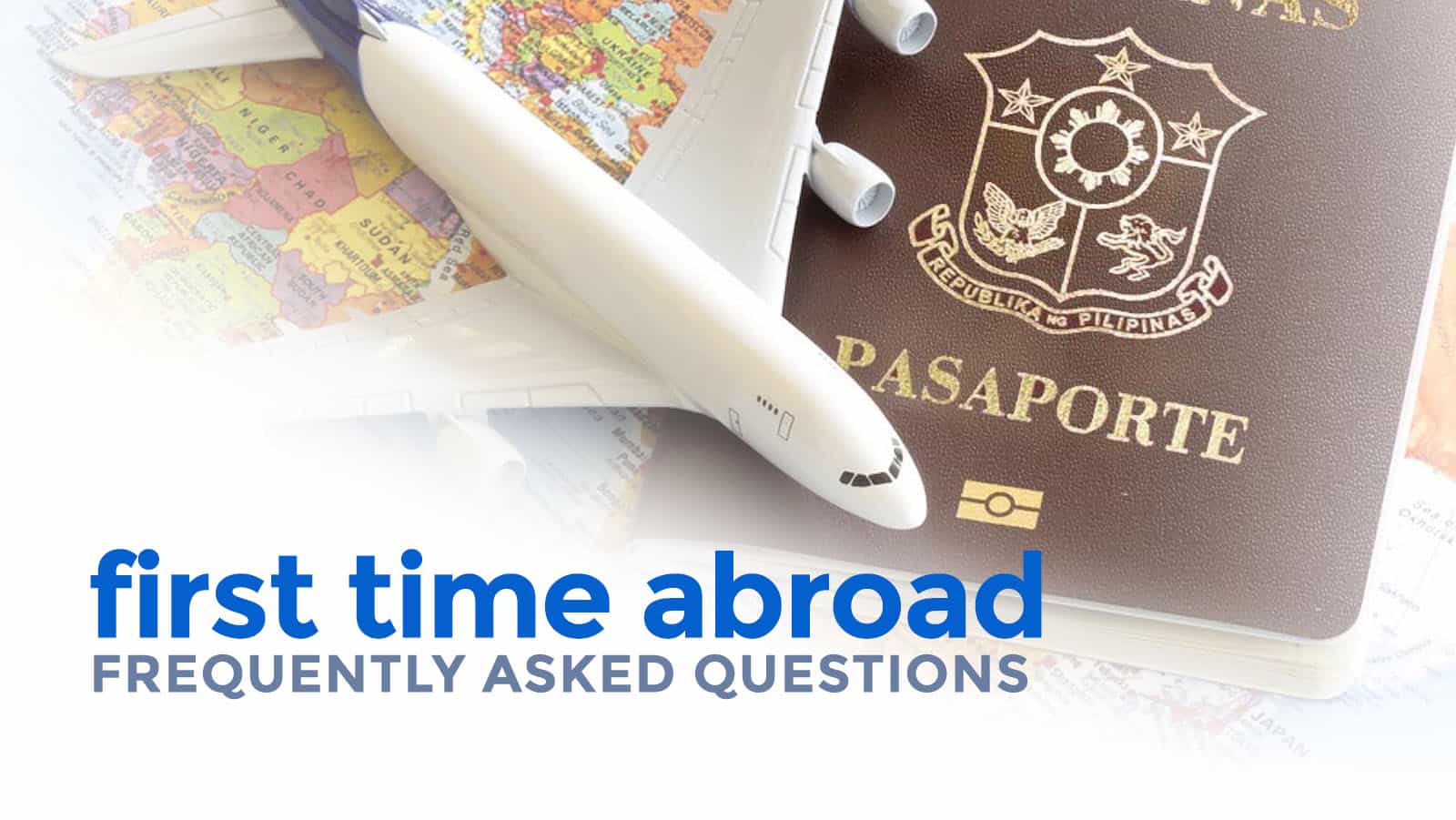 ---
How early should I be at the airport?
At least 2 hours before your scheduled departure.
I personally like showing up at the airport 3-4 hours earlier just in case something untoward happens. I once lost my old passport and visa at the airport on two different occasions (yeah, I was careless, haha), but good thing I had enough time to search. Also, I like staying at airports. Hehe.
Update: In peak season like the weeks before and after Christmas, it's best to arrive at least 4 hours before your flight.
---
What are the things that I should bring to the airport?
I always have a checklist of items I MUST NOT forget.
Here are the most important items.
Passport – Duh.
Visa – When applicable
Return Flight Ticket – Make sure you print out the tickets. When I fly domestic, I usually just show the check-in agent the tickets on my phone. They accept it. But for international flights, you will be showing your tickets too many times (check-in counter, travel tax counter, departure fee counter, immigration, etc) that it would be impractical and ridiculously annoying to whip out your phone every step of the way. A printed ticket will make it a lot easier for you and the people who will check it. Besides, a piece of paper does not need to be charged.
Company ID – Immigration Officers sometimes ask for a company ID as a proof that you would return to the Philippines and would not seek employment opportunities in your destination country.
Address and contact number abroad – If you're traveling as a tourist, get the hotel's exact address and contact number. If you're visiting a friend or relative and you're staying with them, get their exact address and contact number. You will need it when filling out immigration forms.
DSWD Clearance – Only when traveling with a minor who is not your child and the parents are not joining the trip.
Here are other things that you can bring for good measure.
Hotel reservation – If you're traveling as a tourist.
Invitation letter – If you're visiting a friend or relative and staying with them.
Photocopy of the Passport and Visa – Just in case you lose your documents, it would be easier for you to get a replacement if you have a copy. When you're already in your destination and you're going out, leave the photocopy in the hotel room if you're bringing the original with you.
Travel Itinerary – Make a clear plan of what you want to do and write them down. In case the Immigration Officers pick you for a random check, a printed itinerary will help convince them that you will really go to your destination to tour and nothing else.
Address and contact number of the Philippine Embassy in your destination country – Just in case something happens.
A Pen – Yes, the humble pen is important. You will be accomplishing forms.
I usually carry an envelope where I put all these together (except the photocopies and money).
In addition, I have a paper where I write the hotel address, contact number, my passport number, passport expiry date, and flight number. This way, when I'm accomplishing forms, I don't need to fish out my passport and other documents. I just have one reference page.
---
What are the usual questions that the Immigration Officers ask?
The questions vary from officer to officer. If you're lucky, the officer will just throw a couple of questions at you and you're through. But often, here are the questions:
Where are you going?
When will you return to the Philippines?
What will you do there?
Whom are you traveling with?
What is your occupation here in the Philippines?
The key is to answer confidently, consistently, and truthfully.
Sometimes, they will ask follow up questions. Sometimes, you will be subjected to a secondary inspection, which I will explain below.
---
What is offloading?
Offloading is the act of pulling a passenger who is already boarded out of an aircraft.
Technically speaking, the Bureau of Immigration does not have an offloading policy. They do not get a boarded passenger out of a plane on a regular basis. What they do is they screen passengers and decide if they will allow them to board the plane or not. This process happens before boarding, not after, so this is not really offloading.
However, here in the Philippines, "offloading" has been used as an umbrella term for blocking someone from leaving the country, even if the passenger has not yet boarded. If an Immigration Officer rejects you at the inspection, many Filipinos refer to it as "offloading." Hence, for the purpose of this article, let's just use that Filipinized definition of the term.
---
What can I do to make sure I won't be offloaded by the Immigration?
The Bureau of Immigration has been implementing stricter rules lately. According to the bureau, every day around 40 people are offloaded at NAIA Terminal 1 alone. Three to four in every 50 of these offloaded passengers actually have legitimate reasons to go abroad. You don't want to be one of them.
If you want to make sure you won't be offloaded, you need to follow the guidelines released to Immigration Officers by the bureau. A 2012 memorandum enumerates what the officers must require from departing passengers:
Passport
Visa (if applicable)
Filled out departure card
Roundtrip ticket
They usually also ask for your company ID. Then, if they deem necessary, you will be assessed based on the following criteria:
Age
Educational attainment
Financial capability to travel
What does the last item mean? Well, in a nutshell, tourists with no steady source of income in the Philippines and no benefactors who appear to have a different reason for traveling other than for leisure are more likely to be offloaded. So if in case you are subjected to a secondary inspection, you would want to have the following with you:
If you're an employee, Certificate of Employment (best if it indicates your salary and how long you have been with the company)
If you're self-employed, a copy of your Business Registration Certificate
If you're a freelancer, you should still have an ITR. If your clients pay it for you, you may ask for a copy from the client. You may also ask your client to produce a document that would certify that they have hired you and the details of the project/contract.
If you're tax-exempt, you should still have an ITR. Since 2018, workers earning below P250,000 a year (P21,000 a month) are exempted from paying income taxes. But that doesn't mean it exempts you from having an ITR. If you're an employee, you can still get a copy of your ITR from your employer even if you're tax-exempt.
I always have a copy of both my ITR and a "Certificate of Employment" from my clients to be safe.
For more info about this, check out: How to Avoid Getting Offloaded
---
Should I present all these documents at the Immigration booth?
No. Again, most of the time, the Officer will only ask for the following:
Passport (with visa, if applicable)
Accomplished departure card
Round-trip ticket
Company ID
Don't present other documents when they don't ask for them. All the other documents are more like safety nets IN CASE you need to prove you're employed.
Just answer their questions confidently.
---
Do I need to have a hotel reservation before my flight?
It is BEST to always book accommodations first before your flight. You will be required to indicate the address of your hotel on your departure and arrival cards, and Immigration officers on both sides sometimes ask for hotel documents. Even when I'm backpacking across more than one country, I usually make sure I have booked accommodations on at least my first night in the next country I'm visiting. Again, you could go there without prior reservations but if you want to avoid the hassle of getting asked too many questions and the stress that comes with it, better book in advance.
---
---
I'm invited by a relative or a friend, do I need an invitation letter?
In theory, yes, so if you could produce one, go ahead. The Immigration Officers DON'T ALWAYS ask for this, so many invited travelers are still able to make it through without it. However, they might just ask for it if they deem necessary. 
The safest thing to do is to produce an Affidavit of Support or Guarantee, notarized at the Philippine Embassy. When officers ask for "invitation letter," this is actually the document they refer to because it's formal, legal, binding, and hard to fake.
Anyway, you will be asked to indicate your "address abroad" when filling out forms so make sure you have that. To be on the safe side, be sure you have your friend's contact number, too.
---
Is there a show money? How much do I need to have for them to let me through?
I have never been asked to show money, but I know people who have been. I have been asked many times how much money I have with me, though, but never to show it.
My pocket money depends on the destination country. Some are more expensive than others. For example, the cost of living in Singapore is definitely higher than in Thailand. In countries like Singapore, Hong Kong, and Malaysia, I usually bring USD400 for a 4-day trip, USD500 for a week-long trip. But that's way more than I actually spend. In cheaper countries like Cambodia and Thailand, I allot USD50 per day. Again, that has a big allowance.
I also bring a credit card, just in case.
---
Where should I exchange currencies? Is it best to exchange in the Philippines before the trip?
It depends on the country I'm visiting. In countries like Vietnam, Cambodia, Taiwan, where the PH peso is not widely accepted in banks/money changers, I usually exchange my pesos with US dollars here in the Philippines before the trip.
In countries like Singapore and Hong Kong where the PHP is widely accepted, I exchange directly when I'm already there. At the airport, I usually exchange a small amount, just enough to get me to my hotel. But when the airport rate isn't that bad or the difference is very little, I exchange more. Sometimes, what you lose in the conversion might even be smaller than the money you're gonna spend to get to a better money changer.
Based on experience, however, the best way to acquire foreign currencies is still through ATM withdrawal. Some banks collect transaction fees, some don't. So if you're setting up a travel account, choose your bank wisely.
Further reading: 10 Things I Wish I Knew Before I Started Traveling
---
Should I bring an ID?
Your passport is a valid ID. But Immigration Officers in the Philippines have started to ask for company ID to validate the occupation you indicated on your departure card.
---
I'm a freelancer so I don't have a company ID. What is a good alternative?
When I was a freelancer, I didn't have a company ID either. I would usually tell them that I was a consultant. I always had a copy of an Employment Certificate (which I got from my clients) and a copy of my ITR handy. I never had any problems with it ever.
If you're a registered professional or sole proprietor, bring a copy of business registration documents to be safe.
Here's the format I followed when I asked my clients to provide some sort of certification that I was working for them.
Sample Certificate Employment PDF

---
I'm a fresh graduate but I'm currently unemployed. What can I do?
Find a sponsor who is an a family member. Prepare an authenticated Affidavit of Support and Guarantee indicating the relationship within the 4th civil degree of consanguinity or affinity, together with the supporting documents.
According to a friend who is an Immigration Officer, in addition, you must also provide proof that the sponsor can support the trip. This may be the sponsor's ITR or bank documents.
You're most likely going to be asked by the Immigration Officer why you're traveling. If it is a graduation treat, you can say so. If you have a document to prove you just graduated, that can help too.
However, note that having the above papers does not guarantee anything but it can help.
---
I'm unemployed and I don't have funds. What are the requirements?
Prove that you have a sponsor, preferably an immediate family member.
People who can't financially support the trip themselves must have the following documents with them upon going through Immigration:
Authenticated affidavit of support indicating the relationship within the 4th civil degree of consanguinity or affinity, together with the supporting documents.
An affidavit of undertaking/ guaranty
In addition, you will also be asked to provide proof that your sponsor can financially support this trip. This may be ITR or bank statements.
However, having these documents does not guarantee you'll be allowed to leave. They will still assess based on many other factors like purpose of travel, companion, and probability of returning. But the above documents can help build your case.
---
I'm traveling with my foreigner boyfriend / girlfriend / friend. What are the requirements?
According to the same memorandum, travelers without financial capacity to travel escorted or accompanied by a foreigner who is not related will be subject to secondary inspection.
There is a qualifier there: without financial capacity to travel. I'm guessing if you can prove you're employed and you have the funds, you will still be allowed to exit the country. Hence, company ID, ITR, and Certificate of Employment or Business Registration documents can be a big help.
But if you don't have those, there's a chance they will be stricter on you.
---
My trip is sponsored by my foreigner boyfriend / girlfriend / friend. What are the requirements?
This is one of the most usual questions we get: What are the requirements if I'm going to meet a foreign boyfriend or girlfriend abroad?
If you're paying for your trip, it's easier. Many choose to just declare they're visiting a friend or just traveling as a tourist. (Not that I approve of it.) You can present proof of employment like company ID, ITR, COE or business registration documents.
If your trip is sponsored by a foreigner, it becomes tricky because it shows you don't have the financial capacity to afford this trip and you are very vulnerable to risky situations like human trafficking. In this case, you're most likely to undergo secondary inspection. They're just trying to protect you.
According to a friend who is an Immigration Officer, an Affidavit of Support/Guarantee/Undertaking can help. IDEALLY, the party supporting the traveler must be a RELATIVE within the 4th civil degree of consanguinity or affinity. But he said that SOMETIMES, they accept an Affidavit of Support from non-relative if everything else looks good. The keyword there is SOMETIMES. Not always. It's on a case-by-case basis, so don't count on it.
In addition, it is best that the traveler show proof of relationship with the foreign sponsor. This can be photos together. You might also be asked how long you have known each other and how you met.
If you plan on getting married abroad, make sure you have the necessary docs. According to the memorandum, partners and spouses of foreign nationals intending to depart to meet and/or marry their fiance without the CFO Guidance and Counseling Certificate are subject to secondary inspection. You might also want to look at other requirements which may vary per destination country. I'm not familiar with the process so contact the proper agency for this.
---
I'm meeting my boyfriend / girlfriend abroad for the first time. What are the requirements?
If you're a first-time traveler, you have no physical proof of relationship AND you're meeting the foreign sponsor for the first time, you are most certainly going to be offloaded. If you've met the sponsor online, they will have a hard time trusting that you'll be fine abroad. You must have a strong existing relationship with your sponsor for them to let you through. In their eyes, online communication, no matter how long it has been going on, is just not a strong enough proof of relationship.
---
What is the weight limit for carry-on baggage (hand-carry)?
Depends on the airline so it's best to call them. Most low cost carriers place it at 7kg. Lately, many have been really strict about it. JetStar and AirAsia, for example, would insist that you don't exceed it, so make sure you stay below the limit.
Most legacy airlines don't count laptops and cameras in their 7kg allowance. Most low cost carriers do.
---
Where should I store my power bank (mobile charger)?
Bring it with you onboard. NEVER store it in your checked in baggage. I made that mistake once in Tokyo, and I was asked to remove it minutes before the flight.
---
What should I wear?
Depends on your destination. Consider the weather both in your origin and destination. If it's sunny in Manila and you're flying to Korea in January, you might want to also bring a jacket onboard. Actually, I always bring a jacket onboard. I just find airplane cabins way too cold. Haha.
But in general, here are some tips:
Wear shoes that are easy to remove because you might be removing them during the final security check. Slip-ons are great.
Don't wear a belt during check in, you'll be asked to remove it too. Place it in your bag and just put it on once you're through.
Don't wear a watch during check in. Just put it on after the final security check.
---
Well, that's all I can think of now. I'll be adding more to this when I encounter other questions so keep them coming. Again, these are just my personal preferences based on experience. For more accurate and detailed answers, always check with your carrier for airline-related concerns and the embassy of the country you're visiting for immigration requirements and policies.
---
Posted: 2013 • 3 • 16