Published: 27 JUNE 2020. For the latest requirements and protocol, please get in touch with or check out the official websites of the airline.
While travel for leisure remains prohibited, the government has already allowed essential and business travel. Local airlines have resumed operating commercial flights and implemented stricter safety measures as the travel industry shifts to the new normal.
One of the most frequently asked questions about traveling these days: What are the requirements do I need to present when traveling?
To address this, Cebu Pacific, Philippine Airlines, and Philippines AirAsia have released a list of required documents so passengers would be prepared and permitted to travel and make the journey hassle-free. Save for the wording, the lists are basically the same. See below:
❗️IMPORTANT❗️ All three airlines strongly advise that you contact the local government units of your origin and destination to check if there are additional requirements or changes. Some requirements vary from place to place and may also change over time.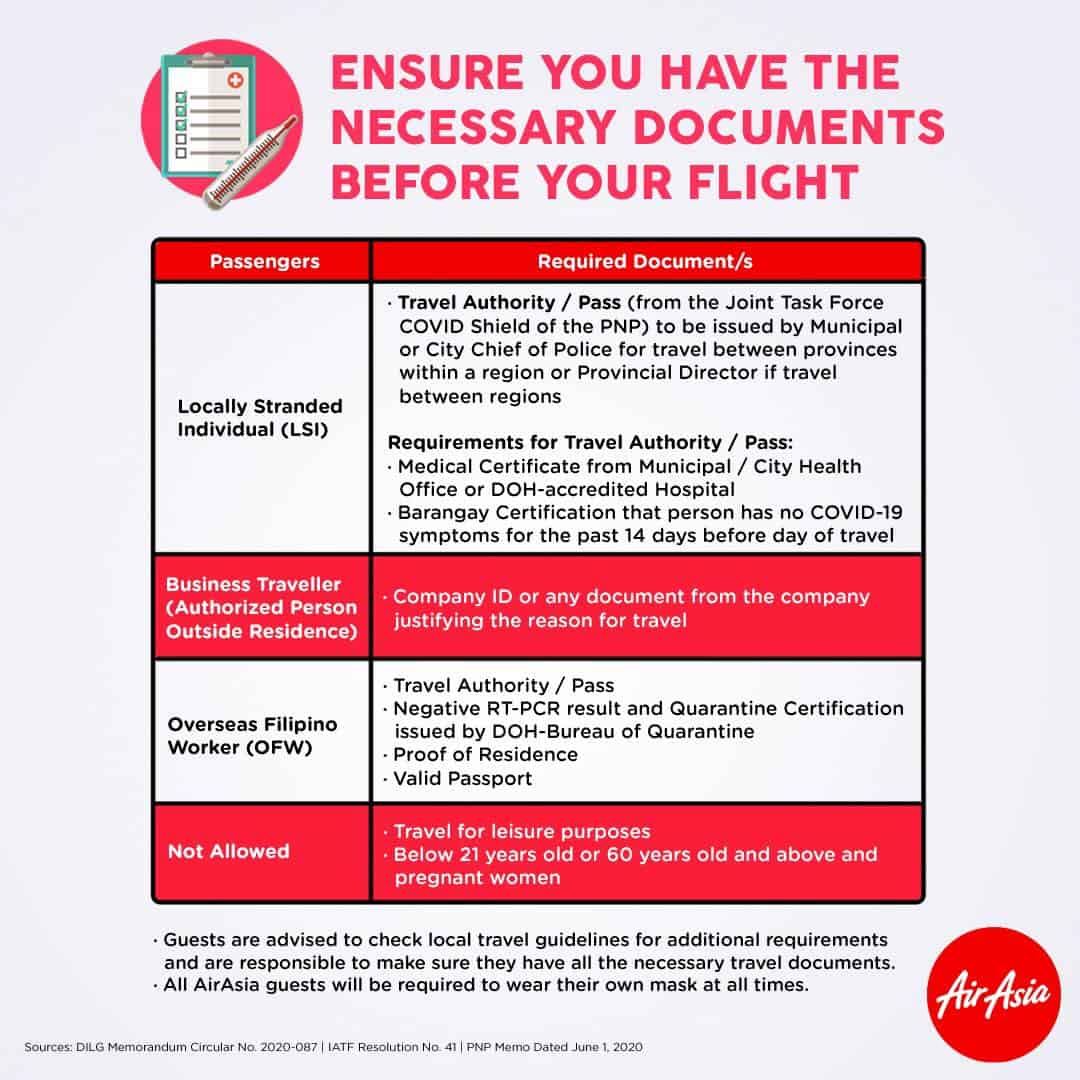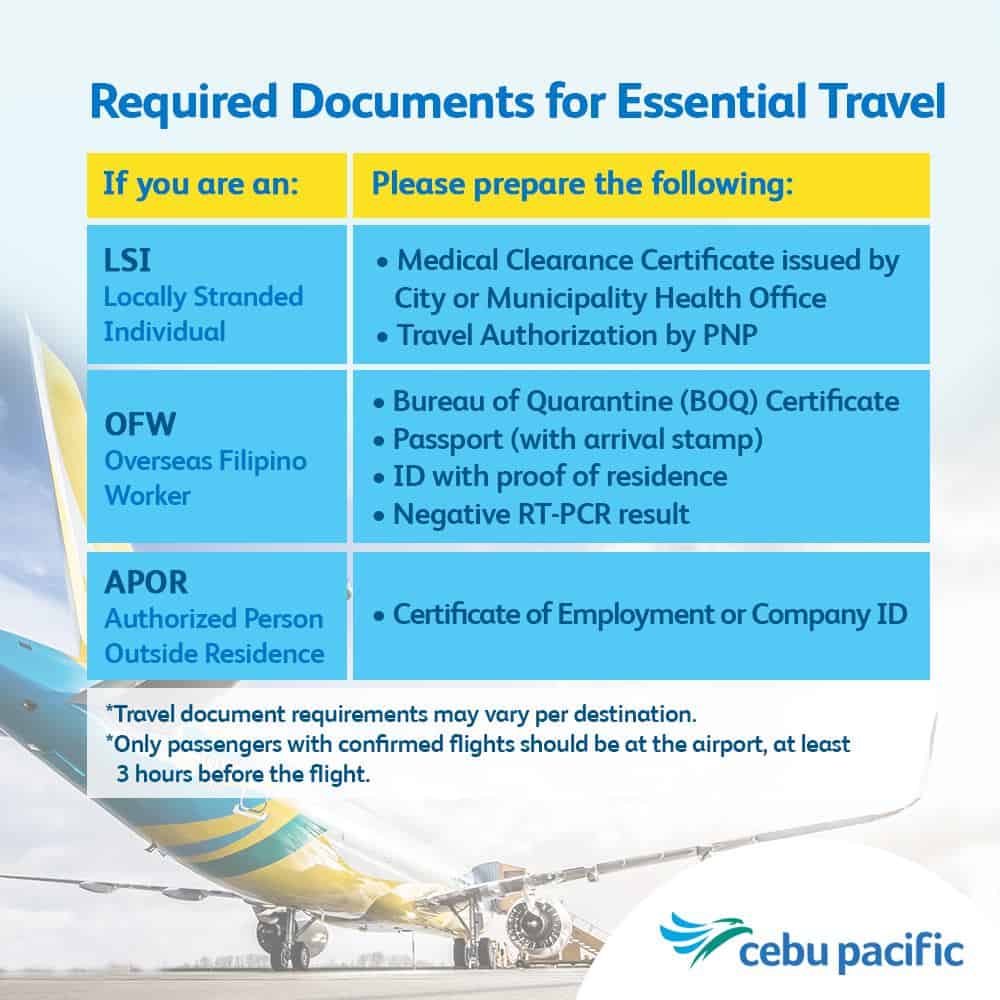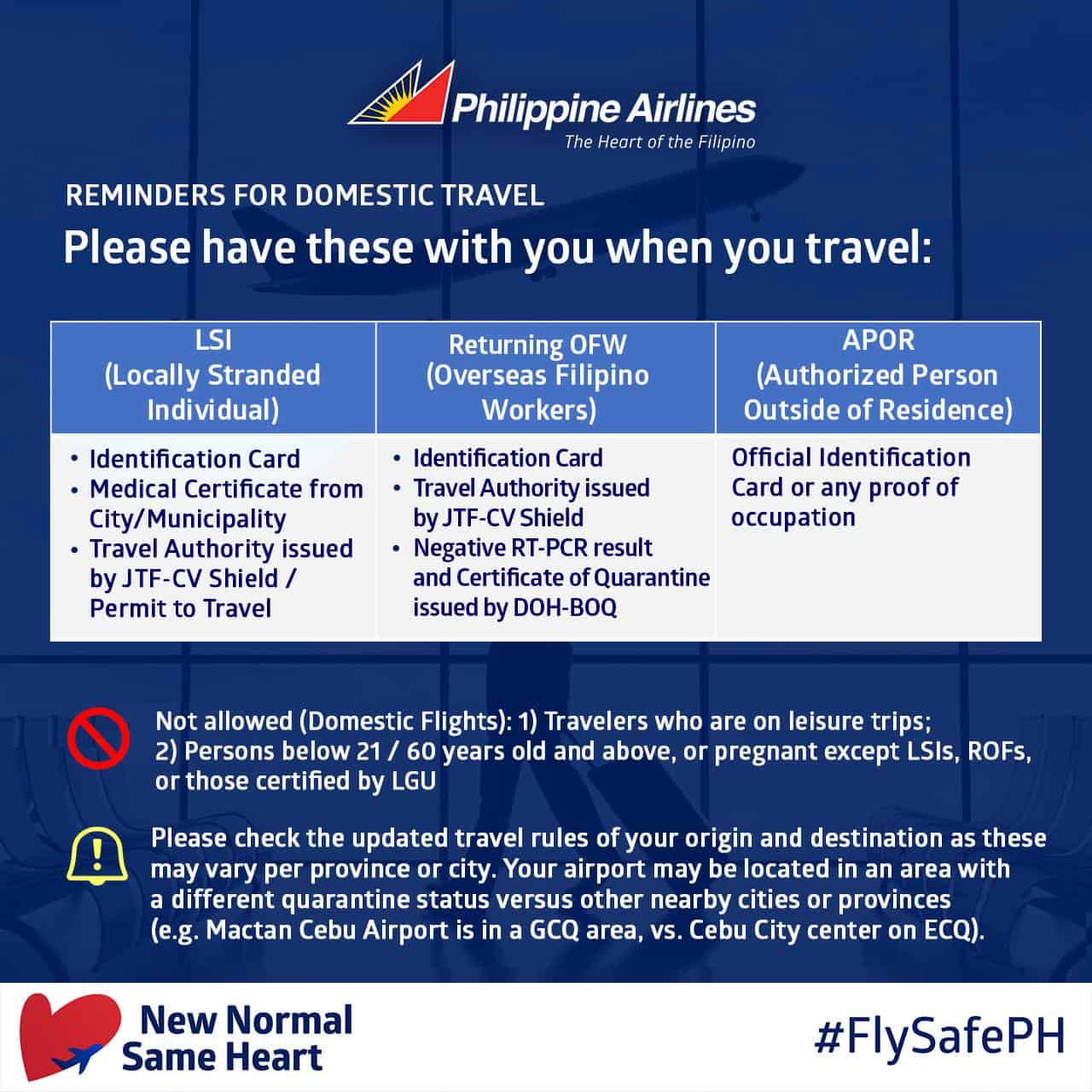 If the images above are too small on your device, we compared, combined and typed down the text below for easy reading:
Locally Stranded Individual (LSI)
Identification card (ID)
Travel Authority / Pass from the Joint Task Force COVID Shield (JTF-CV) of the Philippine National Police (PNP). This can be obtained from the City or Municipal Chief of Police if traveling between provinces within the same region or from the Provincial Director if traveling between regions.
Requirements for Travel Authority / Pass:
Medical Certificate from DOH-accredited hospital or City or Municipal Health Office
Barangay Certification proving that the traveler has no COVID-19 symptoms for 14 days prior to travel date
Business Traveler (Authorized Person Outside Residence)
Company ID or
any official document from the company explaining the reason for travel
Overseas Filipino Worker (OFW)
Travel Authority / Pass. To get one, you will need to secure a medical certificate and barangay certification that you have no COVID-19 symptoms for 14 days before travel date.
Negative RT-PCR result
Quarantine Certification issued by DOG-Bureau of Quarantine
Proof of Residence
Valid Passport
Not Allowed to Travel
Leisure travelers
Persons below 21 years old
Persons 60 years old and above
Pregnant women
Important Reminders
As mentioned, for a swift and hassle-free journey, before booking a flight, get in touch with the LGU of your origin or destination to see if there are extra documents needed or changes to the list.
Note that airlines also require passengers to wear a mask at the airport and inside the aircraft.
For more information, check out these FREQUENTLY ASKED QUESTIONS (with answers):
---
Updated Log
2020 June 27 – Added Philippine Airlines' version of the requirements infographic.
---