2020 • 6 • 18
Father's day is coming up! Since there are people who are confused and some even celebrated early, it's on June 21st.
Although we're now on general community quarantine, dine in is still very limited and it is still safer to stay in. But like all celebrations we had while in quarantine, we can still make Father's day unforgettable.
The good news is, several food chains are offering promos and pre-order options so you can avoid the lines on the day itself.
WHAT'S COVERED IN THIS GUIDE?
Goldilocks
In celebration of Father's Day, Goldilocks has promo bundles for their chocolate mousse cake from June 4-30.
Chocolate mousse cake with ready to cook or ready to eat Pinoydeli packs for only P899.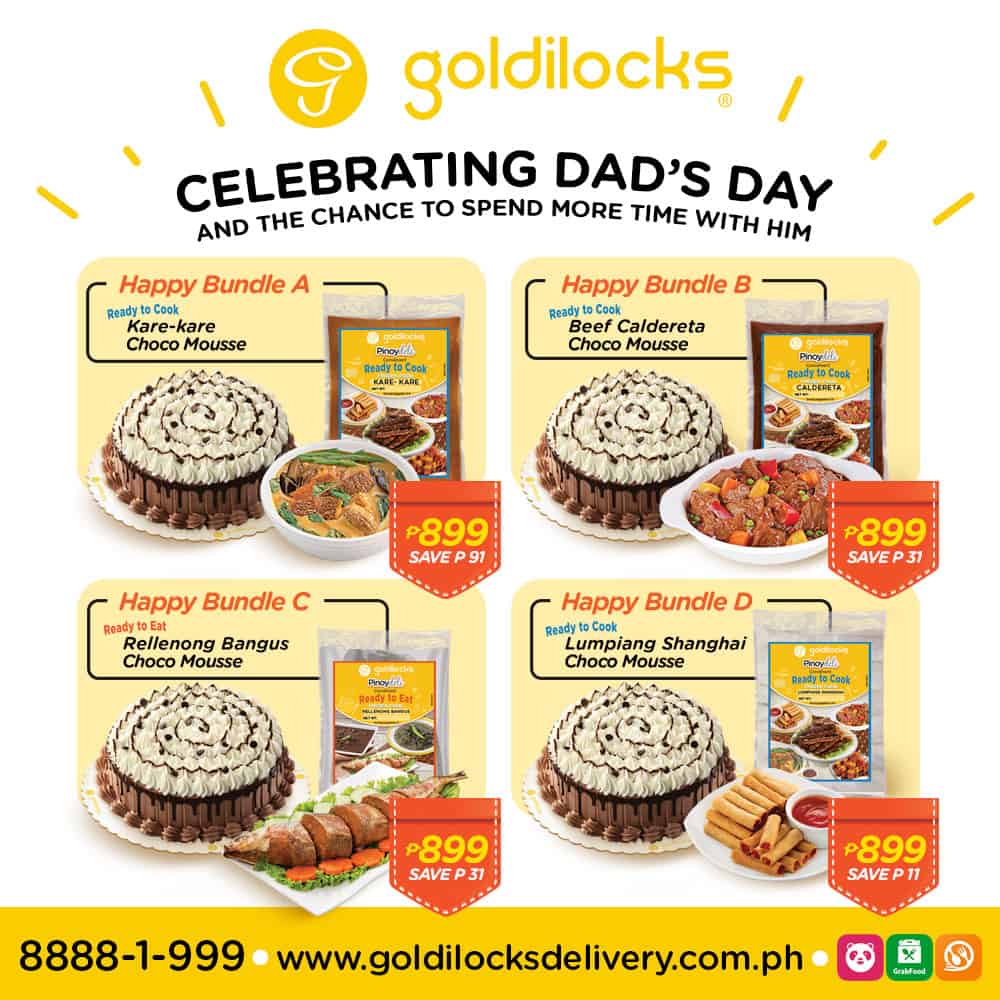 Happy Bundle A:
Chocolate Mousse Cake
Ready to cook Kare-kare
Happy Bundle B:
Chocolate Mousse Cake
Ready to cook Beef Caldereta
Happy Bundle C:
Chocolate Mousse Cake
Ready to eat Rellenong Bangus
Happy Bundle D:
Chocolate Mousse Cake
Ready to cook Lumpiang Shanghai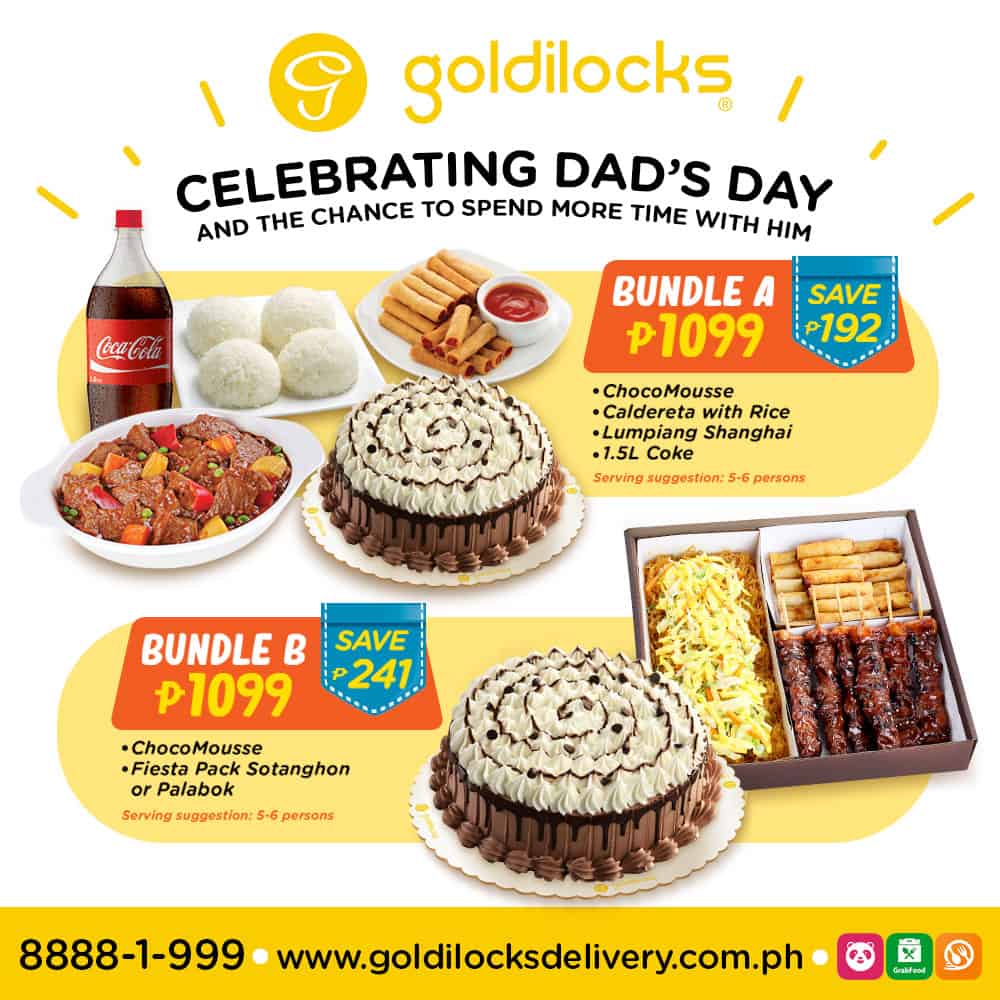 Chocolate mousse cake with your favorie pinoy meals for only P1099.
Bundle A:
Chocolate Mousse Cake
Cadereta with rice
Lumpiang Shanghai
1.5L Coke
Bundle B:
Chocolate Mousse Cake
Fiesta Pack Sotanghon or Palabok
You may order by calling 8888-1-999 or order online at www.goldilocksdelivery.com.ph. This bundles are also available on Foodpanda, Lalafood and GrabFood.
For the list of open stores, check here:
---
Shakey's
Shakey's are accepting advance orders until June 20. These are available for pick-up or delivery on June 22-20. You can place your orders through www.shakeyspizza.ph, SuperApp, 7777-7777, #77-777 (toll-free for Globe & TM) or via Shakey's FB Messenger.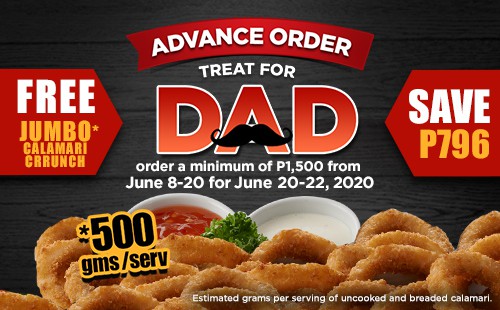 They are offering a free jumbo serving of their Calamari Crrrunch when you place an advance order worth P1,500 and above.
If you'll have your orders delivered on June 20 or 21, take note that orders must be placed at least a day in advance. Cut-off time to place your orders to avail this promo is on June 20, 11:59pm.
If you have a Supercard+, you can combine this advance order promo with the exclusive Supercard+ promo of 45% off on Chicken (Solo & Buddy Pack)
---
Wendy's
Wendy's treat for dads this father's day is a Dave's single with cheese that comes free with an order of Chicken Family Bundle. This is also available in a bundle for 4.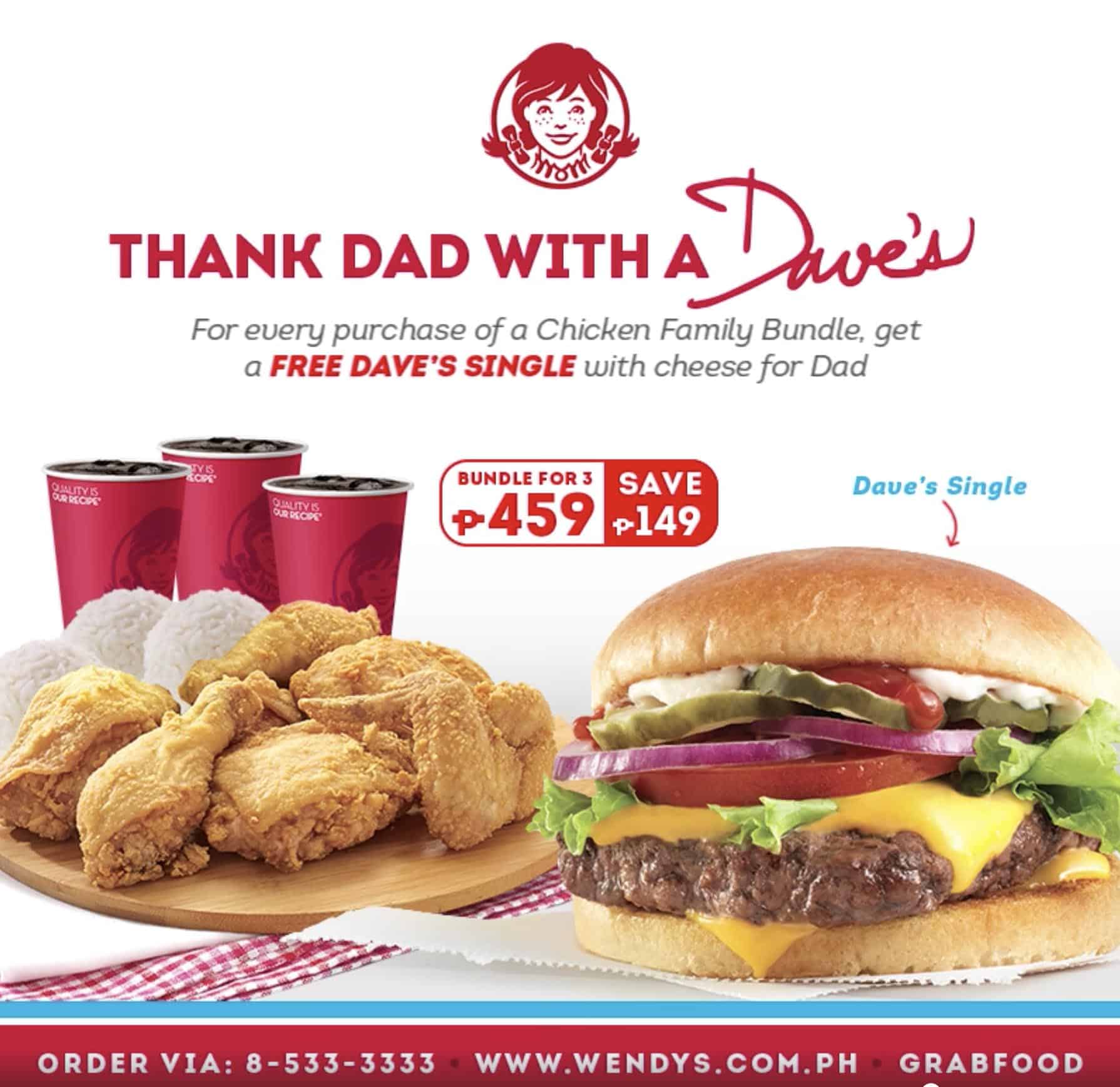 You can avail this promo from June 17-24 by ordering through www.wendys.com.ph, calling their hotline 8-533-3333 or via Grab Food.
---
Figaro
For their promo, Figaro is offering a Father's day bundle. The bundle includes 2 party trays and a whole carrot cake. You can avail this promo from June 15-21 for only P1000. You can order through www.thefigarogroup.ph or dial 0916-7307136.
Here are your options for the party trays:
Spaghetti
Carbonara
Mac & Cheese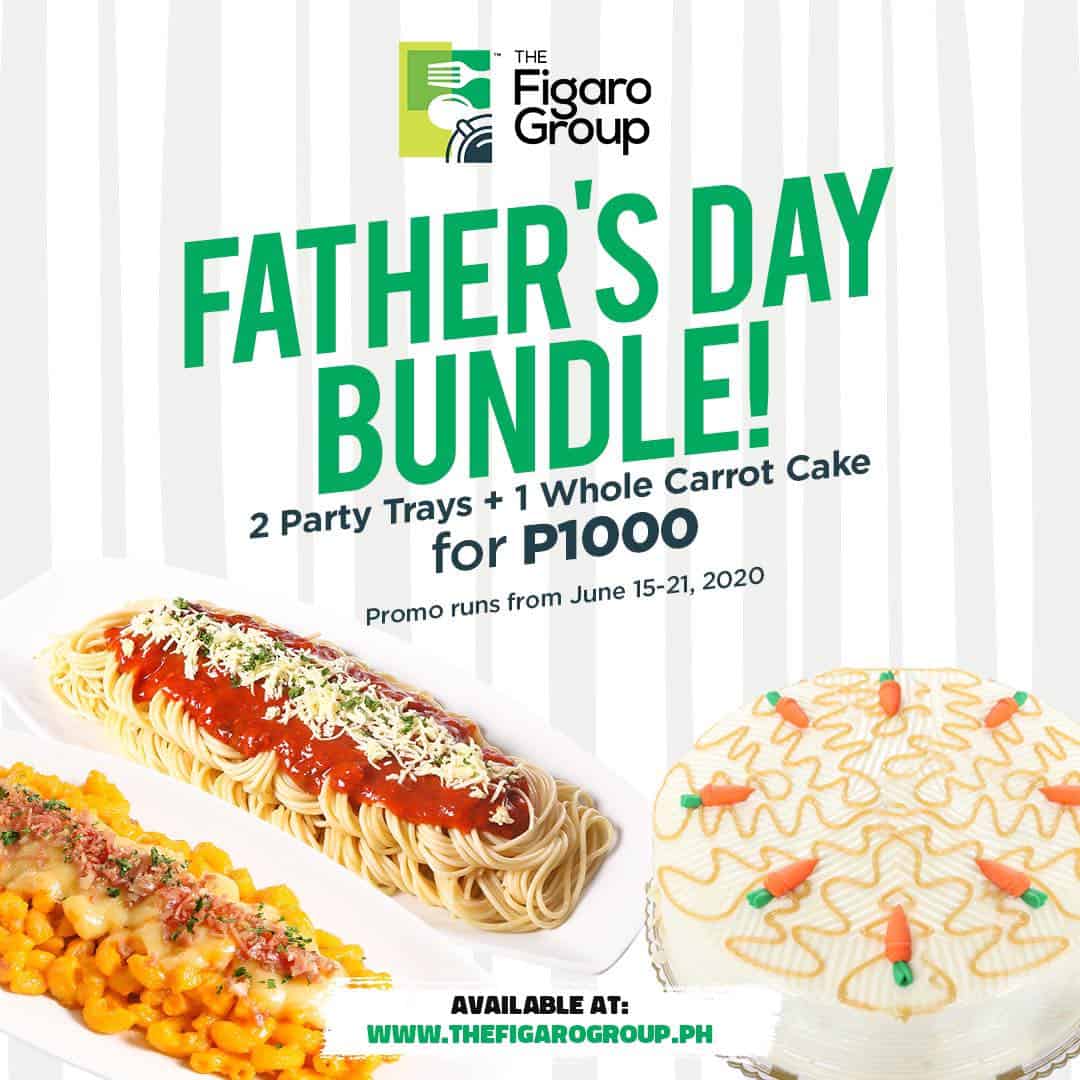 ---
Featured images courtesy of Wendy's and Figaro.
---