Here's how to get to BORACAY by 2GO Travel ferry (Manila to Batangas Port to Caticlan Jetty to Boracay). We also included the price of tickets, travel time, and other useful tips!
As the Philippines' most visited beach destination, Boracay welcomes millions of tourists per year. Aside from its sheer natural beauty, much of the island's popularity can be attributed to its accessibility. There are two airports serving Boracay, located in Kalibo and Caticlan. Over the years, the cost of flights have also gone down significantly, especially during seat sales. But outside these promos, fares can still set back a passenger thousands of pesos per way. After all, air travel remains relatively expensive.
Thankfully, you can also travel to Boracay by sea. Most people are not aware that there are ferries that carry passengers from Batangas Port straight to Caticlan. The regular ferry fare is generally cheaper than that of year-round seats on a plane.
Our team recently took this route and documented our journey, so allow us to share our experience with you.
WHAT'S COVERED IN THIS GUIDE?
Batangas to Caticlan 2GO Ferry Schedule
2GO Travel has two trips from Batangas to Caticlan per day. They use the vessels St. Anthony de Padua, St. Ignatius of Loyola, St. Augustine of Hippo to ply this route. Here's the schedule as of July 2019.
Batangas to Caticlan
10:00 am, daily
09:00 pm, daily
Caticlan to Batangas
08:00 am, daily
11:00 pm, daily
Travel time: 9 hours.
We recommend taking the night sailing. You leave Batangas at 9pm and arrive in Caticlan at 6am. This will allow you to have more time in Boracay and maximize your day.
These may change without notice so please double check with 2GO before you start planning your trip.
---
2GO Ferry Ticket Price
Much like airlines, 2GO Travel seems to be employing a dynamic pricing system, which means that the fare varies depending on a number of factors including the date of travel, availability, and the vessel used.
Each booking covers a berth (bed) onboard. There are four types of accommodations, each has its own price pricing scheme.
Here are the usual price range per class.
Economy. Aka Super Value class. With an economy class ticket, you get assigned one in dozens of bunk beds in a big non-airconditioned room. There is very little privacy here because you're sharing the room with other economy passengers. Price range: P950 – P1250 per passenger.
Tourist. You get a bed (bunk bed) in an air-conditioned room shared with the rest of those in tourist class. The beds are slightly bigger and with better privacy. It reminded us a little bit of capsule hotels. You also get to have a pillow for comfort. Price range: P1000 – P1400 per passenger.
Cabin. Cabin class passengers get a bed in a room that is shared with a few other passengers. A cabin can accommodate either 4 or 6 passengers. Price range: P1600 – P1850 per passenger.
Suite Room. Good for 2 pax. With a suite room ticket, you get your own private room with better provisions. Price: around P4550 per room.
We were able to try two classes: Economy and Tourist.
If you're on a tight budget, you can travel on economy class. However, note that the room isn't air-conditioned. It can get really hot even at night, especially if you get assigned a bed near the kitchen.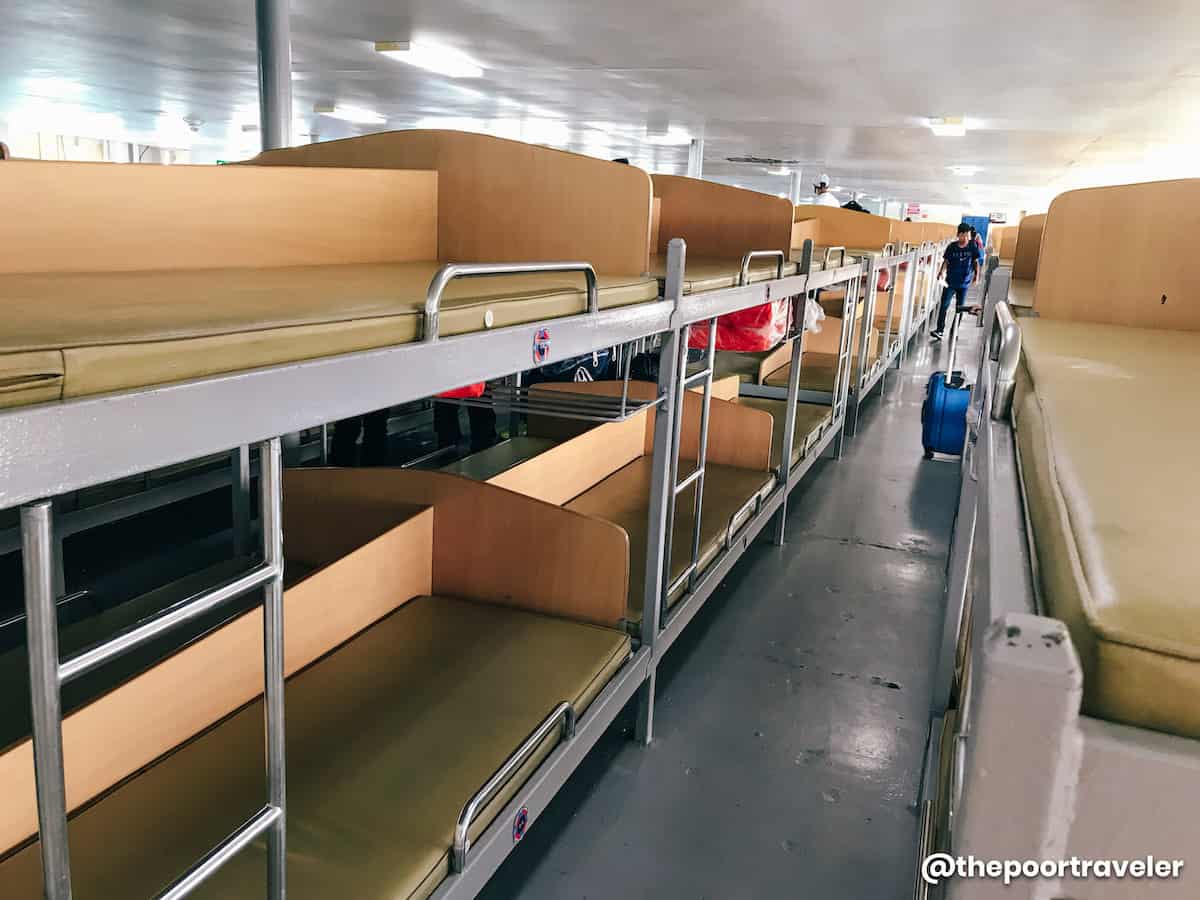 If you're on a budget but would like to be comfortable, go with tourist class instead. The difference in price isn't much but it is a hundred times better in comfort. The room is air-conditioned and with proper panels (lower bunks) for a little bit of privacy. It also has more breathing and moving room. You also get a pillow. Since you'll be sailing for 9 hours, the price hike is definitely worth it.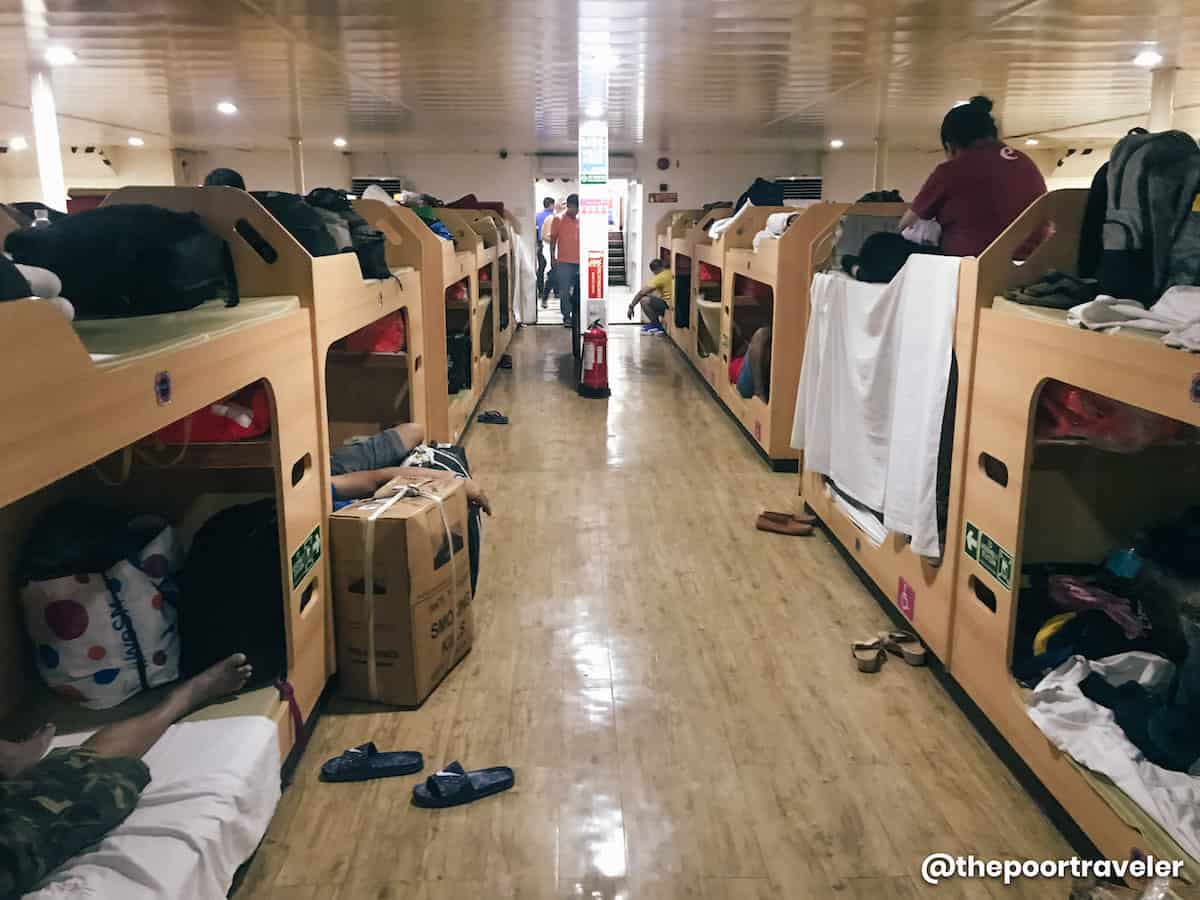 If you booked economy and you want to move to tourist class, you can do so by paying an upgrade fee. We'll discuss that in a separate section below.
---
Where to Book 2GO Ferry Tickets
You can book via a 2GO outlet, via the 2GO website or via 12GO.asia.
2Go Outlets. To check the nearest 2GO outlet in your area, use their outlet locator here.
2Go Website. I tried booking via their official website but every time I try to pay, it's giving me an error and I would start over. Eventually I gave up. Haha. It's also important to note that when choosing an origin or destination on their booking engine, there are two BATANGAS entries. They refer to the same Batangas, don't worry. One is just for the morning sailing, while the other is for the night sailing. It's confusing at first, but it's just structured that way. You can try booking at https://travel.2go.com.ph.
12GO. This is a third-party transportation booking website, where I usually book my bus and train rides when traveling across Southeast Asia. They're just starting to expand here in the Philippines, but they already have 2GO Batangas-Caticlan in their system so you can book it with them. BOOK HERE!
---
How to Get to Boracay from Manila via Batangas
1. Catch a bus to Batangas Pier.
We usually use the the DLTBCo terminal in the LRT-Buendia area. Travel time is 2-4 hours, depending on traffic conditions and which part of Manila you're coming from.
Fare is P197 if you're coming from Buendia or P207 from Cubao. Below is the schedule.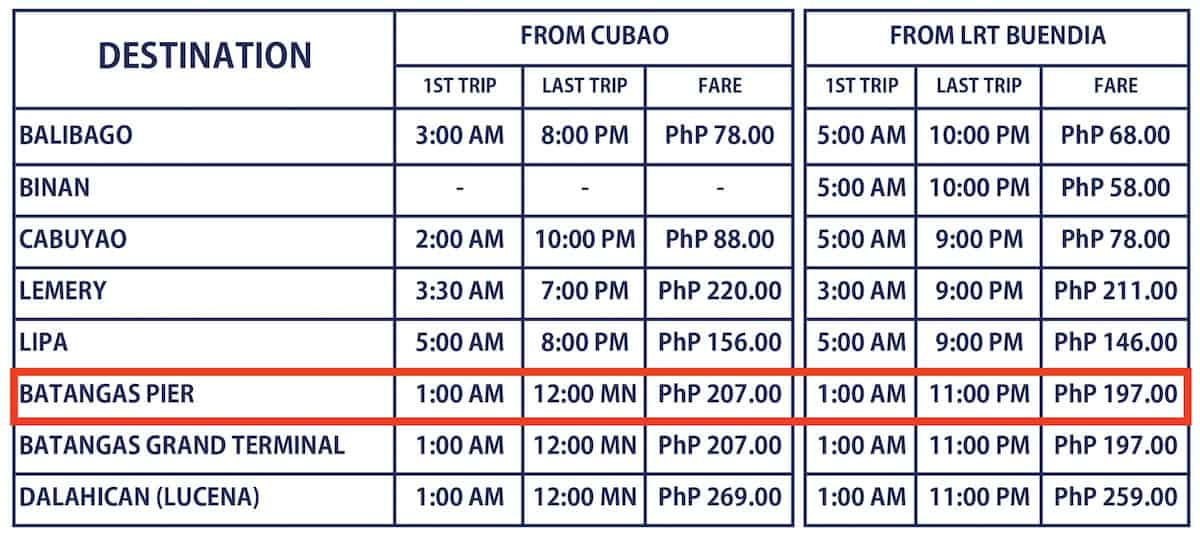 Some buses pass through and make several stops in Sto. Tomas and Tanauan. If you want a quick journey, board a bus with the CALABARZON sign. This means that the bus will be taking the STAR Tollway, which bypasses most towns and cities between SLEX and Batangas City.
Allot plenty of lead time to make sure you don't miss the boarding time. They allow boarding hours before departure so it's okay if you're a bit too early. Our sailing was at 9pm but we arrived way before 7pm, yet we were already encouraged to board, which was really nice.
2. Board the ferry to Caticlan.
At Batangas Pier, proceed to the boarding area for your ferry. You will need to present the following upon boarding:
a printed copy of the eTicket itinerary receipt
valid ID
Here are the accepted IDs:
Driver's License
Passport
UMID
SSS/GSIS ID
PRC ID (issued by PRC)
Senior Citizen's ID (OSCA)
Federation of Senior Citizens ID (FSCA)
Postal ID
NBI Certificate
TIN ID (issued by BIR)
Voter's ID
Company ID (if working)
Student ID (if student)
After boarding, look for your bed and settle down or explore the rest of the vessel.
If you have trouble finding your assigned bed, you can always approach any of the staff for assistance.
3. Enjoy the ride.
The travel time is 9 hours. How you spend it is up to you. Most passengers choose to just sleep all the way to Boracay. But you can also explore the ship. There is a cafe where you can pass the time.
If you're the type who gets sea-sick, make sure you bring meds. The journey is smooth sailing for the most part, but there are times when it gets dizzying.
4. Disembark at Caticlan Jetty Port.
At Caticlan Jetty Port, you'll find tents and tables set up outside the building. Look for the Registration Area and queue up. You'll be asked to write down your name (and your companions') on a logbook. This is used to monitor the number of tourists visiting Boracay.
Afterwards, proceed to the Verification Area. Here, you'll need to present proof of accommodations. Since Boracay reopened in 2018, it is now mandatory to have hotel booking if you're spending at least one night in the island. Again, hotel booking is REQUIRED.
5. Pay the fees.
After having your hotel booking verified, proceed to the payment windows.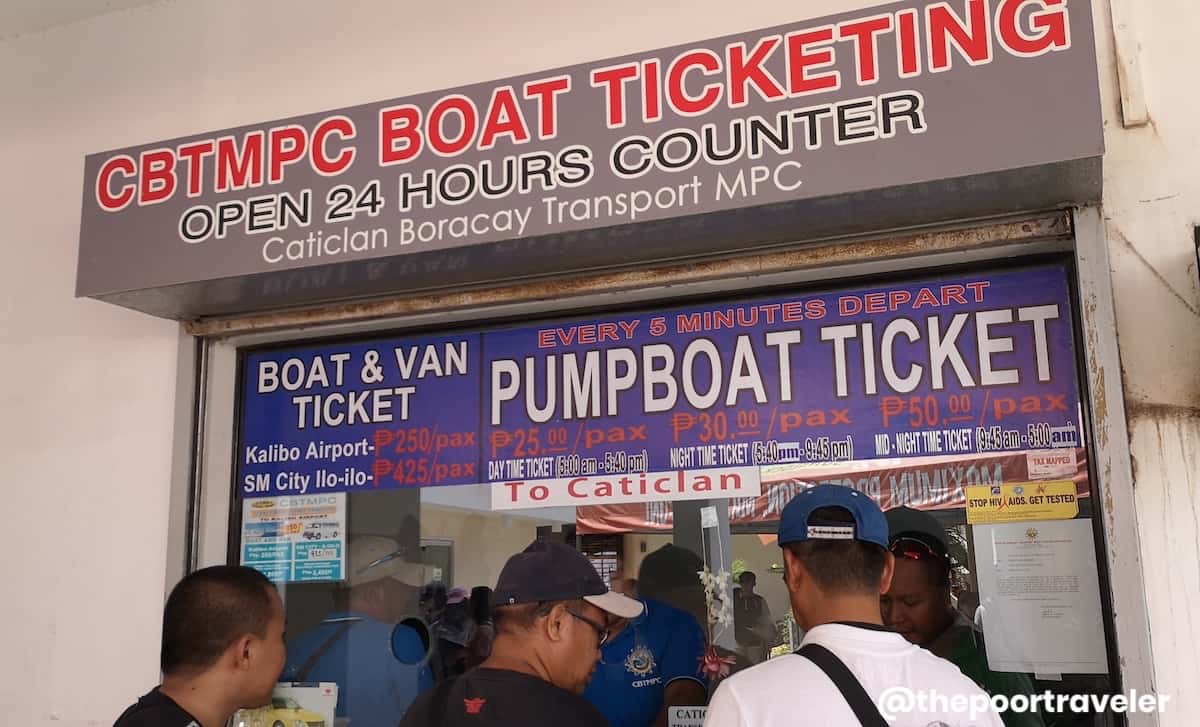 Oh, wait, before that, decide whether you want to take the cheaper pumpboat or the bigger but pricier Oyster Ferry. There are separate queues for pump boats and oyster ferry, so make up your mind first.
Here are the rates per person:
Pump Boat (Day: 5am-5:40pm): P25
Pump Boat (Night: 5:40pm-9:45pm): P30
Pump Boat (Midnight: 9:45pm-5am): P50
Oyster Ferry: P100
Once you're decided, fall in line. Once you reach the counters, you will also need to settle other fees along with the boat/ferry fare. Here are the other fees:
Caticlan Terminal Fee: P100
Environmental Fee: P75
If you choose to take a pump boat, prepare a total of P200-225 per passenger.
If you choose the Oyster Ferry, prepare to shell out P275 per passenger. Oyster, shell out, get it? Nevermind. Sorry. Haha.
You'll settle all these fees at once but you'll be given separate receipts.
6. Board your boat or ferry to Boracay.
After payment, enter the port building. You'll have to go through a security check. Proceed to the Passenger Waiting Area and wait for boarding.
When it's time to board, find your boat and queue up.
Travel time is 10-15 minutes.
7. Take a multi-cab or tricycle to your hotel.
Boracay has two ports: Cagban Port and Tambisaan Port, both in Barangay Manoc-Manoc.
But you're most likely going to be headed for Cagban Port. Either way, you will find tricycles waiting for passengers by the gates of the port. They can take you to your hotel or resort in White Beach for P100-P150 per ride.
You can also take the multi-cab for P40 per person.
---
Frequently Asked Questions
How was the experience in the Economy Class?
On the way to Boracay, our vessel was M/V St. Anthony de Padua. It seems like there are two economy levels. The bed assigned to us was on the lower level, near a cooking area. Even though it was a night sailing, it was really hot. We were sweating the entire time. The upper level was a lot better though.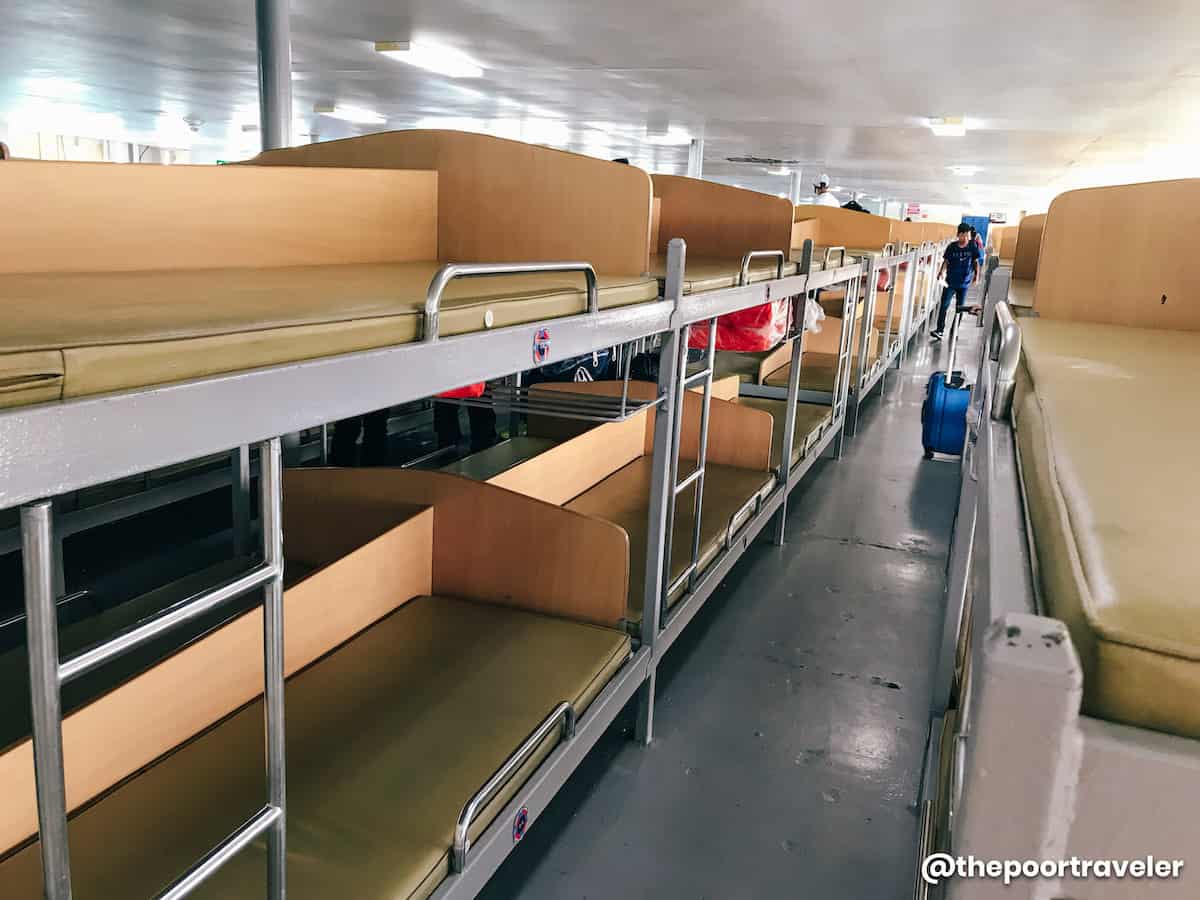 For our return trip, the vessel was M/V St. Ignatius of Loyola. The experience was much better.
Anyway, on our Batangas-Boracay ride, because of the heat that was spilling to the sleeping area and we were soaked in sweat, we asked to be transferred to the Tourist Class, which was the best decision ever.
---
How much does it cost to upgrade to tourist or cabin class?
If you've booked an economy bed and you wish to move, ask for an upgrade as early as you can. They won't be able to confirm until the vessel has officially left the port, though.
Here are the rates as of July 2019.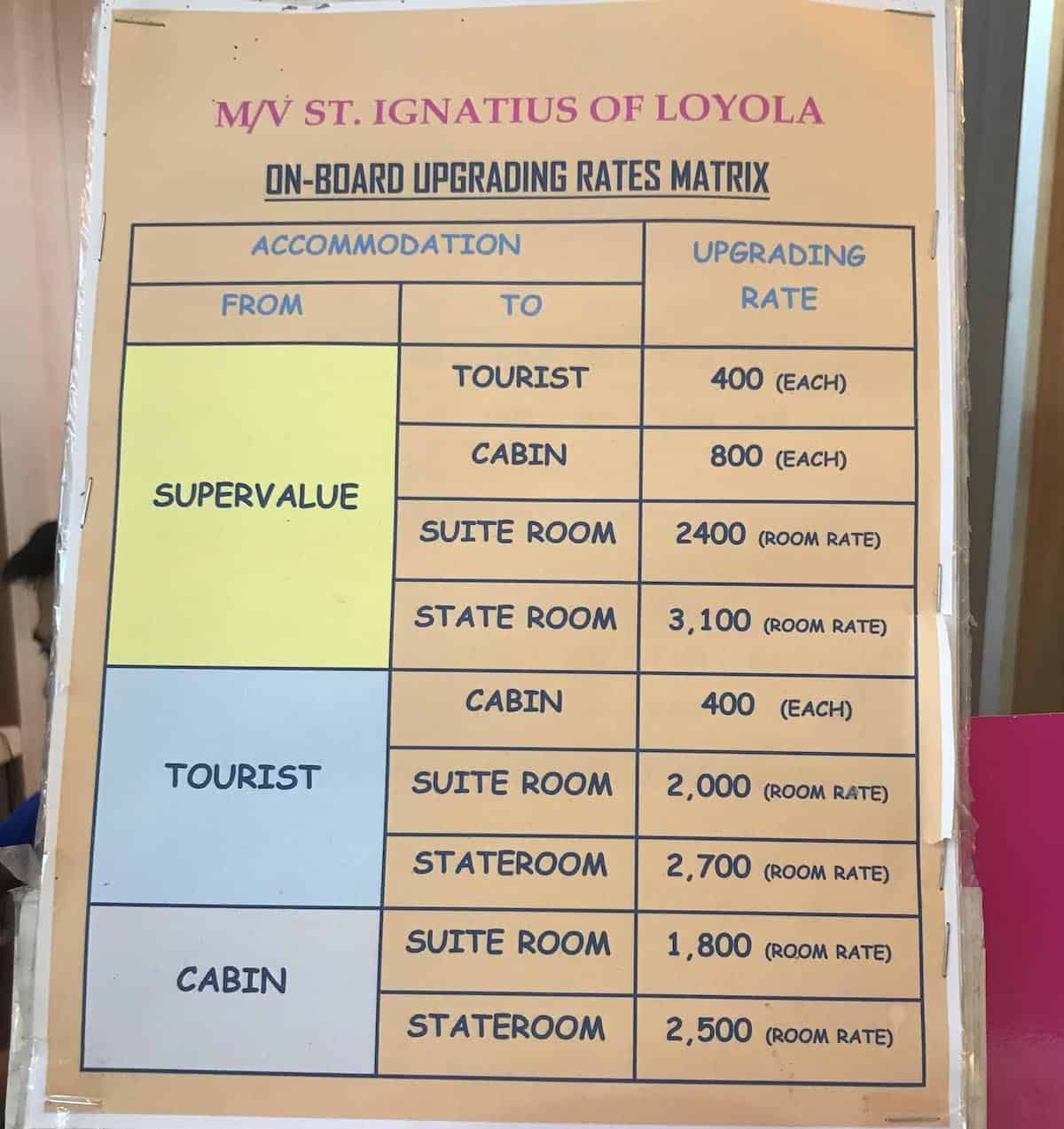 This is subject to availability.
---
How was the experience in the Tourist Class?
Splendid! It was very comfortable and convenient. It was so comfortable that we fell asleep immediately after settling down. We were supposed to have late dinner onboard and we just wanted to rest a bit, but we all fell asleep and woke up in the early morning. Haha.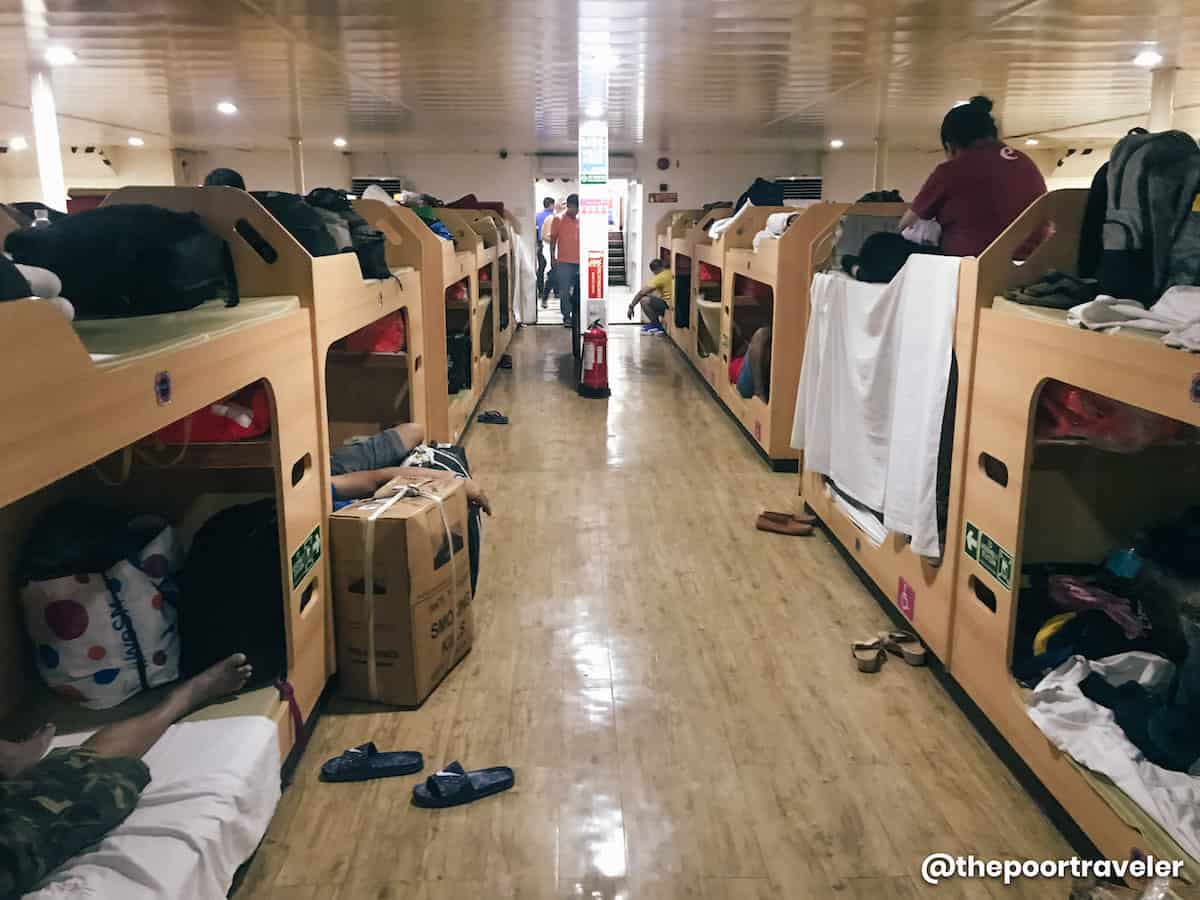 If you're on a budget and want to be comfortable, skip the Economy class and book a Tourist bed instead.
---
Can we choose our beds?
To be honest, we don't know for sure. We were a pair when we traveler but we were told that they couldn't ensure that our beds are next to each other or on the same bunk.
If you're a group and you get separated, I guess you may ask the other passenger to switch with you if they don't mind.
---
Are there showers on board?
YES. Even the Economy class has own shower rooms. The Tourist class has their own showers too.
Suite rooms have their own private showers and toilets.
---
Will they provide towels and blankets?
They can, but for a fee. It's still best to bring your own, but if you want to rent them instead, here are the rates: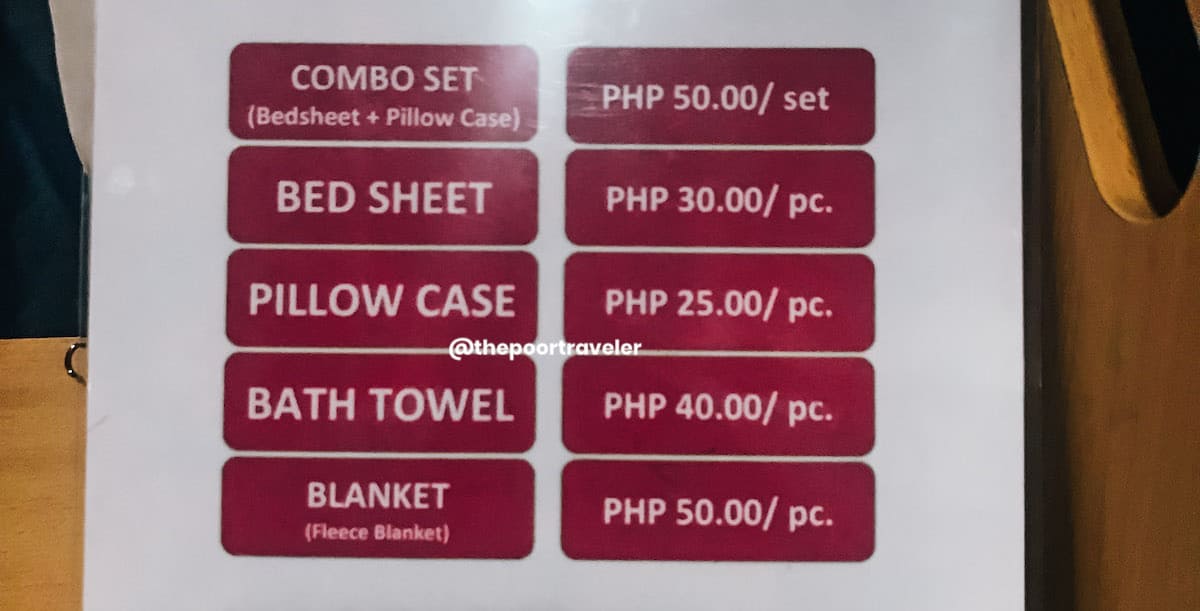 ---
Is there a store onboard where we can buy snacks?
Yes. There is a convenience store onboard. Here are the prices of some of the usual items:
Cupped noodles – P50
Bottled water – P30
Softdrink in can – P45
Beer with chips – P80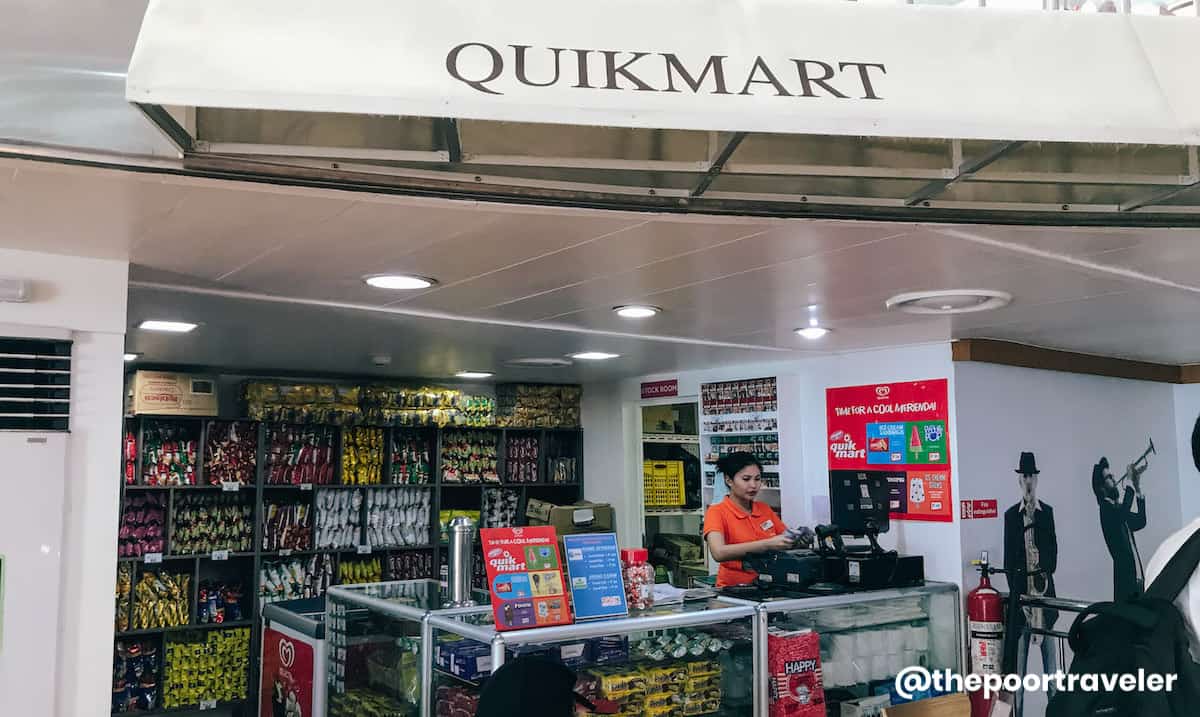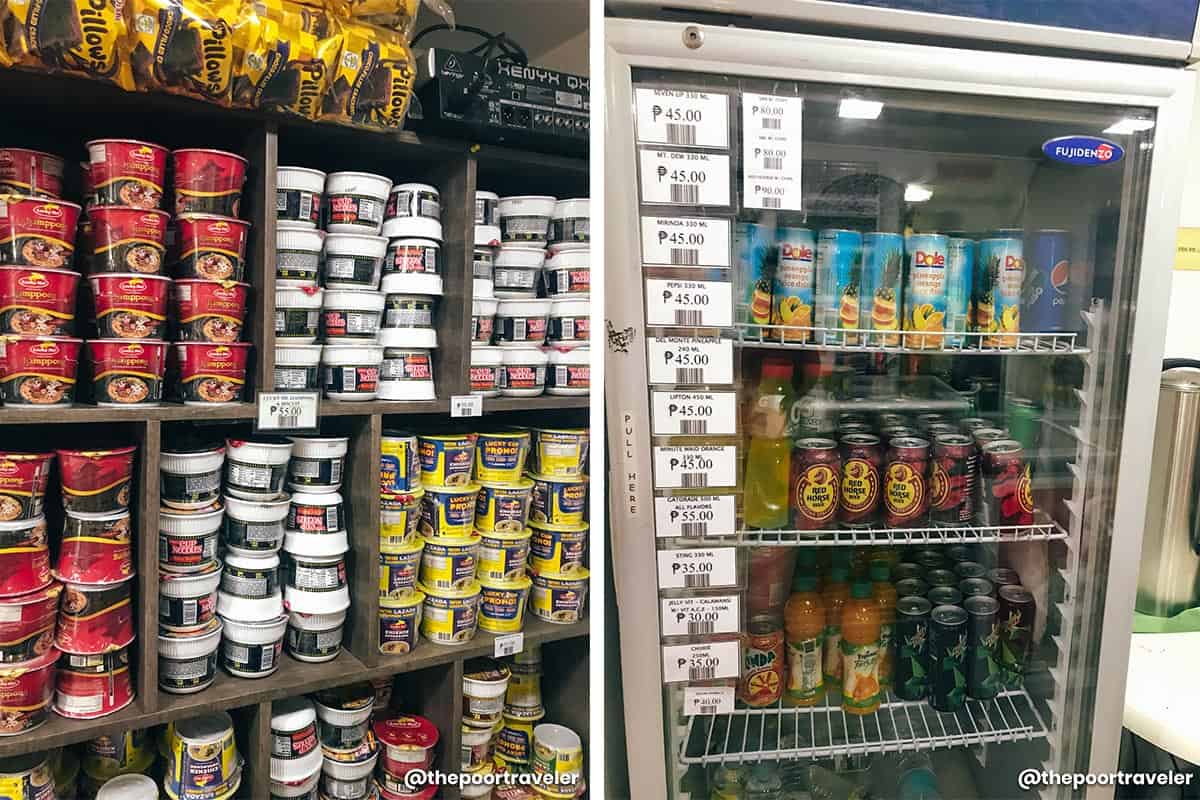 ---
Are there restaurants on board?
Yes. There are cafes and food places onboard including Horizon Cafe and Restaurant, Island Fiesta, and Sea Breeze.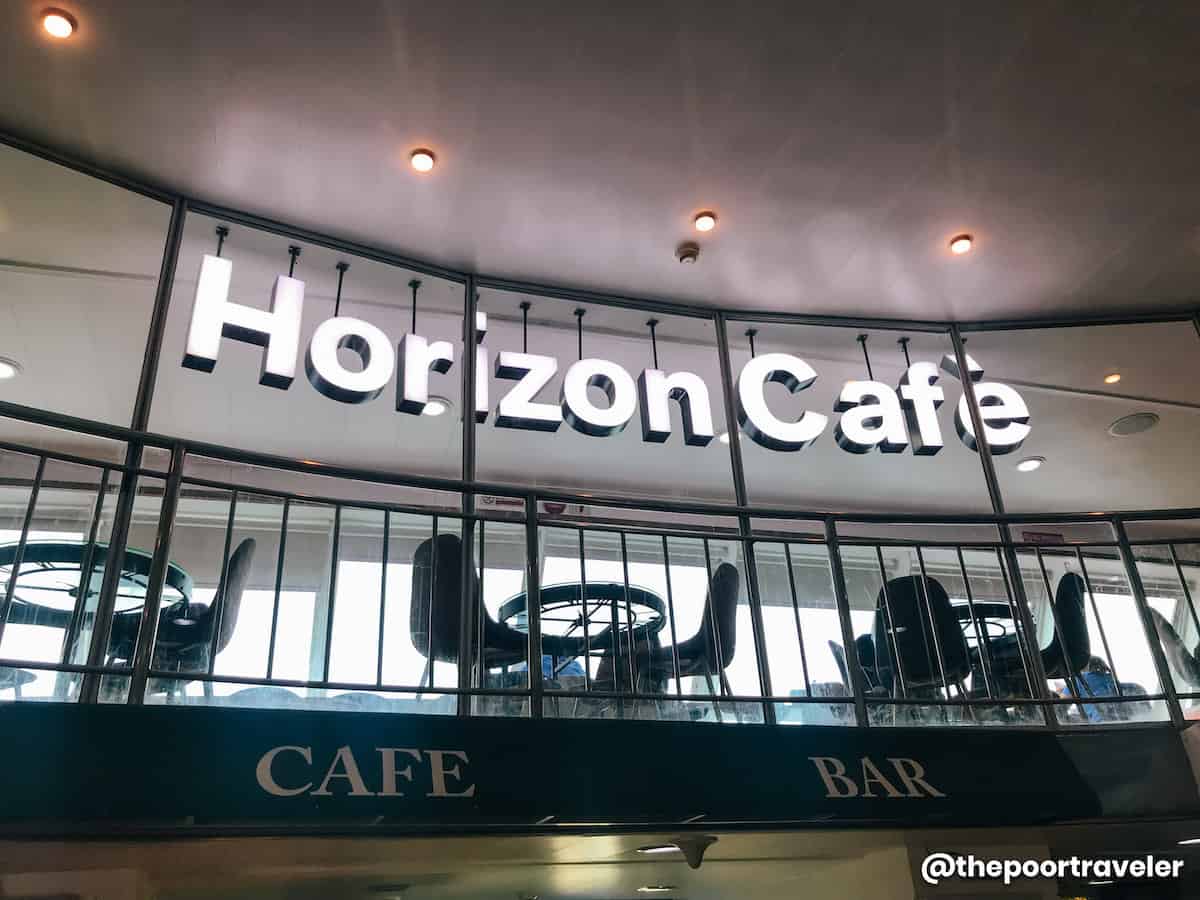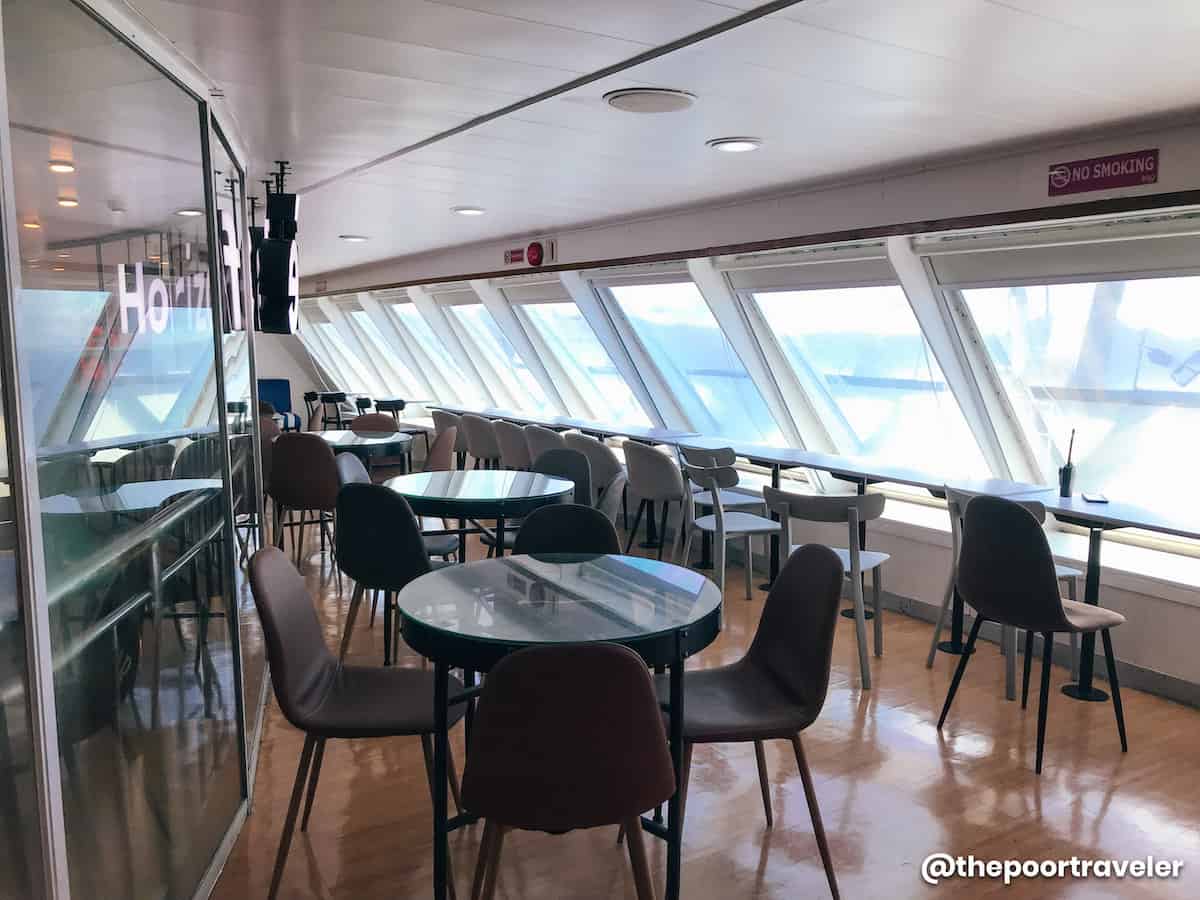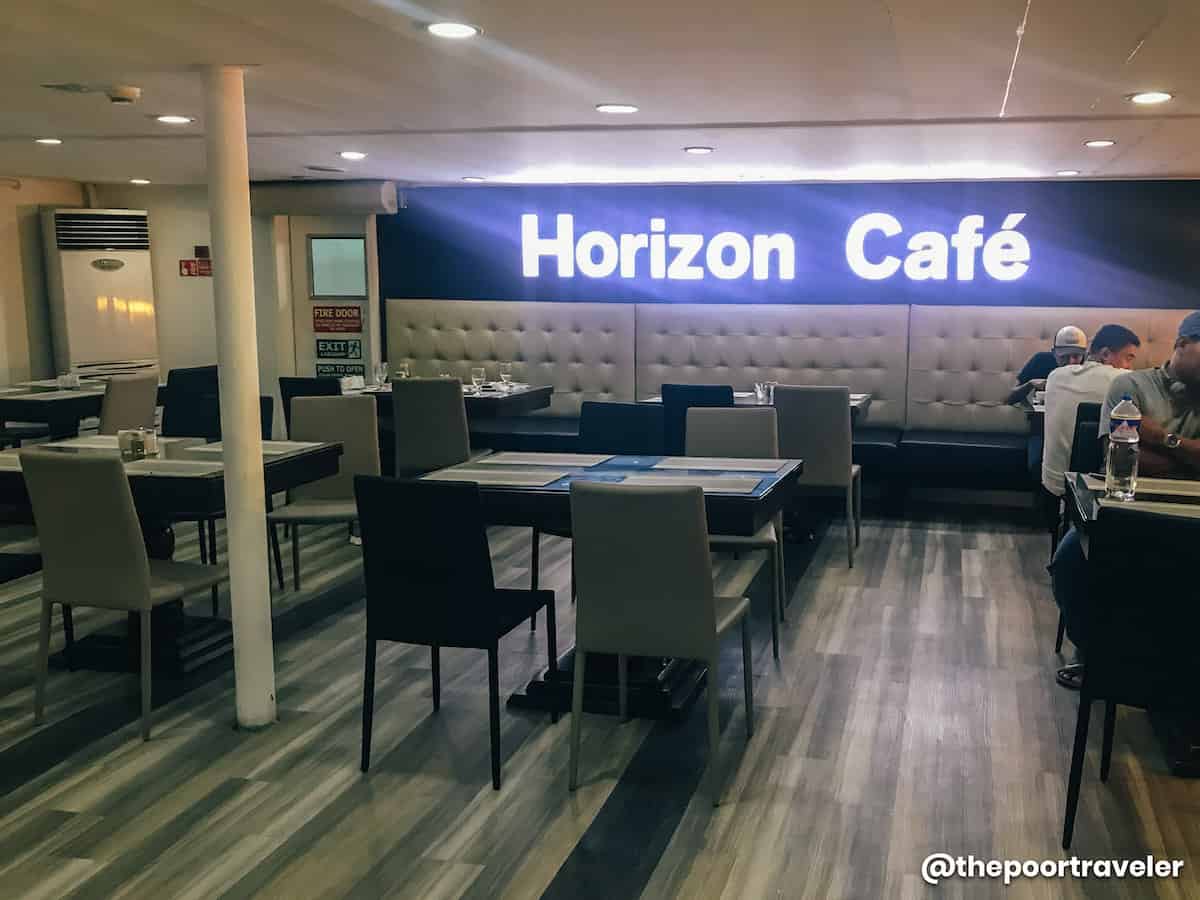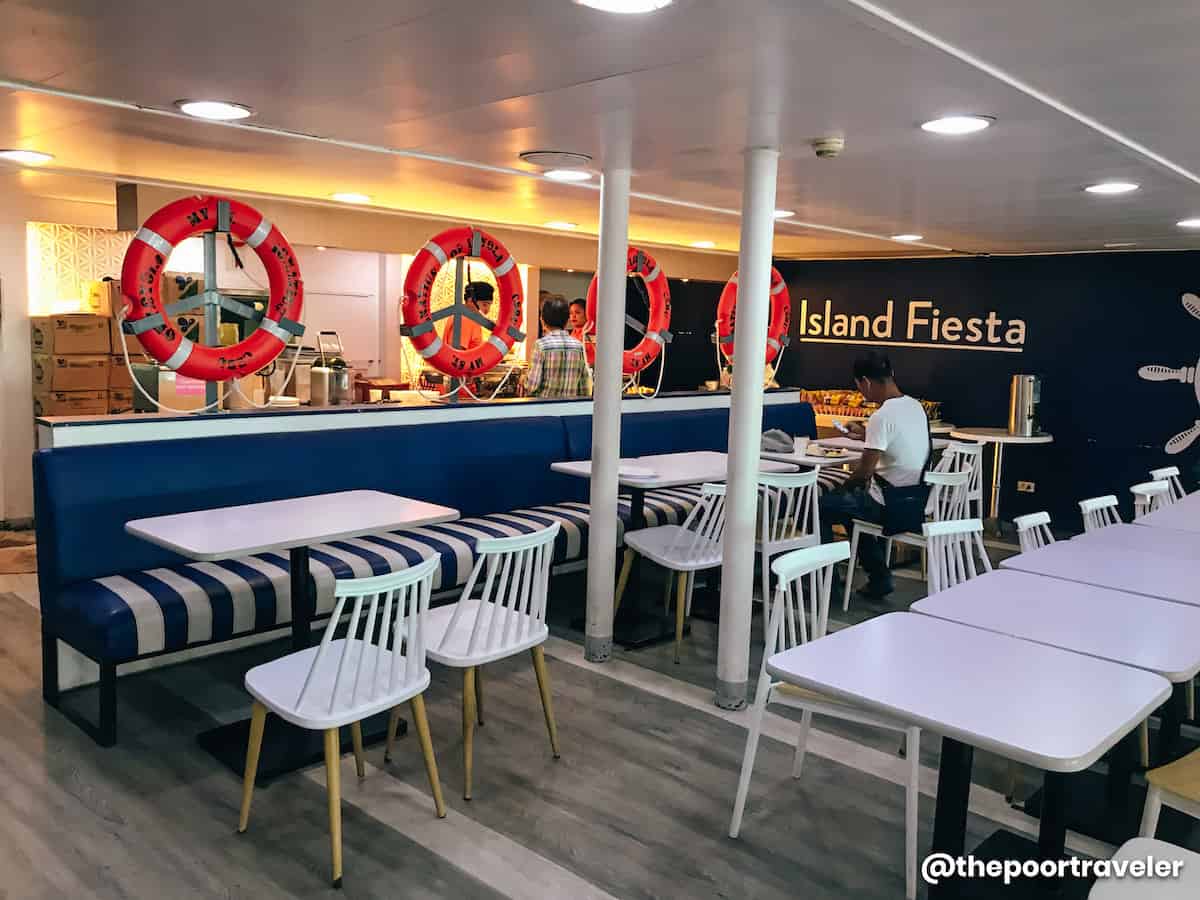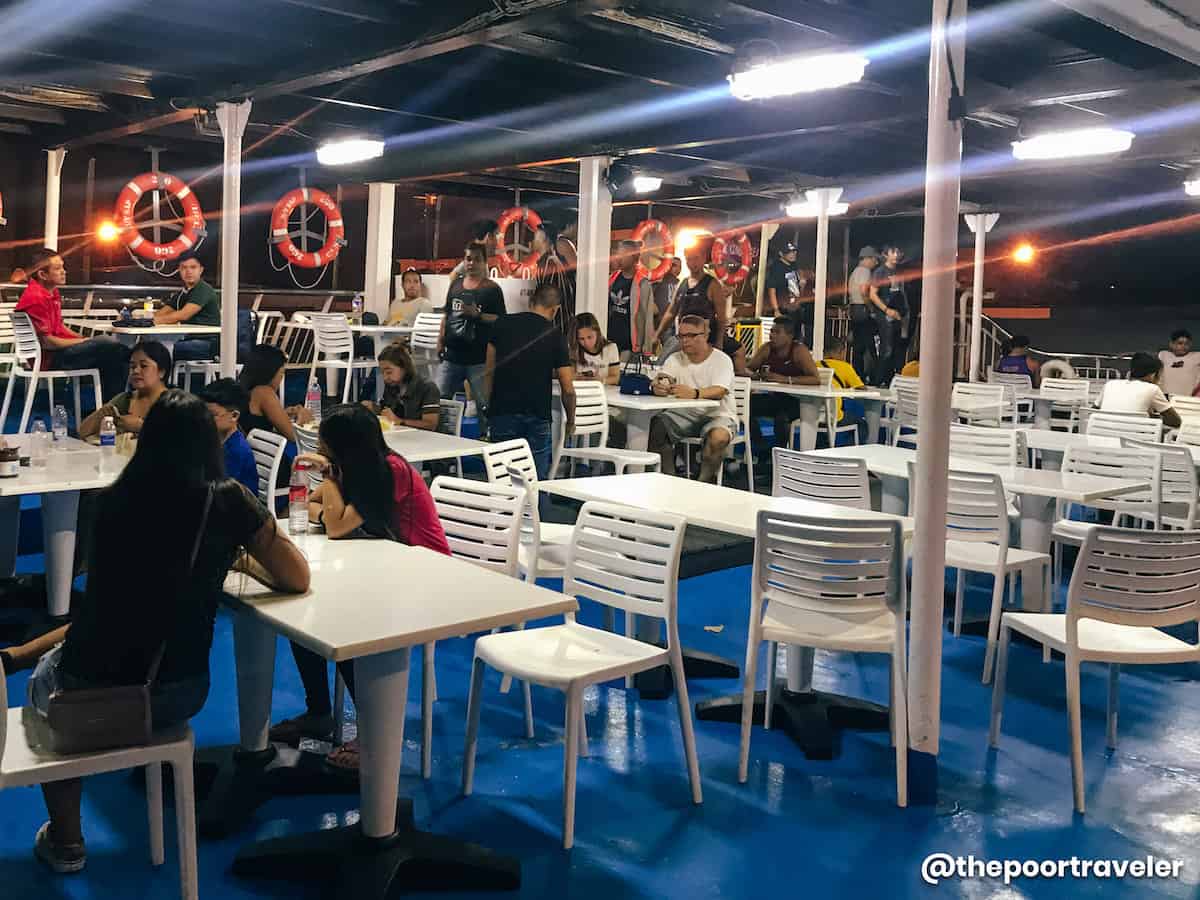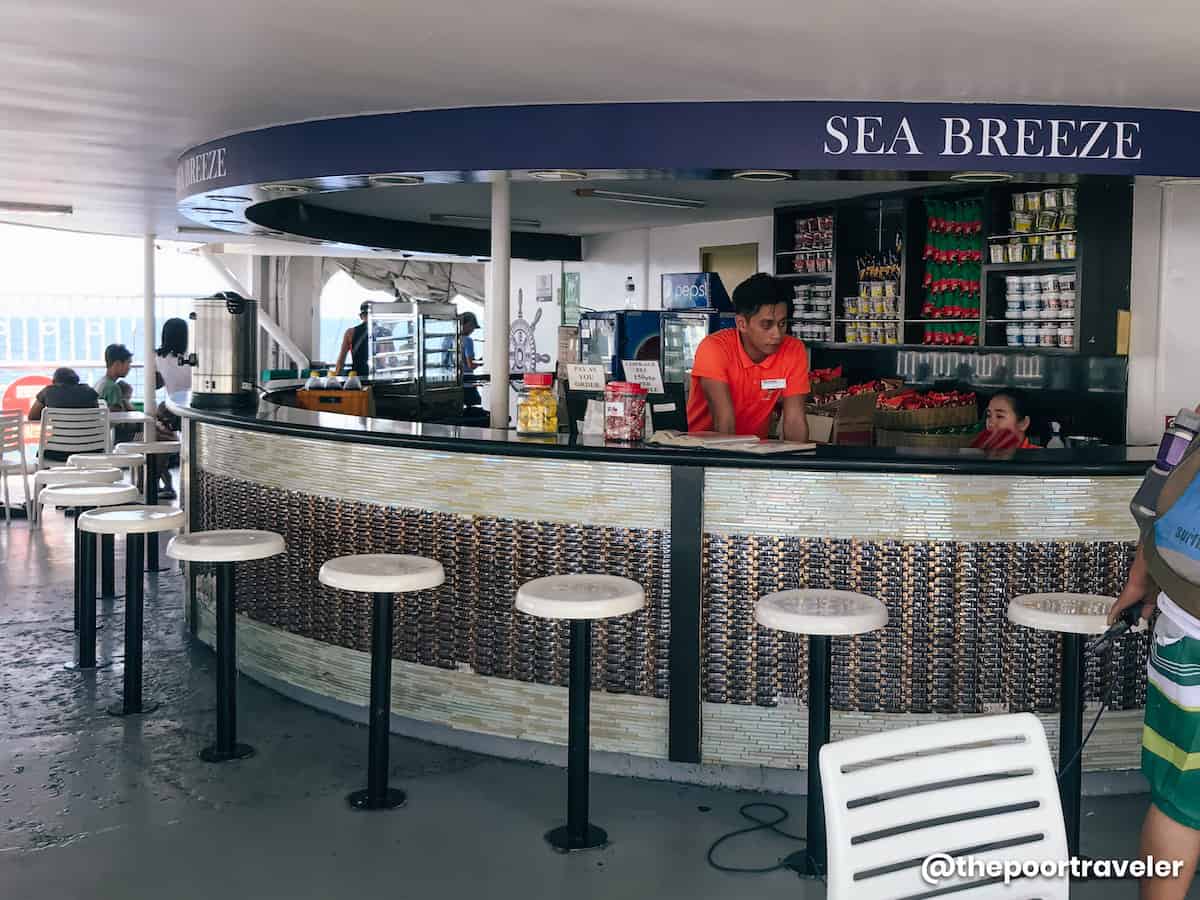 ---
Would you book 2GO Travel ferry to Boracay again?
Yes.
I still prefer flying because of the short travel time. But if I can't find cheap flights, this is a good alternative.
In fact, we're already planning to return and do this route again with family next time.
---
Note: We paid for our trips in full.
---
2️⃣0️⃣1️⃣9️⃣ • 7️⃣ • 1️⃣0️⃣