"There's nothing to do in Milan aside from shopping."
That's what some of my friends who have been to Milan warned me prior to my visit. Even my Italian friends told me the same thing. So on our first European backpacking tour years ago, we skipped Milan.
But we did make a long transfer at Milano Centrale. We didn't really get out of the train station, but that was enough to pique my curiosity. The station was nothing short of astonishing, so astonishing that we swore to return to Milan and stay longer the next time we find ourselves in this part of the continent.
And that's exactly what we did. It turned out that Milan has a lot to offer visitors who aren't quick to judge.
Here are some of the places you can visit in Milan and surrounding areas.
WHAT'S COVERED IN THIS GUIDE?
MILAN TOURS
Free Milan Walking Tour
We booked with Walkabout Tours. For roughly 3 hours, a guide will take you around Milan's historic center, stopping at some interesting structures along the way. Because it's a guided tour, you'll have a better appreciation of each site. Note that it's a sightseeing tour, so you won't be stepping inside most of the stops (with a few exceptions). If you wish to enter, you may return to those after the tour.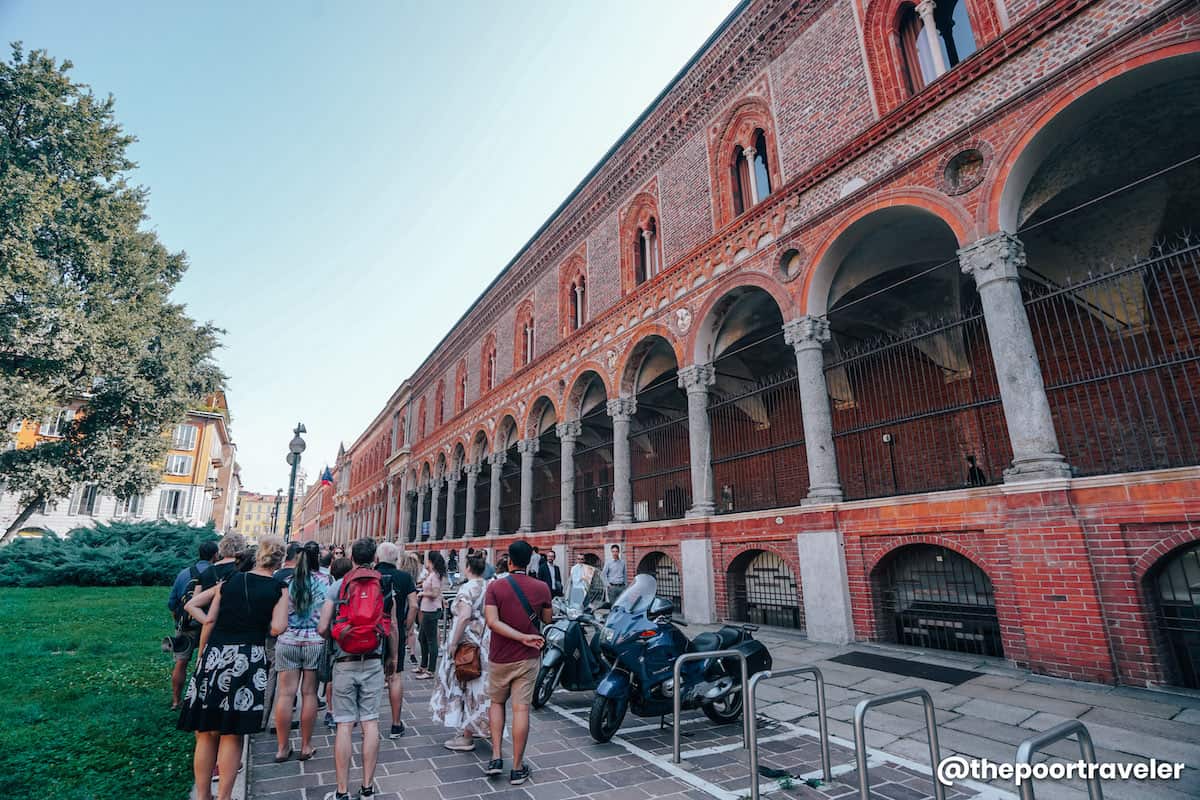 Here are a few of the key stops:
Duomo di Milano, the city's most iconic landmark. More info below.
Galleria Vittorio Emanuele II, a massive shopping arcade and the oldest shopping mall in Italy.
Church of San Nazaro in Brolo, constructed in 382 and houses some relics of the Apostles.
Santuario di San Bernardino alle Ossa, another ancient church best known for its walls filled with real human skulls from the medieval times.
Statale University (University of Milan), one of the largest in Europe and has a long, colorful history.
La Scala Theater, one of the world's most important ballet and opera venues.
Merchants Square, built in the 13th century. It was the center of Milanese life at the time.
Business Square (Piazza Affari), fronting the Palazzo Mezzanotte building, the headquarters of the Italian Stock Exchange.
It's FREE, in theory. But you are expected to tip the guide. How much you should tip depends on how much you liked the tour. I usually tip 5€ to 10€. But I add more if the tour is exceptional.
Although it is free, you are encouraged to register beforehand. You can do that here.
Operating days: Monday-Sunday
Meetup point: Duomo Square, in front of the 900 Museum. Look for a YELLOW umbrella.
Meetup times: 10:00 am Daily (Additional 3pm tour on Saturday)
Duration: 2 hours 45 minutes
---
Milan Food Tour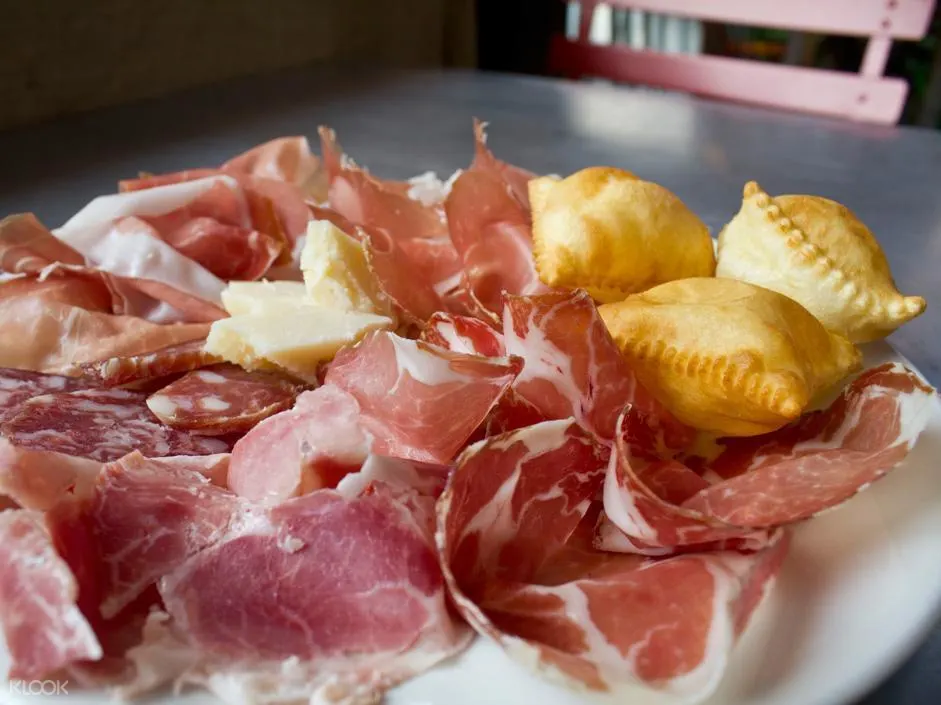 Italy isn't just about its beautiful architecture, art, and history, the country is also a foodie haven. And the same is true for Milan. Walk around the Brera District to eat some of the best food in the city. Your guide will interject tidbits and insights about the food you are eating. Some of the food you'll sample are risottos, cream rolls, and parmigiana.
---
Da Vinci Tour
If Rome was Bernini's favored city and Florence was Michelangelo's, Milan is said to be Da Vinci's playground.
Leonardo Da Vinci is one of the most renowned Renaissance men, and he spent almost two decades in Milan, where many of his masterpieces are showcased including the Last Supper at the Santa Maria delle Grazie Convent, the frescoed ceiling at one of the vaults of the Sforza Castle, and several sketches at Pinacoteca Ambrosiana.
You can visit these sites and see the artworks on your own. Note, however, that it is highly recommended that you book Last Supper tickets in advance. For more information about each site, see the details below, under the PLACES TO VISIT section.
But if you want a better understanding of Da Vinci's life and works in Milan, consider joining a guided group tour. If you book with Klook, you also get fast-track access to the LAST SUPPER!
---
Lake Como Tour
Lake Como is another destination in the Lombardy region. But because it's only 1.5 hours away, Milan is the usual jumpoff point for many visitors. If you're staying in Milan, you can visit Lake Como on a day trip.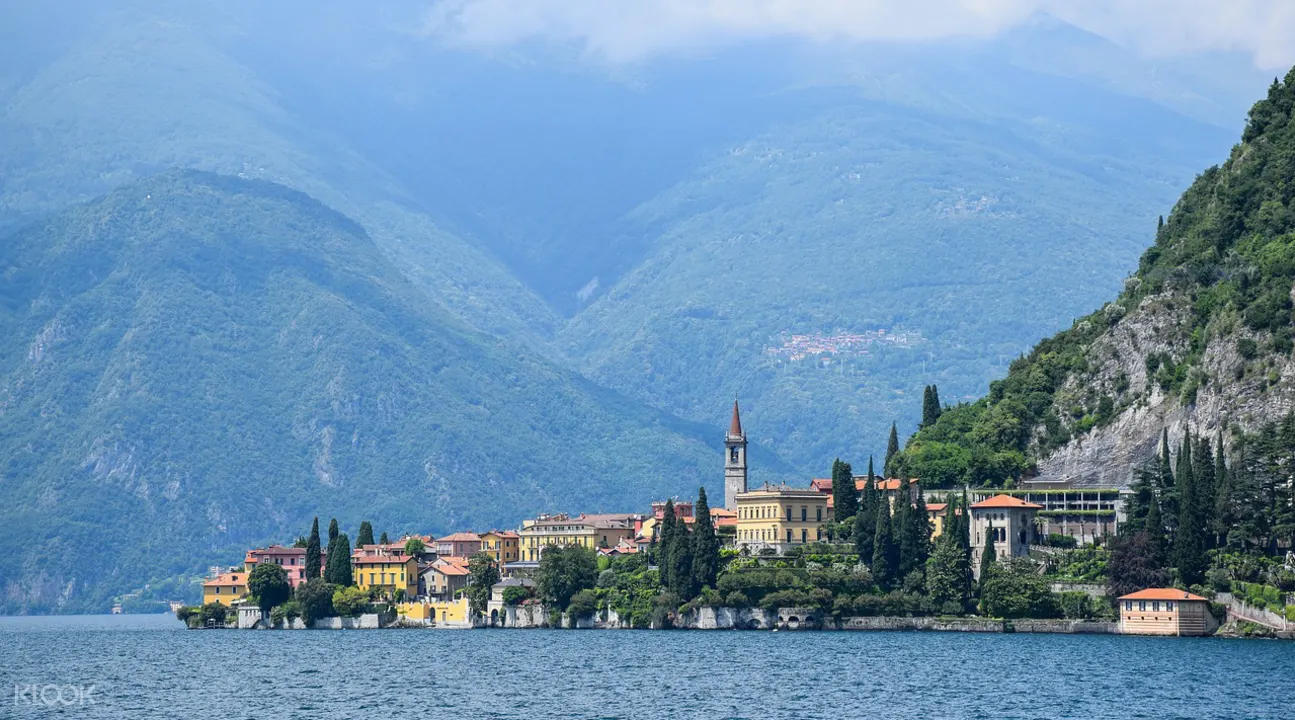 In Lake Como, you'll see the stunning villas and gardens while cruising the lake. Get a glimpse of how the elite lived during your trip. If the views look familiar, then you might have seen it while watching Star Wars Episode II: Attack of the Clones. After the cruise, you'll visit the quaint town of Bellagio. This part of the tour will take you back in time as you walk on its cobblestone streets and old buildings.
It is possible to visit Como by public transportation. The most convenient way to reach the town is by train. You can catch one from Milano Centrale and alight at Como S. Giovanni Station. Alternatively, you can board a train departing from Milano Cadorna and get down at Como Nord Lago.
For convenience, you can also book a tour via Klook.
---
Milan Hop-on Hop-off Bus Tour
A convenient way to explore Milan is to go on the HOHO (Hop On, Hop Off) Bus. This option takes you to the city's most popular attractions such as the Basilica of Saint Ambrose, Duomo, Teatro alla Scala, Castello Sforzesco and others.
All buses are equipped with a multilingual audio guide which will give you information about each stop. The bus has a wi-fi connection too!
You can ride three different bus lines to experience Milan fully. You have the option to get a 24 or 48 hours' ticket. Get tickets via Klook.
---
Shopping!
Of course, you can also shop 'til you drop. Milan has a number of shopping streets and malls carrying both local brands and global labels including Galleria Vittorio Emanuele II and Corso Buenos Aires, the city's longest shopping street.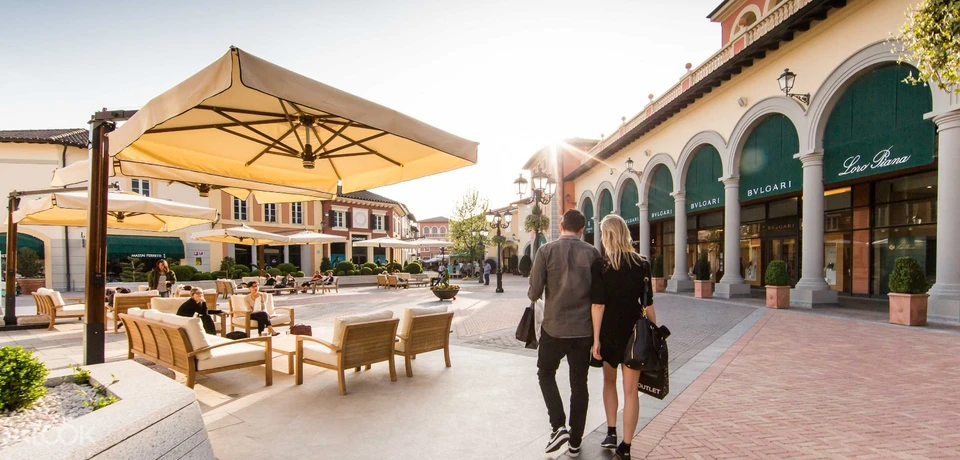 But if you're after big discounts, you can try your luck at one of the several outlet malls outside the city. Here are some of them, with links to Klook pages where you can book guided roundtrip transfers.
---
MILAN TOURIST SPOTS
Duomo di Milano
Nearest Station: Duomo (M1, M3)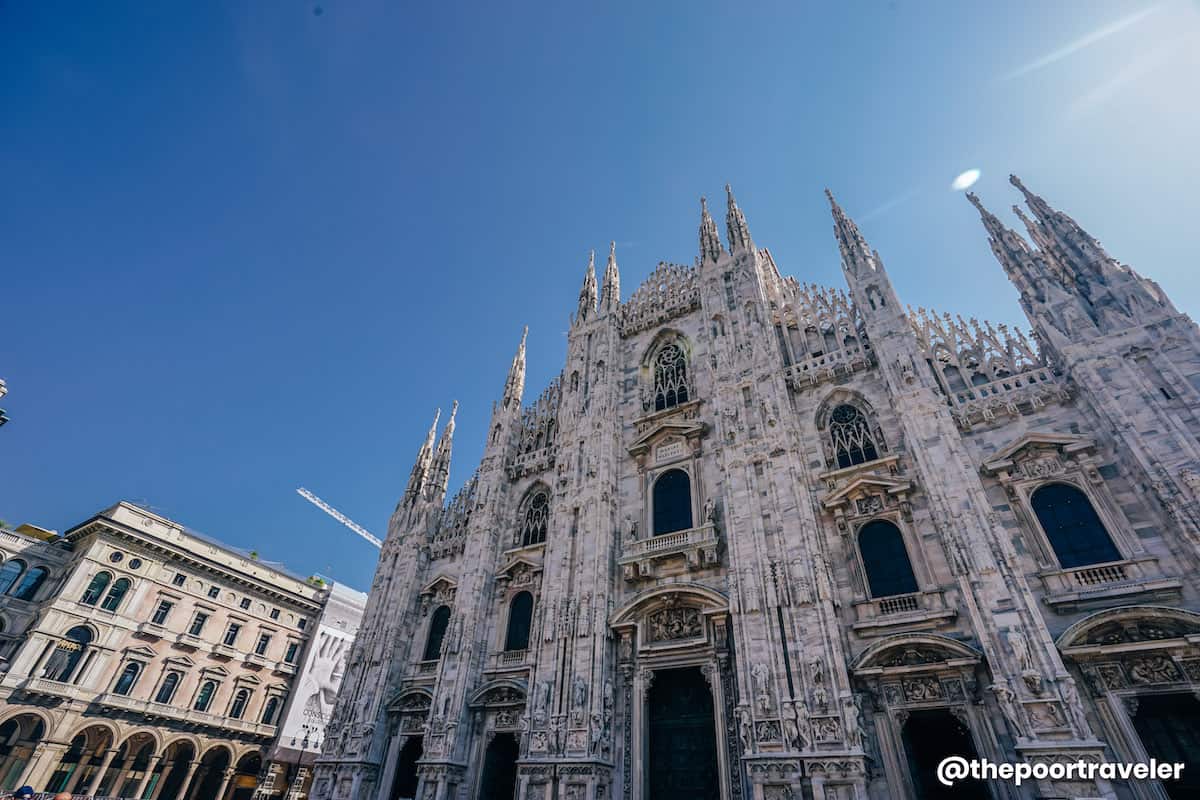 The Duomo di Milano (Milan Cathedral) took several centuries to finish construction and is the largest church in the country. Simply put, it is beautiful with its Italian Gothic style. Groundbreaking began in 1386 under the supervision of Archbishop Antonio da Saluzzo. You'll see the various influences and styles, and even personal vision of the many architects that took on the project of building the cathedral throughout the centuries.
Many parts of the cathedral are open to tourists. Inside you'll find baptisteries, crypts, an archaeological area, and a museum. The rooftops are also accessible by lift and by stairs. But entrance fees are collected for some of them:
Duomo (Cathedral)
Hours open: Daily, 8am-7pm
Entrance fee: 3€
Rooftops
Hours open: Daily 9am-7pm
Stairs access: 10€
Elevator access: 14€
Fast-track/skip-the-line elevator access: 23€
Crypt of St. Charles
Hours open: Monday-Friday 11am-5:30pm,
Saturday 11am-5pm, Sunday 1:30pm-3:30pm
FREE entry
Duomo Museum & Church of St. Gottardo in Corte
Hours open: Thursday-Tuesday, 10am-6pm
Closed: Wednesdays
Entrance fee: 3€
Archaeological Area (Baptistery of San Giovanni Alle Fonti)
Hours open: Daily 9am-7pm
Entry: Duomo Pass Lift Required
Archaeological Area (Baptistery of St. Stephen)
Hours open: Daily 9am-6pm
FREE Entry
You can save a bit by purchasing combination tickets.
Although it's possible to be mesmerized by it on your own, joining a tour will make you appreciate the details of this mammoth of a church, its history, and its architecture.
---
Galleria Vittorio Emanuele II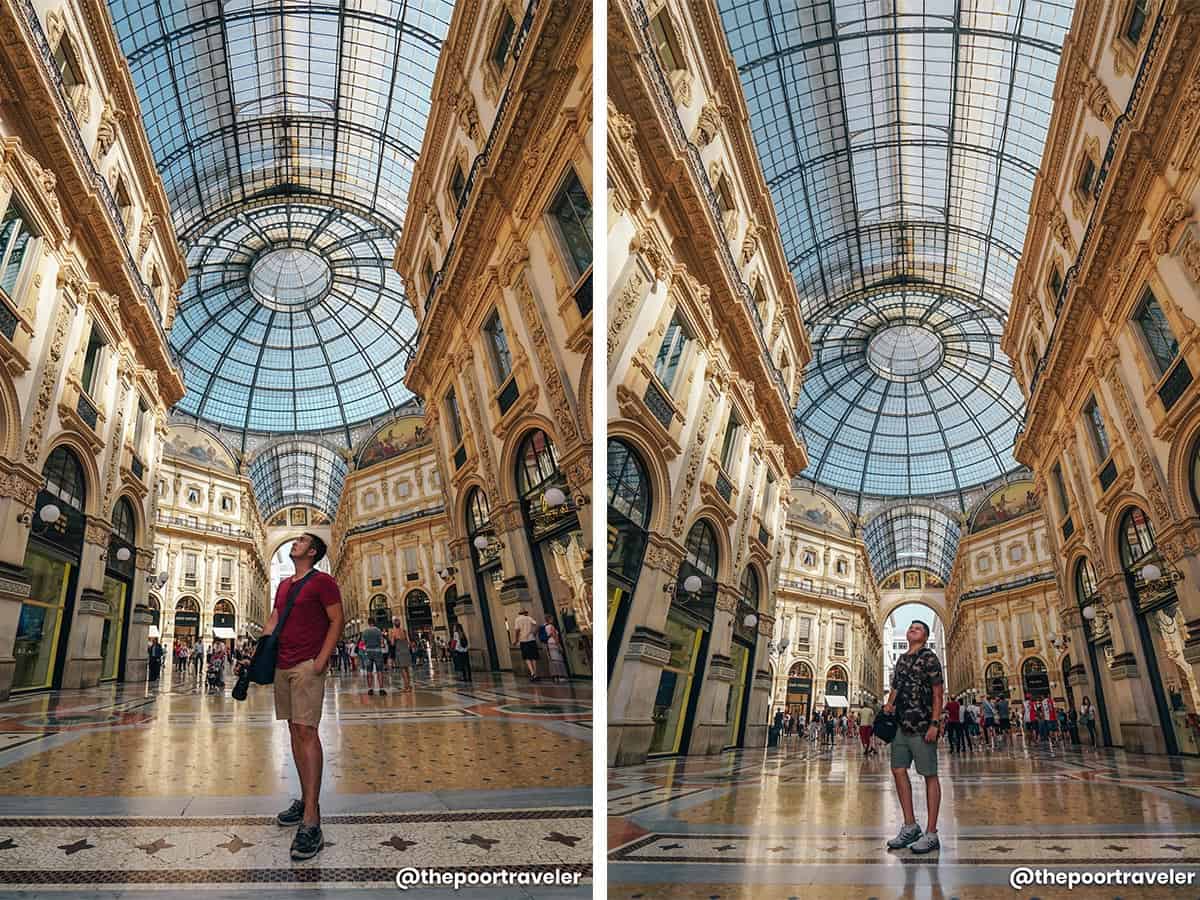 Named after the first king of Italy, this is the oldest shopping mall in the country. This four-story building straddles two vaulted walking arcades and houses several luxury labels, among others. It's so massive that it can stand next to the enormous Duomo proudly. It's also notable for its architecture, especially its glass-and-iron roof crowned with a grand dome.
Nearest Station: Duomo (M1, M3)
---
La Scala Theater Museum
Nearest Station: Teatro alla Scala (Tram 1)
Hours Open: Daily, 9am – 5:30pm
Entrance fee: 12€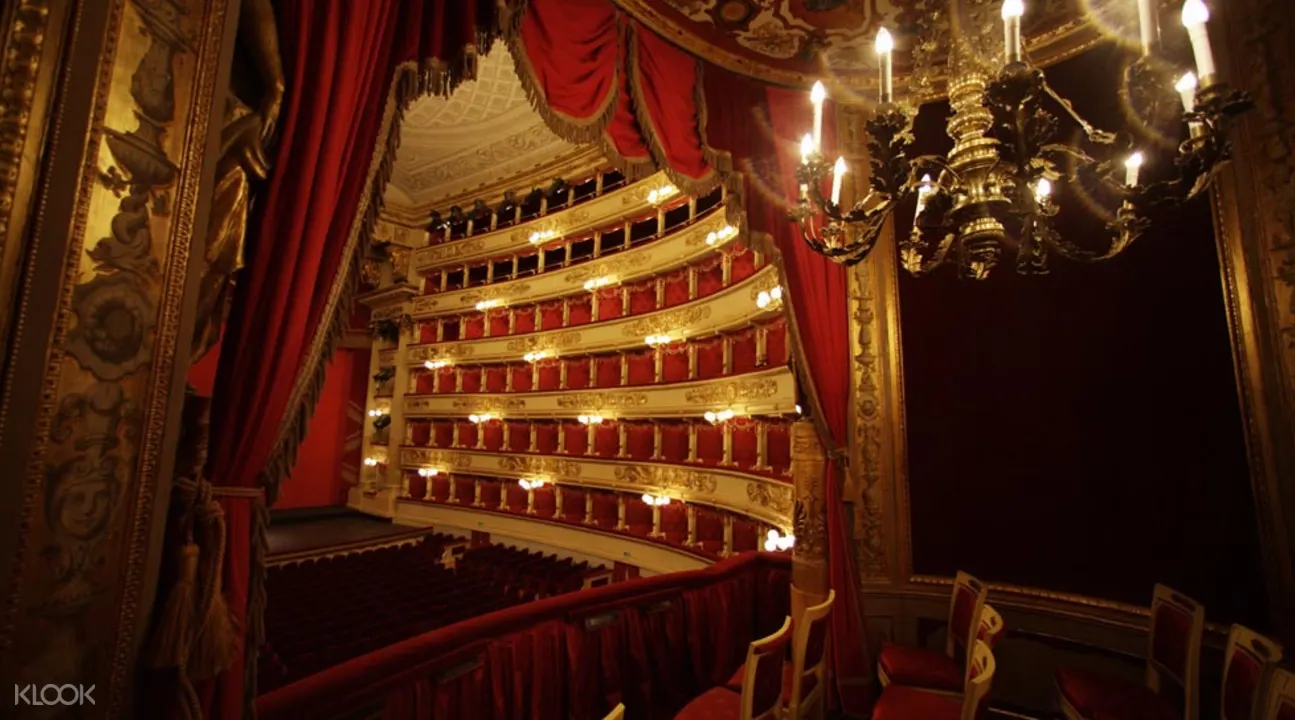 Opened in 1778, La Scala Theater is one of the most significant ballet and opera venues in the world. For operatic artists, being able to perform here is the ultimate goal. Housed in the same building is a museum that showcases the greatest artists and performances that graced the theater. You'll also see valuable memorabilia.
You can purchase a ticket to the theater museum in advance via Klook!
---
Poldi Pezzoli Museum
Within touching distance from the Scala Theater is Poldi Pezzoli Museum, housed in an elegant mansion that used to be owned by aristocratic collector Gian Giacomo Poldi Pezzoli. His well-decorated apartments have been opened to the public.
The museum also boasts several works by Botticelli, Piero della Francesca, and Mantegna, among others. You'll also find exquisite pieces of furniture.
Nearest Station: Montenapoleone (M3)
---
Sforza Castle & Sempione Park
This castle was commissioned in 1450 by the Duke of Milan at the time, Francesco Sforza, to be his residence. It was built at the site of an old fortress. After a number of renovations over the next centuries, it has expended into one of Europe's largest citadels. Today, it has been converted into a complex of museums and art galleries.
Just outside the castle is Parco Sempione (Sempione Park), a landscape parkland shaded with gardens and dotted by interesting structures like the Bridge of the Little Mermaids, Triennale Milano, the Civic Aquarium of Milan, and the neoclassical Arco della Pace (Arch of Peace) at its far end.
Nearest Stations: Cadorna FN (M1, M2), Lanza (Tram 2), Foro Buonaparte Via Ricasoli (T1)
---
Brera
Brera is Milan's artful neighborhood. Situated just next to the historic core (Centro Storico) and the Sforza Castle, it is a base for tourists. But even if you're not booking your hotel in this area, it's still worth a visit.
Some of the points of interest are Pinacoteca di Brera (Brera Art Gallery), Biblioteca Braidense (Braidense Library), the Brera Astronomical Observatory, Museo del Risorgimento, and the Brera Botanical Garden.
---
Porta Nuova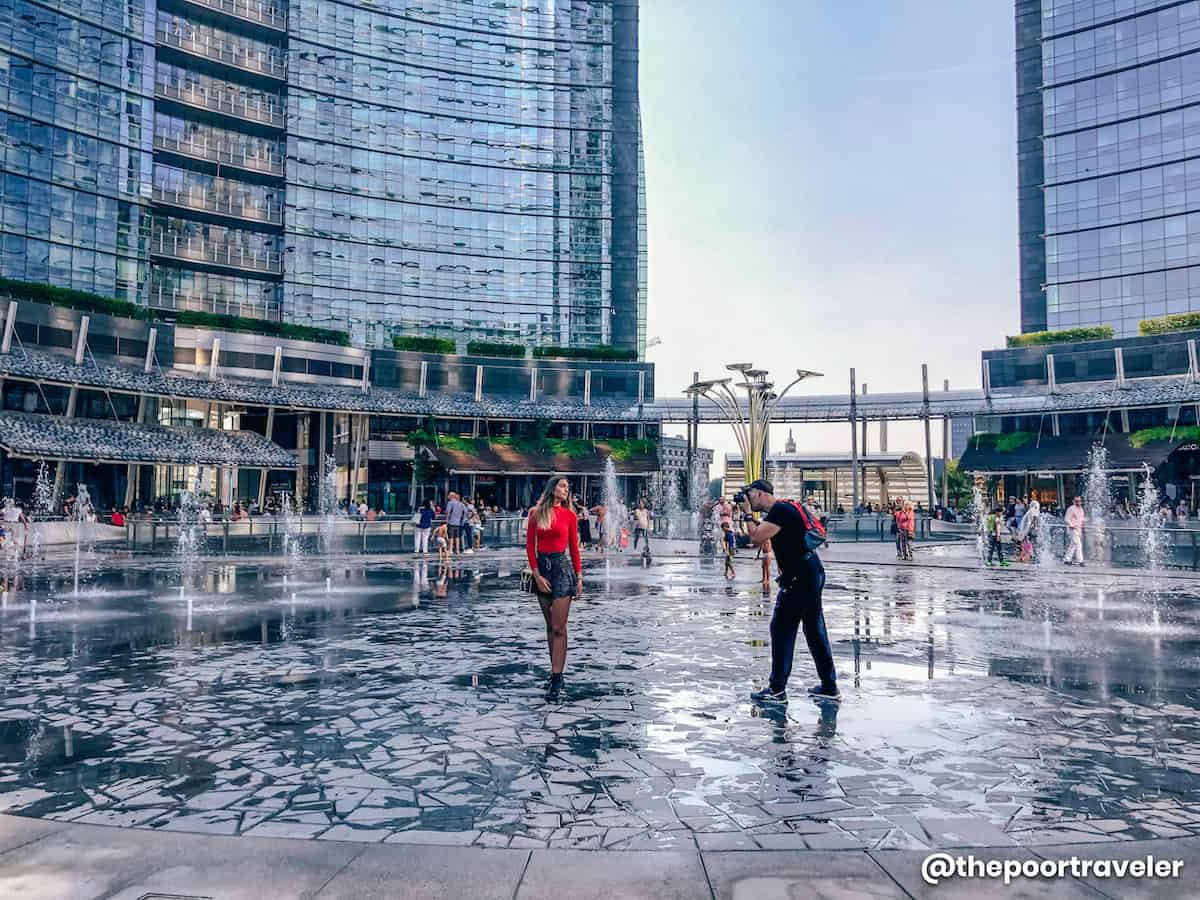 Porta Nuova is a modern, fashionable business district that is bursting with trendy dining, drinking, clubbing, and shopping options. It is also where you'll find the Unicredit Tower, the tallest building in Italy. For these reasons, Porta Nuova is often dubbed the "New Milan", as opposed to the "Old Milan", which refers to the historic center (where the Duomo is located).
Porta Nuova got its name from the Neoclassic gate, which was erected in 1810 and still stands today.
---
Porta Venezia
On the other side of the city is another massive gate, also completed in the 19th century. The area surrounding it has been named after this landmark — Porta Venezia.
It's also where you'll find Corso Buenos Aires, the city's longest shopping street. Porta Venezia is home to various ethnic communities, which gives you diverse dining options — from Asian to African to South American.
Nearest Stations: Palestro (M1), Milano Porta Venezia (train)
---
Navigli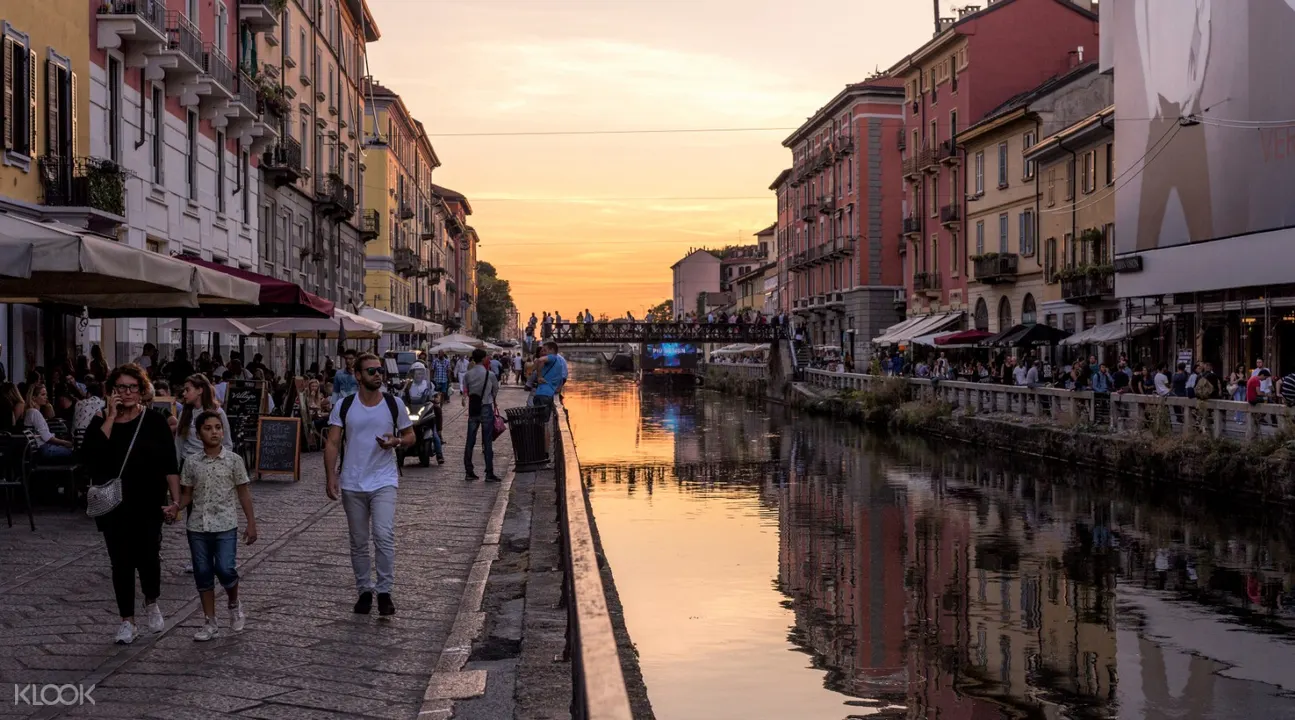 Navigli is a neighborhood south of the city center and was named after a network of interconnected canals. It also has a number of churches including two basilicas: Basilica di San Lorenzo and Basilica Sant Eustorgio.
But nowadays, the area is most popular as a nightlife destination with restaurants, bars, and clubs along the canal. A great way to experience the magic of this district is by joining a food and wine tour, which will introduce to you some regional wines and local appetizers and the stories behind them. It's a great way to spend the evening in Milan!
---
Galleria d'Arte Moderna
Galleria d'Arte Moderna di Milano (Milan Gallery of Medern Arts) is another attraction you might want to check out. Among its collection are pieces by some of the master artists in Europe during the 18th and 19th centuries including Pablo Picasso, Vincent van Gogh, Francesco Filippini, and Édouard Manet, to name a few.
Nearest Stations: Palestro (M1)
---
Cimitero Monumentale
Opened in 1866, this isn't your typical cemetery. Designed by architect Carlo Maciachini, it is remarkable for its numerous artistically designed tombs, sculptures, obelisks, temples, and other monuments. Prior to the 20th century, Milan had several small graveyards scattered throughout the city. Cimitero Monumentale was established to unify them in a single site, making it one of the largest cemeteries in the city.
Nearest Stations: Monumentale (M5)
---
Pinacoteca & Biblioteca Ambrosiana
Founded in 1618, the Biblioteca and Pinacoteca Ambrosiana is a must-visit gallery-library complex for art lovers and history buffs.
The pinacoteca exhibits the painting collection of Federico Borromeo, the Archbishop of Milan at the time. Some of the notable works at the gallery include:
Botticelli's Madonna and Child with Three Angels (Madonna of the Pavilion)
Raphael's School of Athens
Caravaggio's Basket of Fruit
Titian's Adoration of the Magi
But Pinacoteca Ambrosiana is best known for its Leonardo Da Vinci pieces including Portrait of a Musician.
The library was established earlier in 1609 and over the centuries have amassed almost 800,000 books and manuscripts and 12,000 sketches by European artists including the Codex Atlanticus, which features more than 1000 pages of Leonardo Da Vinci's drawings and writings.
Nearest stations: Duomo (M1, M3), Cordusio (M1)
Gallery hours: Tuesdays to Sundays, 10 am-6 pm.
Library hours: Mondays to Fridays, 9 am-5 pm.
Entrance Fee: Adult 15€
---
Santa Maria delle Grazie Church and Convent
Compared to other churches in Milan, the Santa Maria delle Grazie may not hold a candle on the outside. Yet, this Dominican complex is one of the most visited spots in the city and a UNESCO World Heritage Site because inside its adjoining convent is an incredibly valuable treasure — The Last Supper.
Leonardo Da Vinci painted it from 1494-1498 on the wall of the convent's dining room. Yes, wall. It's easy to assume it's just a small piece because of the replicas that we see nowadays, but it's actually pretty big — 4.6 x 8.8 meters. The convent's Bramante Sacristy also keeps parts of the Codex Atlanticus, Da Vinci's collection of sketches.
This is one of the most popular attractions in Milan, but only 30 people are allowed at any given time. A visitor cannot stay longer than 15 minutes. Because of this limit, it's difficult to get a ticket on the spot. It is highly recommended that you book in advance. You can do so online at the official ticketing website. Tickets are made available 2-3 months in advance and they sell out quickly.
Scheduled tours are also offered inside at specific times, usually one in the morning and another in the afternoon. For the exact time, check out the official website.
If you're not able to purchase a ticket, you can join a group tour, which is pricier but can get you in. Photography and bags are not allowed inside, but there are lockers.
Nearest stations: Conciliazione (Metro M1), Cadorna (M1, M2); Corso Magenta – Santa Maria delle Grazie (Tram 18)
Hours open: Tuesdays-Fridays: 8:15 am-7 pm
Closed: Mondays
Entrance fee: 13€ + 2€ online booking fee + 3.50€ tour (optional)
---
Basilica of San Nazaro in Brolo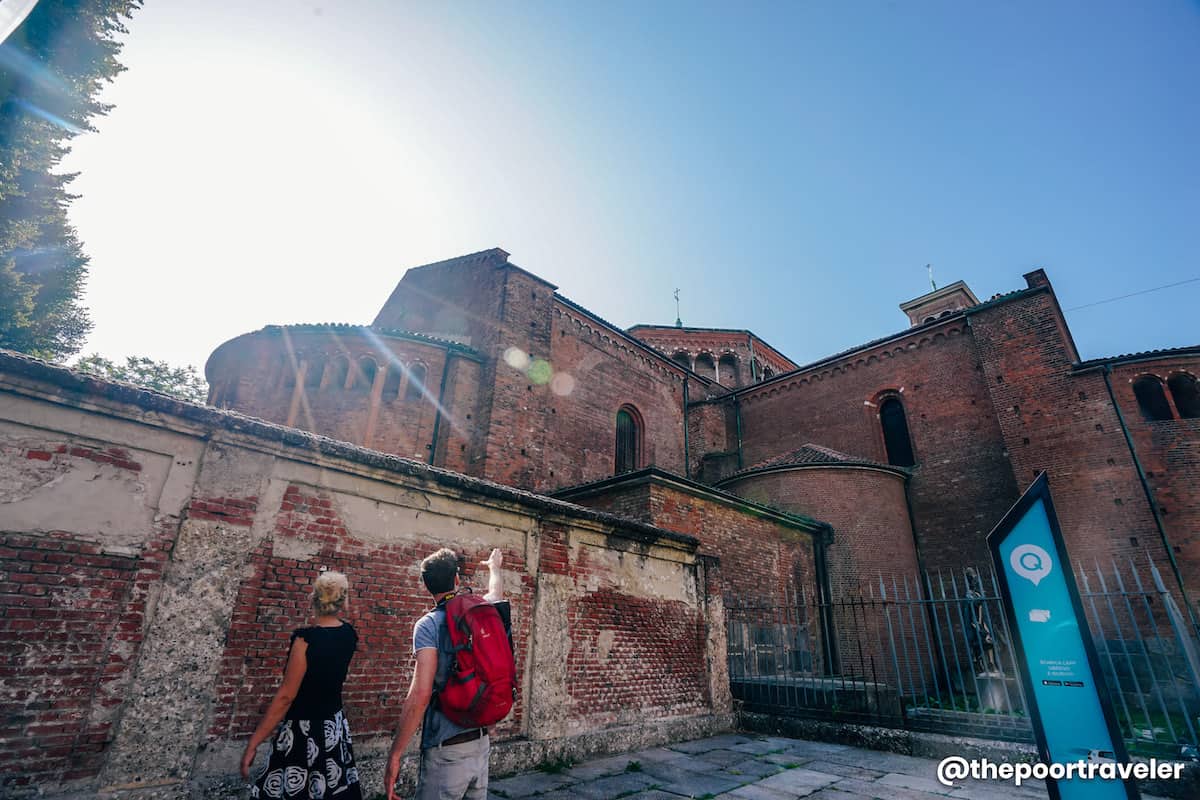 The history of this church can be traced back to Year 382, when it was constructed along the road that connected the city to Rome. It was also called Basilica Apostolorum because it was made in honor of the Apostles. Some relics of the Apostles are also kept under the altar.
Nearest Stations: C.so P.ta Romana Via S. Sofia (Tram 16, 24)
---
Santuario di San Bernardino alle Ossa
This unassuming church looks typical at first glance, but it holds something interesting inside. Its roots can be traced back to the 12th century. At the time, there was a cemetery at the same site. But in 1210, the cemetery needed to make room for more bodies. To solve the problem, the authorities decided to move the old bones into a small room. A small chapel was built next to that room. Centuries later, the church was enlarged.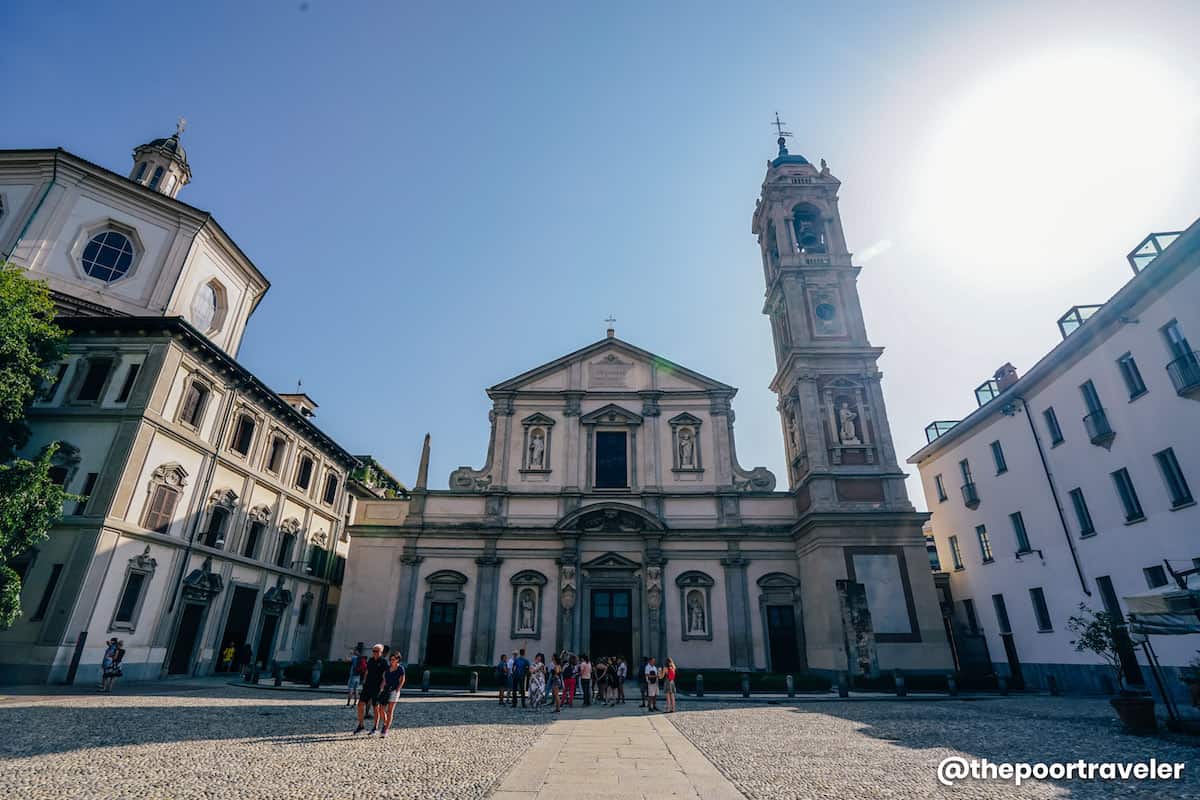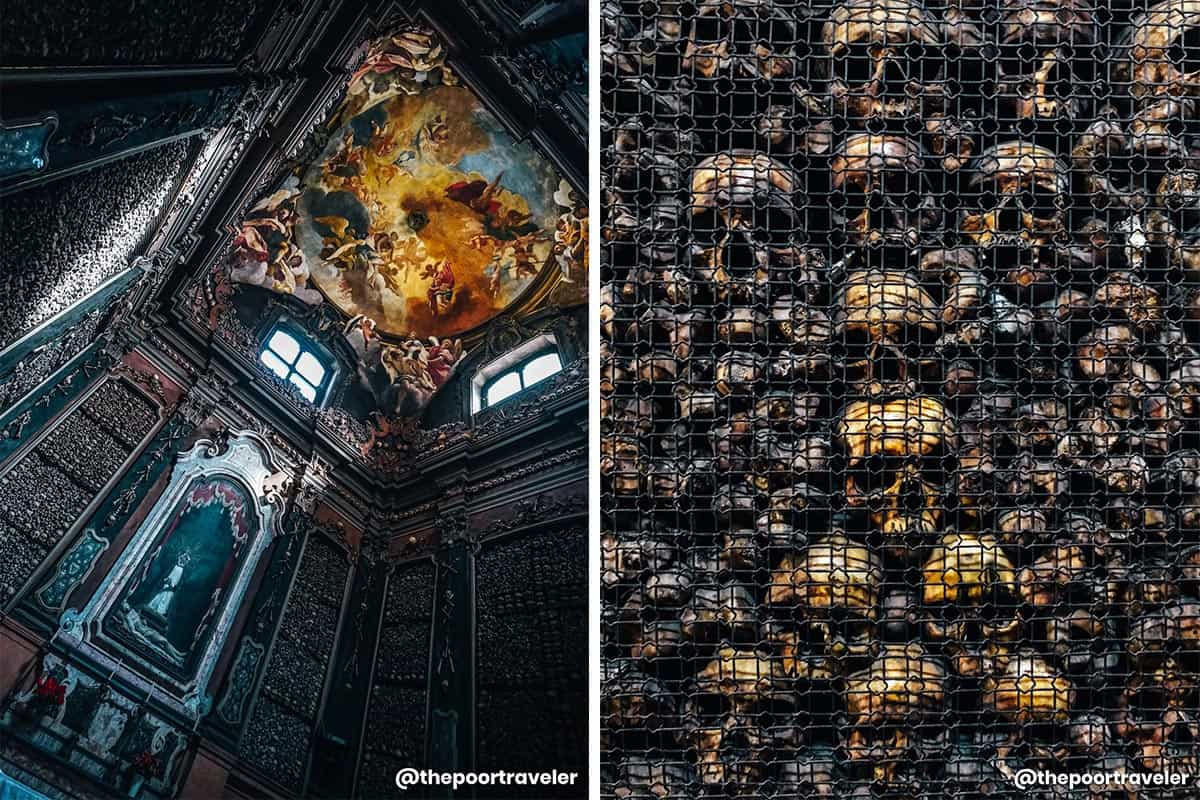 Today, visitors may still see the countless human skulls and bones from the Middle Ages that adorn the walls of that room inside the church.
Nearest Stations: Via Larga (Tram 12, 19, 24)
---
Statale University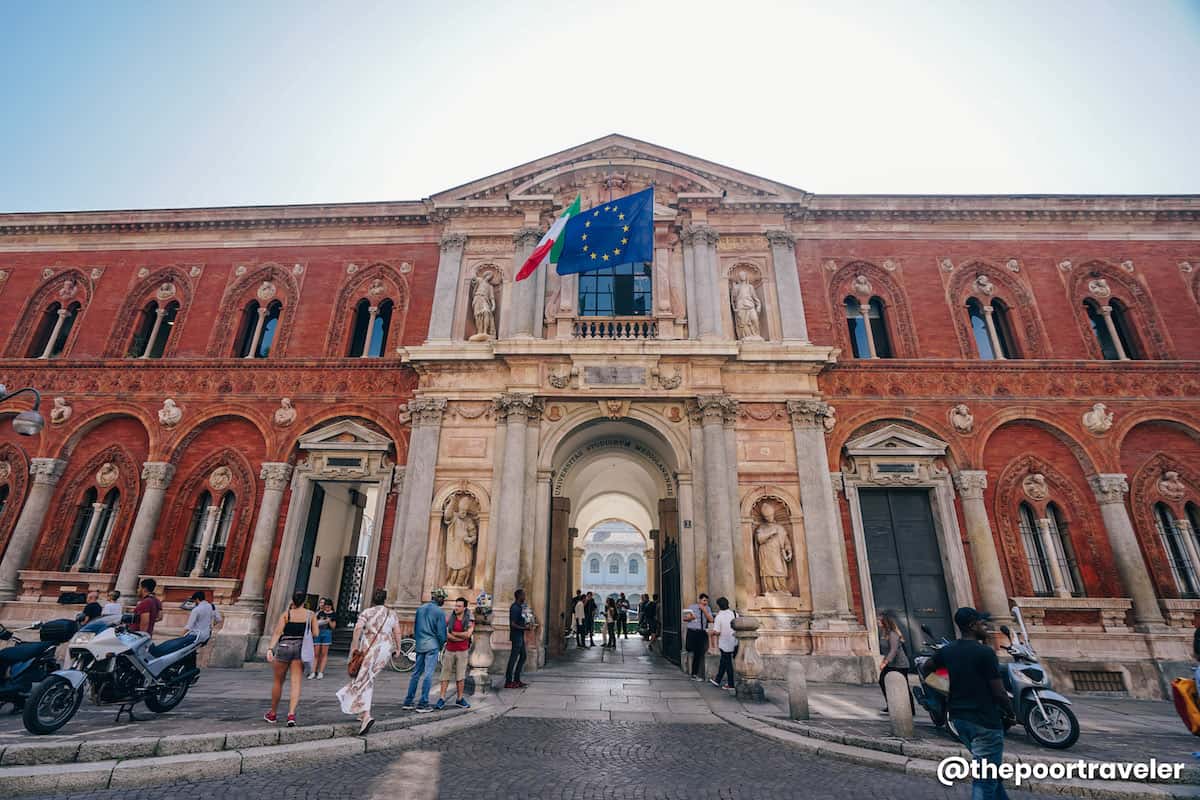 Officially named the University of Milan, this is one of the largest universities in Europe. Currently, it is made up of ten faculties including Law, Medicine, Humanities, and Science and Technology, housed in several heritage buildings.
One of the most notable is the former building of Ospedale dei Poveri (Hospital for the Poor). It was also called Cà Granda (Big House). Established in the 15th century by Francesco Sforza, this hospital was groundbreaking and way ahead of its time. Patients were no longer cared for by monks but by real doctors of medicine. They were also separated by the type of disease, which was not the norm back then. After World War II, the building was given to the university.
Nearest Stations: Crocetta (M3), C.so P.ta Romana Via S. Sofia (Tram 16, 24)
---
Piazza Affari (Business Square)
Piazza Affari is a small square fronting the Palazzo Mezzanotte building, the headquarters of the Italian Stock Exchange. Completed in 1932, it flaunts a 36-meter-tall part-Neoclassical marble facade, embellished by works by Geminiano Cibau and Leone Lodi.
But it's not this remarkable edifice that will catch your attention instantly. The scene-stealer is a giant statue of a hand with a raised middle finger and the others cut off. At first glance, it looks like the artist, the provocative Maurizio Cattelan, wanted to show the finger to capitalism. But the stock exchange people are positioned behind it, as though the hand is theirs and it's them that sends the dirty message to the world.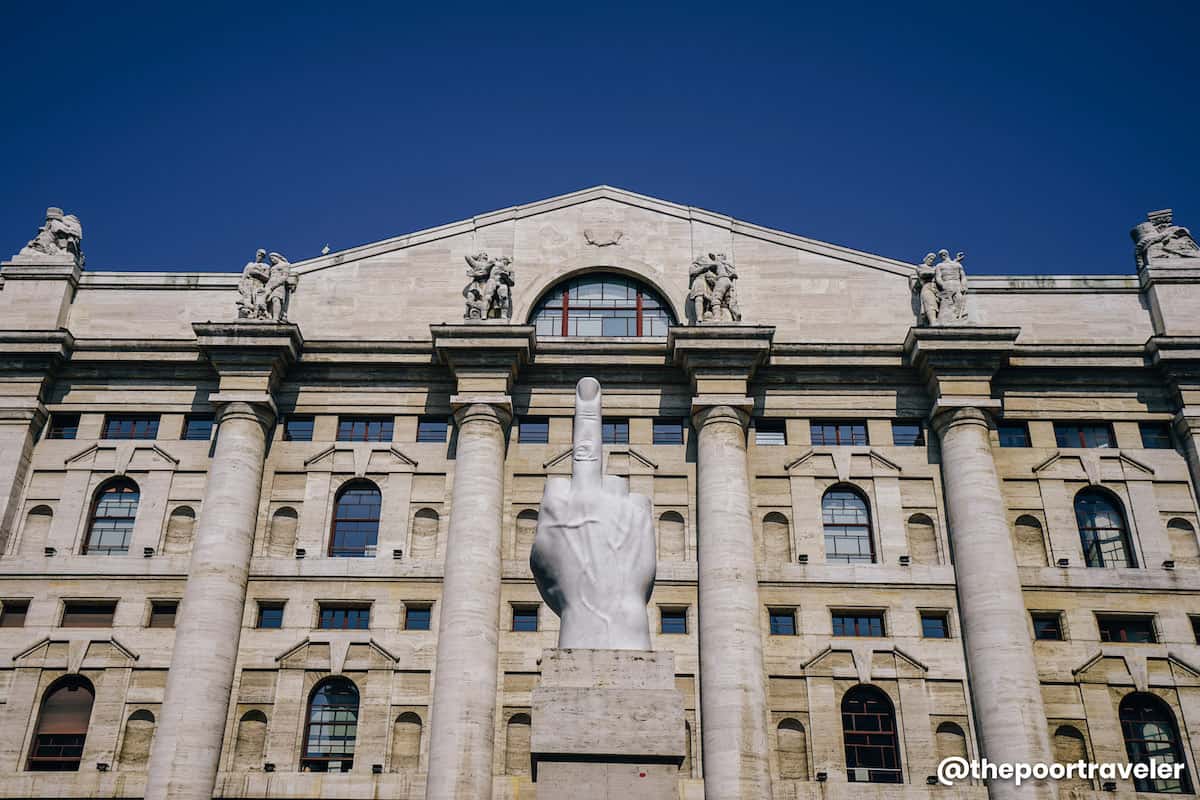 By the way, the statue is called L.O.V.E. (Libertà, Odio, Vendetta, Eternità / Freedom, Hate, Vengeance, Eternity). It was supposed to be a temporary installation, but the city kept it.
Nearest Stations: Cordusio (Metro M1, Tram 16, 19)
---
Milano Centrale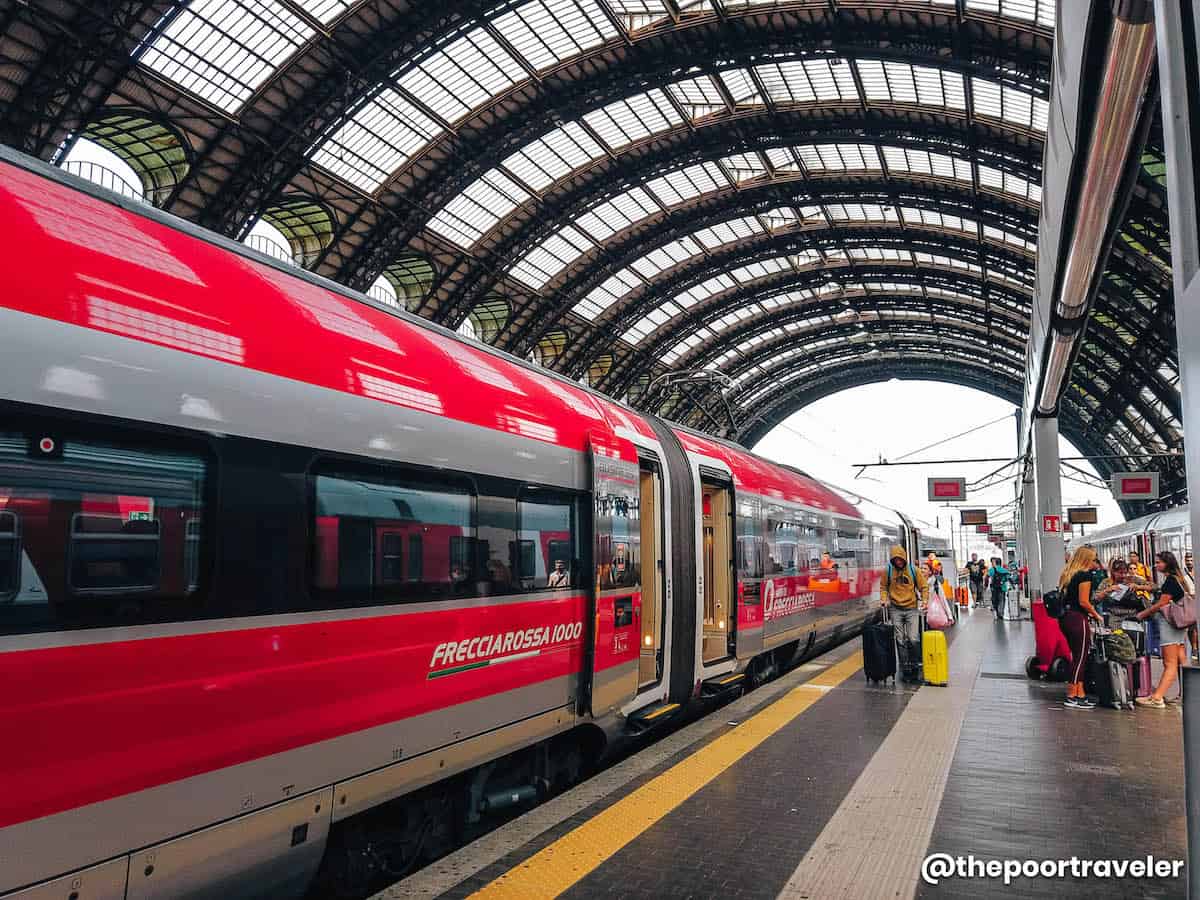 If you're entering Milan by train, Milano Centrale will be the first to captivate you. It is the city's primary railway station. Its facade measures 200 meters in width and its vault 72 meters tall, making it the largest in Europe by volume.
With giant steel-and-glass domes covering 24 tracks, it's one of the grandest train stations I have seen and the sheer size of it can be quite overwhelming. The current structure was opened to the public in 1931.
---
Bonus: Jollibee Milano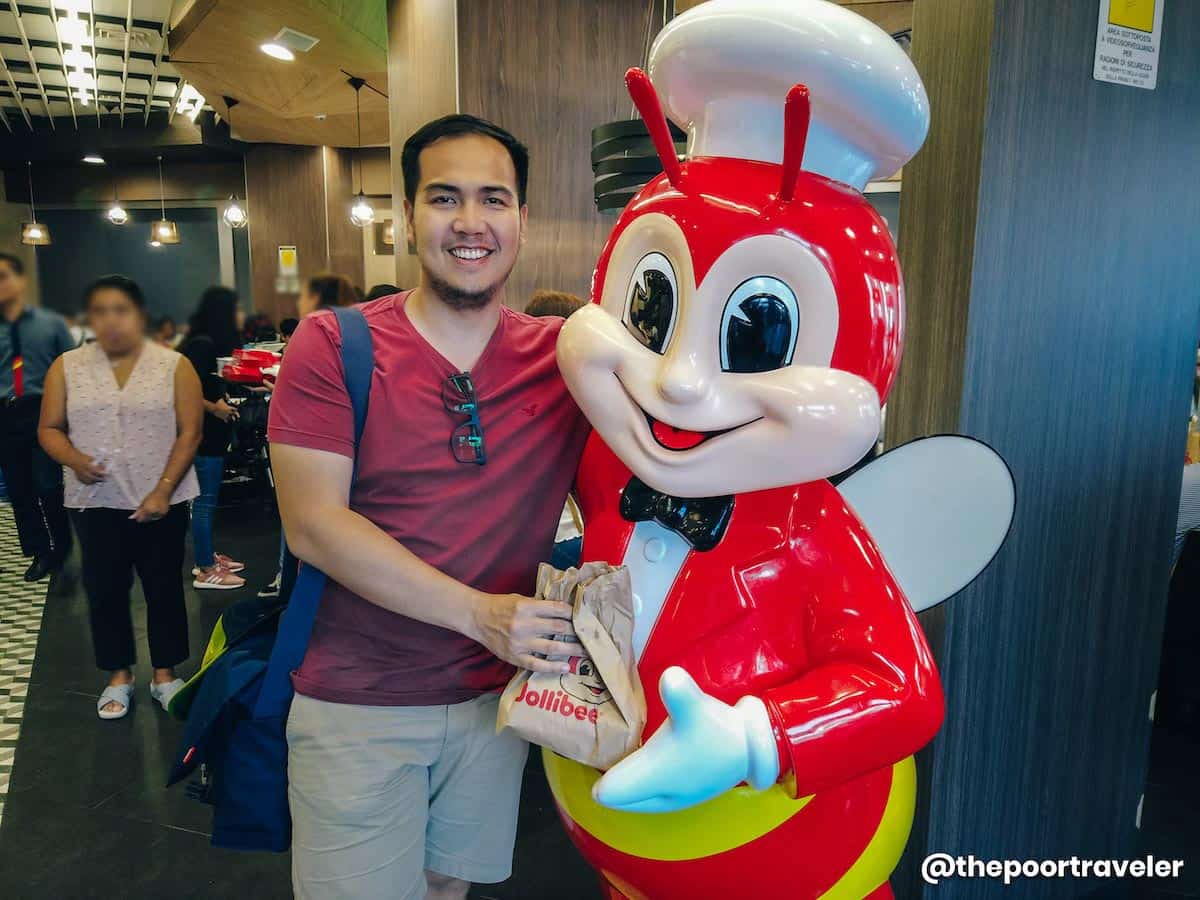 If you're Pinoy, then you've probably recognized this instantly. If not, let me explain.
Jollibee is the biggest fast food chain in the Philippines. It is so popular that it has become a Philippine cultural icon. But what does that have to do with Milan? Well, Italy has a significant Filipino population, and many of them are based in Milan. So when Jollibee opened its very first European branch in Milan, it was huge!
We were able to try it. The lines were long, but it was worth it. Favorites like Chickenjoy are on the menu. Jolly Spaghetti looked different from usual but tasted the same. And it was great to meet fellow Pinoys enjoying a piece of home.
---
SAMPLE MILAN ITINERARY
Below is a sample MILAN itinerary with breakdown of costs.
DAY 1 – ARRIVAL & PORTA NUOVA
01:00 pm – Arrival at Milan Airport
01:30 pm – Lunch, 10€
02:30 pm – Bus to city center, 8€
03:30 pm – Buy 3-day pass, 12€
03:50 pm – Transfer to hotel
04:15 pm – Hotel check-in, freshen up
05:30 pm – Metro/tram to Porta Nuova
06:00 pm – Explore Porta Nuova
07:00 pm – Dinner, 15€
08:00 pm – Walk around
09:00 pm – Metro/tram to hotel
09:30 pm – Back to hotel
DAY 2 – DUOMO & NAVIGLI
09:00 am – Tram/metro to Duomo
09:20 am – Take exterior photos of Duomo
10:00 am – Free Walking Tour, tip: 5€
– Explore Galleria Vittorio Emanuele II
01:30 pm – Lunch (Jollibee), 10€
02:30 pm – Duomo Tour with Fast Track Lift Access, 25€
05:30 pm – Tram/metro to Navigli
06:00 pm – Walk around
07:00 pm – Dinner, 20€
09:00 pm – Tram/metro to hotel
09:30 pm – Back to hotel
DAY 3 – ALL ABOUT DA VINCI
07:00 am – Metro to Arco della Pace
07:30 am – Parco Sempione
09:00 am – Sforza Castle, 10€
11:00 am – Lunch, 10€
12:00 nn – Last Supper (Santa Maria delle Grazie), 15€
02:00 pm – Tram to Duomo
02:30 pm – Bibilioteca/Pinacoteca Ambrosiana, 15€
05:00 pm – FREE TIME, buy souvenirs
07:00 pm – Dinner, 15€
09:00 pm – Tram/metro to hotel
09:30 pm – Back to hotel
DAY 4 – DEPARTURE
08:30 am – Pack up
10:30 am – Early check out, leave bags
11:00 am – Early lunch, 10€
12:00 pm – Leave for airport/station, 2€
+ 8€ Bus fare if going to the airport
---
Top Budget Hotels & Apartments in Milan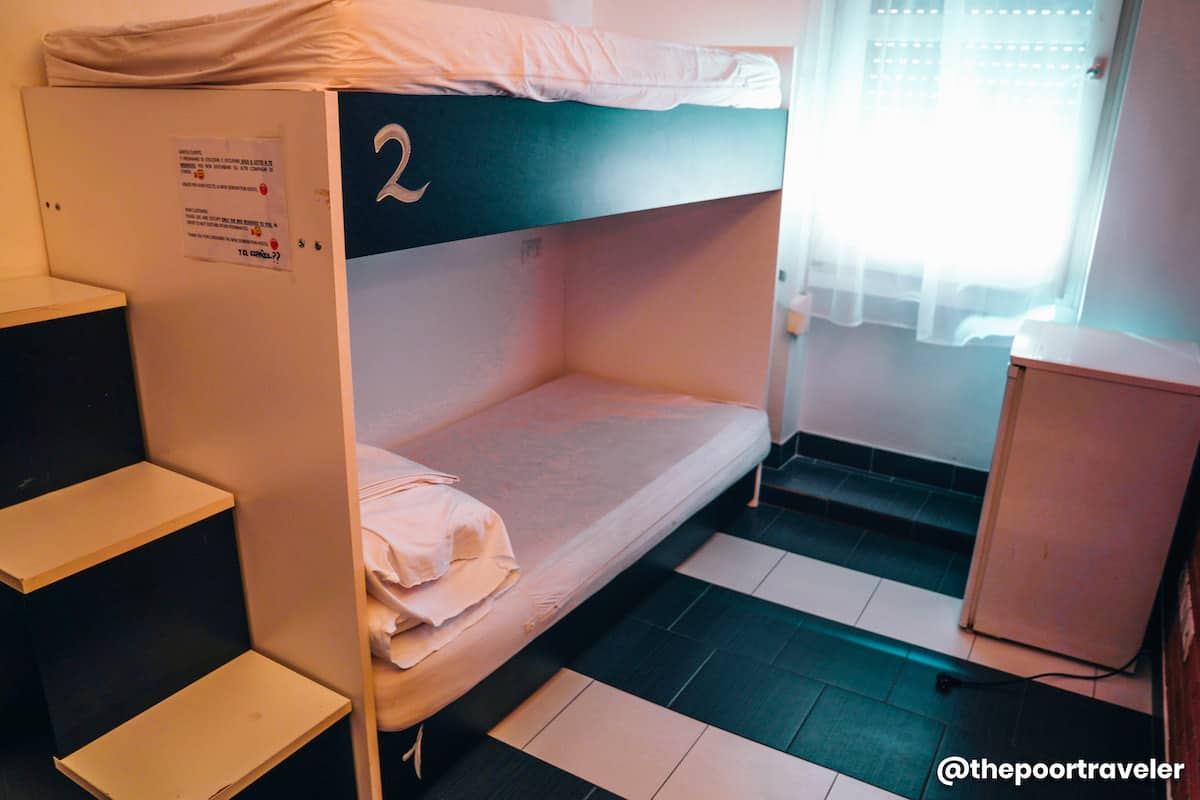 Here are the top apartments and budget hotels in Milan, as reviewed and ranked by Agoda guests.
---
---
Additional words by Joshua Berida
2020 • 8 • 27
---