No list of the best destinations in Taiwan is complete without any mention of Alishan.
The Alishan National Forest Recreation Area is the heart of the Alishan National Scenic Area, a vast mountainous region in Central Taiwan. Although it has become more popular over the past years, it retains its idyllic, rustic atmosphere attracting local and foreign tourists alike. Its famed sunrise and postcard-worthy forest trails remind visitors of the magic and the sheer beauty of nature.
Here are some of the best places to visit and things to do in Alishan and nearby Fenqihu village.
---
WHAT'S COVERED IN THIS GUIDE?
Alishan Forest Railway
In Alishan, the transportation is also a major attraction.
Most visitors access Alishan by taking the Alishan Express train from Chiayi City. Back in the day, the train could reach Alishan but because the far end of the rails was damaged by typhoons, taking the train means also making a transfer in the small village of Fenqihu. (Because of this, we're including some Fenqihu attractions in this article.)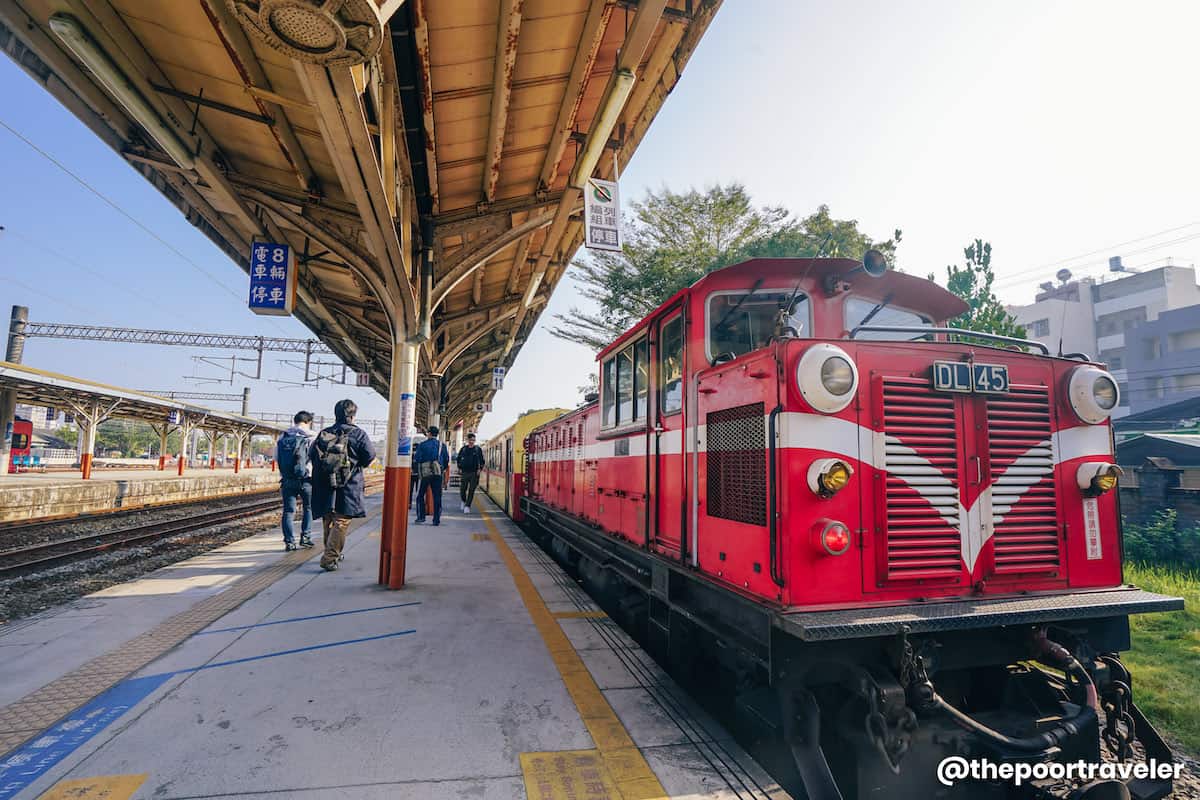 The Alishan Express is part of the Alishan Forest Railway, which proves the old adage that the journey can be as beautiful as the destination. The old-world aesthetics of the train and the railway network creates a fantasy, like you're traveling back in time. It is part of the bigger Alishan Forest Railway network, which was established in 1899 by the Japanese to transport logs and other supplies. Today, punctuated by over 50 tunnels and over 70 wooden bridges, the network is mostly used by tourists who are after a more-than-typical train ride.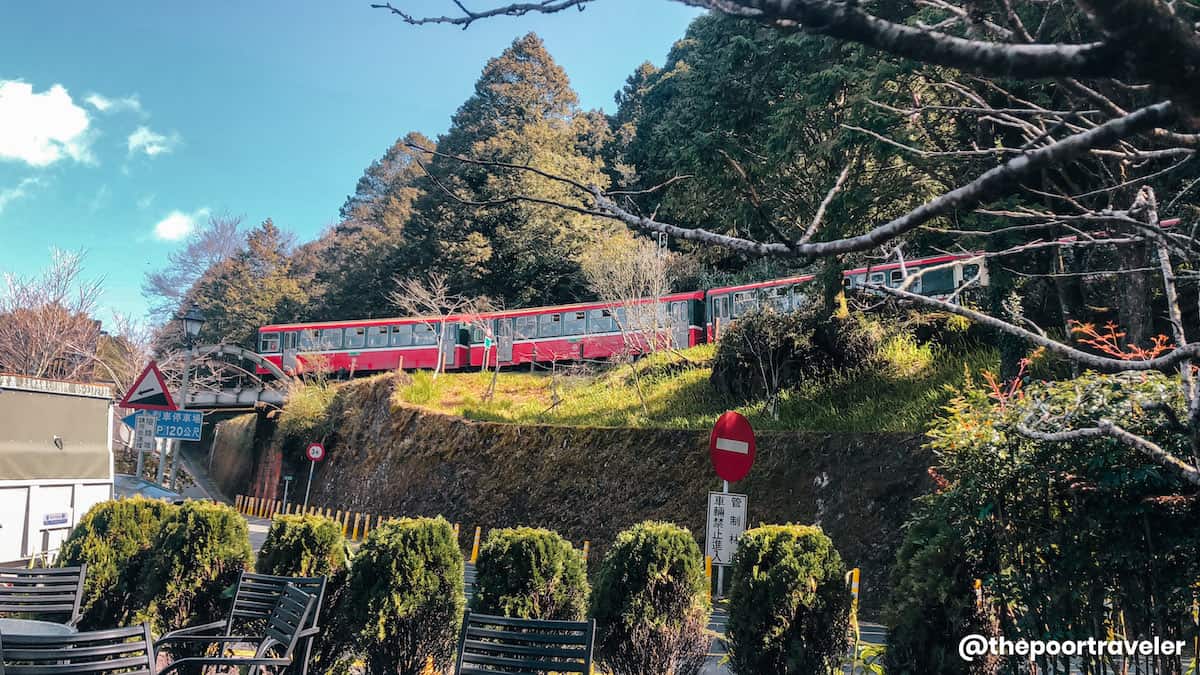 Aside from the Alishan-Chiayi line, the Alishan Forest Railway also operates within the recreation area, which is divided into four zones:
the main tourist hub, where most hotels and restaurants are located, and close to Alishan Station;
Chaoping, scribbled with several walking trails;
Sacred Tree area, dotted with curious landmarks;
Chushan, where you can catch the sunrise.
You can get around by train as perfectly illustrated in this simplified map: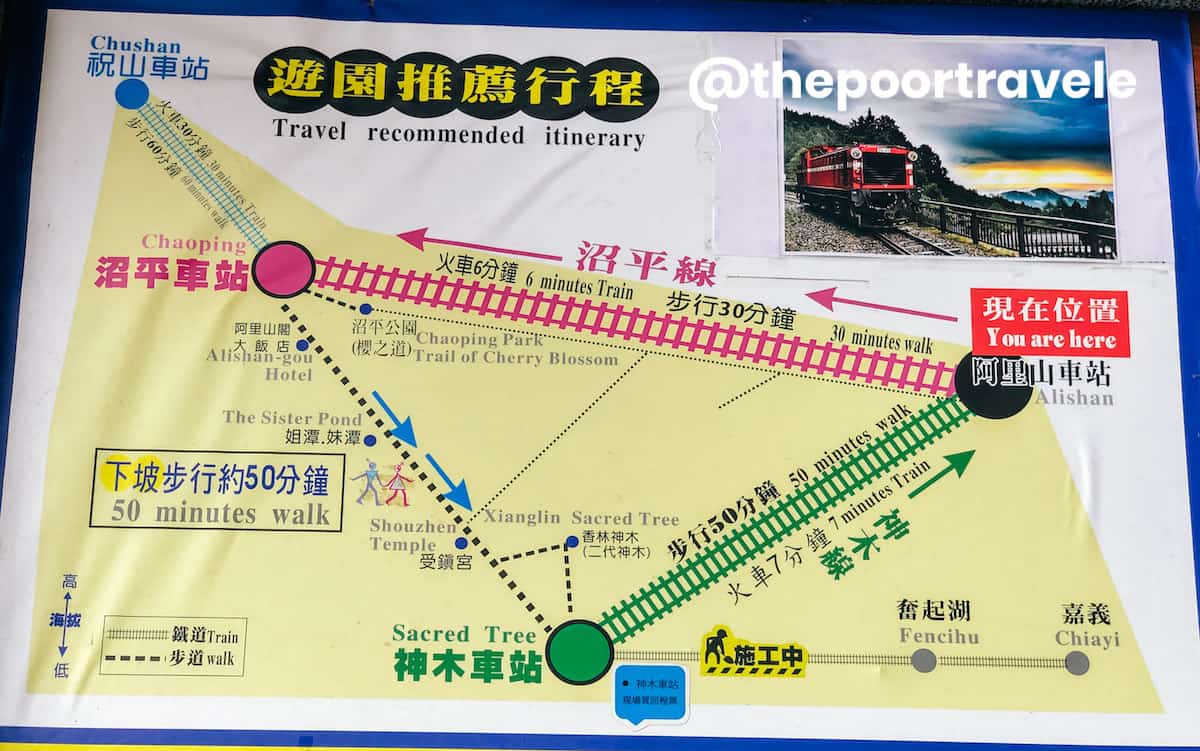 ---
Forest Hike
If you look at the map above, you'll see that it is also completely possible to explore the area on foot. Alishan's forest trails are some of its biggest attractions, offering a chance to commune with nature as you walk in between towering Taiwanese red cypress trees. Many of these giants have been around for thousands of years.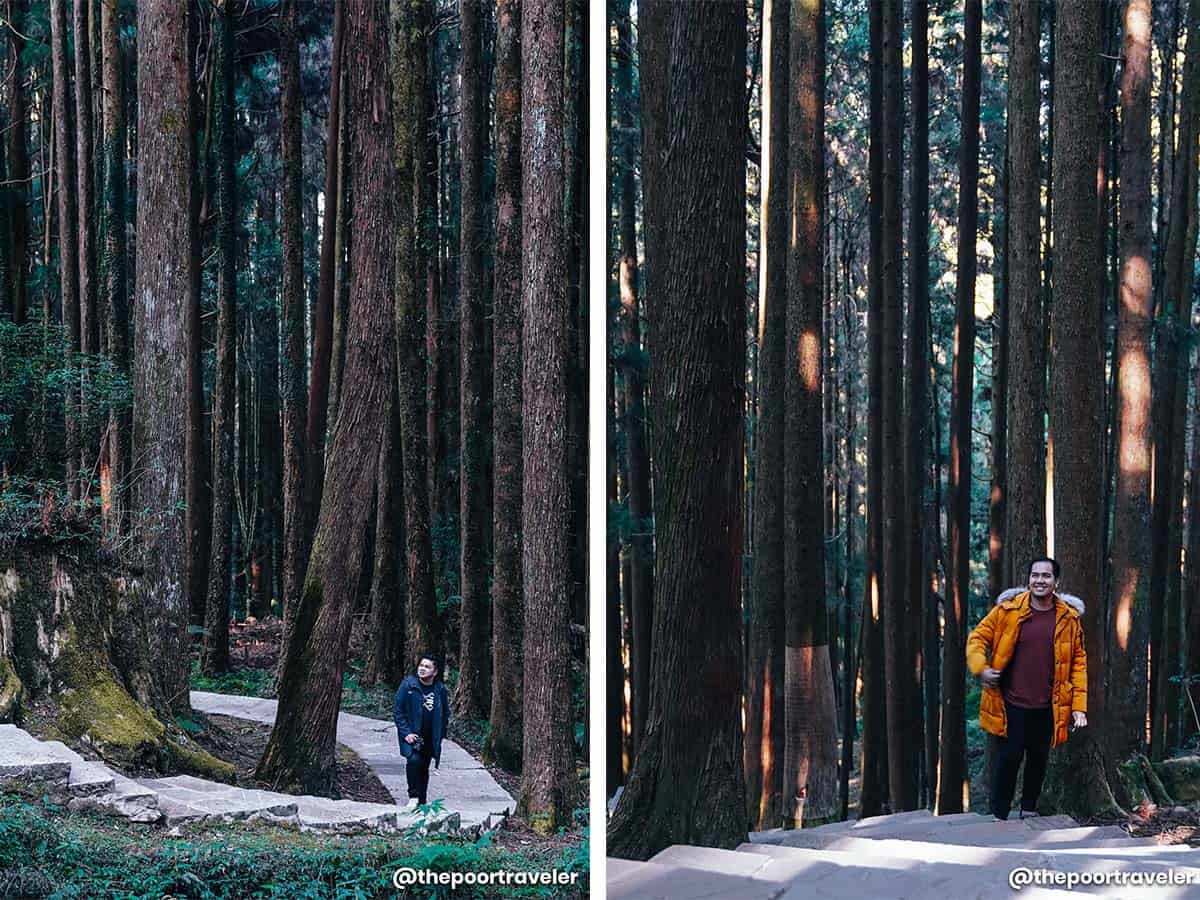 My recommended route is by taking the train from Alishan to Chushan to catch the sunrise (since it may be too dark or too cold for an early morning walk). After daybreak, travel by train again but only until Chaoping Station, then walk all the way to Sacred Tree Station, stopping at several points of interest along the way. Then, they catch another train back to Alishan.
---
Chushan Sunrise
Perhaps the most popular attraction in Alishan. Hundreds of people wake up early just to witness the break of dawn from Chushan. It's easy to be mesmerized by the first light of day seeping through the mountains.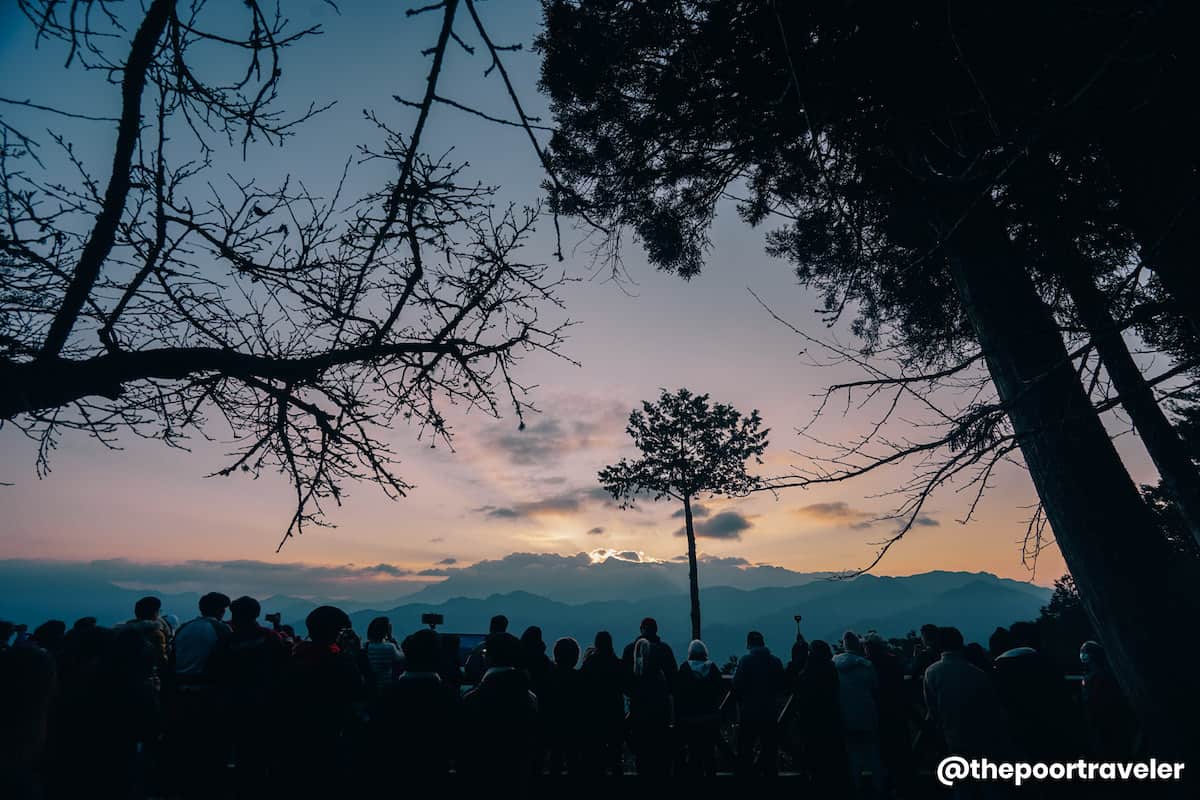 How to get to Chusan: At Alishan Station, take the train to Chushan Station. One-way fare: NT$ 150 (adult), NT$ 75 (concession).
IMPORTANT! Purchase a ticket the afternoon before (1pm to 4:30pm). Because the sunrise time varies every day, the departure time of the Chushan train changes with it too. The final schedule is posted at the station and is shared with hotel receptions in the late afternoon. You can simply ask your hotel's reception staff for the departure time and arrange a wakeup call for good measure.
On the day of sunrise viewing, get up early and make your way to Alishan Station. The train can get crowded so be there at least 30 minutes before the schedule.
---
Chaoping Park and Skywalk
After sunrise viewing, head back to the station and catch the train to Chaoping. Upon exiting the station, you'll be greeted by the Chaoping Park, next to the plum garden. From here, you can take one of the many walking trails that run around the area including the Chaoping Skywalk Trail, Poetry Trail, and the Alishan Sakura Trail.
But most visitors follow the main forest trail that leads to Sacred Tree. Along the way, you'll be passing by the Sister Pond, Magnolia Garden, and other interesting spots.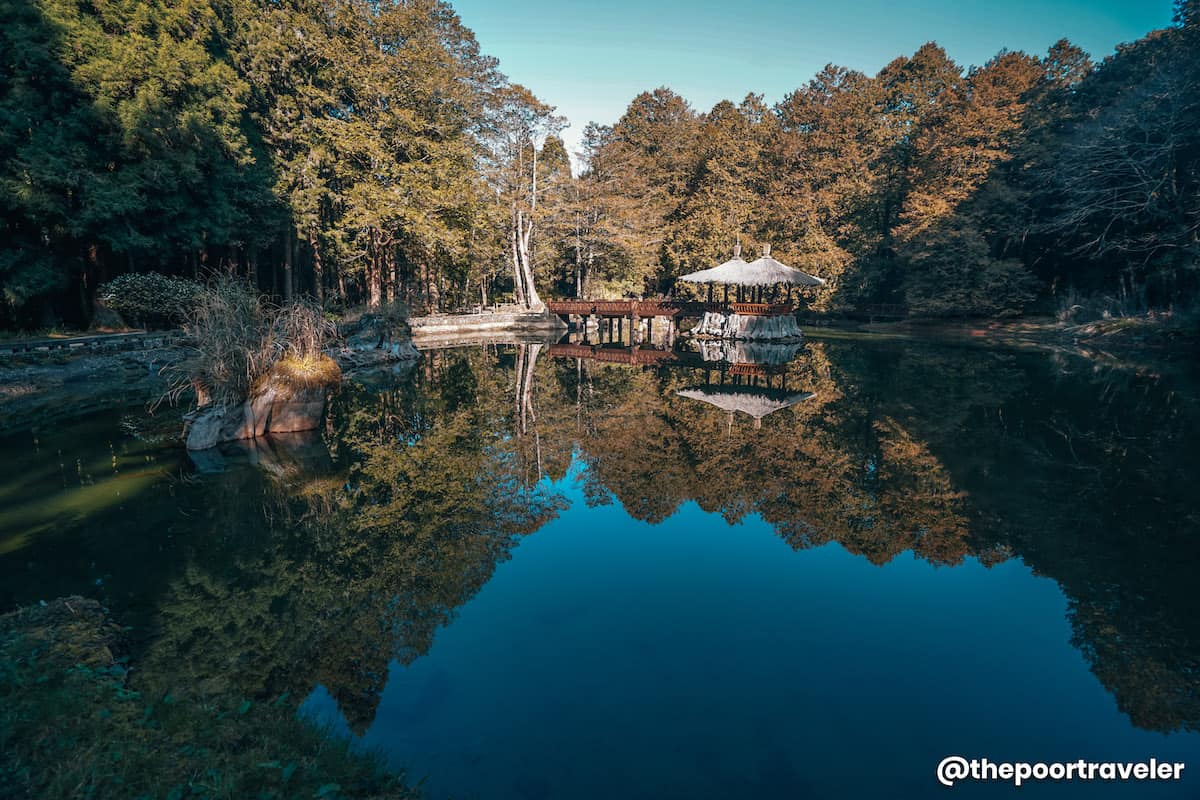 How to get to Chaoping: From Chusan Station or Alishan Station, take the train to Chaoping Station. Fare from Chusan is NT$ 150, from Alishan NT$100.
---
Alishan Shouzhen Temple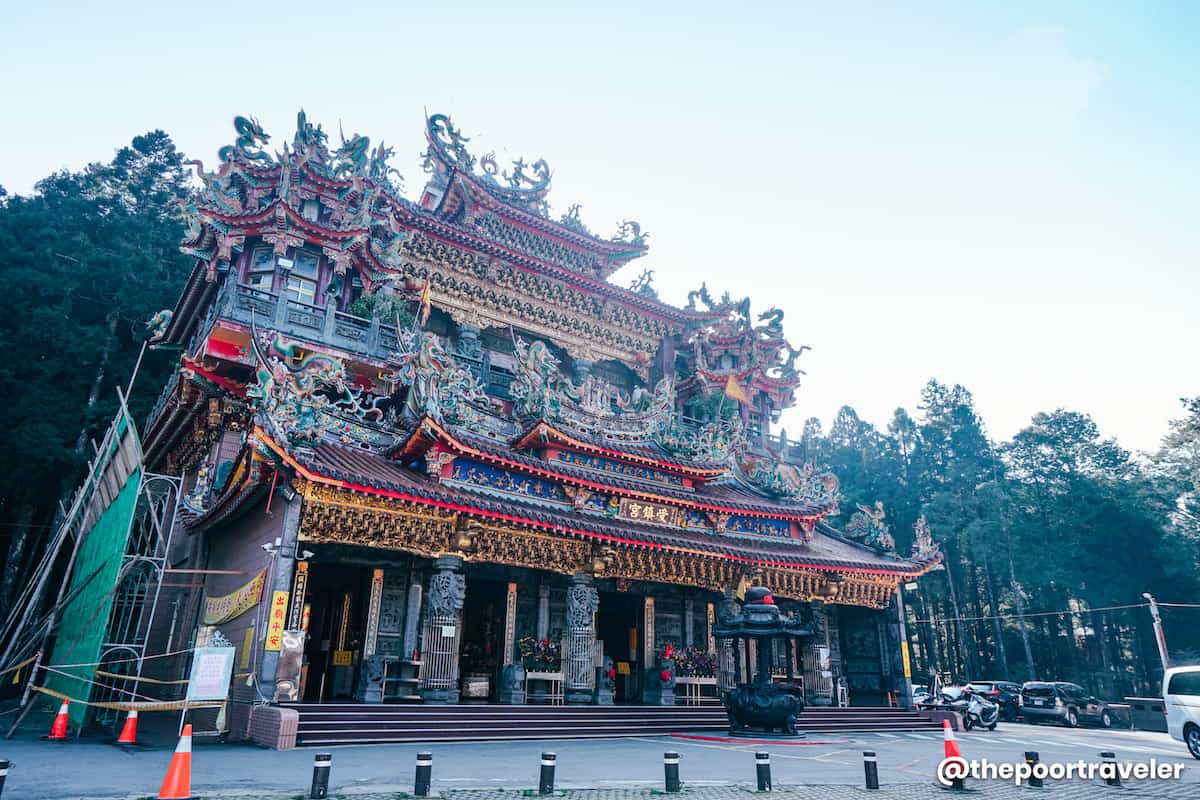 At 2150 meters, the Shouzhen Temple is the highest temple in Taiwan. It was established in 1948 after a series of mysterious accidents and unfortunate events that plagued the lumbermen working in the area. To put a stop to the misfortunes and ask for protection, they built a temple honoring Xuanwu, the Dark Heavenly Highest Deity and one of the most powerful gods in Taoism. In March, even up to this day, moths swarm the statue of the deity inside the temple.
The Shouzhen Temple stands in the middle of the Sacred Tree and the Chaoping stations, which is a good marker of you want to keep track of your progress.
---
Sacred Tree
Named after a giant red cypress tree that was of great value to the Tsou people, the Sacred Tree was the tallest tree in Alishan until a lighting struck and burned it in 1998. It's still around, but the authorities cut it down and lay it on the ground for safety reasons.
However, in 2007, the local government, the Forestry Bureau and the Tourism Board launched a voting campaign to determine the next Sacred Tree. The giant tree that received the most votes is this (pictured below) and is now called Alishan Sianglin Sacred Tree.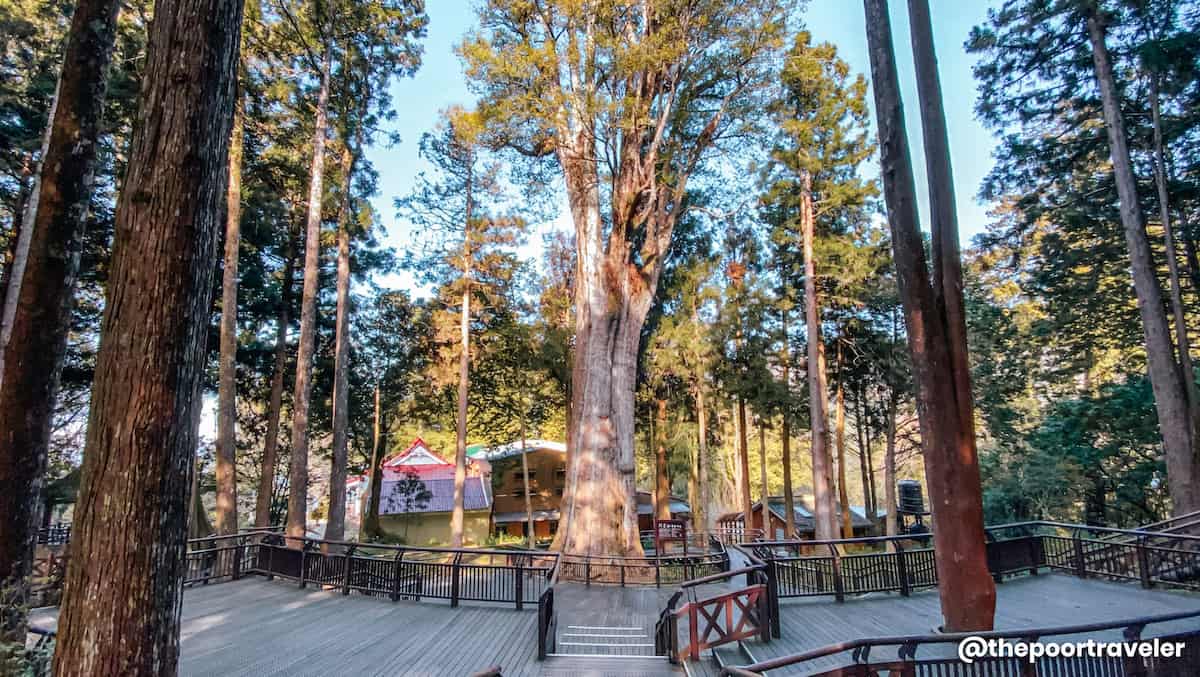 How to get here to the Sacred Tree: The nearest station is Sacred Tree Station. From Alishan, fare is NT$ 100.
---
Giant Tree Boardwalks
Aside from the Sacred Tree, several curious attractions are scattered nearby like the three-generation tree, Scented Wood Bridge, Elephant Tree, and the Pagoda of the Tree Spirit.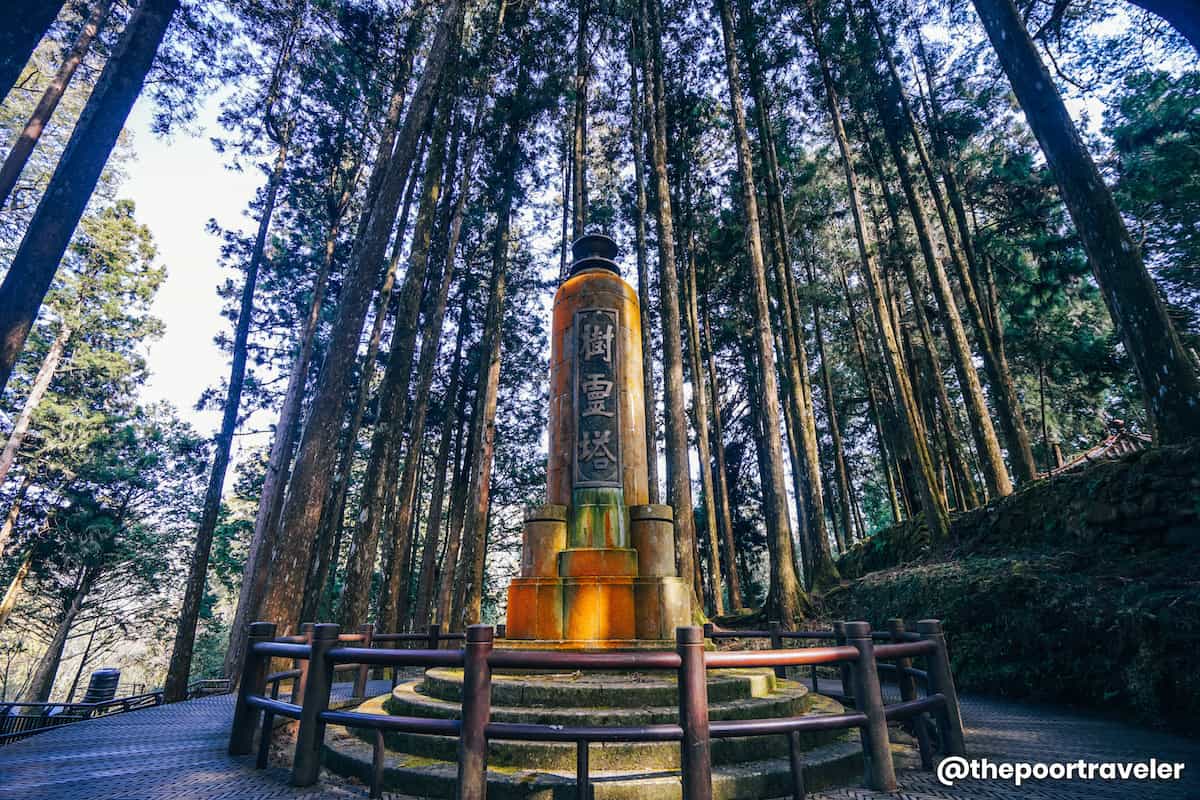 Elevated boardwalks and bridges usher hikers through towering trees and over streams, making it easy to get lost in the fantasy especially when the area is enveloped in sheets of fog.
How to get here to the Sacred Tree: The nearest station is Sacred Tree Station. From Alishan, fare is NT$ 100.
---
Ciyun Temple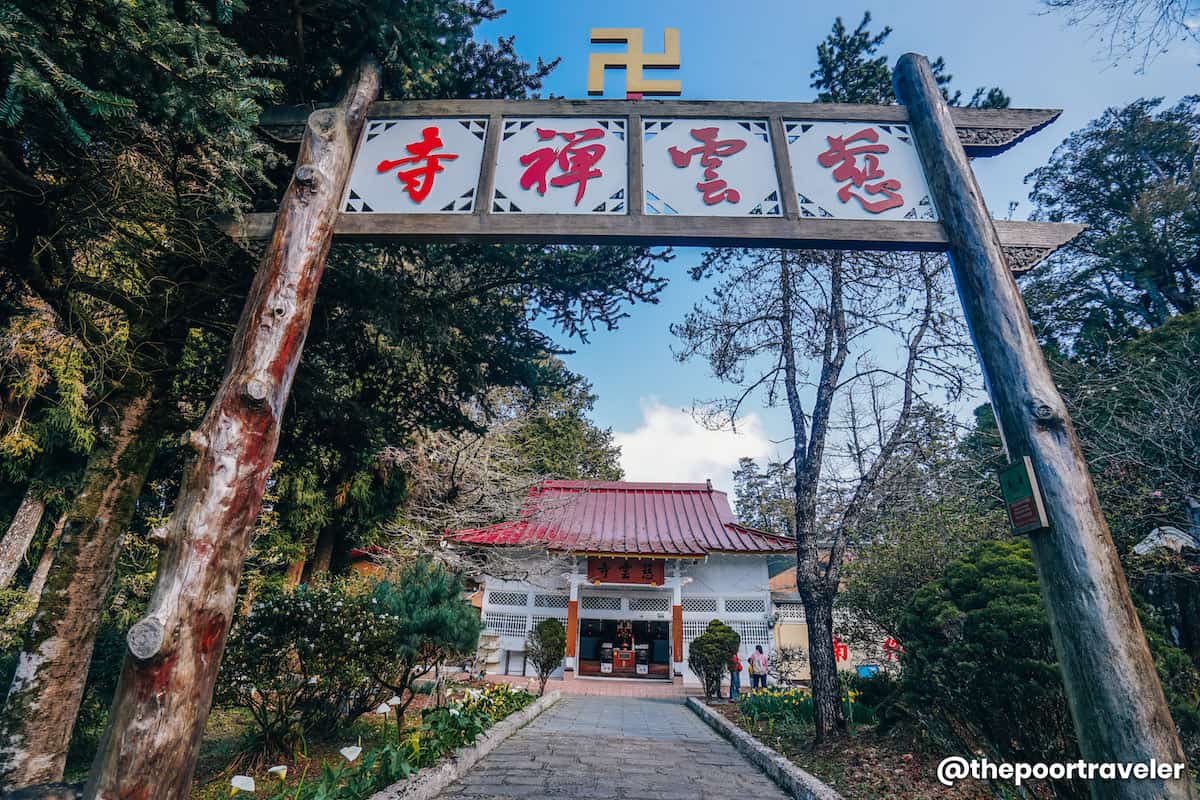 Another temple tucked not too far away from the Sacred Tree Station is Ciyun Temple. Although not as ornate or grand as neighboring Shouzhen Temple, it stands next to an observation deck that allows an enchanting view of the sea of clouds, which turns reddish or golden at sunset.
---
Sakura Trails
If your timing is right, be mesmerized by cherry blossoms! Alishan has almost 2000 Yoshino sakura trees adorning various parks and trails. The most accessible site is perhaps the one situated close to Chaoping Station. Another spot is located near Alishan House.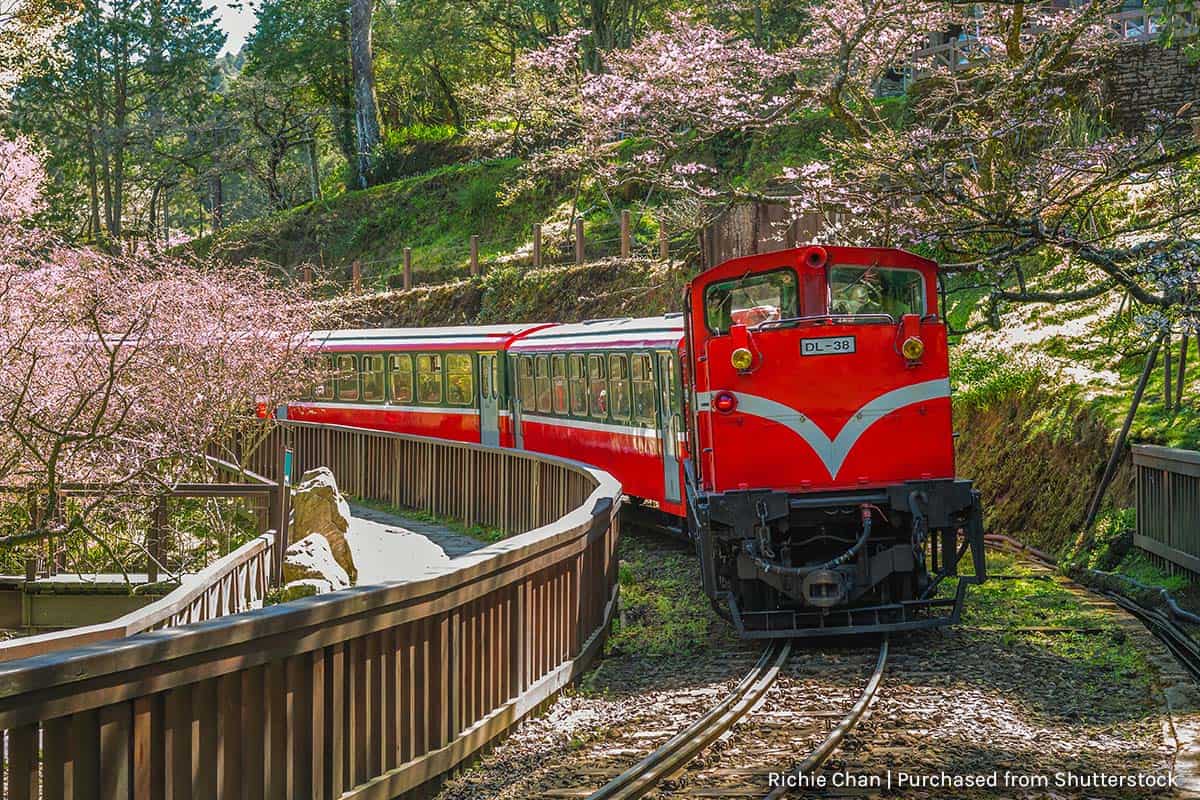 Aside from cherry blossoms, Alishan has other flowering trees including the plums and hall crabapple trees blooming around Chaoping Park. Both flowers are often mistaken for sakura because of the uncanny resemblance, but they belong to completely different plant families.
---
Alishan Museum
Within touching distance of the Sacred Tree, is a small log cabin that houses the Alishan Museum. Built in 1935 and upgraded in 2007, it chronicles the natural beauty of the surrounding forests, the unique culture of its people, and the logging history in Alishan.
---
Fenqihu Railway Bento
Since you'll be making a transfer at Fenqihu Station anyway, you might as well explore the village or at least get lunch!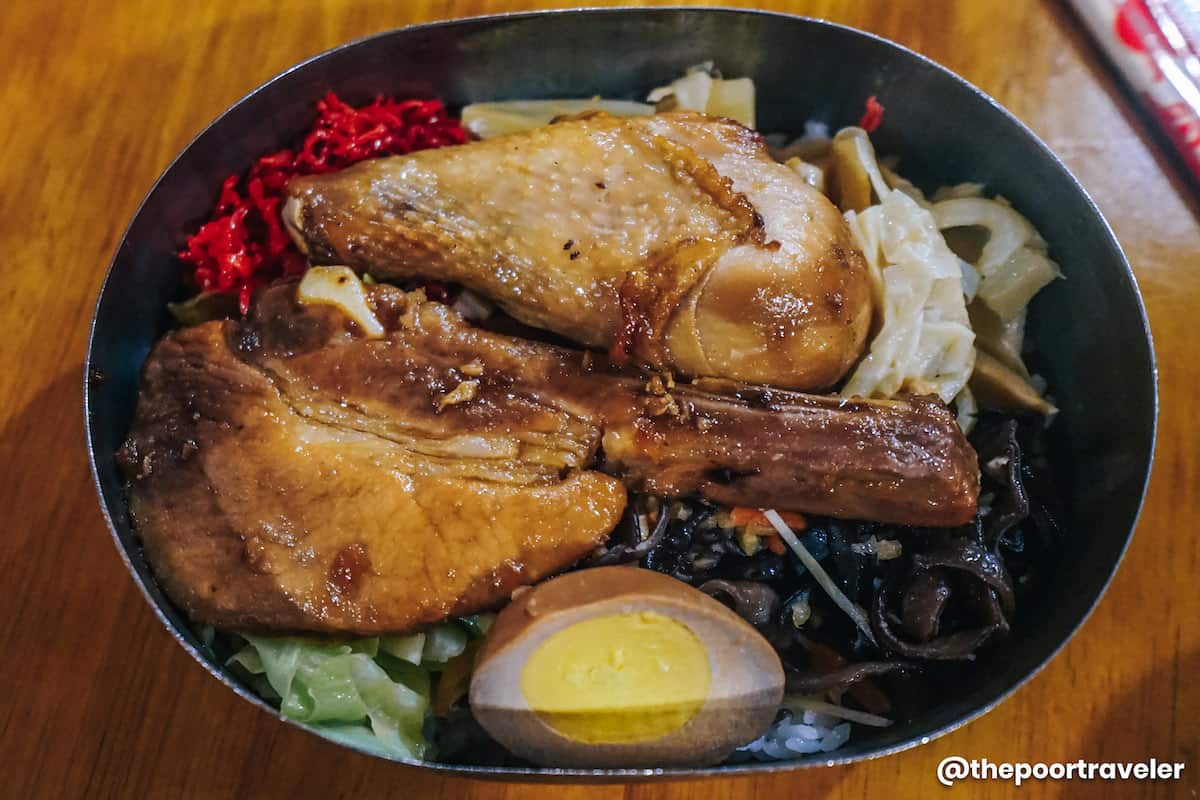 The most popular meal here is served in a box! Locally called "tie lu bian dang", it's a complete meal served in a compact box, which is made of cardboard, wood and more recently, metal.
Back when the Alishan Railway network was used only to transport logs and other supplies, workers needed a quick and convenient way to eat. Locals created a travel-friendly solution by putting the meal in a box. The tradition was passed on that even today, when the train is used primarily by tourists, the so-called "railway bento" lives on.
Several restaurants offer bento meals, but the one that attracts the biggest crowds is Fenchihu Hotel. Just look for this guy.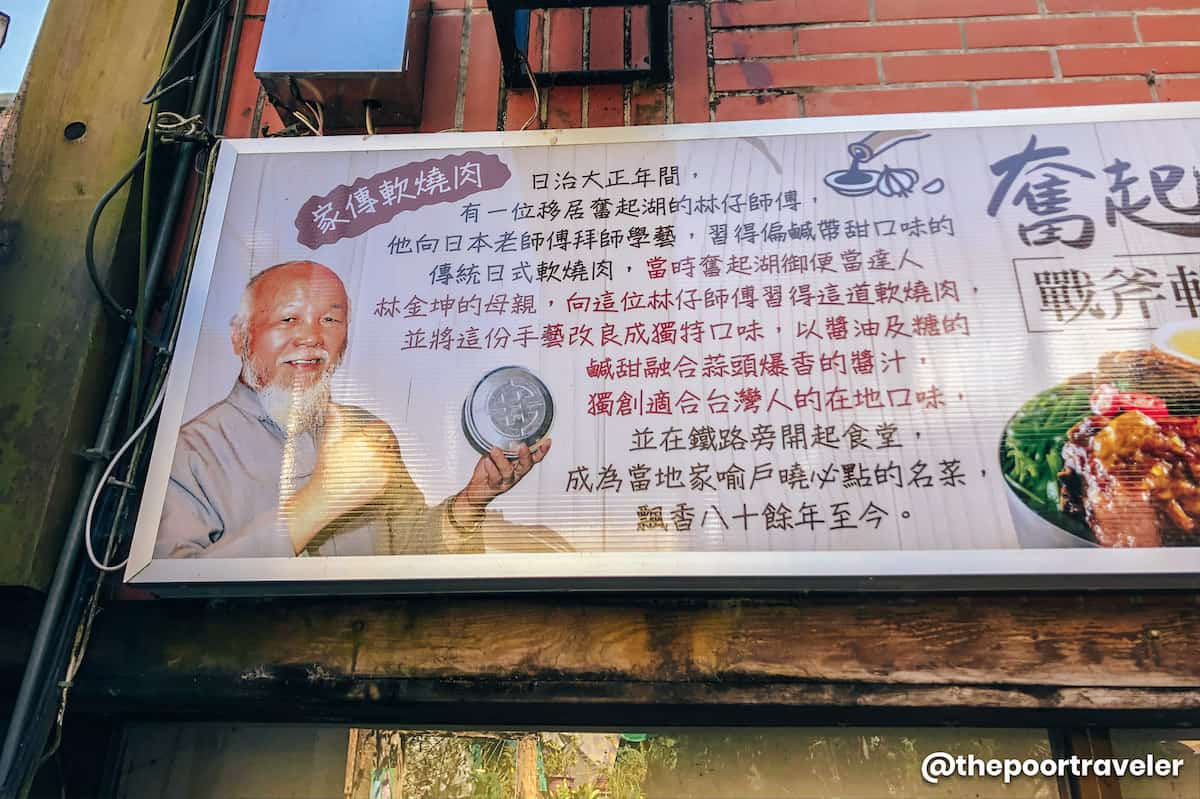 They fill a vintage metal box with rice, which is topped with meat (pork chop, chicken leg or both) mushrooms, bamboo shoots, cabbage, and egg. You can also have an unlimited helping of soup on the side.
---
Fenchihu Train Garage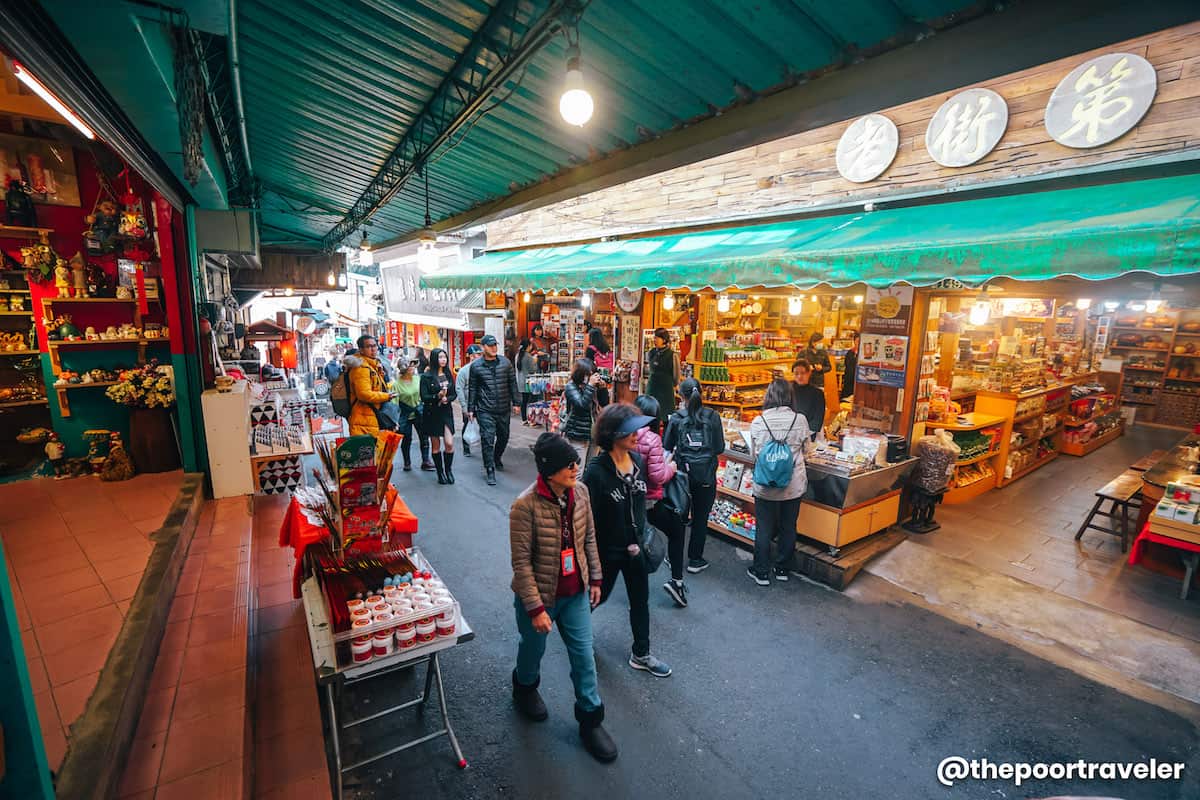 For much of its history, Fenqihu Station wasn't just a transfer point. Back in the day, trains were maintained and refilled with water and supplies at the adjacent Fenqihu Garage. The garage is no longer operational today, but it was transformed into a museum where travelers could see and learn more about steam trains.
---
Sample Alishan-Fenqihu Itinerary
Here's a sample Alishan itinerary. I decided to start at the arrival at Chiayi Train Station so you could easily use it regardless of whether you're coming from Taipei, Kaohsiung or Taichung. Just squeeze it into your bigger Taiwan itinerary.
Bear in mind that sunrise times vary. Feel free to adjust or move items around to fit the current conditions and personal preferences.
DAY 1 – ARRIVAL
08:00 am – Arrival at Chiayi TRA Station
08:15 am – Get Alishan Express tickets, NT$384
09:00 am – Board Alishan Express
11:21 am – Arrival at Fenqihu Station
11:40 am – Bento box lunch, NT$180
12:10 am – Walk around old street
12:50 am – Board bus to Alishan
02:00 pm – Buy Alishan entrance ticket, NT$150
02:30 pm – Buy Chushan train ticket, NT$150
02:40 pm – Walk to hotel
03:00 pm – Hotel checkin, freshen up
05:00 pm – Walk around, chill
06:00 pm – Watch sunset (time varies)
06:30 pm – Dinner, NT$200
08:00 pm – Back to hotel, sleep
DAY 2 – SUNRISE & FOREST TRAILS
04:00 am – Wake up call, early check out
04:30 am – Queue at train station
05:00 am – Train to Chushan
05:50 am – Chushan Sunrise (actual time varies)
07:00 am – Quick breakfast, NT$100
07:20 am – Train to Chaoping, NT$150
08:00 am – Start trek to Sacred Tree, explore
11:50 am – Sacred tree train to Alishan, NT$100
12:00 nn – Lunch, NT$200
01:40 pm – Direct bus to Chiayi, NT$240
03:40 pm – Arrival in Chiayi, catch train to your next city
The itinerary above will cost you around NT$ 1900 (USD 63, EUR 57, SGD 89, PHP 3190) excluding hotel.
To cover possible miscellaneous expenses, possible price movements, and other costs we might have missed, add plenty of allowance so you don't run short of cash while you're there.
---
Top Alishan Hotels
Here are the top properties on Agoda, as scored by their customers.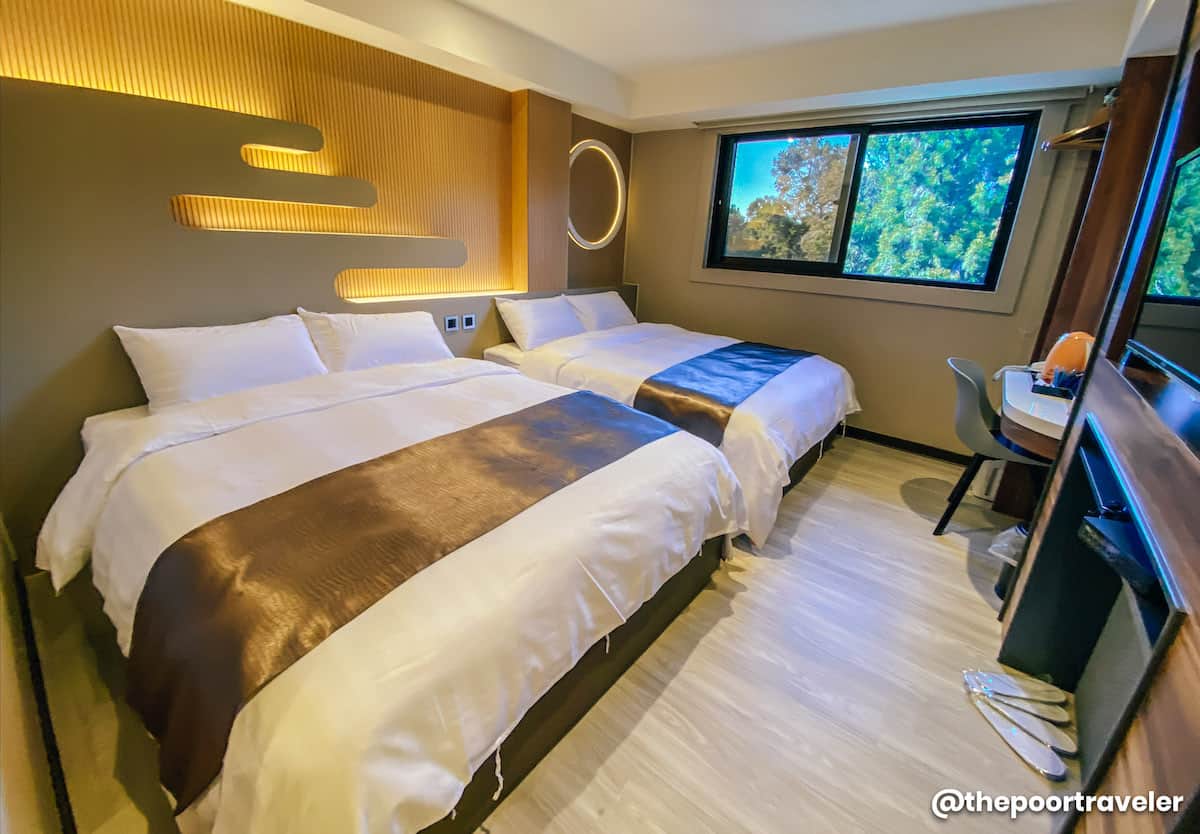 ---
2020 • 8 • 11