I had never been inside a Hindu temple.
I had seen a number of Hindu temples before: in Singapore, in Penang, in Kuala Lumpur. But I had never been inside one. I only had a chance to stand outside with my head tilted and my mouth open as I admired the facade and overall architecture. When I learned that there's one along Harmony Street in Malacca, I got so thrilled thinking that the time had come that I get to step into a place of worship for one of the oldest religions in the world. I thought it was my lucky day!
And lucky day it was not!
The Sri Poyyatha Vinayagar Moorthi Temple was closed when we visited. Poor me, indeed. Once again, I was an outside lover.
Built in 1781, the Sri Poyyatha Vinayagar Moorthi Temple (sometimes referred to as simply Sri Poyyatha Temple) is said to be the oldest Hindu Temple in Malaysia. This 230-year old structure stands at the heart of the old town of Malacca, a UNESCO World Heritage Site. It is located in Malacca Chinatown, specifically in Jalan Tukang Emas, which is part of what many tourists aptly call Harmony Street, because it harbors a number places of worships belonging to different religions — the Cheng Hoon Teng Temple (Buddhism, Taoism, Confucianism), the Xiang Lin Si Temple (Buddhism), and Kampung Kling Mosque (Islam).
The rectangular land where it stands was donated by Kapitan Thaivanayagam Chitty, the head of the community. It was built for the Hindu population of the area to practice their religion, especially the veneration of Lord Vinayagar (also known as Lord Ganesha), a deity with the head of an elephant, body of a man, and four arms. According to the website of Sri Ruthra Kaliamman Temple (a Hindu Temple in Singapore): Vinayagar is both the Lord of obstacles as well as the Remover of obstacles. When we do evil things or when the time is not right, He places obstacles in our path. When we take the correct path, He removes the root of our troubles.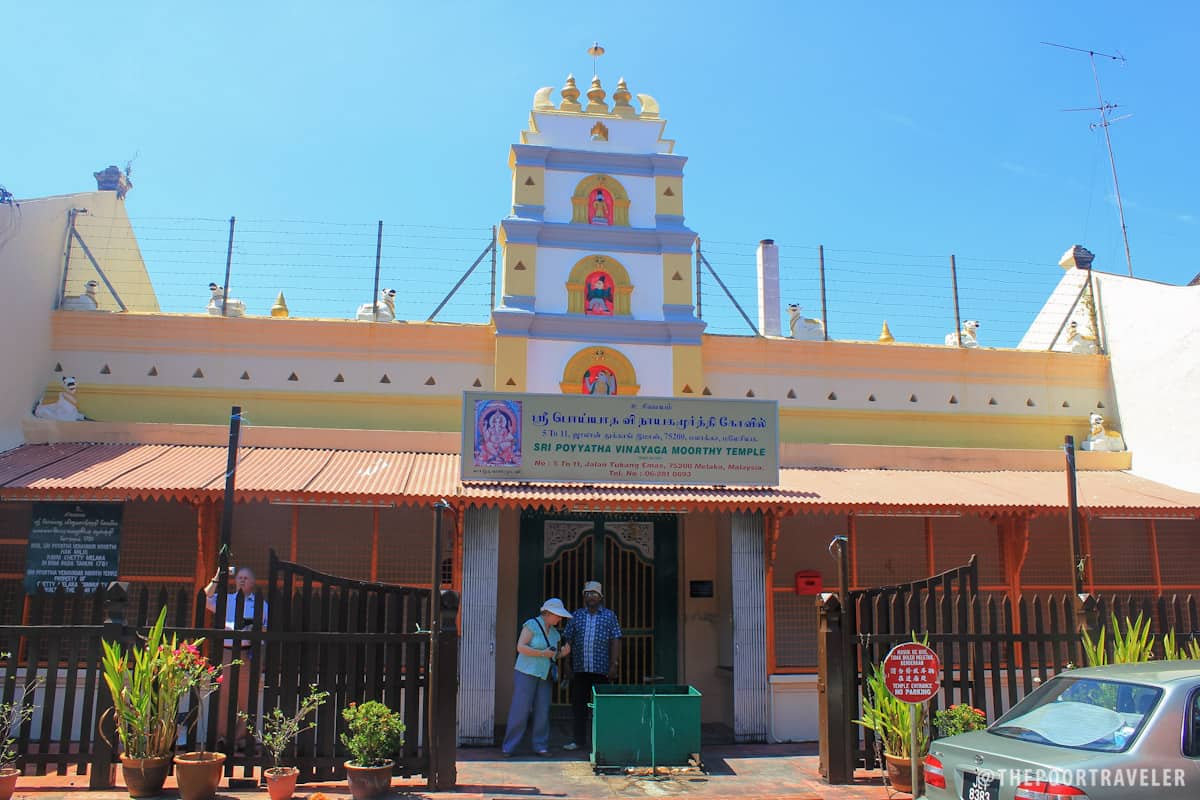 While its bright yellow-painted facade makes it very hard to miss if you're walking down Harmony Street (Temple Street), I still kind of missed it. (I really am visually-challenged when the sun is too bright. Or maybe I'm just stupid sometimes. Sometimes is the keyword there.) Perhaps, I was just expecting a temple of Dravidian architecture with a colossal gopuram (dome/tower) covered with rich, colorful, intricately designed ornamentation. While it doesn't have a massive, overwhelmingly embellished crown, the structure is topped with a three-leveled tower with blue molded edges and arch niches with relief images. Each of the columns of this peak tower has a triangular hole-accents at its center as with the perpendicular base where a line of triangles run horizontally. Sculptures of sacred cows also adorn the fenced rooftop of the temple.
The temple is separated from the street by a set of brown picket fences. Since it was built during the period when the Dutch ruled the city, there are also some dutch elements and influences in the design of the temple such as the details of the roofs, vaulted domes, walls, and columns.
Well, that's what's outside the temple. What's inside? Maybe another day. When I finally get that opportunity to enter it.
Posted: 2012 • 8 • 15