2012 • 5 • 25
Red and orange flowers blanket the small park in front of Christ Church Melaka, one of the most recognizable landmarks of this breathtaking Malaysian city. The park was crowded as tourists gathered to have their photos taken with the church as their backdrop. It stands in the Dutch Square, the center of European power during their rule in the city.
Christ Church Melaka is Malaysia's oldest functioning Protestant church. While its construction started as early as 1741 on the Dutch occupation centennial, it wasn't until 1753 that it was completed. Before this was built, the Dutch who lived in the city used the old church on top of St. Paul's Hill.
WHAT'S COVERED IN THIS GUIDE?
Architecture
Like most buildings in the Dutch Square, Christ Church is built to Dutch standards. It has tall, massive walls and columns, a rectangular plan, Dutch roof tiles and granite plinths, all of which are said to be features of 18th Century Dutch colonial architecture. The church is 25 meters long (some say 27) and 13 meters wide, and its ceiling is 12.2 meters from the ground. Wooden beams, said to be cut from a single tree, span the ceiling. The floors are covered with granite blocks and its walls raised with Dutch bricks.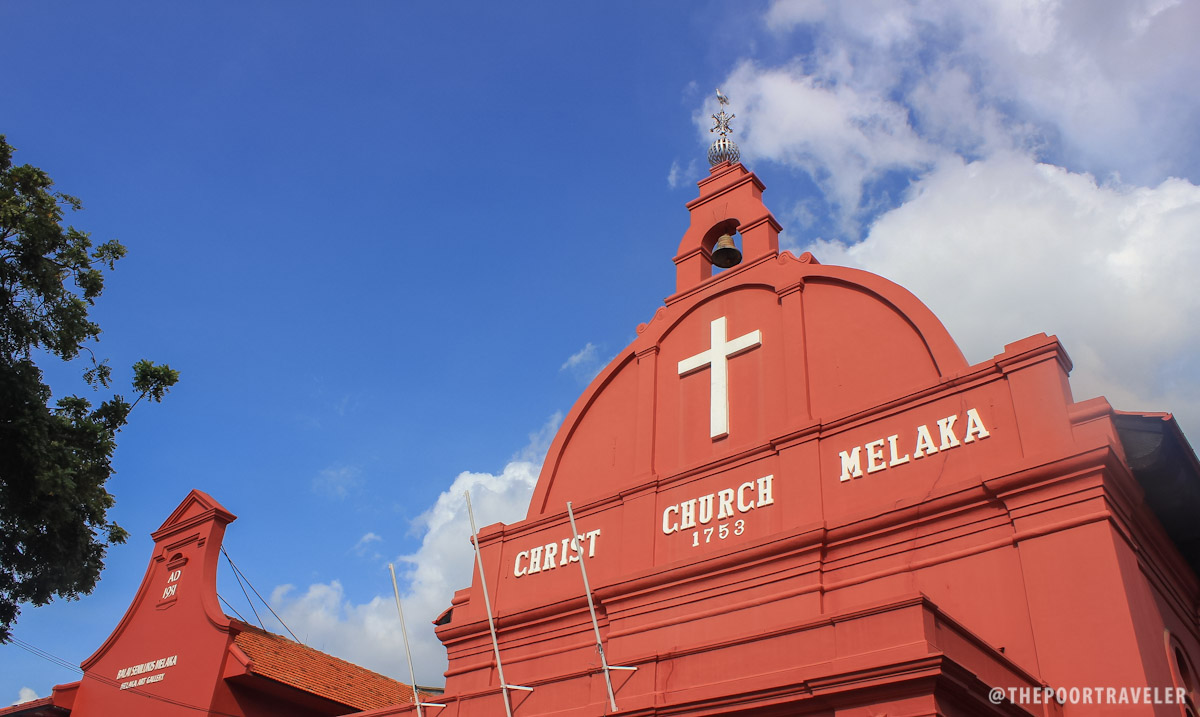 Four large columns support the church topped with a small arch from which a bell hangs. The bell is said to be inscribed with "1698," making it even older that the church itself. This means that the bell was used in another place before it was installed in the church. The edifice is predominantly red but the name of the church and a big cross are painted white on its facade.
In the middle of the 19th century, the British added the porch and the vestry. They also reduced the original windows made by the Dutch.
Inside the Church
While we were told that photography is prohibited inside the church, we knew from the start that we wouldn't be able to because the gates of the church were closed when we visited. We even hoped it would open later that day so we returned every time we pass by the square to no avail. Apparently, it's open only from Monday to Saturday, 8:30am to 5pm.
Those who have been inside however will tell you that it houses several unusual objects including tombstones on the floor, all written in Portuguese. They were believed to have been moved by the British from St. Paul's Church, an originally Catholic church built by the Portuguese.
Another object worth a look is the Bible stand made of brass and inscribed with the first verse of the Book of John (John 1:1) in Dutch.  Also inside the church are silver altar vessels and its collection of administrative records.
---
Top Budget Hotels in Malacca
Based on review scores by Agoda customers.