Every now and then, you find yourself in a place that even after many years later, you would look back and still couldn't believe yourself when you say, "Damn, I was there?"
To me, other than the screening of M. Night Shyamalan's The Happening — I can't still believe I paid for that — that place is the city of Zhangjiajie in Hunan Province, China. But for Zhangjiajie, I mean that in the best possible way.
There are just so many things unbelievable and surreal about Zhangjiajie that it has inspired countless fantastic tales. Take for example the towering quartz-sandstone pillars of Wulingyuan. It doesn't take much imagination to see how these columns have served as inspiration for the floating mountains of the Hollywood blockbuster AVATAR. The sea of clouds rolling in between the mountains majestically paints a picture of a world alien but absolutely breathtaking. It's one of those sights that leaves an imprint on the heart of the beholder. It's the kind of experience that can change your life.
How I ended up in Zhangjiajie was a twist of fate. I was supposed to spend all the time my visa allowed in Guilin. But while I was planning the trip, I stumbled upon a viral post about places that are hard to believe exist on earth. The mountains of Wulingyuan made it to that list, and I completely forced it into my itinerary. Here's a summary of my unforgettable sojourn in Zhangjiajie.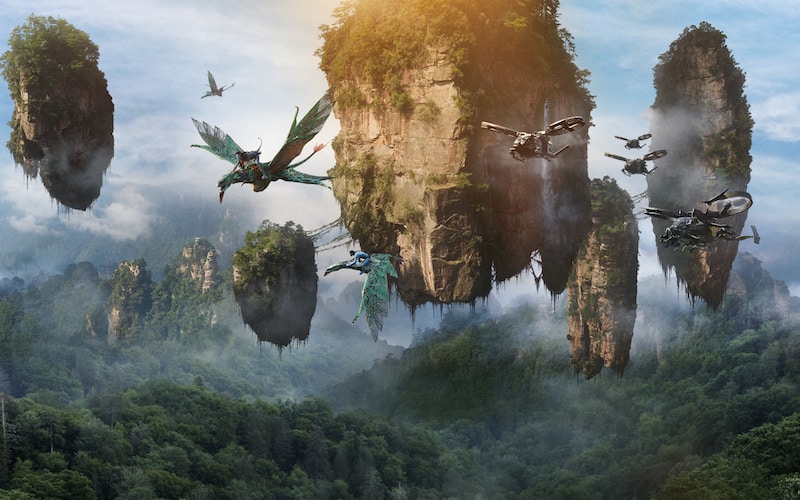 WHAT'S COVERED IN THIS GUIDE?
How to Get to Zhangjiajie
By plane. Zhangjiajie has an airport — Zhangjiajie Hehua Airport (DYG) — but is used by a limited number of airlines. Other than Taiwan (Taipei) and Korea (Busan), no other country flies directly to Hehua. You will have to connect to another Chinese city, which is most likely Beijing, Shanghai, or Xi'an. China Southern Airlines, Shanghai Airlines, and Sichuan Airlines offer the most flights.
By train. If you're coming from another part of China and you don't want to fly, consider the rail system. Check out China Travel Guide to check if there are trains to Zhangjiajie from your point of origin.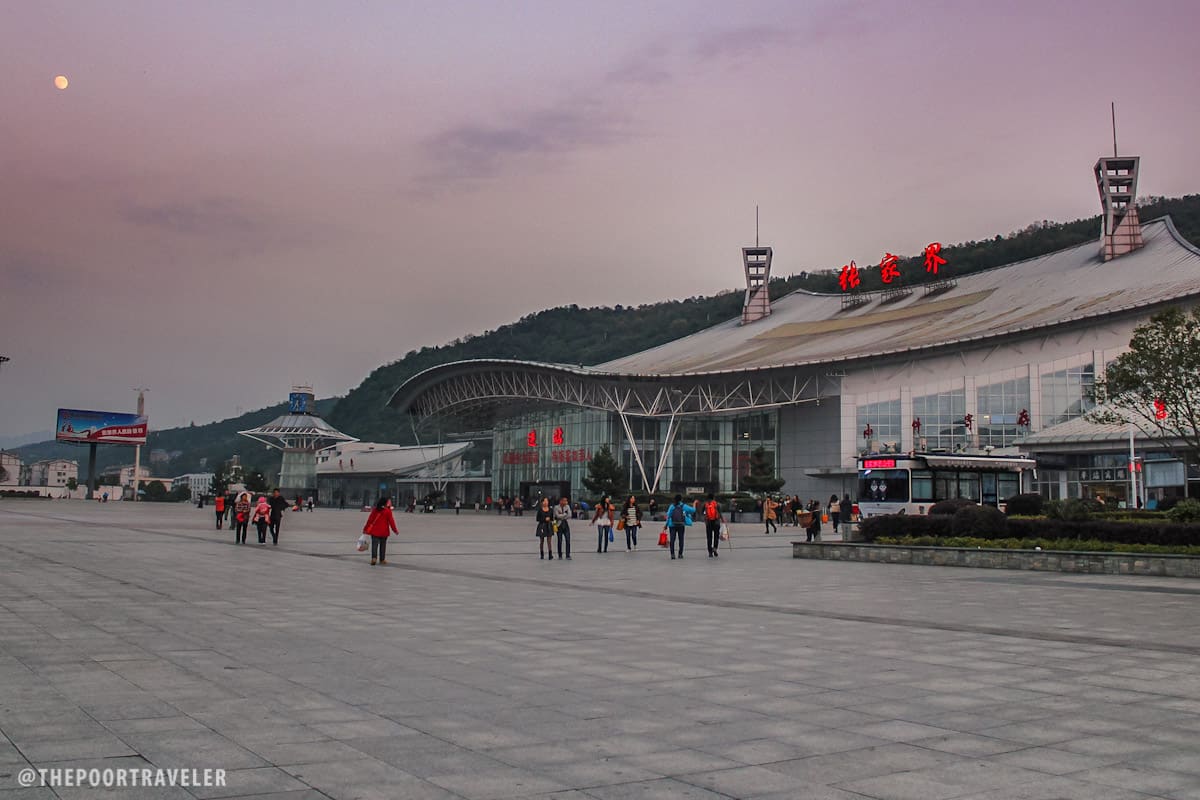 My experience is a lot more complicated. Since I would be coming from Guilin, I had to take either the train or the bus. (I was told there are no regular bus trips. I tried looking, but I couldn't find one.) Thing is, there is no direct line from Guilin to Zhangjiajie. I had to connect in Changsha City or Liuzhou.
For more information on this route, check out this post: How to Get to Zhangjiajie from Guilin.
---
How to Get to Wulingyuan
Wulingyuan is a district of Zhangjiajie, just a bus ride away from the city center. To get there from the city proper, simply go to the Zhangjiajie Central Bus Terminal, and take the mini-bus going to Wulingyuan.
Travel time is 40 minutes to an hour. Fare is CNY 12.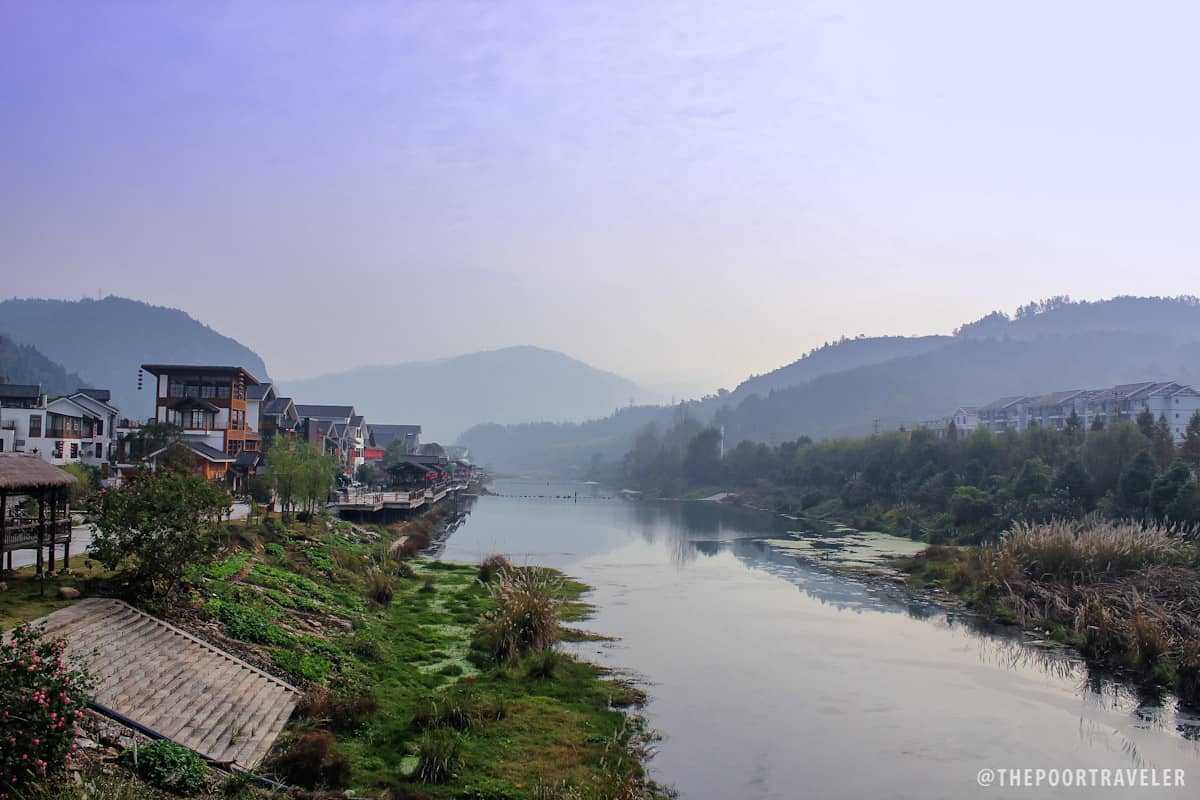 The mini-bus will drop you off at the center of a village that many simply refer to as "Wulingyuan." From here, almost everything is within walking distance. It's a small village.
One of the entrance gates to the park can be found along the border of this settlement.
Where to Stay in Zhangjiajie or Wulingyuan
There are three areas where you can stay: Zhangjiajie City, Wulingyuan (just outside the park), or inside the park.
Zhangjiajie city center or Wulingyuan village has plenty of accommodations to offer, from hotels to the more convenient youth hostels. But if you're going to spend more than one day exploring Wulingyuan Scenic Area (remember, it has four zones and more), it's best to stay in Wulingyuan.
There are small hostels inside the park, too, offering simple rooms with basic amenities. But I decided against it because I wanted to explore Wulingyuan and its stores at night.
Find a good one here: Zhangjiajie Hotels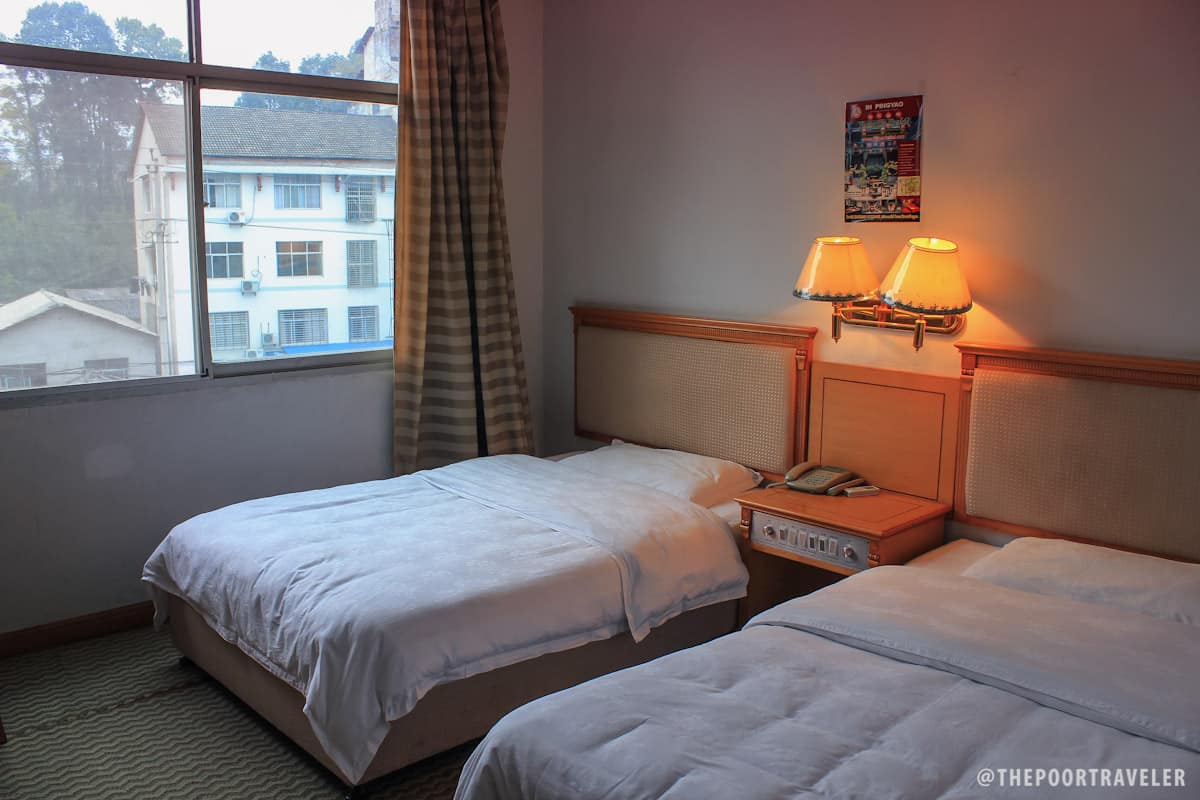 Since I am concerned with budget, I chose to stay at Wulingyuan Zhongtian International Youth Hostel along Baofeng Road. We booked a Private Twin Room for CNY 138 (CNY 69 per person). If you're alone, beds in their dorm rooms start at CNY 45.
When to Visit
Zhangjiajie's peak season is from May to October. However, avoid the summer holiday (July to August) because it is where most sites get extremely crowded with tourists. If you can avoid it, do not travel on the following holidays: May 1-3 (Labor Day) and October 1-7 (National Day).
Early autumn (September-October) is the most ideal time to visit. The weather during this period is pleasant and cool. You also get to see the vibrant and fiery autumn foliage.
Spring (April-June) is a good time, too. It is when fog would usually flood the mountains. However, there are higher chances of rain. Other than that, the season is comfortable.
---
Places to Visit
The Wulingyuan Mountains (more formally known as Wulingyuan Scenic and Historic Interest Area) is a 397-square-kilometer UNESCO World Heritage Site inscribed in 1992 and UNESCO Global Geopark listed in 2004. It is divided into four zones: Zhangjiajie National Forest Park, Tianzi Mountain Nature Reserve, Suoxiyu Natural Resource Reserve, and Yangjiajie Scenic Area. The entire Wulingyuan area is part of Zhangjiajie.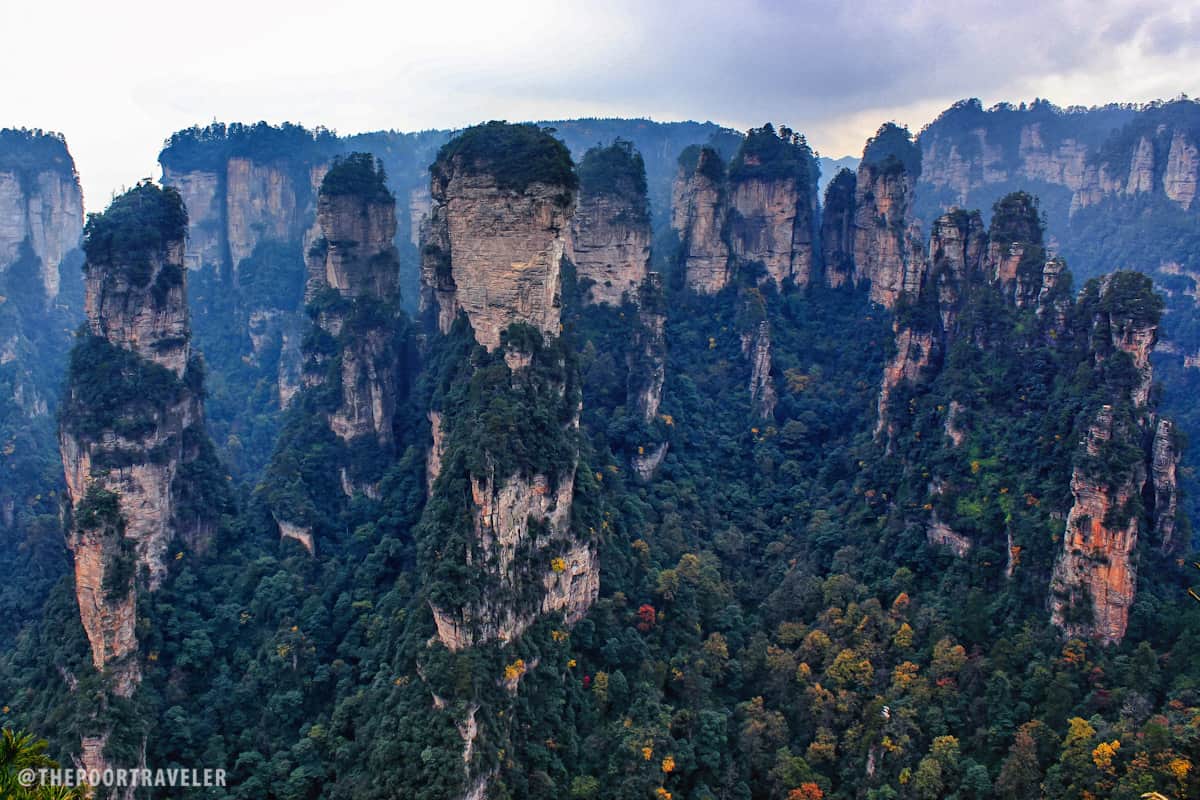 | | |
| --- | --- |
| Avatar Hallelujah Mountain | First Bridge of the World |
| Bailong Elevator, the tallest outdoor elevator in the world. | Na'vi statues |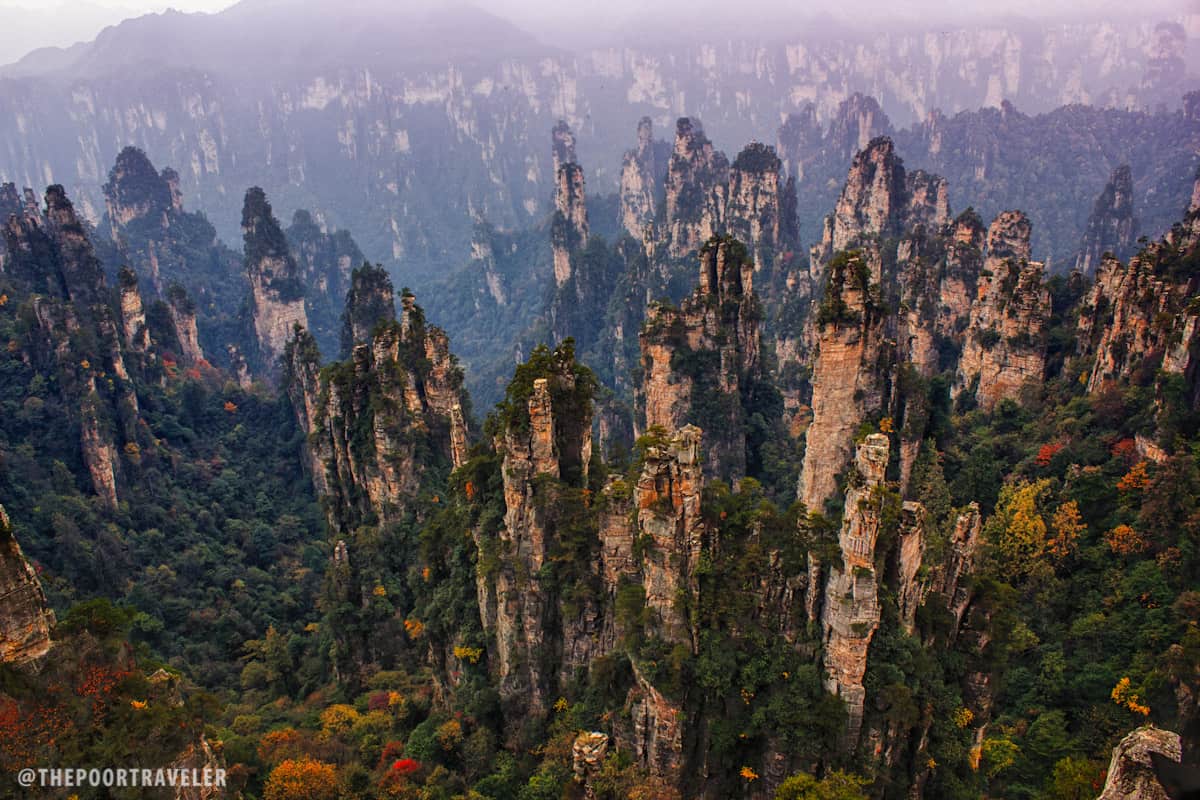 | | |
| --- | --- |
| Cableway to Tianzi Peak | Tian Zi Ge (Tianzi Pavilion) |
| Marshal He Long Park | Yu Bi Peaks |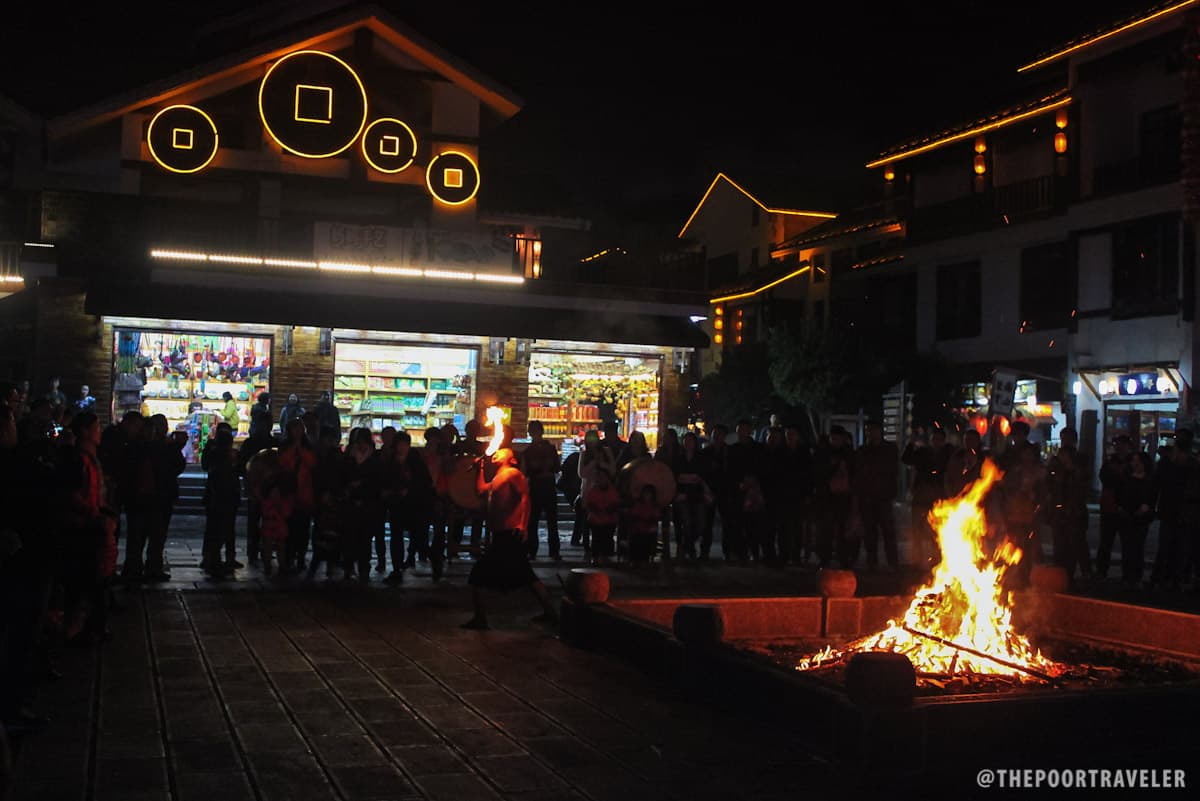 Other interesting sites include: Baofeng Lake, Yellow Dragon Cave, and Golden Whip Stream.
Wulingyuan isn't the only attraction here. Just as stunning is Tianmen Mountain, which takes pride in Tianmen Cave, a giant hole in the wall romantically called Gateway to Heaven; Tongtian Avenue, one of China's mindblowing roads with 99 turns; and a glass walkway perched atop a dizzying peak.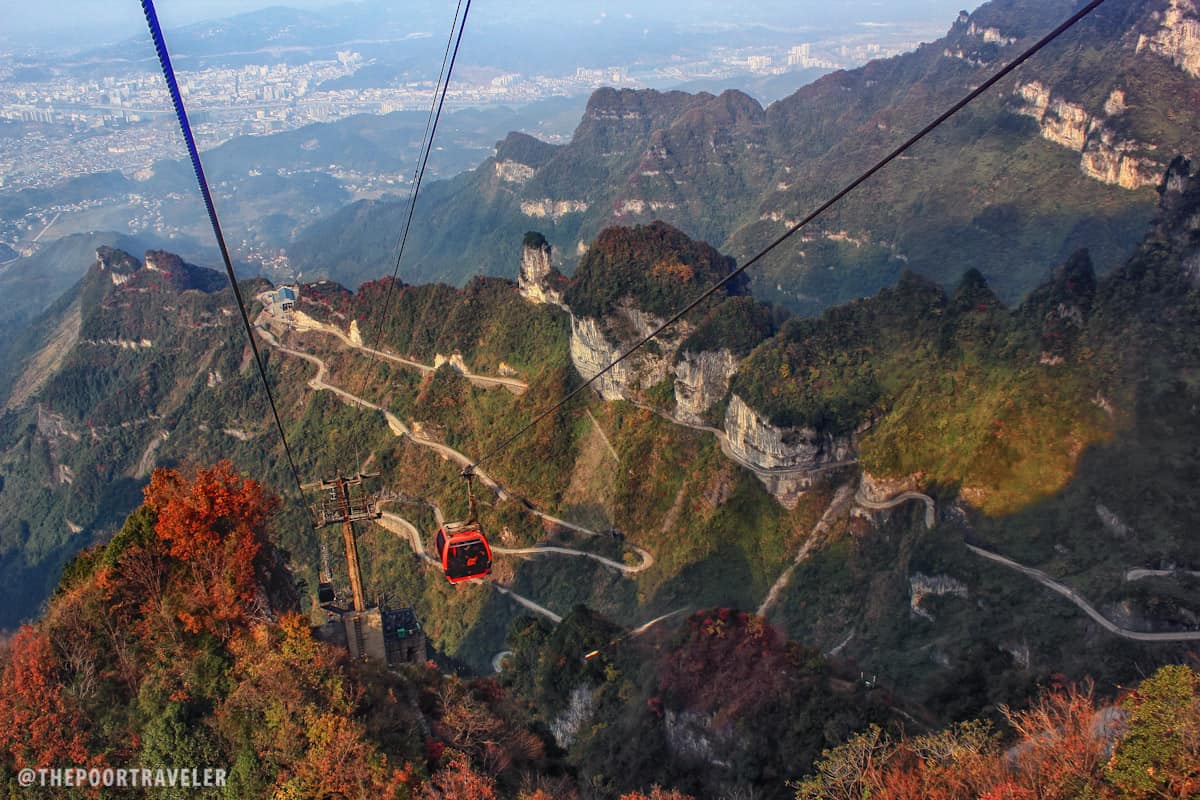 ---
Sample Itinerary
The number of days you plan to spend in Zhangjiajie will dictate how hectic your itinerary is going to be. Remember, Wulingyuan park is vast, and there's so much to see in its four zones. Even Tianmen Mountain would be difficult to be fully explored in just a day.
Here's a sample high-level 5-day itinerary
Day 1: Arrival in Zhangjiajie, travel to Wulingyuan, explore Xibu street
Day 2: Zhangjiajie Natural Forest Park
Day 3: Tianzi Mountain
Day 4: Explore the rest of Wulingyuan (your pick)
Day 5: Tianmen Mountain (day), departure (night)
If you're able to book a ride out of the city in the evening, you can explore Tianmen Mountain on the same day of your departure. For example, what I did was this: since my train back to Guilin was scheduled at night and I had no hotel booking in the city, I took an early minibus to the city, checked in my bags at a luggage storage counter at the train station, explored Tianmen Mountain the entire day, and then boarded the train at night.
You may also book a hotel in Zhangjiajie City if you don't want to rush your Tianmen Mountain experience. This way, you'll also get to see the other things the city has to offer.
---
Budget Breakdown
Here are some important figures to remember:
Wulingyan Park 4-Day Pass: CNY 248
This also covers cable car rides and bus rides inside the park. Insurance also included.
Tianmen Mountain admission ticket: CNY 258
This includes the cableway ride and green cars. Valid for one day only.
Minibus ride from Zhangjiajie City to Wulingyuan: CNY 12
Direct trip.
Twin room per night: CNY 138
At the Wulingyuan Zhongtian International Youth Hostel
That's it for now. Will update this post again very soon.