I'd be lying if I said I wasn't scared. It was the most terrified I had been in my life. Ever.
It was as though hell lived inside my stomach! Something about this walkway frightened me so much that I couldn't push myself to make that first step. It wasn't the dizzying heights per se. It wasn't the idea that the floor was made of glass, either. I was just caught off-guard.  I was not prepared for this.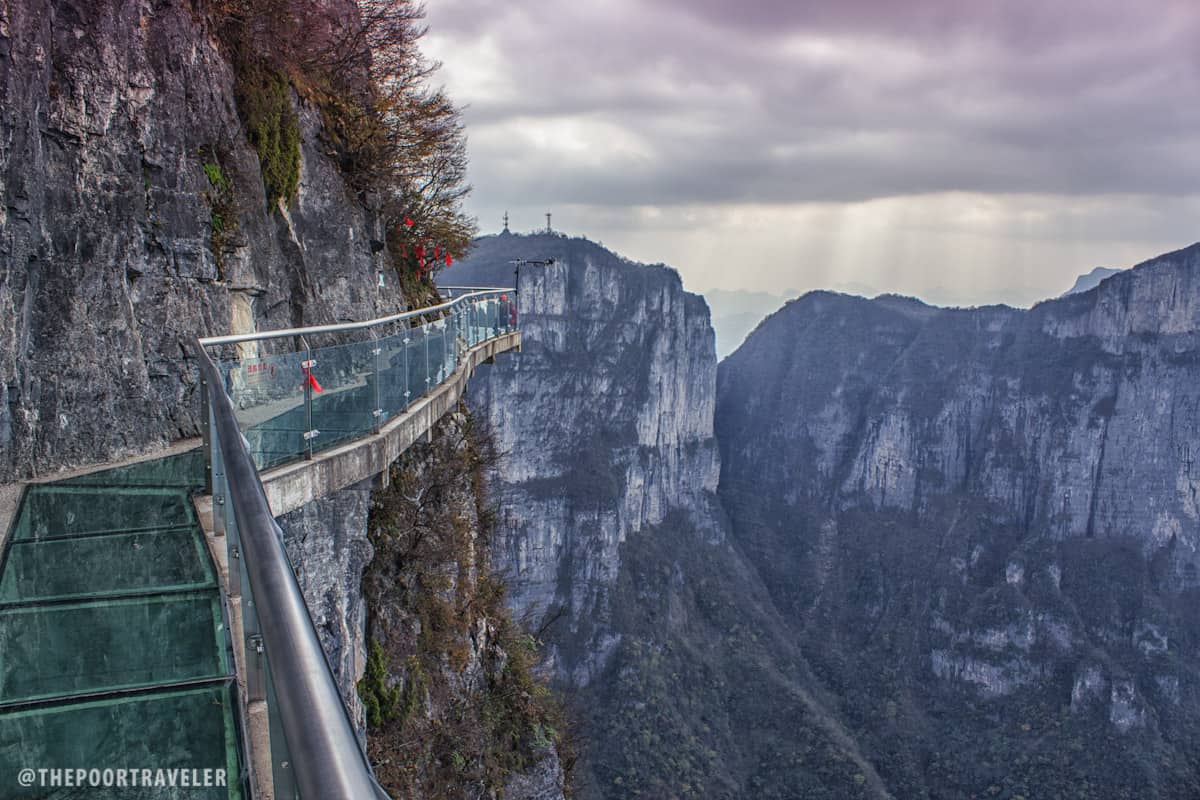 WHAT'S COVERED IN THIS GUIDE?
Fear Got Real
Once upon a time, I stumbled upon a photo of a glass-bottomed skywalk on my Facebook news feed. Curious, I read the article and took a good look at the photos. The place did not even register. Dismissively, I muttered, "Maybe someday," and exited the page. Little did I know that I would come face to face with this nightmare-turned-walkway sooner than I imagined.
When I planned the Zhangjiajie leg of my China trip, I was not aware that the attraction in question was located here. The only reason I was in this provincial city is the Tianzi Mountain. Since I was already there, however, I decided to explore the other destinations in the region. I learned about the glass monster when I was already up the mountain, blindly following a trail around the peak. It was a pleasant surprise! I loved the idea that I did not see it coming, but it scared the hell out of me.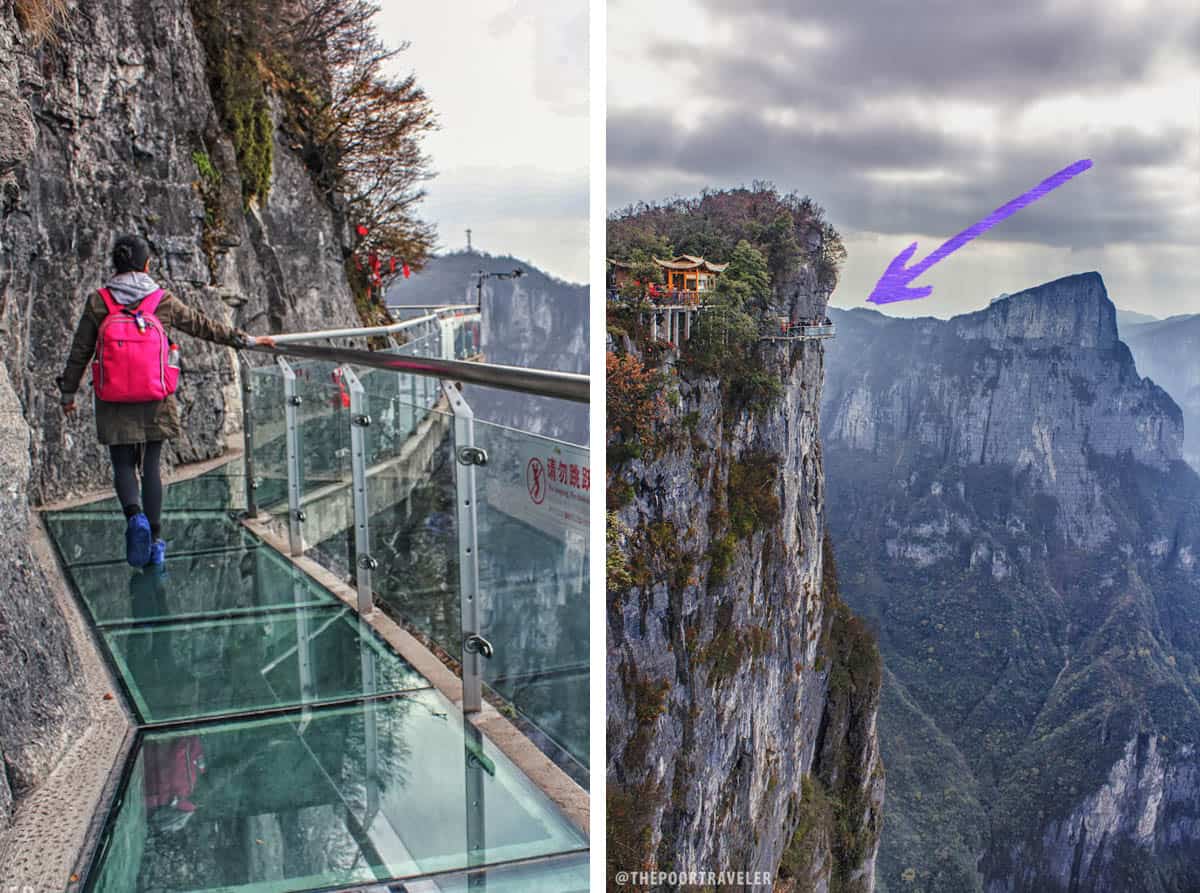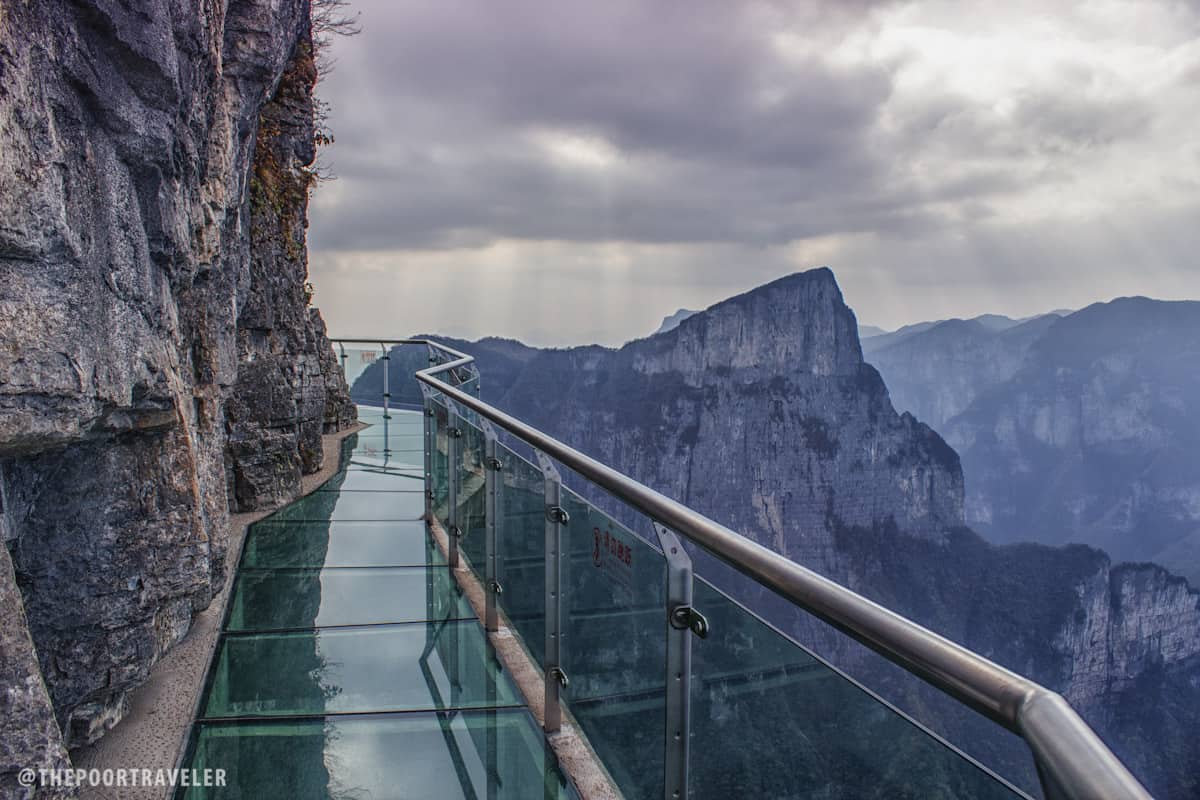 A continuous walkway encircles the Tianmen mountaintop. While most of it is made of concrete, one part has floors made of glass. GLASS, my friend, 2.5 inches thick, see-through and all. Snaking on one face of the cliff, the walkway is suspended at 4,690 feet (1430 meters) above sea level. It is not a relaxing walk.
The glass path is only 200 feet long but, trust me, crossing it is very memorable especially during the first minute. If you're faint-hearted, you only need to remember one thing: Don't look down.
Look Around, Don't Look Down
I was reluctant to step on the glass panels at first, preferring the parts directly above the metal frames that supported them, but I eventually got over it and just glided along.  Lucky for us, we were the only tourists at the time. We took our sweet time walking, taking pictures, and scaring ourselves. Save for that one moment I forced her to let me take a photo of her near the railing, my friend Ayn stuck close to the cliff for her dear life as if the structure would collapse any minute. (That's how I felt too, to be honest.) We were already past halfway when new faces showed up.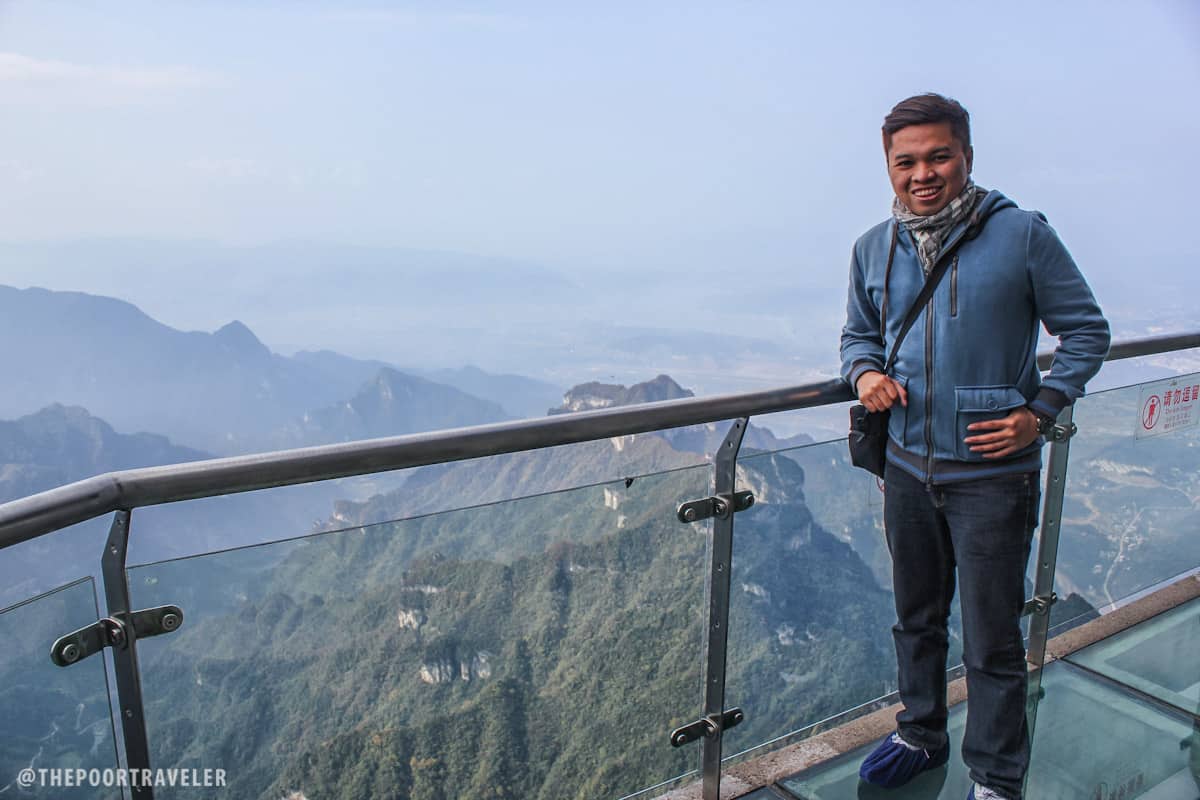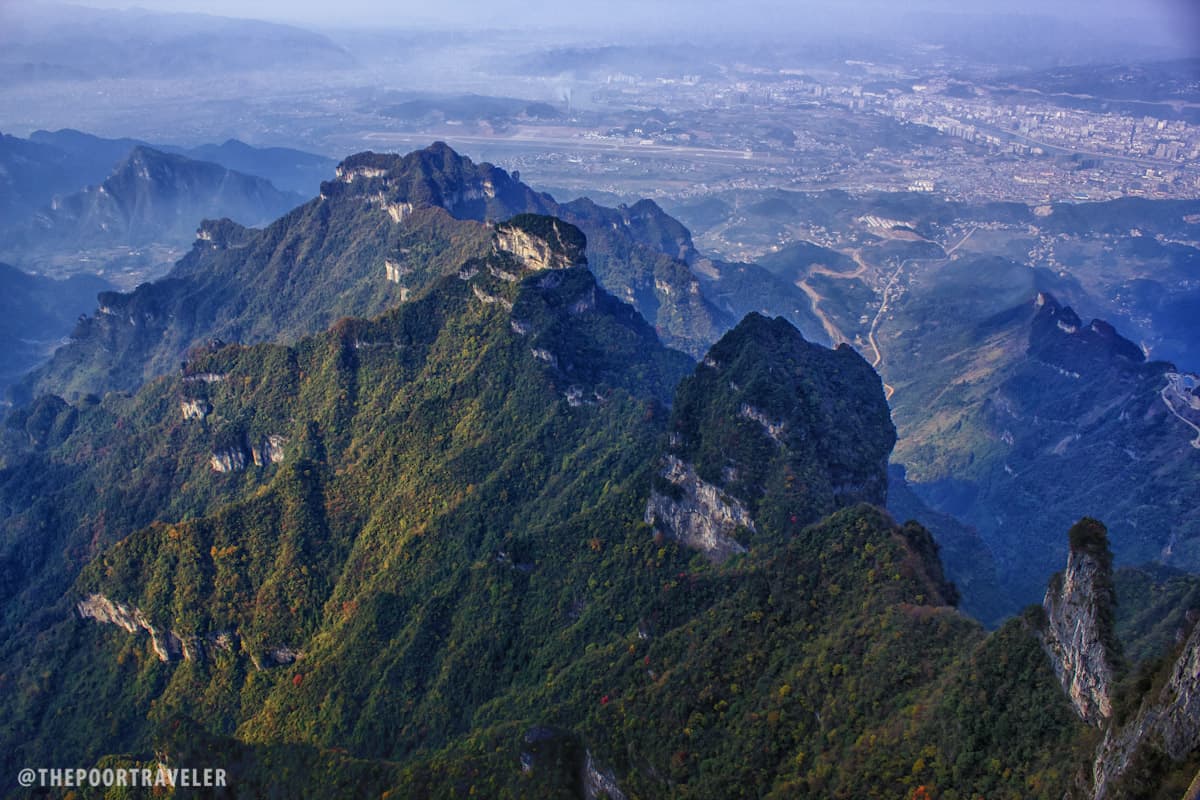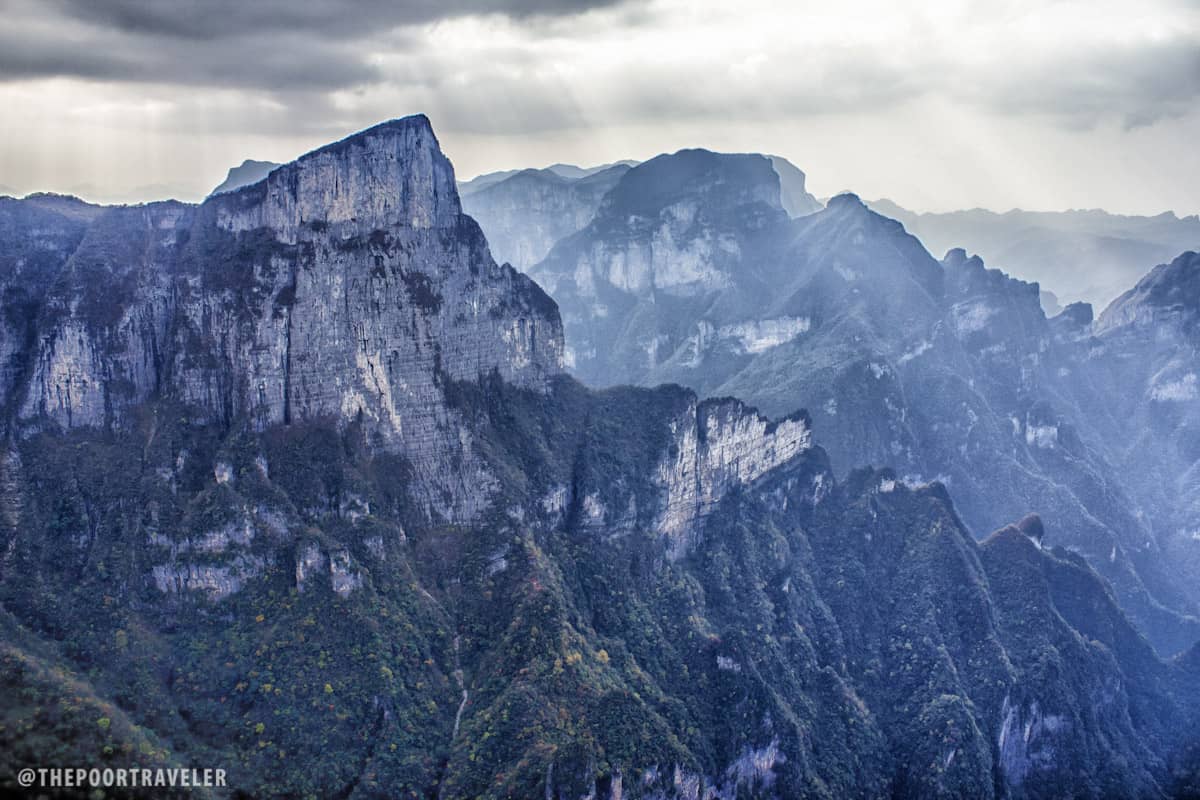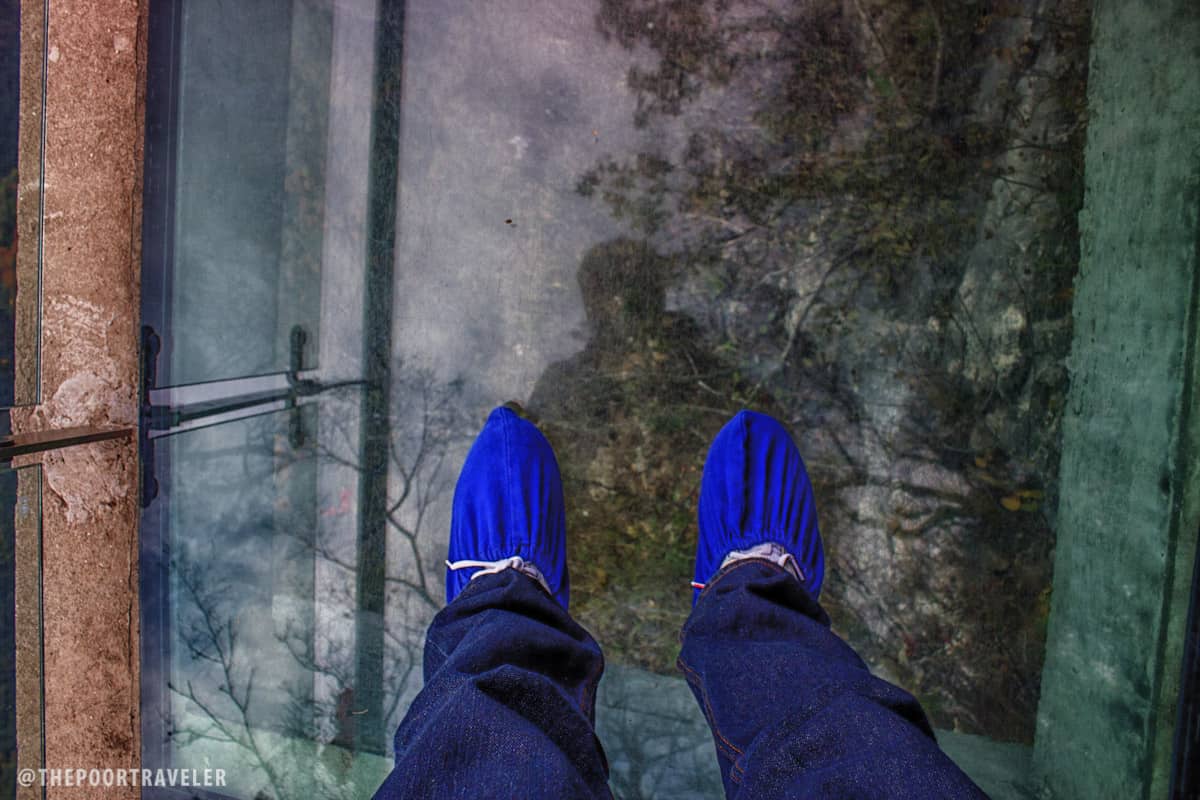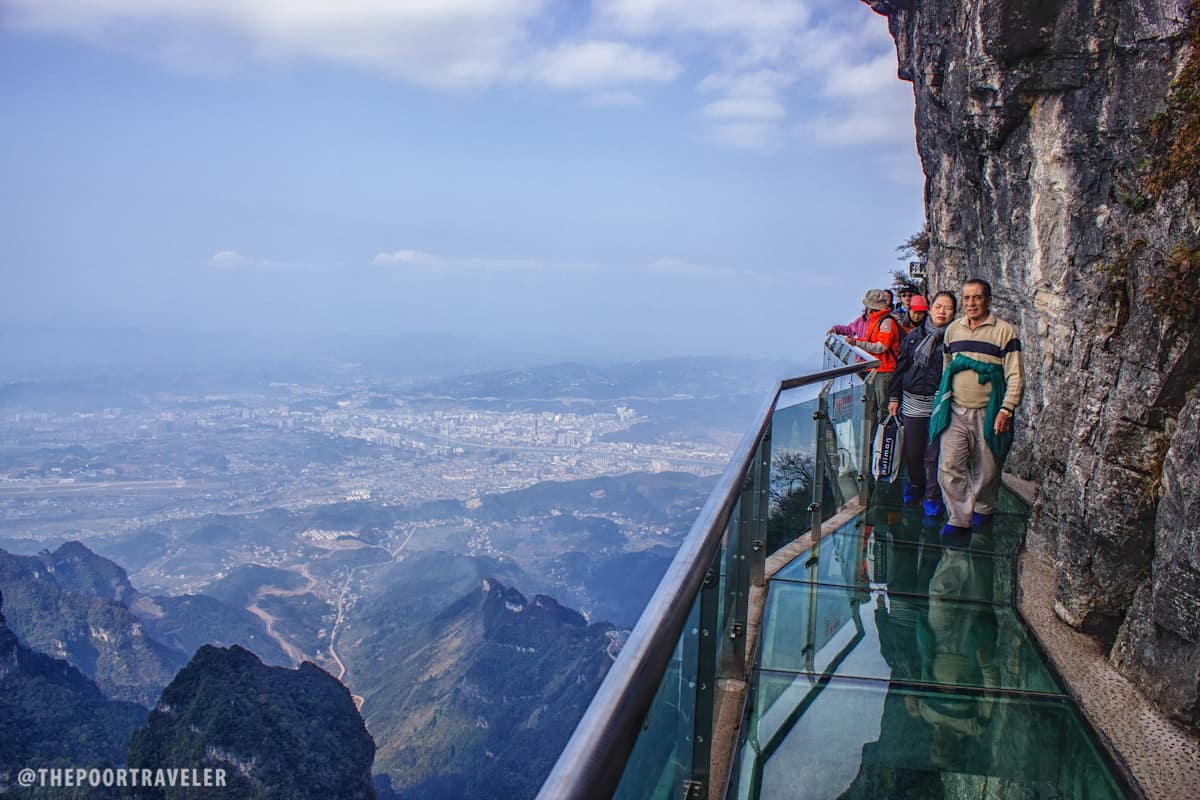 I would like to believe that I had overcome my teensy fear of heights since my first affair with the zipline a long time ago. I'm no longer afraid of heights. I love flying. I have tried parasailing. And I can't wait to try bungee jumping or even skydiving in the future. But that doesn't mean that I would just sashay my way along skywalks confidently. I still get that silly but addictive butterflies-in-the-stomach feeling, and I still act all giddy and shaky when I'm already up there.
In the middle of the path, it was quite easy to forget about the perilous location. The view was one of the best I have had the pleasure of having. Across the landscape run many ranges of smaller mountains with ridges almost vertical, like the plates and spikes of a sleeping dinosaur. Their rocky faces greet terrified visitors, easing the nerves a little bit. Still, fear beats awe. The thought of a thin glass separating you from a deadly plunge lingers.
When I finally reached the end of the path, I felt a great deal of accomplishment. It came with an even greater feeling of relief. Altitude is no longer my enemy, but it will take a while before our new-found friendship could reach new heights.
Tianmen Mountain National Park
Zhangjiajie, Hunan Province, China

Admission Fee: CNY 258 (inclusive of cable car rides)
Glass Walkway Fee: CNY 20 (Additional)
Opening Hours: 8am-6pm (4pm last admission)

How to get to Tianmen Mountain: The nearest aerial gateway is Zhangjiajie Airport, but visitors from the Philippines may fly via Kuala Lumpur (AirAsia) to Wuhan or Guilin. From Wuhan, take a 9-hour train ride to Zhangjiajie City. From Guilin, board an overnight train to Liuzhou or Changsha then another to Zhangjiajie (total travel time is around 18 hours excluding layovers). From Zhangjiajie Train Terminal, the Tianmen Mountain cable car station can be reached on foot (around 10-15-minute walk).