By the time I reached the site, I had no more energy.
All that was left of me was a powerful urge to eat anything that crosses my path. The giant rocky cave towering above me, the very reason I was in Tianmen Mountain in the first place, appeared to me as a gargantuan donut. Thankfully, there were food stalls lining one edge of the tourist area. Otherwise, I would have eaten the cave too. I followed the scent of what smelled like fried eggs and longganisa (native Filipino sausages). Of course, there was no longganisa. But the Chinese version tasted very much like it. With six pieces of buns (siopao), they made up my first meal of the day. It was already past three in the afternoon.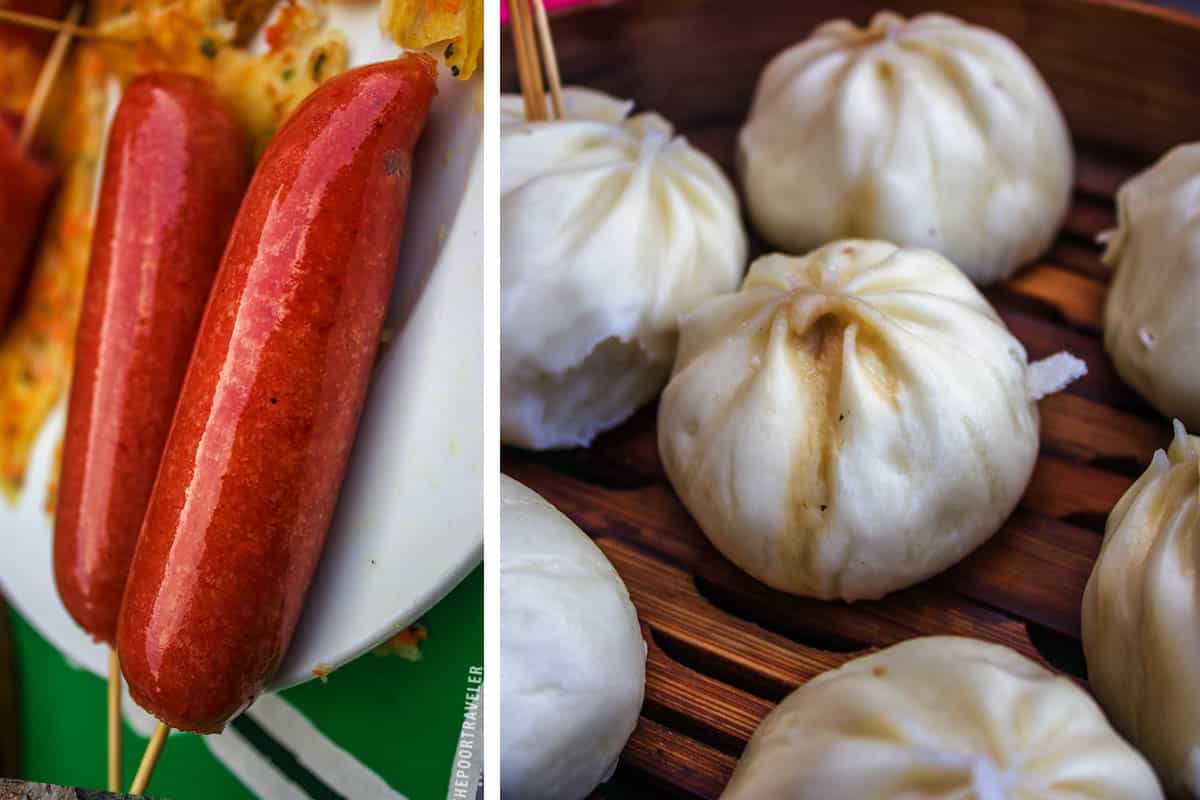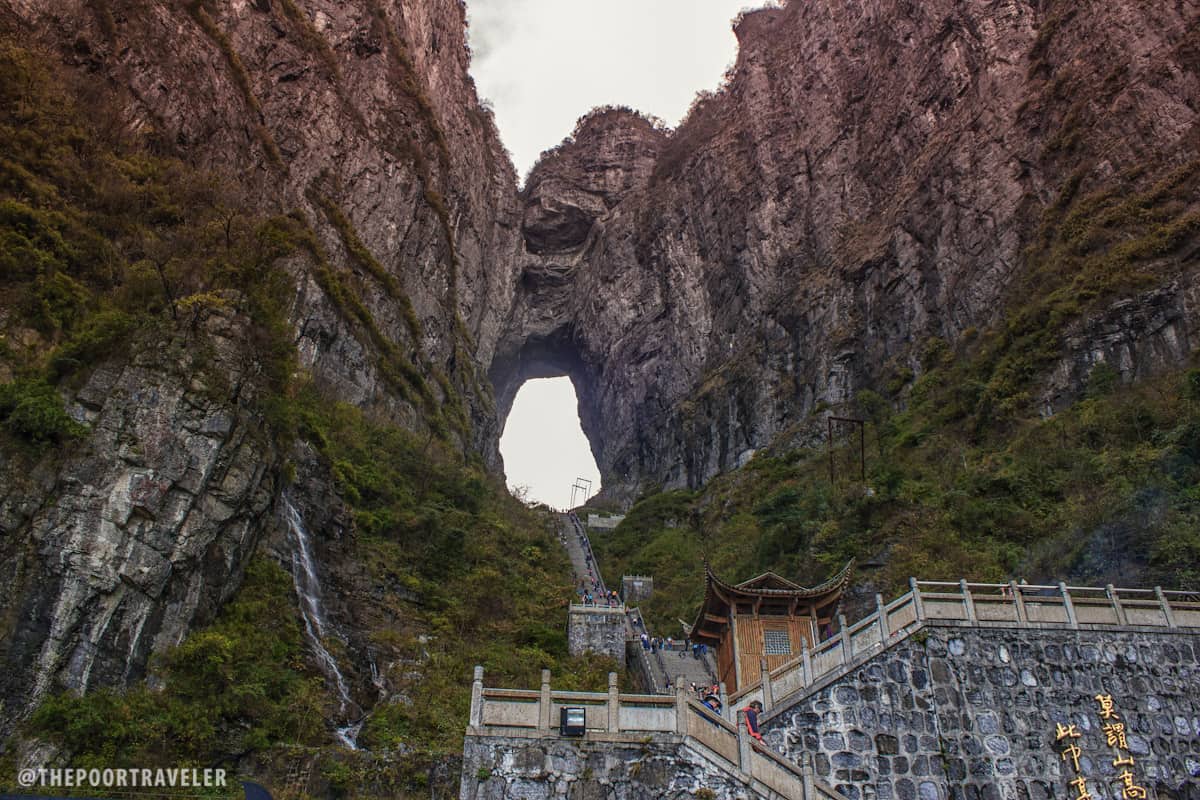 After the quickest meal of my life, I finally had the chance to take a look at Tianmen Cave. The centerpiece of the Tianmen Mountain National Park, it is a natural hole that cuts through one side of the peak. At 1520 meters above sea level, it is the highest natural arch in the world, earning its nickname "Gateway to Heaven."
The cave alone is 131.5 meters tall, 57 meters wide, and 60 meters deep. But it wasn't always like this. It used to be an ordinary cave. At the time, the site was called Songliang Mountain until Year 263, when one face of the cliff collapsed and created a door-like opening. The name was then changed to Tianmen, meaning sacred. Today, this gateway has become one of the most iconic structures in Hunan Province.
The hole is accessible via a 999-step staircase that climbs straight to the base of the hole. Nine is one lucky number in many Chinese cultures. The road that leads to this place is Tongtian Avenue, a dangerously winding path that turns 99 times. In 1999, a stunt exhibition was staged, allowing planes to fly through the cave. It was a momentous event that was witnessed by 800 million people via a live telecast.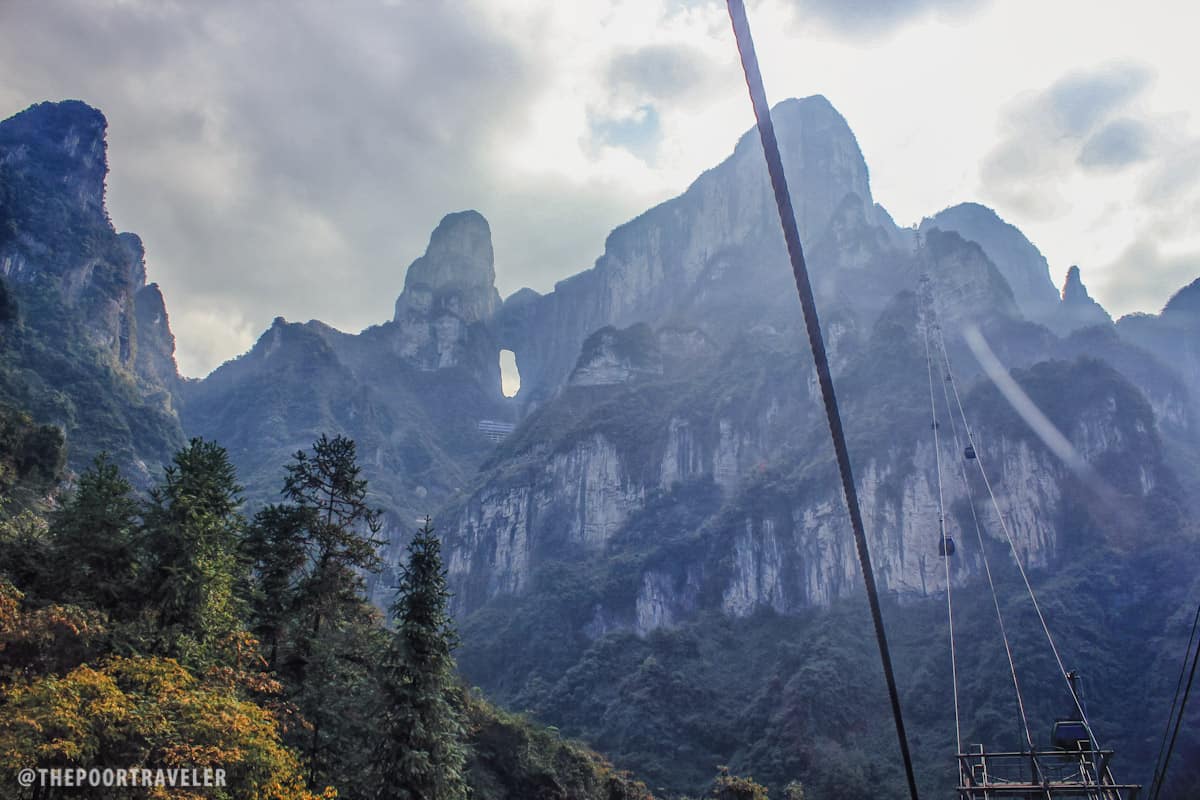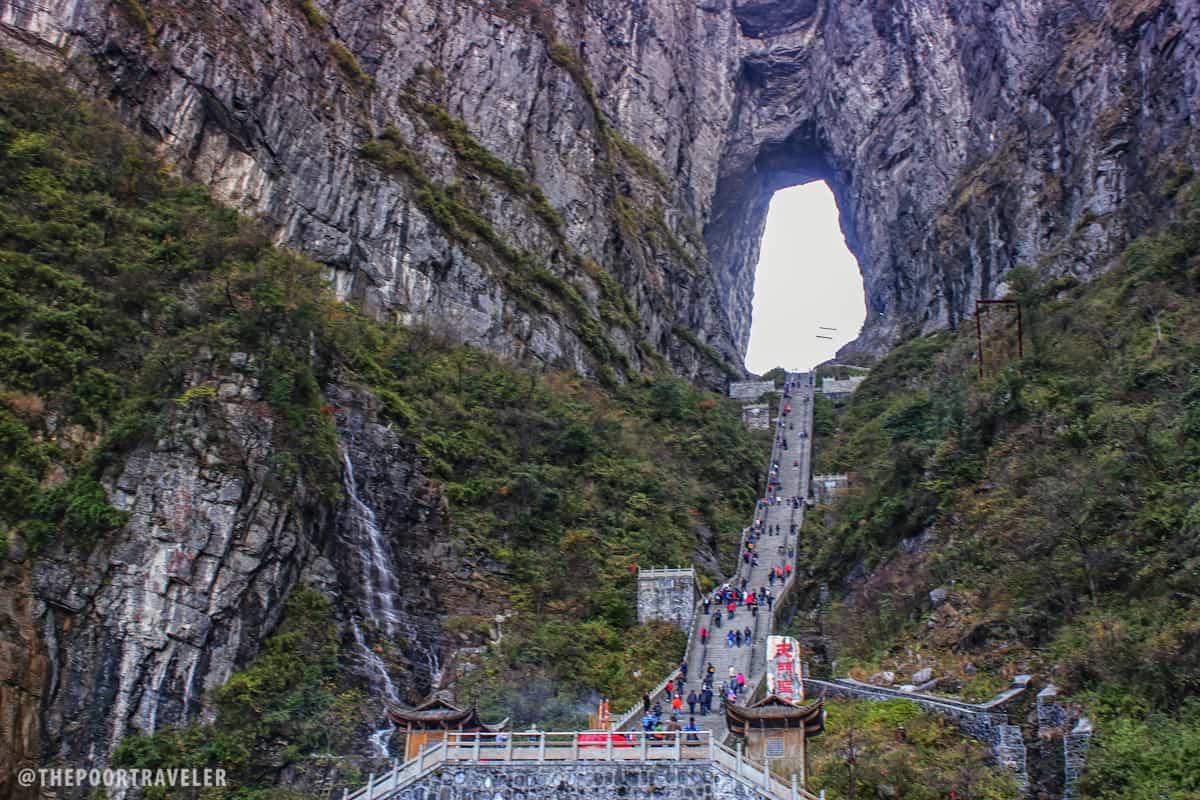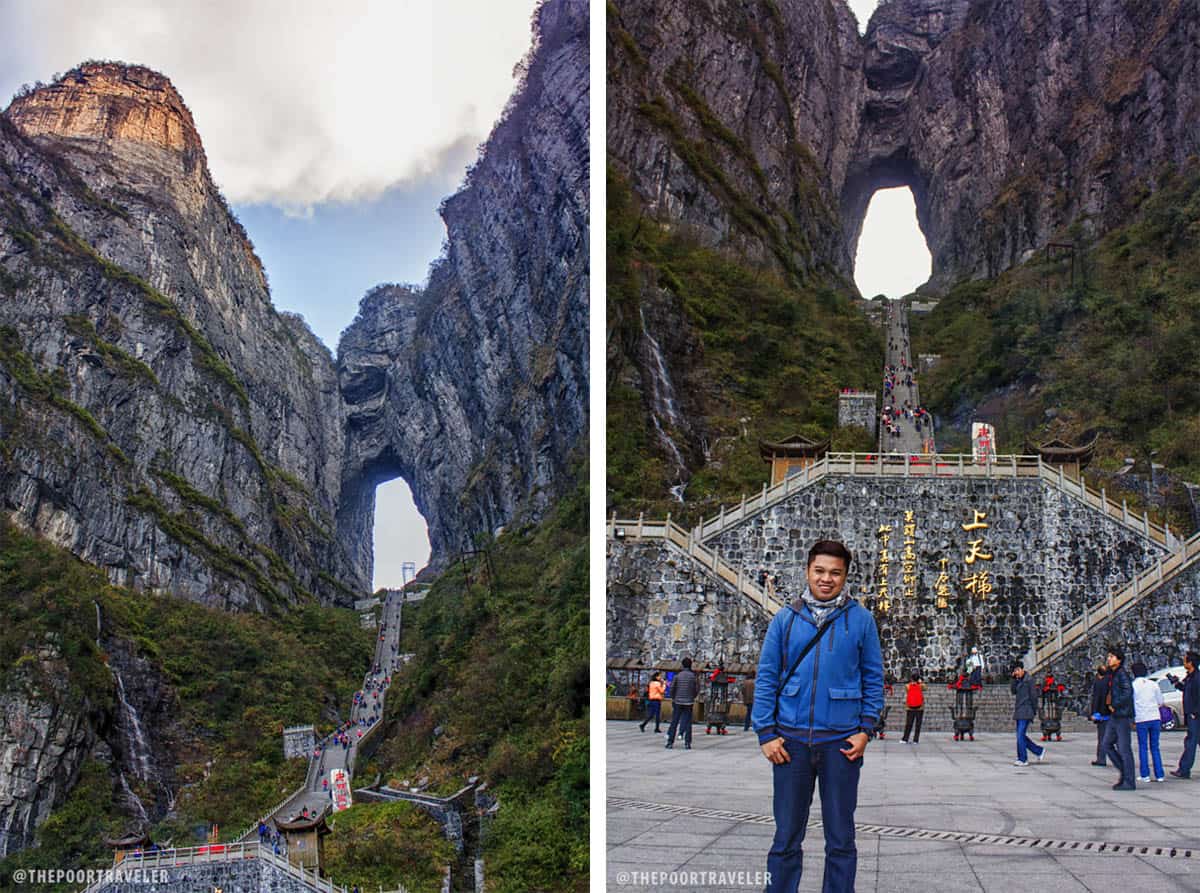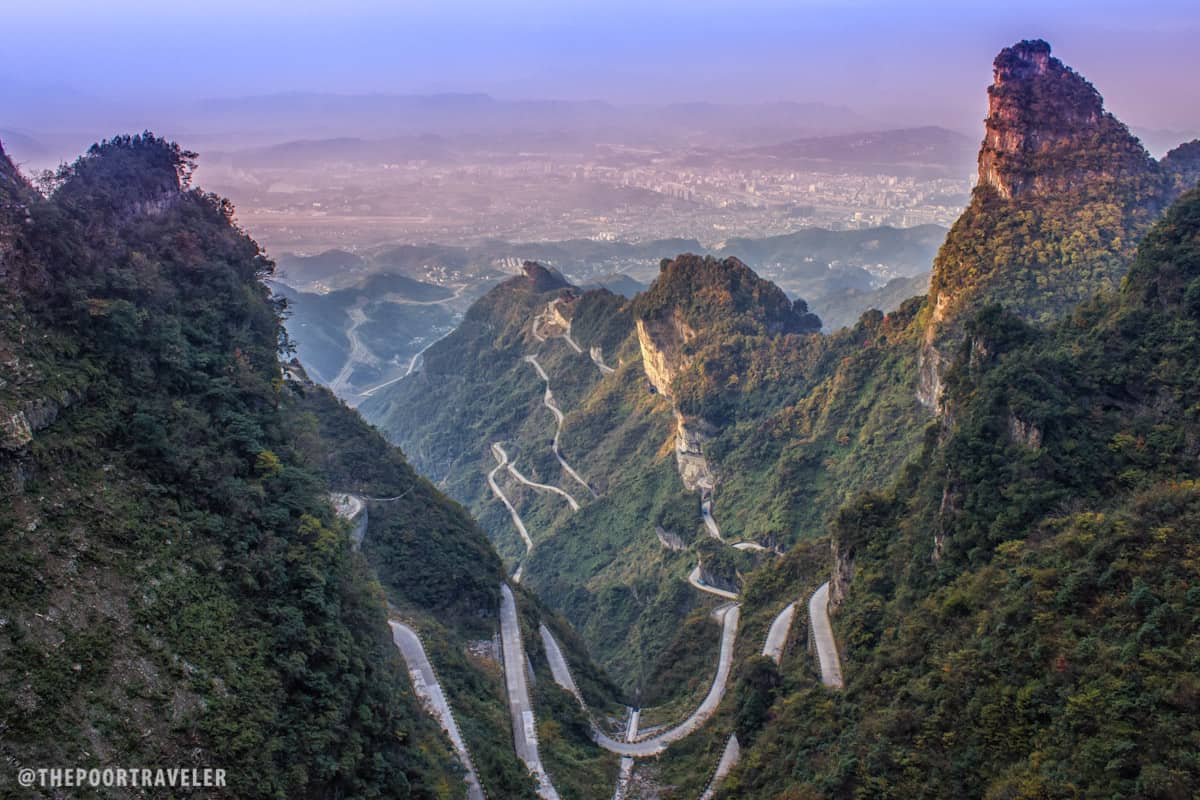 As I sat there, staring at the arch, I began wondering whether it would be a good idea to still climb to the lofty viewdeck. It would have been another scenic climb: Not only are the stairs set just next to a gentle waterfall, they also face the city of Zhangjiajie, cradled at the foot of a mountain range. But the first sign of sunset loomed overhead. Tip of the cliff bathed in orange light, reminding me of the time. The choice was quite obvious now. I needed to catch the 6:30pm train to Liuzhou.
Reluctantly, I grabbed my bag and headed to the bus terminal and made my way back to the city. Had I had more time, I would have stayed a lot longer. It was a shame that I saved Tianmen Mountain for last.
Tian Men Shan Cable Car
Tian Men Mountain National Park,
Zhangjiajie, Hunan Province, China

Admission Fee: CNY 258 (inclusive of cable car rides)
Opening Hours: 8am-6pm (4pm last admission)

How to get to Tianmen Mountain: The nearest aerial gateway is Zhangjiajie Airport, but visitors from the Philippines may fly via Kuala Lumpur (AirAsia) to Wuhan or Guilin. From Wuhan, take a 9-hour train ride to Zhangjiajie City. From Guilin, board an overnight train to Liuzhou or Changsha then another to Zhangjiajie (total travel time is around 18 hours excluding layovers). From Zhangjiajie Train Terminal, the Tianmen Mountain cable car station can be reached on foot (around 10-15-minute walk).