Just a month before we arrived, a Hungarian wingsuit flier crashed to his death when he hit a cliffside here at Tianmen Mountain National Forest Park. But that did not stop us from paying a visit to this scenic area in Zhangjiajie, China. And it shouldn't. After all, we won't be jumping from the sky.
We were not alone. With us were many other tourists, mostly domestic. The queues were long and everyone was excited to enjoy both the natural wonders and the man-made structures built at the site. Tianmen Mountain is incredible, to say the least. The scenery alone would make me not forgive myself if I left Zhangjiajie without spending a few hours in the company of these famous peaks. Daredevils, I imagine, are easily drawn, too. Aside from the usual relaxing spots, the site boasts a number of thrilling attractions that not only offer breathtaking views but also gives your adrenal glands a little squeeze. Here are six of them.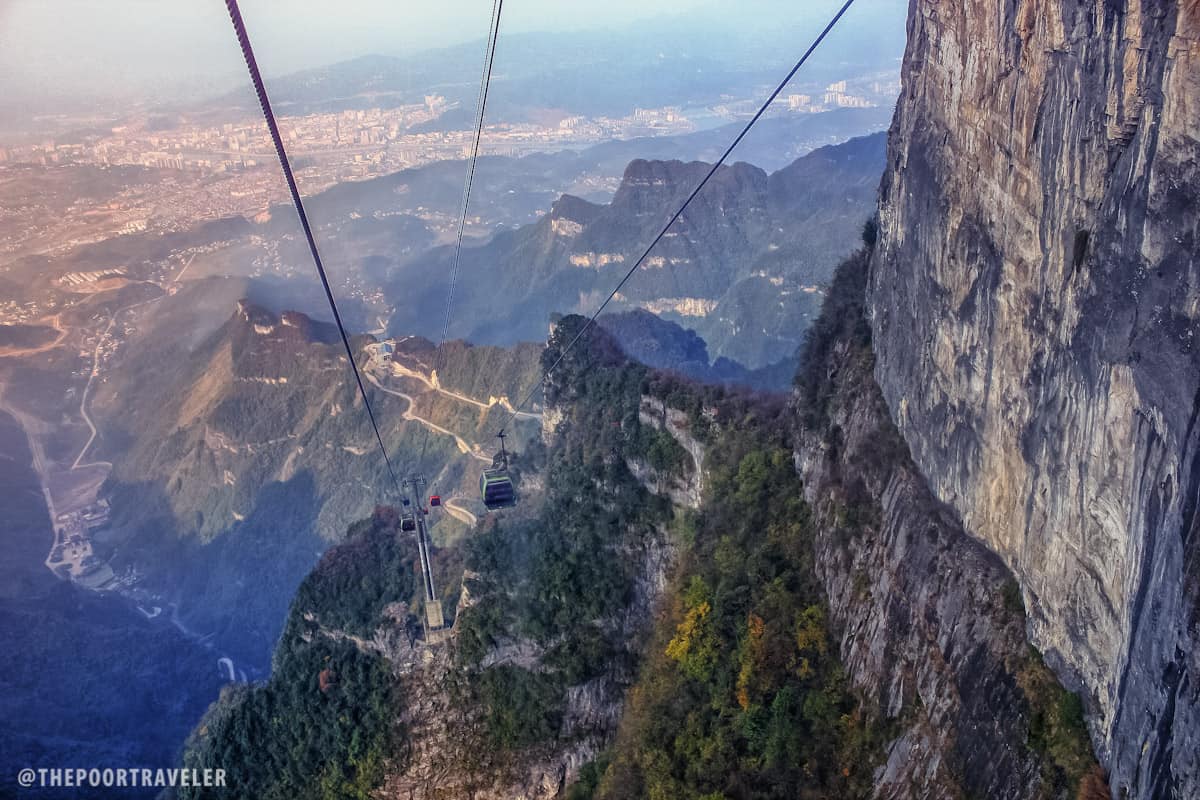 WHAT'S COVERED IN THIS GUIDE?
1. Tianmen Shan Cable Car
Tianmen Shan Cable Car ferries visitors from the city center of Zhangjiajie (Hunan Province) to the Air Garden, perched on the summit of Tianmen Mountain. Straddling a distance of 7,455 meters (7.45km), it is often touted by tourism publications in China as the "longest cable car ride in the world," but in reality, it needs to be qualified as the "longest passenger cableway of high mountains." It takes a total of 28 minutes to cover the entire distance.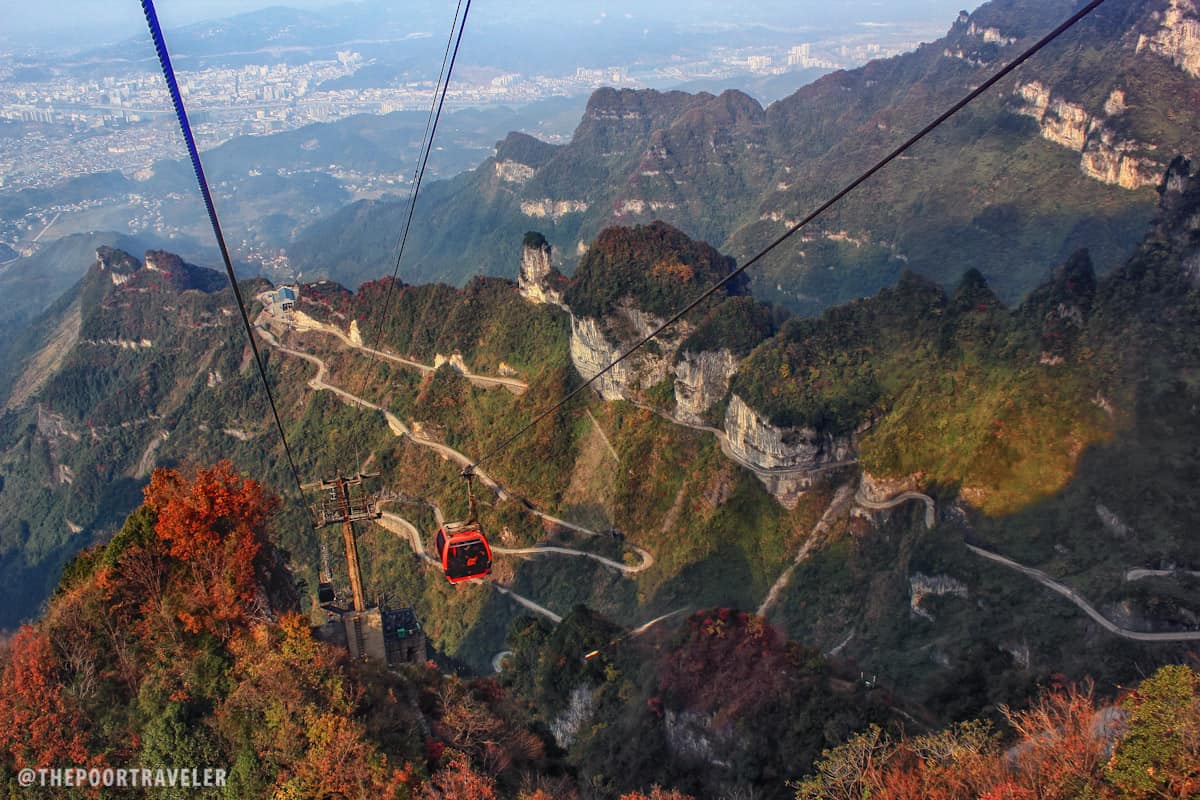 Tianmen Mountain towers at 1279 meters above sea level, and the cableway's steepest gradient is 38 degrees. Yes, it's just a cable car ride, but it's still pretty mind-blowing.
Read more: Tianmenshan Cable Car, My Most Scenic Ride So Far
2. Glass Skywalk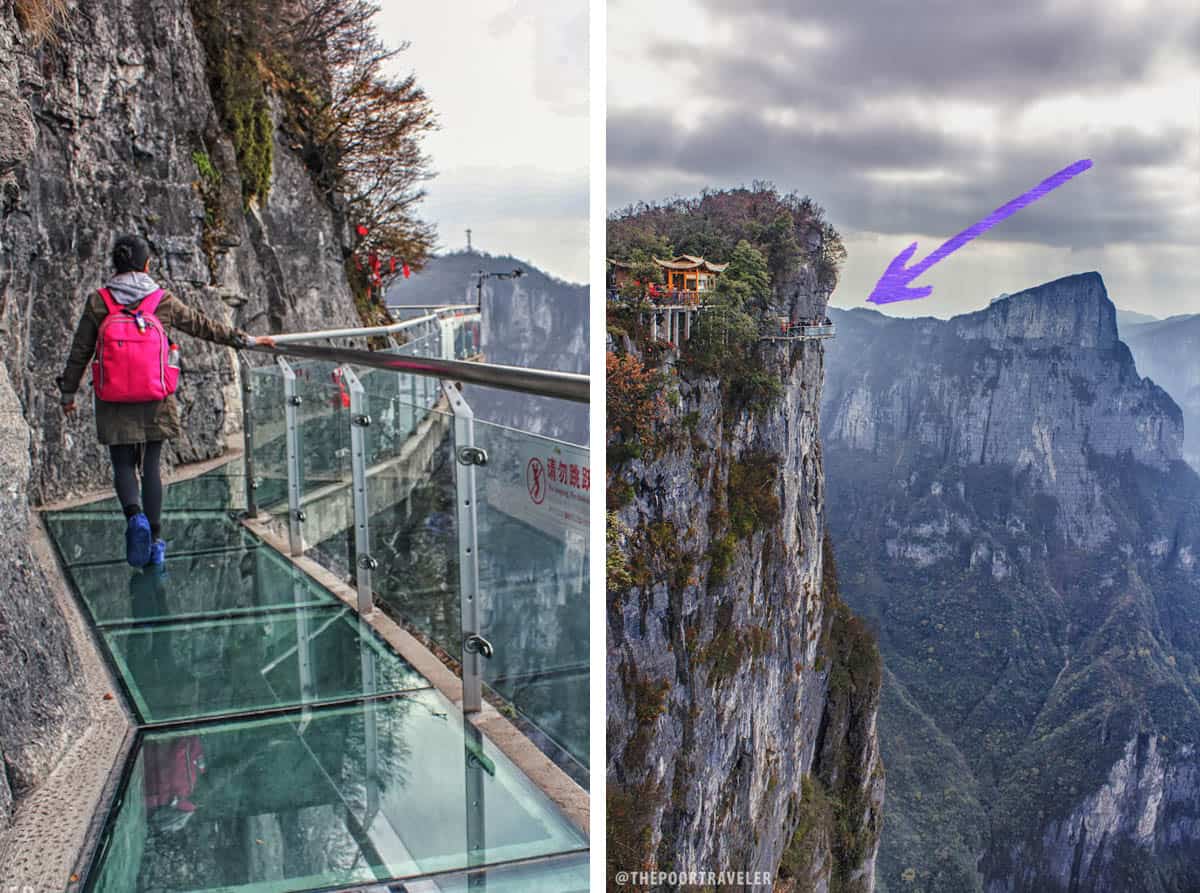 Who's up for a relaxing stroll? Haha. A continuous walkway encircles the Tianmen mountaintop. While most of it is made of concrete, one part has floors made of GLASS — 2.5 inches thick, see-through and all. Snaking on one face of the cliff, the walkway is suspended at 4,690 feet (1430 meters) above sea level. The glass path is only 200 feet long but, trust me, it doesn't feel short.
Read more: Walking on Glass at 4700 Feet High
3. Tianmen Temple
Tian Men Shan Temple is the center of Buddhism in the western side of Hunan Province. The first temple at the site was built during the Ming Dynasty and had deteriorated over time. It has since been rebuilt, with the new structure occupying over 10,000 square meters and uses the architectural elements of the Qing dynasty, the last Chinese dynasty.
4. Heaven-Linking Avenue: Tongtian Highway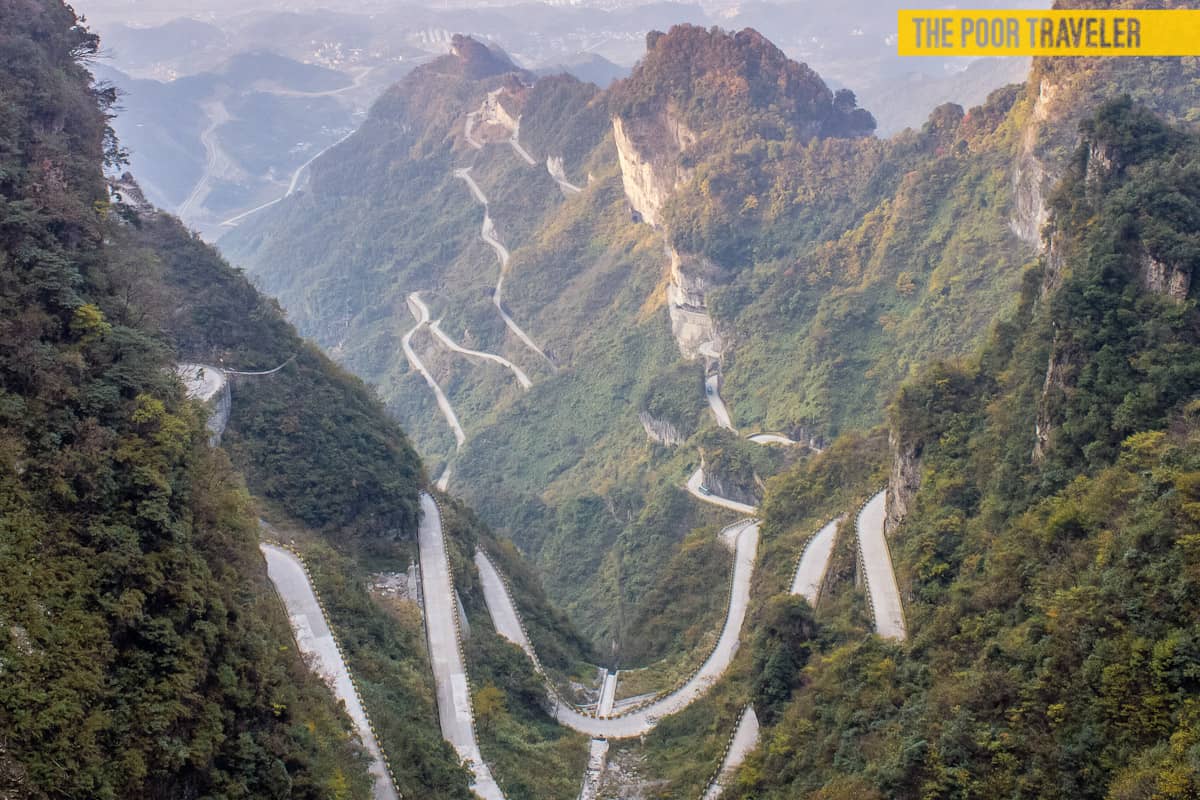 Tongtian Avenue earns its fancy nicknames — Big Gate Road, Avenue Toward Heaven, Heaven-Linking Avenue — for it takes visitors to the "Gateway to Heaven", a natural cave crowning one side of the Tianmen Mountain. Meandering along dangerous cliffsides, the 11-kilometer serpentine road makes 99 sharp turns! That's a lot of curves to tackle, with only a few feet separating you from a deadly plunge down the slope!
Read more: Tongtian Avenue
5. Gateway to Heaven: Tianmen Cave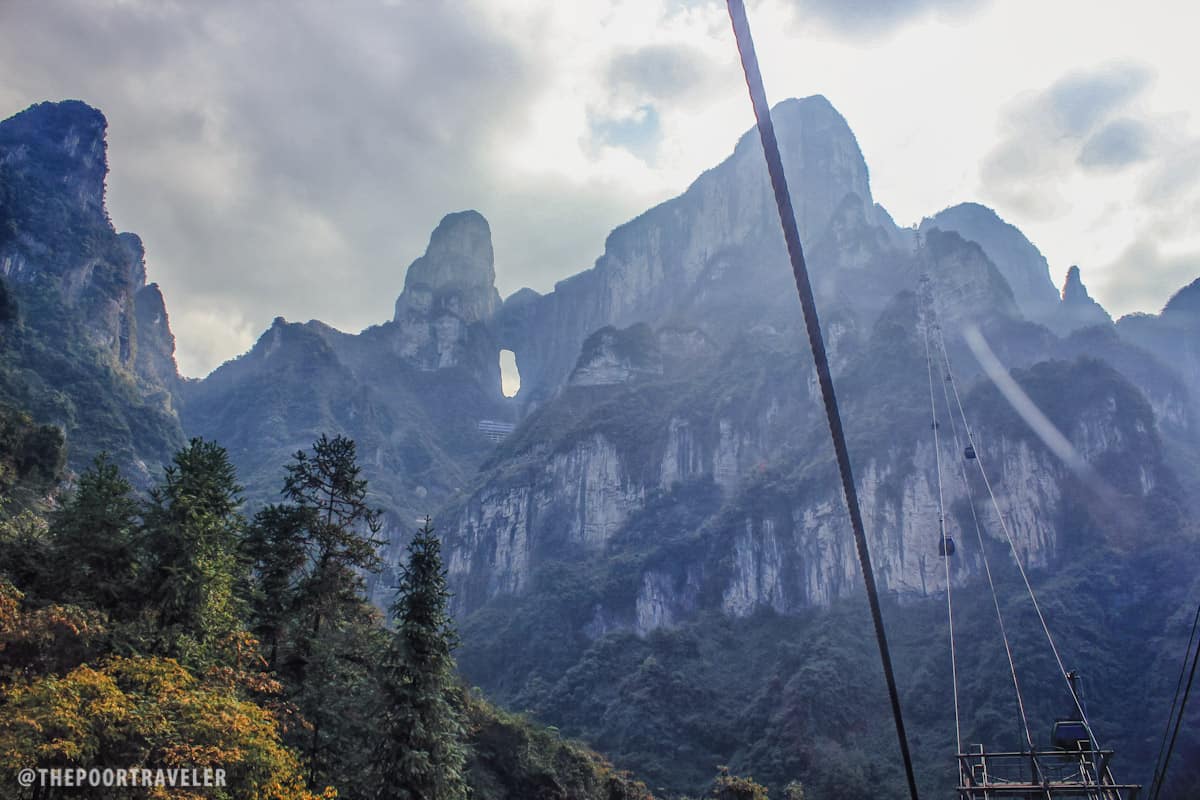 Tianmen Cave a natural hole that cuts through one side of Tianmen Mountain. At 1520 meters above sea level, it is the highest natural arch in the world, earning its nickname "Gateway to Heaven." The cave alone is 131.5 meters tall, 57 meters wide, and 60 meters deep. But it wasn't always like this. It used to be an ordinary cave. At the time, the site was called Songliang Mountain until Year 263, when one face of the cliff collapsed and created a door-like opening. The name was then changed to Tianmen, meaning sacred. Today, this gateway has become one of the most iconic structures in Hunan Province.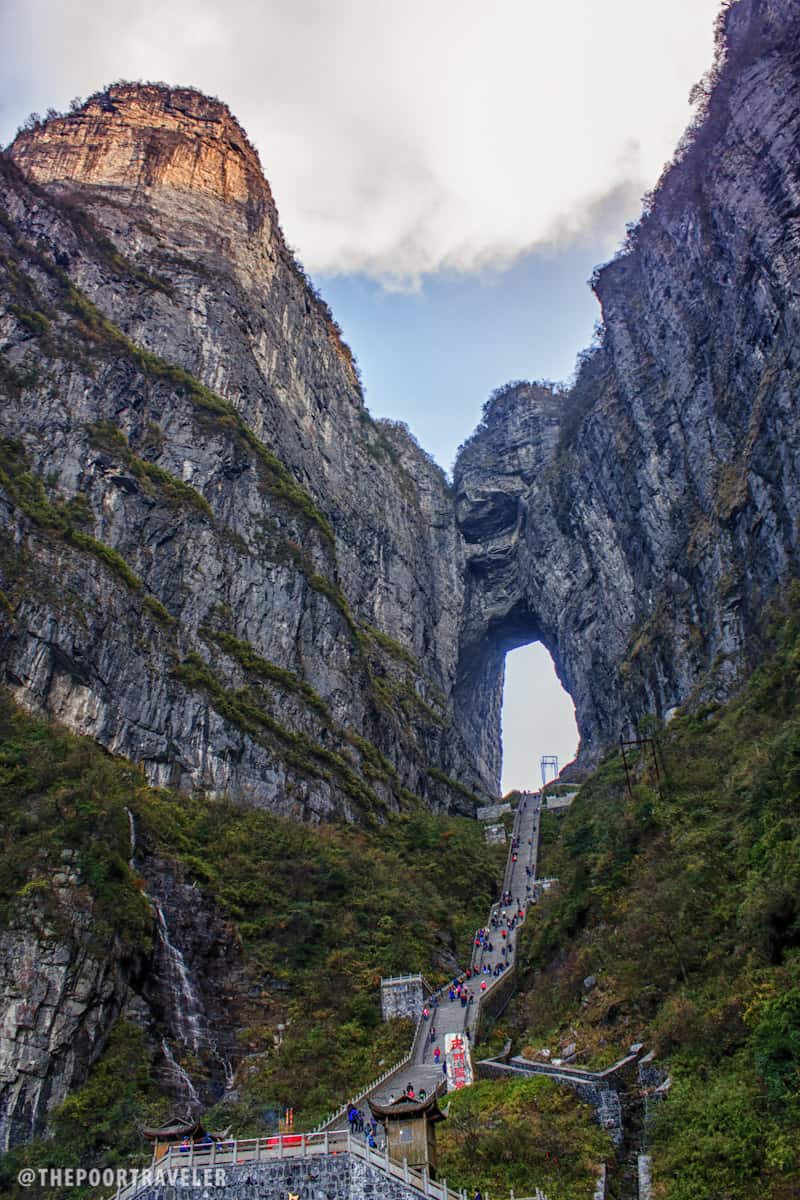 The hole is accessible via a 999-step staircase that climbs straight to the base of the hole. Nine is one lucky number in many Chinese cultures (which is also why Tongtian Highway has 99 turns). In 1999, a stunt exhibition was staged, allowing planes to fly through the cave. It was a momentous event that was witnessed by 800 million people via a live telecast.
Read more: Tianmen Cave, Gateway to Heaven
6. Zhangjiajie Sunset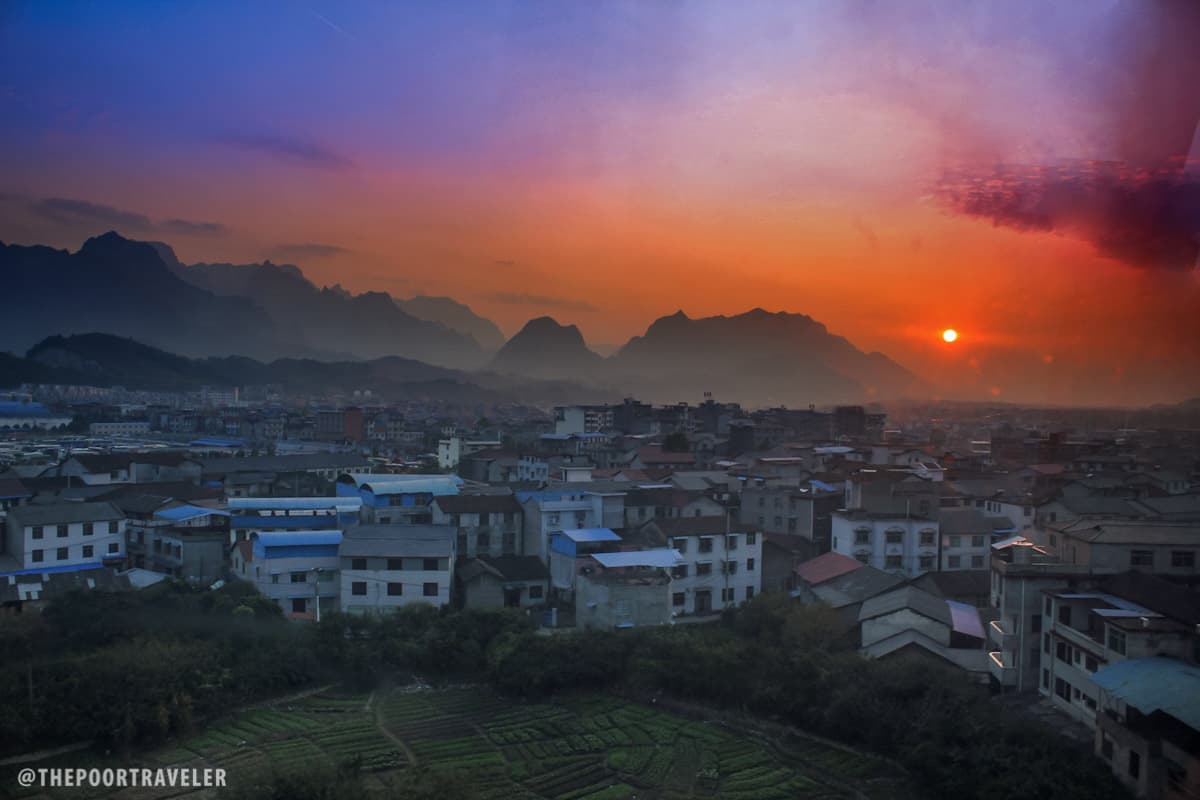 Try to ride the cable car back to the city in time for the sunset. From the gondola, you could have a 360-degree view of the landscape including, if your timing is right, the heavenly show when the sun dives into the peaks in the horizon. See the city and the mountainsides get painted bright orange by the resting sun! It's a majestic way of ending an already unforgettable trip to Tianmen Mountain!
Read more: Sunset in Zhangjiajie
Tian Men Shan Cable Car
Tian Men Mountain National Park,
Zhangjiajie, Hunan Province, China

Admission Fee: CNY 258 (inclusive of cable car rides)
Opening Hours: 8am-6pm (4pm last admission)

How to get to Tianmen Mountain: The nearest aerial gateway is Zhangjiajie Airport, but visitors from the Philippines may fly via Kuala Lumpur (AirAsia) to Wuhan or Guilin. From Wuhan, take a 9-hour train ride to Zhangjiajie City. From Guilin, board an overnight train to Liuzhou or Changsha then another to Zhangjiajie (total travel time is around 18 hours excluding layovers). From Zhangjiajie Train Terminal, the Tianmen Mountain cable car station can be reached on foot (around 10-15-minute walk).