I was expecting to be sick to the stomach at some point during the ride, but the stellar view of Tianmen Mountain's jagged landscape was too much of a beautiful distraction. I barely felt the sharp turns.
Tongtian Avenue earns its fancy nicknames — Big Gate Road, Avenue Toward Heaven, Heaven-Linking Avenue — for it takes visitors to the "Gateway to Heaven", a natural cave crowning one side of the Tianmen Mountain. Meandering along dangerous cliffsides, the 11-kilometer serpentine road makes 99 sharp turns! Yes, 99 freaking curves!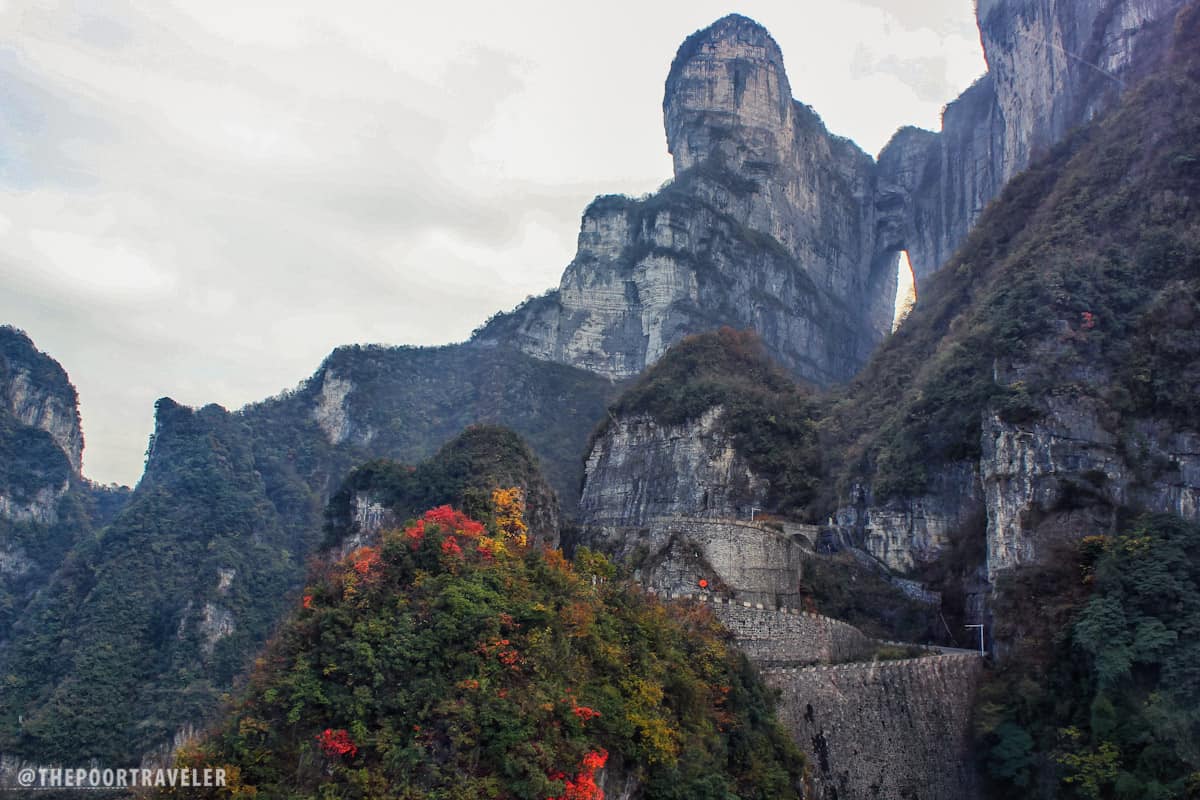 The number 9, like 8, is considered lucky in many Chinese cultures. Being the highest single digit, it symbolizes completeness and eternity. It is said that 99 is an even luckier number. Back in the 1400s, the number 99 is reserved for the Forbidden City.
The construction of the road took eight years to complete: 1998 to 2006. Today, aside from being a gateway, it is also an attraction in its own right, one of many that draw tourists to the Tianmen Mountain National Park.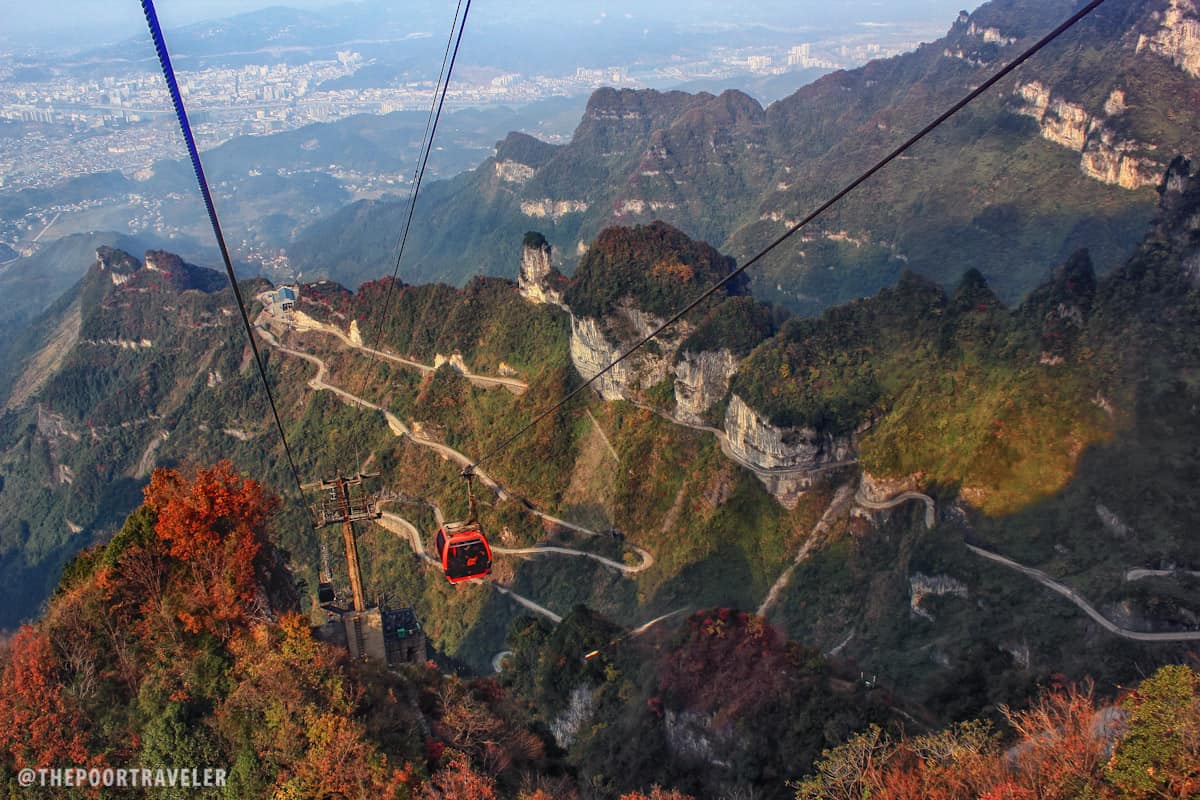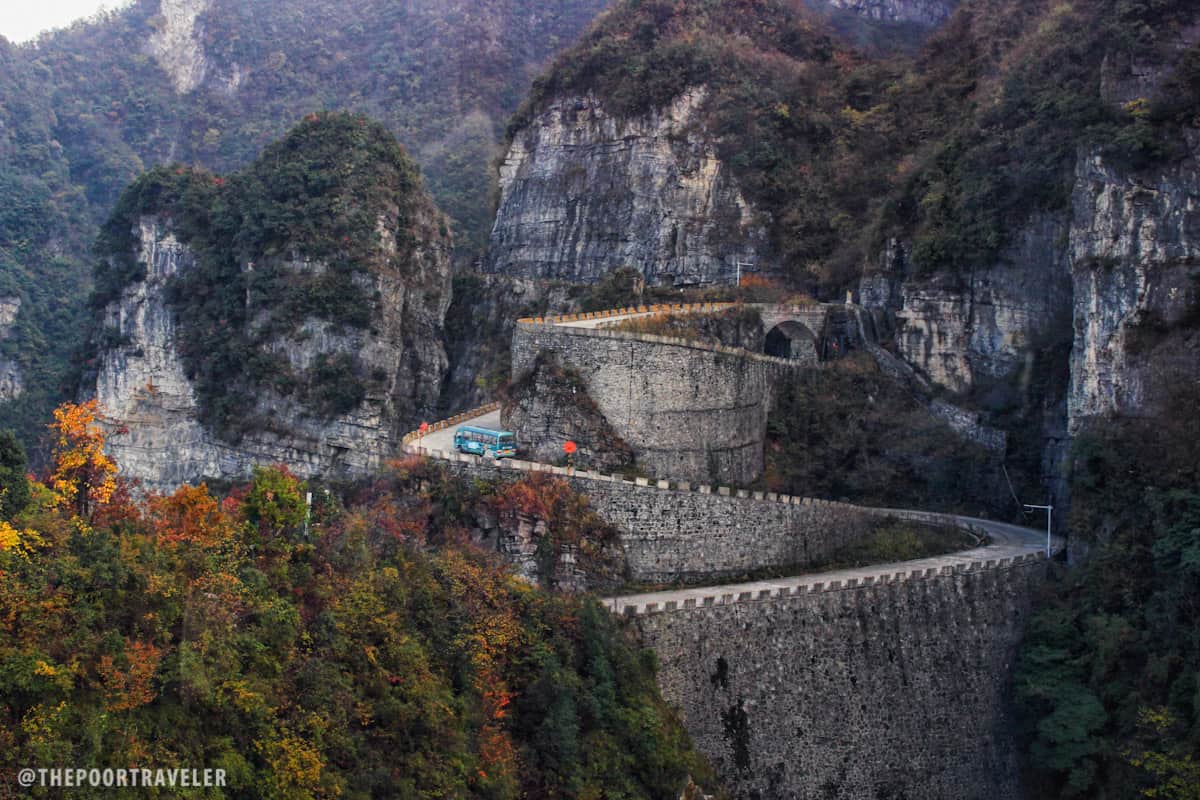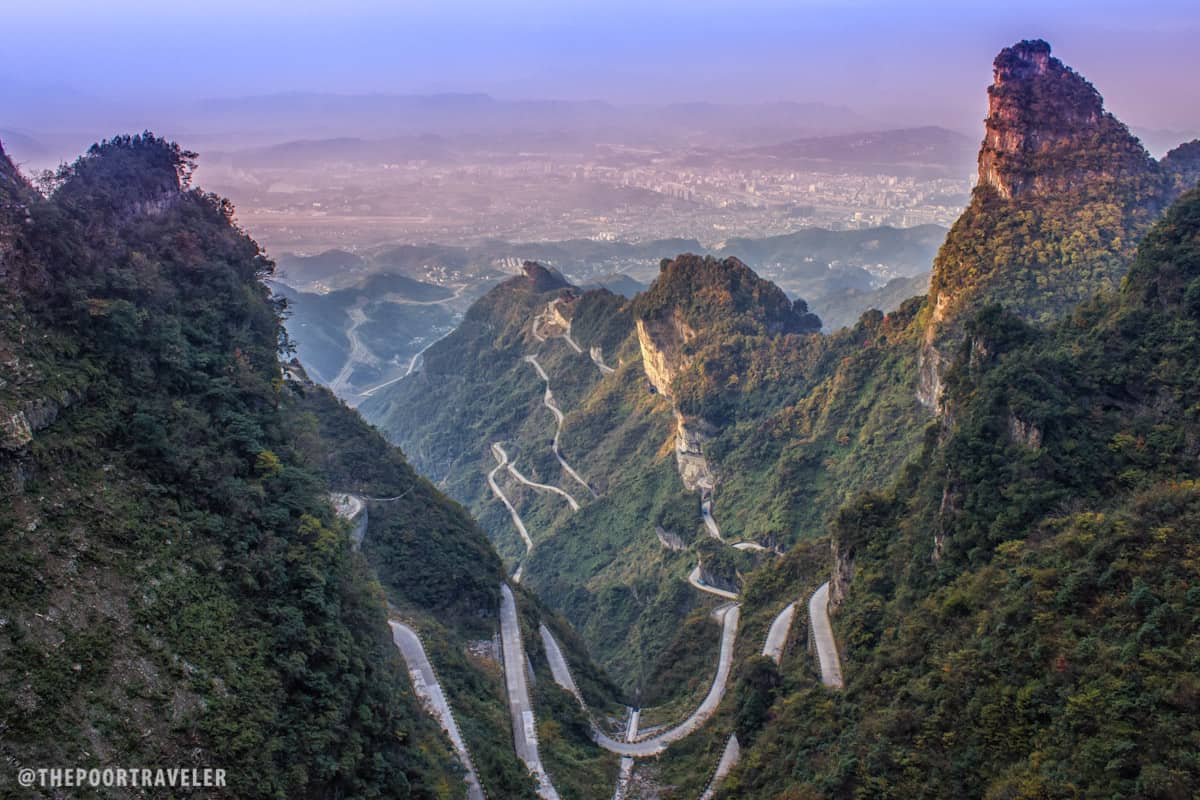 My journey began at the middle station of the Tianmen Mountain Cable Car. The Cave was my last stop in Zhangjiajie as I was scheduled to leave the city for Guilin later that day. Pressed for time, I considered backing out upon seeing the long queue but decided to push through with it when I realized how quickly it flowed. The park has buses that tackle the mind-blowingly perilous twists and turns. It was a scary ride but the fear was overpowered by the abundance of beauty that surrounded me.
The avenue leads to the base of the cave at 1300 meters above sea level: a dizzying approach to dizzying heights. Along with Guoliang Tunnel Road, it is regarded by many as one of the most dangerous roads in China.
Tongtian Avenue (Big Gate Road)
Tian Men Mountain National Park,
Zhangjiajie, Hunan Province, China

Admission Fee: CNY 258 (inclusive of cable car rides)
Opening Hours: 8am-6pm (4pm last admission)

How to get to Tianmen Mountain: Zhangjiajie has its own airport so flying is the fastest way to reach the city. If you're coming from Southeast Asia, you may fly via Kuala Lumpur (AirAsia) to Wuhan or Guilin. From Wuhan, Zhangjiajie City can be reached by a 9-hour train ride. From Guilin, you may board an overnight train to Liuzhou or Changsha City, then another train to Zhangjiajie (total travel time is around 18 hours excluding layovers). From Zhangjiajie Train Terminal, the Tianmen Mountain cable car station can be reached on foot (around 10-15-minute walk).