2012 • 11 • 14
"Left or right?" Our cab driver asked us without a bit or urgency in his voice but the traffic lights blinked as if our lives depended on the decision. "If we go left, we can go straight to your hotel," added the driver. "Right, let's do an island tour." My travel buddy and I looked curiously at each other on cue and, without saying a word, agreed that we should go right.
But I'm getting ahead of the story.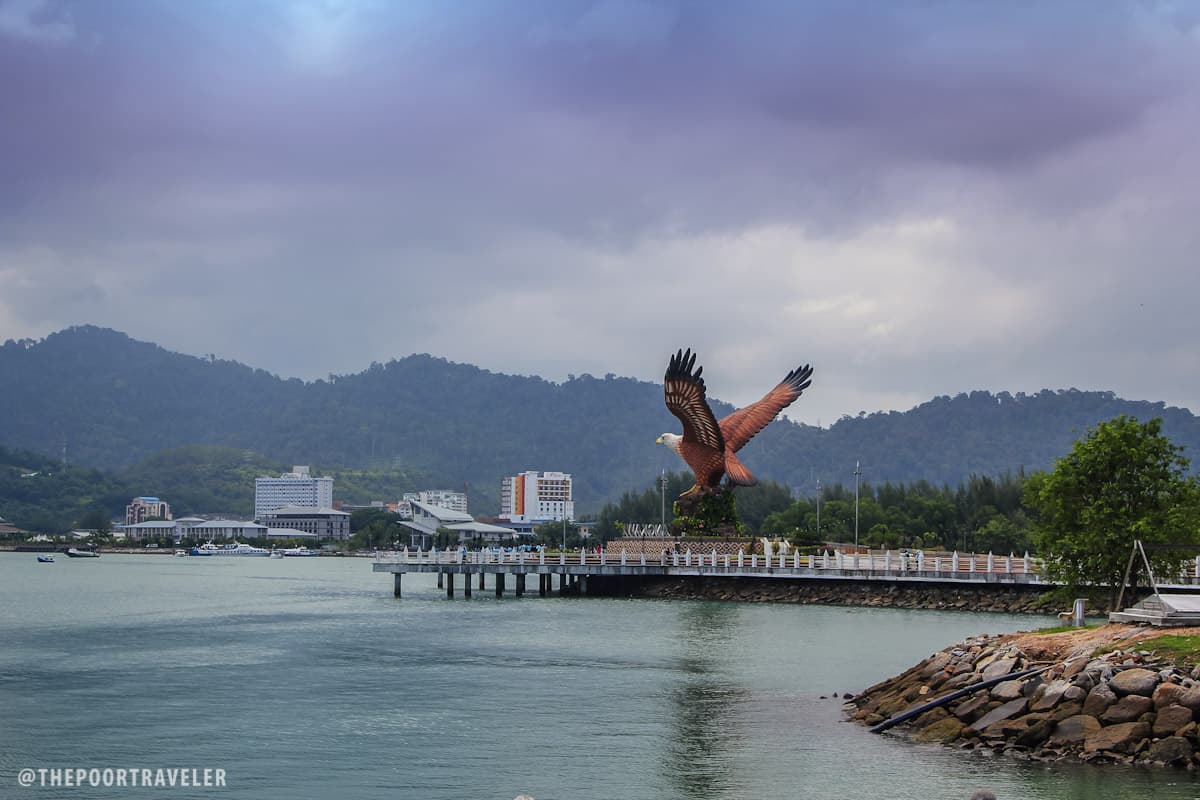 Langkawi was not even part of the plan. We intended to fly to Siem Reap and see the Angkor Wat. It was at the time when Cebu Pacific Air had yet to offer direct flights to Cambodia, so my friend and I decided to just take a connecting flight to Kuala Lumpur and then another to Siem Reap, both legs via AirAsia. We were both very excited to experience Cambodia because it had always been on our bucket list. Unfortunately, something unexpected happened, and we decided to drop the whole Angkor idea and take a detour.
So our connecting flight tickets would not go to waste, we agreed to just explore Peninsular Malaysia instead. I had been to Kuala Lumpur and Malacca, so they're off the table, leaving us with three other destinations: Penang, Cameron Highlands, and Langkawi. Our trip would only last six days but we really wanted to experience all three of them. Since it has always been my habit to visit the farthest first, we had to travel to Langkawi straight from Kuala Lumpur.
Langkawi is an archipelago of 99 islands off the coast of West Malaysia in Andaman Sea. The archipelago takes its name from the main island, Pulau Langkawi, which was named after the many reddish brown eagles that abound in the area. Located in the extreme northwest of Malaysia, it lies adjacent to the Thai border. In fact, you can already see parts of Thailand from here and there are direct ferries that take passengers to a nearby Thai island.
WHAT'S COVERED IN THIS GUIDE?
Left or Right: Check-in or Tour
The driver of the cab we hailed to get to the hotel was really charming and courteous. (I took his name but since this trip happened four months ago and I failed to write it down, it totally slipped my mind. What a shame!) Before this trip, I read much about taxi fares in Langkawi and found out that the standard cost of a cab ride was RM25. When our driver showed us his rates, we were pleased that they were the standard prices. When we reached the stoplight, he offered to take us on a tour.
"I can take you to your hotel fast for RM25, as originally planned; we will just turn left," he explained. "But we can also reach your hotel by turning right, taking the long way. We will pass by some of the top destinations in Langkawi and we can make a stop at each site. By 2pm, we will be at your hotel, just in time for check-in. The cost of the tour is RM100 for the first 4 hours and RM25 per succeeding hour."
I quietly did a quick calculation in my head. We were planning to visit four attractions in Langkawi, which means six taxi rides. If we would spend RM25 per ride, that would be RM150. But of course, four hours won't be enough to visit everything; maybe six hours would. That would be RM150. Just the same. But the idea of NOT struggling to find a cab at each stop was attractive. If we take the tour, the driver would wait for us at each stop.
"Turn right," I answered. "We're taking the tour."
1. Kilim Geoforest Park
The Kilim Geoforest Park was our first stop. Of all the things that Langkawi Island has to offer, it is probably the most popular and the one we were most excited about. In fact, before the cab ride, we planned on taking the slow boat and spending four hours cruising and sightseeing along the river alone.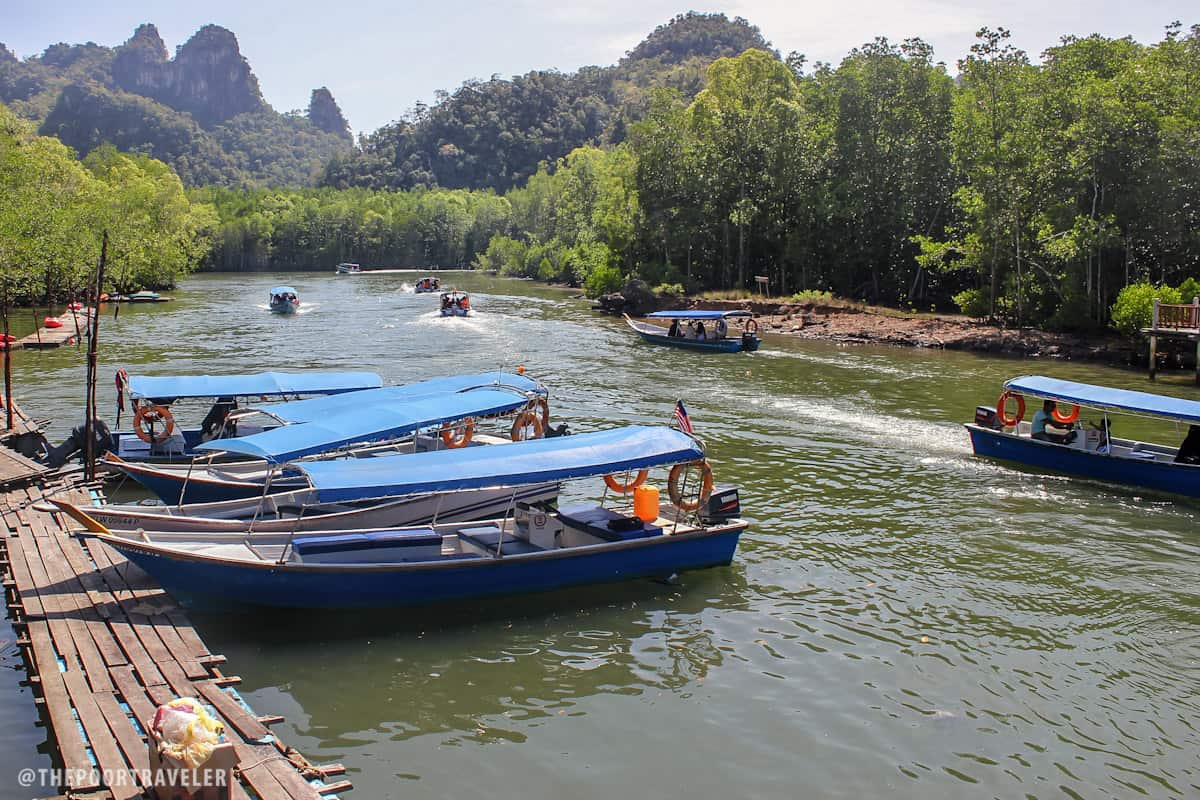 We left our bags in the cab and purchased private boat tickets for the Mangrove Tour for RM 200. The Mangrove Tour highlights the following:
• The Bat Cave, actually a pair of small caves that have been home to many species of bats
• The Yacht Park, where dozens of private boats were docked
• The Floating Restaurant and Fish Farm
• The Crocodile Cave
• The Rock Formations
We also had a glimpse of the diverse and spectacular wildlife of Langkawi including some monkeys, snakes, and most especially, eagles! It is said that eagle-feeding is still being practiced here but I didn't see it. Our boat and the other boat in the eagle area at the time of our visit both just watched them hunt naturally. Some of the tourists we encountered, though, claimed that it was still an ongoing practice. If that's true, then that's really, really sad.
2. Tanjong Rhu Beach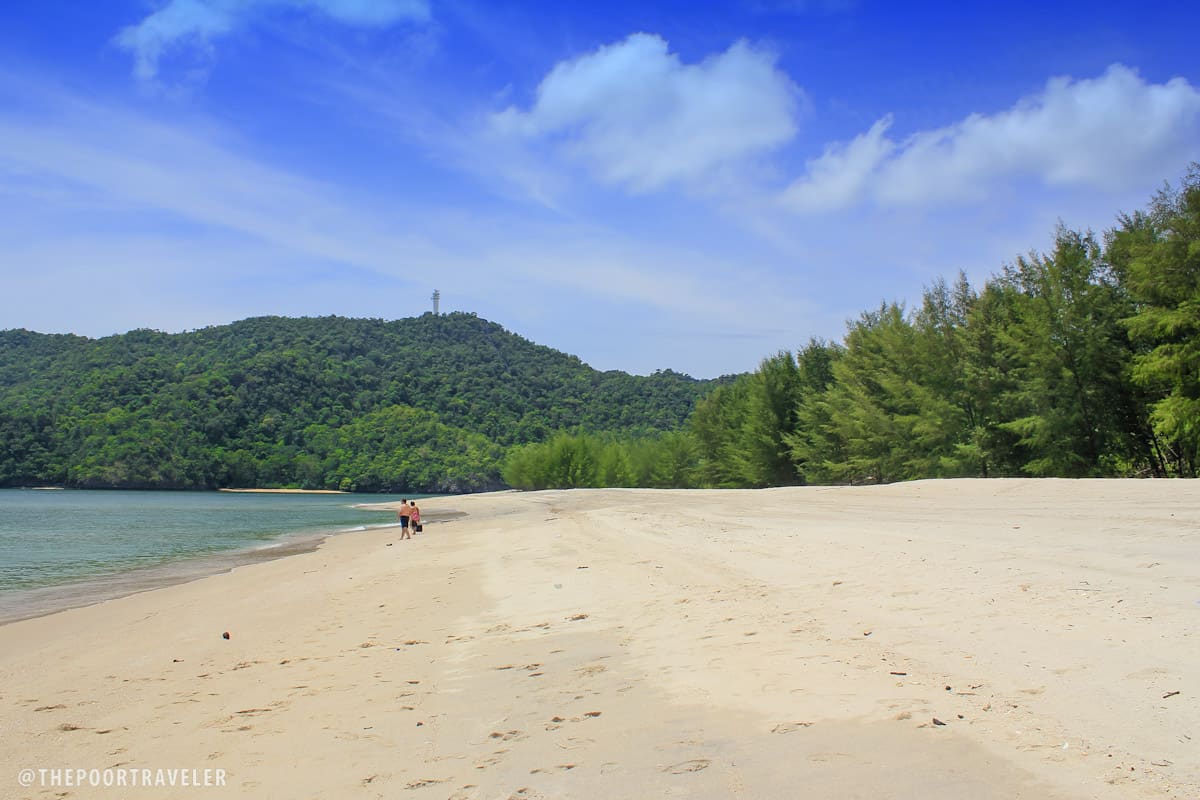 Tanjong Rhu is a secluded beach that lies in the northeastern tip of the main island of Langkawi. The bay is littered with milky white sand and bordered landward by a stretch of evergreen trees, reminiscent of Anawangin Cove in Zambales and Dampalitan Island in Quezon. Unlike other popular beaches in Langkawi, Tanjong Rhu is not crowded and touristy. We had a quick lunch at a small restaurant here. There's no entrance fee to be paid here.
3-4. Oriental Village and Panorama Langkawi Sky Cab (Cable Car)
Said to be one of the steepest in the world, the Langkawi Cable Car is another top attraction in Kedah, Malaysia. The ticket office is located at the Oriental Village at the base of Mt. Machincang. The ticket costs RM30 for adults and RM20 for kids.
From the Base Station, we were taken 1,700 meters over a dense tropical rainforest to the middle station, which is at 650m high and the top station 708m. In between the stations, we spotted two glorious waterfalls which were probably the Telaga Tujuh Falls and the narrower Air Terjun Temurun (Temurun Waterfalls). We also observed the many geological features of the Machincang Range, formed 450 million years ago. The viewing deck at the top station was particularly interesting because it offers an unobstructed 360-degree view of the archipelago and even neighboring Thailand. We just didn't see much of Thailand from there because the clouds just decided to block our view.
From the top station, we were looking down to the SkyBridge, an arrestingly massive and obviously out-of-place man-made structure towering above the thick forest. I just can't say much about it because it was closed for renovation at the time. However, here's how their official website describes the attraction:
Completed in 2004, this suspended bridge is built on top of the Machinchang mountain. Accessible from the Top Station, the bridge is suspended from a 82m high single pylon and hangs at about 100m above ground. It swings out over the landscape to give visitors a unique spatial experience, and to bring them into otherwise unattainable locations, above virgin jungle with spectacular views. Notably, in contrast to a straight bridge, where the end is always monotonously in sight, a curved bridge offers spectacularly changing perspective that reinvent themselves, as one proceeds along it.

Measuring at 125m in length, the structure ranks among the world's longest curve suspension bridge and constructing it was not an easy feat. The solutions had to factor the following critical elements; structural balancing from a single point (top of the pylon), optimal weight management and load distribution, pre-fabrication of bridge and on site installation. The entire bridge, in all its elements had to be lifted to the top of the mountain by helicopter and was later assembled to its current position.
Sounds interesting, yes? It was really a shame that we weren't able to experience the bridge. It would have provided us a much closer look at the carpeting jungle below.
5. Pantai Cenang
We were supposed to go see a waterfall, but we decided against it. It had been a long day and we were already tired. But before heading to our hotel, we made one last stop at Pantai Cenang, probably the most popular beach in the island. It's a long and wide stretch of off-white sand, parallel to the main road. Tourism is booming here, with dozens of restaurants, stores, and hotels that cater to all types of travelers — honeymooners, retirees, expats, families, and backpackers.
We just spent 10 minutes at the Pantai Cenang that time. Apparently, our hotel was just at the end of the road so we just asked our driver to take us there to check in and drop our bags, and just walk back to the beach to watch the sunset from there.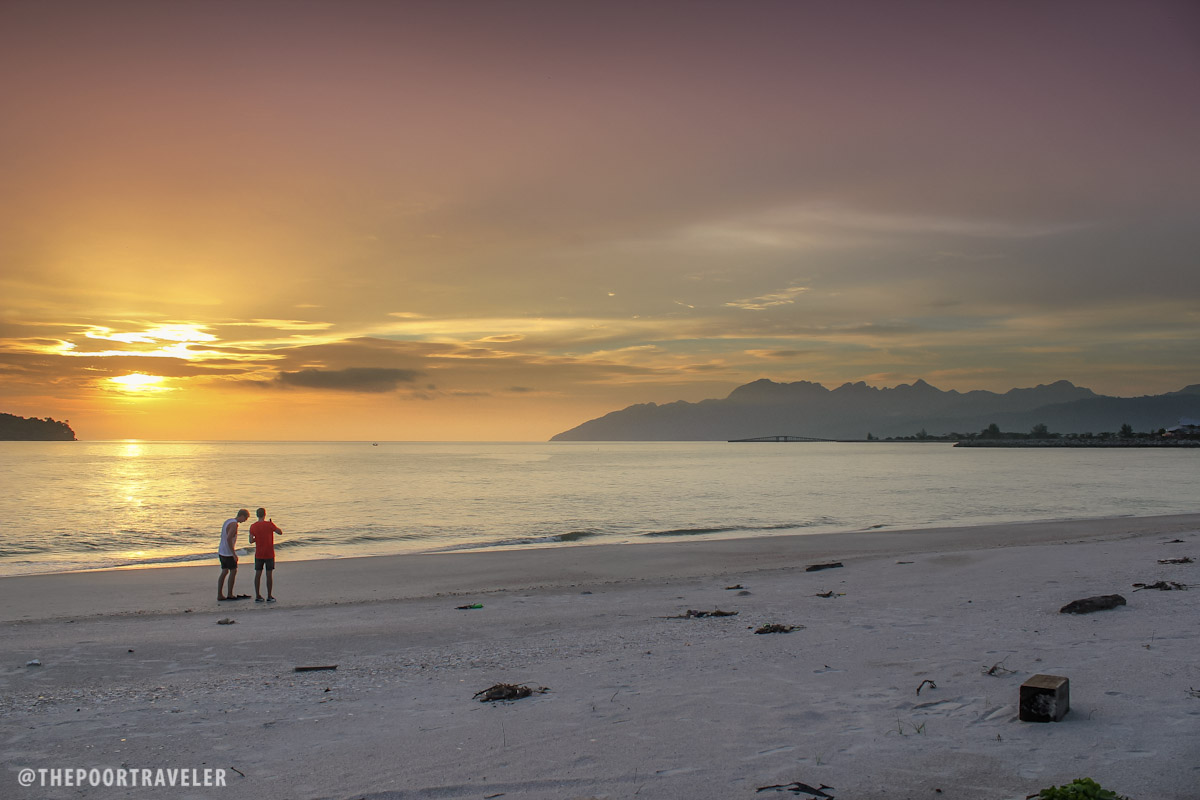 6. Orkid Ria Seafood Restaurant
At nightfall, we had a big, big dinner at Orkid Ria, regarded by many as the best seafood restaurant in that strip. Located just several yards from the beach, the place is always packed especially at meal hours. Nevertheless, it did not stop us from trying. After waiting for a vacant table, we finally got our hands on the menu.
We had tiger prawns, a whole sea bass, and a dozen chicken satay with Chinese fried rice, without realizing that it would be too much for us, even for us. But that was one of the best dinners we have had ever that we finished everything! We were very surprised ourselves.
7. Langkawi Eagle Square
The next day started a little late for us. Next on our itinerary was the old city of George Town in Penang. The ferry that would take us there from Kuah Terminal was scheduled to depart at 2:30pm. While waiting for boarding, I decided to take a walk around the terminal grounds. The most captivating sight, of course, was the giant 12 meter-tall statue of a reddish brown eagle, the symbol of Langkawi.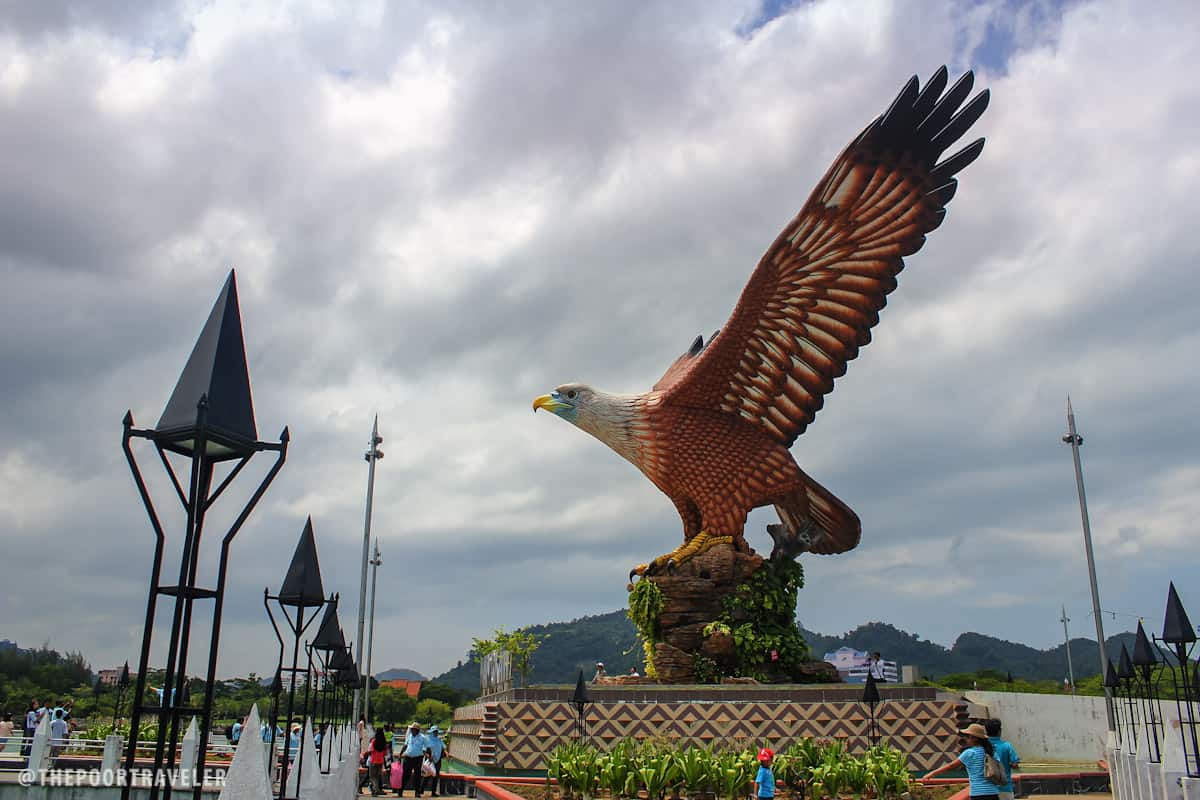 After almost an hour of taking photos and mingling with other tourists near the statue, I decided to head back to the terminal and just get on the ferry already.
Our stay in Langkawi was pretty brief but it was very pleasant. We did not encounter any mishap, and the people were very friendly and warm. I don't know how much we saved by taking that tour or if we did save any but I was really glad that, although not planned at all, we told the driver to turn right. We had a short but jam-packed overnight stay in Langkawi!
And oh, by the way, the whole island is duty-free!
How to get there: From Kuala Lumpur, Malaysia you may fly to Langkawi and take a cab to Kilim Geopark. You might also want to consider taking the overnight sleeper train from KL Sentral to Arau (10-hour travel time, RM 54). At Arau Station, take a cab to Kuala Perlis (RM 25), then board the ferry to Kuah Port in Langkawi (RM 18).