2012 • 9 • 10
I had never seen that many eagles swarming and flying around in just one place.
The Poor Traveler was at Kilim Karst Geoforest Park in Langkawi in the state of Kedah in the western coast of Peninsular Malaysia. Langkawi is an archipelago of 99 islands in Andaman Sea. Langkawi means reddish-brown eagle in the local language, taking the name from the glorious birds of prey that abound in the island.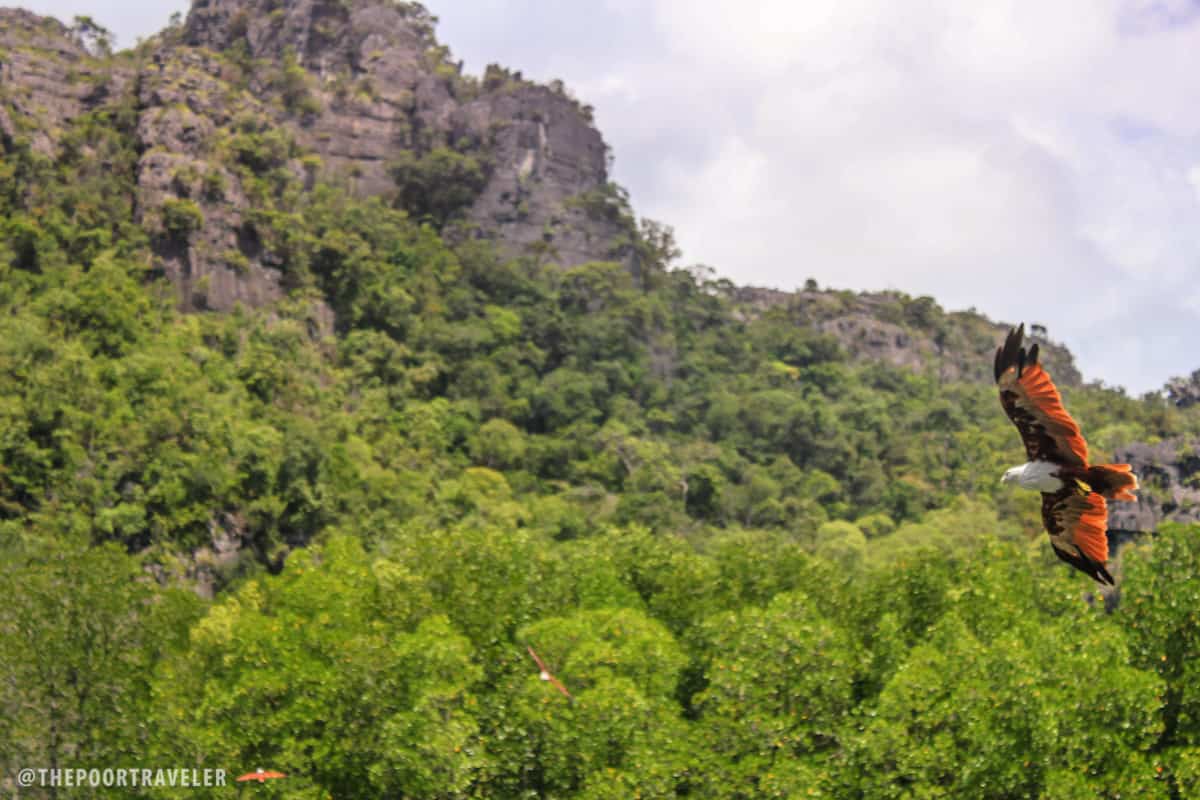 The northeastern tip of the main island of Langkawi is covered in thick mangrove forests, specked with spectacularly formed karst cliffs rising from its brackish water. Three rivers flow and meander across this region — Kisap, Air Hangat, and Kilim. Together, they form a gorgeous landscape that has nurtured and nourished a healthy ecosystem and a wide and diverse array of life forms. Kilim River, locally known as Sungai Kilim, runs across Kilim Nature Park, sprawling over an area of about 100 square kilometers of mangrove forests, blue lagoons, and white beaches.
WHAT'S COVERED IN THIS GUIDE?
Prepping Up for the Speedboat Ride
There was a counter at the boat jetty by the river where you could settle payment for the tour. There are actually so many options to choose from depending on how long you want the tour to be and how many places you want to stop at. A one-hour tour costs RM 200 per boat and the two-hour RM350. Again, the rate is per boat so you can divide it by the number of people in the group. If you're traveling solo, you might want to consider asking other groups to let you join them so you could reduce the cost.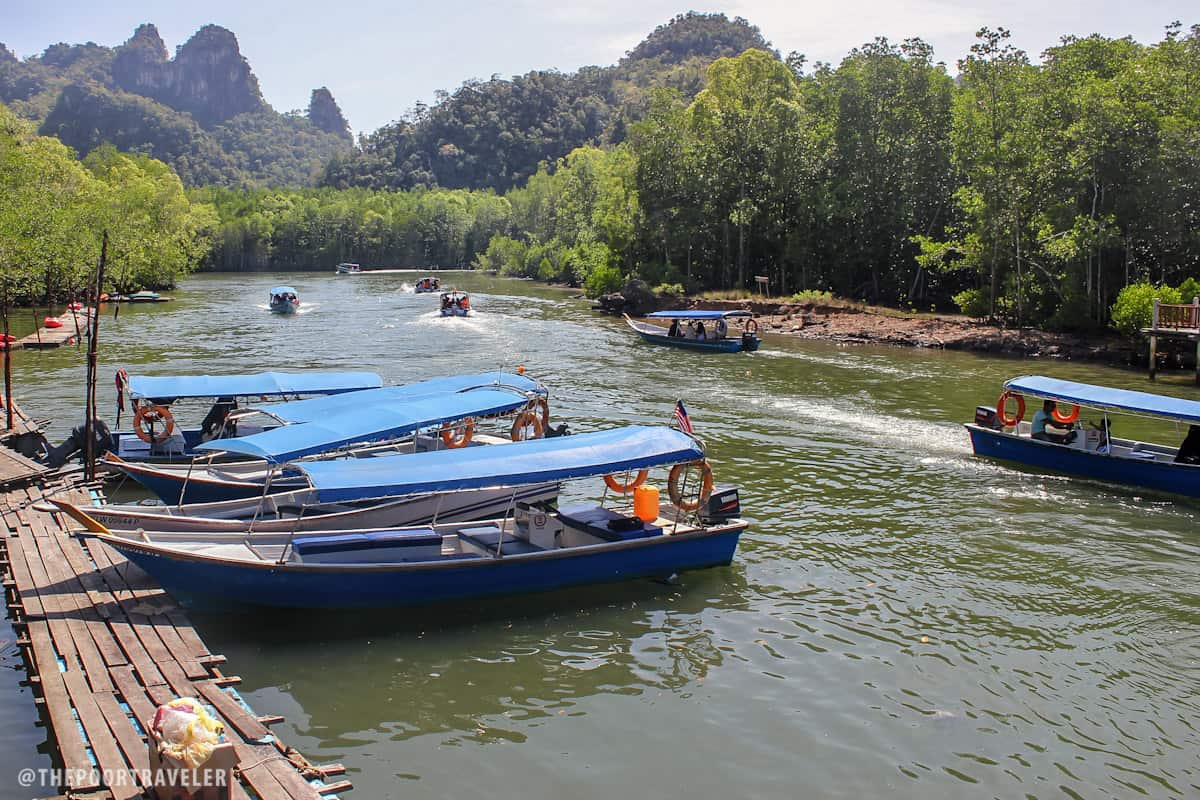 We initially wanted to take those slower tours with an expert tour guide explaining in great detail the significance and highlights in each stop, but those tours usually take 4 hours and they have set schedules, one in the early morning and one at 2pm. We were too late for the first and too early for the second, and we could not afford the rate. We settled for the usual speedboat tours instead.
After settling the fees, we were led to the jetty and waited for our boatman. I am kicking myself in the butt right now because I can't remember the name of our boatman. He was really, really funny and so kind to us. (He even allowed and taught us to drive the speedboat under close supervision, of course.) What I also liked about our boatman was that he did not like and did not encourage feeding the brown eagles. Aaargh, I need to remember his name!
The Bat Cave (Gua Kelawar)
The closest attraction to the Kilim jetty is the Bat Cave (also known as Gua Kelawar), which actually comprises two caves. It's not a hard trek at all because the trail that leads visitors through the two caves are boarded. The first cave houses several towering rock formations under a 10-meter high ceiling. It has also become home to many species of bats including the Southeast Asian bent-winged bat, the great round leaf bat, and the intermediate round leaf bat. The second cave is topped with a low ceiling that one needs to bend down to make it through. The ceiling and the walls of this cave are covered in ancient seashells.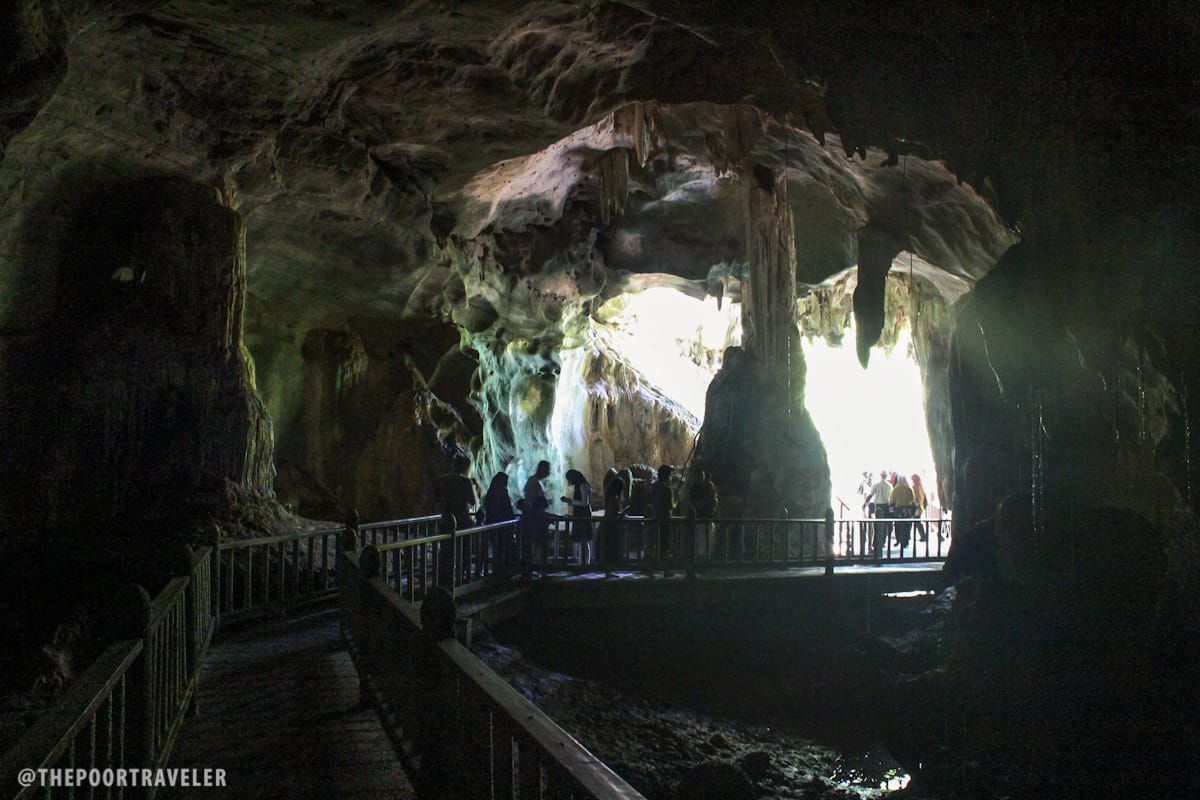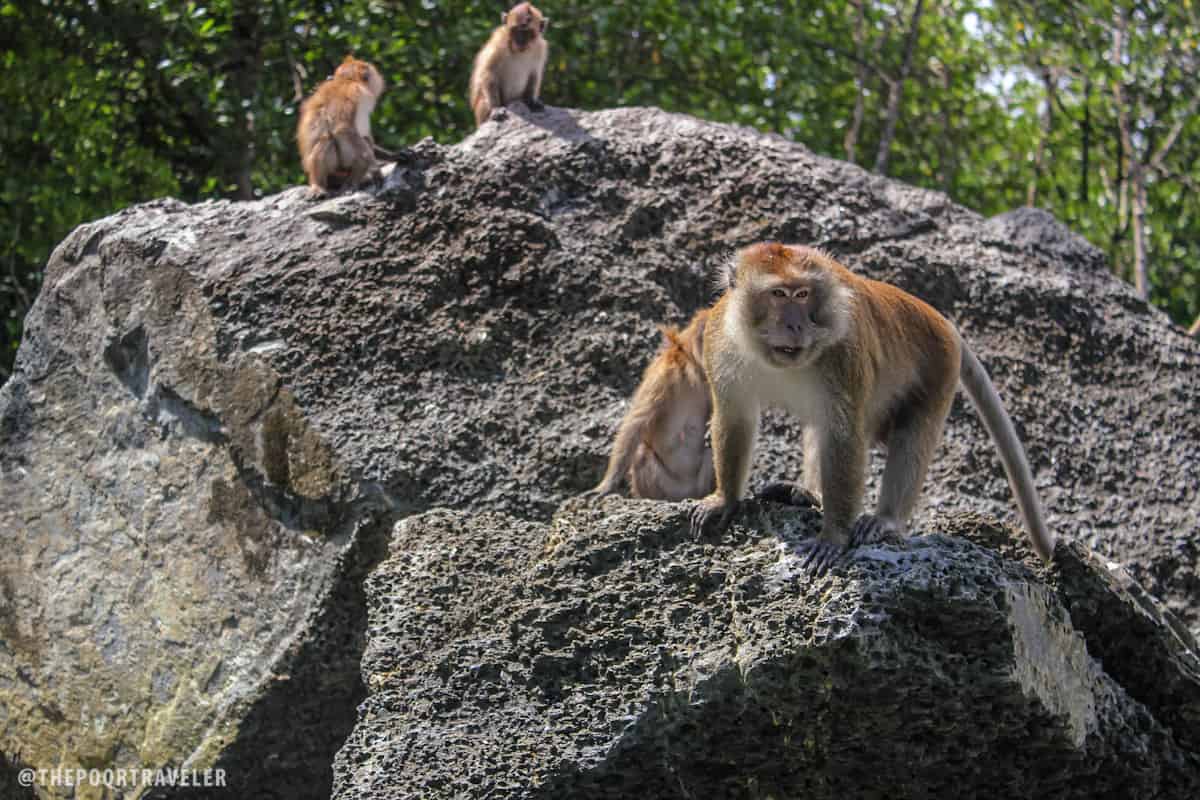 We stayed for only less than 20 minutes at the bat cave and boarded the speedboat right after. We then had a stop at a small tree where a snake is curled peacefully around and a rock where dozens of monkeys stayed, perhaps waiting for tourists to throw food at them. I just hope all the feeding stops at this place. :(
The Yacht Park
"Take off your hat," said our boatman. "You're gonna lose it."
I followed without question. In an instant, our speedboat zoomed along the river, and the wind almost smothered my face. Had I not removed my hat, it would have been stolen by the wind. We slowed down as soon as we spotted the first of the countless yachts and sailboats anchored on one side of the river. These picturesque boats make good subject with the imposing cliffs as backdrop.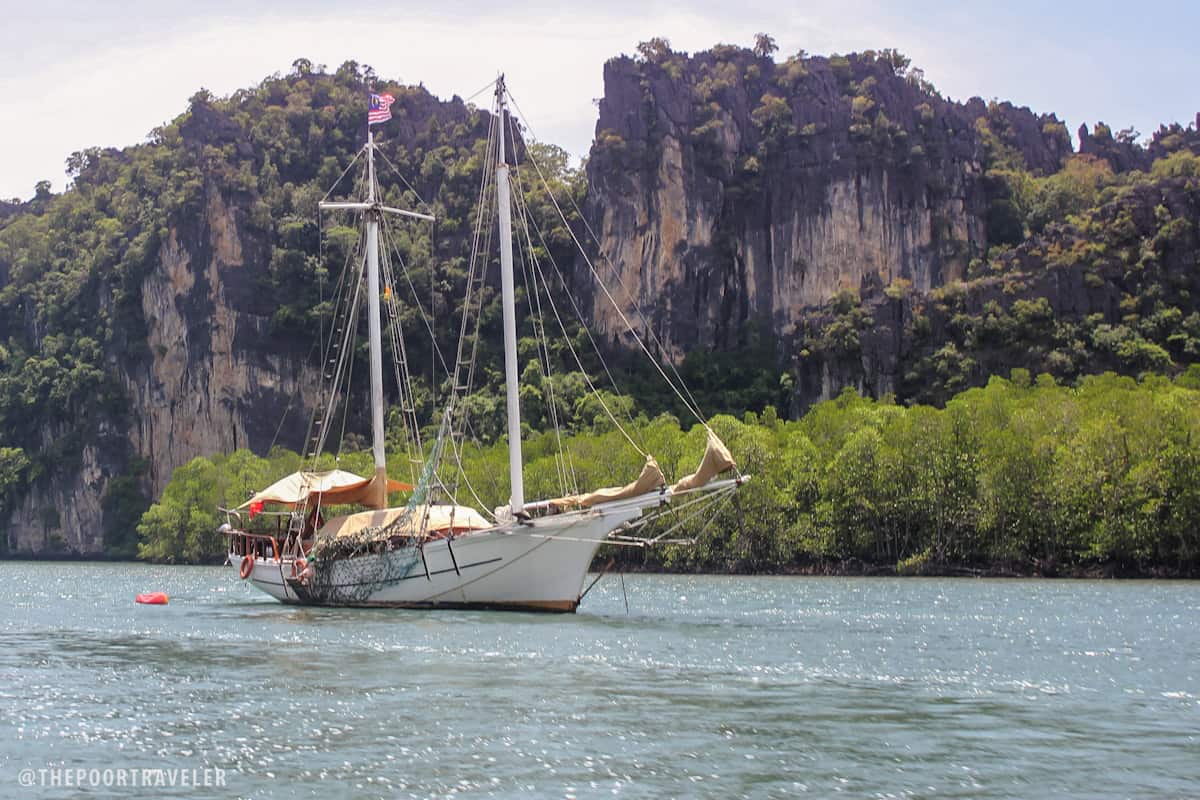 "They're private yachts," our boatman explained.
"Who owns them?" I asked.
"Travelers," he answered.
"They stay in Langkawi?"
"No. Maybe just once or twice a year."
Wow. That's life on the A-List. I don't even think I would even own one in my lifetime.
The Floating Restaurant and Fish Farm
Just across the private yachts is a floating restaurant next to a small fish farm. My friend and I never really intended to eat here so we really wanted to see the fish farm where several species of fish were kept from small to really big, reminiscent of the ones they catch at Monster Fish on cable TV. Some of the fishes they have here are sea bass, moray eels, and sting rays. They also have prawns.
If you want, you can pick a fish and they will cook it and serve it for lunch or dinner. I just don't know how much. I bet it's expensive, though.  We ended up having just a bottle of softdrink.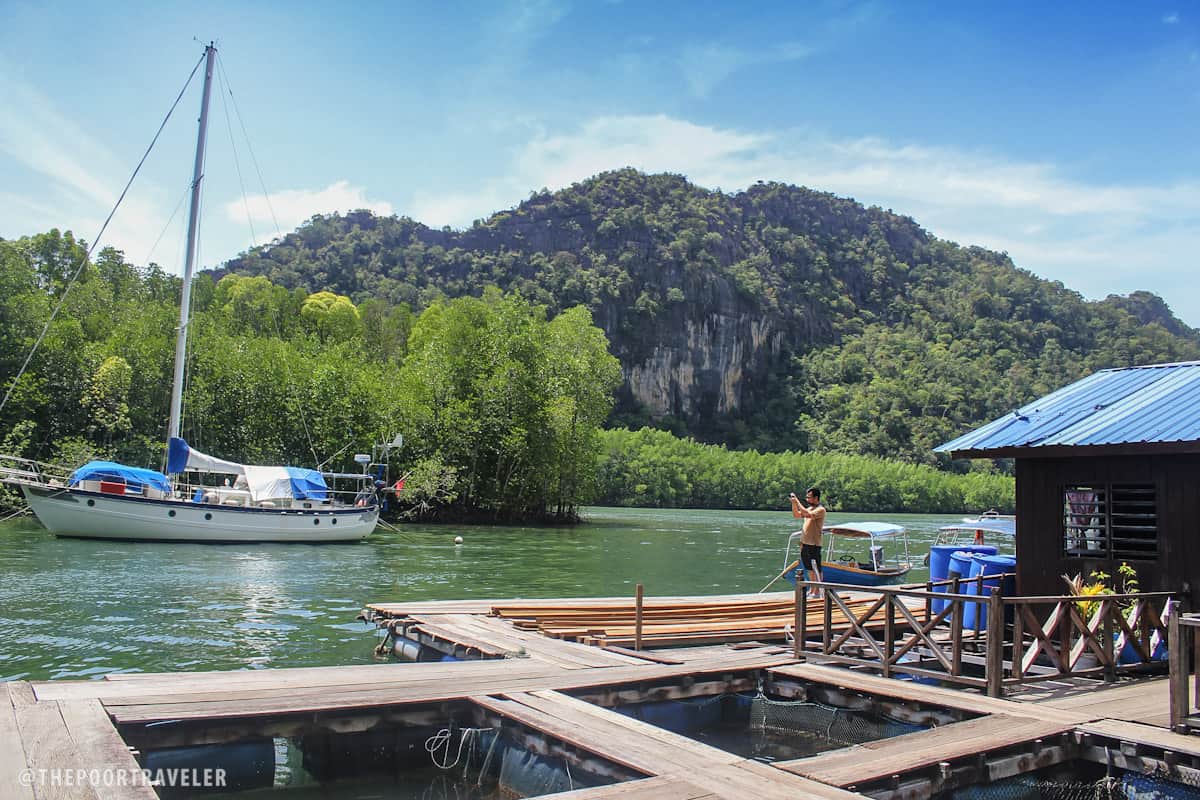 Crocodile Cave (Gua Buaya)
The Crocodile Cave (Gua Buaya) is a hole in a limestone cliff that is wide enough for speedboats to drive through. Named after the crocodile-shaped rock that adorns the entrance to it, the Crocodile Cave shelters a number of bats too. I read somewhere that it's called Crocodile Cave because there used to be crocodiles here, but I'm not sure how accurate it is.
My favorite moment in this part of the river was actually after we made it through the cave and emerged on the other side. Our boatman upped the speed of our boat again that it really felt so good to be embraced by the wind and sometimes get a little splash of water. Fuuuuun!!!!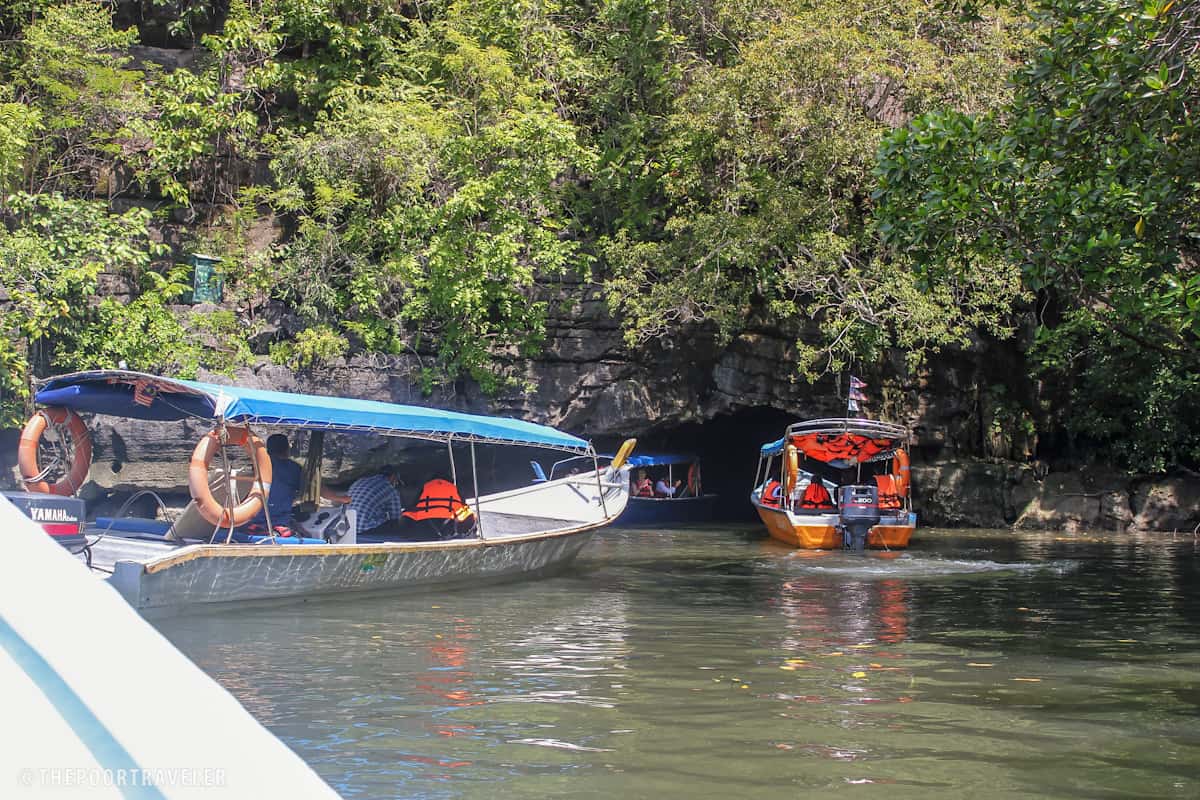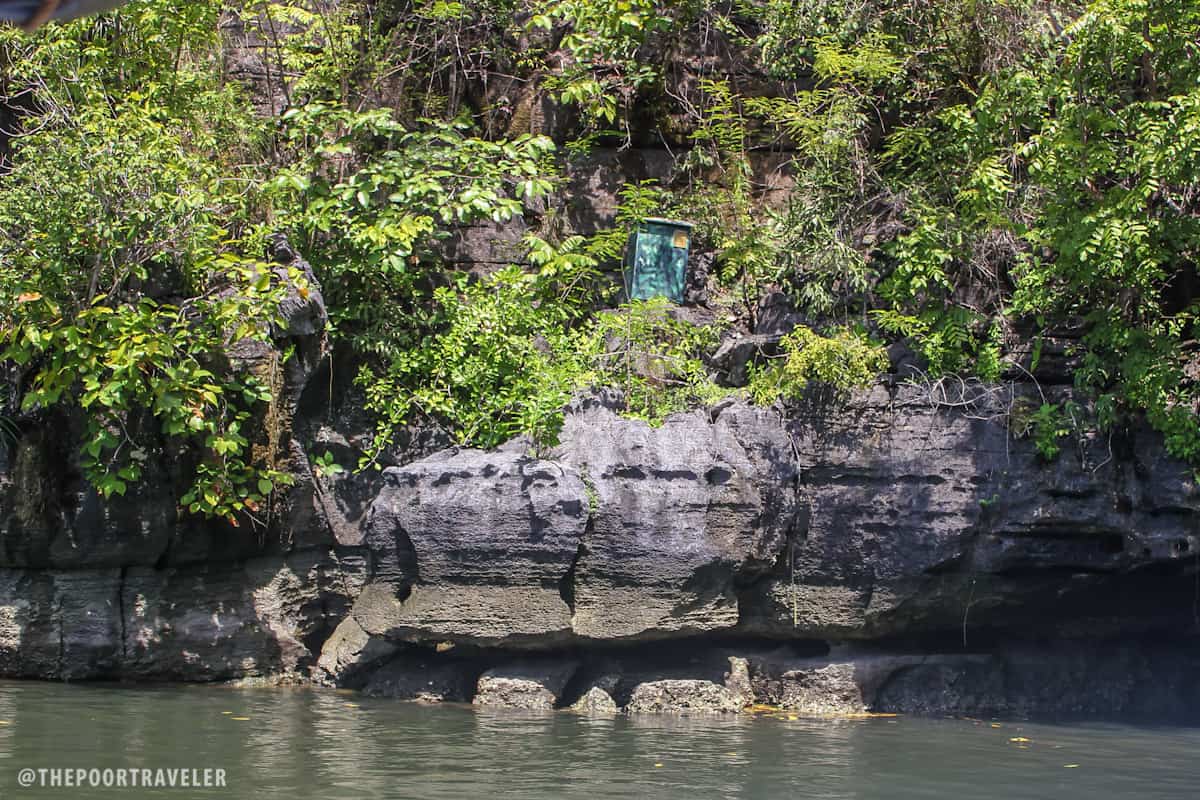 Brown Eagles
Even when we were just approaching the place, I could already see countless birds soaring over the mangrove trees and taking occasional plunges as they pick up little fish. There were only two speedboats carrying tourists at the time, and I was glad that neither had been feeding these eagles. "Eagle feeding" was being advertised in the banners at the Kilim jetty, and the thought of it was upsetting me. Fortunately, it didn't happen when we were there. We just watched as they hunted for prey like they would naturally and without human intervention. (I actually thought that they had stopped it but, later that day, I would meet a backpacker who told me that it was still going on and that the group he joined fed the eagles. Sad.) Or maybe, the other boat had already thrown food into water even before we arrived. I really wish that eagle-feeding stops because it can alter their natural diet and affect their hunting skills.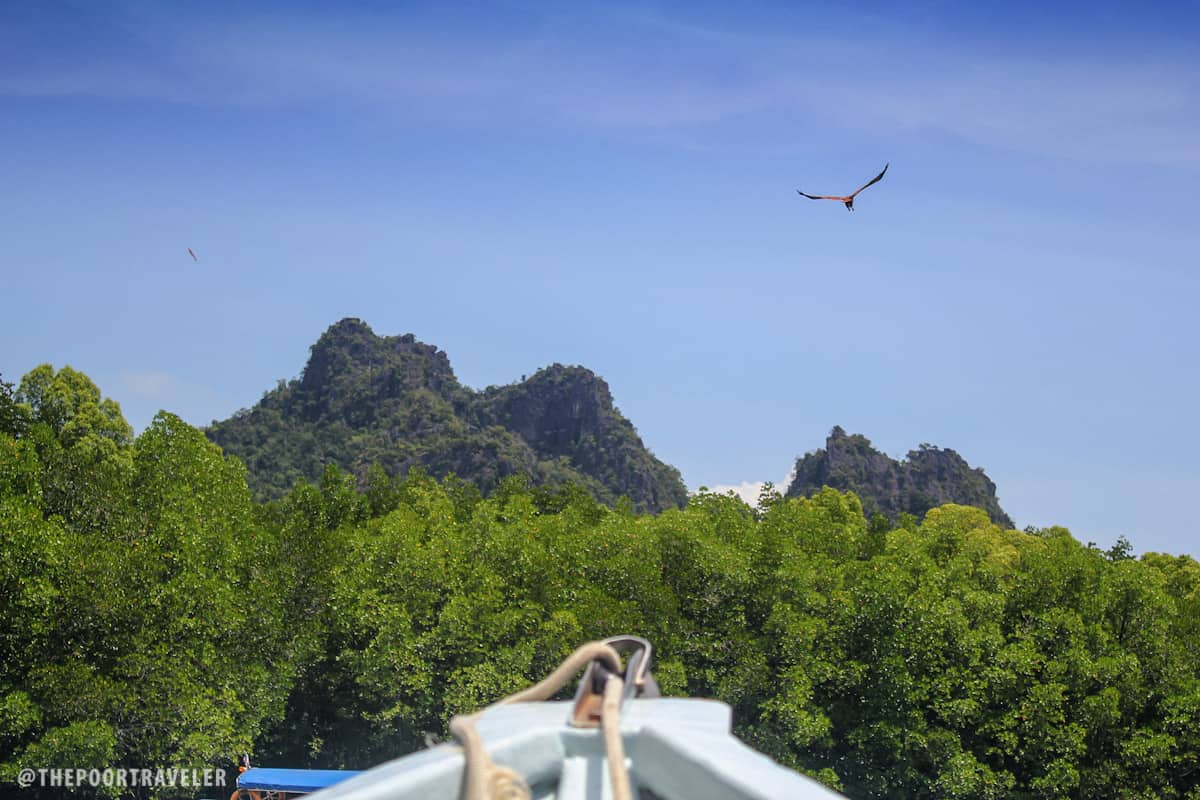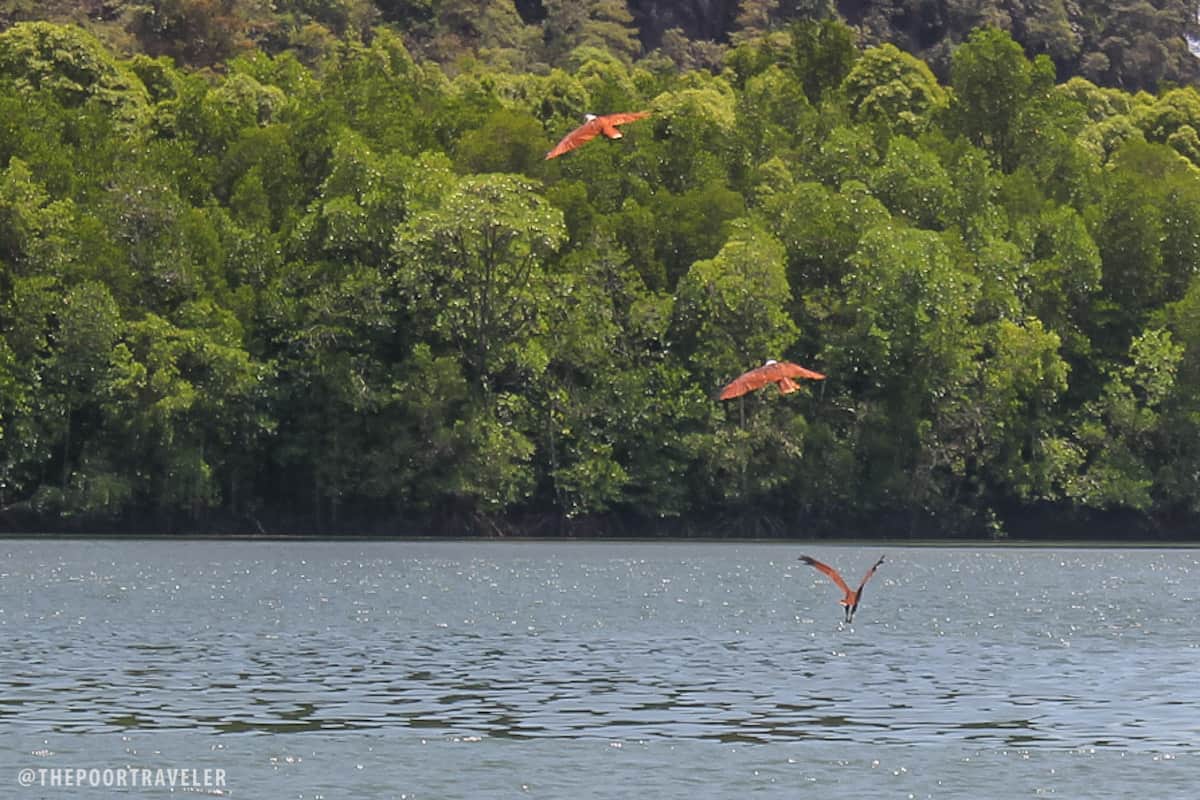 There was another solitary airborne predator, a bigger one, that hovered regally on the other side of the river. Our boatman said it's the white-belly sea eagle.
The Faces and Shapes of Kilim
After our encounter with the swarming eagles, we moved to the open sea where our boatman pointed three recognizable shapes from afar. The first was called "baby face" because it looked like it was, well, the face of a baby. The second was the Apache face, forming a silhouette of a Native American's facial features. The third was the Shoe Island, uncannily taking the shape of a rubber shoe floating in the water.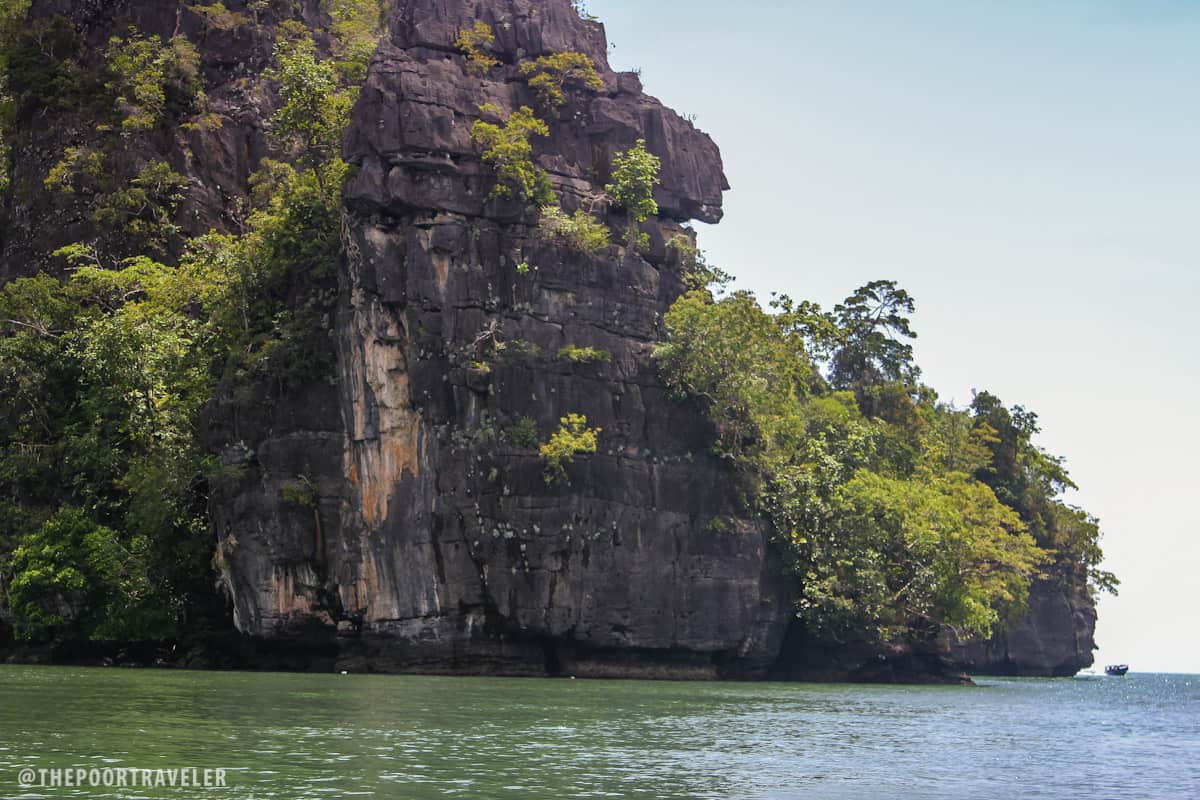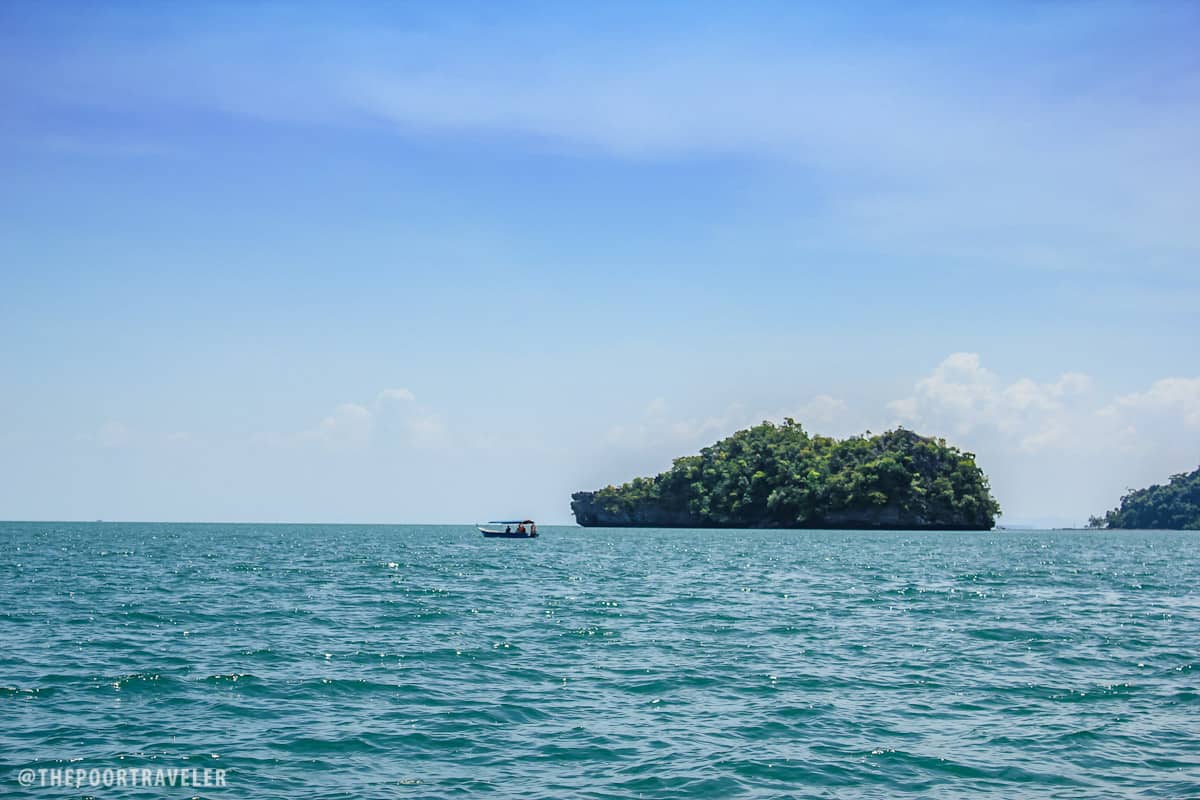 A massive signage affixed to a limestone wall also marks the mouth of Kilim River. After a brief photo op with it in the background, our boat turned around and headed back to the jetty.
On our way back, I caught another glimpse of an eagle soaring over the mangroves and the river. It was one of those moments where I envied our winged brothers, soaring spirits. Langkawi is a special place and to see it onboard a speedboat had been a great experience. Having a top view of this paradise from dizzying heights is an opportunity that I would love to receive. Ah, how I envy the birds!
How to get to Kilim Geoforest Park: From Kuala Lumpur, Malaysia you may fly to Langkawi and take a cab to Kilim Geopark. You might also want to consider taking the overnight sleeper train from KL Sentral to Arau (10-hour travel time, RM 54). At Arau Station, take a cab to Kuala Perlis (RM 25), then board the ferry to Kuah Port in Langkawi (RM 18). Take a cab to Kilim Geopark (RM 25).