"You will fall in love with Peru."
Every single one of my close friends who had gone backpacking in South America said the same thing when they met me for the first time after their trip — that I would love Peru the most. I'm not even kidding or exaggerating. Every single one of them.
And it drives me crazy.
Why? Because even without them saying it, Peru has always been up there on my list of destinations that I would sell my worldly possessions for. and all their wonderful stories are amplifying that voice in my head that screams, "WTF are you waiting for?" Because really, what have I been waiting for?
Peru's current tourism campaign posits the country as the richest in the world. That may be quite the stretch to some, but wealth isn't always about money or gold. Often, memories are precious and moments are priceless. Peru, with its unforgettable natural and cultural wonders, is a real treasure trove.
Peru is visa-free for Filipinos. In fact, citizens of a total of 99 countries and territories can visit Peru without a visa. This includes Brunei, Indonesia, Malaysia, Singapore, Thailand and the Philippines, whose citizens can stay for up to 183 days for tourism purposes. Here's the list of these jurisdictions:
European Union
Andorra
Antigua and Barbuda
Argentina
Australia
Bahamas
Barbados
Belarus
Belize
Bolivia
Brazil
Brunei
Canada
Chile
Colombia
Costa Rica
Dominica
Dominican Republic
Ecuador
Fiji
Grenada
Guatemala
Guyana
Honduras
Hong Kong
Iceland
Indonesia
Israel
Jamaica
Japan
Kiribati
Liechtenstein
Macau
Macedonia
Malaysia
Marshall Islands
Mexico
Micronesia
Moldova
Monaco
Montenegro
Nauru
New Zealand
Norway
Palau
Panama
Papua New Guinea
Paraguay
The Philippines
Russia
Saint Kitts and Nevis
Saint Lucia
Saint Vincent and the Grenadines
Samoa
San Marino
Serbia
Singapore
Solomon Islands
South Africa
South Korea
Suriname
Switzerland
Taiwan
Thailand
Tonga
Trinidad and Tobago
Turkey
Tuvalu
Ukraine
United States
Uruguay
Vatican City
Venezuela
South America is one of the only two continents that I haven't set foot in. But it looks like that's about to change soon. I can safely announce as early as now that we're hitting Peru next year! But while teleportation and time travel are not yet possible, I'm indulging my extremely eager spirit by admiring other travelers' unforgettable moments, captured in these inspiring photographs.
1. Huascarán National Park
At 6,768 metres, Huascarán is the tallest mountain in Peru and is part of the Cordillera Blanca range, which is also a part of the larger Andes range. It's a UNESCO World Heritage Site and is popular among mountaineers, adventurers, and nature-lovers!
2. Machu Picchu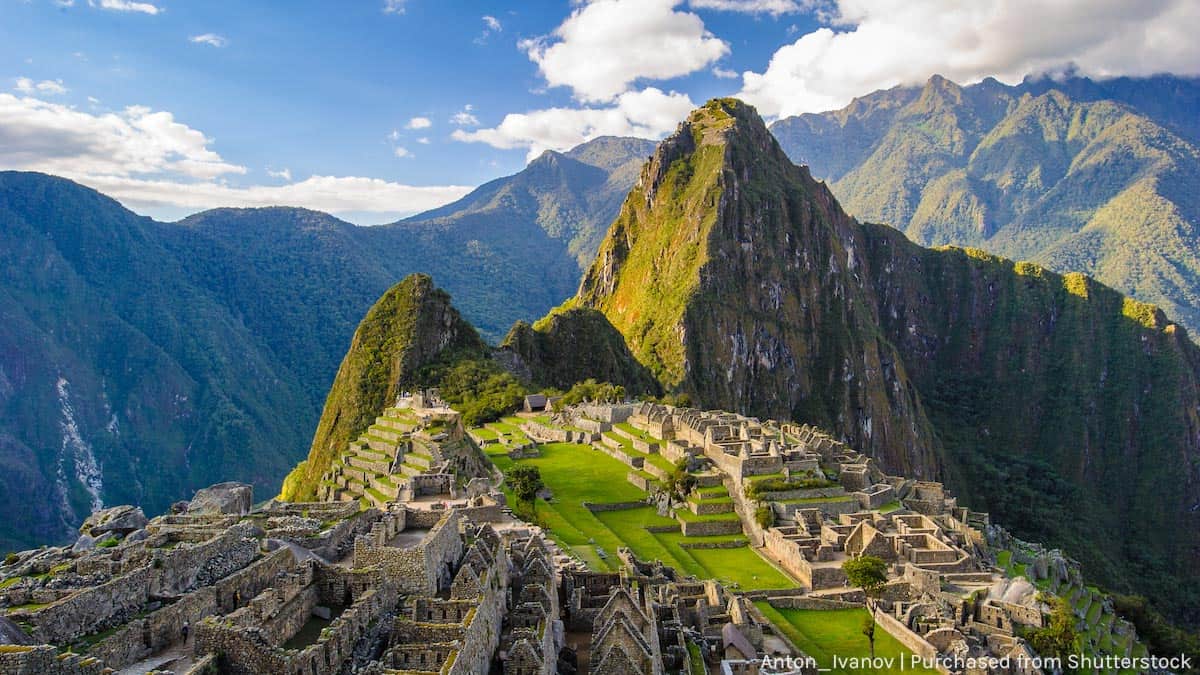 Peru's most iconic site! This 15th century settlement perched 2430m above the Inca's Sacred Valley. This UNESCO World Heritage Site was also voted onto the list of the New 7 Wonders of the World.
3. Paracas Peninsula
The Paracas Peninsula is where the desert mingles with the ocean. It's part of the Paracas National Reservation in the Pisco Province, which is a UNESCO World Heritage Site.
4. Rainbow Mountains
This geologic wonder is notoriously hard to reach, but if you're the type who likes chasing incredible views, these striped slopes are worth the days of tough trek! These painted peaks are part of the Andes and are accessible via Cusco.
5. Salinas de Maras
These salt ponds are located in Maras, a town smack in the Sacred Valley of the Incas north of Cuzco. These ponds have been used since the Inca days.
6. Nazca Lines
Nazca is where the ancient Nazca civilization settled after the fall of Cahuachi in 400AD and is home to the famous Nazca lines, enormous drawings and geometrical figures on the sand.
7. Amazon Cruise
Peru cradles the headwaters of the Amazon, the world's greatest river. And you can go on a cruise along some of its tributaries, many of which will also introduce to you the wildlife that both the river and the covering rainforests have nurtured.
8. Paragliding in Lima
Lima's Miraflores District is where many paragliding companies operate. The jump off spot is at Parque Raimonde. Tandem flights cost around 80USD.
9. Ica
Ica is an oasis at the heart of the Atacama dunes. Don't miss the mummies and other artifacts inside the Museo Regional de Ica.
10. Ruta del Sillar
Arequipa's historic core is a UNESCO World Heritage City known for its buildings made of white-pink volcanic stones. (Hence the nickname White City.) These stones are called "sillar." La Ruta del Sillar takes visitors to where these stones were quarried, which will give a better understanding of the region.
2️⃣0️⃣1️⃣8️⃣ • 1️⃣ • 2️⃣5️⃣
More Tips on YouTube ⬇️⬇️⬇️