When we look back on our Brussels trip, what we remember with the most fondness isn't the ornate architecture or the historic landmarks or the scenic views. More often than not, it's the FOOD!
Belgian street food isn't particularly unique, complex or out-of-this-world. At their core, these grubs are actually pretty simple. But the Belgians have a way of taking the most basic ingredients, putting their own twist to dishes, and bringing them to perfection. And when they do, these addictive creations — from Belgian waffles to Belgian chocolates to French Belgian fries — well, they tend to take over the world!
If you're off to Brussels soon, don't leave without acquainting your palate with the flavors of Belgium! It is peppered with numerous restaurants, pubs, food stalls, and cafés serving traditional dishes and eats. If you want to immerse yourself further in Belgian food culture, you can take a cooking class or a guided food tour around the city. Here are some of the popular Belgian food delights to try when in Brussels.
---
WHAT'S COVERED IN THIS GUIDE?
Belgian Chocolate
It has become one of the symbols of the country, contributing massively to the economy. Despite having to source cacao elsewhere, Belgium continues to be one of the leaders in the chocolate-production industry, rivaling Switzerland in creating the best chocolates in the world. There are about 2,000 master chocolatiers in the country!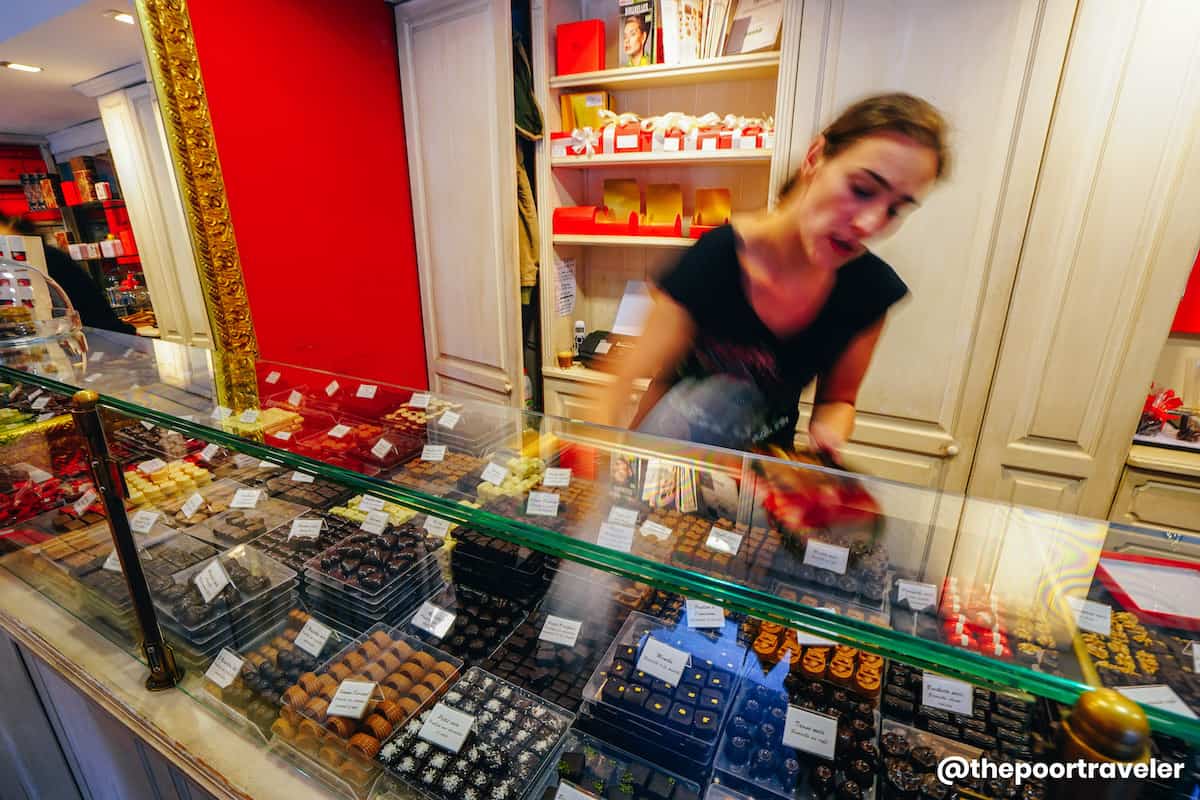 The chocolate industry has burrowed itself deep into the culture. Dating back to the 17th century, it finally built its reputation as a lucrative industry in the 19th century. Belgium concocted its own version of praline in 1912, eventually giving the country its global reputation in chocolate production. Belgian praline is made of a chocolate shell with a soft filling. Belgian chocolates have higher cocoa content and infuse 100% cocoa butter.
Your trip won't be complete without trying the world-renowned Belgian chocolates. If you are allergic to chocolates (how sad), you can always buy them as souvenirs for your loved ones.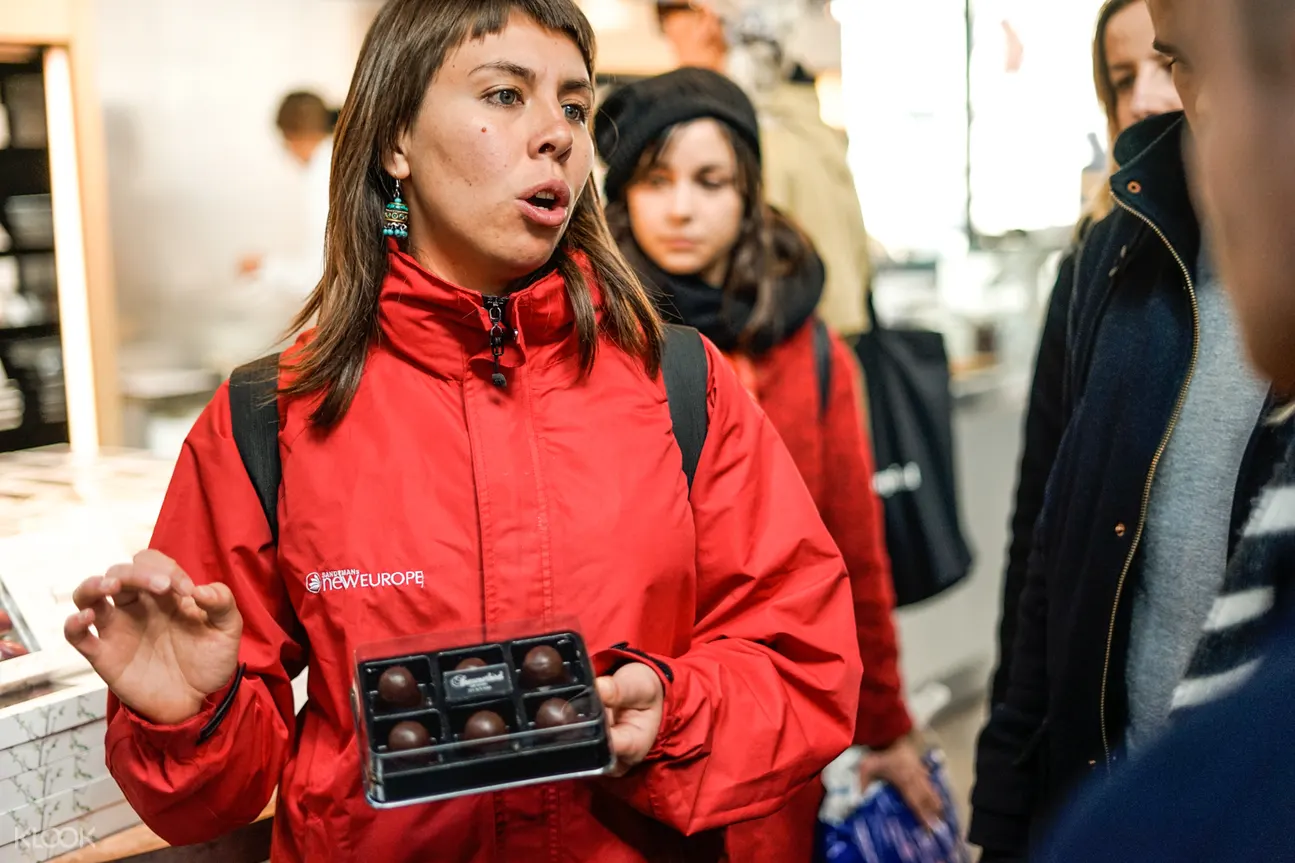 If you want to learn more about the history and the best chocolate shops in the city, you can join a guided chocolate tasting walking tour. Aside from visiting shops and sampling, other guided tours include a chocolate-making workshop in the package. If you'd rather just stay in one place as you learn, visit Choco-Story. Here are some options from Klook.
✅ CHOCOLATE TASTING TOUR
✅ CHOCOLATE TOUR + WORKSHOP
✅ CHOCO-STORY TICKET
---
Fries (Frites)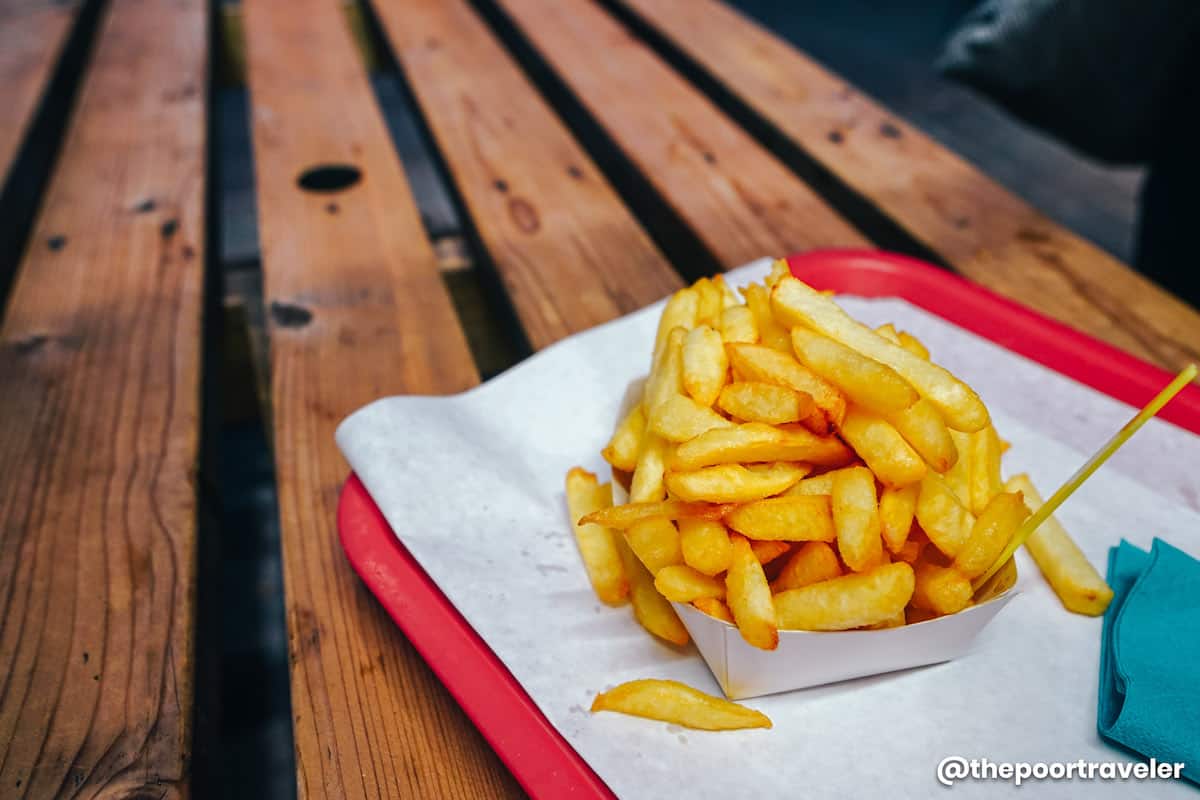 Where we're from (and in many places around the world), it's called "French fries", which may be a misnomer. There's still an ongoing debate on the origin of fries, but the Belgians claim that the fisher folks along the Meuse River in Belgium invented fries (or frites) as an alternative for fish during the winter season. One version of the story about the origin of the term "french fries" assumes that it was during World War I when the English-speaking troops in Belgium associated the fries with the French-speaking Belgian Army.
But one thing is sure: it's a globally popular snack or side dish. Usually cut in strips, fries are deep-fried potatoes that can also come in different shapes, textures, and flavors. It can be served plain or with dips.
There are fries stalls aplenty in Brussels, and restaurants also have them on their menus. The Belgian fries are cooked using the double-frying method. Some of the well-known fries stops are Maison Antoine, Fritland, Frit Flagey, and Fritkot Bompa. Our team tried the last three, and we loved Fritkot Bompa. Hands down.
---
Mitraillette
To make you visualize it easily, mitraillette is a type of sandwich with fries in it. It is said to originate in Brussels but also popular in other Belgian regions, even in the Nord region of France.
A common mitraillette is composed of a mini-baguette, fried meat, fries, and a selection of sauce. Vegetables like grated carrots, tomatoes, lettuce, cabbage, or onions can also be added. Some are also served with cheese. You can normally get it from friteries (food kiosks or stalls).
---
Belgian Waffles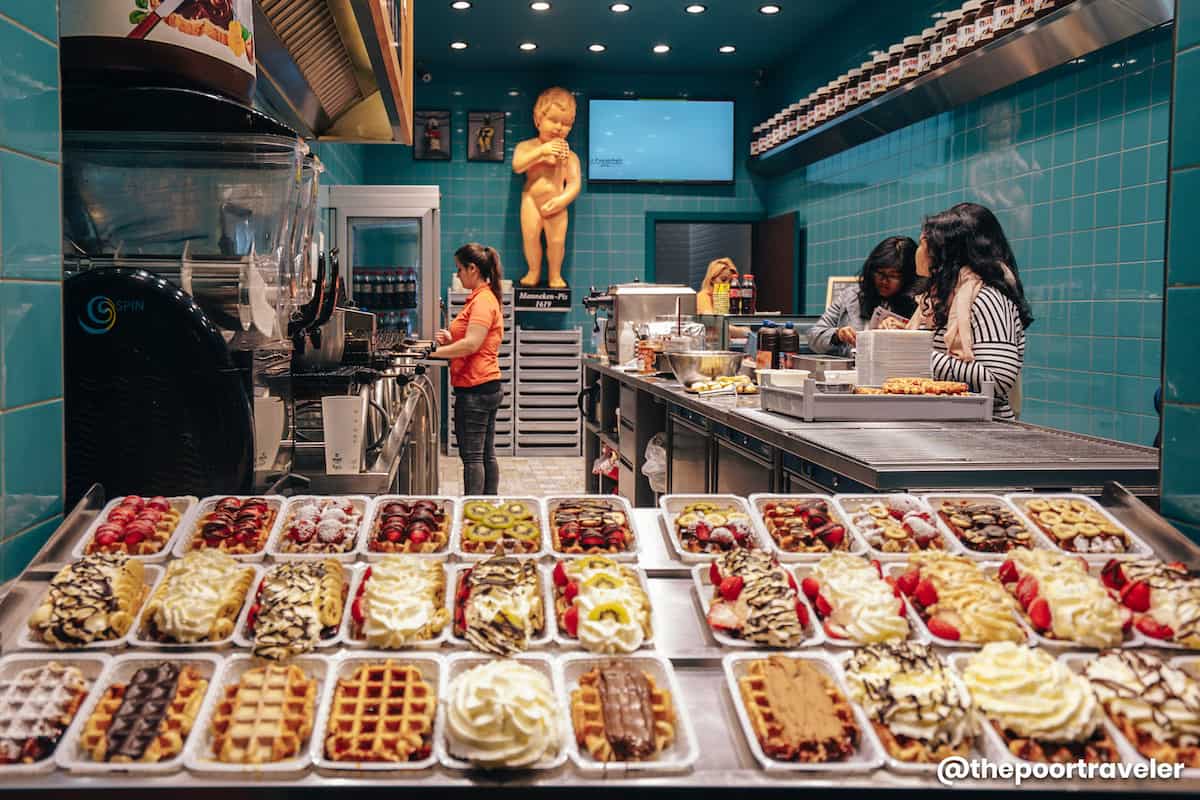 Another staple food in Belgium is the waffle. Other countries also have their own take on the waffles. In Belgium, some waffles are served in restaurants, while others are peddled in the streets.
The two famous types of waffles in Belgium are Brussels Waffles and Liege Waffles. Brussels waffles are larger, rectangular, use beaten eggs as leaveners, and sprinkled with powdered sugar, while Liege waffles are thicker, round, use yeast as the leavener, and contain sugar grains.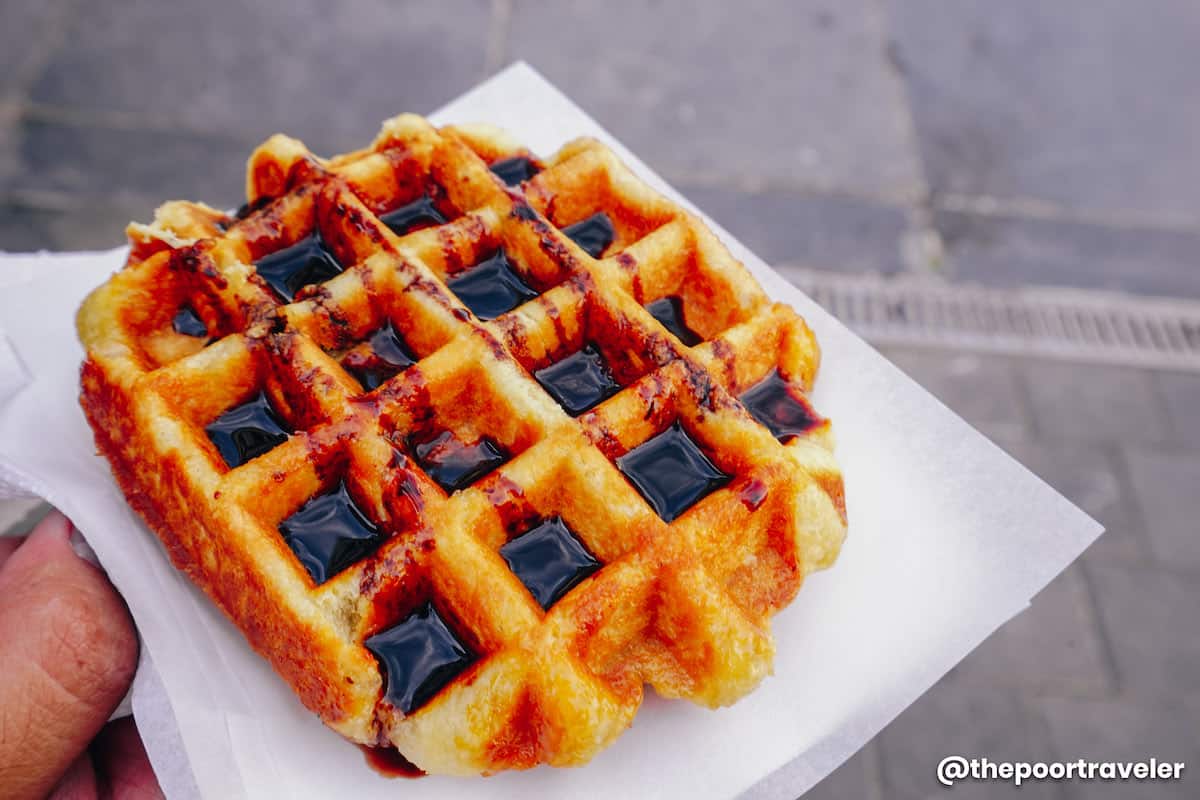 The waffles come in different flavors; some are served plain, others with toppings and syrup.
---
Mussels in Brussels
Due to the abundance and cheap cost, mussels were once regarded as a poor man's food. Fast forward to the present, they are now considered a prized ingredient.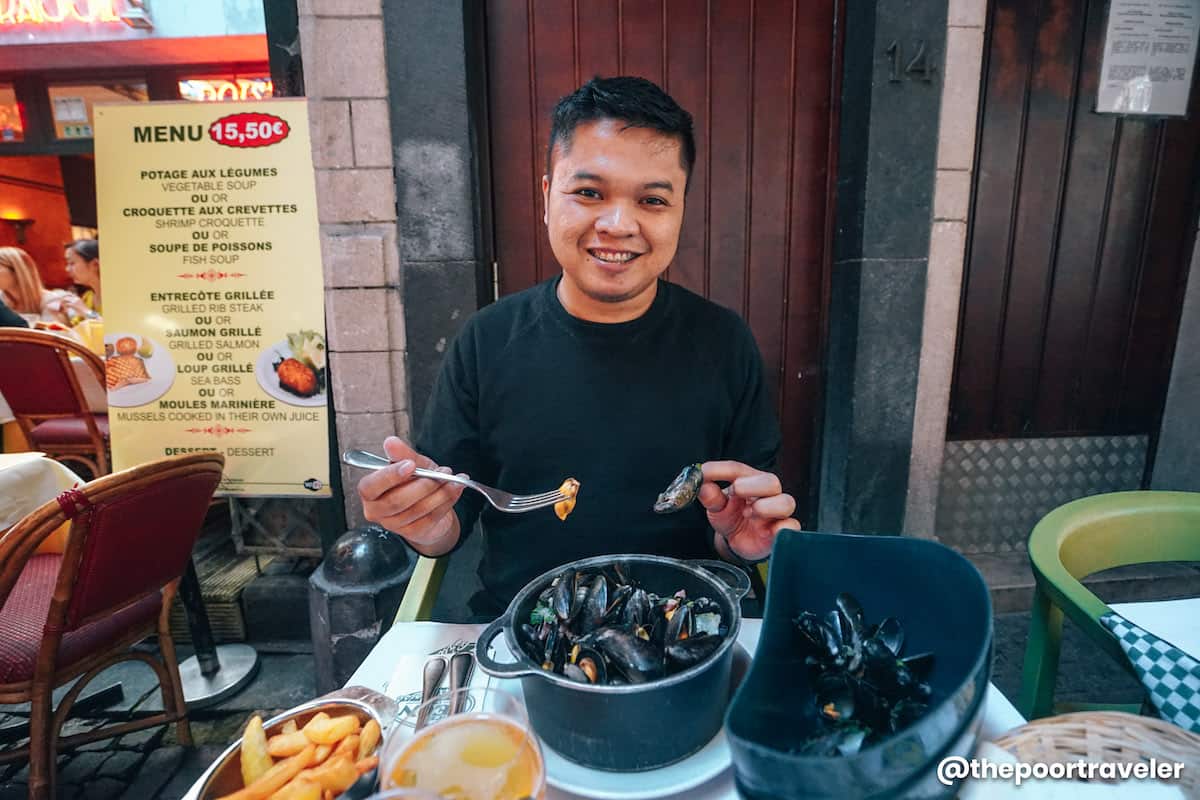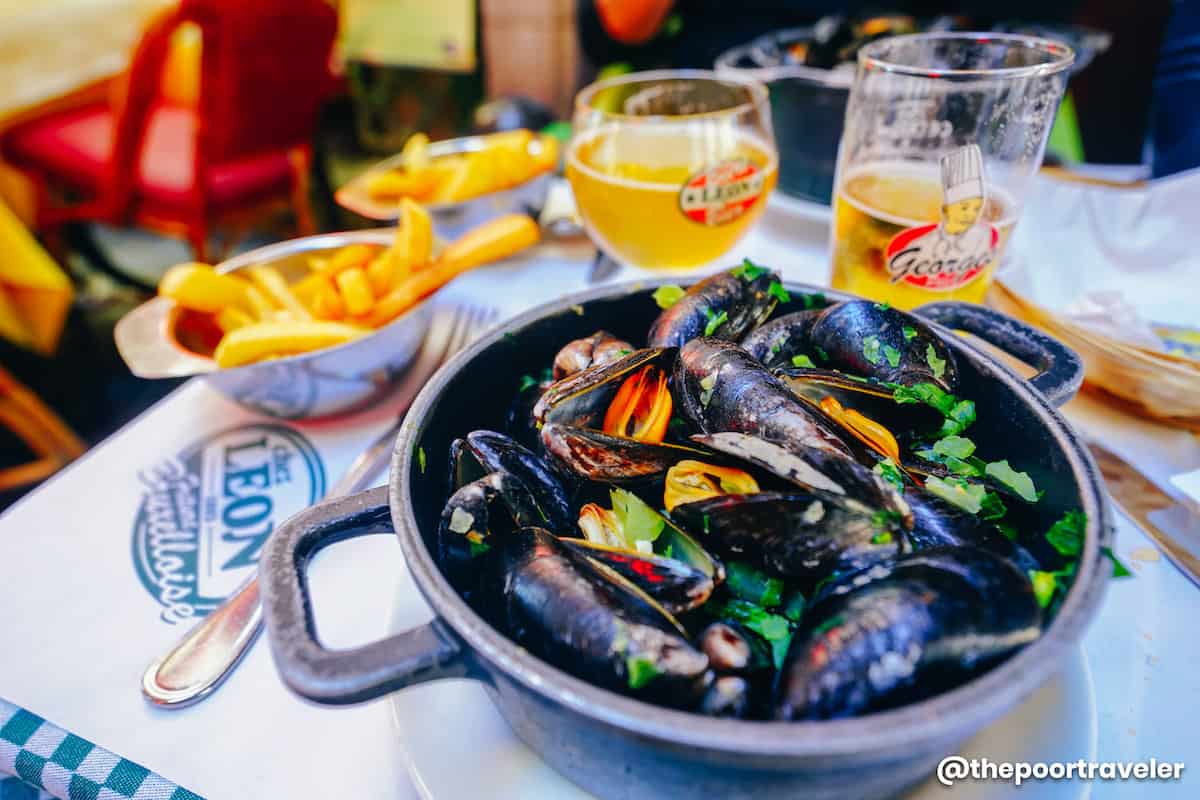 Through the years, mussels have warmed the tables of the Belgians, especially during the winter season. Hailed as one of the national dishes, moules-frites is inarguably the most popular dish in the country. The mussels are cooked with onions, celery, or other fresh herbs in butter and white wine. It is then served with fries either on a separate plate or on the same serving plate.
There are many other mussel dishes to try like moules à la bière (beer mussels) and moules à la crème (cream mussels).
Our team tried the mussel dish served at Chez Leon restaurant, and we loved it! You can also find a restaurant that has moules-frites, beer, and waffle in their menu if you don't have enough time but you still want to try some of the staples of Belgian cuisine.
---
Caricoles
This is a street food delicacy in Brussels that is similar to France's escargot. But unlike the French counterpart, the snails used for caricoles are from the sea.
It's an unassuming snack, boiled in vegetable broth, and eaten with a mini fork or stick. This delicacy is known for its gummy texture and sweet taste. They are typically sold on food trucks or at stalls and a staple at fairs or carnivals.
---
Smoutebollen
Smoutebollen or croustillons are fried donut holes or sweet dough balls that are traditionally deep-fried in animal fat. The dough balls are then sprinkled with confectioner's sugar (powdered sugar) and are usually served in paper cones or carton boxes.
These are popular snacks peddled in the streets, carnivals, and fairs.
---
Sausages
Just like in other European countries, sausages (also called boudin or pensen) are a favorite street food snack in Belgium. They are consumed either plain or in a bun with different kinds of sauces and other additions like onions and cabbages.
Two of the local sausage varieties are boudin blanc (white sausage) and boudin noir (black sausage). The black sausages contain blood, while the white sausages don't. Frikandel is a deep-fried skinless sausage that is popular in Belgium and Netherlands. Sausages are usually sold in friteries, food stalls, and snack bars.
Another way of eating sausages in Brussels is by pairing it with the local version of mashed potatoes.
---
Shrimp Croquettes
A culinary specialty of Belgium, shrimp croquettes are typically included in the menus. Brussels even held a competition for the best shrimp croquettes in Brussels in September 2019.
Before becoming a restaurant item in the 1950s, it is said that shrimp croquettes originated in Flanders during World War I. The croquettes don't easily spoil, so they were served as food rations for the soldiers.
The components for this dish are gray shrimps, bechamel sauce, and breading for that crunchy finish. The bechamel sauce is a medium-thick sauce made of flour, milk, and butter. Sometimes, Parmesan cheese is added to the sauce mixture.
So, who bagged the award for the best shrimp croquettes in Brussels? Fernand Obb Delicatessen.
---
Beer
Let's raise our glass to the land of UNESCO-inscribed Belgian beer culture!
Beer lovers rejoice! With over 200 breweries, local and international, Belgium is one of the top producers of beer in the continent. The country's beer-brewing roots can be traced back to the 12th century, propelled by the religious orders who had a major role in the development of the brewing method through the years. In fact, one of the revered beer types in the country is the Trappist beer, which dates back to the 19th century and produced by the Trappist monks in the monasteries.
Belgium celebrates several beer festivals. Beer is that HUGE. They are usually sold in bottles, while the special types are usually served in the glassware made specifically for them. There's more! The Belgians also love to incorporate beer in their cuisines. Remember moules à la bière and moules-frites? Yep.
If you want to know more about the various types of beers in Belgium, the beer-making methods, and the history of beer brewing in Belgium, you can join a guided beer tour. Your professional guide will lead you to the best beer places and even the hidden taverns and oldest pubs. Klook offers a tour that is inclusive of beer tastings and beer snacks samplings.
✅ BOOK BRUSSELS BEER TASTING TOUR HERE!
---
Top Brussels Hotels & Apartments
---
Edited by Asta Alvarez
2021 • 4 • 1
More Tips on YouTube ⬇️⬇️⬇️