The Netherlands is blanketed with fertile lands, bordered by the North Sea. This abundance in ocean bounty and farm produce is probably why traditional Dutch cuisine is dominated by fish, vegetables, bread, and dairy products!
While it's easy to be distracted by global fast food in its capital, Amsterdam, it is still possible to have a taste of the local fare. One workaround is to join food tours, usually led by a knowledgeable guide who will take you to the best foodie spots around the city.
For the grab-and-go type of travelers, you would be delighted to know that Amsterdam has a strong street food culture. Hence, finding a food stall serving traditional dishes isn't challenging at all.
If you are visiting Amsterdam soon, here are some cheap and accessible local grubs that you should get your hands on and sink your teeth into.
---
WHAT'S COVERED IN THIS GUIDE?
1. Stroopwafel
Originated from the city of Gouda, stroopwafel is a wafer cookie made of two thin layers of stiff dough pressed in a hot waffle iron. Slathered with a caramel filling, the round crispy thin waffles are joined as the filling cools down. Stroopwafel is usually round in shape and best paired with hot steaming coffee or tea.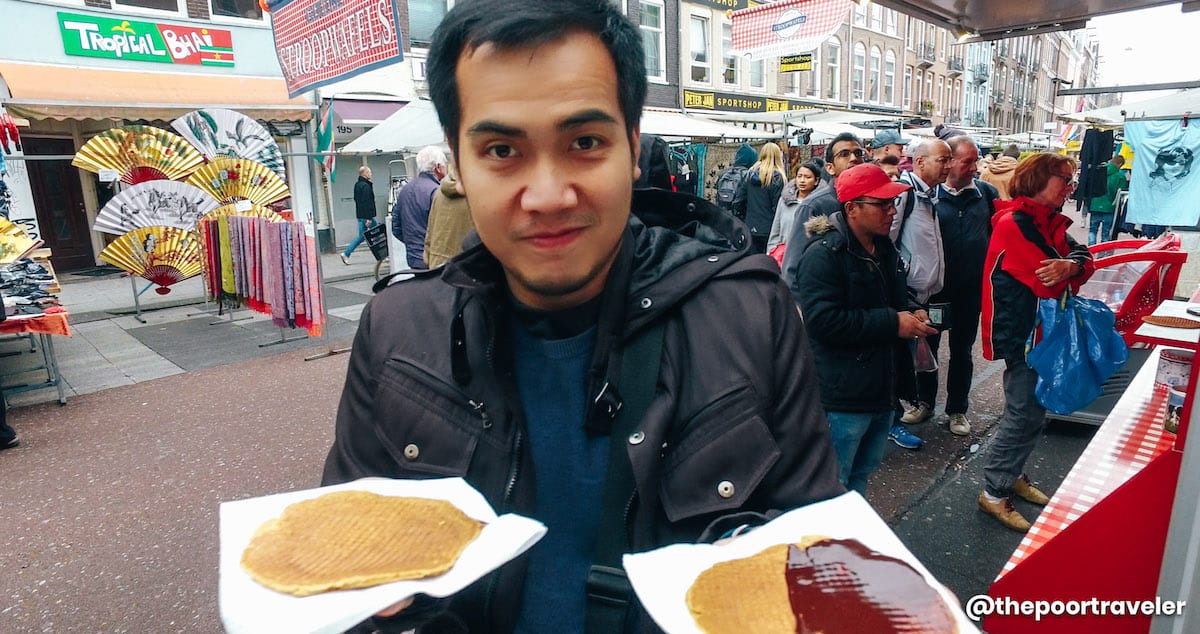 These are usually sold in food trucks or stalls. When we were at Amsterdam's Albert Cuyp Market, the stroopwafel stall had the longest queue. We got curious so we fell in line. When we reached the end, we were asked whether we wanted the classic caramel or the chocolate variety. We ordered one of each! Both tasted marvelous, but we enjoyed the original caramel version better. The sweetness of the caramel was complemented well by the warm dough. It was one of the best cheap desserts or snacks that we had in Europe.
---
2. Poffertjes
Another sweet, buttery treat that we were able to try is poffertje. Said to spring from a Catholic tradition of communion during mass service, poffertjes are a puffy version of the usual thin round sacramental hosts. They also look like tiny, fluffy pancakes.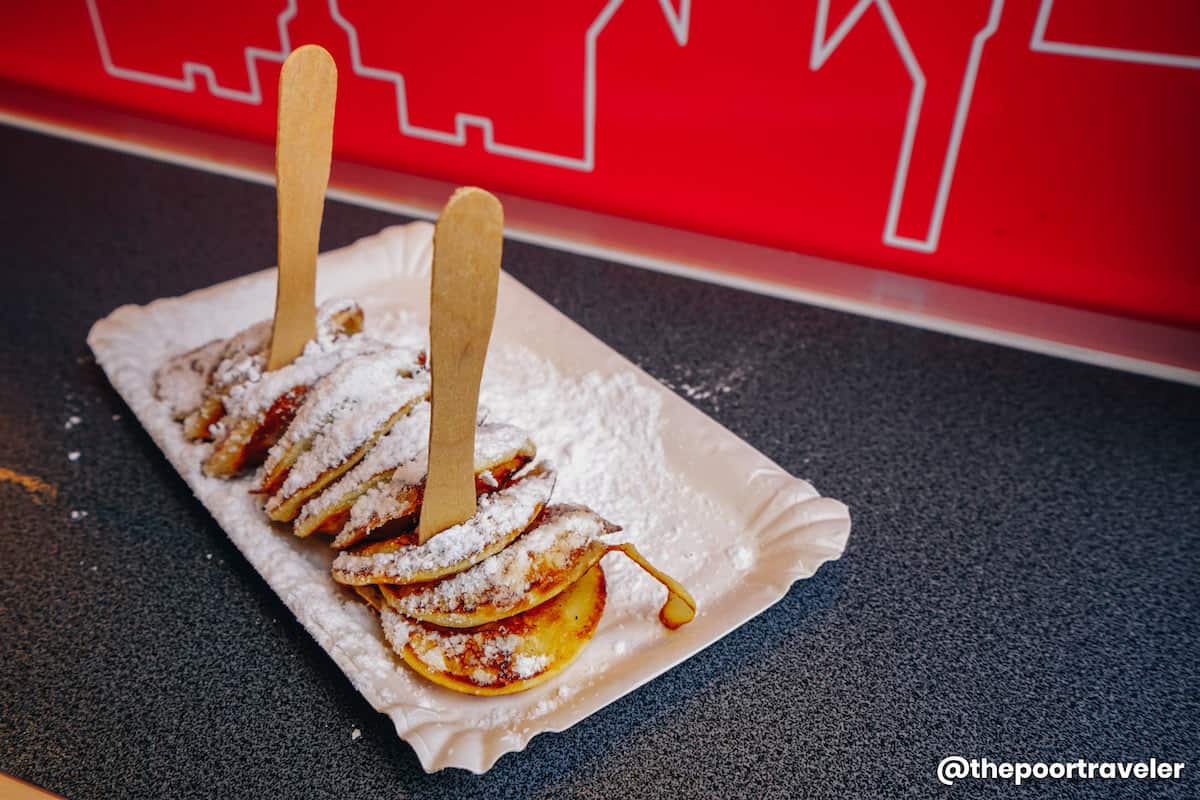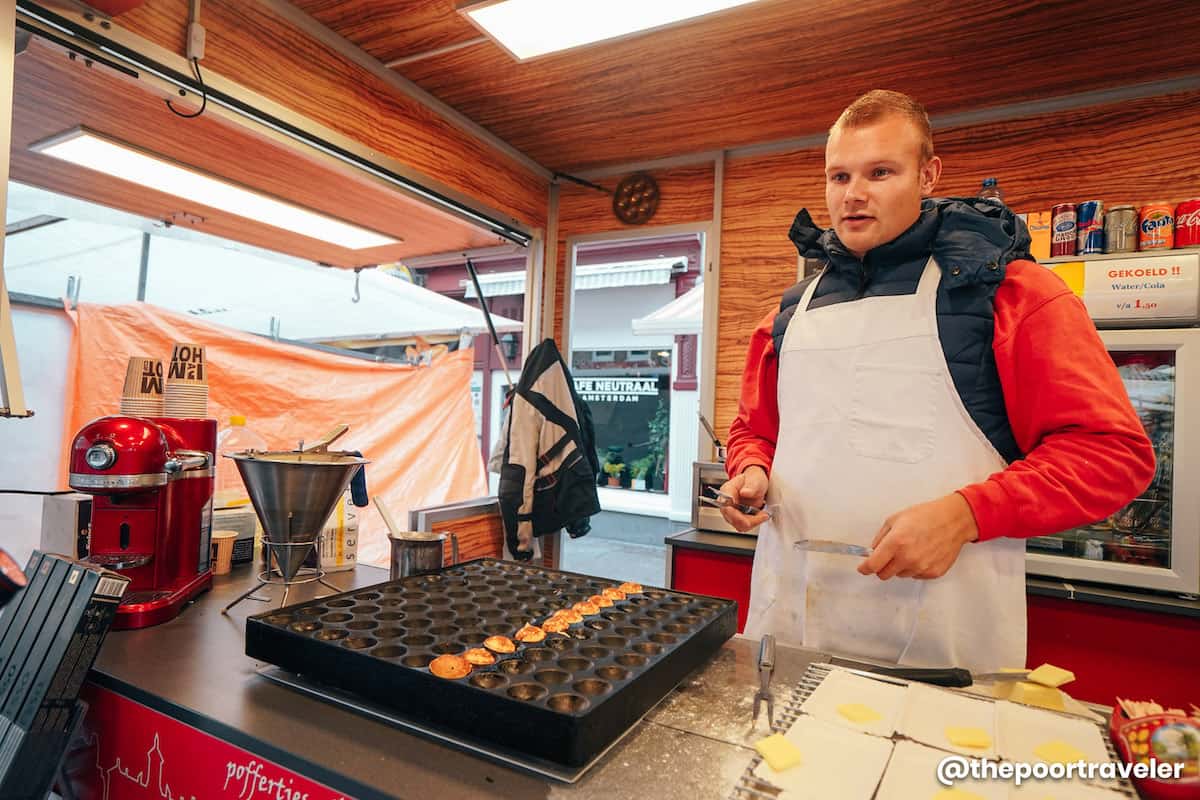 They are made of buckwheat flour and yeast, resulting in a fluffy appearance and spongy texture. It is normally served with butter and a lavish amount of powdered sugar (or honey, chocolate syrup, etc.) Some places serve it with cheese for a savory taste.
You can get yours from food stalls on the streets of Amsterdam.
---
3. Haring (Pickled Herring)
If you love sashimi, you can probably brave trying this Dutch delicacy. But contrary to what many first-timers expect, the herrings sold on the streets of Amsterdam (or anywhere else in the Netherlands) are not actually raw or straight from the ocean. It has to be prepared well, first by lightly curing it with salt and then freezing it for a couple of days. This process is crucial as it adds to the flavor and removes the fishy taste.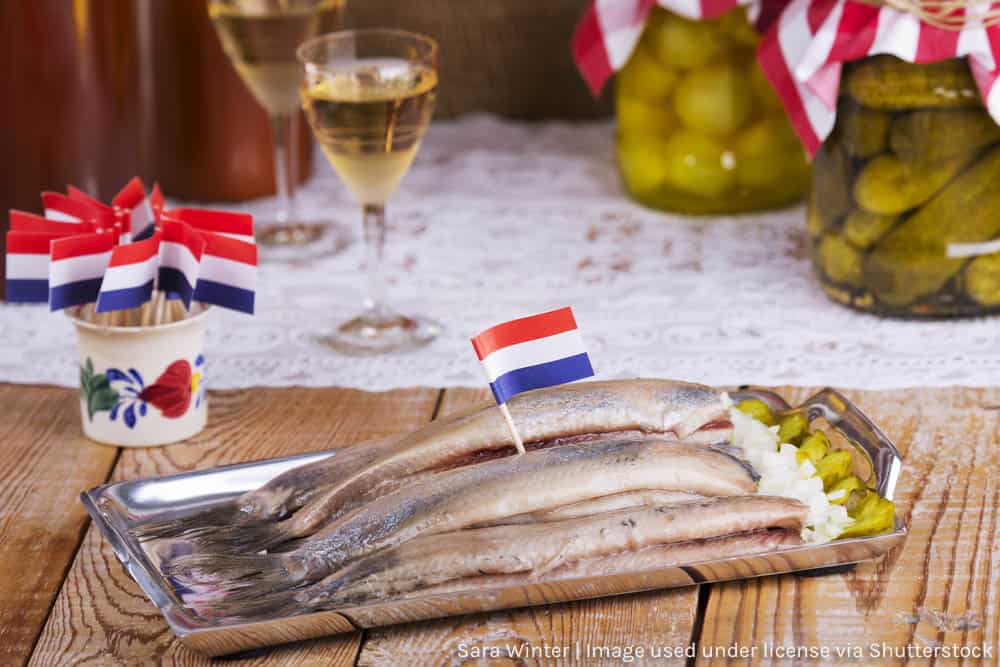 It is usually served with slices of pickles and diced onions. There are three ways to eat pickled herring:
Traditional (Rotterdam or Hague Style). Raise the herring by holding the tail with your hand and then take a bite or gnaw on it.
Sliced (Amsterdam Style). If you just want to share one serving of pickled herring, this style of consuming it is for you. You use a toothpick to pick your slice and pop it into your mouth.
In a bun. If you don't want to eat it on its own, you can have it in a bun. For those who are not adventurous, you can get yours prepared as a sandwich.
I'll be the first to say that this is a bit of an acquired taste. But go ahead and still give it a try! As for us, we love salted or cured fish so this is right up our alley!
---
4. Kibbeling
Another popular Dutch snack is kibbeling. To describe this simply, these are basically fish pops. It is made of chunks of fish (cod), covered in a batter of flour and egg, and then deep-fried. This is normally served with tartar sauce or garlic mayo dip.
You can get them from snack bars or food stalls.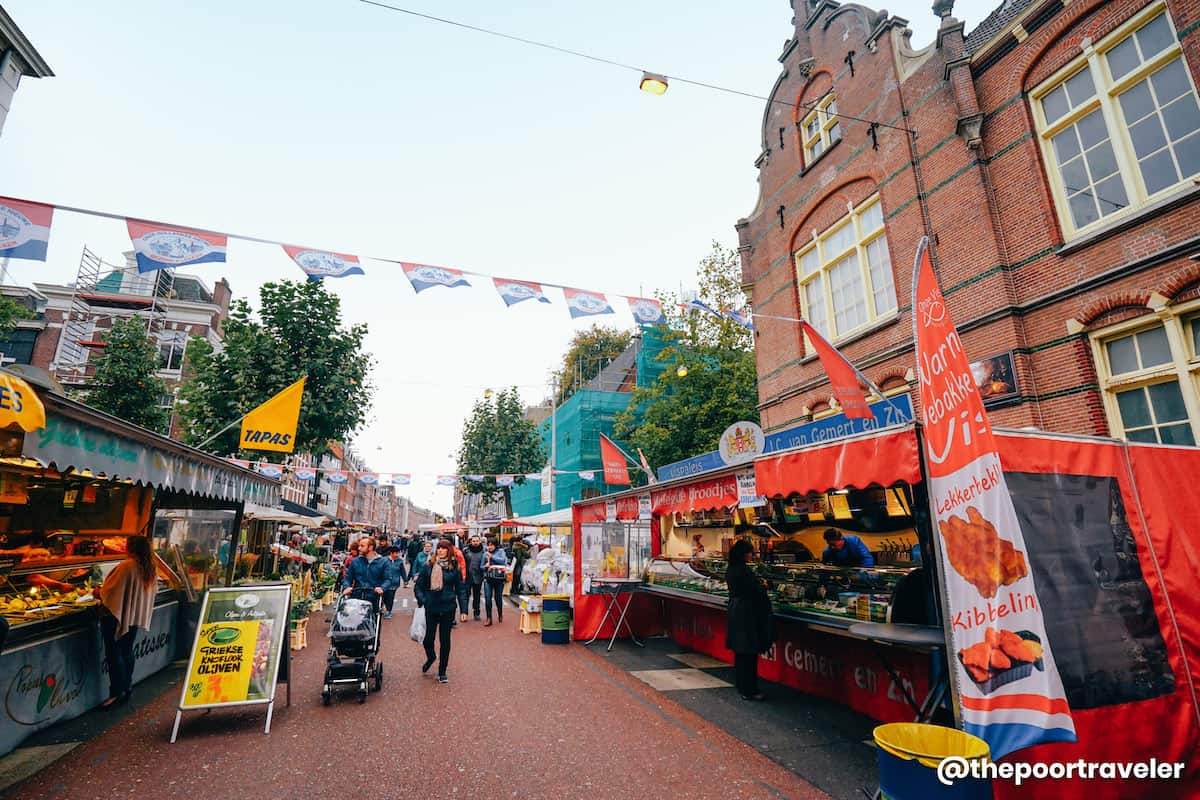 ---
5. Dutch Cheese
The Netherlands has a robust dairy economy, and cheese is a product that plays a major role in the export industry. They even have festivals for cheese!
There are numerous cheese-tasting or cheese-making experiences offered in Amsterdam. Some of them will even take you to the places that produce the best cheese in the country such as Gouda, Edam, and Alkmaar. The Dutch cheeses are known to be hard or firm. Here are some of the popular types: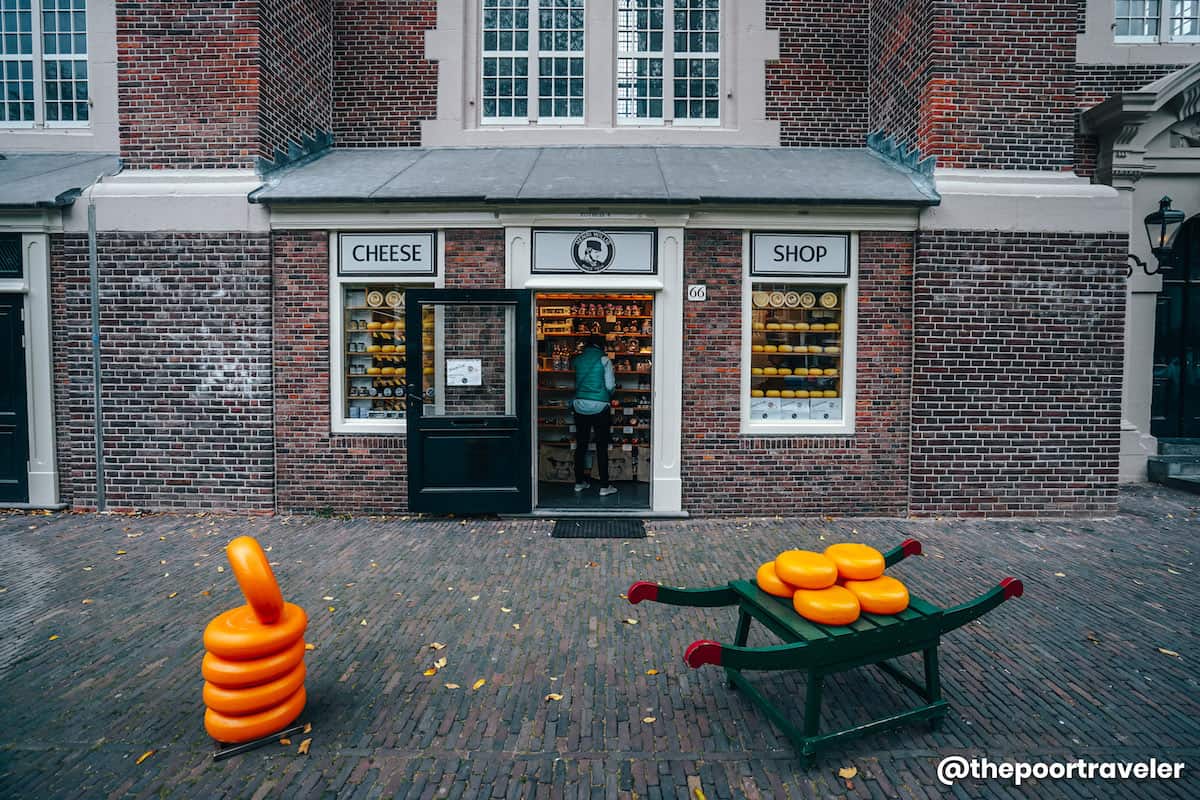 Gouda. Gouda cheese has become synonymous with the whole concept of Dutch cheese. This yellow semi-hard cow's milk cheese is probably one of the oldest types of cheese in the world. It is named after the city of Gouda, one of the major cheese-trading site in the Netherlands.
Edam. This one is named after the town of Edam and is characterized by its red paraffin wax coating and low fat content. This is another yellow semi-hard cheese type but with better longevity rate.
Leerdammer. Another semi-hard cow's milk cheese but with a nutty taste and lighter color.
Maasdam. The Dutch's answer to the Swiss' Emmental cheese. It is characterized by the presence of holes, yellow color, and nutty flavor. It is a semi-hard cow's milk but softer than that of Emmental.
Kanterkaas. This is a yellow cow's milk cheese that is sometimes infused with cumin or a combination of both cumin and cloves. This type of cheese is only produced in Friesland and the Westerkwartier areas.
---
6. Kroketten (Croquettes)
The Dutch croquette or kroket used to be served as a side dish, but it quickly developed into a snack after World War II.
Traditionally, it consists of meat ragout rolled and breaded, then deep-fried until crispy and golden brown. Other versions of kroketten use chicken, seafood, cheese, goulash, or vegetables instead of red meat. It is usually served with mustard sauce, but there are other sauces too. Some serve it with fries or in a bun.
You can order from restaurants or snack bars. We had a taste of it at Cafe Luxembourg, a popular casual dining spot featured on National Geographic's "Street Food Around the World." We didn't really plan on trying it but we stumbled upon as we were exploring the city and I remembered that episode so we decided to give it a go.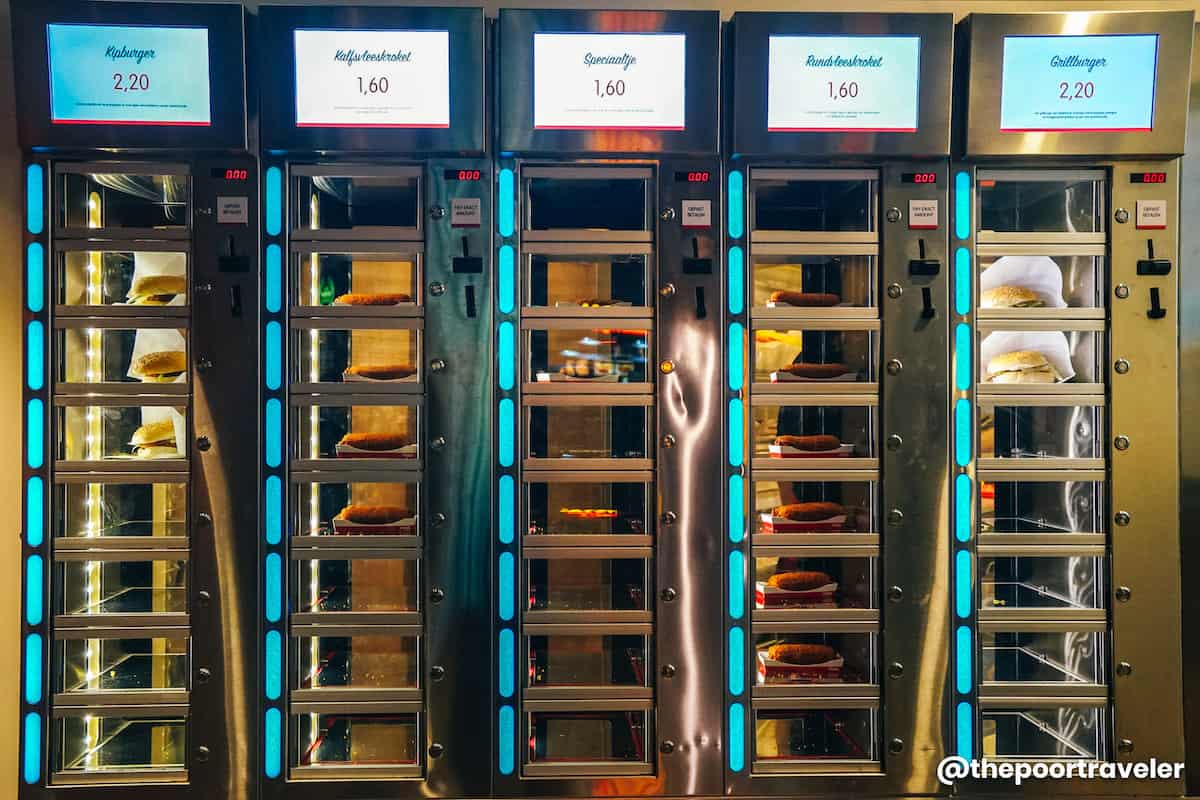 Don't be surprised to see food vending machines, too! In Amsterdam, you'll find vendos from which you can grab snacks like burgers, sausages, and of course, croquettes!
---
7. Broodje
The Dutch love their bread, so it is not surprising that it's a staple in most restaurants in Amsterdam. Regular breakfast and lunch meals are composed of bread with toppings/fillings like cheese or vegetables.
One item that you will encounter a lot is a broodje, which is a small bread that can be filled with anything — sausages, tartare, roast beef, roast pork, meatballs, kroketten, herring, etc. So yep, a sandwich!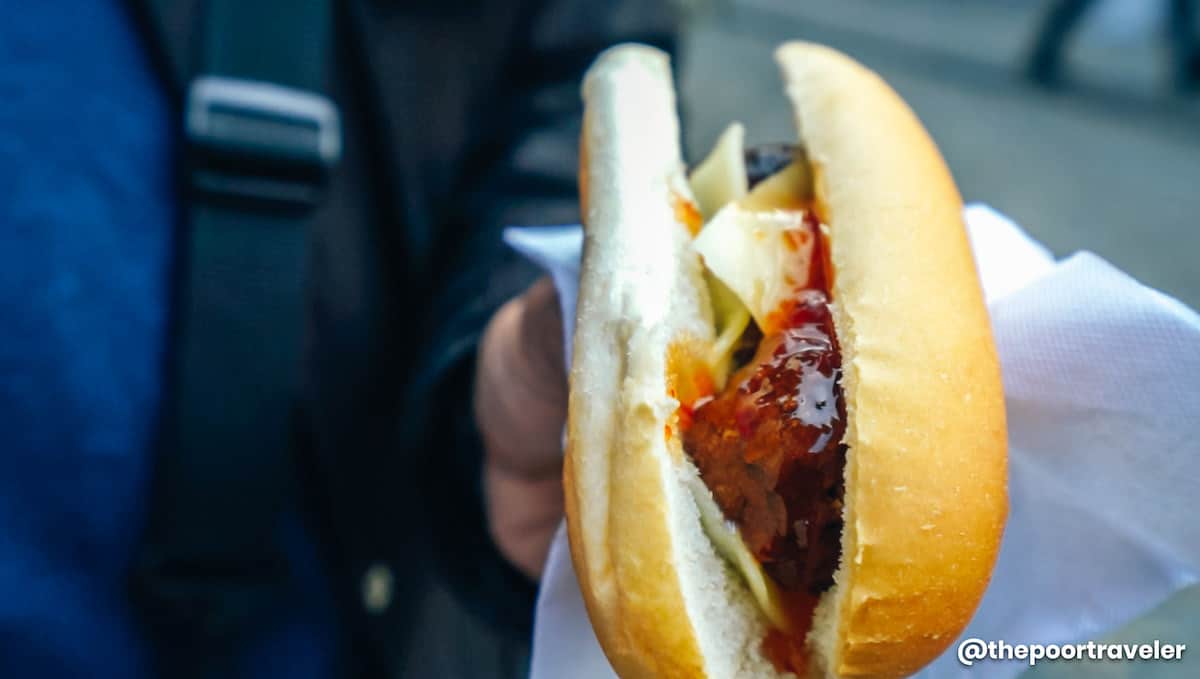 Their love for broodjes is made obvious by the fact that sandwich stalls abound in Amsterdam. They really love their carbs, but they burn them easily by walking or cycling.
---
8. Patatje Oorlog
Literally translated in English as "war fries", patatje oorlog is like a serving of fries with toppings on steroid.
The base will be the crispy fries buried in chaotic layers of toppings, which can be composed of mayonnaise, spicy peanut satay sauce, and diced onions. You can add ketchup if you want. The end product is an explosion of savory, spicy, and salty flavors.
---
9. Bitterballen
If bitterbal and kroket were sisters, the former is that round sister, while the latter is the tall one.
The two snacks are closely related and similar in terms of ingredients and preparation. They are both breaded meat stew or ragout, deep-fried to golden-brown perfection. Some makers usually incorporate nutmeg into the base stew besides onion, parsley, pepper, salt, and sometimes minced carrots. They are crispy rough on the outside and soft inside. They are usually served with a mustard dip.
These are usually served in teahouses and sold in bakeries.
---
10. Sweet Pastries
Yes, we are talking about pastries again. This time, the sweet kind. If you are craving something sweet, here are some of the popular Dutch sweet pastries:
Bossche Bol. This is named after Den Bosch, its birthplace city. This looks like an apple covered in chocolate, but it is really a big chocolate-coated cream puff with whipped cream fillings. This is best paired with a hot coffee or tea (if you are not into coffee).
Gemberbolus. It is said to have stemmed from the Jewish immigrants in Amsterdam. This looks like a cinnamon roll but infused with ginger; hence, it is called ginger roll or ginger bun. Its batter is made of flour, yeast, salt, milk, sugar, eggs, and butter. For the flavor, candied ginger, vanilla, and cinnamon are added.
Moorkop. It's a creampuff filled with whipped cream with its half top part coated in chocolate and then topped again with whipped cream, and sometimes, tangerine (or pineapple). The chocolate coating resembles a Moorish turban, hence the name.
---
Top Amsterdam Hotels & Apartments
We stayed at XO Hotel Inner, located just in the outer fringes of the museum complex (Rijksmuseum, Stedelijk, and Van Gogh Museum). It was undergoing renovation at the time, but we enjoyed our stay. I think the renovation is complete now.
Anyway, here are the top properties on Booking.com as ranked by value for money (considering review score + price) by guests.
---
Edited by Asta Alvarez
2021 • 4 • 10
More Tips on YouTube ⬇️⬇️⬇️