The capital of and the largest city in Portugal, Lisbon is loaded with tourist attractions. The historic center alone is stuffed with notable monuments and historic landmarks, and can easily fill any itinerary.
The transportation system within the city is extensive and efficient so getting from one attraction to another is easy peasy. It is also well-connected to other parts of the country and other major cities in Europe.
If you are planning to visit Lisbon in the future, here are some of the things to do and places to visit. We included tours and links from Klook in case you are thinking of purchasing tickets online or joining a guided tour.
---
WHAT'S COVERED IN THIS GUIDE?
LISBON GUIDED TOURS
1. Walking Tour (Lisbon Highlights)
As one of the oldest capital cities in Europe, Lisbon is criss-crossed with medieval streets that are lined with age-old buildings and punctuated by historical monuments. If you have limited time or you want an appetizer of what Lisbon's travel buffet has to offer, you can go on a sightseeing tour on your own. The city's transportation system is efficient, making it easy for tourists to breeze their way from one attraction to the next.
But if you want to understand the sites better, you can join a guided tour. There are plenty of tour agencies offering walking tours that cover the city's key attractions.
As in any major European city, there are FREE walking tours in Lisbon. The most widely available is simply called "Lisbon Tour", which will take you around the historic center: Bairro Alto, Chiado, and Baixa. But there are a few more covering Alfama and Belem. As always, these tours are only free in theory. But in practice, you're expected to provide a tip at the end.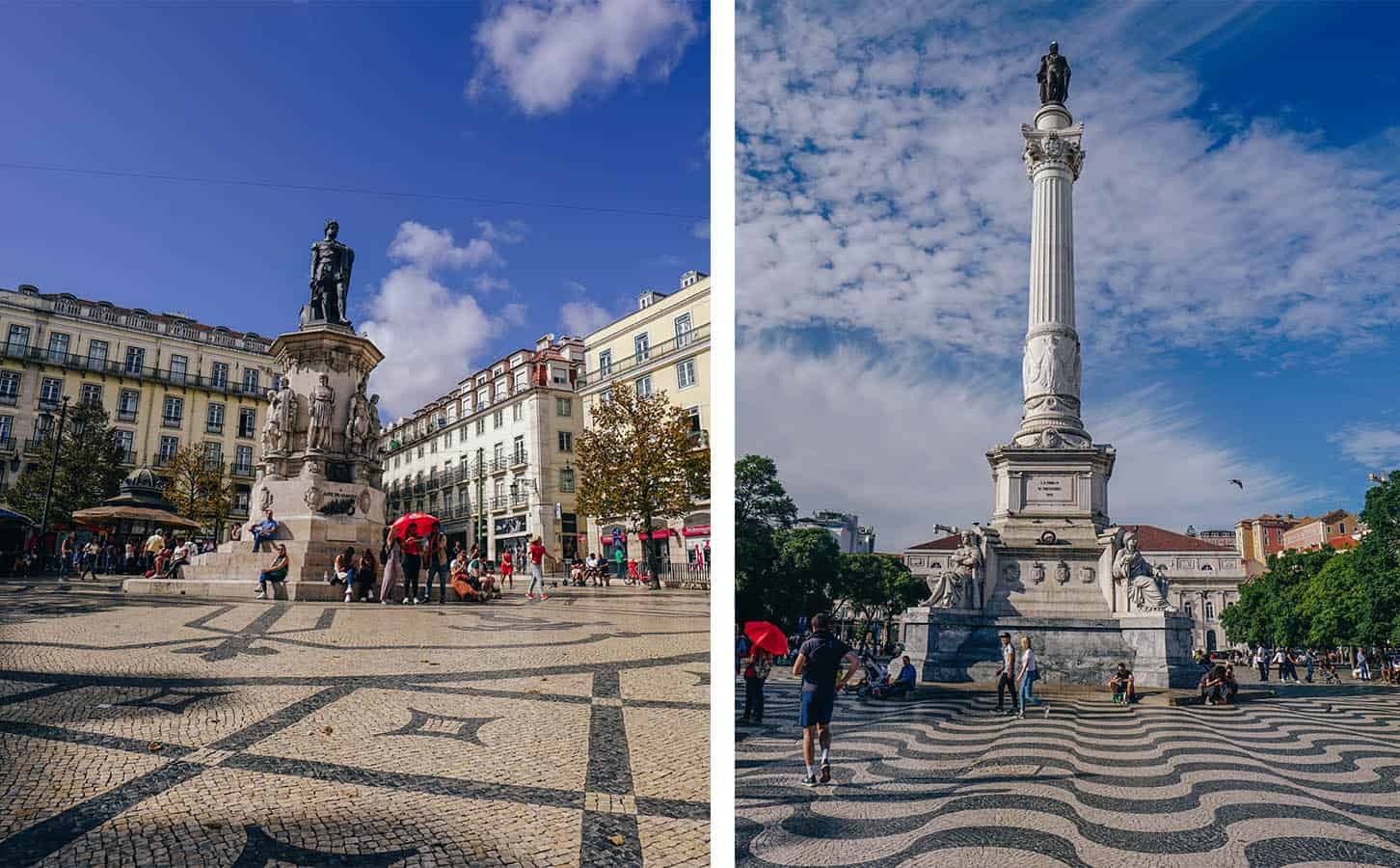 If you'd rather pay or you're a fan of Klook, they're also offering both half-day and full-day packages. These include the historic center and the Alfama district in the itinerary. You may check the inclusions and the itinerary on the links below.
✅ BOOK LISBON HALF-DAY WALKING TOUR HERE!
✅ BOOK LISBON FULL-DAY WALKING TOUR HERE!
---
2. Tramcar Tour
The trams have been operating in the city since 1901. It has become one of the main modes of transportation for locals and tourists alike. In fact, the tram has become an attraction in itself!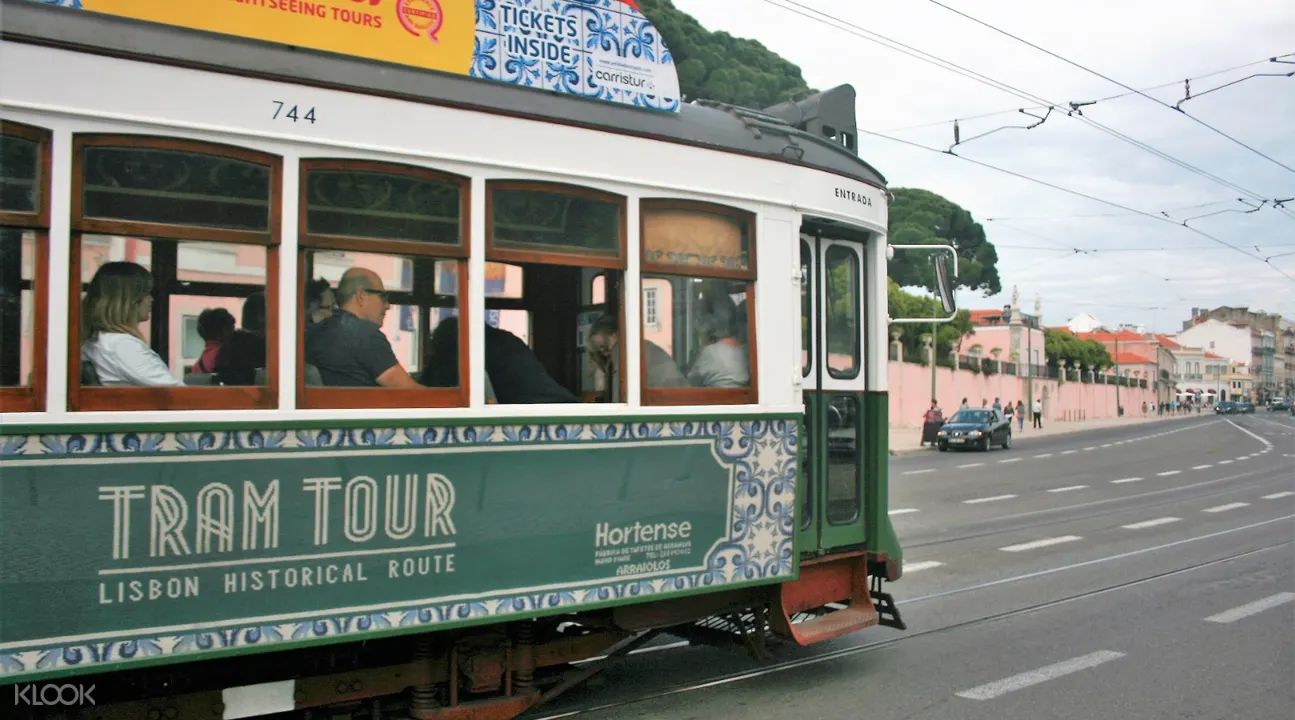 If you want to explore Lisbon by tram, you can also book a tramcar tour. Klook is also offering this with other options such as combining it with Hop-on Hop-off bus and/or hop-on hop-off boat. These offers also cover Santa Justa Lift, Lisbon Funicular, and discount book for museums, monuments, and other activities.
✅ CHECK OPTIONS OR BOOK HERE!
---
3. Lisbon Food Tour
If you are craving a "tasteful" way of immersing yourself in Lisbon culture, a food tour is definitely a great choice. There's so much history in food and you might be surprised when you hear about the origin of some of the signature Portuguese dishes.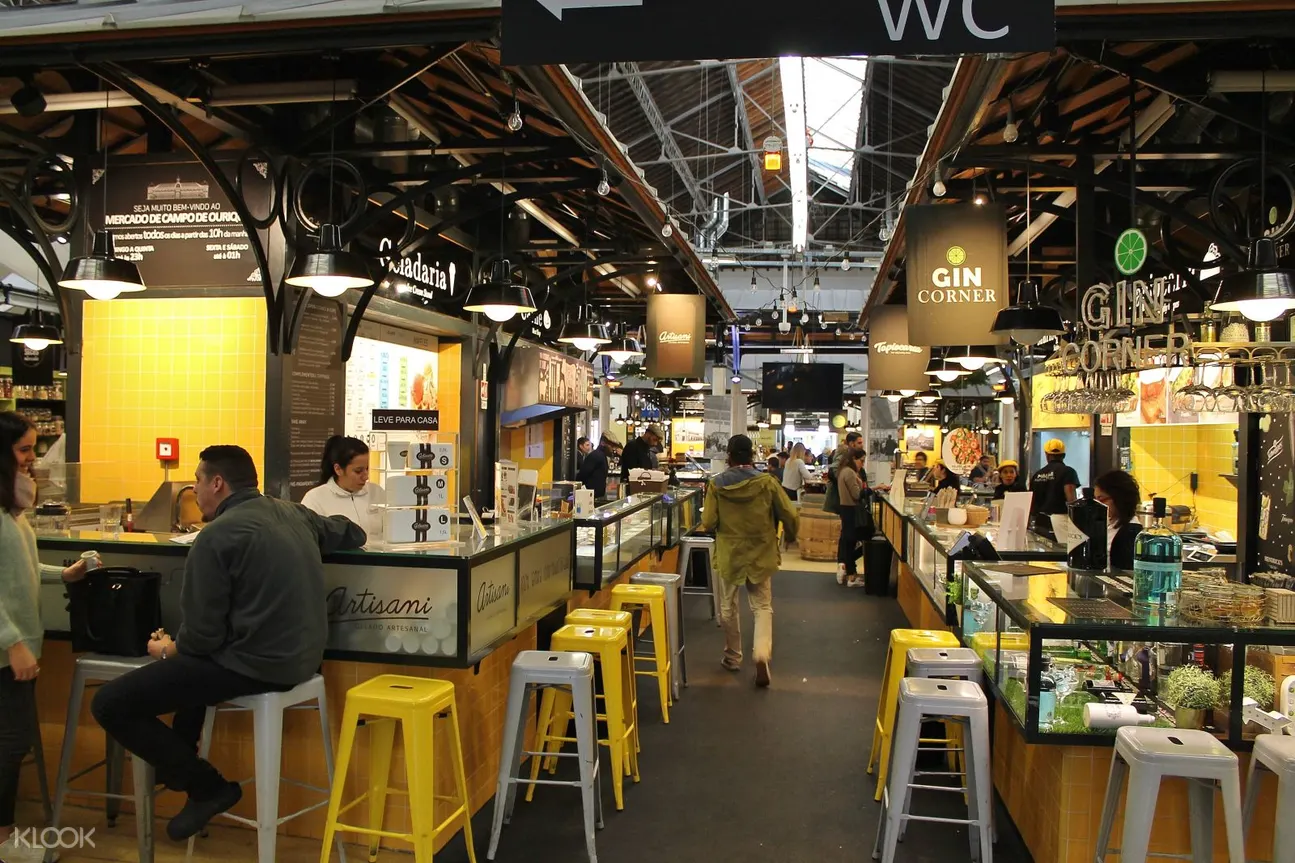 Joining a guided food tour will give you more insights about the culinary traditions of Portugal while in Lisbon. Your knowledgeable local guide will lead you to the best food places in the city. Delight in the peculiar flavors as you hop from one restaurant to the next. Klook's package includes transportation between food places, insurance, a local guide, and 14 food samplings from five food stops.
✅ BOOK THIS TOUR HERE!
---
4. Lisbon Mystery Tour
If you are into solving puzzles and decoding riddles, the mystery tour is an offbeat form of getting around and exploring the city's historical landmarks and hidden wonders. Uncover the clues and put your deductive reasoning to test to get from one tourist spot to the next.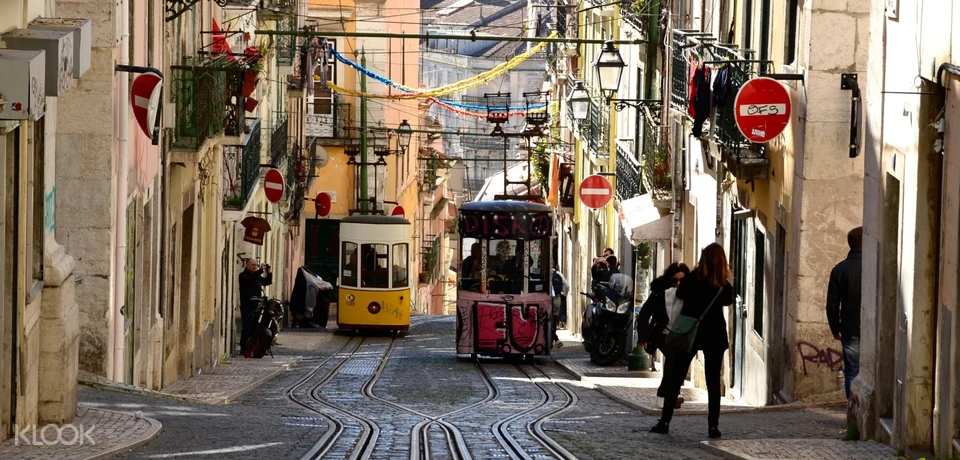 This self-guided discovery game is offered by Klook. You will receive an e-mail providing the link to the web app game. Good luck, Sherlock!
✅ BOOK THIS DISCOVERY GAME HERE!
---
5. Lisbon Cemeteries Tour
Are you the type of traveler who digs dark and spooky experiences when visiting a place? Unearth ghost stories, urban legends, and dark mysteries as you march your way through various tombs and mausoleums with your guide.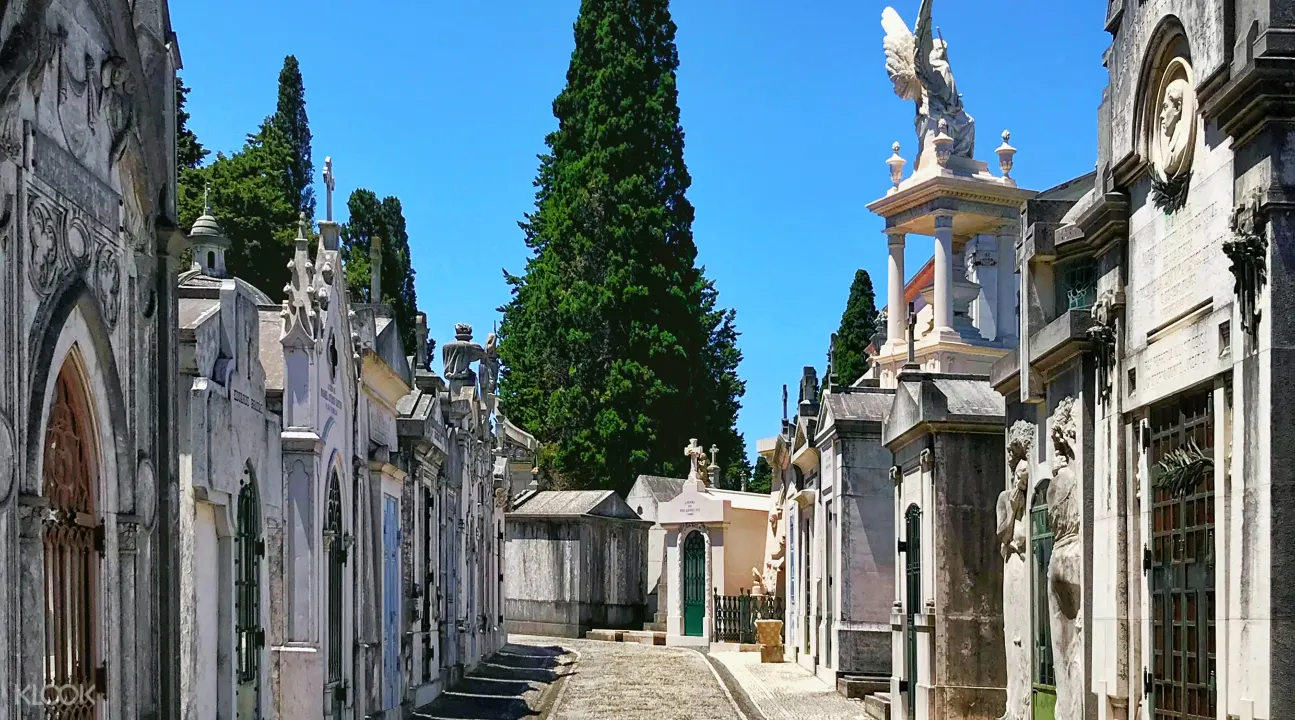 Klook's offer is a three-hour tour that will take you to these places: Bairro Alto, Non-Catholic Cemeteries, and Prazeres Cemetry.
✅ JOIN THIS TOUR HERE!
---
6. Gardens Tour
The western portion of the city nestles the Monsanto Forest Park. But that's not all. The urban landscape of Lisbon is dotted with green spaces like gardens and parks. In fact, there are tours that cater to those who would like to embark on a relaxing and refreshing tour of Lisbon's green spaces — both popular and less frequented ones.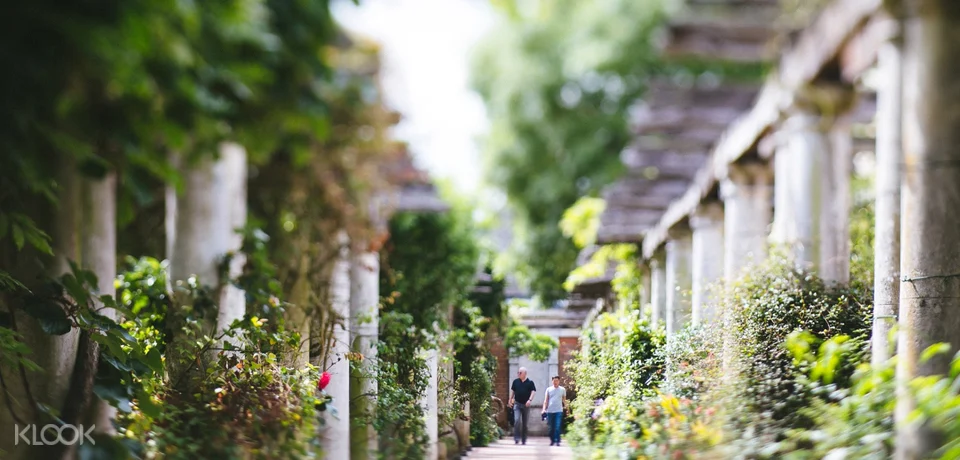 If you are a fan of Klook, you can book its three-hour guided walking tour that will direct you to some of the city's gardens and parks. Your guide will water your curiosity with info about the places that you will visit.
✅ BOOK THIS TOUR HERE!
---
7. Lisbon Churches Tour
The missionaries during the Reconquista period played an important role in expanding Portugal's power in that era. Consequently, Lisbon, as an important political and economic center, is home to a good number of religious monuments and churches.
Klook has curated the three-hour Secret Churches Tour that tackles both the iconic and the offbeat churches in Lisbon. Learn from the knowledgeable guide the history of the churches and why some of them are not accessible to the public. Discover religious relics and secret consecrated places. The tour inclusions are entrance fees, insurance, and a multilingual guide.
✅ BOOK THIS TOUR HERE!
---
8. Music Scene Tour
Lisbon prides itself on producing Portugal's distinctly melancholic Fado music, which developed in the 1820s. It is performed by a black-clad lone singer with the accompaniment of the classical Portuguese guitar.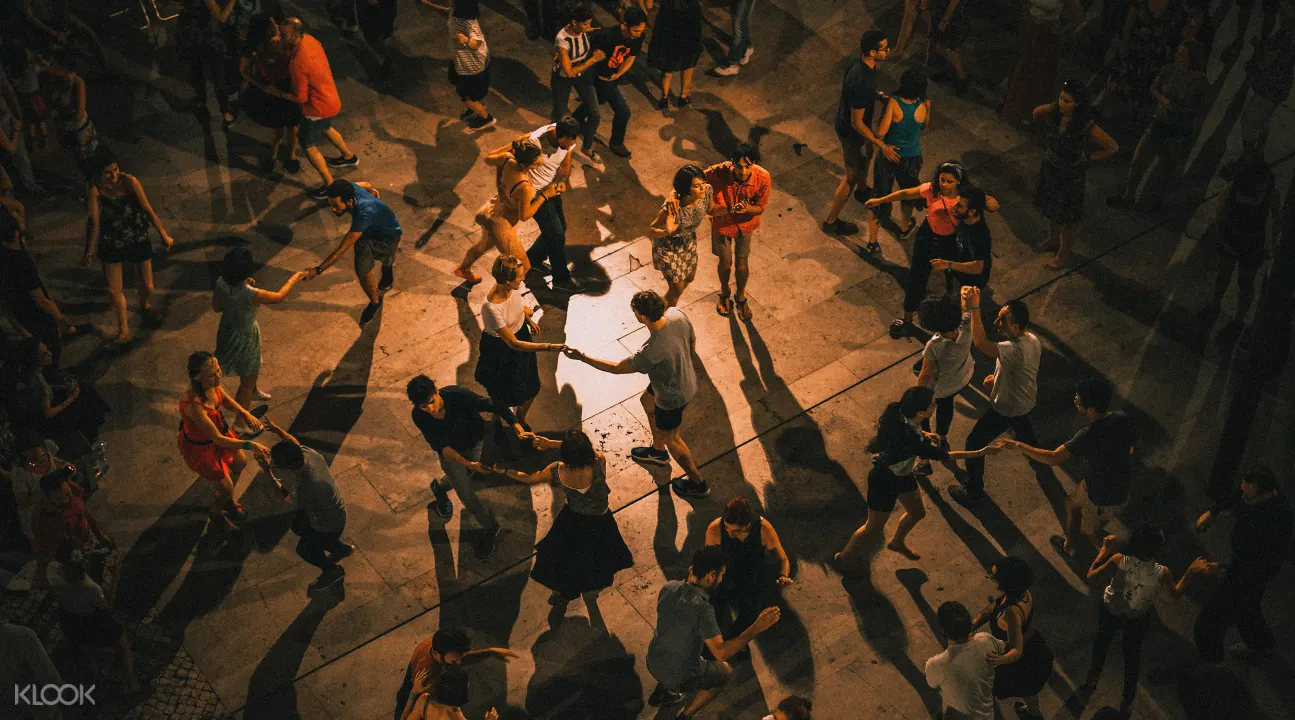 There are several bars and restaurants that feature Fado performances. Other areas, especially the nightlife districts, are stirring with lively and springy Brazilian and African music, both have a huge influence in Lisbon's music style.
If you are interested in learning more about the city's music scene, you can join Klook's three-hour Music Scene Tour that will take you to Fado-related spots and other popular music venues.
✅ BOOK THIS TOUR HERE!
---
9. Street Art Tour
Lisbon is adorned with huge murals, street art paintings, and creative installations. The walls, buildings, and other blank spaces have been turned into canvases by very dynamic Portugal artists. These public pieces have made art more accessible to the public.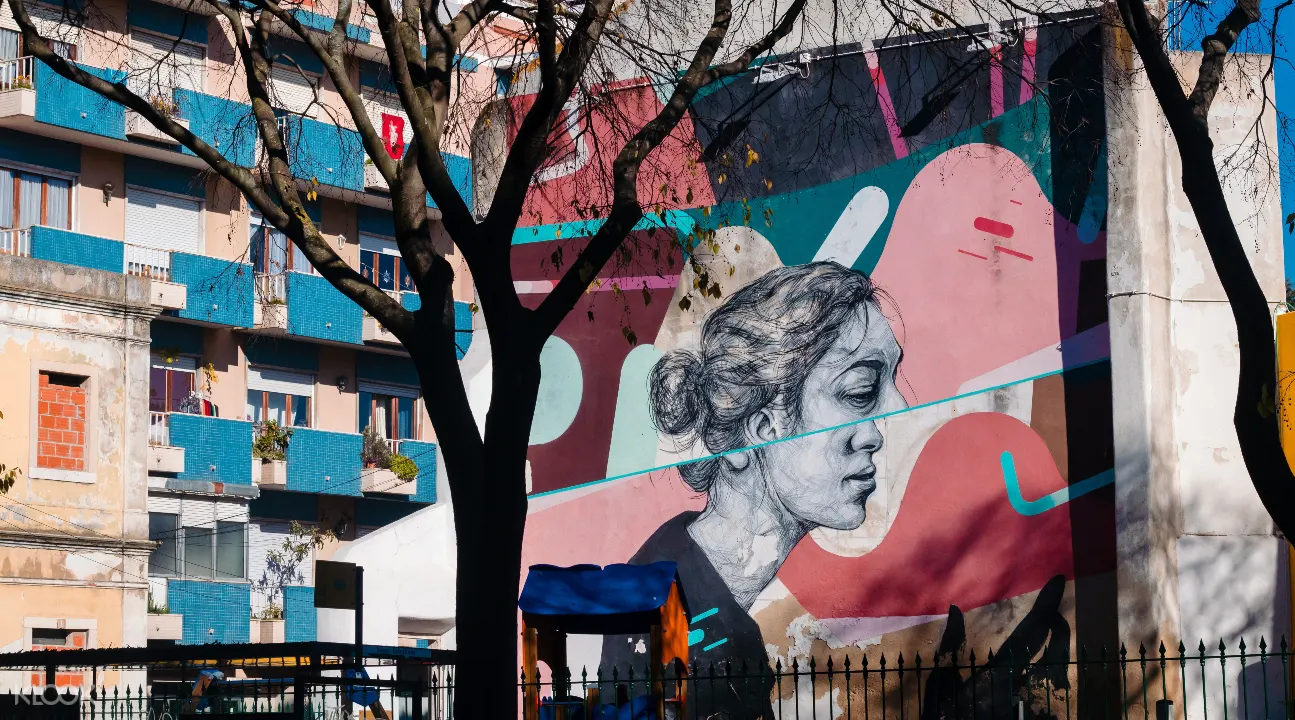 These street art pieces have also become attractions in themselves as more tourists find them as perfect backdrops for their travel photos. For those who love hunting murals and street arts, you can join Klook's three-hour Street Art Tour.
✅ BOOK THIS TOUR HERE!
---
10. LGBT Night Tour
Lisbon's annual Gay & Lesbian Film Festival, the Grand Lisboa, is a testament that the LGBT community has a voice through this platform. If you want to know where gay pride happenings are, you can join an exclusive guided tour and shimmy your way through the best LGBT bars and night clubs in the city.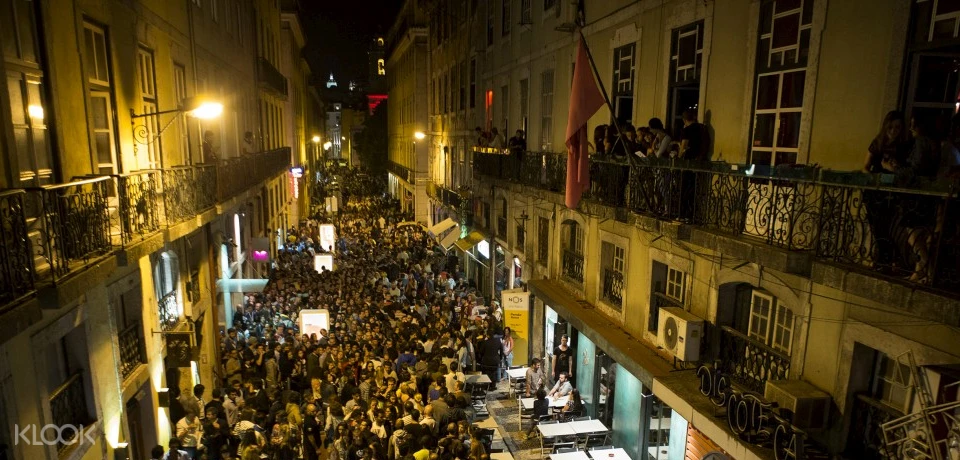 There's a package offered by Klook that has Bairro Alto and Principe Real neighborhoods in the itinerary. This tour's inclusions are welcome drinks, an LGBT city map, a professional guide, and insurance.
✅ BOOK THIS TOUR HERE!
---
PLACES TO VISIT IN LISBON
11. Alfama
Encompassing the area between Saint George Castle and the Tagus River, Alfama is characterized by narrow winding medieval streets, old churches, small squares, and houses with red roofs. The neighborhood's map is dotted with important historical landmarks and cultural heritage sites.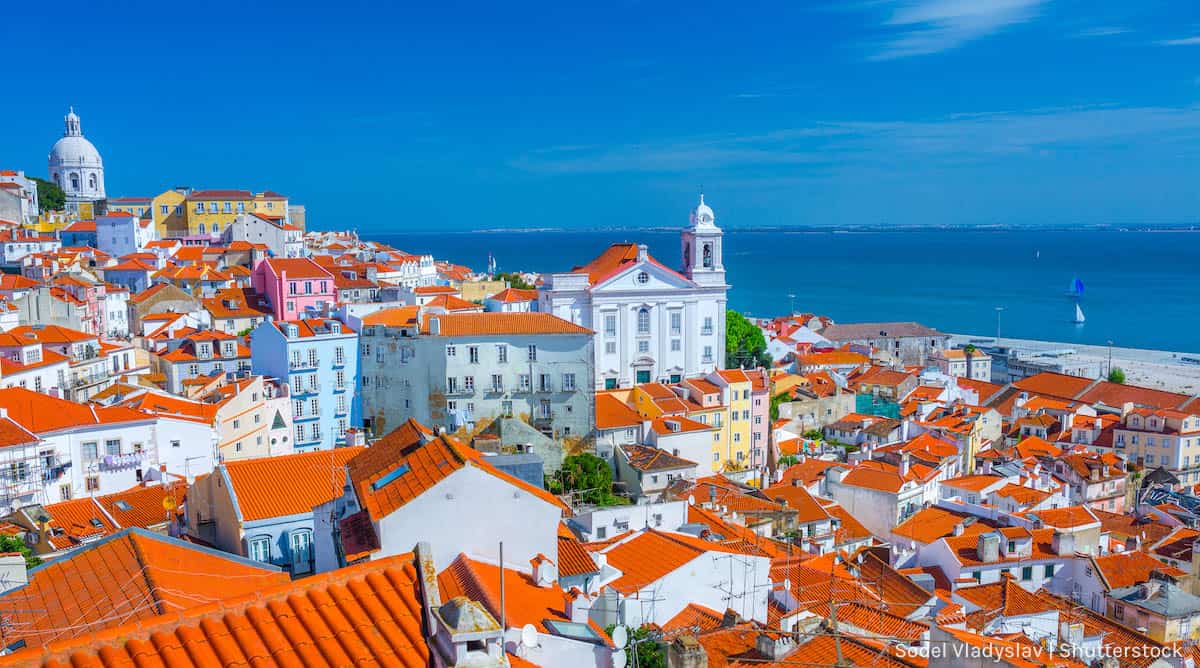 There are also a good number of Fado restaurants and bars. Some of the notable attractions are Saint George Castle, Lisbon Cathedral, Sao Vicente de Fora Church, National Pantheon, The Tile Museum, and Fado Museum.
Getting There: Alfama is widely connected to other parts of Lisbon (and even beyond the city) by tram, bus, metro, and trains. The nearest tram or bus stop depends on the attraction you want to visit. The nearest metro stations are Terreiro do Paco, Rossio, and Martim Moniz. The nearest train stations are Lisboa Santa Apolonia and Rossio-Lisboa.
Alfama is best experienced on foot that it is not surprising why photo walkers flock to the district and walking tours abound in the area.
If you want to gather more information about the key attractions here, you can join a guided walking tour. Klook is offering one with skip-the-line access to Saint George Castle, a bottle of water, and a shot of ginjinha, a traditional sweet cherry liquor. You can take either the morning (1OAM) or the afternoon (3PM) schedule. The tour duration is about three hours.
✅ BOOK THIS TOUR HERE!
---
12. Lisbon's Jewish Neighborhood
Lisbon has the largest Jewish settlement in Portugal. There are four Jewish quarters in Lisbon: the most popular and oldest is found in Alfama district; the biggest number of Jewish residents is in Baixa district. There's also one near the Largo do Carmo Square in the Bairro Alto — Judiaria da Pedreira.
The settlement in Alfama dates back to the 13th century. It is located close to Lisbon Cathedral and can be easily accessed from there. Two significant Jewish-related sites are Largo de Sao Domingos (a Jewish Memorial) and Shaaré Tikvá (first synagogue in Lisbon).
Locations: Alfama, Baixa, and Bairro Alto
Strolling around the Jewish quarters knowing only a few things or nothing at all about its history could render the exploration a bit bland. If you want to save your energy locating these important Jewish sites in Lisbon and to make the trip more meaningful or enlightening, you might want to consider joining a tour with a knowledgeable guide and a fixed itinerary. Klook is offering a three-hour walking tour titled Jewish Neighborhood Tour.
✅ RESERVE A SLOT HERE!
---
13. Sintra
Sintra is a town in the Greater Lisbon region. It is a favorite weekend and holiday destination for locals and an extremely popular day trip stop for tourists. It is located west of Lisbon, less than an hour's drive from the city center.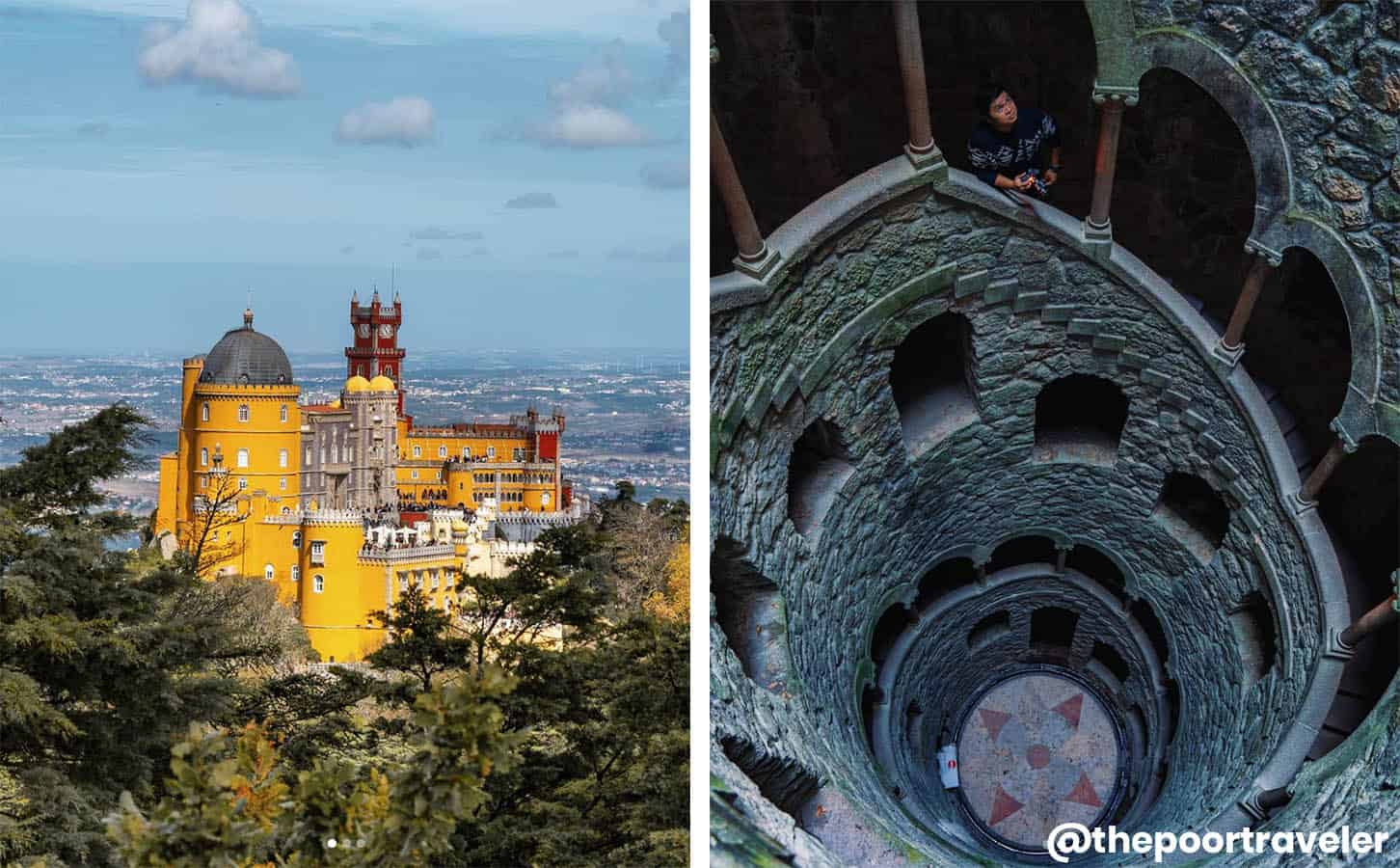 Characterized by luxury resorts, villas, and restaurants, it is one of the richest municipalities in Portugal. It was a favorite vacation spot for the nobility and the upper class back in the day.
The municipality is peppered with majestic castles, palaces, gardens, and villas. Some of the most notable attractions are Vila de Sintra, Pena National Palace, Sintra National Palace, Castle of the Moors, and Sintra-Cascais Nature Park.
Getting There: From Rossio Station in Baixa District, take the direct train route to Sintra Station. The travel time is about 40 minutes.
You can get to Sintra by train from Lisbon. You can check Klook's offer if you want to join a guided tour that includes entrance tickets, transportation, and a guide. Aside from Sintra, the itinerary also includes Cascais and Estoril.
✅ BOOK THIS TOUR HERE!
---
14. Torre de Belem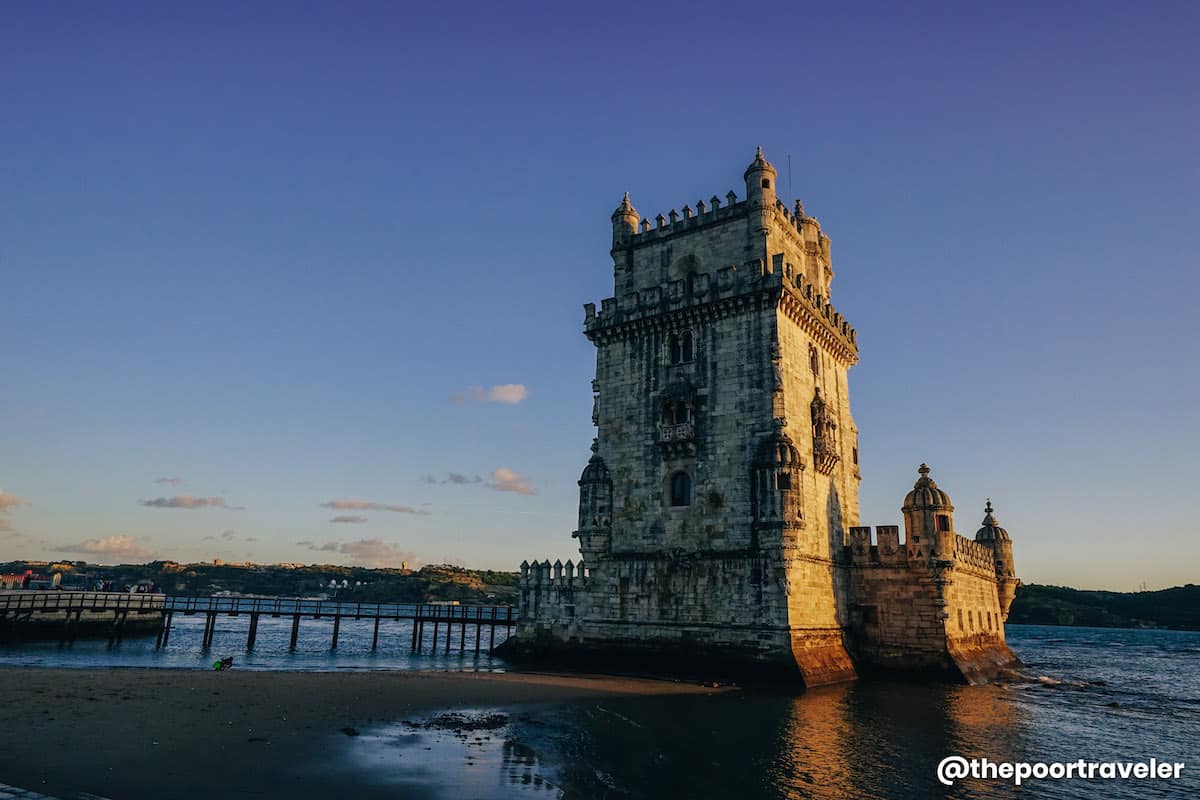 Completed in 1519, Torre de Belem, also known as Tower of Saint Vincent, is still standing proudly on the northern bank of Tagus River in the Belem district. It has undergone restoration that lasted less than a year, from February 1997 to January 1998. It not only served as a defensive tower but also the historical gateway for the Portuguese explorers.
Its architecture reflects the Portuguese Manueline style. It is included in the list of the Seven Wonders of Portugal in 2007 and the UNESCO World Heritage Site in 1983.
Nearest Tram Station: Largo da Princesa Station (Tram 15E)
Nearest Bus Stop: Largo da Princesa Stop (Bus 729, 79B)
Opening Hours: 10:00 AM – 6:30 PM (Summer), 10:00 AM – 5:30 PM (Winter)
Entrance Fee: €8.50 (Adults), FREE (14 y/o and below). This is the rate if you want to enter the tower, but if you are only viewing it from the outside, it's free.
---
15. Jeronimos Monastery
Jeronimos Monastery is also located in the Belem district, northeast of Torre de Belem, across the street. The construction of the existing monastery and church started in 1501 and took a hundred years to finish. It also follows the Portuguese Manueline style of architecture.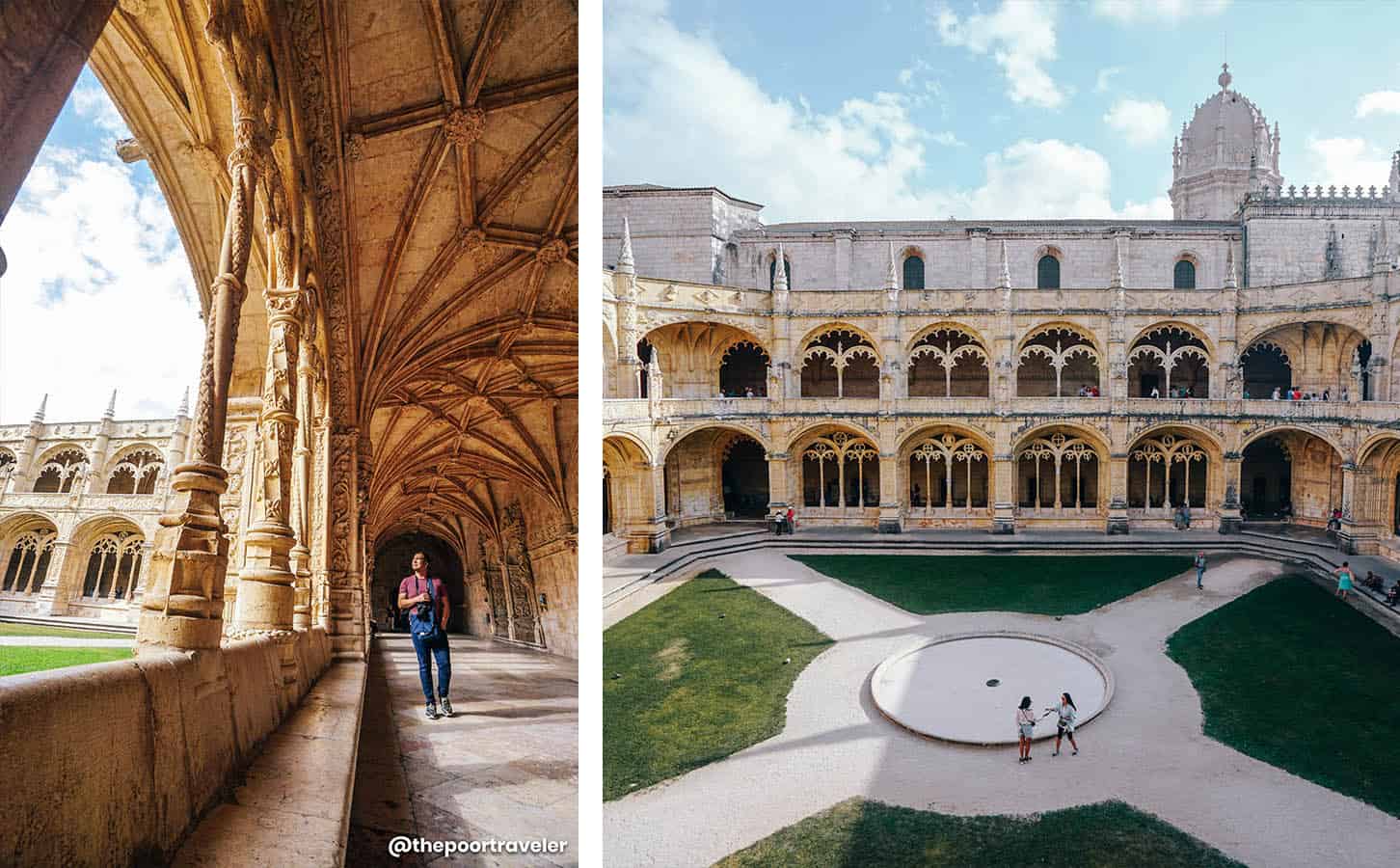 In 1883, the monastery was secularized and underwent continuous restoration. The monastery's main church, the Church of Santa Maria de Belem, is famous for its ornate exterior and interior design. It also houses the royal tombs and the tomb of the famous Portuguese navigator, Vasco de Gama.
Together with Torre de Belem, the monastery is listed in the UNESCO World Heritage Site since 1983.
Nearest Tram Station: Mosteiro dos Jeronimos Station (Tram 15E, 18E)
Nearest Bus Stop: Mosteiro dos Jeronimos Stop (Bus 751, 728, 729, 79B)
Opening Hours: 10:00 AM – 6:00 PM (Summer), 10:00 AM – 5:00 PM (Winter)
Entrance Fee: €10 (Adults), FREE (Below 14 y/o). The entrance fee is for the monastery complex only. The entrance to the main church is free of charge.
Note: If you want to enter both Torre de Belem and Jeronimos Monastery, a combination ticket is available for €13.
---
16. St. George's Castle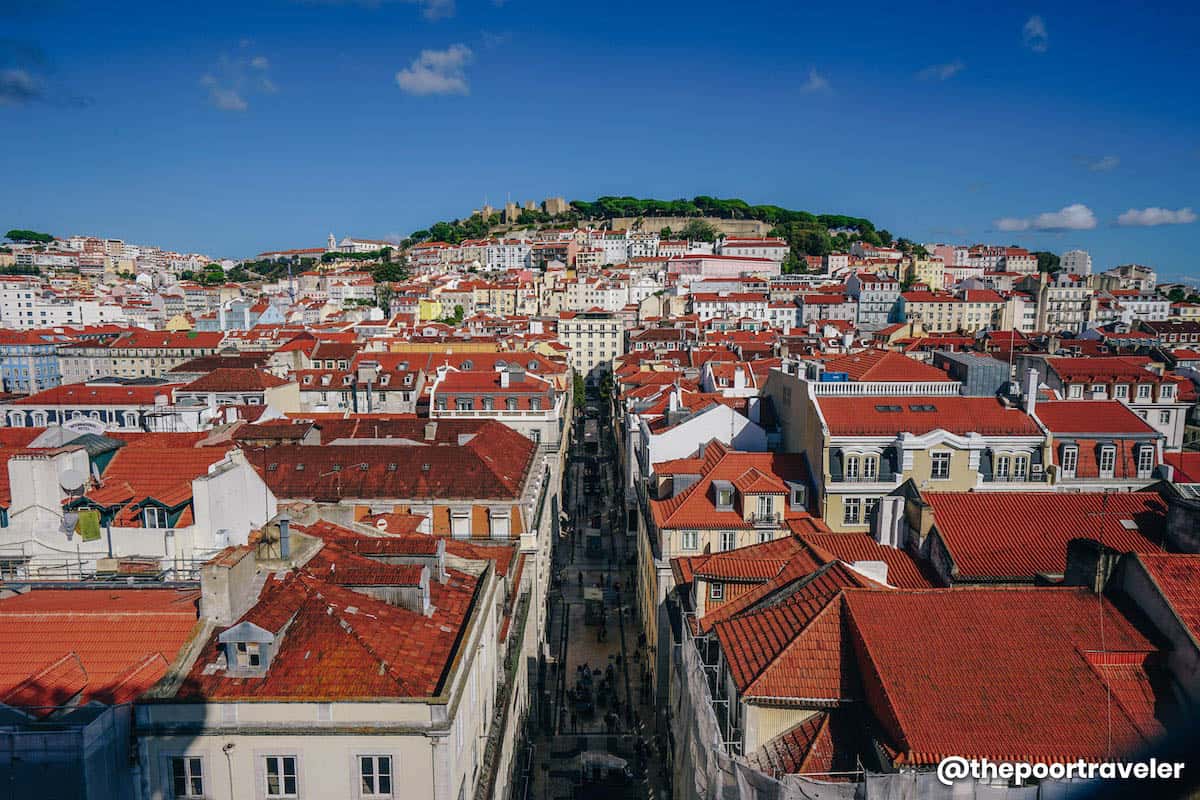 Perched on a hilltop in Alfama district, St. George's Castle is the most prominent landmark in the city. The first fortifications date back to the 1st century BC. Throughout history,
it served as a settlement, a defensive structure, a royal residence, and a military barracks.
Today, St. George's Castle functions as a museum with many viewing platforms that provide a scenic view of the whole city and even beyond the Tagus River. The complex features the historical walls and ramparts, the towers (including the Tower of Ulysses), and the gardens.
Nearest Tram Station: There are several tram stops surrounding the castle hill. Both Tram 12E and 28E make a stop at most of the stations around the hill.
Nearest Bus Stop: Castelo Stop (Bus 737)
Opening Hours: 9:00 AM – 9:00 PM (Summer), 9:00 AM – 6:00 PM (Winter)
Entrance Fee: €10 (Adults), €5 (Reduced), FREE (Below 10 y/o). Outside the castle, there are attractions that are free — Arco do Castelo, the statue of Saint George, and the Santa Cruz do Castelo Church.
---
17. Mercado da Ribeira
If you want to try much of Lisbon's gastronomic offerings in one area, Mercado da Ribeira is definitely the place to be.
Mercado da Ribeira was launched in 1892 as Lisbon's main market. It is a huge domed indoor market next to Jardim Dom Luis and near the Tagus River and the Cais do Sodre transportation hub for the tram, metro, rail, bus, and ferry.
It functions as a traditional market for a long time with fresh produce and catch, food, and other crafts. The inclusion of the food hall in 2014 when Time Out Lisboa took over the management of the market made a huge positive impact on food tourism in the city as it attracts throngs of tourists yearly.
The traditional market is located on the ground floor, while the food hall is also on the ground floor but on the western portion. With its overwhelming, endless array of choices — from gourmet to simple grubs, from the main dish to desserts, and from western to eastern cuisines — the Food Hall will never leave you wanting. You will eat until your belly pops.
It also houses top chefs stalls, including Michelin-starred names. The beverage stalls are situated in the center. There are also seats outside, facing the Dom Luis Garden. The second floor features a concert hall.
Nearest Tram Station: Cais Sodre Station (Tram 15E, 18E)
Nearest Bus Stop: Cais Sodre (Centro Saude) Stop (Bus 22B), Cais Sodre Stop (Bus 201, 706, 728, 732, 760)
Opening Hours: Food Hall 10:00 AM – 12:00 AM (Sunday – Wednesday), 10:00 AM – 2:00 AM (Thursday – Saturday); Traditional Market 6:00 AM – 2:00 PM (Monday – Saturday)
Entrance Fee: FREE
---
18. Rossio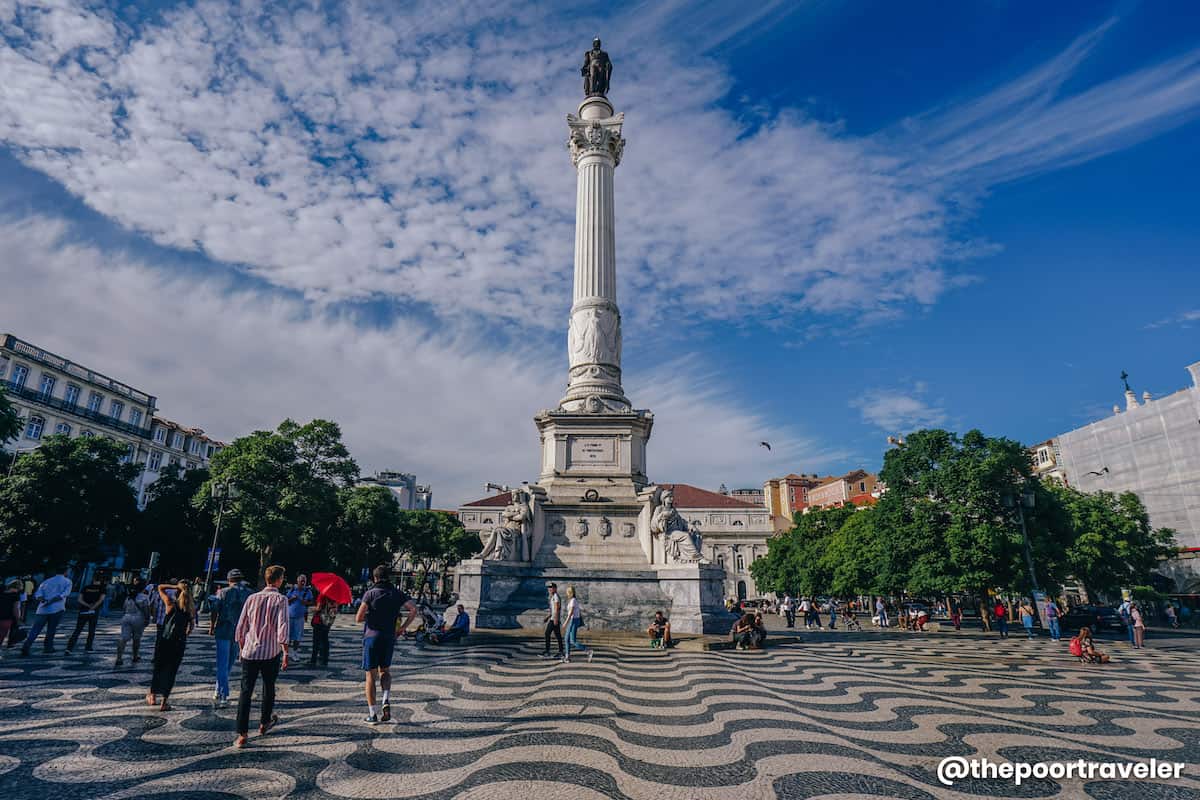 The Rossio, officially named as King Pedro IV Square, is located at the heart of Baixa district, which is also Lisbon's city center. The square has two fountains, one column/monument, and a wavy cobbled ground. Since the 13th-century, the square witnessed many revolutions, demonstrations, celebrations, bullfights, and even executions throughout history.
Locals and tourists alike make this their choice meet up location because of its accessibility and location. The square is surrounded by cafés and restaurants that serve pastries and Ginjinha. Two of the most notable shops are Pastelaria Suíça and Café Nicola. Another significant landmark in the area is the Teatro Nacional.
Nearest Tram Station: Praca de Figueira Station (Tram 12E, 15E, 25E)
Nearest Rail Station: Rossio Station (Metro Vd), Rossio Lisboa (Sintra Line)
Nearest Bus Stop: Rossio Stop. There are several buses that make a stop here.
---
19. Lisbon Story Center
Lisbon Story Center is situated beside Praca do Comercio. If you want to grasp how Lisbon as a city came to be, this is where you can get a summary of the poignant and monumental events that gave birth to present-day Lisbon.
You will learn the city's history through the creative and interactive display and re-creation of past events.
Nearest Tram Station: Praca do Comercio (Tram 15E, 25E)
Nearest Rail Station: Terreiro do Paco (Metro Az)
Nearest Bus Stop: Pc. Comercio (Bus 774)
Opening Hours: 10:00 AM – 8:00 PM (Daily)
Entrance Fee: €6.50 (Adult), €4.50 (Senior & Student), €3 (Child), FREE (Children 5 y/o and below)
If you want to book your ticket in advance, you can purchase it online via Klook. It offers not only the ticket but also an audio guide while exploring.
✅ GET YOUR TICKET HERE!
---
20. Ponte 25 de Abril
Completed in 1966, Ponte 25 de Abril connects the city of Lisbon (via Alcantara) to the municipality of Almada on the southern bank of the Tagus River. It was formerly named Salazar Bridge but was later renamed 26 de Abril in honor of the revolution that overthrew the dictatorship government.
The suspension bridge, which resembles the Golden Gate Bridge, stretches for over 2,000 meters. It has two decks — upper six-lane road and lower two-track railway.
If you want to view the bridge closely, you can actually book the Pillar 7 Bridge Experience! This will take you to different interesting parts of the bridge, both exterior and interior, to marvel at its amazing structural engineering while also learning its history. It presents a panoramic view of the river and the surrounding areas on the 26th-floor viewing deck. You also have the option to try the Virtual Reality Experience.
Nearest Tram Station: Estação de Santo Amaro Station (Tram 15E, 18E)
Nearest Bus Stop: Estação de Santo Amaro Stop (Bus 724, 751, 760)
Opening Hours: 10:00 AM – 8:00 PM (May – September), 10:00 AM – 6:00 PM (October – April)
Entrance Fee: €6 (Adult), €4(Reduced), FREE (Children 5 y/o and below)
You can get your ticket through Klook!
✅ GET YOUR TICKET HERE!
---
21. Palace of the Marquises of Fronteira
This 17th-century palace used to be the hunting pavilion of the 1st Marquis of Fronteira. It is located at the foot of Monsanto Hills, giving the palace a verdant environment and countryside feel. It boasts its Baroque style gardens dotted with fountains, sculptures, and lakes. The palace hosts several painted portraits of Portuguese nobility and other artworks.
The places of interest are the Battle Room, the Dutch Panel Room, the Dining Room, the Liberal Arts Gallery, and the chapel. It is also famous for its 17th-century azulejo tiles. It still functions as the residence of the Marquis of Fronteira up to this day, but some parts of the palace are open to the public.
Nearest Bus Stop: Palacio Marques de Fronteira Stop (Bus 770)
Opening Hours: 10:00 AM – 5:00 PM (Monday – Saturday), CLOSED (Sunday). Guided tours are available at 11AM and 12PM. Note that the palace can only be visited on an official guided tour.
Entrance Fee: €4 (Garden Only), €9 (Palace + Garden)
---
22. Museum of Ancient Art
Launched in 1884, the Museum of Ancient Art is the most popular in Lisbon. It's housed in the 17th-century Palacio Alvor for over a hundred years.
It cradles about 40,000 ancient masterpieces, some date back to over a millennium. Also under its roofs are a multitude of rare pieces that are protected by the State as national treasures. The collection is extensive — paintings, sculpture, silverware, goldware, and decorative arts (textiles, prints, ceramics, etc.) from all parts of the globe.
Nearest Tram Station: Cais da Rocha Station (Tram 15E, 18E); Santos Station (Tram 25E)
Nearest Bus Stop: Rua das Janelas Verdes Stop (Bus 713, 714, 727)
Opening Hours: 10:00 AM – 6:00 PM (Tuesday – Sunday), CLOSED (Mondays and Holidays)
Entrance Fee: €6 (Regular), €3 (Reduced), FREE (12 y/o and below)
---
23. Museum da Oriente
Opened to the public in 2008, the Museum da Oriente is Lisbon's attempt in continuing to pursue its longstanding mission to connect the Western and Eastern civilizations. The museum is dedicated to the eastern culture and art. Its Asian collection occupies a large area of the museum. It also showcases some Portuguese art.
The museum is located in the Alcantara district near the marina and with the view of Ponte 25 de Abril.
Nearest Tram Station: Av. Infante Santo Station (Tram 15E, 18E)
Nearest Rail Staion: Alcantara-Mar Station (Cascais Line)
Nearest Bus Stop: Alcantara Mar (Bus 728), Av. Infante Santo Stop (Bus 201, 728, 732, 760)
Opening Hours: 10:00 AM – 6:00 PM (Tuesday – Thursday, Saturday – Sunday), 10:00 AM – 10:00 PM (Fridays, FREE entry from 6PM onwards), CLOSED (Mondays and Holidays)
Entrance Fee: €6 (Adults), €2-3.50 (Reduced), FREE (5 y/o and below)
---
24. Padrão dos Descobrimentos
Padrão dos Descobrimentos or Monument to the Discoveries is located on the northern bank of the Tagus River in the Belem district.
First launched in 1940 for the Portuguese World Exhibition, it was reconstructed and relaunched in 1960, which also marked the 500th anniversary of the death of Henry the Navigator (Infante Dom Henrique). The concrete monument, which resembles the forward of the ship, was built in honor of the Portuguese expeditions, particularly in Asia and India, in the 15th and 16th centuries.
The interior has a stage, an auditorium, exhibit halls, rooms, and a viewing deck. The monument's exterior features sculptures and statues. It is flanked by two metal armillary spheres and is fronted by a square with the Compass Rose and Mappa Mundi design.
Empire Square is located just across the monument.
Nearest Tram Station: Centro Cultural Belem Station (Tram 15E)
Nearest Bus Stop: Centro Cultural Belem Stop (Bus 79B, 728, 714, 727, 729, 751)
Opening Hours: 10:00 AM – 7:00 PM (Monday – Sunday); CLOSED (January 1, May 1, December 25)
Entrance Fee: Exhibition, Viewpoint, and Film Viewing €6 (Adult), €5 (Senior/PWD), €3 (13-18 y/o); Exhibition Only €3 (Adult), €2.50 (Senior/PWD), €1.50 (13-18 y/o); FREE (12 y/o and below)
---
25. Lisbon Cathedral
Lisbon Cathedral, officially named Santa Maria Maior de Lisboa, is the most iconic landmark and oldest church in Lisbon. Popularly referred to as Sé, this 12th-century religious structure was the venue of numerous weddings, baptismal, and funerals of not only the city's affluent families but also the country's elite and important figures.
Its design is a marriage of many architectural styles that were applied to it every reconstruction, modification, and restoration. It was declared a National Monument in 1910. Some of the popular features are the religious nave, sanctuary, transept, gothic tombs, and the disused cloisters.
Nearest Tram Station: Se Station (Tram 28E), Limoeiro Station (Tram 12E, 28E)
Nearest Bus Stop: Se or Limoeiro Stop (Bus 737)
Opening Hours: Main Cathedral 7:00 AM – 7:00 PM (Daily), Cloisters 10:00 AM – 5:00 PM (Daily)
Entrance Fee: FREE (Main Cathedral), €2.50 (Cloisters)
---
26. Praça do Comércio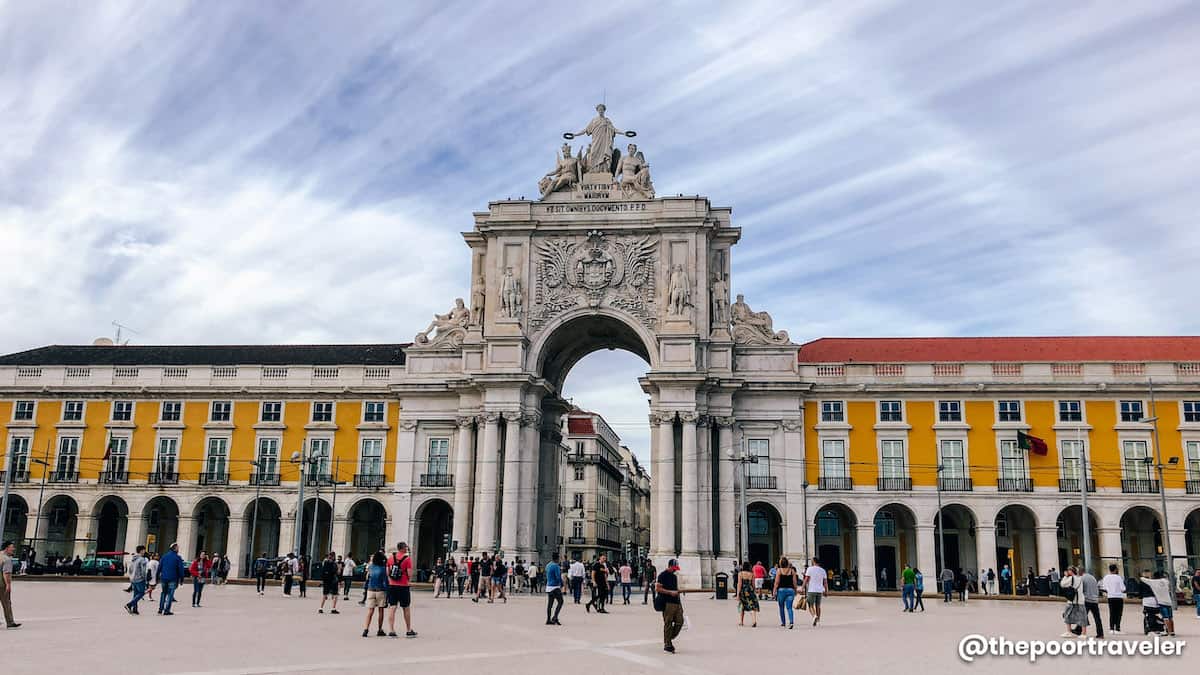 Facing the Tagus River and flanked by cafés and shops, Praca do Comercio (also called Terreiro do Paço) was the former site of Paços da Ribeira (Ribeira Palace), which served as the royal residence of Portugal's kings until its destruction in 1755 by a huge earthquake.
The grand square's centerpiece is the statue of King José I. The northern side is punctuated by the triumphal arch, Rua Augusta.
Nearest Tram Station: Praça do Comércio Station (Tram 15E, 25E)
Nearest Rail Station: Terreiro do Paco (Metro Az)
Nearest Bus Stop: Pc. Comercio (Bus 207, 732, 736, 774)
Opening Hours: 24/7
Entrance Fee: FREE
---
OTHER THINGS TO DO IN LISBON
27. Watch a Fado.
Fado is part of Portugal's national identity. It was registered by UNESCO as an Intangible Cultural Heritage of Humanity. Lisbon is the birthplace of this musical art form, and it would be a crime not to experience it.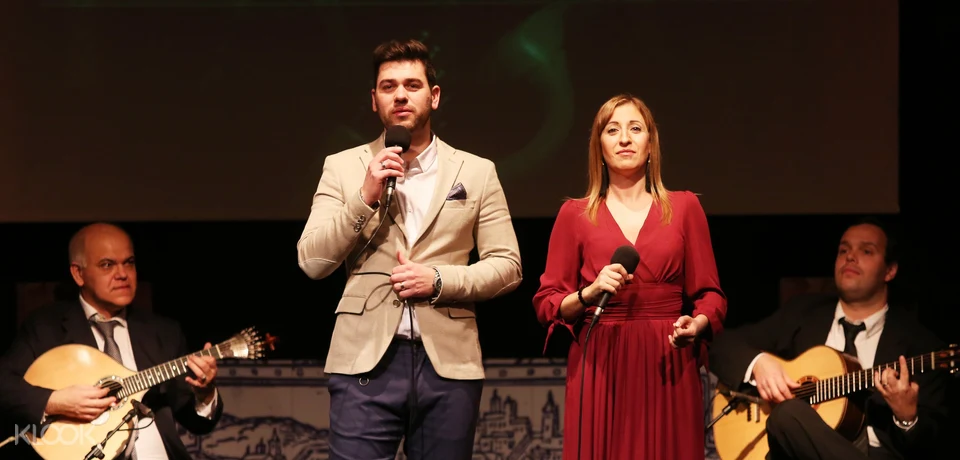 Fado restaurants and bars abound in Lisbon, particularly in the historic center. If you want to reserve your ticket online, you can get it from Klook.
✅ BOOK THIS TOUR HERE!
---
28. Shopping
If you are one of those travelers who love shopping when they visit places, you might love Lisbon a bit more! Lisbon has shopping malls, outlet malls, and shopping districts that cater to everyone's needs. And it's also cheaper compared to other European cities!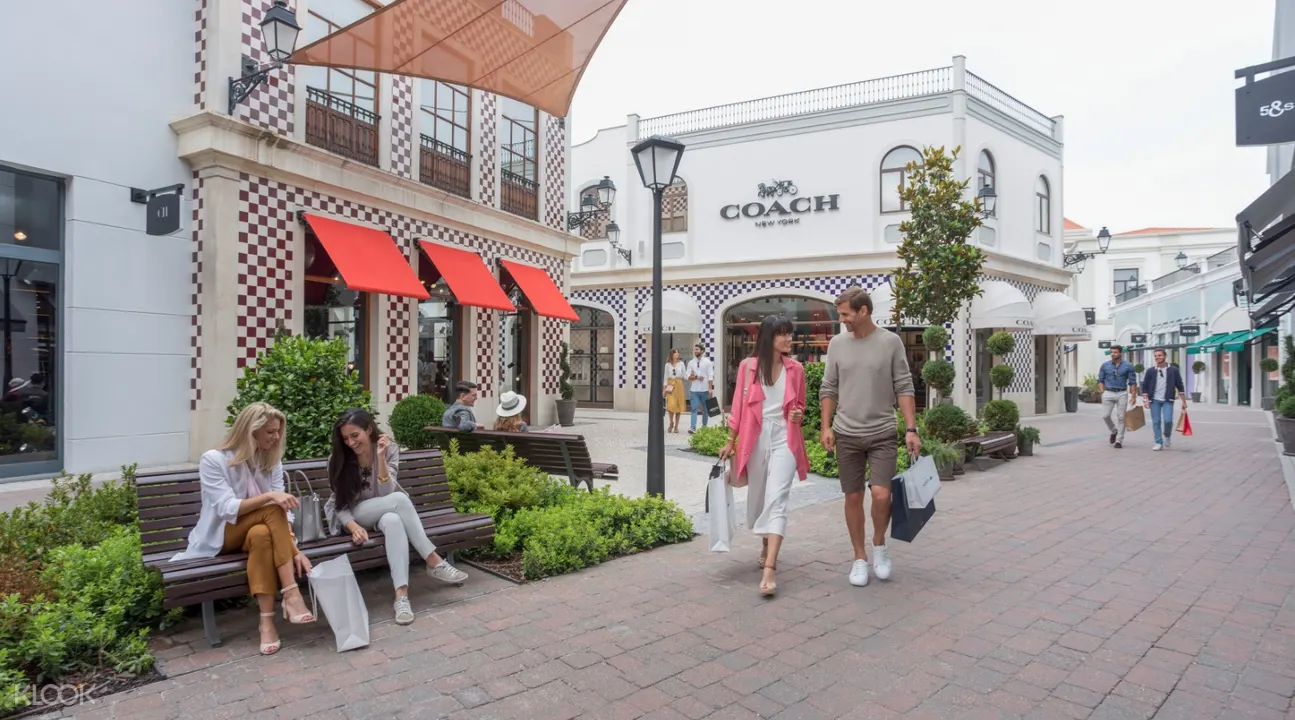 Aside from the cultural sites, Chiado is known as the biggest commercial district in Lisbon. It houses high-end brands and shops. Other shopping districts are Principe Real, Baixa, and Avenida da Liberdade.
Freeport Lisboa Fashion Outlet is a popular outlet mall offering up to 70% discount on branded items. If you are interested, it is important to note that it is located outside the city proper on the other side of the Tagus River.
Getting there is a bit challenging. If you really want to check it out, Klook is offering a roundtrip service from Lisbon city center. This also includes a leaflet with discount vouchers. You have the option to go in the morning or in the afternoon.
✅ RESERVE A SLOT HERE!
---
29. Pasteis de Belem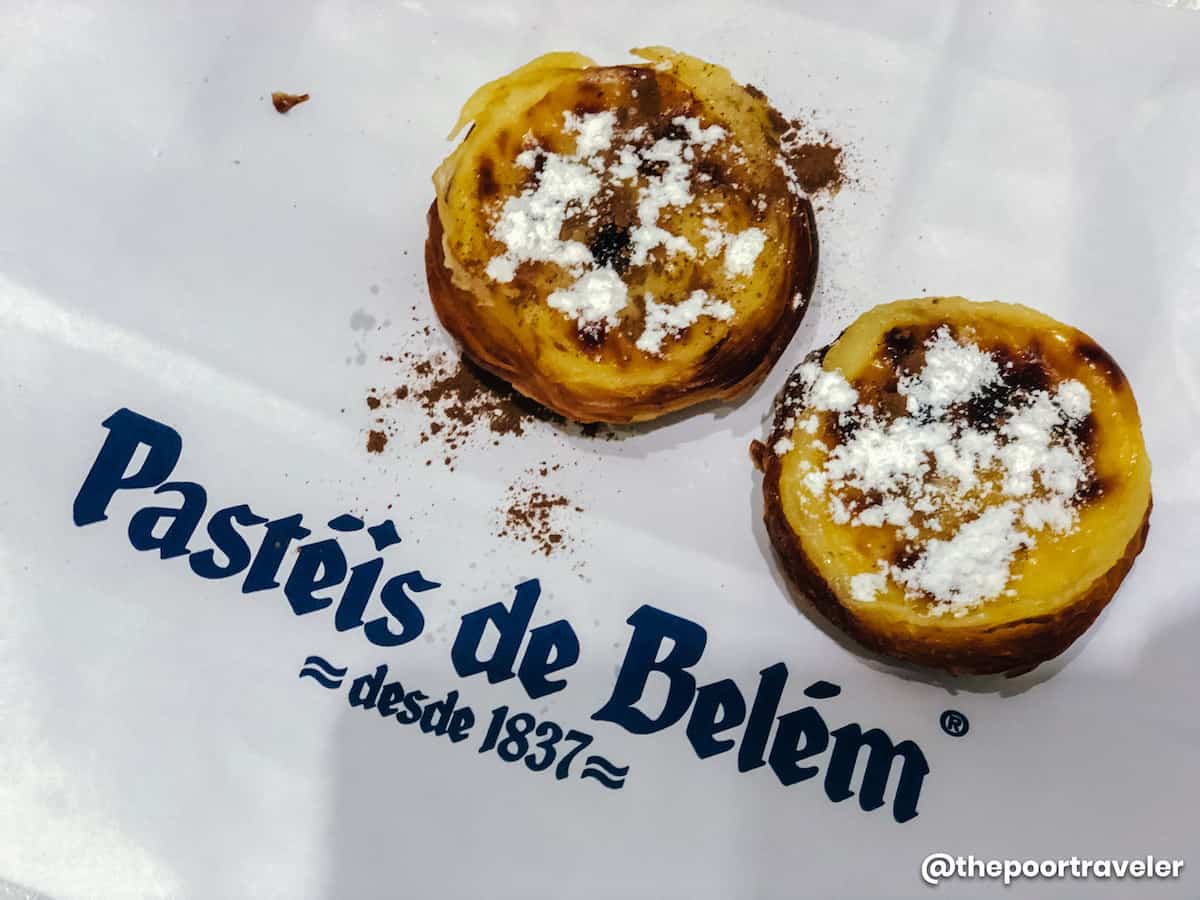 Pastéis de nata (Portuguese custard tarts) is one of Lisbon's iconic specialties. But when it comes to pastries, nothing can rival Pasteis de Belem.
The term Pasteis de Belem is both the name of the shop and the delectable pastry they sell. Its origin dates back to 1837, and the recipe is still the same up to this day. It is said to be the most famous pastry in Portugal and can only be found in Lisbon's Belem district.
The shop is located just a few steps from the monastery's main church along Rua de Belem. According to the shop's history, after the 1820 Liberal Revolution, monasteries and convents were shut down, and people were expelled from these religious institutions. A former worker at Jeronimos Monastery decided to sell the sweet pastry around the area.
What makes this pastry and shop special is that the recipe is top secret — the master confectioners have to sign a confidentiality agreement to ensure the exclusivity of the product. The shop makes and sells about 20,000 pastries a day.
---
30. Tram 28
The tramcar is one of Lisbon's main modes of transportation. Tram 28 is quite famous among locals and tourists because of the attractions along the route and also the tramcar itself — a Remodelado that dates back to the 1930s. These yellow remodeled trams have become part of the city's identity.
Tram 28 route links Martim Moniz and Campo Ourique. Here's the complete coverage of the route: Martim Moniz – Graca – Portas de Sol – Se Cathedral – Rua Conceição – Chiado – Sao Bento – Estrela – Campo Ourique. The tourist spots along this route include Estrela, Sao Bento, Praça Luís de Camões, Rua Conceição, Se Cathedral, Portas do Sol, Graca, and Anjos.
Expect it to be crowded, especially during rush hours and peak season. Don't forget to keep an eye on your belongings when riding a packed tram.
Operating Hours: 6:00 AM – 10:30 PM
Fare: €3 (Single Ticket). If you are going to see all the attractions along this route, it's recommended to get the 24-Hour Public Transport Ticket that only costs €6.50. This covers unlimited rides for all tram routes, metro, and bus services. Note that you can only get this ticket from one of the metro stations.
---
Top Lisbon Hotels & Apartments
Below are the top-reviewed hotels, hostels and apartments for rent in Lisbon's city center, as scored by confirmed Agoda guests.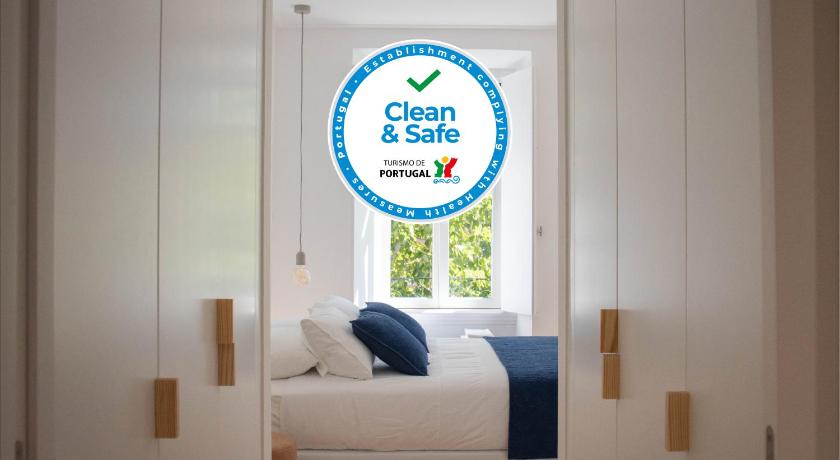 ---
*Edited by Asta Alvarez
2020 • 12 • 23
---
More Tips on YouTube ⬇️⬇️⬇️