Biri Island is where the gods go to wage war. This is where the San Bernardino Strait combats the mighty Pacific as the latter pushes its tides into the Visayan domain. The elements, who bear witness to the ferocious duel, are caught trapped in the battlefield. The winds sometimes cheer, sometimes howl as they watch from above. The waves, in their desperate attempt to flee, lap up the edges of the shore. And the land, Biri Island, referees the constant clash but not without finding a silver lining, getting a hold of it, and never letting go. As it takes the beating from the seas, who just pound its hard face with one blow after another, it allows the gods' skilled hands to shape its cliffs. Every punching wave is a stroke of art and every gusty storm is a painful dash of necessary sacrifice — the torture in art, the beauty in chaos. The result, staggering rock formations that intimidate not just with their immensity but, more importantly, their splendor.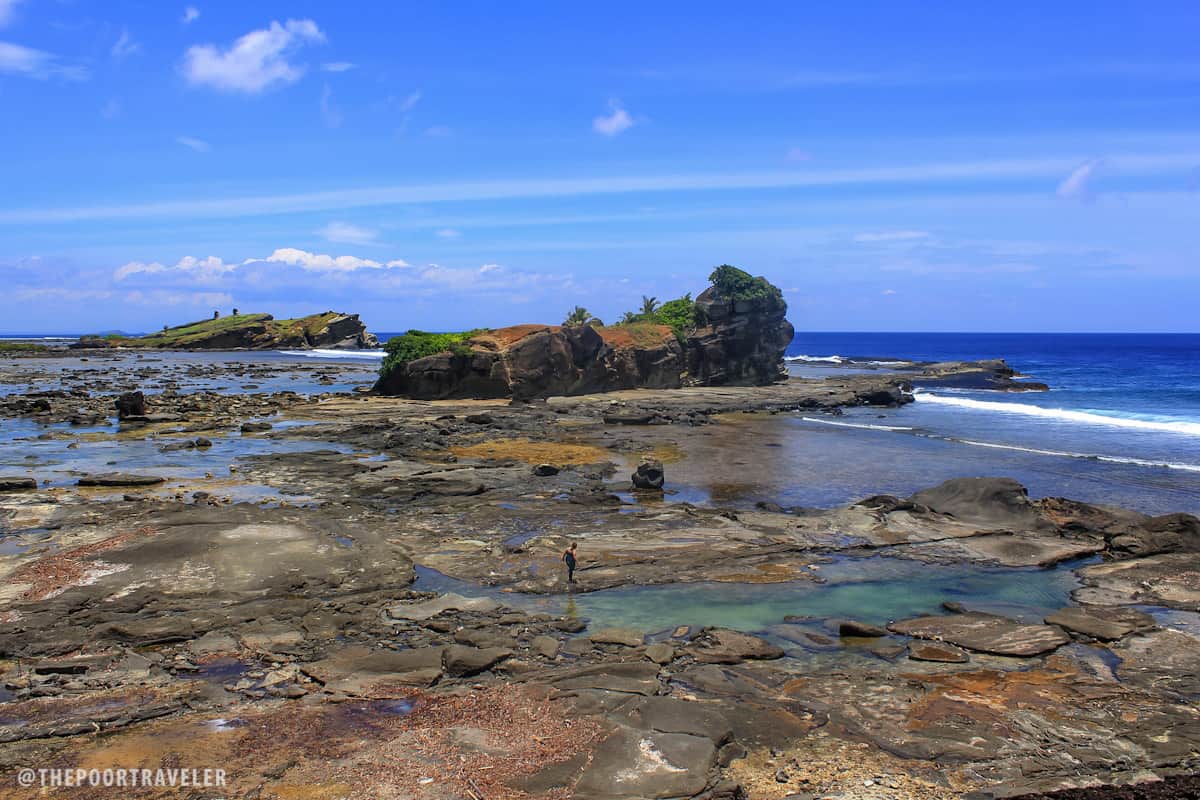 Located 45 minutes off the northwestern tip of Samar Island, Biri Island is part of the 18-piece Balicuatro Group of Islands that speck the perilous space between San Bernardino Strait and the Pacific Ocean, and Samar and Luzon. Biri Island had always resided on top of my bucket list. As a geologist-wannabe, places like this are my idea of Eden. Not much information was available online, but the few pictures I had seen were captivating and encouraging enough to urge me to plan a trip to this remote, almost unheard of town. So when the opportunity finally came, I was more than ready to finally see the battle of the gods in Northern Samar.
How to Get There
Gone are the days when all three major low cost-carriers in the country — Cebu Pacific, Airphil Express, and Zest Air — flew to Catarman, the nearest airport from Biri. Now, only Philippine Airlines remains the only big airline that operates here. But there are other ways of reaching this elusive paradise.
If you're coming from Manila, fly to Catarman, Northern Samar. PAL's flights as of this writing are scheduled at 5:15 am, a perfect time because it will allow you more time to explore the island that same day. Travel time: 1 hour, 15 minutes
From the airport, take a tricycle to the main terminal.  Cost: P100 per trip if you take those trikes at the main parking lot of the airport. Travel time: 5 minutes
Ride a jeepney bound for Lavezares. Tell the driver you intend to go to Lavezares port. (Emphasis on Lavezares. When you just say pier or port, they easily assume that you mean the much bigger Allen port.)  Travel time: 1 hour. Cost: P50.
Find a boat that goes to Biri Town. Normally, on a busy day, the cost is P50. But when there are not many passengers, you might just want to pay for the remaining seats or just split the cost with other passengers. A private one-way trip ranges from P300 to P400 depending on your haggling skills. Travel time: 45 minutes.
From Biri jetty, take a habal-habal to your hotel or guesthouse. Usual cost is P10 per person.

If flying to Catarman is not an option for whatever reason, you may just travel to Matnog, Sorsogon and take a ferry to Allen, Northern Samar. Then take a jeepney to Lavezares town. You may also fly to Calbayog or Tacloban, although the latter requires a 6-hour land travel from Leyte to Northern Samar. The Tacloban route is great if you're backpacking across Eastern Visayas because it will allow you to see and explore much of the region.
Where to Stay
Biri Island is very remote and development has yet to take over. While there are now more upscale accommodations like those provided by Biri Resort (around P2250 per room), there are many cheaper options like guesthouses and homestays that range from P100 to P500 per night.
We chose to stay at Biri Resort for a number of reasons. Firstly, we came from Laoang Island where not many hotels exist and where water is kind of scarce. We just really wanted to have a very comfortable stay and a hot/cold shower, even if it meant paying a lot more.

Secondly, the electricity on the island is only available from 12 noon to 12 midnight. This means that you would have to deal with the heat the rest of the night. This is going to sound lame but we picked Biri Resort because we wanted to take the room with large windows on the second floor, just in case it got too hot for comfort. (And it did.)
Where to Eat
Eateries are not common in Biri. We actually did not see any place where we could dine. Fortunately, the caretaker of Biri Resort accepts cooking requests for P50 per instance. We simply went to the nearby market, shopped for ingredients, and asked the caretaker to cook them for us. It doesn't matter how much food you want her to prepare; the fee remains P50. (But you might want to give her a generous tip if it's too much.)
There are several sari-sari stores and snack booths, though. You can always munch on fish balls, quail eggs, or canned goods if you get hungry and you want an instant solution.
Sample Weekend Itinerary
A weekend is enough to see all the major rock formations on the island. But if you're into diving and you have more than a weekend, you should probably extend.
The rock formations are the primary reason tourists visit Biri. There are six major rock formations on the northern side of Biri Island. (I'm pretty sure there are other islets and rocks in some nooks and tips of the island but there are six giant rocks formations on this end alone.) The six are called (in order, from West to East): Magasang, Magsapad, Macadlaw, Puhunan, Bel-at, and Caranas. The Progress trail gives access to the last four, which look like it was purposely arranged on the shore to knock off the violent waves slap-approaching the island. The first two are on the other side.




Here's my suggested weekend itinerary. This is not what I followed on my own trip but when I return, I'd do it in this order. Note that you should adjust this according to the tide schedule. To get to Macadlaw and Magsapad, you will have to wade through water than can rise dramatically. The waves are also very unpredictable but expect them to be unforgivingly tremendous. Although I spent only half-a-day to each rock formation groups, I would gladly stay the whole day in Bel-at, et al. I wanted to do just that before but we just failed to bring lunch. Thus, I also recommend that you bring food if you wish to have a picnic here. Just remember to #LeaveNothingButFootprints and take whatever you bring with you when you leave.
Day 1: ARRIVAL, MAGASANG and MAGSAPAD ROCK FORMATIONS
05:15 am – ETD: NAIA Terminal 3
06:30 am – ETA: Catarman Airport
07:30 am – Leave for Lavezares Town
09:00 am – ETD: Lavezares Port (take a boat to Biri, wait for other passengers)
11:00 am – ETA: Biri Port, check-in at hotel
12:00 pm – LUNCH
02:00 pm – Explore Magasang and Magsapad
05:30 pm – Watch sunset from Biri market area and shop for ingredients.
07:00 pm – DINNER
09:00 pm – Rest
Day 2: OTHER 4 ROCK FORMATIONS
07:00 am – Go to market, shop for ingredients
08:00 am – Have breakfast and lunch prepared, take breakfast
09:00 am – Explore Macadlaw, Puhunan, Bel-at, and Caranas
03:00 pm – Back to hotel, freshen up
04:00 pm – Walk around town, food trip, etc.
06:00 pm – SLEEP
We had to call it a night early because our flight back to Manila was scheduled at 7am, which meant that we had to leave the hotel at 2am and have ample time allowance.
To read more about how my trip went, please check out:
Biri Island Rock Formations and the Bel-at Natural Pool
Budget Breakdown
Here are the usual costs of transportation, accommodations, and food in Biri Island. My friend and I stayed at the island's most expensive hotel for reasons I already discussed above. We just divided the cost. If the price is too much for you, there are always cheaper rooms. The rates below are per person unless otherwise stated.
Tricycle ride from Catarman Airport to Catarman jeep terminal: P100 per ride (not per person)
Jeepney ride to Lavezares port: P50
Boat ride to Biri Island: P50
Habal-habal ride to hotel: P10
Habal-habal roundtrip to Progress trail: P100
Habal-habal roundtrip to Magasang drop off: P100
Paluto cost: P50 per meal
Tourism Fee: P50
Biri Resort room: P2250 per room per night
Note that the boat ride back to Lavezares is not yet included here. You can arrange it with your boatman on the way to Biri.
Biri Island is the most beautiful place I have set foot on thus far. The natural beauty of the place is almost untouched. Its beaches are pristine, rock formations enormous, and sights absolutely beautiful. The town is peaceful and very laid-back. Yet, when you look around, the imagined war between the seas is alive. Every day is a battle between the forces of nature, and Biri stands in the crossfire. In the middle of it all, however, the town brims with a calm, friendly atmosphere that the locals here effortlessly and charmingly create.