2012 • 9 • 8
The hum of the wind was beginning to weave a joyful melody in my head as it drowned the words that I was shouting to my friend Ces at the base of the cliff. I was at the summit of the Bel-at rock formation in the middle of the rocky shores of Barangay Progress in Biri, Northern Samar.
"THIS IS THE MOST BEAUTIFUL PLACE THAT I HAVE BEEN TO!" I screamed my lungs out, hoping that she would hear me even when I was at the highest point of a giant rock and she at the very bottom of it.
"SAME HERE!" she yelled back.
That was no exaggeration. Biri Island is the most gorgeous place that I have been to so far. I stood there and tried to take in all the beauty and wonder that surrounded me but even my elephantine head could not contain it all.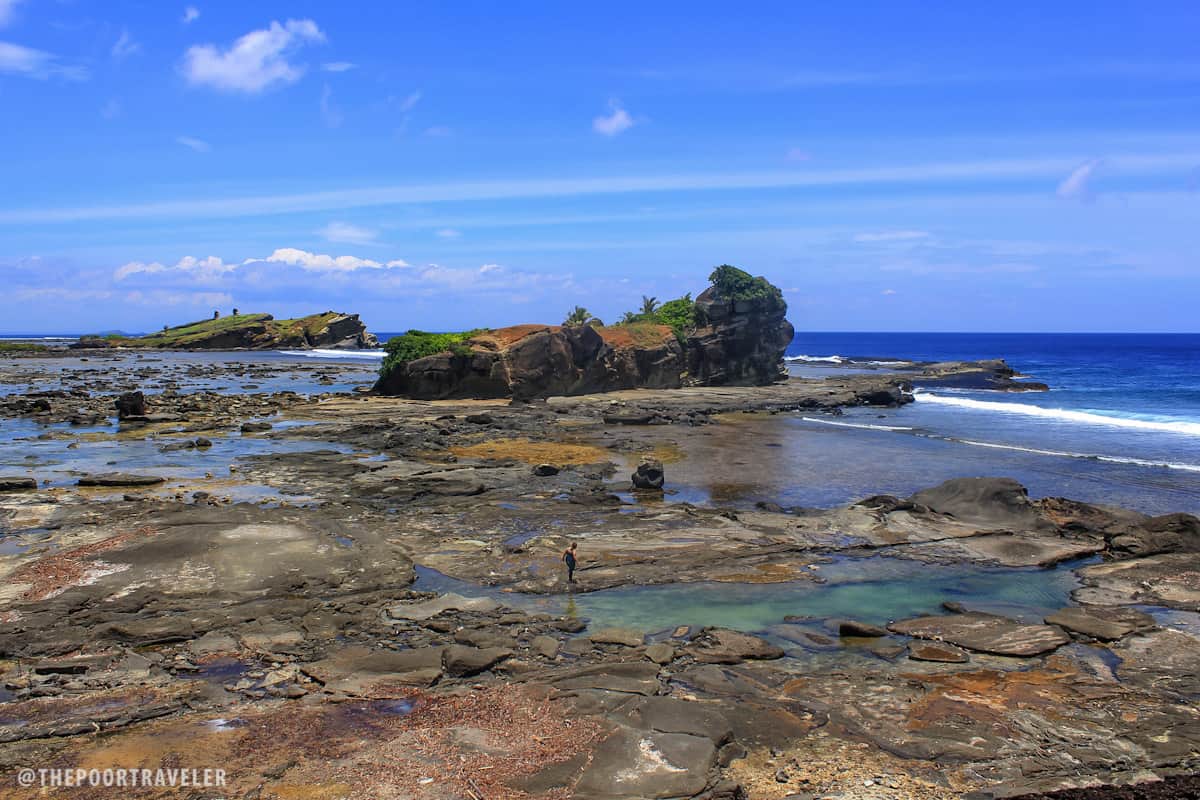 WHAT'S COVERED IN THIS GUIDE?
Across the Mangrove Forest of Progress
"Progress," replied Kuya Elvis, the driver of the habal-habal we were riding. That's the name of the barangay we were about to visit — Barangay Progress. And the name appeared apt when Kuya Elvis dropped us off at the start of the bridge running over a scenic mangrove forest.
How I feel about this bridge, I'm not sure. It was not really an eye sore. If anything, it looked like it complimented the surrounding landscape with its wooden planks and railings. But a part of me wishes that visitors would be given a chance to a have a more "authentic" experience squirming through the mangroves or following a hike trail even if it meant wading through shallow water. But then again, I have no idea just how deep the water here gets. It was low-tide when we visited.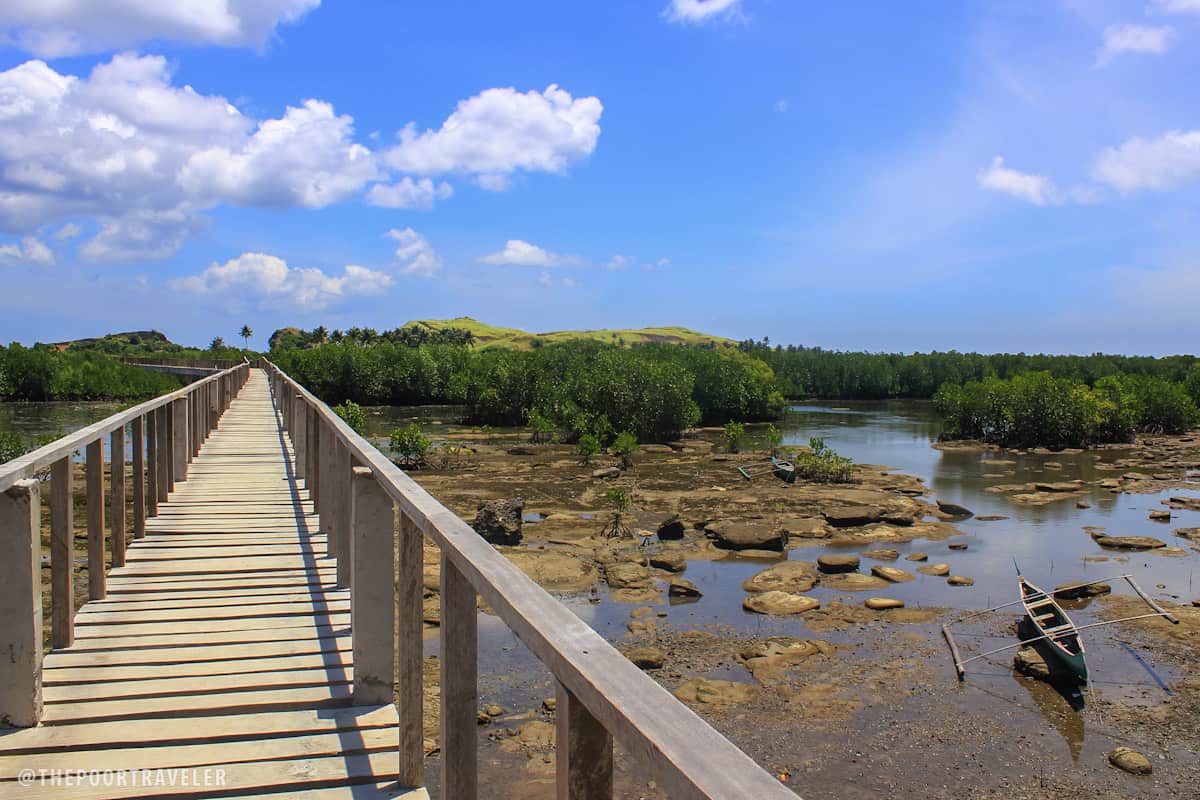 Before we could even set foot on the first board of the walkway, we spotted some construction workers coming towards our direction. What they were building in the middle of the mangroves, we did not bother to think about at the time.
Three meters into the walkway, we were stunned by the scenery. Mangroves rose from the shallow water that cover the area. In between some trees, small boats were docked on some boulders. We just kept snapping away, taking photos of everything beautiful that we would set eyes on and, mind you, there were countless of them.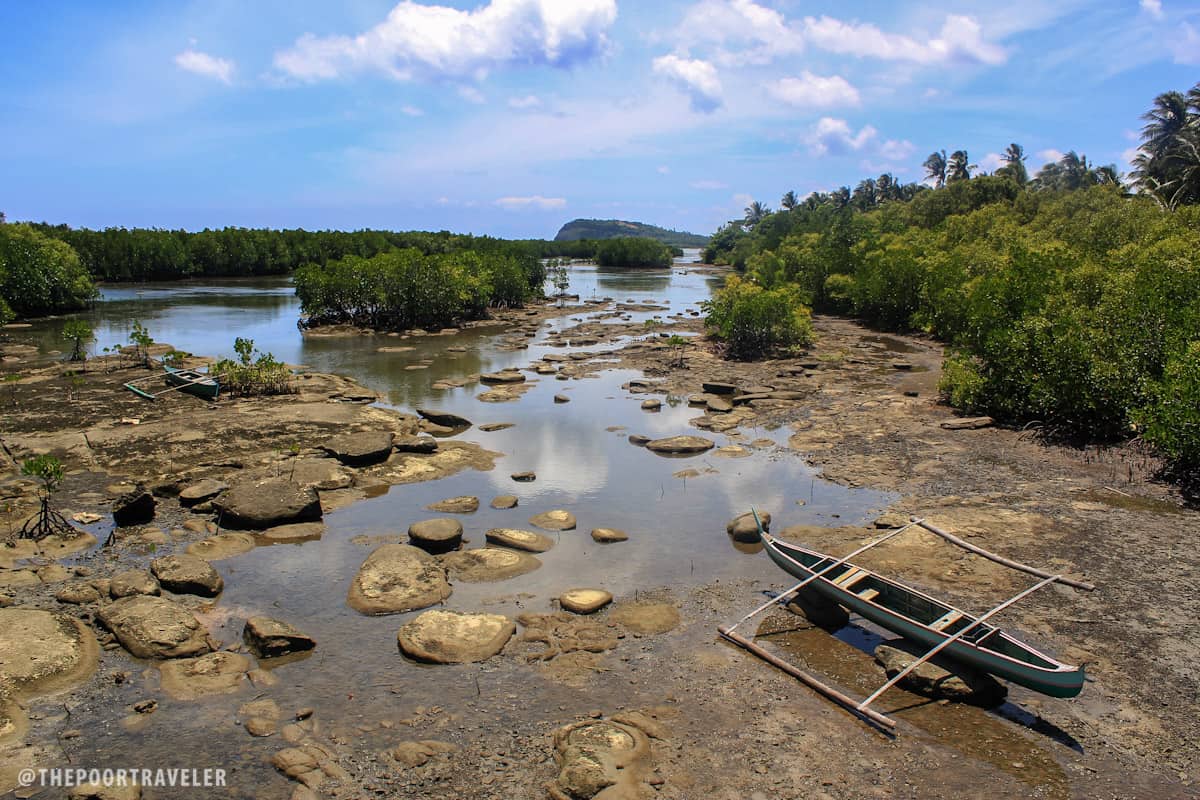 We continued following the walkway until we found just what it was that the workers were building — THE WALKWAY itself! We found ourselves in the middle of an unfinished bridge. What lay ahead were the two concrete spines of the bridge's deck, almost a meter apart. But even the concrete beams left us hanging. Construction stopped in the middle of the mangrove forest, and we were forced to figure out how to get off the bridge on our own. We struggled climbing down the scaffold. The end of the bridge was marked by a towering bamboo pole with a white sheet waving on top. This was what we used to find our way to the bridge on our way back and out of the forest.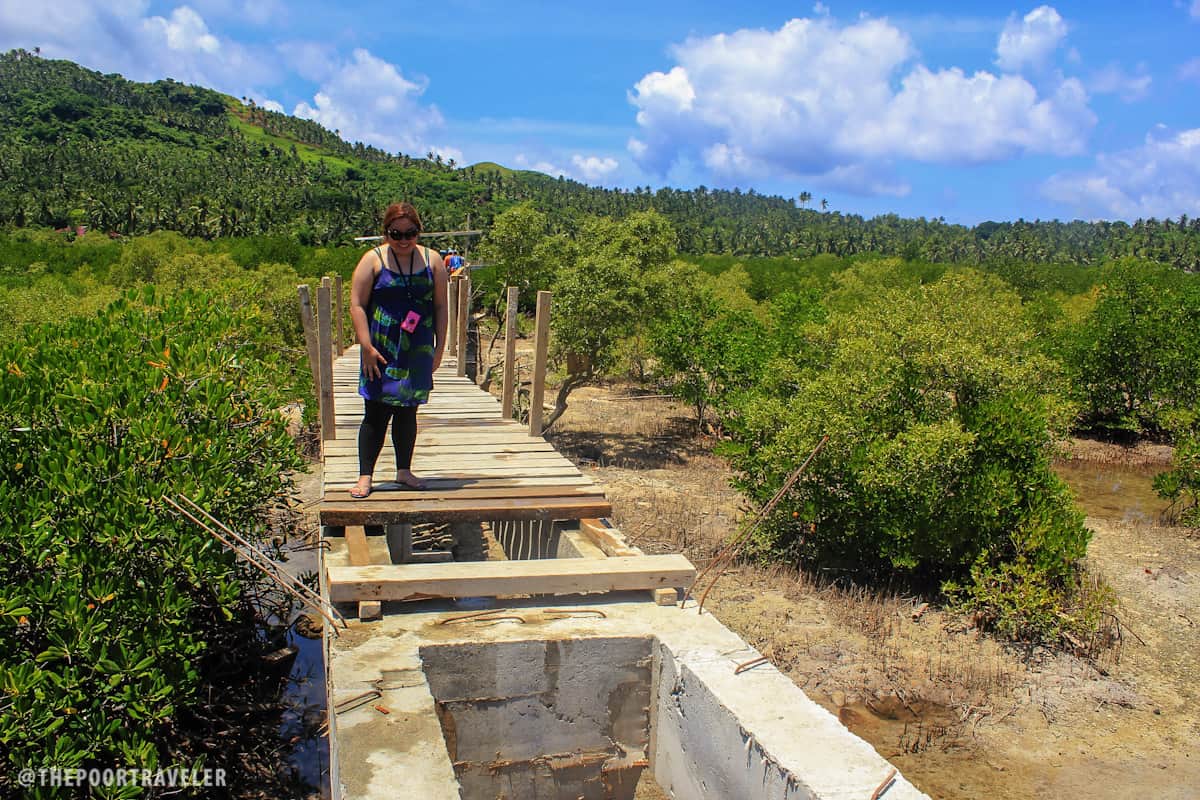 We waded through ankle-deep puddles of water and found two trails. The trees were rather tall and we could not really see what was in store for us at the end of both but we turned left. It turned out that the left trail leads to the rocky plain between Puhunan and Bel-at rock formations while the right, to Bel-at natural pool. Our first glimpse of heaven happened as soon as we reached a group of massive rocks arranged in a circle as if they were having a conference. From there, we had a fantastic view of the rock formations along the shore of Biri.
But as one cliche goes, we ain't seen nothing yet.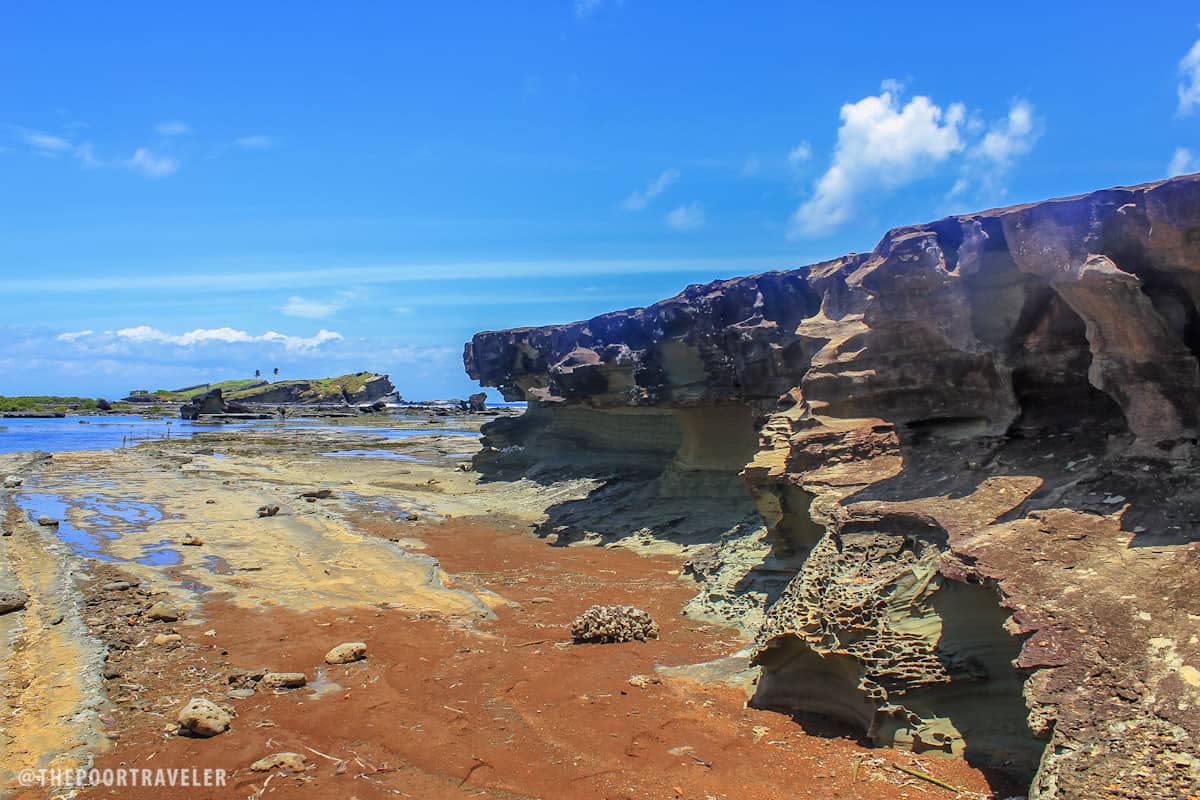 Fantastic Four: Macadlaw, Puhunan, Bel-at and Caranas Rock Formations
There are six major rock formations on the northern side of Biri Island. (I'm pretty sure there are other islets and rocks in some nooks and tips of the island but there are six giant rocks formations on this end alone.) The six are called (in order, from West to East): Magasang, Magsapad, Macadlaw, Puhunan, Bel-at, and Caranas. The Progress trail, which we took at this time, gives access to the last four, which looked like it was purposely arranged on the shore to knock off the violent waves lapping the edge of the island.
Puhunan. Of the four, the first to catch our easy-to-get attention was Puhunan. From afar, Puhunan Rock Formation looks like a half-dipped submarine.It is generally flat with the far end abruptly tilting. Its top is covered with green and brown vegetation while its cliffs heavily hewn by nature.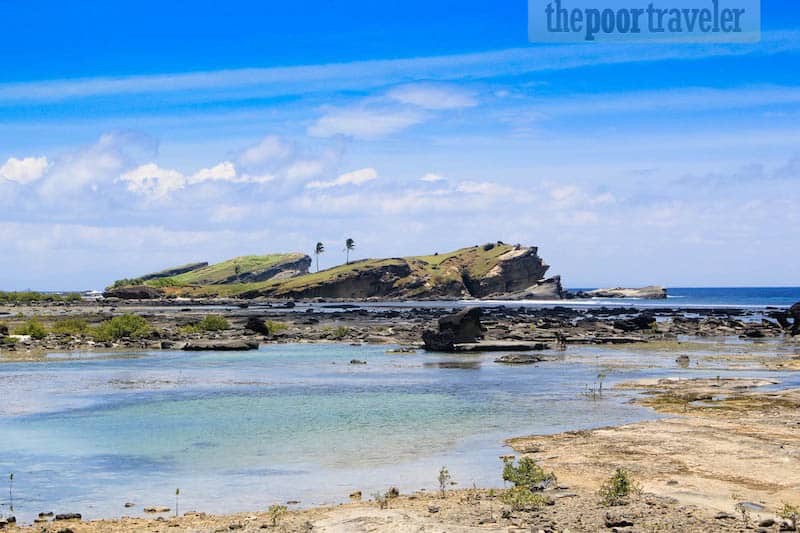 Macadlaw. To the left is Macadlaw, which resembles two enormous waves that solidified at once. The crag gently slopes as it approaches the sea. Its shape suddenly plunges as it hits the shoreline, forming an almost vertical drop-off. Two coconut trees wave on top of it, perfect subject of folklores and legends.
Bel-at. When seen from its left side, Bel-at Rock Formation looked like an colossal desert rock with its brown (almost orange) surface. Even its rich naturally layered brinks are light brown bordering yellow with darker lines and accents. The moment you climb it, however, it reveals more colors. It is specked with a few trees and rough rocks adding shades of gray and a hint of green. It is the crag that I chose to traverse because there was a big boulder on its left side that was very easy to climb. From here I had a magnificent view of the rocky shore ahead, the shallow swamps behind, and the other beaches far, far away.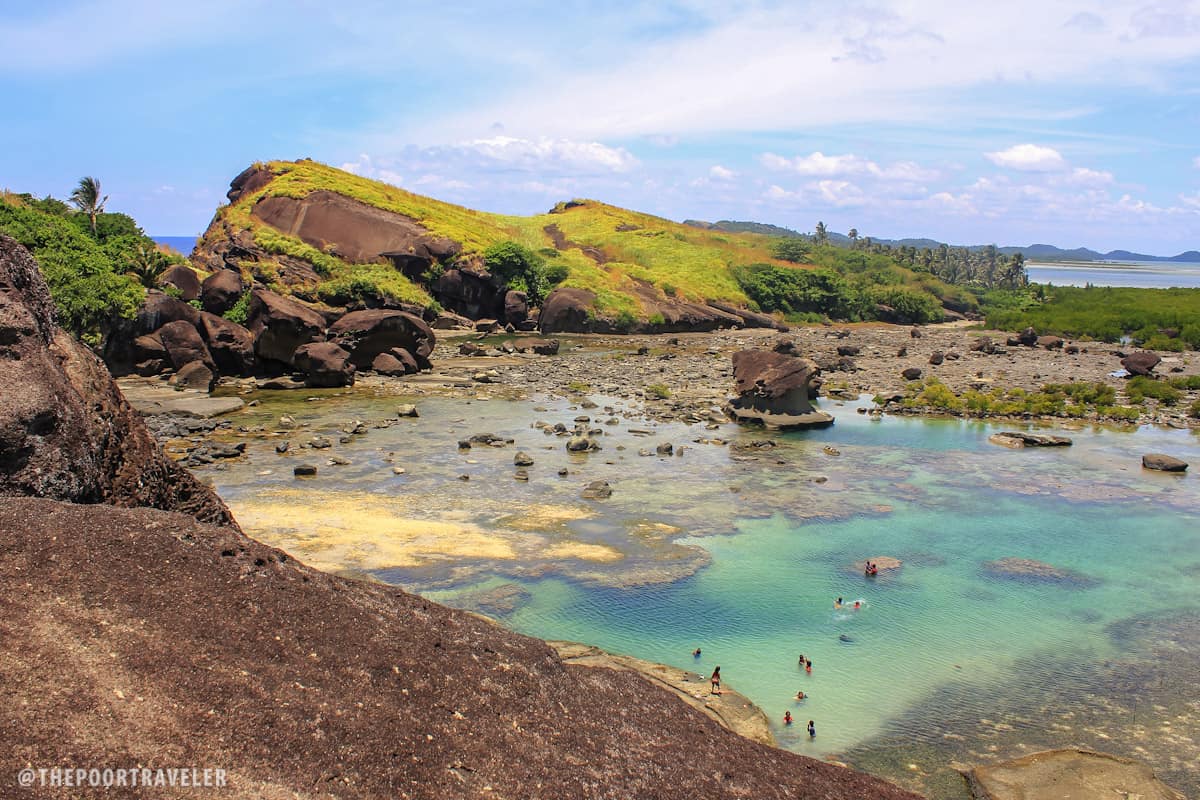 Caranas. The rightmost crag is called Caranas. Like Macadlaw, it looks like a couple of waves that froze in action. It is densely blanketed, almost entirely covered, with bright green grass and bush with a coconut tree solely battling the powerful wind. Big boulders are stacked at its base, appearing like they also froze while rolling down. (OK, I'm getting obsessed with the time-freezing thing.)
While the main attractions in this place are the rock formations, the spaces between them are not to be ignored. Sandy beaches are nowhere to be found, but taking their place are rough, rocky grounds harboring little, shallow puddles of seawater. Swimming is almost impossible here because the waves are just so freakin' violent they can kill by either drowning you or slamming your body onto a rock or both. Besides, there's a body of water in the area that is much more suitable for stress-free dipping.
The Bel-at Pool
Between Caranas and Bel-at lies a natural pool. We only learned about this in the last 20 minutes of our stay in the area. (Had we known earlier, we would have spent more time here.) While I was standing at the pinnacle of Bel-at crag, I heard small voices and it got me freaking out for a couple of minutes. We had not seen anyone in the area, making us think that we were the only people there, yet I kept on hearing voices — laughs, giggles, shouts, even conversations. I was about to worry about my mental health when I walked to the other side of the cliff and found that there was another group of tourists enjoying the cold water of a natural pool in between giant rocks. My face lightened up in an instant! I could take a dip after all!
I hurried (carefully) to the base of the rock and galloped to the other side. Families from other parts of Samar were there having a blast. Ces and I left our things in one corner (but within our eyes' reach) and went for a swim. While it was just a pool and not the ocean, some parts of it are pretty deep. I actually had to stay on one side because I was too chicken to swim across the pool. Imagine swimming in a turquoise pool while having priceless vistas of the breathtaking landscape. It was perfect.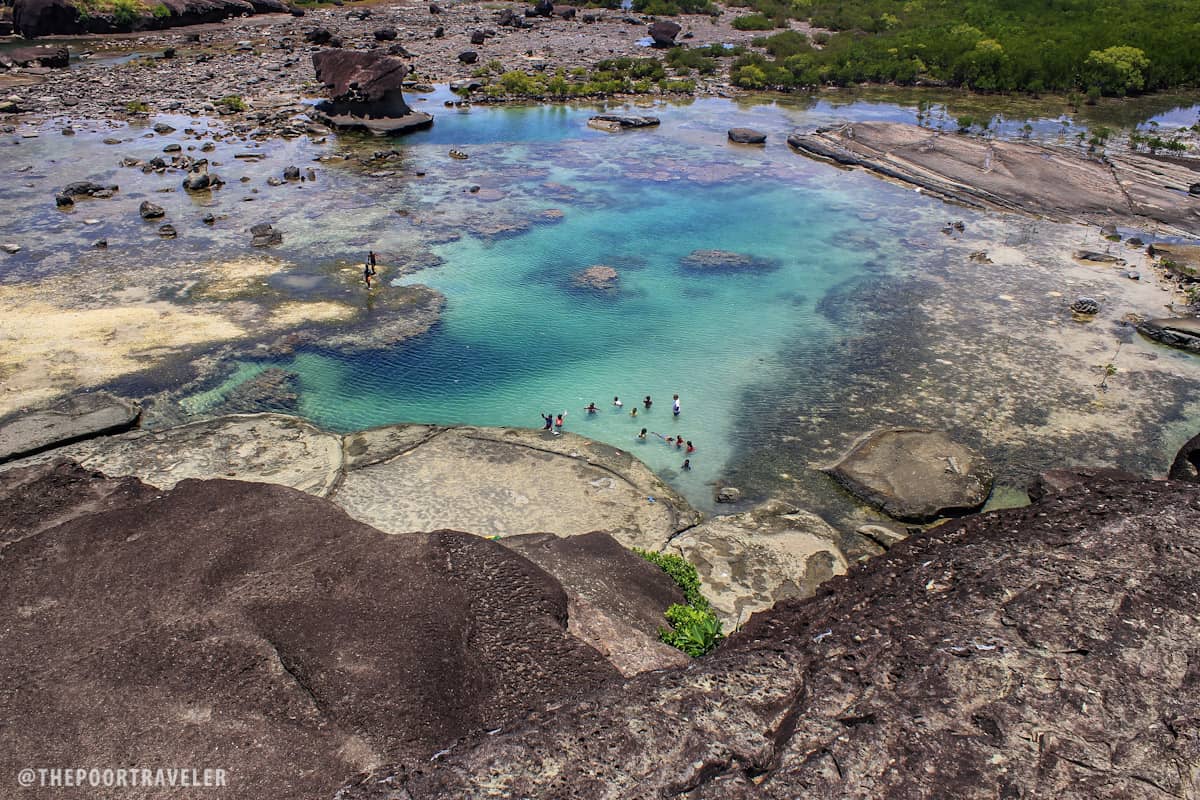 Magasang and Magsapad
Lying on the other end of the beach are Magasang and Magsapad. These twin rock formations are only a few meters apart, separated by a natural pool of saltwater that catches the sloshes of the giant waves that continuously slap its cliffs. The waves crashing produces dramatic splashes, reaching even a few meters in the air. Sometimes, the spill engulfs much of the rocky space between the two rocks. If you're lucky (or unlucky), you'd get washed away by the waves several meters into the pool. True story.
I know what you're thinking: Wow, perfect for surfing!!! That's absolutely not recommended (or even possible). The waves may be too big, but in this part of the site there are no sandy beaches — only giant rocks. You might enjoy riding the waves, but they will smash you so hard onto those rocks you might not get to live to tell the story. If you want to swim, stay in the pool and pretend you're Ariel or Dyesebel or something.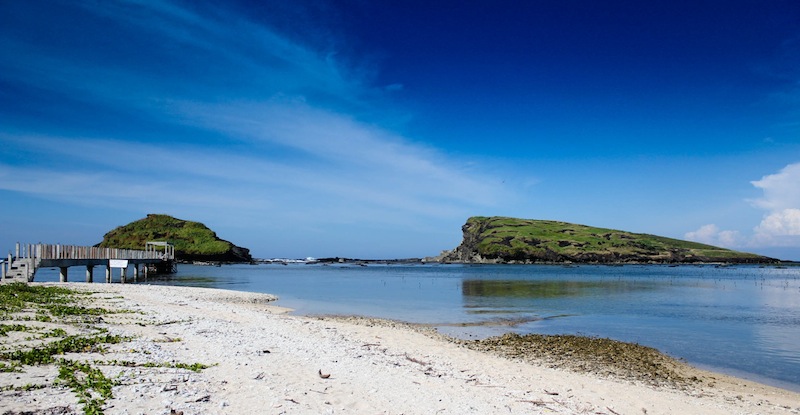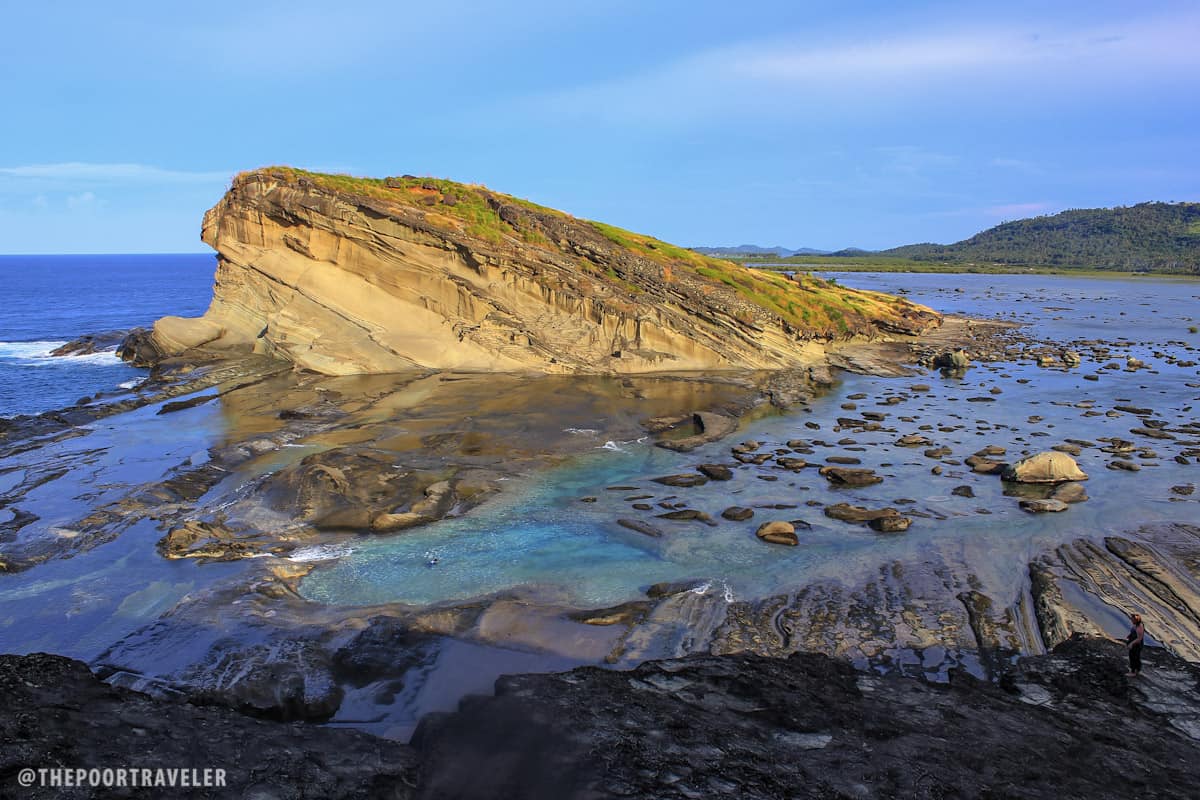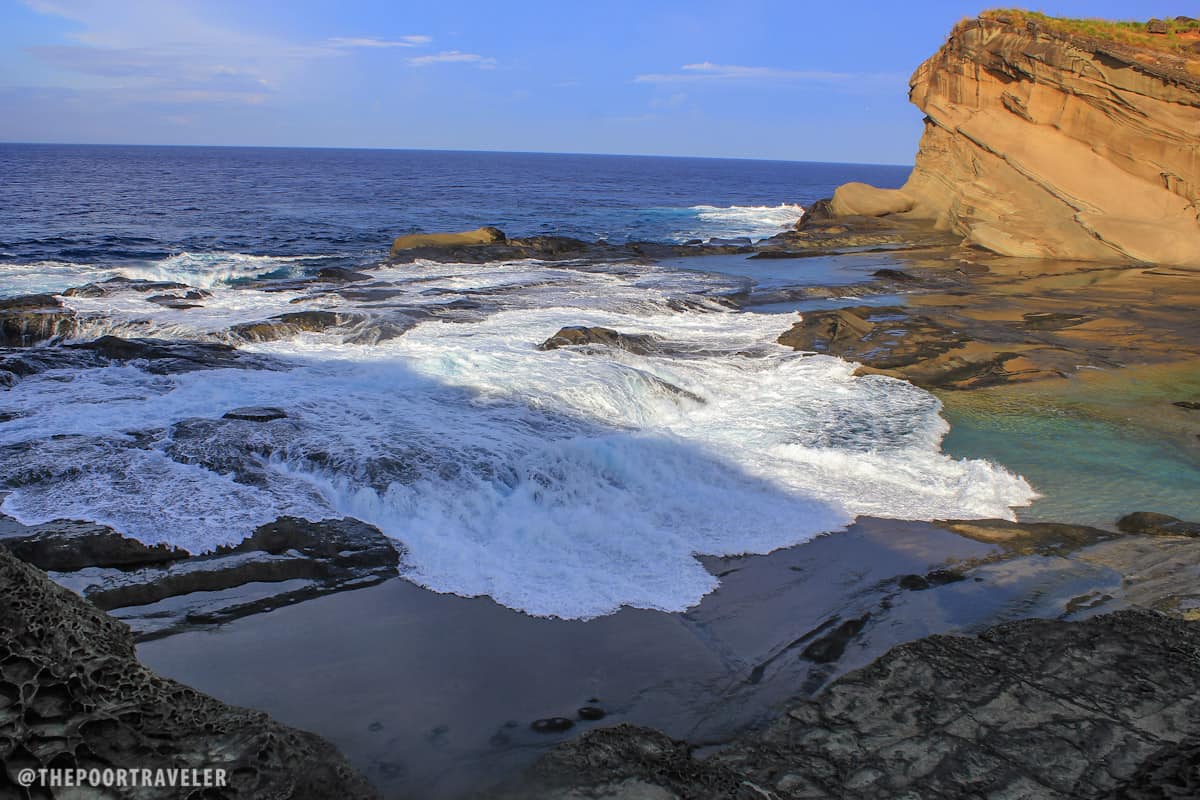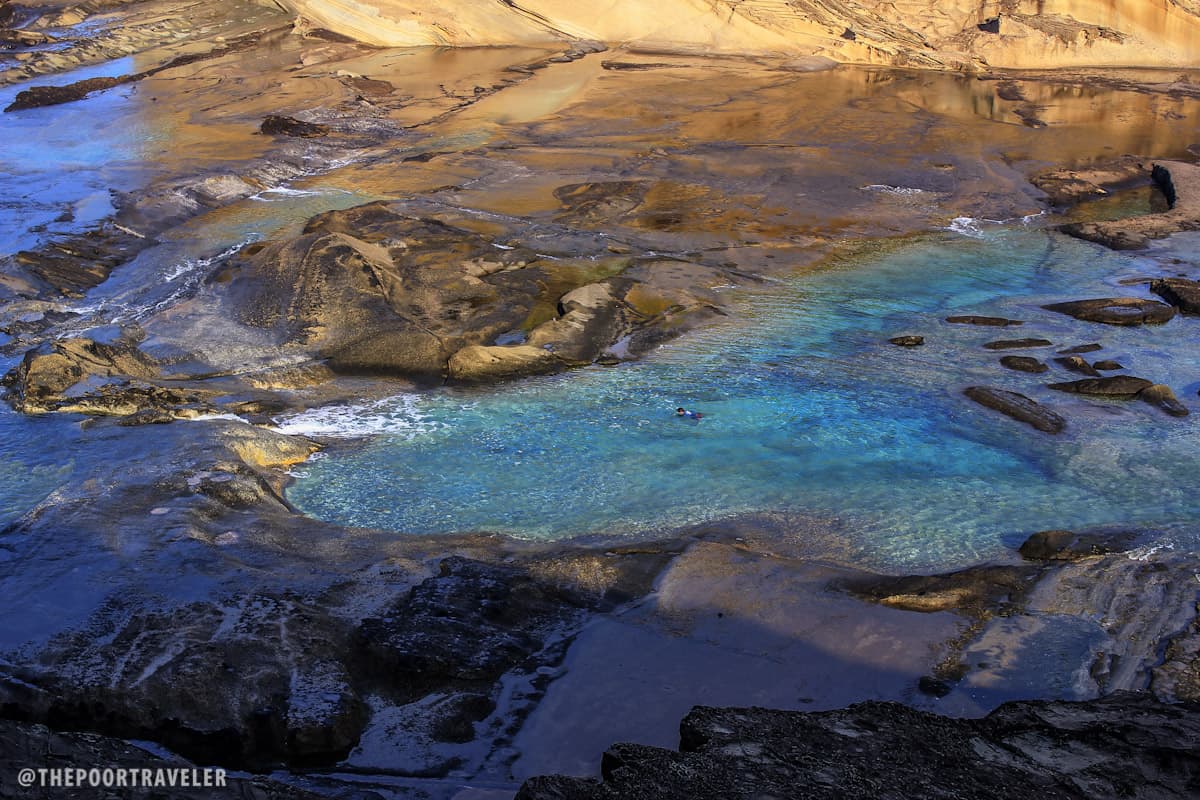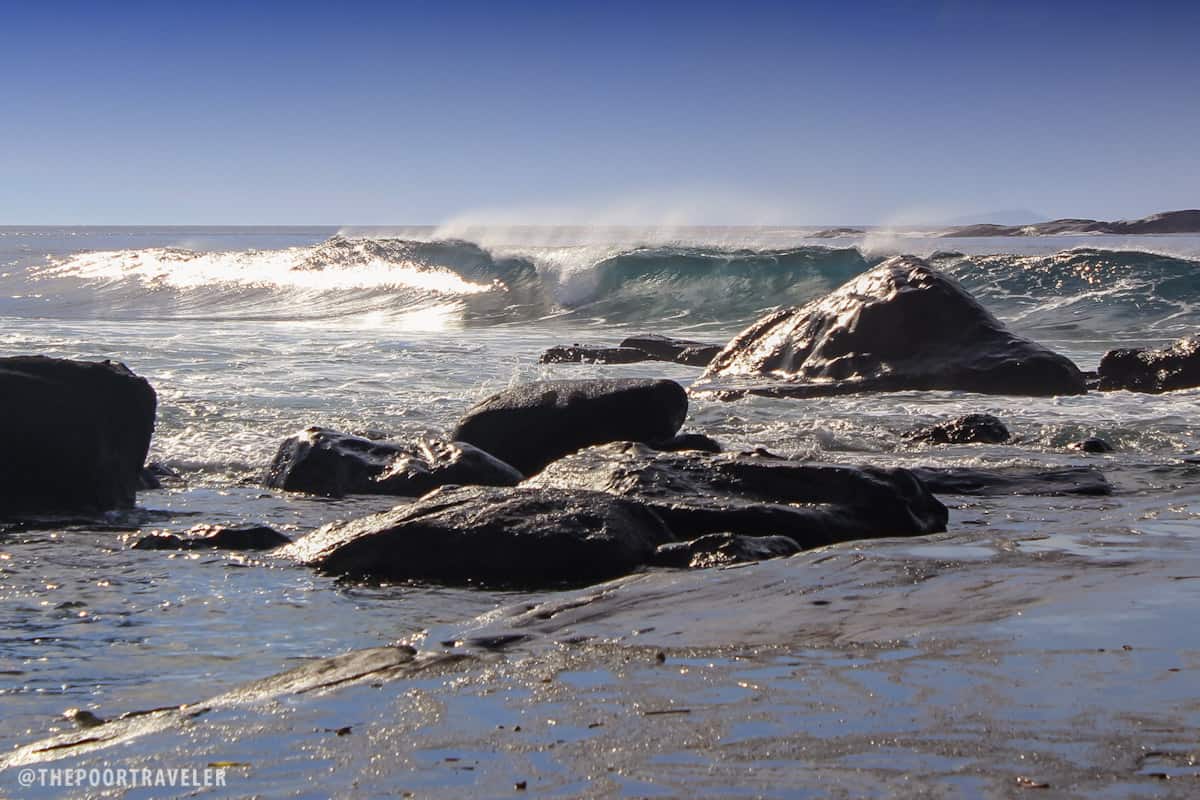 Magasang looks like a mushroom while Magsapad a shark fin. Both are topped with bright grass. Its cliffs and brinks look like they were purposely hewn by a divine master craftsman. One side of Magasang slopes so gently and is blanketed by a textured layer that it serves as a natural staircase to the summit of the cliff. It is so easy to climb because your sandals will grip on the rough rock so effortlessly. Nevertheless, please observe caution whenever you're traversing anything, especially a cliff like this. When I reached the top, I had a fantastic view of neighbor Magsapad and the sea birds that seemed to be having a feast on the other side of the cliff. I stayed there for over 10 minutes to watch the waves devour the space between the two crags and the giant rocks that specked the site.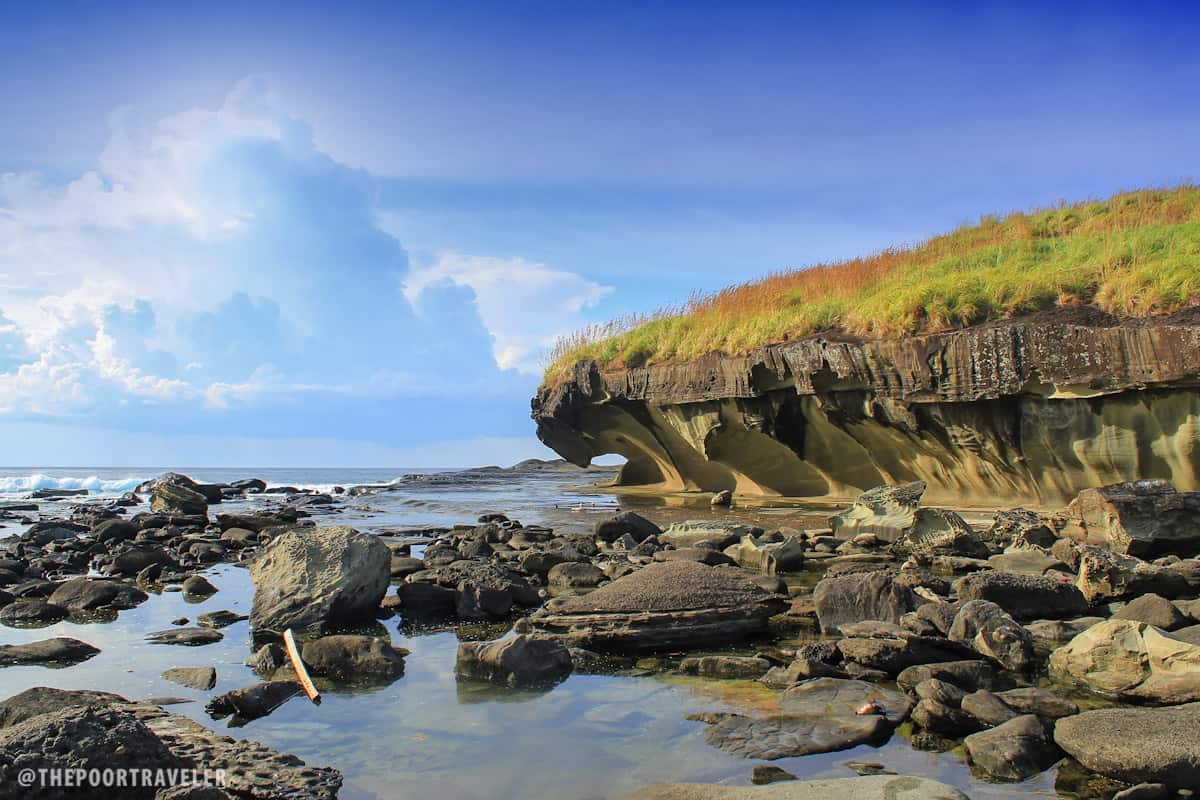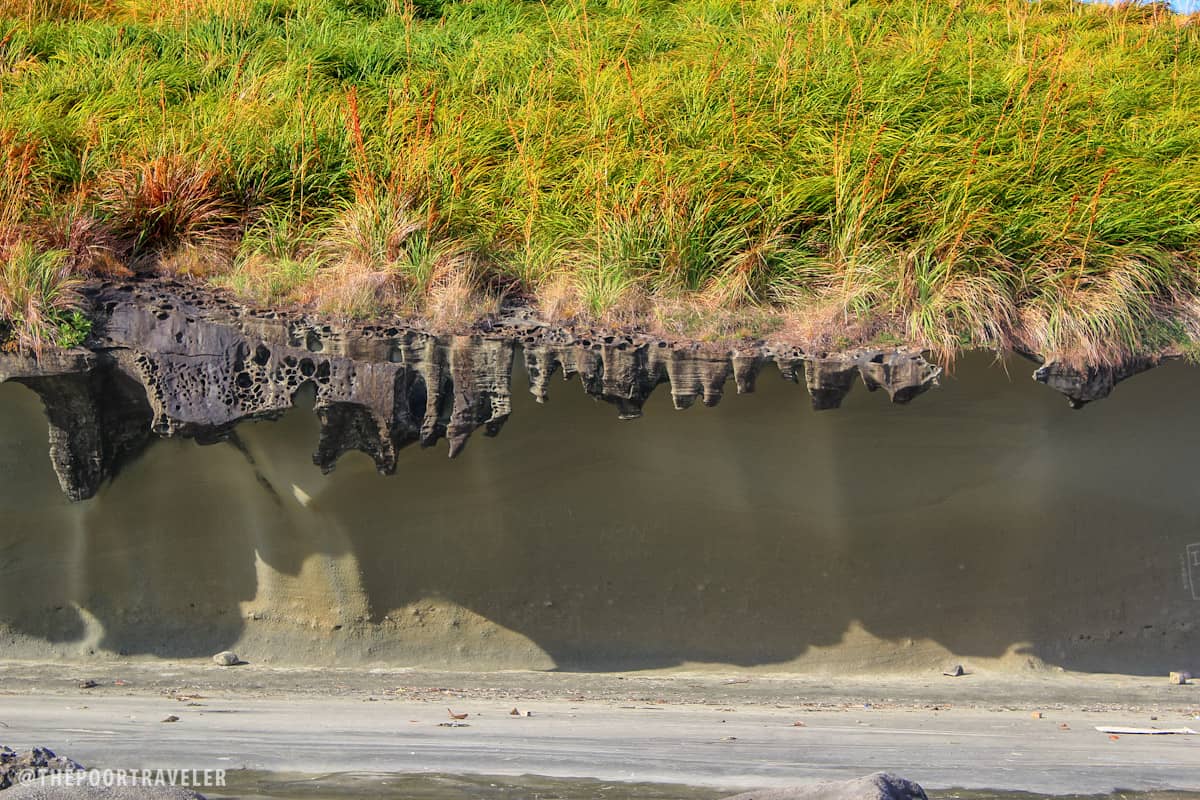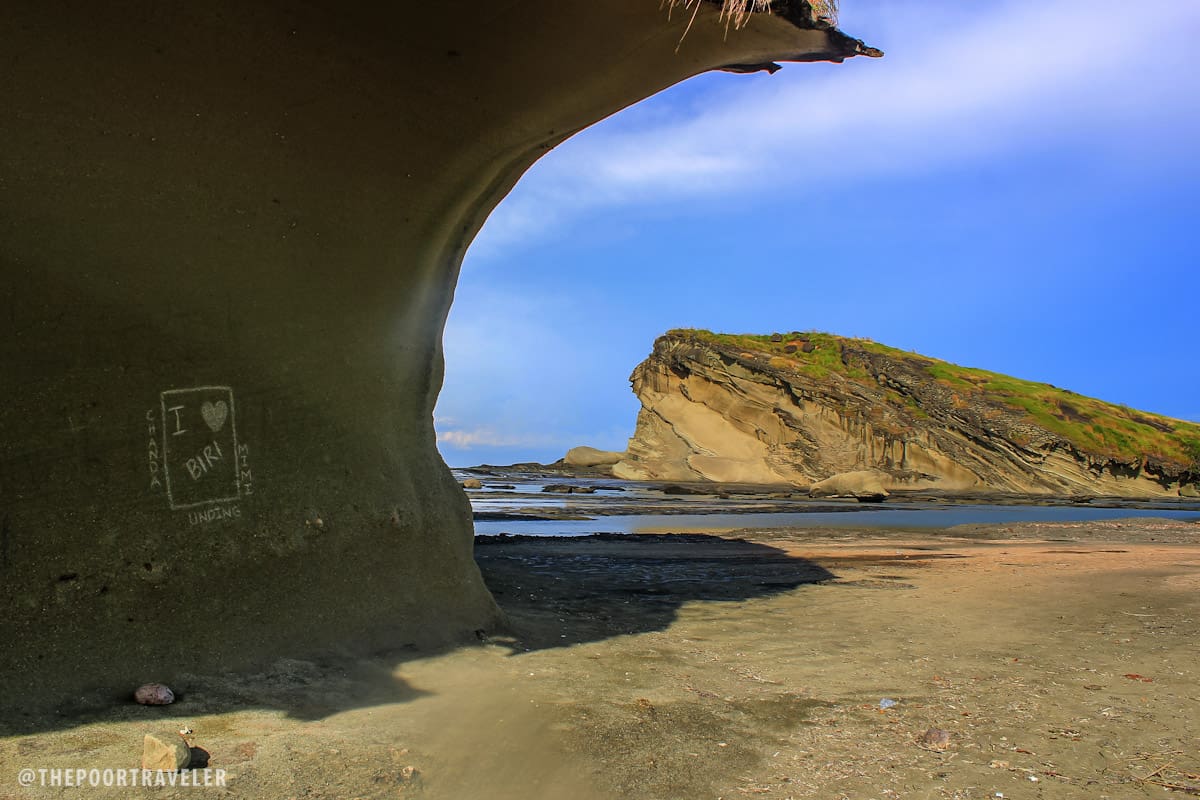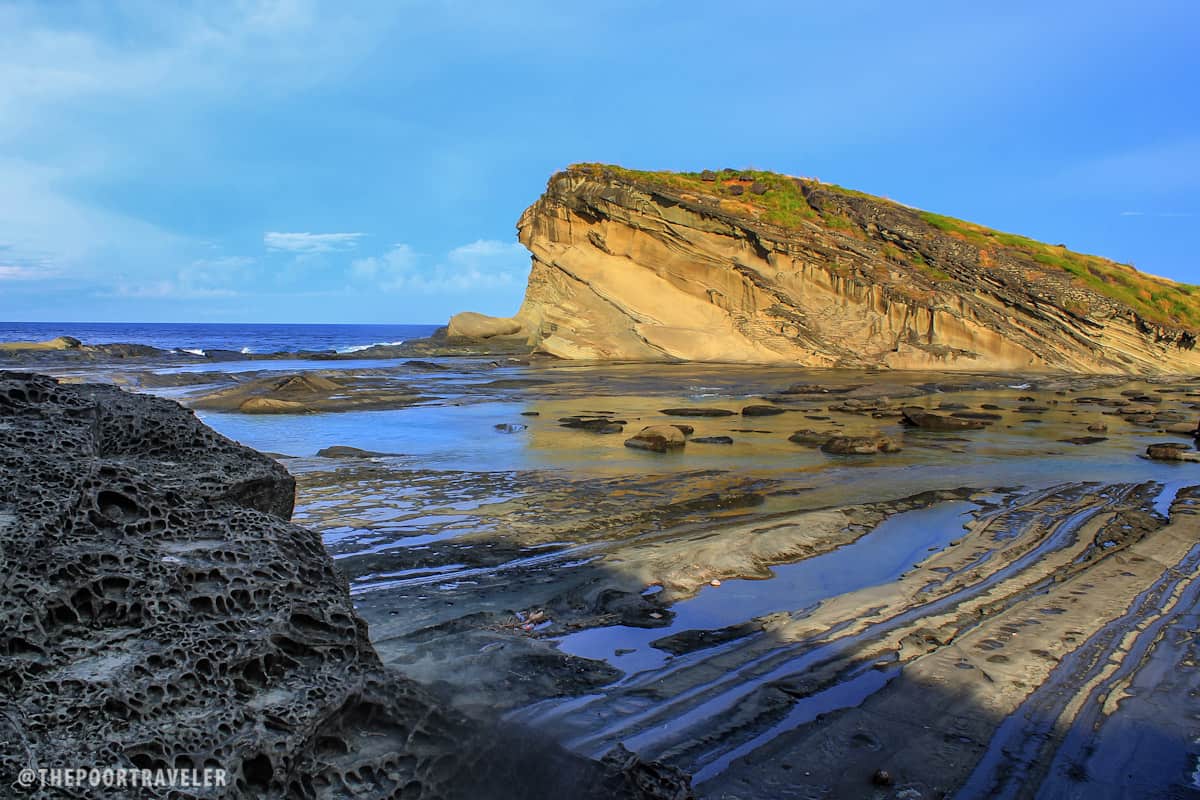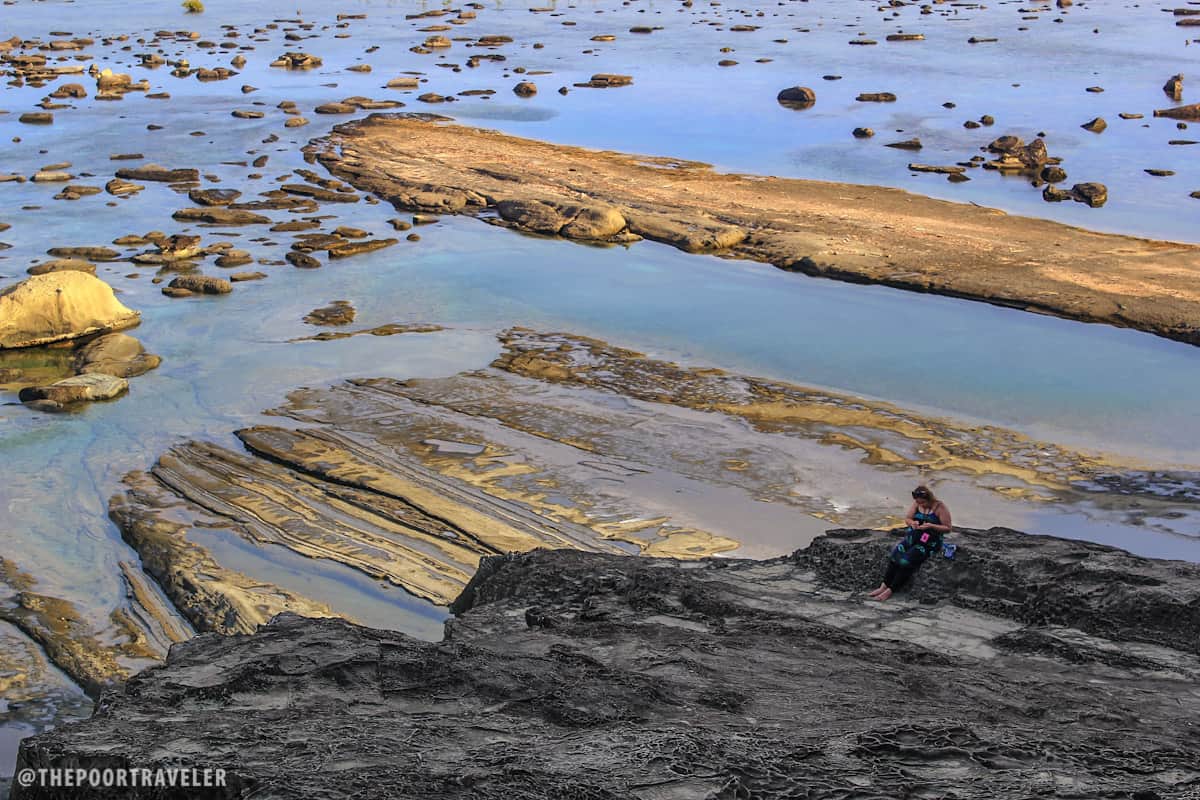 To our right was the sun starting to bid goodbye. Kuya Elvis was already at the beach, waiting for us, but we requested to stay a little bit longer to watch the sunset and see Magasang and Magsapad slowly disappear in the dark. It was a painful schlep leaving that place. We dragged our feet, stopping several times just to get more heartbreaking "last looks" of that rocky paradise.
How to get to Biri Island: From Manila, fly to Catarman, Northern Samar. Take a trike from Catarman Airport to the Bus Terminal (PhP 100) and ride a jeepney going to Allen (PhP 50). Get off at Lavezarez Town and walk to the small pier. (Not to be confused with the bigger Allen Pier.) Take a boat to Biri (PhP 50). From Biri Port, take a habal-habal to your hotel in the poblacion (P10) and pay Tourism Fee (P50). Then tell the habal-habal to take you to Bel-at Rock Formation (PhP 35, one-way) or Magasang Rock Formation (same price).