If you're interested to visit Kazakhstan, here's our article listing down some of the best activities and tours in the Turkistan region of the country. "Turkistan" (sometimes Turkestan) refers to both the city and the greater region. For most of its recent history, the region was called South Kazakhstan until it was officially renamed to Turkistan region in 2018.
After the prayer, the man emerged from the hall, walked in my direction, and started a conversation with me in the vernacular. After four days in Kazakhstan, I had gotten used to being mistaken as a local, so I politely said I could not understand. I caught the word Thailand in his next question, so I answered that I was from the Philippines.
In a warm voice delivered with a smile, he said another sentence in Kazakh. Thankfully, by this time, someone from our tour group was nearby and translated for us. "I'm not sure if you're Christian or Muslim," he translated, "but that doesn't matter because everyone is welcome here." Before saying goodbye, he shook my hand and said, "May Allah bless you."
Amid the grandeur of the setting, it is moments like this that I remember the most about South Kazakhstan, moments that highlight its people, their warmth, and multiculturalism. Prior to my visit, "diversity" won't be the first word to come to my mind when I thought about Kazakhstan. Yet, the more I learned about the country, the more it made sense to me. Part of the historic Silk Road that linked the East and the West, the Turkistan region is at the crossroads of cultures. Most of the locals I met look Asian, speak Russian, and practice Islam. And as our trip went on, we discovered a lot more about their intricate heritage.
Turkistan is also one of the country's most diverse regions in terms of landscapes and scenery. From the highlands of Aksu-Zhabagly to the modern oasis of Shymkent to the deserts surrounding its ancient cities, Turkistan has something for every type of traveler.
If you're planning to set foot in this part of Kazakhstan, here are some of the best attractions.
WHAT'S COVERED IN THIS GUIDE?
Shymkent City Tour
Technically, Shymkent isn't a part of Turkistan Region or any region because it is administratively detached. But if you're visiting the region, Shymkent is almost unavoidable. Because it is completely surrounded by the region and is the largest city in the area, it remains the most convenient gateway and the most ideal base for travelers exploring Turkistan. It has its own airport and the highest concentration of lodging and dining
options.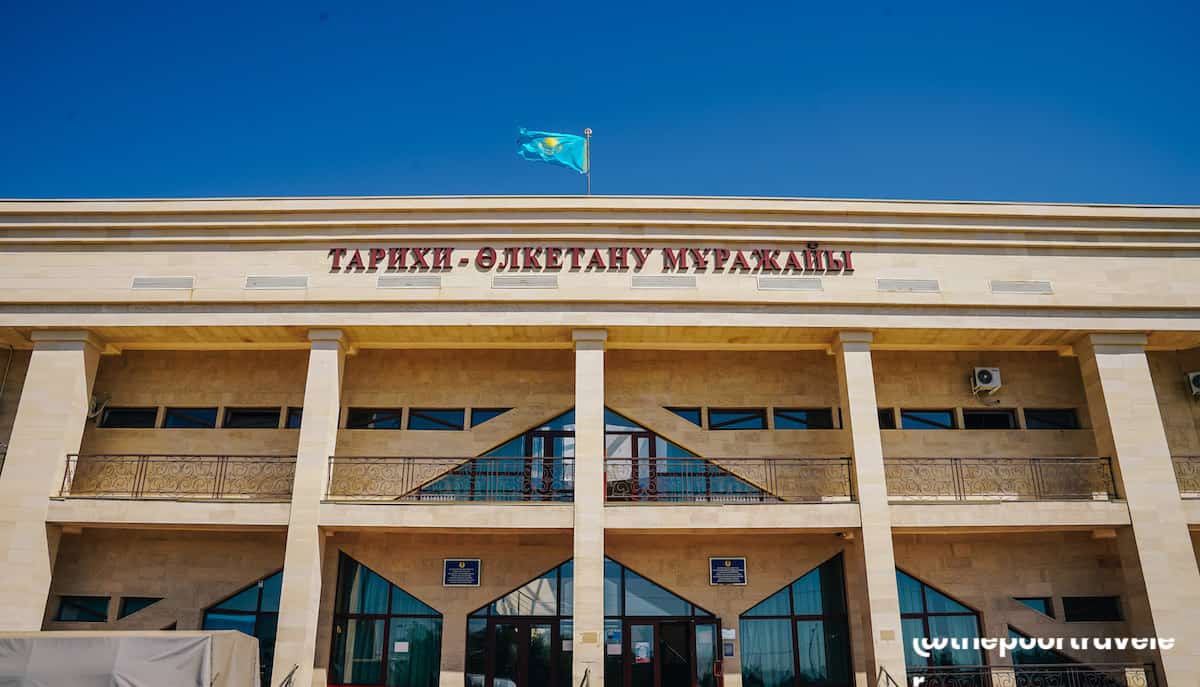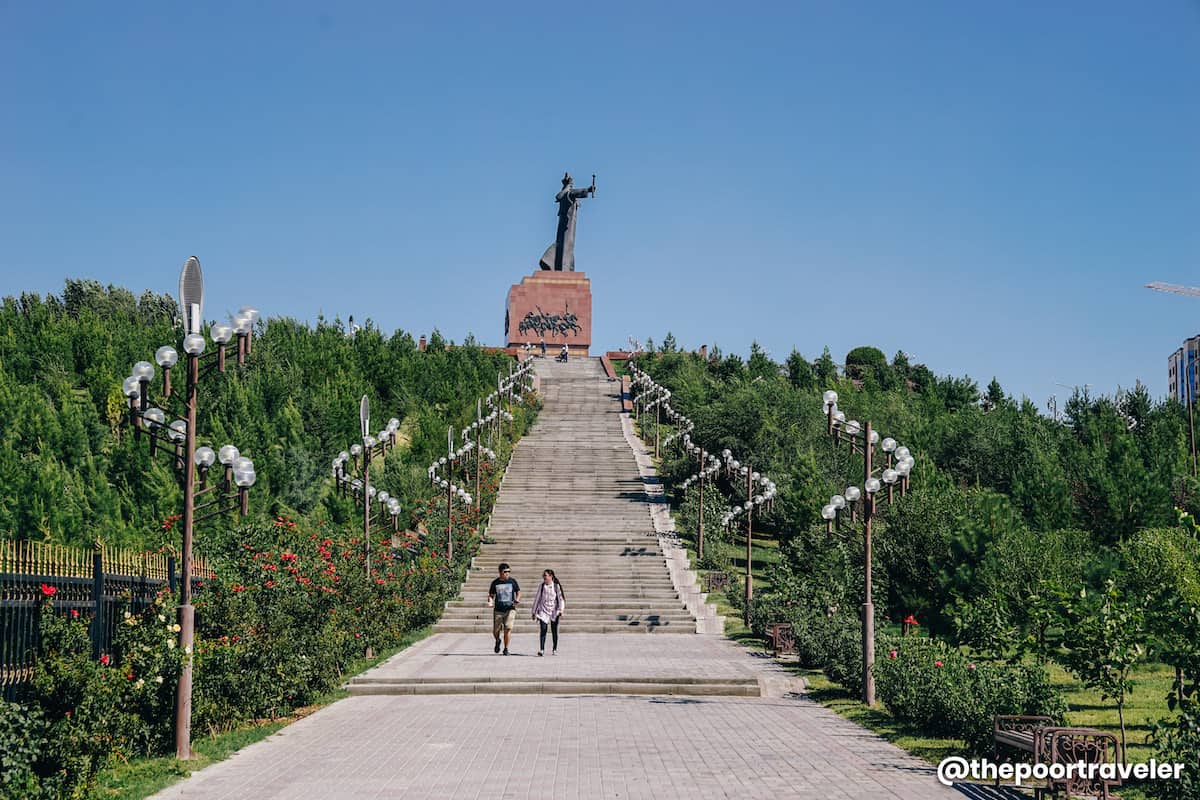 Starting your visit with a city tour will give you a much-needed primer. Drop by the Museum of South Kazakhstan Regional History and its four halls showcasing nature/paleontology, ethnography, Kazakh Khanate history, and independence. Just a short walk from the museum building are important landmarks including Monument "Baydibek bi," standing atop a hill in honor of Baydibek Karashauly, who was a key figure in unifying the Kazakh people.
---
Arbat Walking Street
Definitely my favorite spot in all of Shymkent. Arbat is a 500-meter pedestrian street connecting Al Farabi Square and Republic Avenue, dotted with cafes and amusement attractions, and adorned with flowers. It is lively and vibrant, frequented by locals and tourists alike. Its energy is also unmatched by any other place in the city. Dancers practice their routines along the way, street musicians perform on the side, and youngsters pose at IG-worthy spots.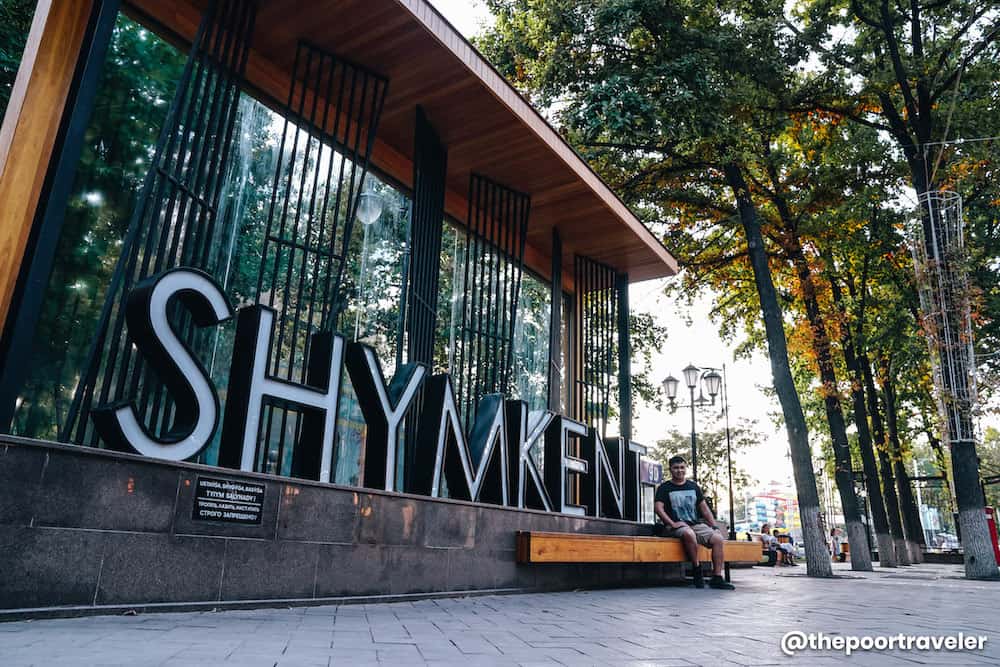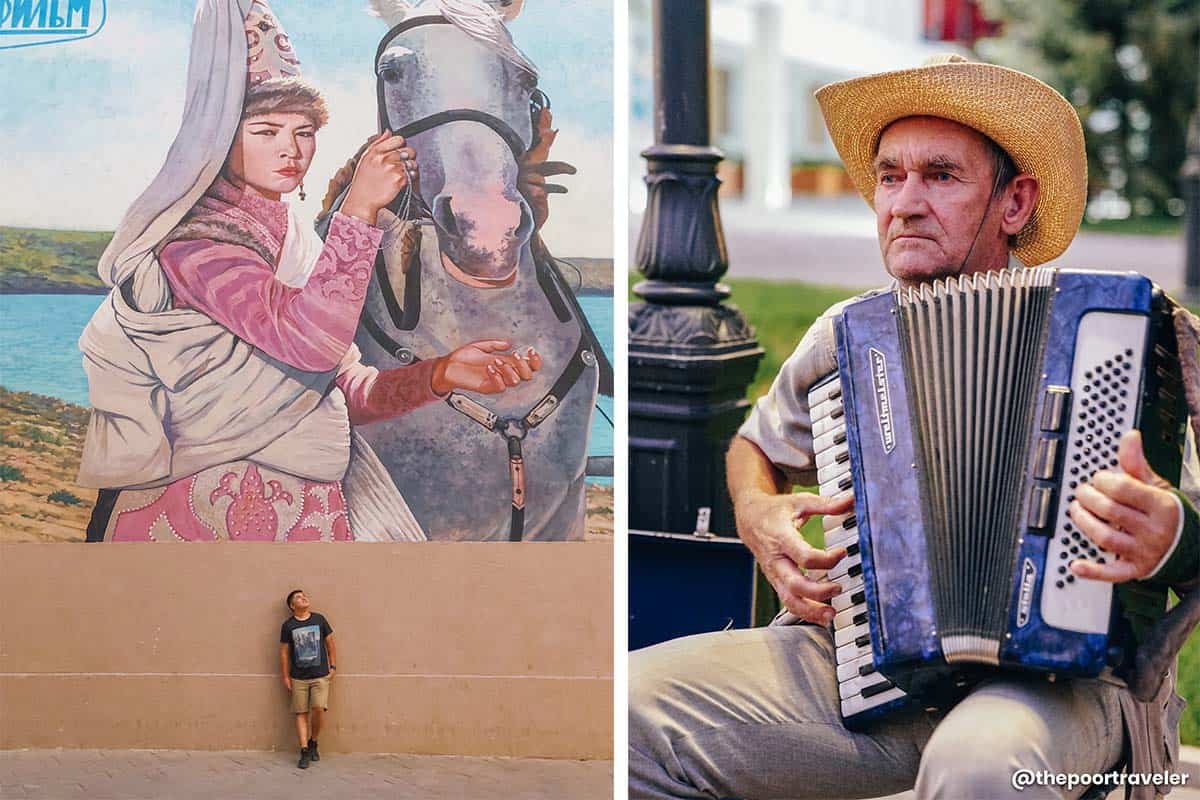 It is best visited at night when 12 angel figures light up the walkway, creating a magical atmosphere!
---
Aksu-Zhabagly Nature Reserve Treks
The Aksu-Zhabagly Nature Reserve, the oldest reserve in Kazakhstan and even in Central Asia, occupies the northwestern mountains of the Tien Shan range, a UNESCO World Heritage Site. These snow-capped peaks and flower-adorned valleys dominate the landscapes of the reserve, composing picturesque scenery that can take any hiker's breath away. Some parts are accessible by 4×4 vehicles on a rough road winding on mountainsides. But for the full experience, you can go for a climb on foot and follow the established Kshi-Kaindy Waterfall, Ulken Kaindy Gorge and Kaska-Bulak petroglyphs trails.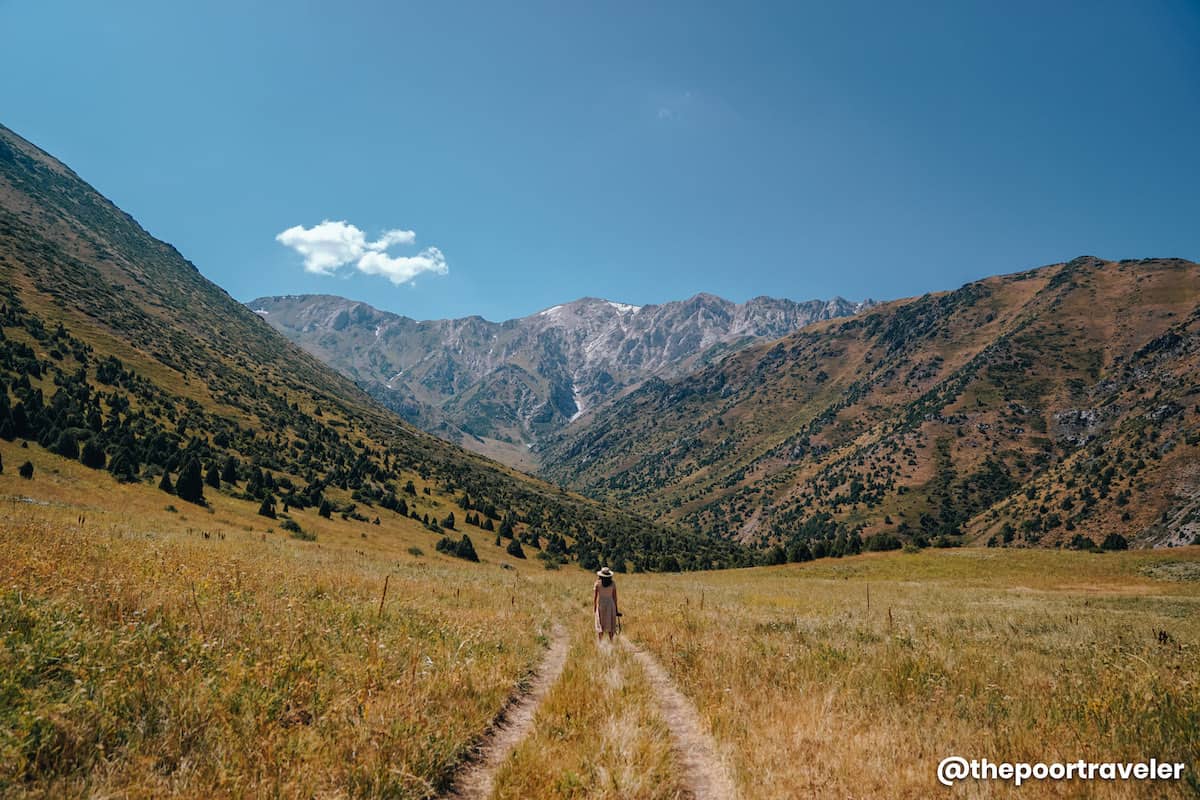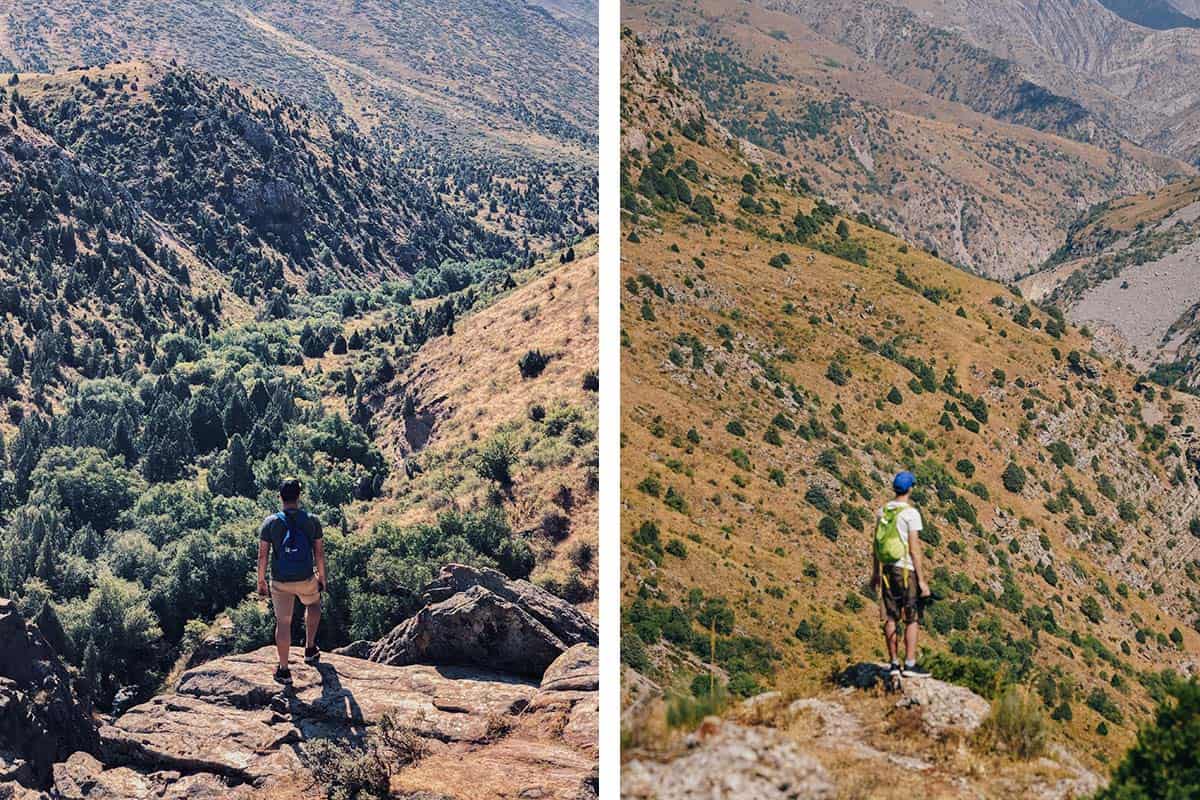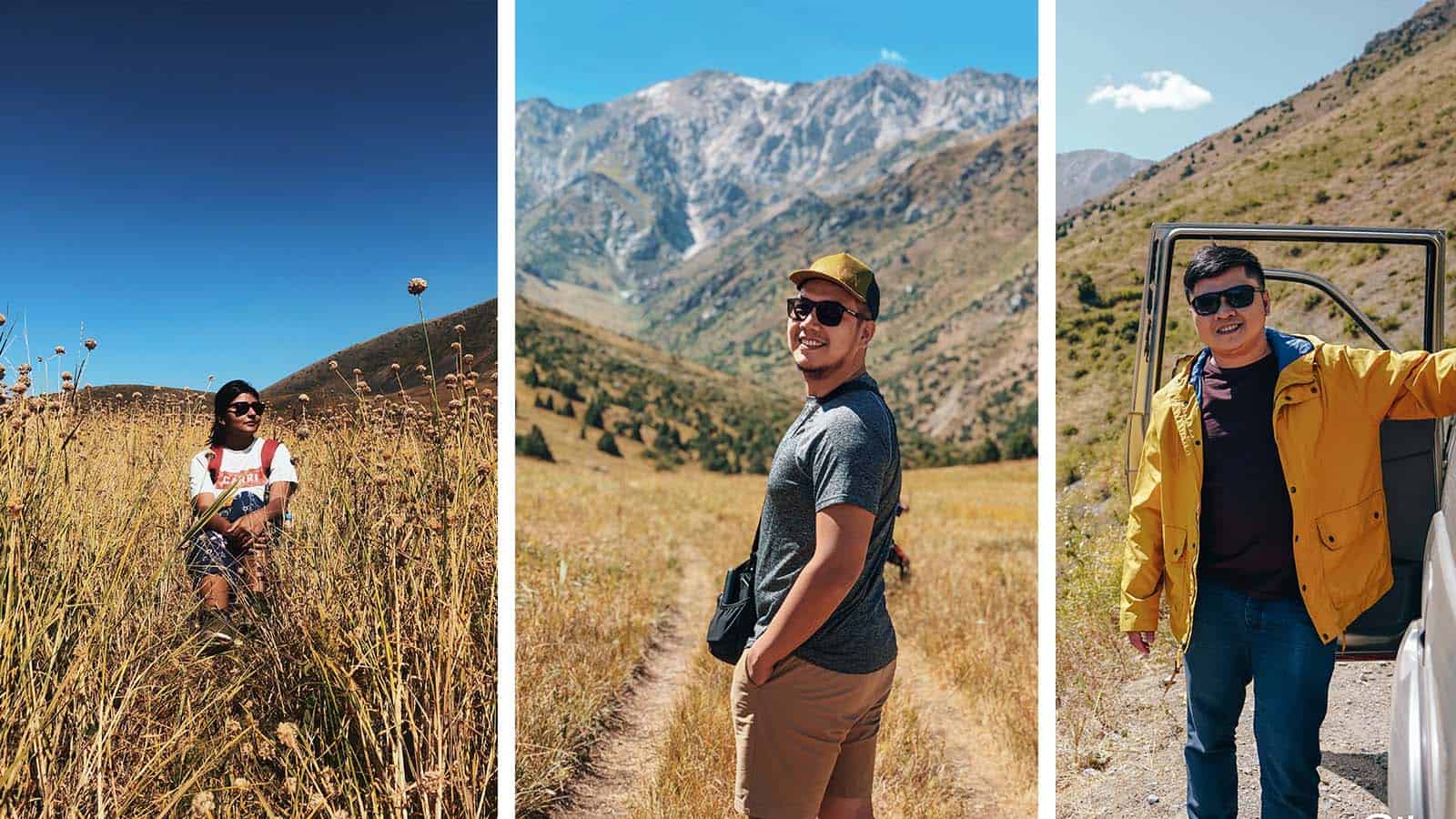 But this adventureland is more than just spectacular views. It is home to over 40 endangered plant species including the wild grape and wild tulip species and over 40 highly endangered mammals including the Himalayan brown bear and the incredibly rare snow leopard. We were on the lookout for them during our visit, but we unfortunately didn't get to see any.
The Aksu-Zhabagly Nature Reserve is an important natural treasure, so visits are regulated and the number of visitors allowed is limited. Make sure to coordinate with the authorities or through a travel agency before your visit.
---
Aksu Canyon
Aksu Canyon is still part of the Aksu-Zhabagly Nature Reserve but detached from Kshi-Kaindy/Ulken-Kaindy area. This postcard-perfect canyon is 15 km long, dotted with several viewpoints along the way. Visitors may choose to trek 500 meters down to the cold, blue Aksu River below.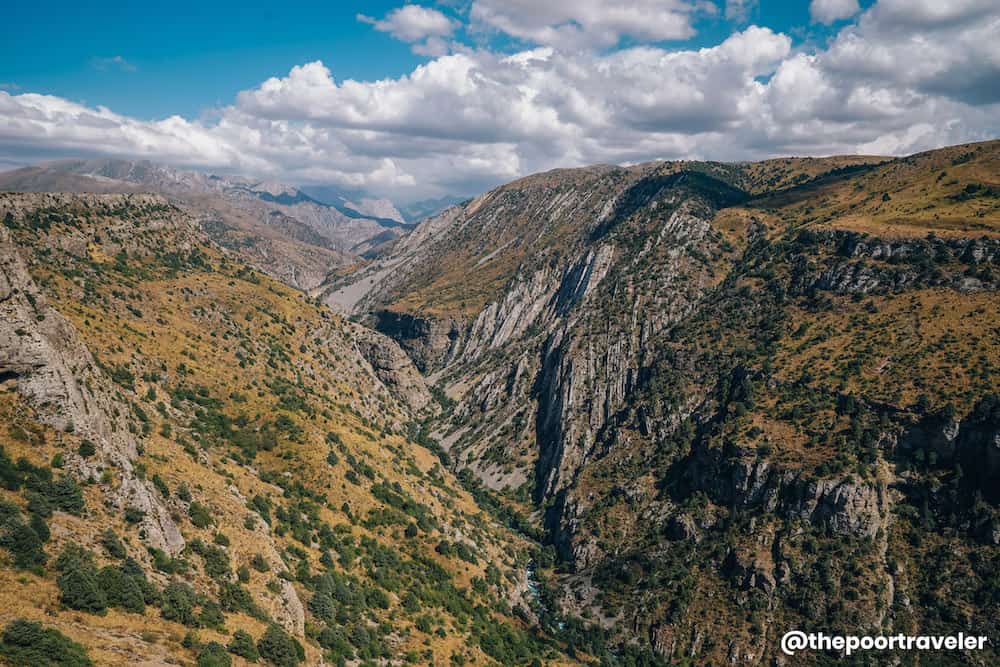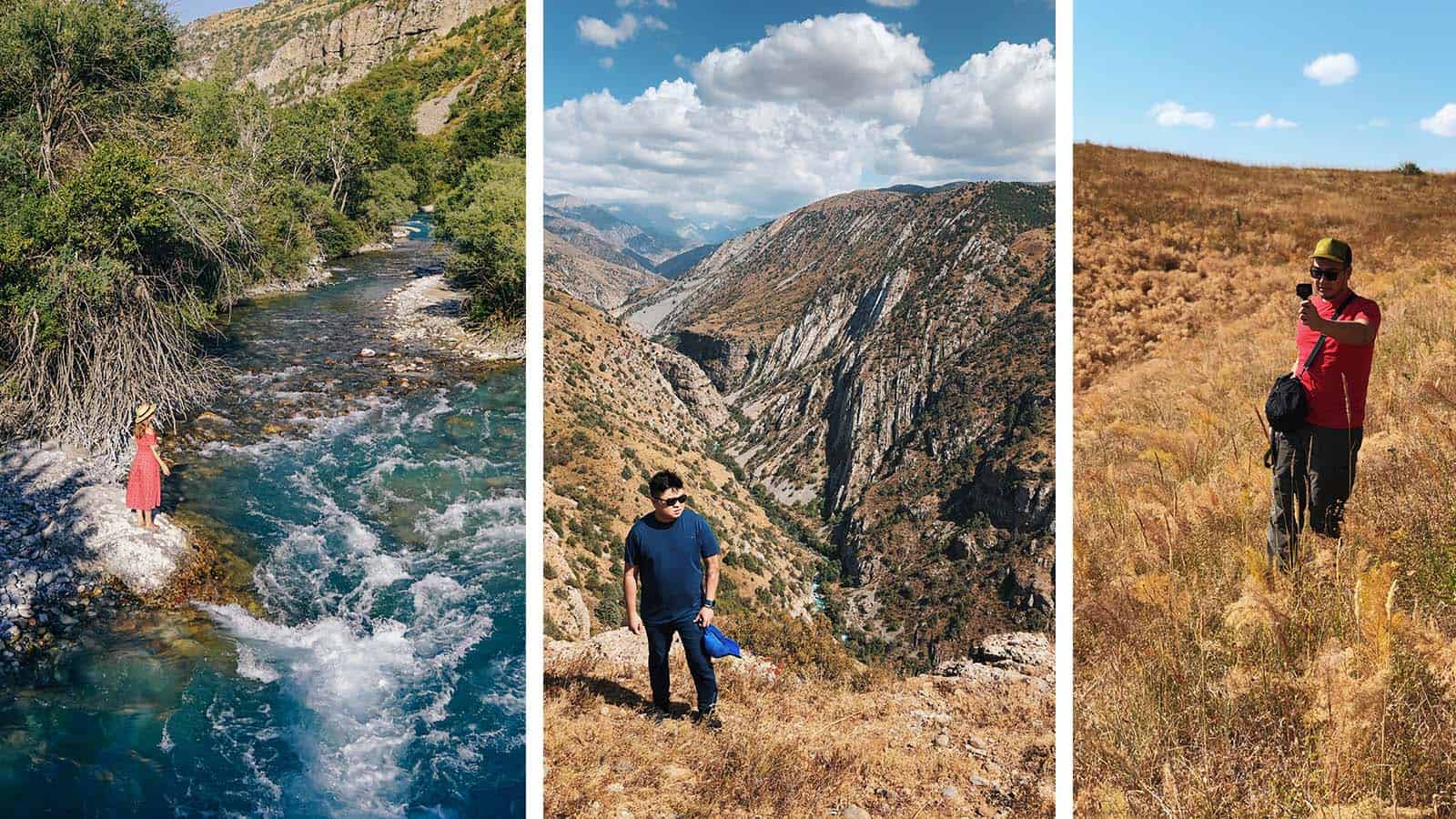 Make sure to bring plenty of drinking water because if you're as fit as I am (which means not fit at all, LOL), the trek can be pretty challenging. Because it's still within the nature reserve, the number of visitors allowed is limited. Make sure to coordinate with the authorities or through a travel agency before your visit.
---
Mausoleum of Khoja Ahmed Yasawi
Inscribed as a World Heritage Site in 2003, the Mausoleum of Khoja Ahmed Yasawi is the most important historic structure in this part of Kazakhstan. This colossal monument is not only an architectural achievement but also a religious pilgrimage site. It shelters the tomb of Khoja Ahmed Yasawi, an early mystic who founded the first Turkic Sufi order and was responsible for the spread of Islam in Central Asia.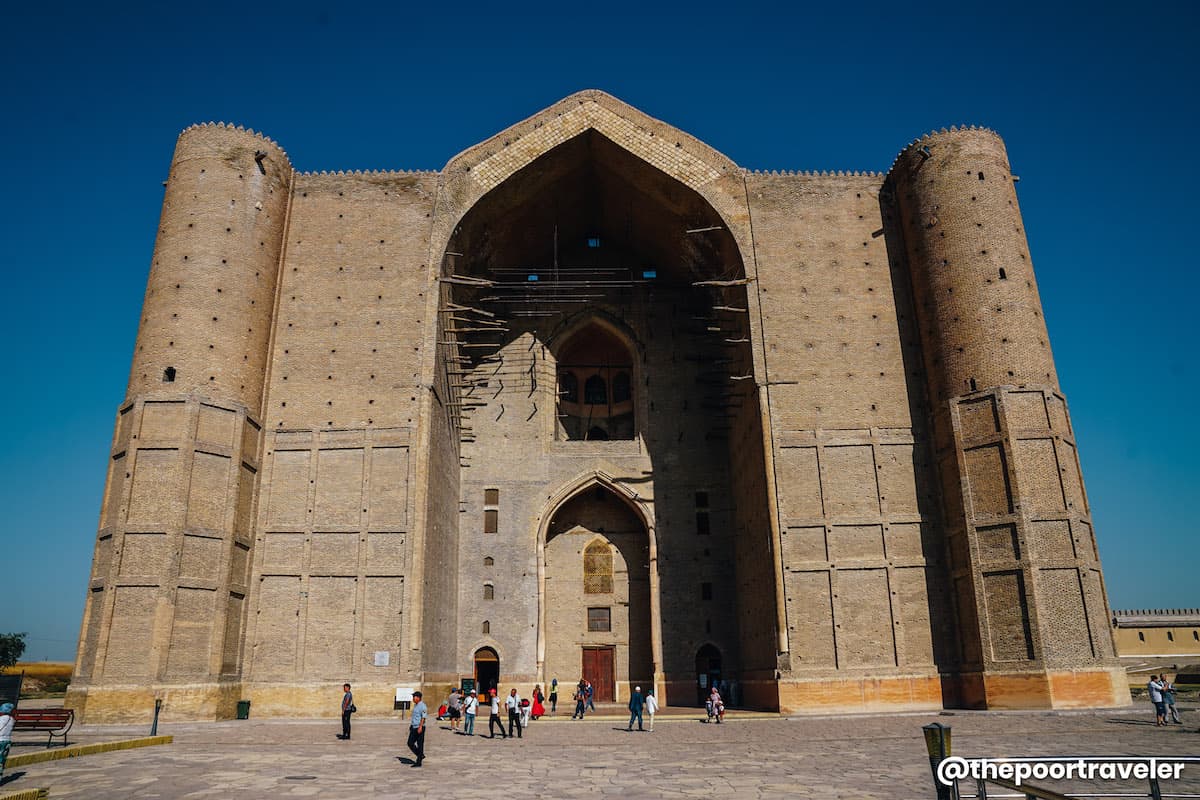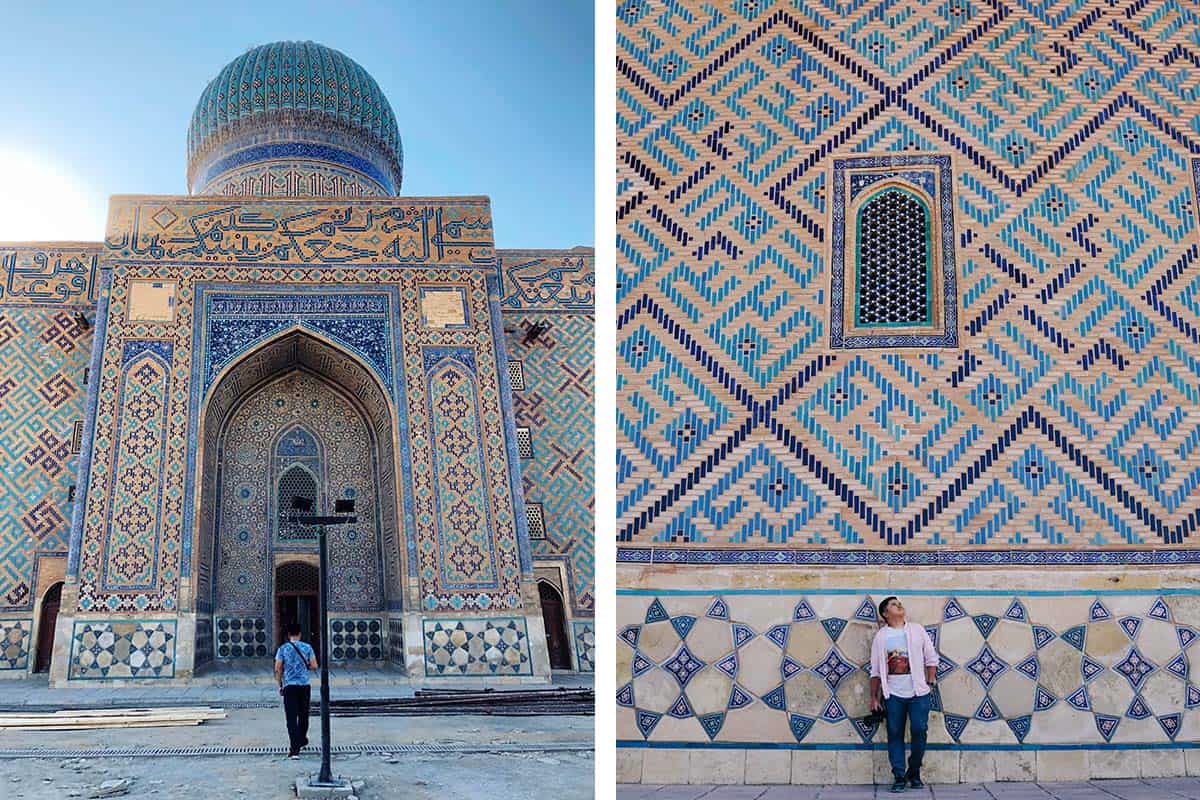 Its construction began in 1389, upon the order of Timur, a Turco-Mongol Persianate ruler, but was not completed when he died in 1405.
---
Arystan Bab Mausoleum
Another pilgrimage site in the area — but closer to the town of Otrartobe than to Turkistan City — is Arystan Bab Mausoleum, built in the 14th century on top of the grave of Arystan Baba.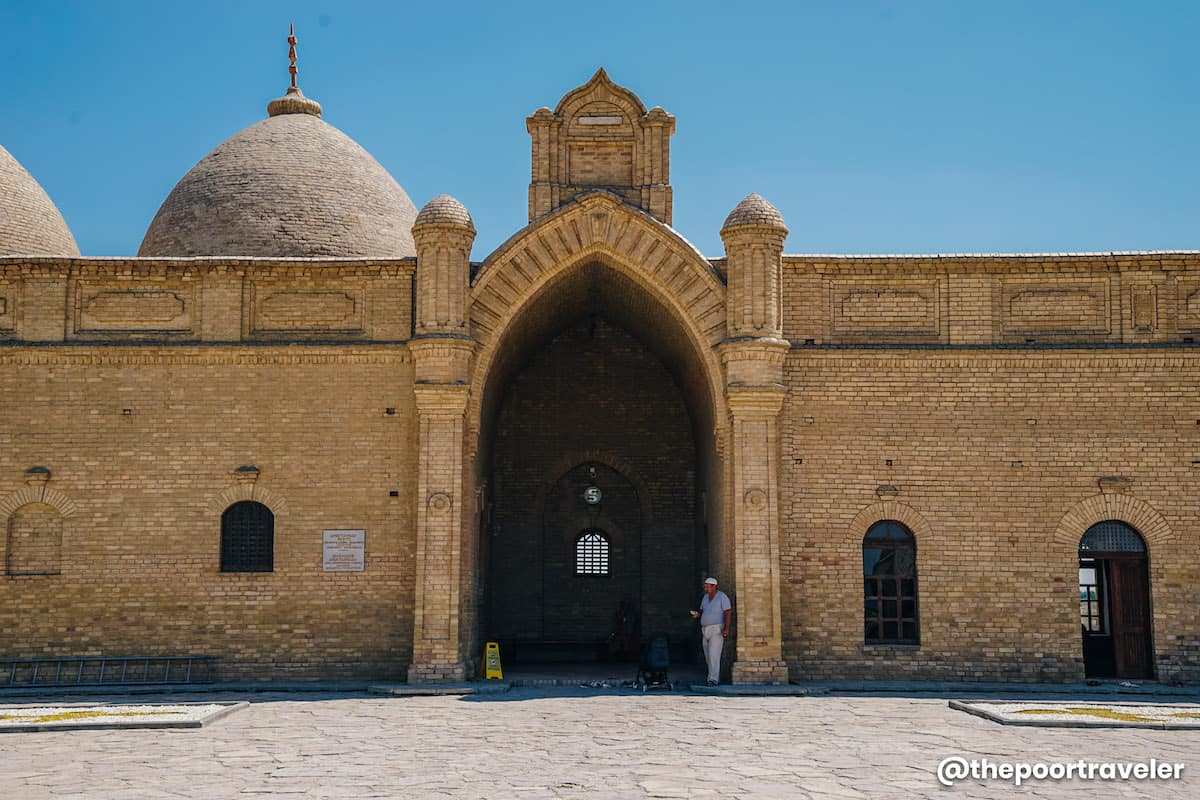 Arystan Baba is an early mystic and a legendary figure in Turkic history, said to have lived for 400 years. He is also believed to be the teacher of Khodja Akhmed Yasawi.
The mausoleum has been destroyed and reconstructed many times over the centuries, but the current building was built in the 20th century. The only original features that remain are the two wooden pillars, showcased in one of the rooms.
---
Otrar Ruins
Otrar was once a prosperous city founded before the 8th century. At a strategic location along the historic Silk Road, it serves as a connection between China, Europe, and the Middle East. In its heyday, the city has produced figures like Abu Nasr al Farabi, a renowned philosopher, jurist, poet and scientist.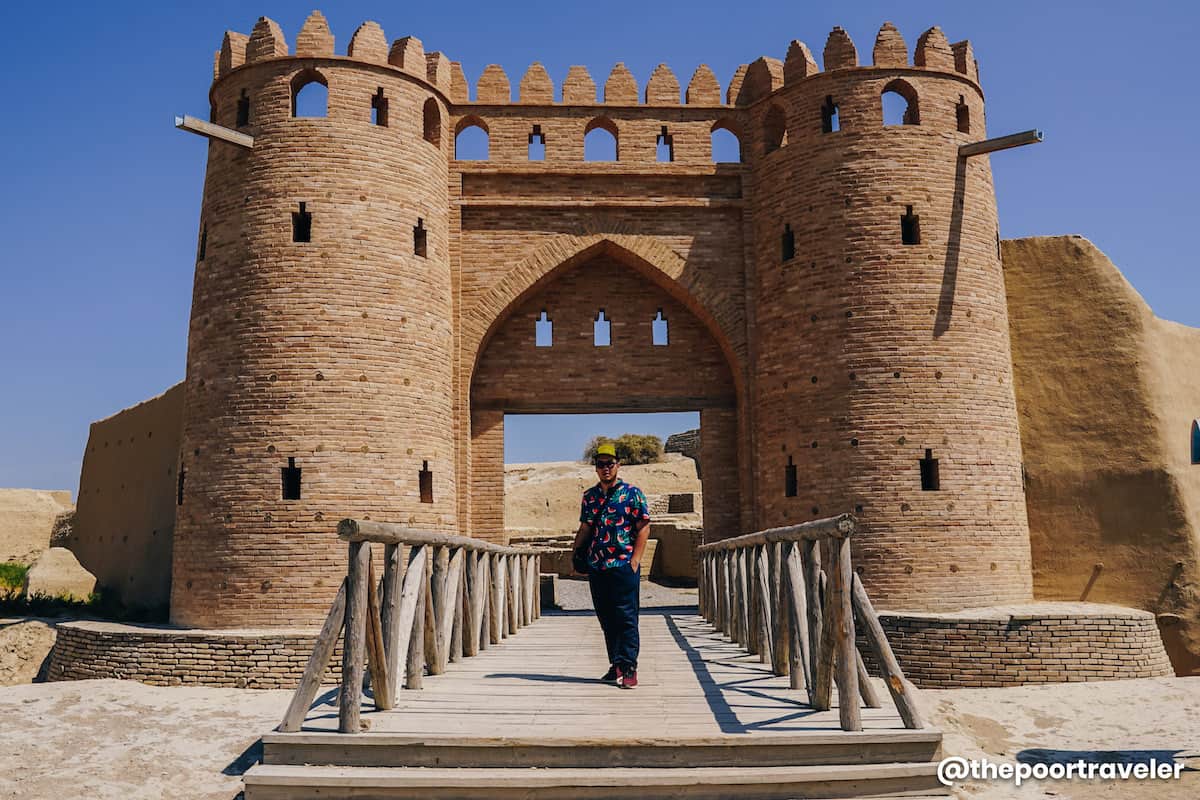 But it is also well-known for the so-called Otrar Catastrophe, wherein the city fiercely but unsuccessfully defended the city against the attacks of Genghis Khan's forces in 1218. When they were done razing it to the ground, the Mongols are said to have slaughtered every single inhabitant of the city. This serves as the pretext to the Mongols' invasion of Central Asia.
Today, only the ruins of this ancient settlement remain. It was first excavated in 1969 but is now open to tourists who are willing to learn more about the city's rise and fall.
---
Sauran Ruins
Another ancient city along the Silk Road was Sauran (Sawran), founded in the 6th century. It was a large fortified city, the largest at the time in what is today's Kazakhstan and the center of ceramic production in the region.
Unlike Otrar, Sauran remained standing after the Mongol invasion because unlike Otrar, it did not really put up a fight. It even became the capital of the Mongol White Horde. But like Otrar, it didn't survive the times. As the Silk Road declined, so did Sauran.
Today, only the ruins of its walls and some bastions remain.
---
Turkistan Market
If you're planning to visit the Mausoleum of Khoja Ahmed Yasawi and the ruins of ancient cities, you'll probably gonna spend at least one night in the city of Turkistan. If that's the case and you have free time during the day, try to pay a visit to the city's market to shop for souvenirs or fruits.
One thing that really surprised me about Kazakhstan is the high quality of their produce. I wasn't expecting to find delicious fruits and vegetables here. Visit the market and buy some sweet grapes, plums or peaches, or try a traditional drink. It's also a great way to interact with the locals and catch a glimpse of their daily life.
Before taking photos of people, ask permission first. They're not used to tourists here so photography makes some vendors uncomfortable.
---
Kazakh Food Trip
Traditional Kazakh cuisine is predominantly meat and dairy. The poster dishes of Kazakhstan are beshbarmak and pilaf. Beshbarmak, literally "five fingers" because it is normally eaten with bare hands, is composed of chunks of meat on top of boiled pasta sheets. Pilaf, on the other hand, is meat fried with onions, carrots, and rice. Both traditionally use horse meat, but mutton and beef are now more common especially in the cities.
Some of our favorites are manti, meat dumplings; laghman, pulled noodles with meat and veggies; and chak chak, noodle crispies coated with honey.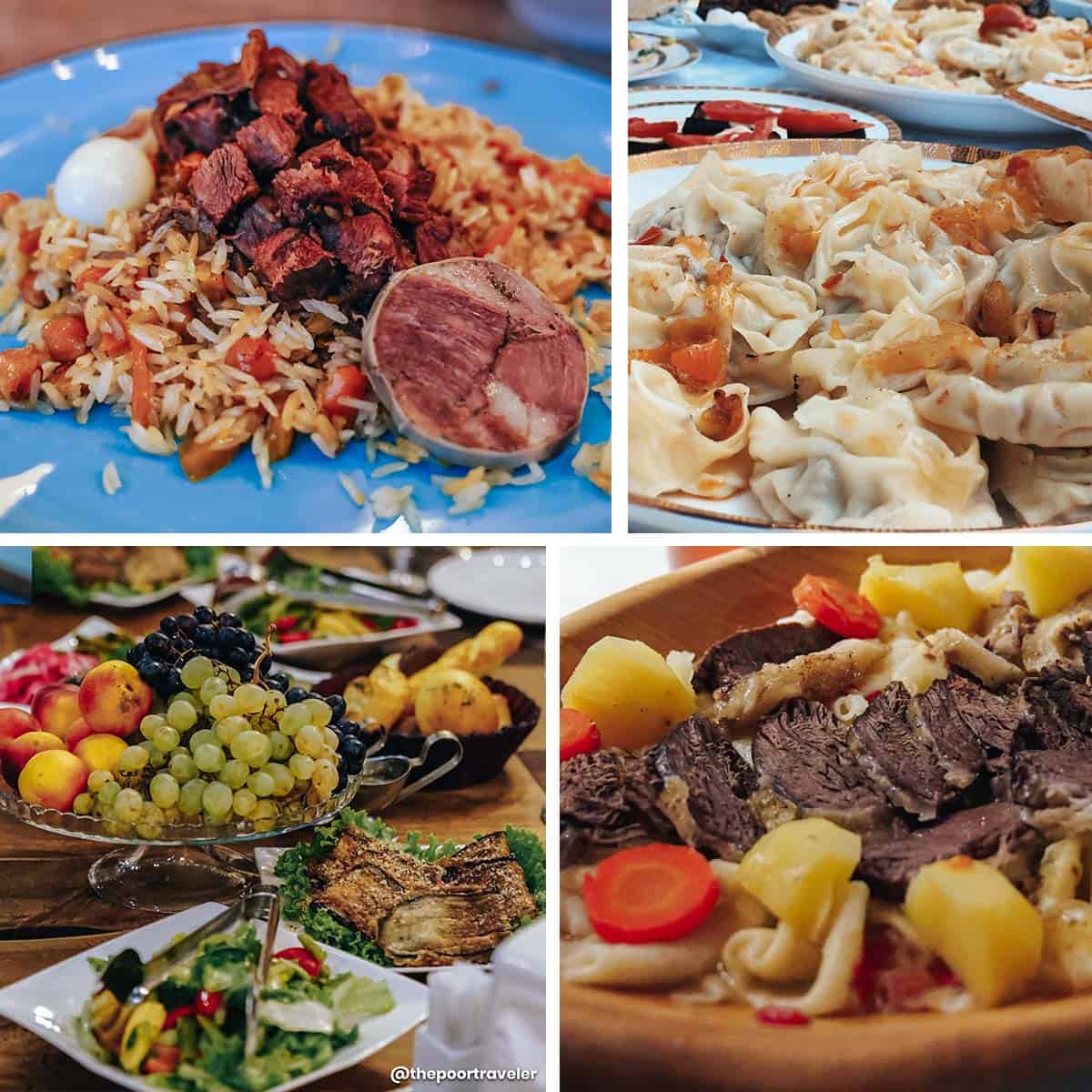 My normal diet is 90% plant-based and I'm allergic to milk so I was a bit worried in the beginning, but I found Kazakh food to be very delightful. Yes, it's predominantly meat, but there's also a lot of non-meat options too. I had my sweetest melons and the best-tasting tomatoes of my life in Kazakhstan!
Don't forget to cap off your meal with a cup of black tea! Or if you have a more adventurous palate, try kumys, which is fermented horse milk.
---
2️⃣0️⃣1️⃣9️⃣ • 9️⃣ • 5️⃣
More Tips on YouTube ⬇️⬇️⬇️