When planning our trip to Copenhagen, we expected to enjoy a lot of things. We knew we would be astonished by the colorful facades of Nyhavn. We knew we'd be amazed by the picturesque castles and palaces. We knew we'd be fascinated with its eco-friendly bike culture. But one thing we didn't expect at all was be blown away by what it brings to the table — to the dining table, that is.
Yes, we were surprised — delightfully — by Copenhagen's food scene. That's not to say that the capital's culinary wonders are obscure or unpopular. It simply reflects how much — or in this case, how little — we know about it. Where we're from, while most are interested in the gastronomy of the Italies and Frances of this world, Denmark isn't getting much of our attention. And that's on us. I didn't realize just how much I had been missing up until I was already there.
Danish cuisine is incredible. It is also very straightforward. The main ingredients are fish and meat, especially pork, and the basic seasonings are salt and pepper on top of other trimmings. Rye bread, cured meat, and root crops (particularly potatoes) are staples. For the after meals or desserts, berries and fruits with cream are popular. And of course, Danish pastries are immaculate!
---
WHAT'S COVERED IN THIS GUIDE?
1. Join a food tour.
If you want to have a taste of Danish culture, dig in to local dishes and delicacies! Some of us might know a thing or two about Danish cookies, but there's more to the Danish culinary scene than the well-known pastries.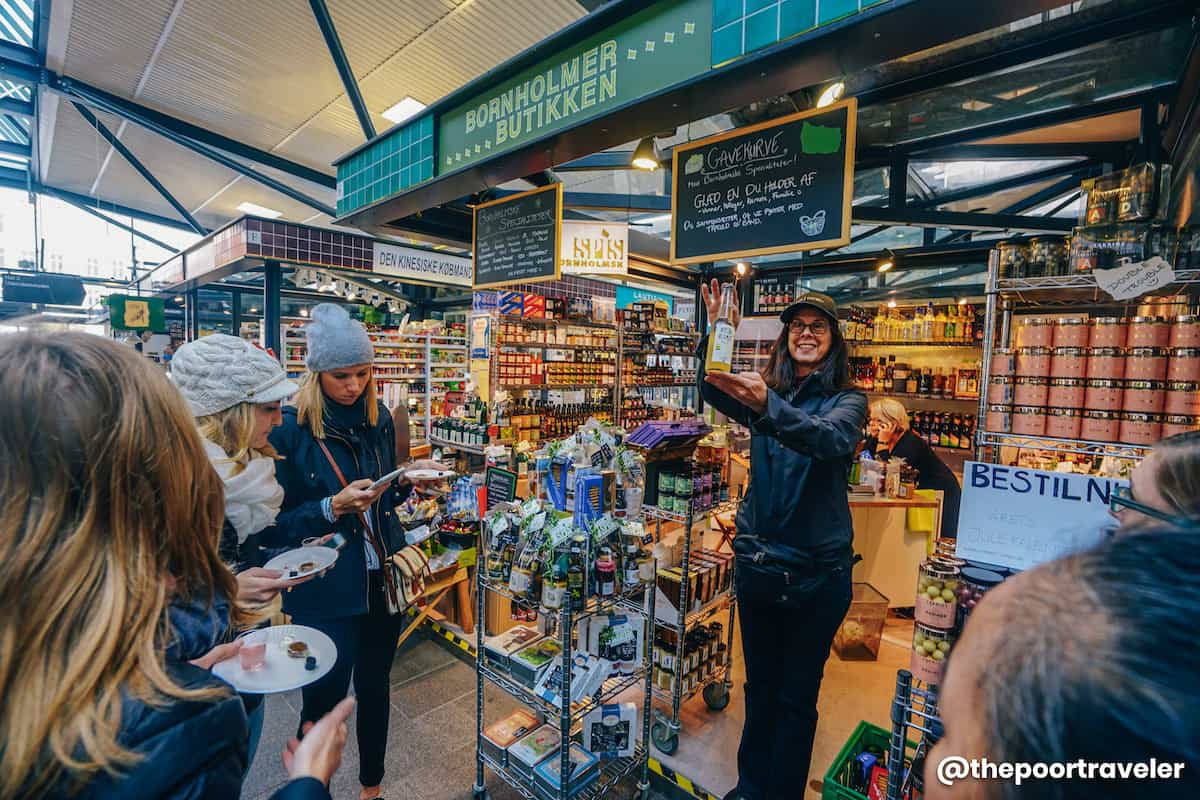 Some of the distinct traditional foods are:
Aebleflæsk (apple pork), cured pork belly fried with apples and herbs
Stegt flæsk, crispy fried pork served with potatoes and sauce with parsley
Hønsekødssuppe, chicken soup
Frikadeller (Danish meatballs), also usually served with parsley sauce and potatoes
Joining a food tour will not only take you to the popular food places in the city but will also give you information about the Danish dish served at each stop — ingredients, preparation, and cooking methods. And while you sample these local dishes, your guide will also explain to you the culinary history and cultural significance of the dish you are eating.
You can book your food tour with Klook! The package includes a foodies guide and covers five well-known food places serving authentic Danish cuisines. You may also sample the locally-brewed beers!
✅ CHECK RATES or RESERVE HERE!
---
2. Shop at Torvehallerne.
Welcome to Copenhagen's kitchen!
TorvehallerneKBH is the most popular marketplace in the city, visited by over a hundred thousand locals every week. Officially opened to the public in September 2011, this is a total paradise for foodies and for those who want to taste Danish delicacies and other favorite international cuisines. You can also find fresh produce, fish, and meat.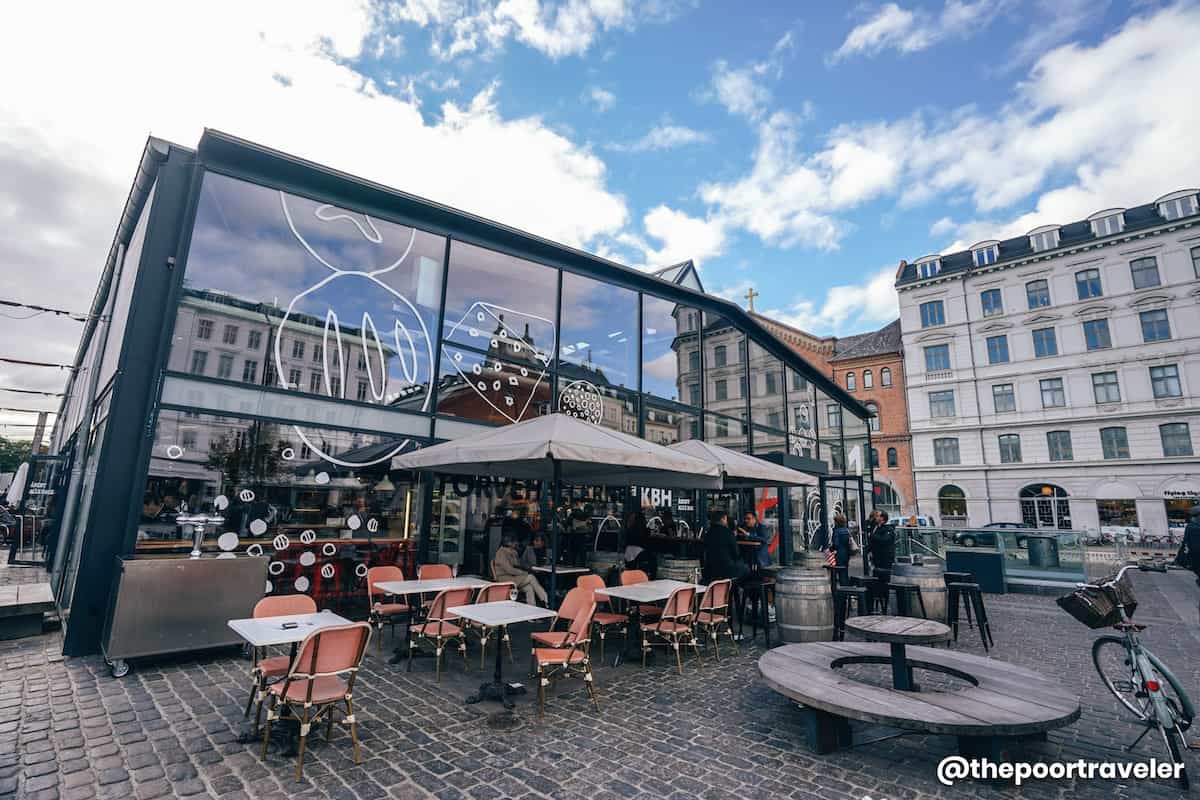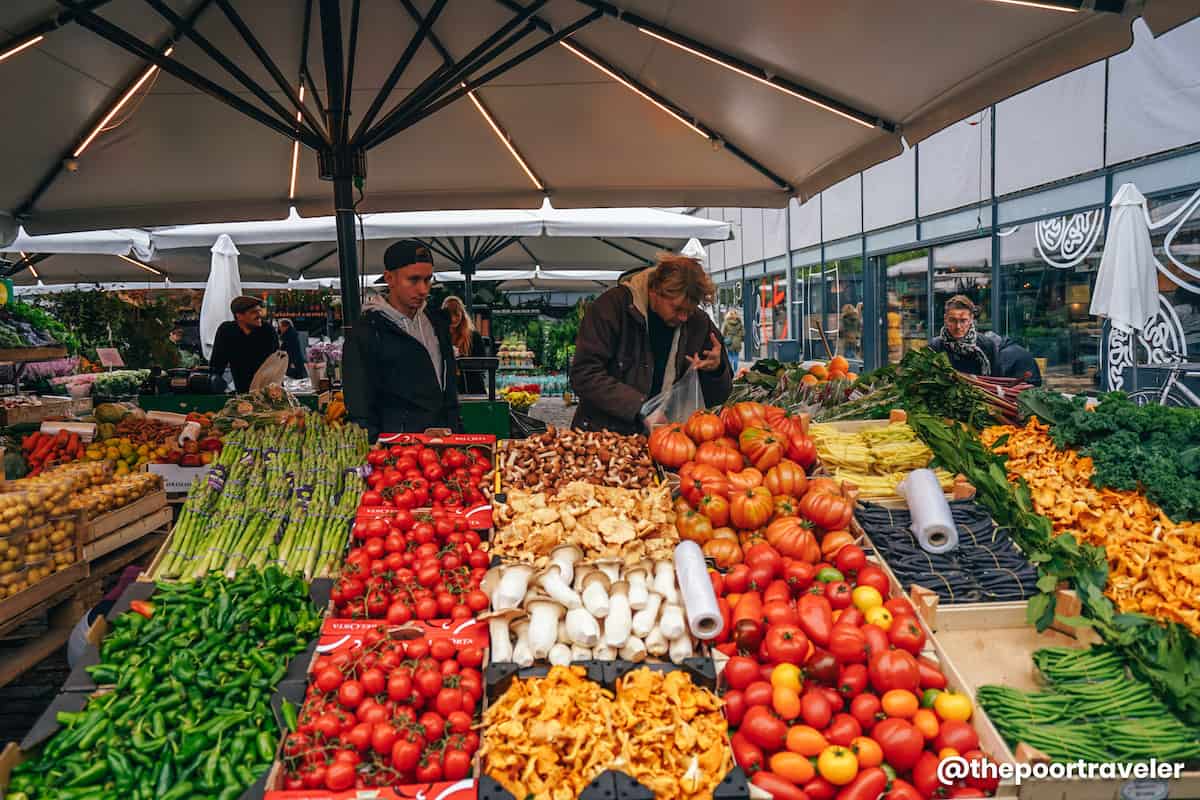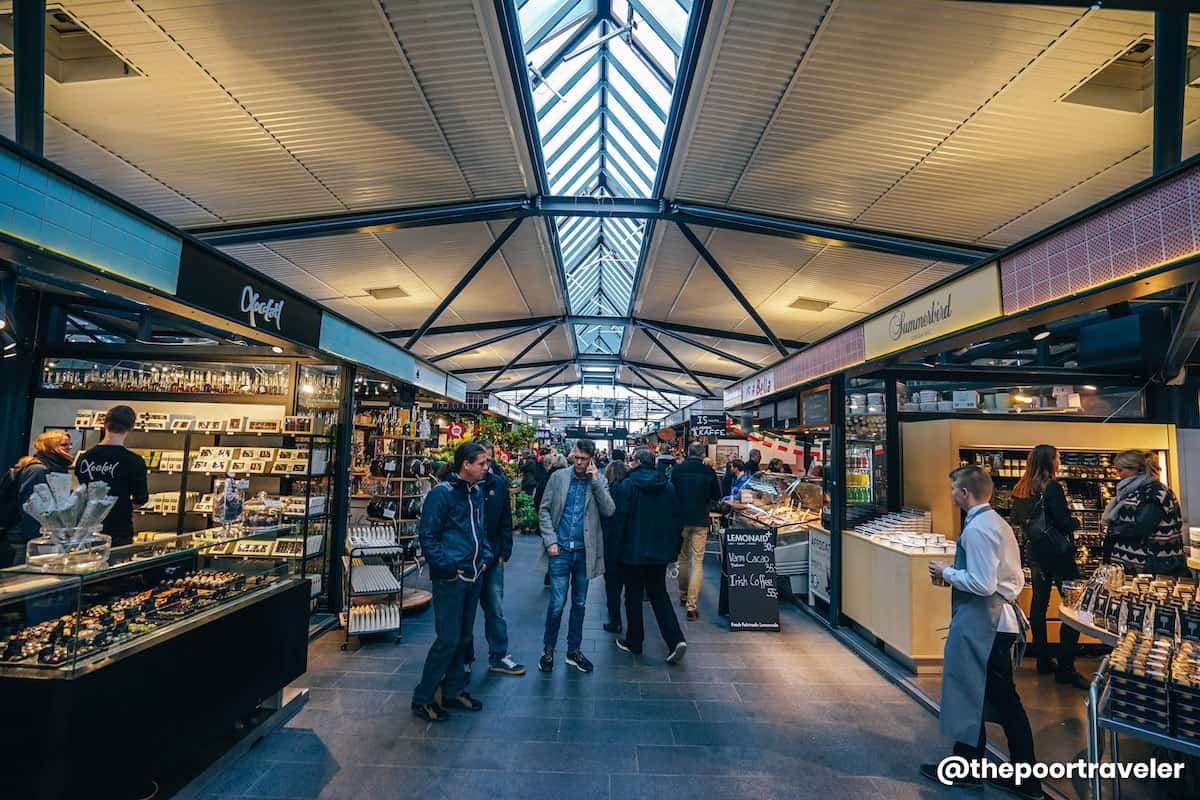 It houses some of the famous homegrown restaurant and shop names. Both established and newcomers offer fresh food and refreshing drinks.
Address: TorvehallerneKBH, Frederiksborggade 21, 1360 København K, Denmark
Opening Hours: 10:00 AM – 7:00 PM (Monday – Friday), 10:00 AM – 6:00 PM (Saturday – Sunday)
Nearest Train Station: Nørreport Station or Nørreport Metro Station
Official Website: www.torvehallernekbh.dk
---
3. Eat your way around Reffen – Copenhagen Street Food Hall.
If you are into street food, this is a worthy stop. The area is buzzing with various activities — concerts, talks, workshops, games, and many others. This laidback and eco-friendly project follows the dogma "reduce and reuse" and aims to achieve more sustainable and environment-friendly endeavors, may it be food, entrepreneurship, design, craft, and culture. It's a friendly place for startups, artisans, and artists to showcase their products and crafts.
Some of the people go here for the view of the harbor, the sunset, and the liberating vibe. But most come here for the food! Boasting a wide range of options, you might find yourself constantly drooling from stall to stall. Enjoy lounging with a drink in one hand and a grub in another.
All the stalls and bars only accept card payments. You can get a prepaid card at Little Village. If you still have credits left, you can also change it there.
Currently, you can find this food hall in the Refshaleøen area, in the outskirts of the city. But this is already their second location. During our visit, it was on Paper Island and it was called Copenhagen Street Food – PapirØen. Of course, the look and feel have changed since they moved. But here are some pics from our visit to their previous site.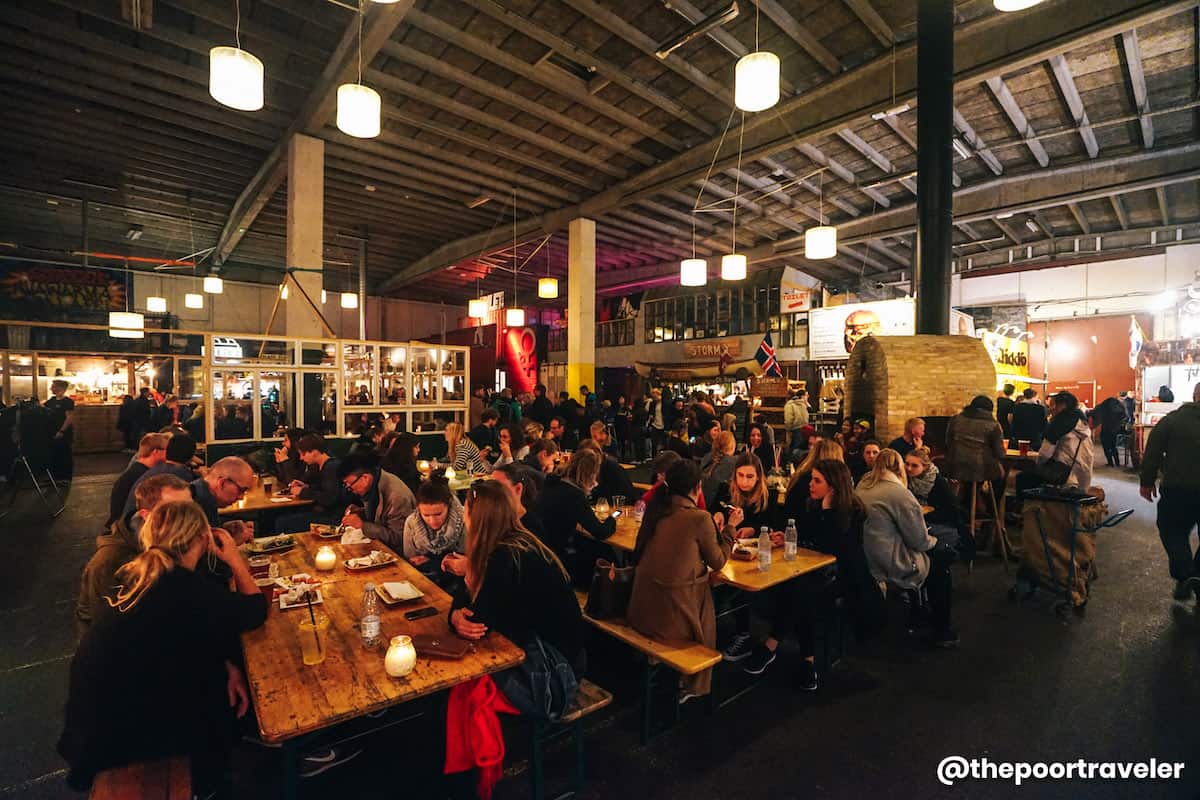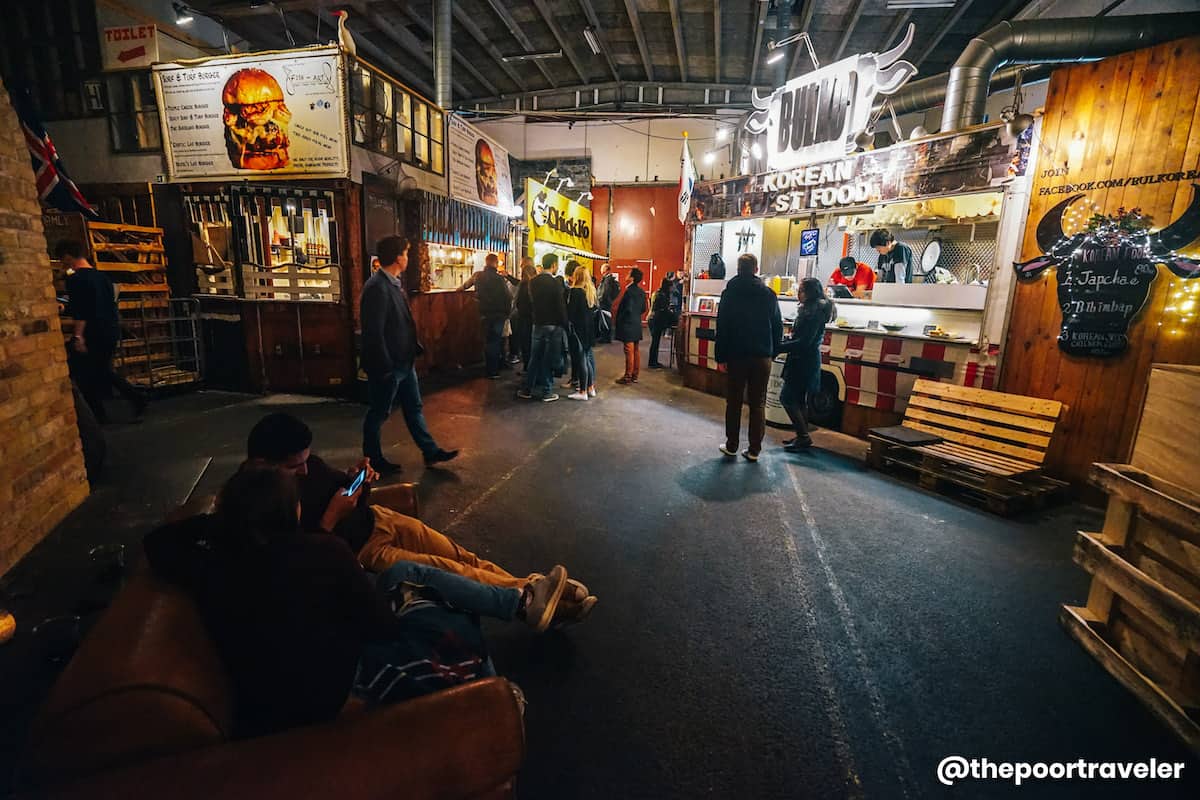 Address: Reffen, Refshalevej 167 Unit A, 1432 København, Denmark
Opening Hours: Please check the official website for the latest updates and announcements.
Nearest Bus Stop: Refshaleøen/Refshalevej (Bus 2A)
Official Website: www.reffen.dk/en
---
4. Travel back in time at Det Lille Apotek.
Built in the 1720s, Det Lille Apotek is widely regarded as the oldest restaurant in Copenhagen that still operates to this day. This cozy nook continues to foster a traditional vibe and serves traditional Danish lunches and dinners.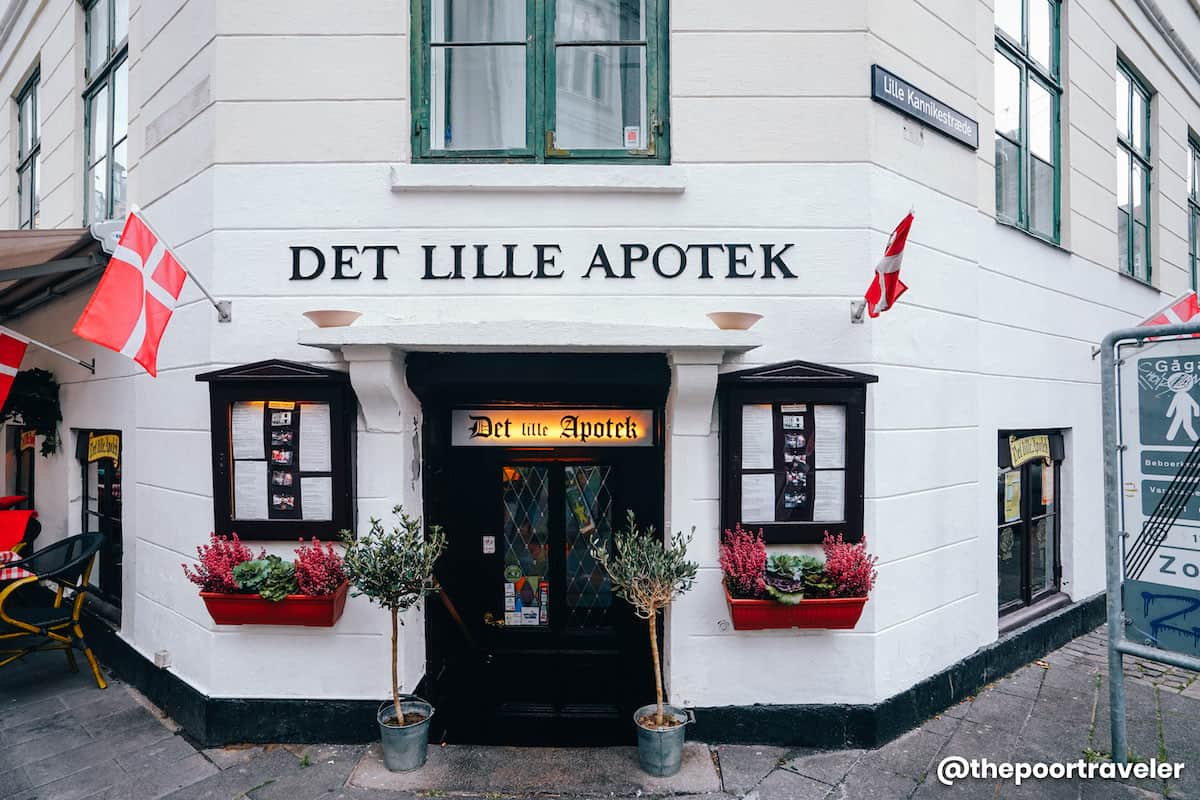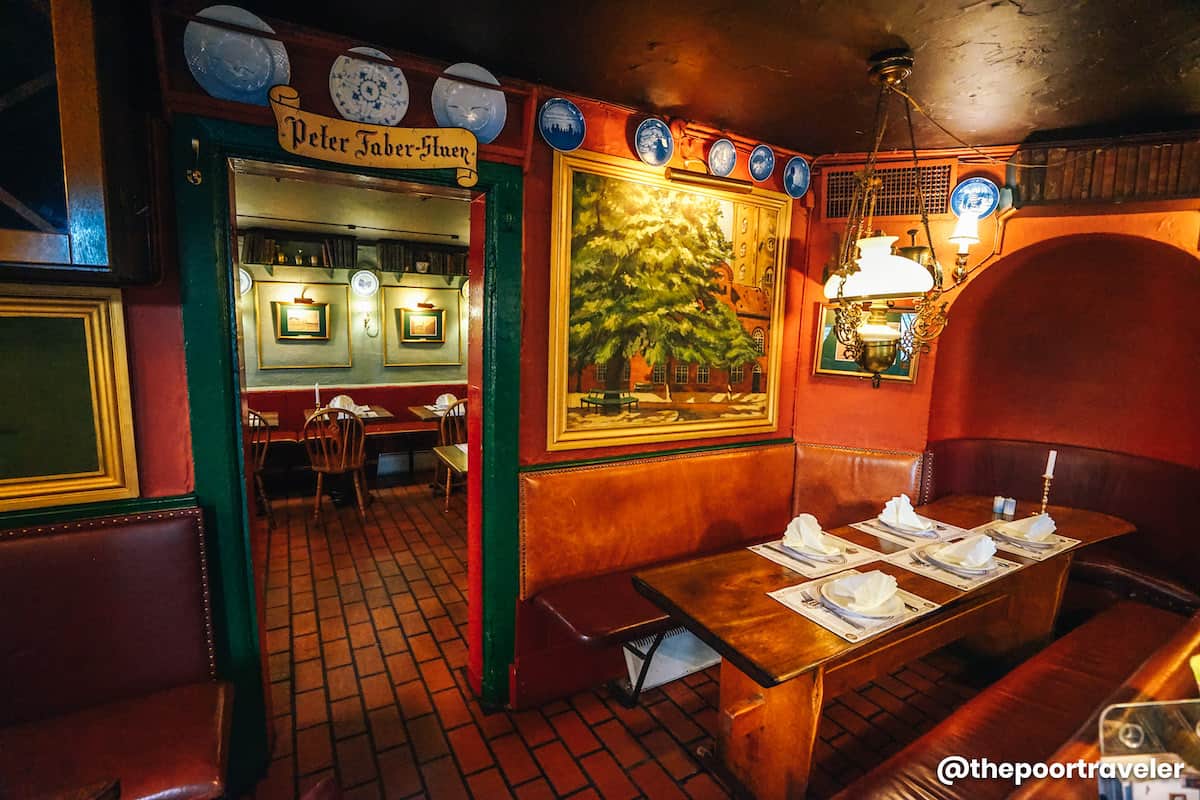 Literally "The Little Pharmacy", it was said to be frequented by creative artists including author Hans Christian Andersen, best known for his fairy tales like "The Little Mermaid", "Thumbelina", and "the Princess and the Pea".
Address: Store Kannikestræde 15, 1169 København, Denmark
Opening Hours: Daily, 11:30 am – 10 pm. Check the official website for the latest updates and announcements.
---
5. Give some pub-love to Café Halvvejen.
Another centuries-old dining spot is Café Halvvejen. A celebrated meeting place in Copenhagen since 1789, it is a 300-year old pub-restaurant that is popular among locals and tourists. It serves classic Danish meals and offers different kinds of drinks — draft beer, beer, bottled beer, and non-alcoholic drinks as well.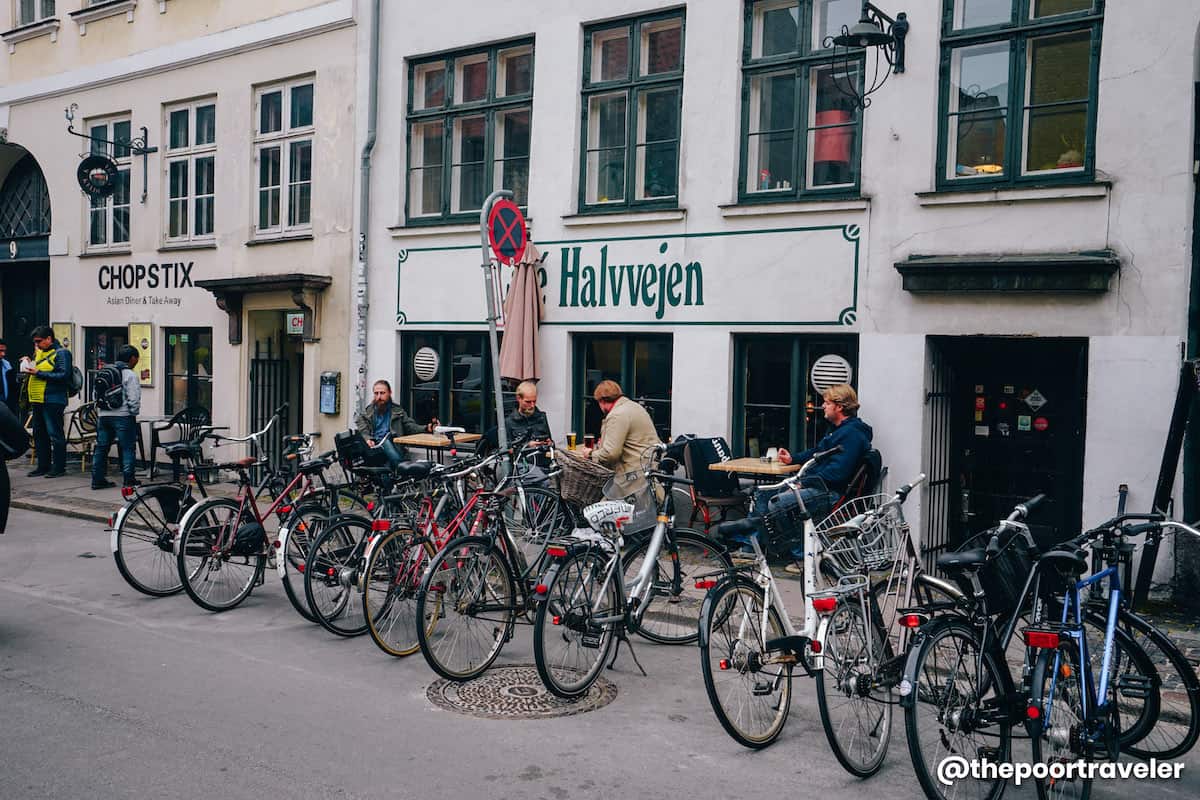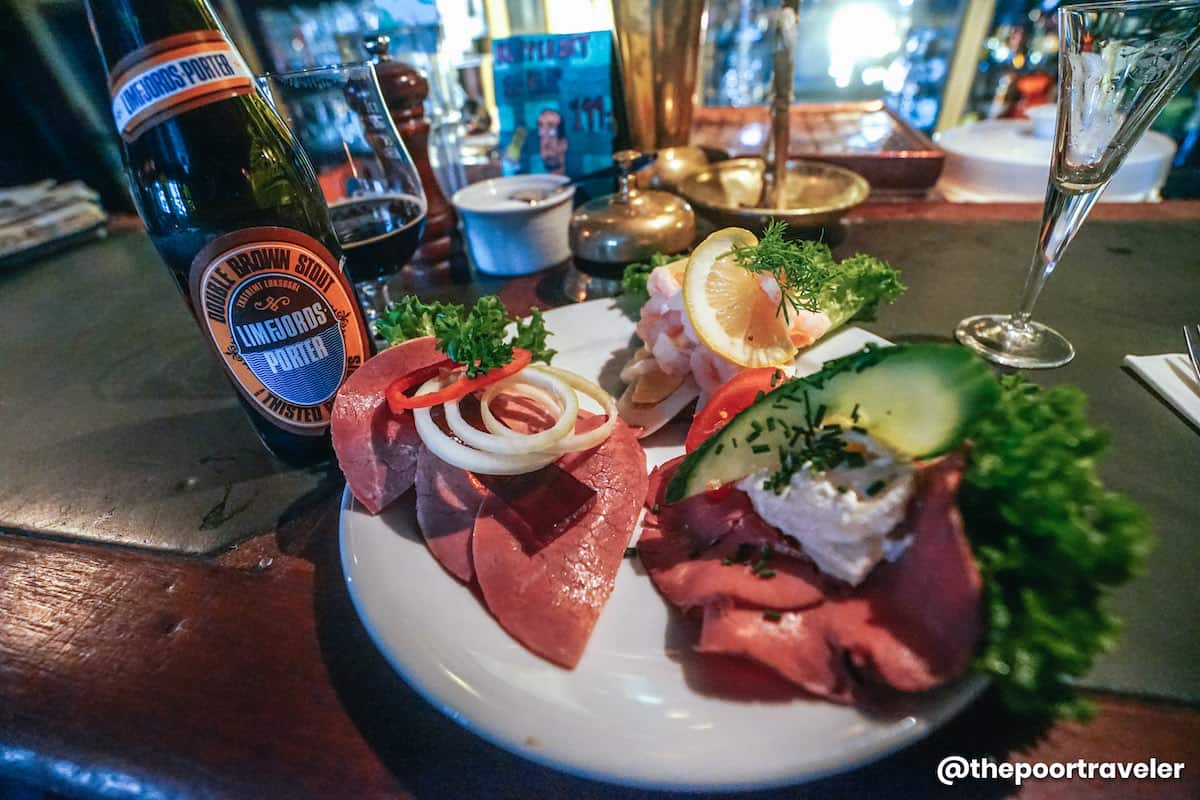 In the evening, it becomes a merry place where the young and old alike enjoy their drinks, conversations, and even quiz nights, if that's your thing. We truly enjoyed our lunch here, not just because of the food but the service. We also got to try various booze types here, from snaps to stout beer. Yep, at noon. LOL.
Address: Café Halvvejen, Krystalgade 11, 1172 Copenhagen, Denmark
Opening Hours: 12:00 PM – 3:00 PM (Monday – Saturday). The opening hours may change, so check the official website for the latest updates and announcements.
Official Website: www.cafehalvvejen.dk
---
6. Go crazy over hard candy at Sømods Bolcher Factory.
Established in 1891, this candy factory still carries on the century-old methods and principles of making hard candies. In 1932, the location of the factory was moved from Nørregade 49 to its present-day location at Nørregade 36. Although the location is unassuming, visitors flock to this time capsule to witness the hundred-year-old method of making candies.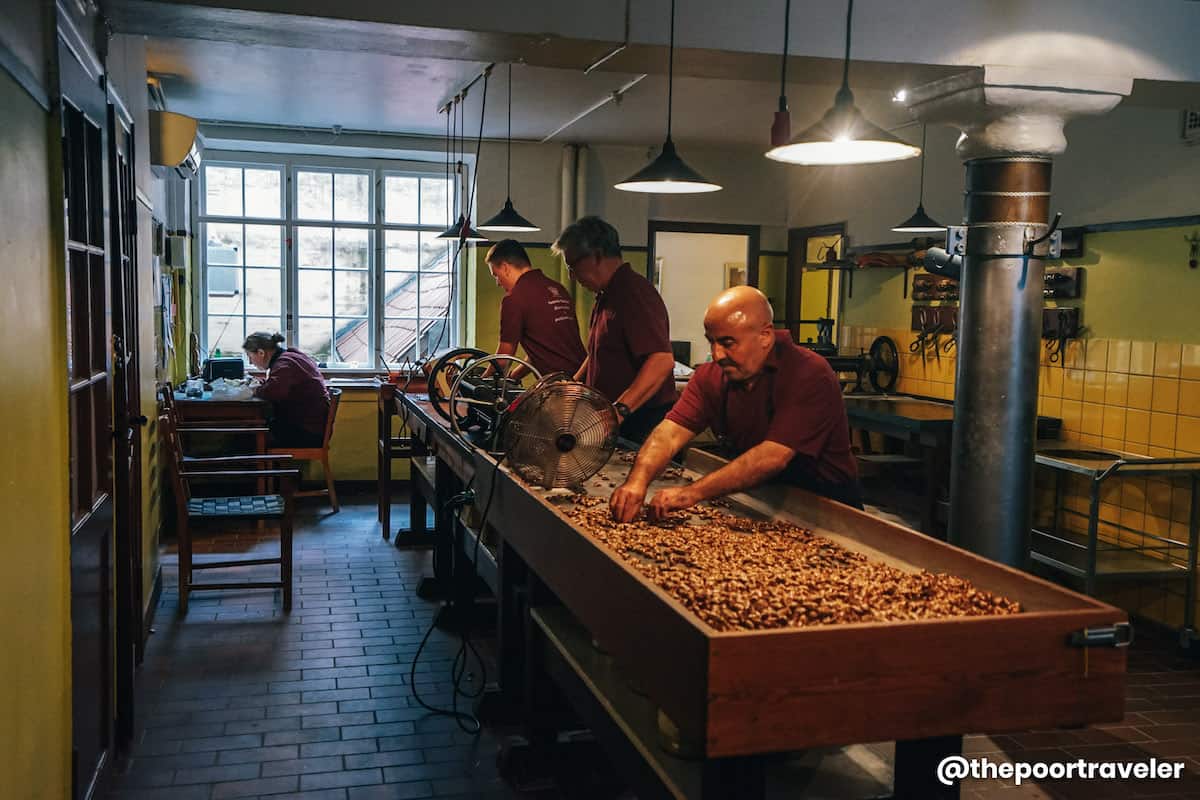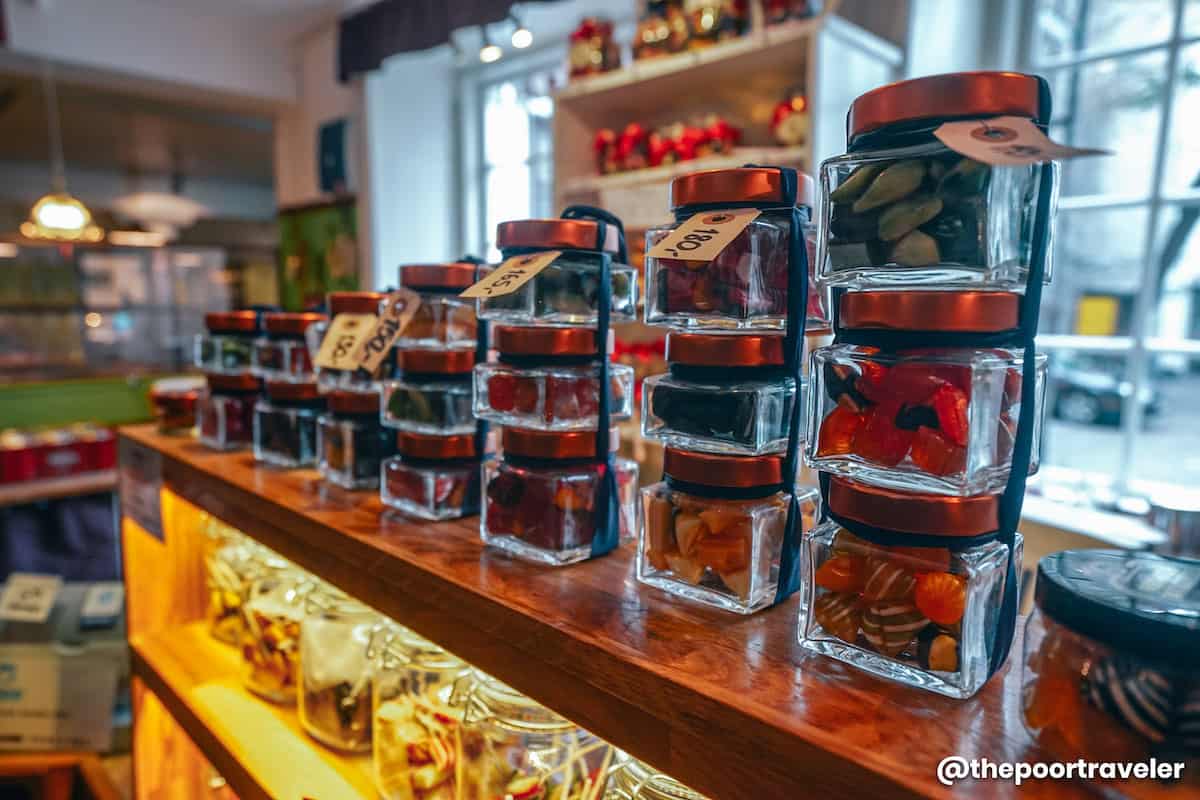 You can also treat yourself to some sweets and choose from over 70 flavors. Not into sweets and gluten? You can check out the special candies. Sømods Bolcher has sugar-free, gluten-free, vegan/vegetarian, and hypoallergenic options!
The factory is now managed by fifth-generation candy makers.
Address: Sømods Bolcher, Nørregade 36B, 1165 Copenhagen K, Denmark
Opening Hours: 9:15 AM – 5:30 PM (Monday – Thursday), 9:15 AM – 6:00 PM (Friday), 10:00 AM – 3:30 PM (Saturday), 11:00 AM – 3:00 PM (Sunday)
Nearest Train Station: Nørreport Station or Nørreport Metro Station
Official Website: www.soemods.com
---
7. Stuff your face with smørrebrød.
One of the staples in Denmark, you will easily find one anywhere in Copenhagen — marketplace, restaurants, and street food venues.
Smørrebrød is an open-faced sandwich that is basically made of buttered rye bread, topped with meat (or fish), cream paste (cheese, avocado, etc.), and other additional garnishes. This is a local favorite lunch meal.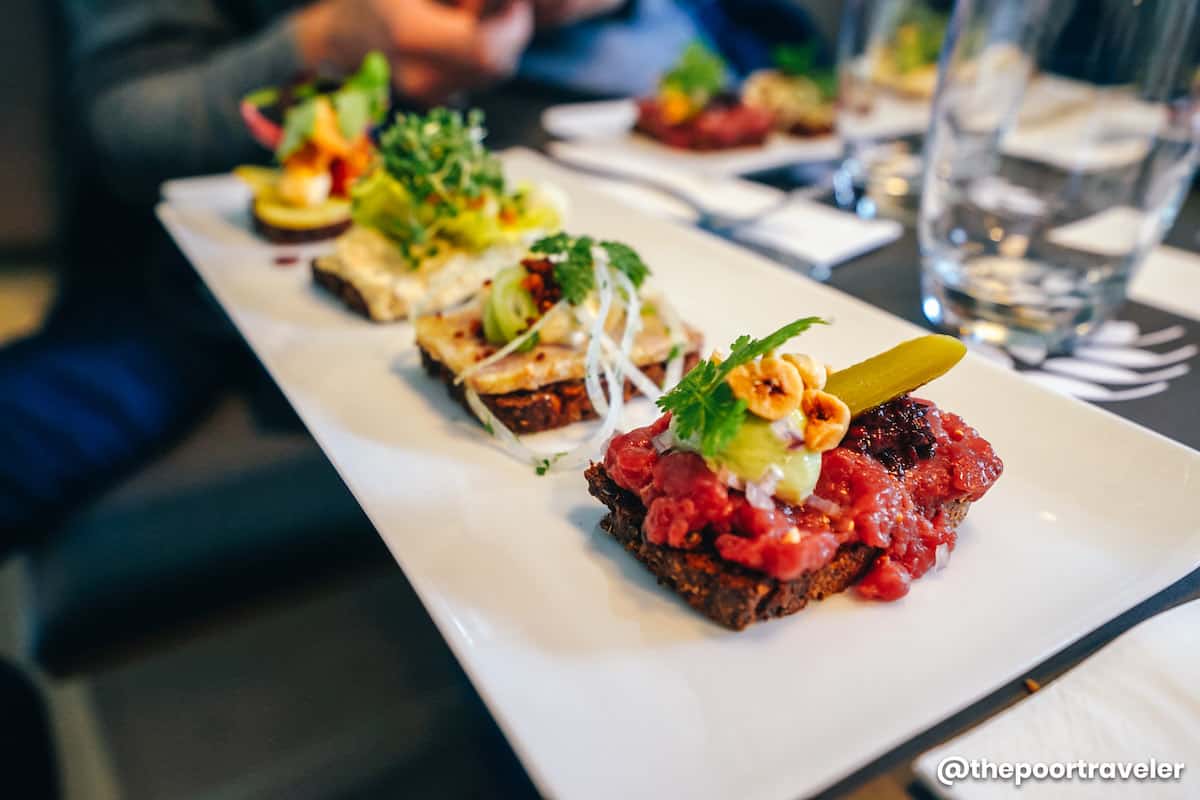 ---
8. Gorge on rød pølse.
Denmark's ultimate street food — hotdog!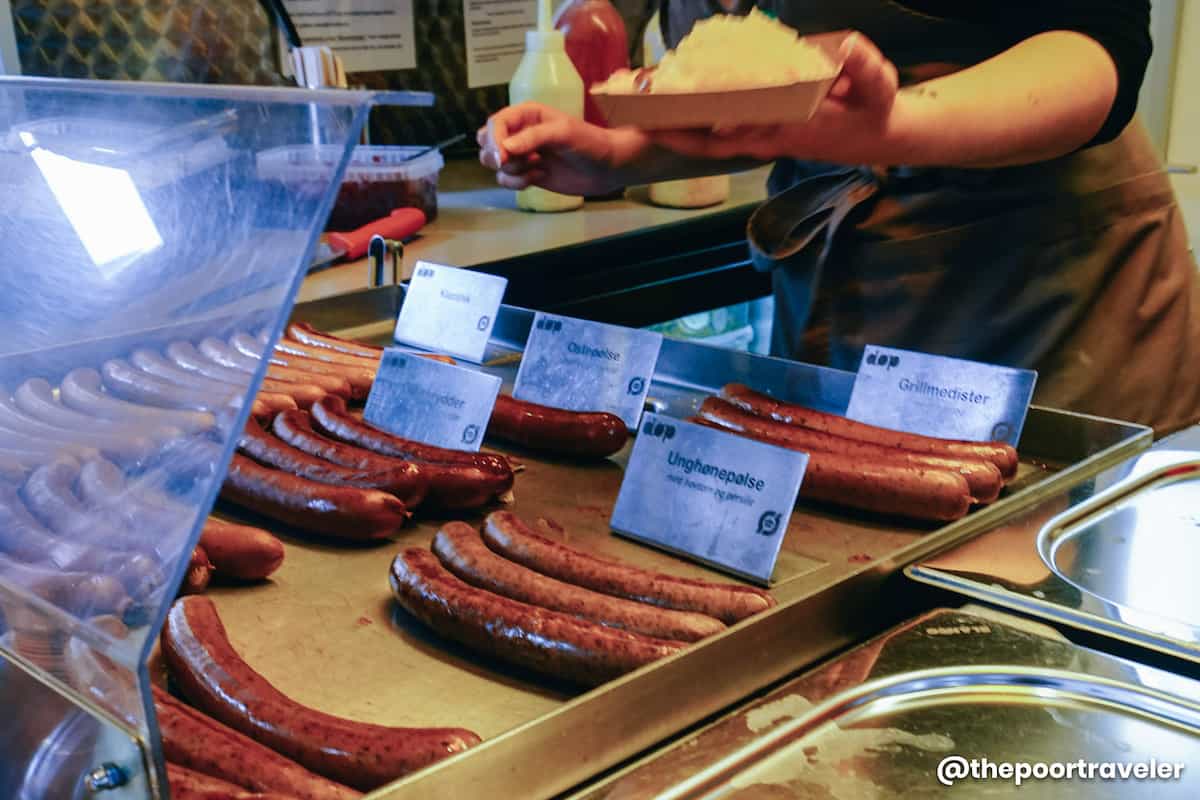 Rød pølse (red sausage) is usually served in a bun with various toppings and sauces — ketchup, remoulade, and mustard. But you can also eat it on its own. You can get it from hotdog stands or food trucks, gas stations, the airport, some hotels, convenience stores, restaurants, breweries, and street food joints. Locals also love to pair it with a chocolate milk drink.
---
9. Start the day with snaps!
Scandinavian snaps differ per country. Snaps is a distilled liquor that varies in color, flavor, and base — potato or grain. Akvavit or aquavit is the signature Danish snaps, which is made of grain and has a clear or light color.
For centuries, the Danes have consumed snaps during lunch, usually paired with smørrebrød and pickled herring, and also during holidays/special occasions. It is usually taken cold, either as a shot or by sipping.
---
10. Empty a pint of Danish beer!
Welcome to the birthplace of Carlsberg! Its headquarters is located in Copenhagen. But that's not the only worthy beer brand in the city. There are lots of breweries especially in the Nørrebro neighborhood, where side streets are also lined with many pubs and bars, and in the Vesterbro neighborhood, where the main street Istedgade is dotted with bars.
Stout and other dark beers are increasingly getting popular in a pale- and golden-color-dominated market. You can also join a brewery tour and sample different kinds of Danish beers.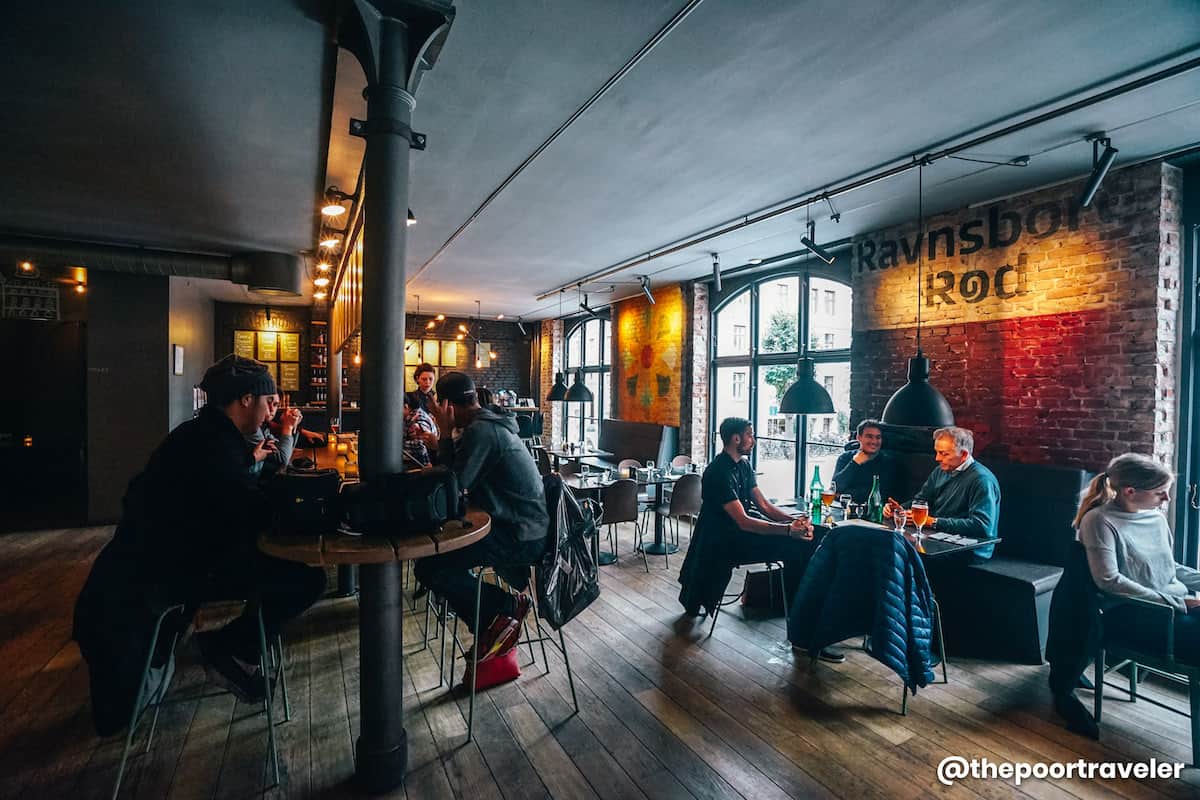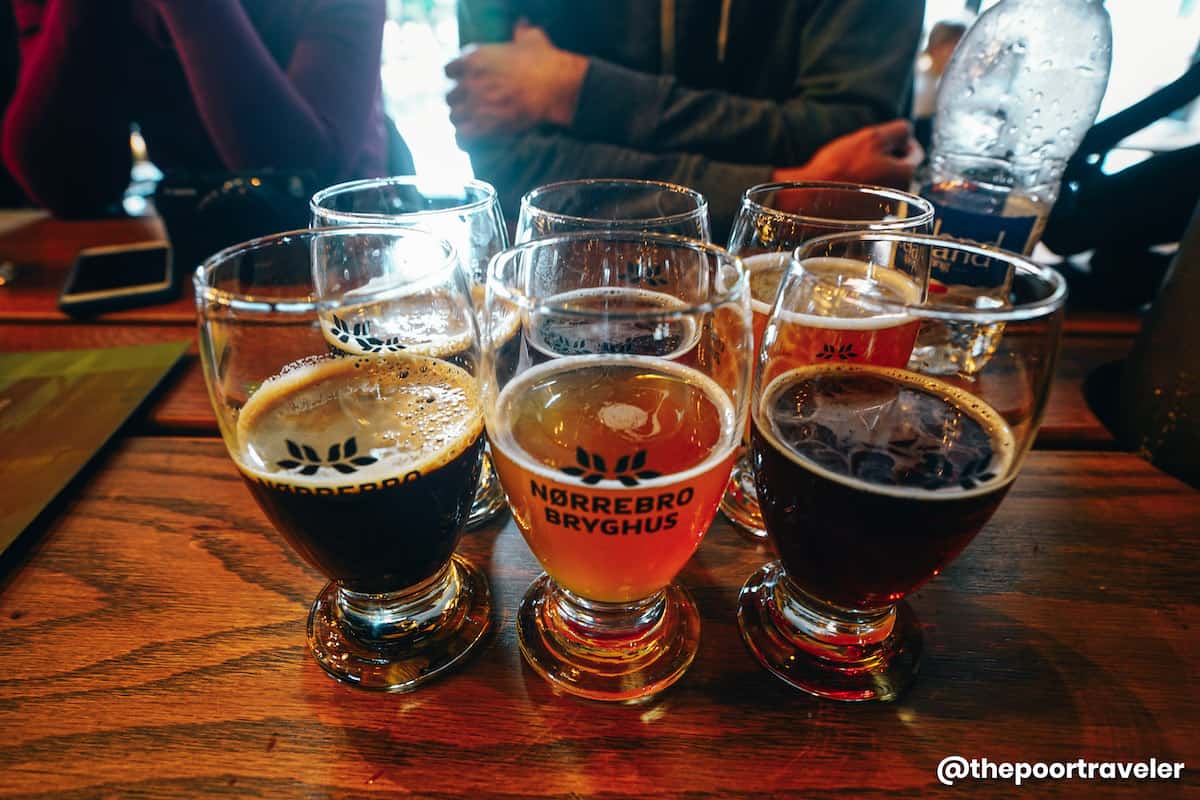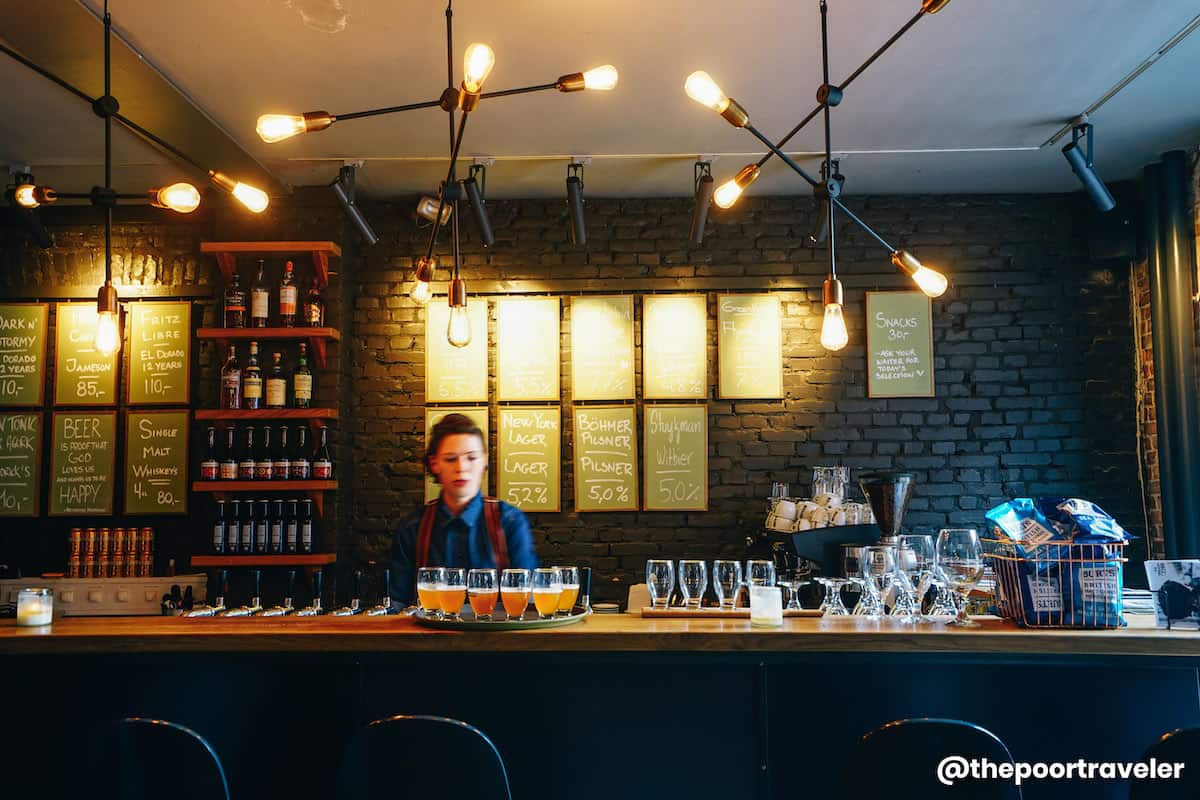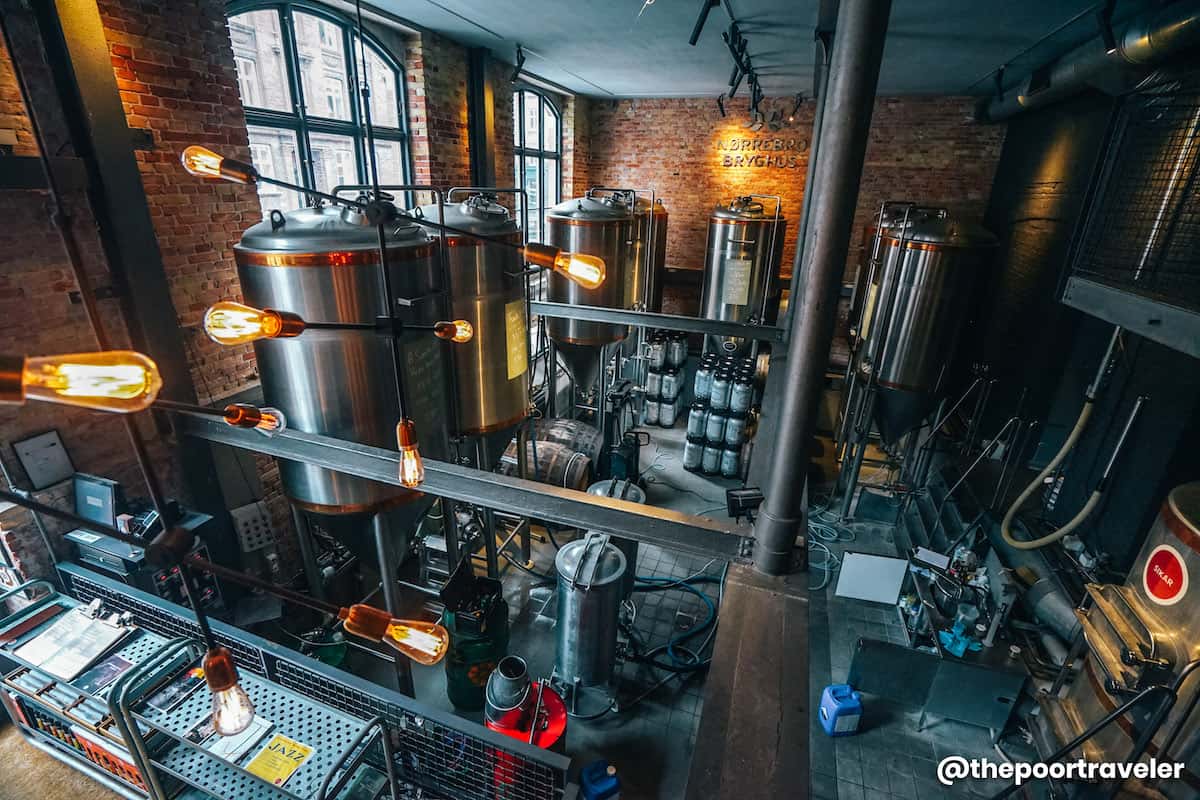 ---
11. Learn baking Copenhagen-style!
For bread and pastry lovers and those who enjoy baking, this is a very immersive way of learning more about Danish bread and pastries. The professional chef will teach you how to make your own bread, particularly traditional pastries, rye bread, and sourdough buns. Know the techniques and the proper baking methods.
At the end of the lesson, you will get to taste your own creation. Don't worry, most tours will also provide a copy of the recipe, so you can practice and try it at home.
---
12. Splurge at NOMA, one of the world's best restaurants.
Okay, this is not for budget travelers. But this list won't be complete without any mention of this culinary institution.
There's a movement called New Nordic Cuisine, which aims to promote healthier dishes and ethical production of raw materials by using organic and locally produced ingredients. It is said to have catapulted restaurants in Denmark to the global scene, with a good number of them having awarded the sought-after Michelin stars.
One of the most decorated and most famous is NOMA, a multi-awarded home-grown restaurant that follows the New Nordic Cuisine philosophy. If you have a pretty deep pocket, this is highly recommended and widely considered one of the best, if not the best, restaurants in the world. But it comes with a price. A meal — a succession of at least 20 small courses ranging from potted plants to vegetarian proteins — costs a hefty 350 USD.
This reputation draws hordes of loaded tourists so you need to reserve in advance. We weren't able to try this not because we failed to book beforehand but because we couldn't afford it. Haha. But if you're flush enough and you're droolingly curious, go give it a try and let us know what it's like in the comments section below!
---
Top Copenhagen Hotels & Hostels
Here are some of the top hotels and hostels in Copenhagen, as scored by Agoda customers.
---
---
Edited by Asta Alvarez
Photos by Yosh Dimen & Vins Carlos

2021 • 05 • 05