2021 • 4 • 26
Korean culture has been making waves on all fronts in the country for a while now. Thanks largely to the growing Korean population (both tourists and residents) and global appreciation of Korean pop culture in general. From K-Pop to K-Drama to Korean food, we've been seeing major influences almost everywhere.
One of the K-things that many Filipinos enjoy is Korean BBQ. Before and even during the quarantine, samgyeopsal places are never empty. Of course, Tagaytay will not be left out of the unlimited samgyeopsal craze. Here, the rave is all about Mr. Kimchi.
Arguably the most popular Korean BBQ place in Tagaytay, Mr. Kimchi has two things that set itself apart from other samgyeopsal places. First when dining outdoors, the cool Tagaytay atmosphere doesn't leave you sweaty or smoky. Second, you get to feast your eyes on a picturesque view of the Taal Lake and Taal Volcano while you stuff your face with unlimited food!
In this article, we'll share with you our recent dining experience when Tagaytay was under MGCQ status including the "new normal" safety guidelines and protocols.
---
WHAT'S COVERED IN THIS GUIDE?
What are the operating hours?
Mondays – Thursdays:
10:00am – 5:00pm
Fridays – Sundays & Holidays:
By reservation only
The above schedule is as of April 26 (MECQ).
When it was under ECQ and GCQ, Mondays are dedicated to sanitation and maintenance. Under ECQ, the operation is limited to in-house guests of Tagaytay Hotel SixB, take out, and deliveries only.
The status changes quickly so it's best to check the official Facebook Page or contact the management for the latest update regarding opening hours before going.
---
Do we need to make a reservation first?
Only on weekends (Fridays, Saturdays, Sundays) and holidays.
For the rest of the week, reservations are not mandatory.
Note that during meal times — lunch and dinner, there might be a queue, especially for those who want a good view of the Taal Lake and the Taal Volcano.
If you don't want to wait too long, you may contact the management or send a message via Facebook Messenger. You need to fill out a form. Here are the details that you need to supply:
Name
Number of Guests
Date of Reservation
Time of Reservation
Contact Number
---
Are kids and senior citizens allowed?
Following the city ordinance of Tagaytay, only guests 18 to 65 years old are allowed under MECQ.
Guests may be required to present proof-of-age documents (like valid I.D.) at the reception before they enter the establishment. Again, it's best to contact the management before going as protocols and rules may change from time to time.
Infants, pregnant women and persons with comorbidities, immunodeficiencies, and other health risks cannot enter until further notice.
---
When is the best time to go?
On weekdays, outside lunch and dinner hours.
Mr. Kimchi is one of the popular samgyeopsal (Korean BBQ) places in Tagaytay. You might have to wait if you go there during lunchtime and dinnertime. There's a designated waiting area near the entrance. It's a separate room with properly-distanced chairs. You can check out the menu and decide on what to order while waiting.
The team went there at 5:30 PM for an early dinner on a weekday during MGCQ (February 2021), so dining in was still allowed. There were still vacant tables inside, but we opted to wait for a table outside, at the "veranda", for the view. We waited less than 30 minutes before we were seated.
---
How to Get There?
Mr.Kimchi is located at 6B Calamba Road, Barangay San Jose in Tagaytay. It's beside McDonald's near Cityland and a few meters from the Tagaytay Roundabout (Rotonda). Here's how to get there via private car and public transportation.
Private Car. From South Luzon Expressway (SLEX), take Mamplasan Exit or Santa Rosa Exit. If you want to avoid traffic and you already have EasyTrip RFID, take Mamplasan Exit which connects to CALAX. Make a right turn to Santa Rosa-Tagaytay Road when you exit CALAX. Continue driving and make a right turn again to Tagaytay-Calamba Road at the junction. Continue driving past Cityland. Mr. Kimchi will be on your left, beside McDonald's. Just to be sure, use your Waze or Google Maps.
Public Transportation. From Manila (PITX), take a bus bound for Nasugbu. Alight at Tagaytay Rotonda. Your landmark is the Fora Mall. From there, you can either walk or take a tricycle to Mr. Kimchi.

To ensure that you are getting on the right bus, ask the PITX staff which bus will ply the route. Inquire also if it's still allowed to alight at Tagaytay Rotonda/Fora Mall or where is the nearest designated bus stop.

We've visited Tagaytay multiple times since GCQ and MGCQ days; however, we traveled via private car. We tried commuting, but that was before the pandemic. We have not yet traveled via public transportation to and around Tagaytay since the pandemic. The direction above is based on what we have gathered so far.
---
Is there a designated parking area?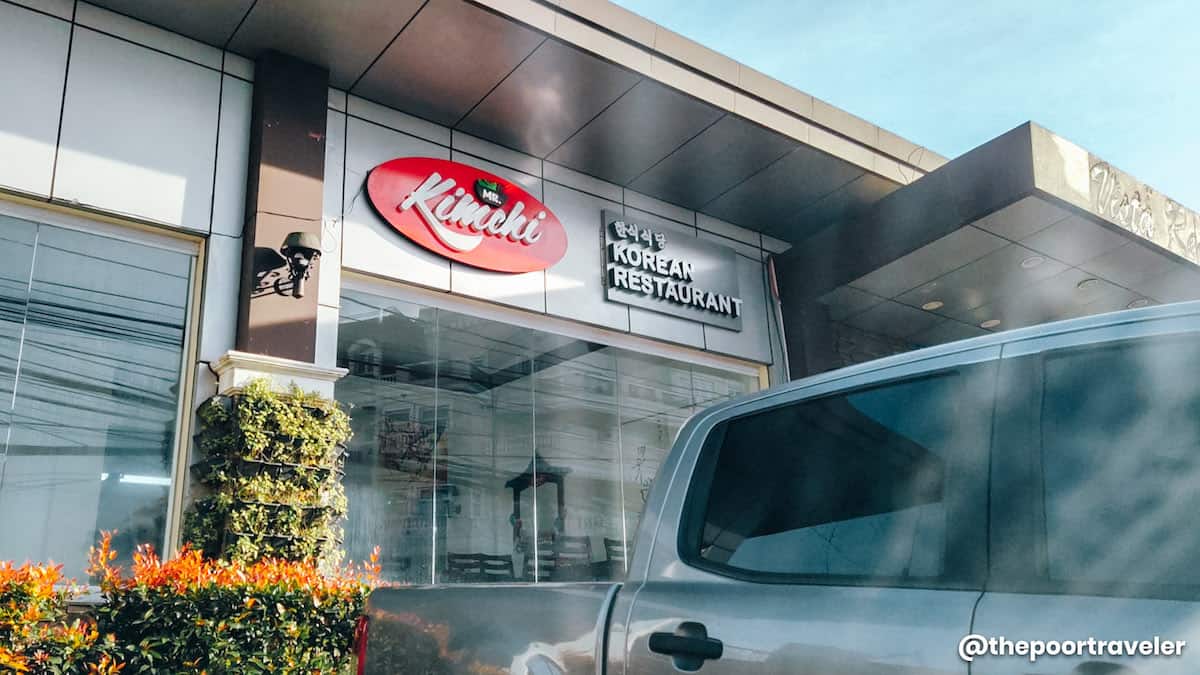 There's a parking space in front of the building and at the back. There are limited slots in the front, but the parking area at the back has bigger space to accommodate more cars. Ask the guard how you can go there if the front parking lot is full already. We were able to park in front of the establishment. To secure a slot, try to get there early for lunch and dinner.
Here are some parking reminders from the management:
Parking is FREE.
The parking is exclusive for Mr. Kimchi Korean Restaurant and Tagaytay Hotel SixB guests only.
Make sure to lock your vehicle.
Make sure to bring all your valuables with you. Do not leave them inside your car. The management is not responsible nor liable for any loss and damage.
Cars left more than two hours and no drivers in sight at Mr. Kimchi or Tagaytay Hotel SixB premises will be towed. The owners will shoulder the towing fee.
---
What is the admission process?
Below is Mr. Kimchi's new normal system:
Find a parking spot.
Go through the foot bath and temperature/thermal scanner upon entry. Sanitize your hands.
Head to the table near the entrance and write down your contact information in the logbook. Sanitize your hands again.
A staff member will attend to you. You will be asked if you want to dine inside or outside.
If there's a vacant spot, you will be directed to your table. Then you will be handed the menu. If there's no vacant table yet, you will be directed to the waiting area.
The waiting area is located near the entrance. You might be asked to wait there while your table is getting sanitized. You can use this idle time to look around or check out the menu and decide what your orders will be. If you are next in line and you've already decided what to get, one of the staff can take your order.
Follow the staff who will take you to your table.
Enjoy your unlimited samgyeopsal!
---
Mr. Kimchi Tagaytay MENU
Mr.Kimchi is a Korean restaurant, so it serves Korean dishes! One of the popular on the menu is the unlimited meat samgyeopsal — unli pork, unli beef, or unli mix (both pork and beef). The unlimited items are inclusive of unlimited rice, japchae, side dishes, and iced tea.
Note that the unlimited option only covers NON-marinated or plain pork and beef.
Other bestsellers are Gimbap, Ramyeon, Bibimbap, Beef Bulgogi, and Shabu-Shabu. And of course, the Korean menu won't be complete without Tteokbokki and soju.
Other beverages are cucumber lemonade, iced tea, soft drinks, beer, juice, and bottled water.
Here are some pics: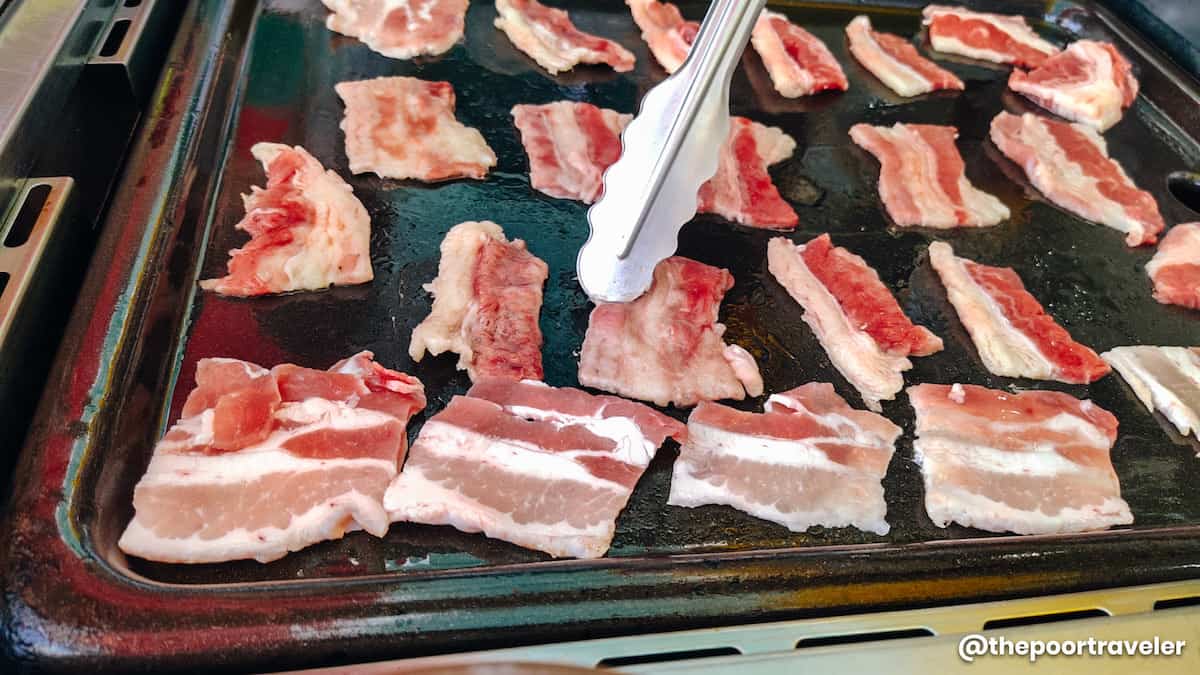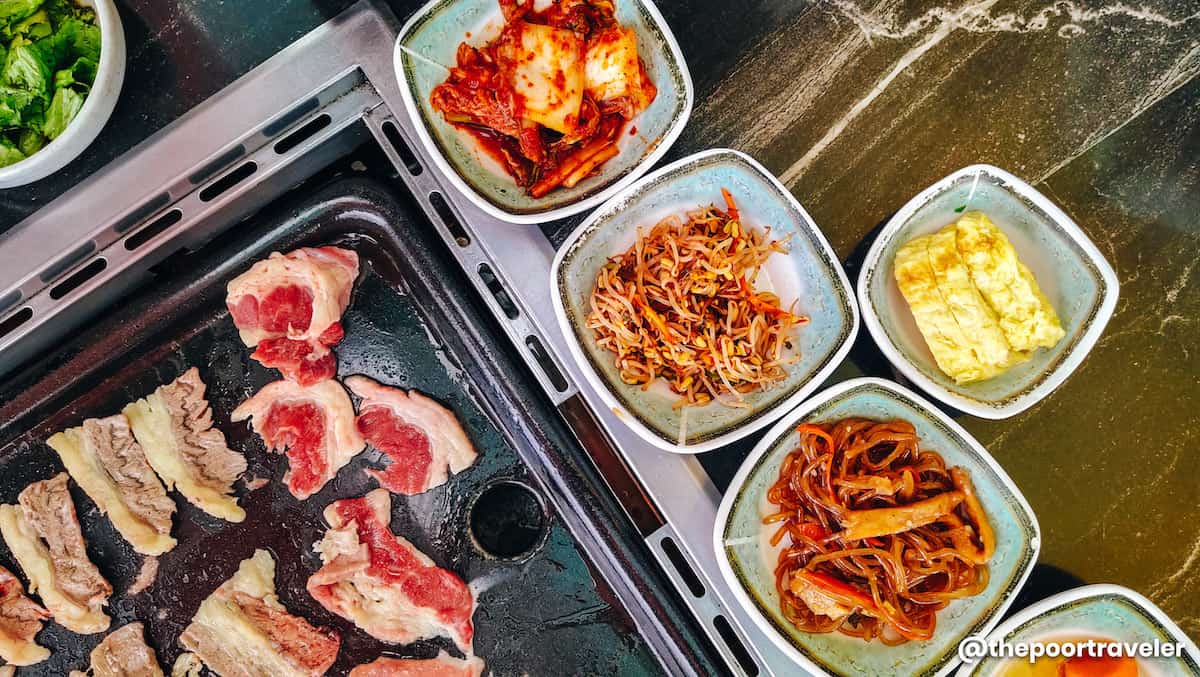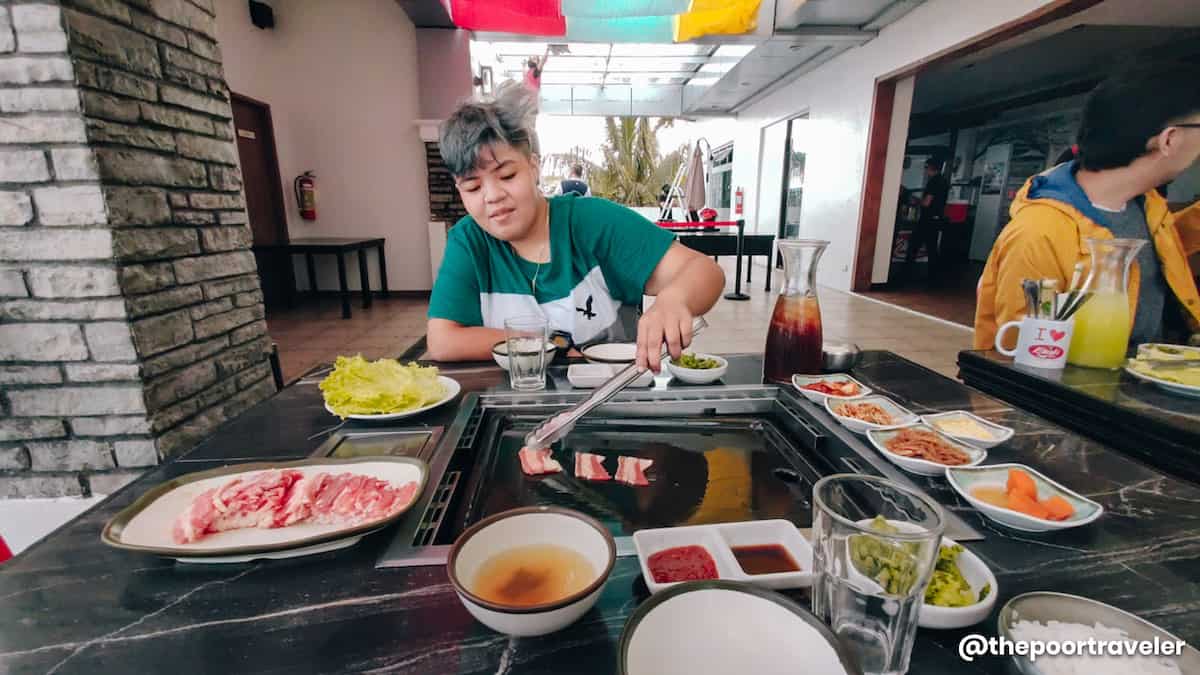 ---
Is there a time limit?
YES. When we were there, we were told we could only stay for a maximum of 2 hours if availing of the unlimited option.
---
Where is the best spot?
The veranda area if you are coming for the view.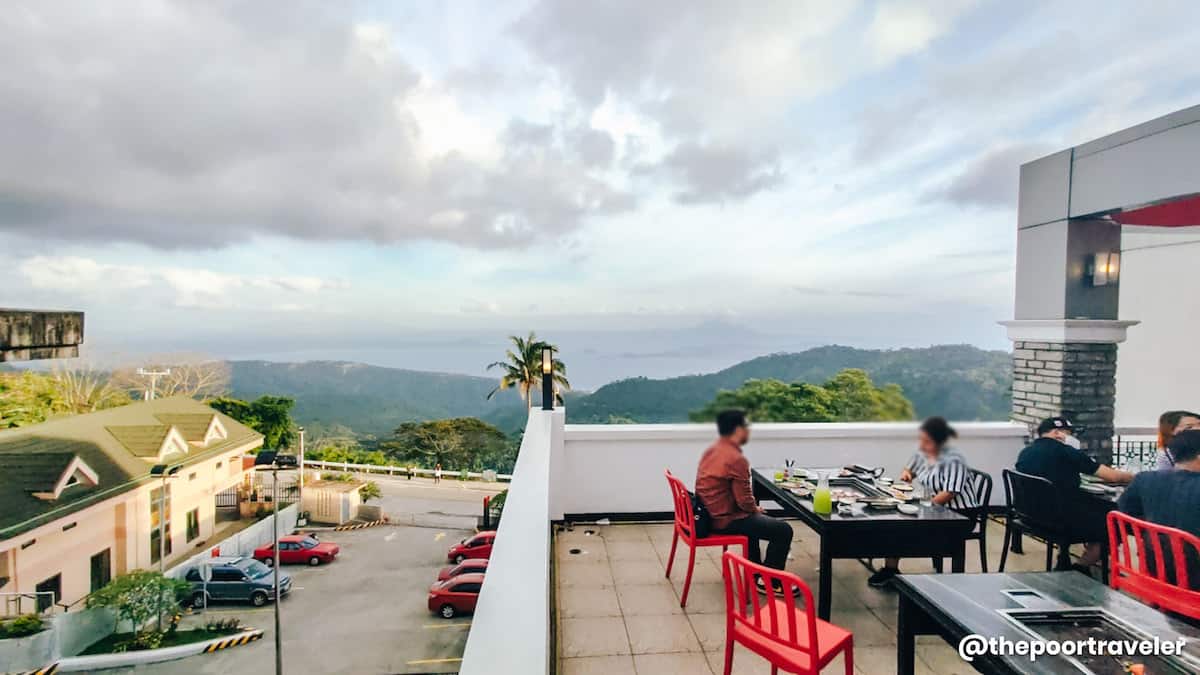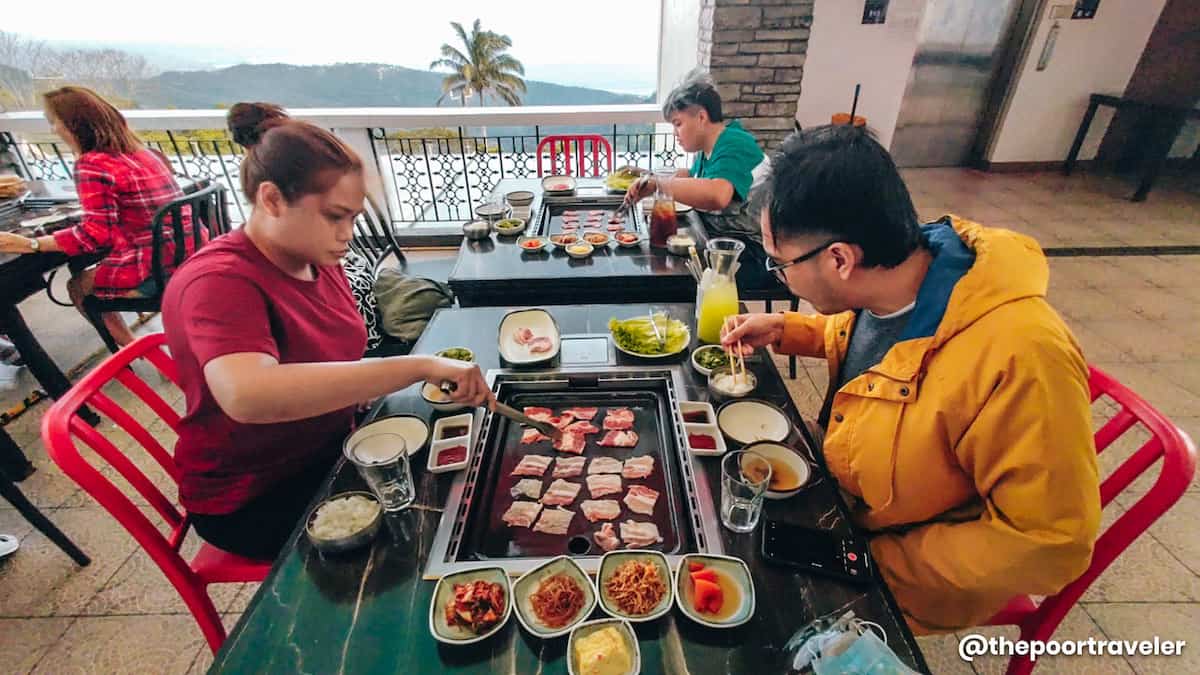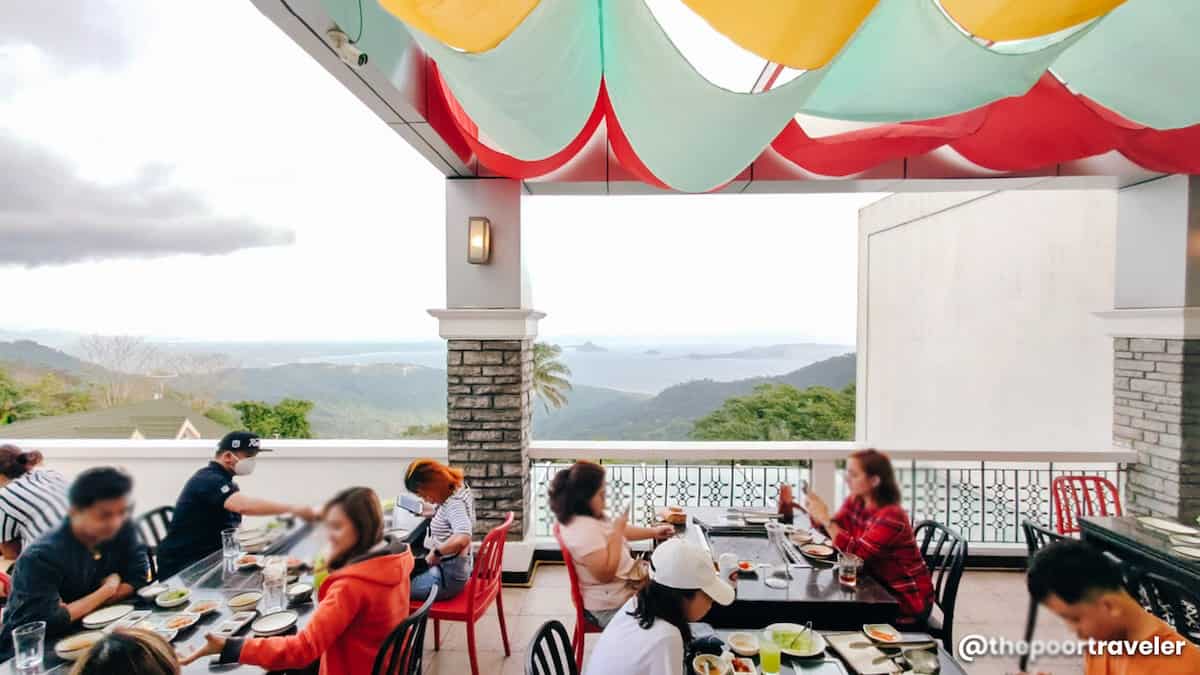 However, it can be too windy or cold during the months of December, January, and February. Check the weather too. Rainy days and cold days can also mean obscured view of the Taal Lake and the Taal Volcano. There's a chance that you'll only see fog.
---
How's the view from Mr. Kimchi Tagaytay?
Like this: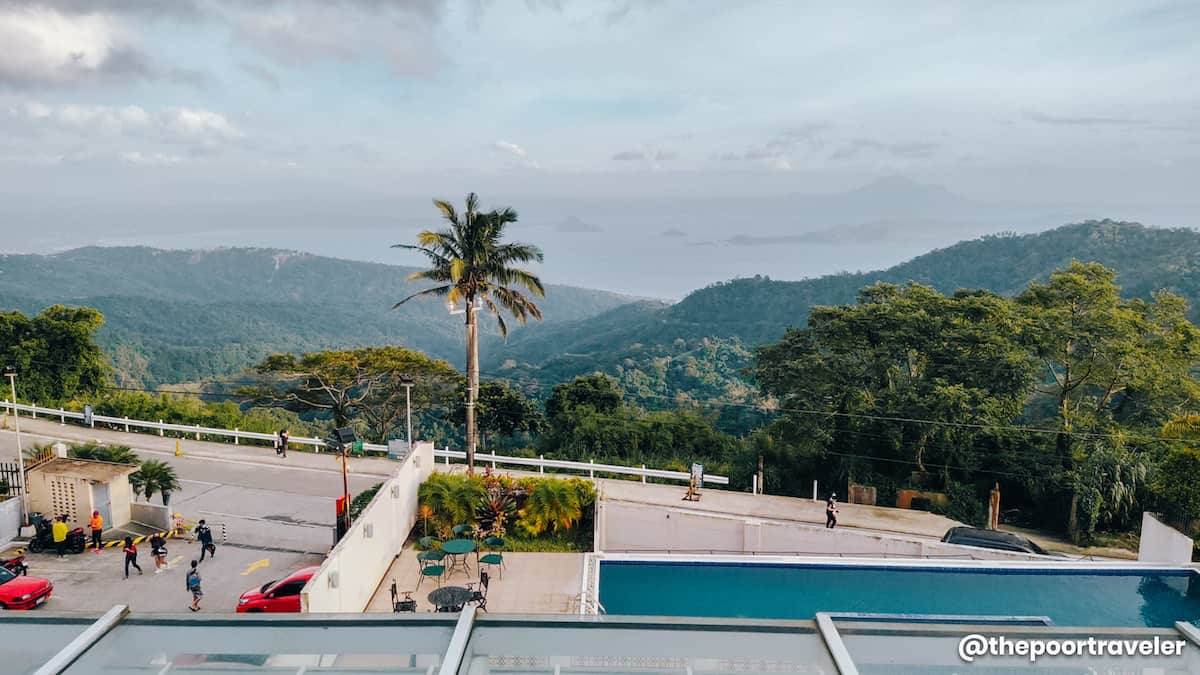 ---
Is it worth it?
Yes. To be honest, the price range and the food selection are no different from other well-known samgyeopsal establishments in Manila, but they do have a great view that makes it worth it.
---
Other Tips and Reminders
Wear your face mask and face shield at all times. The only time you can take off your mask and face shield is when you are eating/dining.
Always observe social distancing.
No outside food are allowed. A corkage fee of P250 per item will be charged.
Treat the staff with respect.
Be mindful of the time, especially during busy hours. If you are already done eating, get the bill and pay. Keep in mind that the staff members need to clean and sanitize the area for the next customers/guests.
All items are inclusive of 8% service charge. Availability may vary depending on days and seasons and prices may change without prior notice.
For guests availing of the unlimited samgyeopsal, strictly no sharing and no leftovers. P150 per head will be charged for leftover food.
For smokers, there's a designated smoking area.
During ECQ, the operation is limited to in-house guests of Tagaytay Hotel SixB, take-out, and deliveries only.
Contact the management first before going because the opening hours may change without prior notice.
Under MECQ, only guests 18-65 years old are allowed inside the establishment. Bring valid ID reflecting your age or birth date. You might need to present your ID to the staff at the entrance or reception.
Pregnant women and persons with comorbidities, immunodeficiencies, and other health risks are not allowed also.
---
Mr. Kimchi Tagaytay Contact Details
For inquiries and reservations, you may contact the management through any of the following:
Landline: (046) 404 0654
Mobile Number: 0917 653 6913
E-mail Address: mr.kimchitagaytay@gmail.com
Facebook Page: Mr. Kimchi Tagaytay
---
Top Tagaytay Hotels
If you plan on staying overnight in Tagaytay, here are some of the top hotels that are relatively budget-friendly, as scored by Agoda customers.
---
---