2021 • 4 • 26
Taking pride in providing good service and good food, Breakfast at Antonio's is not just a restaurant; it has become one of the most recognizable culinary institutions in Tagaytay City. No wonder its entrance is lined with cars and its parking lot full.
It offers a menu that features local and international bistro grubs, sweets, and its signature all-day breakfast selections.
We don't often come here on a whim or when we're craving something because it's on the pricey end of the spectrum, but the team likes to indulge every once in a while. Our latest visit was in February 2021 during the busy lunch hours on a weekday. This article shares our recent dining experience under MGCQ status and follows the "new normal" safety guidelines and protocols.
---
WHAT'S COVERED IN THIS GUIDE?
What are the operating hours?
7:00 AM – 9:00 PM
Monday – Sunday
This was the updated schedule as of December 2021. Note that this may change, so check the official Facebook page for the latest announcements and updates.
When Tagaytay was still under GCQ status, establishments were closed on Mondays for general sanitation and maintenance. When under MGCQ, it welcomes diners even on Mondays. However, it's best to check the official Facebook Page or contact the management for the latest update regarding opening hours before going.
---
Do we need to make a reservation first?
Breakfast at Antonio's follows a "first come, first serve" policy.
They do not take table reservations. If you want to get the best table with a view or be seated without waiting too long, you have to come early or during lean hours like brunch and late afternoon.
If you happen to visit during peak hours, the entrance procedure is organized and there are designated waiting areas outside and inside the restaurant.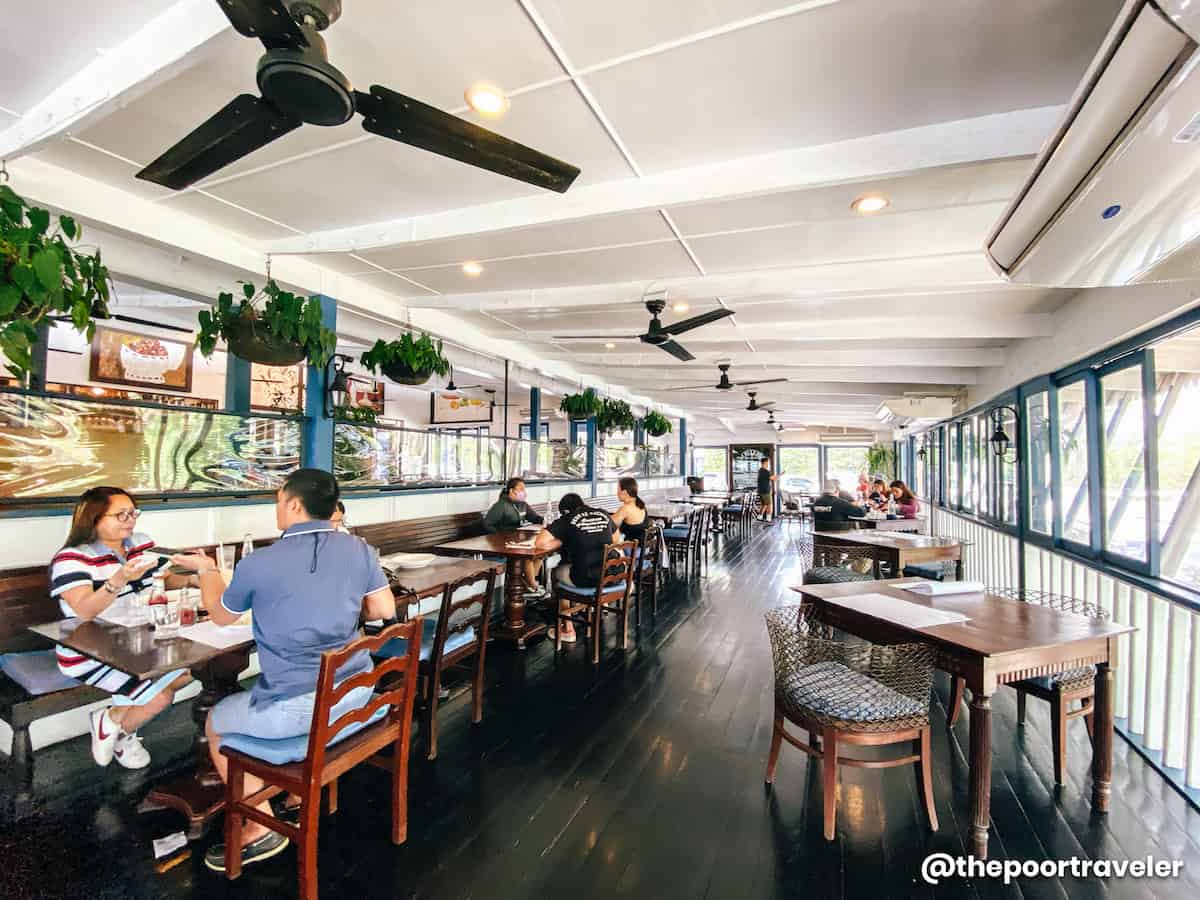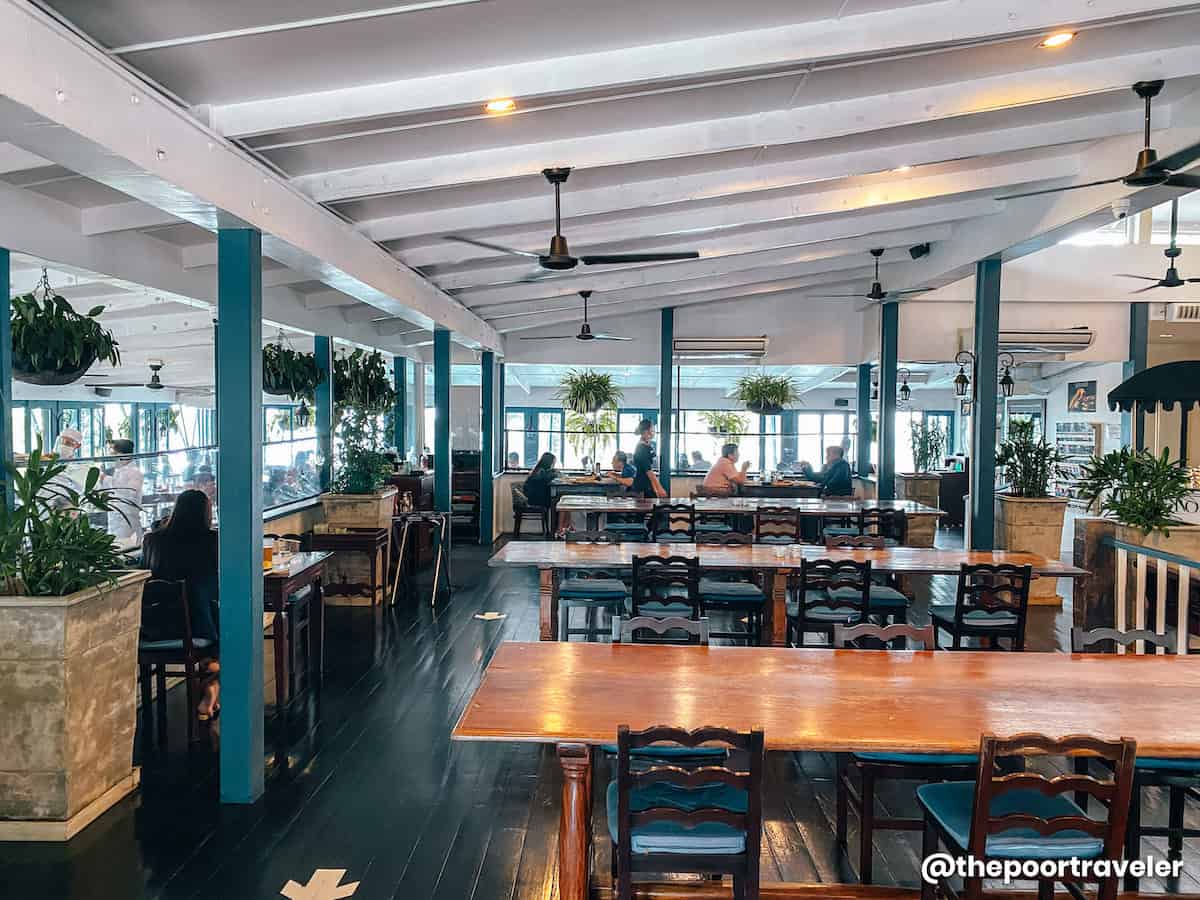 ---
Are kids and senior citizens allowed?
As of November 18, 2021, there are no more age restrictions under the Alert Level 2 classification, so guests of ALL AGES are now welcome to dine! Face shields are no longer required too.
---
When is the best time to go?
Because of its popularity, you might need to wait in line to be served. If you are visiting on weekends and holidays, it's highly advised to visit early in the morning as they do not take table reservations.
Once, my friends and I had breakfast here around past 7AM, so we got no problem finding a table with a nice view from the veranda (covered deck).
On our last visit, we arrived at around 11AM and we didn't have to wait that long either.
---
How to Get There?
Breakfast at Antonio's is located along Tagaytay-Nasugbu Highway (E. Aguinaldo Highway) in Barangay Bagong Tubig, Tagaytay. Whether commuting or driving your own car, you will not have a hard time finding it.
Private Car. From South Luzon Expressway (SLEX), take Mamplasan Exit or Santa Rosa Exit. If you want to avoid traffic and you already have EasyTrip RFID, take Mamplasan Exit which connects to CALAX. Make a right turn to Santa Rosa-Tagaytay Road when you exit CALAX. Continue driving and make a right turn again to Tagaytay-Nasugbu Road at the junction. Continue driving past the roundabout (rotonda). Breakfast at Antonio's will be on your left. Just to be sure, activate Waze or Google Maps. These apps also show the real-time traffic situation.
Public Transportation. From Manila (PITX), take a bus bound for Nasugbu. Alight at Breakfast at Antonio's. It should be on your left. To ensure that you are getting on the right bus, ask the PITX staff which bus will ply the route. Inquire also if it's still allowed to alight in that area or where is the nearest designated bus stop to Breakfast at Antonio's.

This is based on what we have gathered so far. We've visited Tagaytay multiple times since GCQ and MGCQ days; however, we traveled via private car. We tried commuting, but that was before the pandemic. We have not yet traveled via public transportation to and around Tagaytay since the pandemic.
---
Is there a designated parking area?
Yes! There's one in front and one at the back.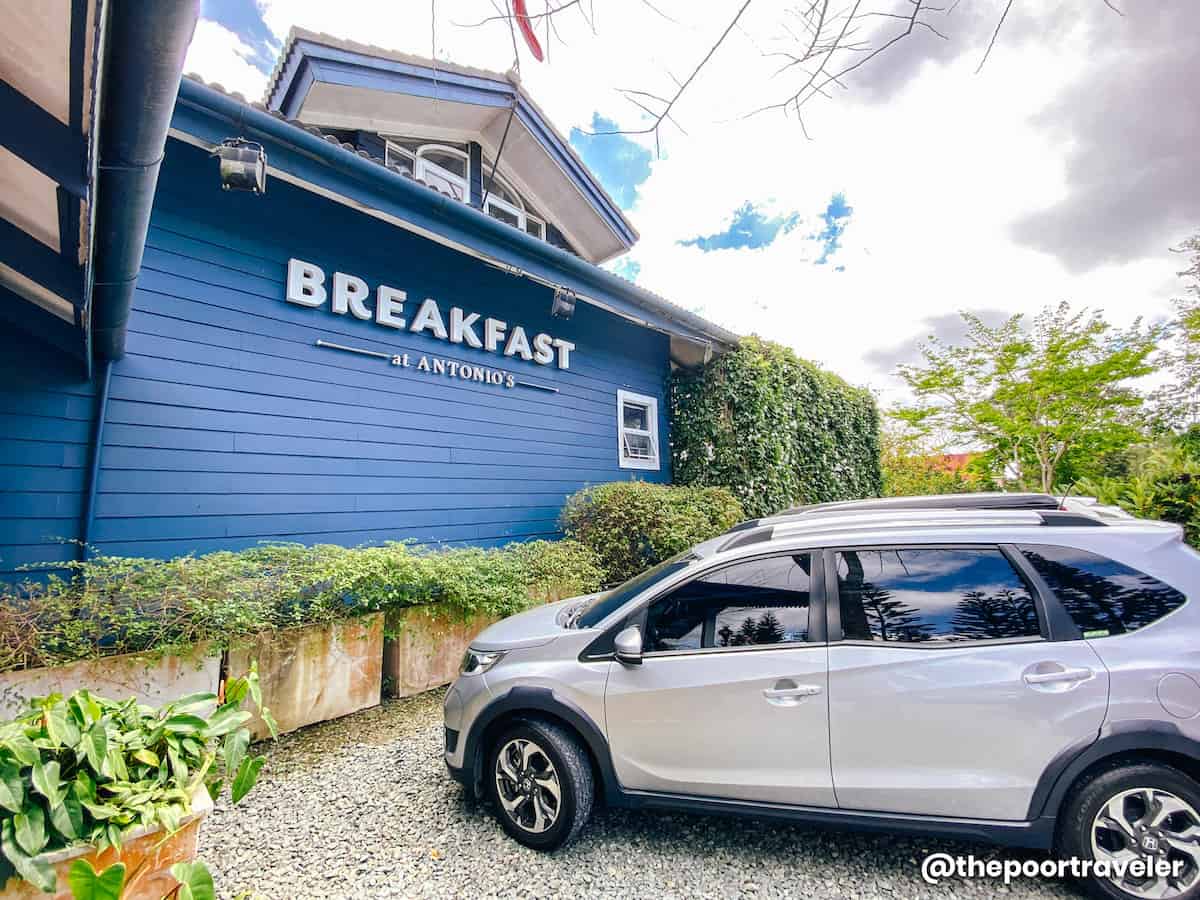 There's a ramp on the side leading to the side and behind the restaurant building. However, the slots run out fast during weekends, holidays, and peak hours (meal times). Sometimes, cars park on the side of the road. Come earlier for breakfast, lunch, and dinner if you can.
---
What is the admission process?
Below is Breakfast at Antonio's new normal system:
Find a parking spot or line up for parking and drop-off.
Once you entered the gate or secured a parking spot, wait for a staff member to approach your car. You will be given a stub that has a number and 2 QR codes.

– The number is your queue number.
– The first QR code will take you to the contact tracing form/health declaration form.
– The second code is the menu.

There's a queue at the entrance. You will be directed to one of these two queues. While waiting, fill out the contact tracing form/health declaration form.
Wait for your number to be called. Before entering the restaurant building, your temperature will be checked. Show that you have accomplished the contact tracing form/health declaration form.
There's a waiting area when you enter. You might be asked to wait there while your table is getting sanitized. You can use this idle time to look around or check out the menu and decide what your orders will be.
Follow the staff who will take you to your table. Take a seat and finalize your order. A waiter will immediately approach you for your orders. There is a physical menu too. You can ask for that if you are not too keen on scrolling through your mobile screen for your order.
Enjoy your meal!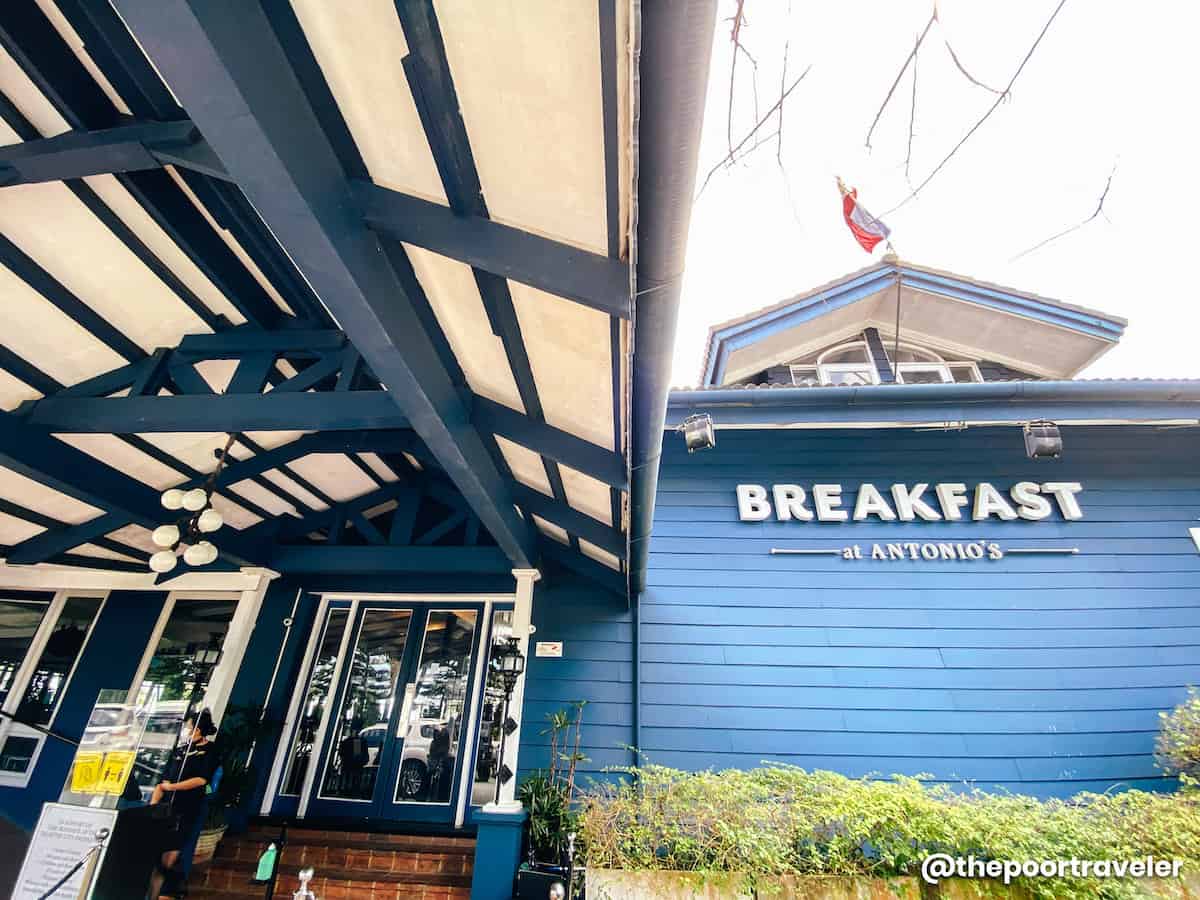 ---
Where is the best spot?
Breakfast at Antonio's has both an alfresco dining area and an indoor dining area. If you want to dine and commune with nature, the garden alfresco area is the best spot for you. But if you prefer dining inside yet still want to view the outdoors, the spots near the huge windows or the veranda are recommended. Note that the windows have protective screens to prevent bugs and insects from entering the dining area and the vegetation and foliage are also lush, so the view might be obstructed.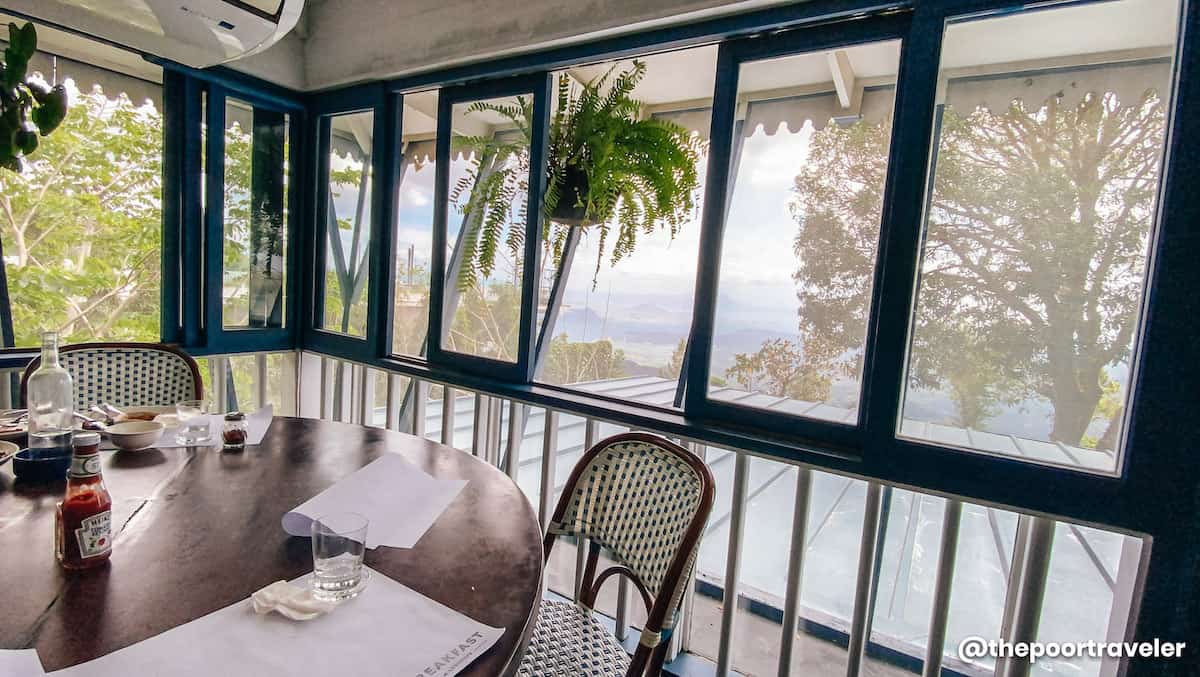 If you happen to visit during peak hours, those spots might be occupied already.
---
What can we expect from the menu?
As mentioned before, the restaurant is not only limited to serving breakfast. It is open for breakfast, lunch, and dinner. Aside from the rice meals and all-day breakfast options, it also offers options like salads, sandwiches, pizzas, pasta dishes, burgers, and beverages (hot, cold, alcoholic, non-alcoholic, coffee, and non-coffee).
Breakfast at Antonio's is also known for its freshly-baked bread, homemade dips and sauces, cold cut selections, and chocolate sheets/blocks.
The Chef's top picks are Burrata Salad with Honey Garlic Kaffir, Chorizo, and Grilled Angus Prime Ribeye. Our team had the Mayura Housemade Beef Burger and Fresh Corned Beef. Other breakfast favorites are Bistek and Longganisa with Japan-style seasoned vinegar rice.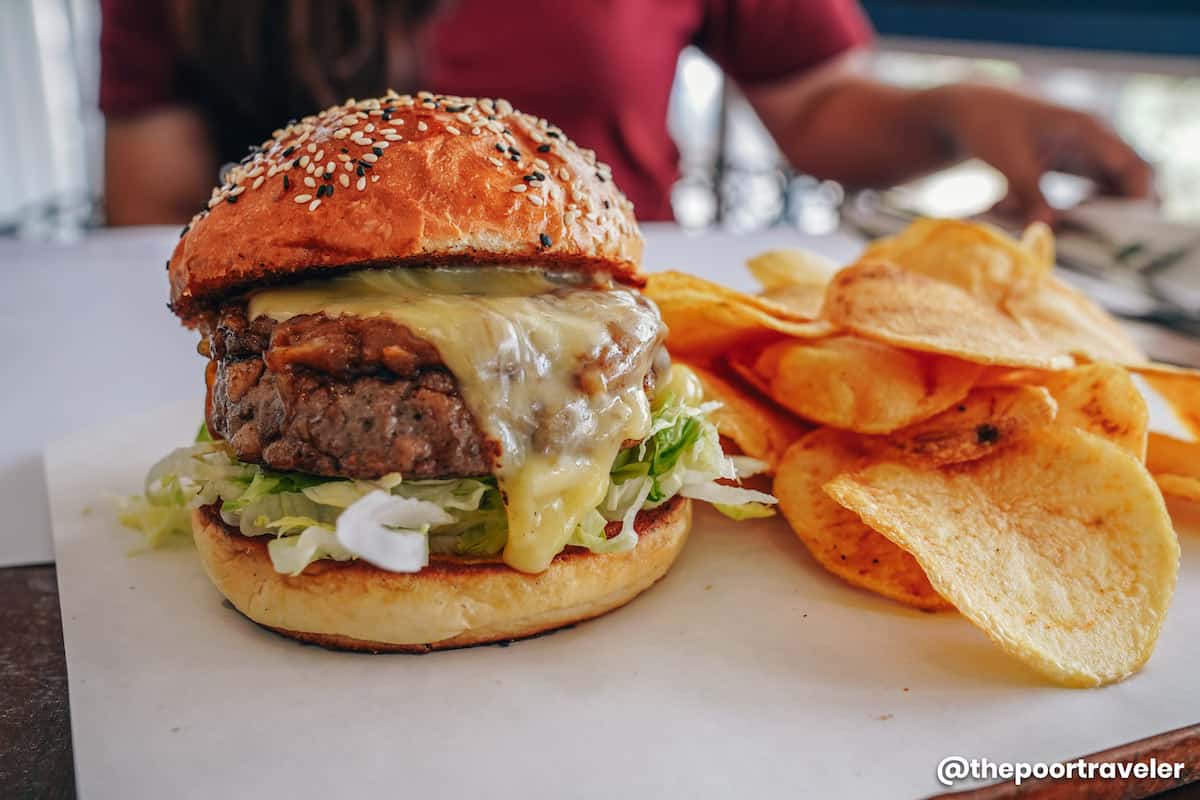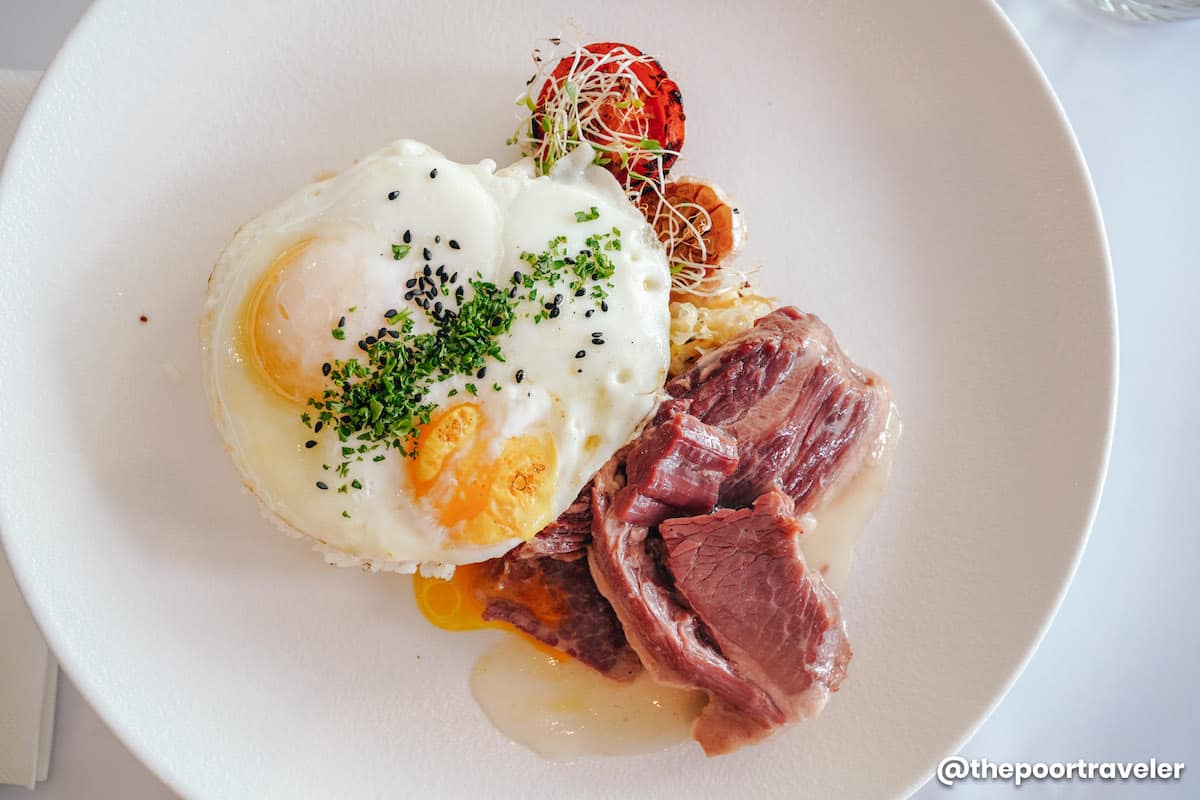 Mayura Housemade Beef Burger. This burger meal comes with fresh potato chips. For the burger, we chose caramelized onions and additional cheddar cheese. The beef patty was juicy and savory. The bread/bun alone was soft and tasted good! We love the very generous serving of potato chips and a huge serving of burger. Two people can share this meal.
Fresh Corned Beef. This is one of the bestsellers. The one served to us was so soft and juicy. We chose to partner it with over-easy eggs. I can still actually taste the soft beef strands while typing this sentence. :p
Oh, we also had ice cream! We got Banana with Caramelized White Chocolate and Rocky Road flavors.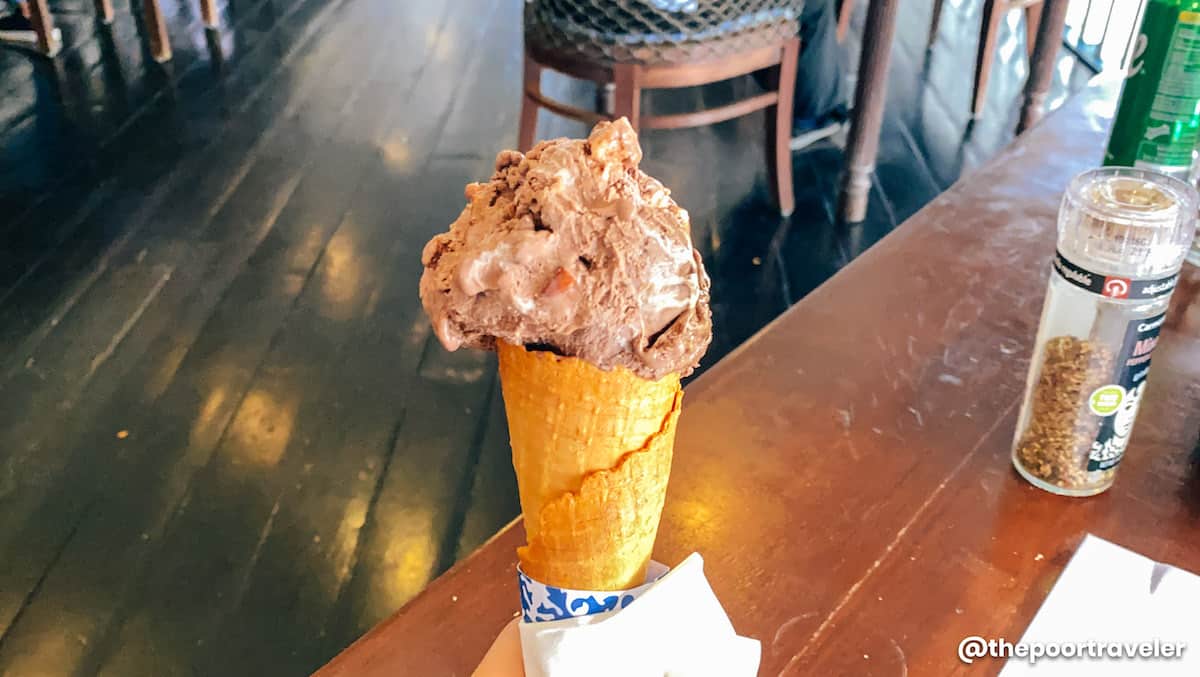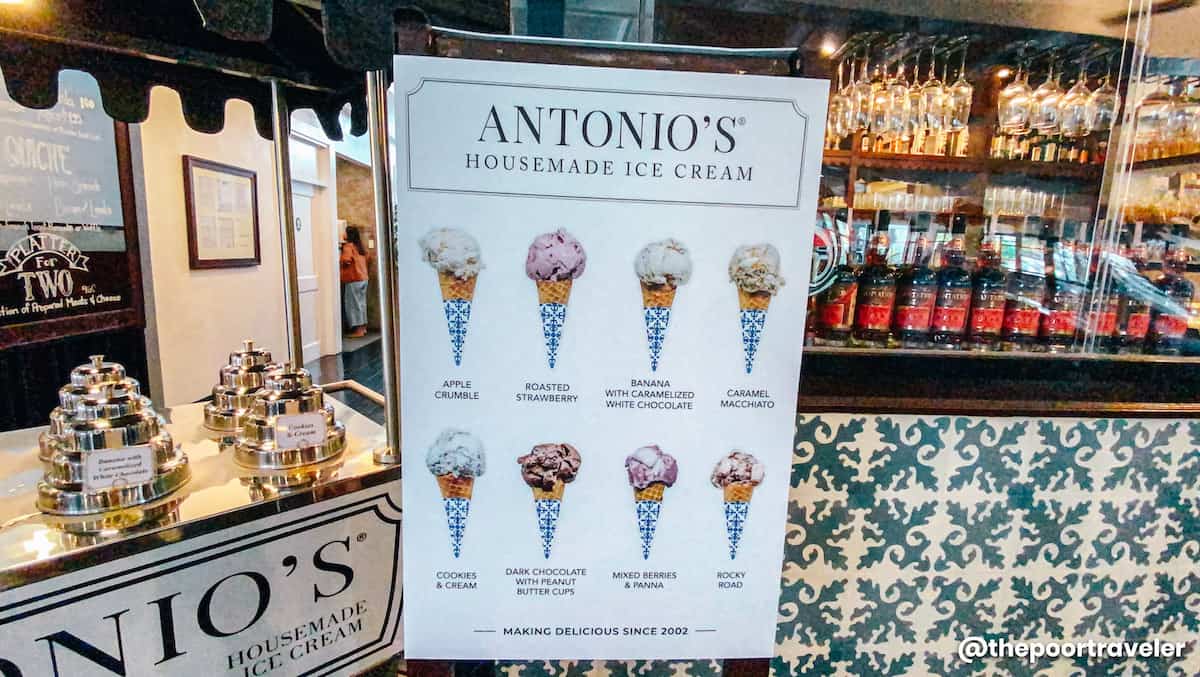 The restaurant has a shop where you can purchase homemade sauce, jams, curds, cold cuts, and freshly-baked bread.
---
Breakfast at Antonio's MENU
Chef's Top Picks
Burrata Salad w/ Honey Garlic Kaffir
(Fresh citrus, pomelo, cherry tomatoes, peanuts, Hibi, cilantro, crispy basil with mixed greens)
Chorizo
(Served with tangy garlic pesto rice)
Grilled Angus Prime Ribeye
(Comes with grilled corn and wedge potatoes)
Breakfast Favorites
Fresh Corned Beef with Provencale Sauce
(Served with fries and sunny side up egg)
Fresh Corned Beef
(Lyonnaise potatoes, sauerkraut, horseradish, Dijon mustard. Served with two eggs cooked the way you like.)
Sautéed Corned Beef
(Served with garlic rice and two eggs cooked the way you like)
Beef Tapa
(Soya garlic semi-sweet marinated sirloin, kimchi fried rice (mild spice). Served with two eggs cooked the way you like.)
Housemade Longganisa
(Served with Japanese-style seasoned vinegar rice and two eggs cooked the way you like.)
House Meatloaf
(A house recipe of an American classic served with toast and choice of hash brown or wedge potatoes)
Spanish Sardines
(Either in tomato sauce, hot and spicy, or olive oil. Served with toast and choice of hash brown or wedge potatoes.)
Beef Bacon
(Choice of wedge potatoes and toast or garlic rice)
Ginger Spinach Fried Rice
(Spinach, mixed mushrooms, corn, sweet peppers, almond flakes)
Chorizo
(Served with tangy garlic pesto rice, two eggs made the way you like, and housemade breakfast beans)
Housemade Pork Sausage
(Served with two eggs made the way you like, housemade breakfast beans, and a choice of hash brown or wedge potatoes and toast)
Smoked Bacon Steak
(Served with two eggs made the way you like, housemade breakfast beans, and a choice of garlic rice or wedge potatoes and toast)
---
Is it worth it?
Breakfast at Antonio's is on the expensive end of the spectrum but the food, more than anything else, is what the loyal customers come here for. The service and the ambiance are also commendable.
The beeline of cars during peak hours is proof that Breakfast at Antonio's is one of the best in Tagaytay.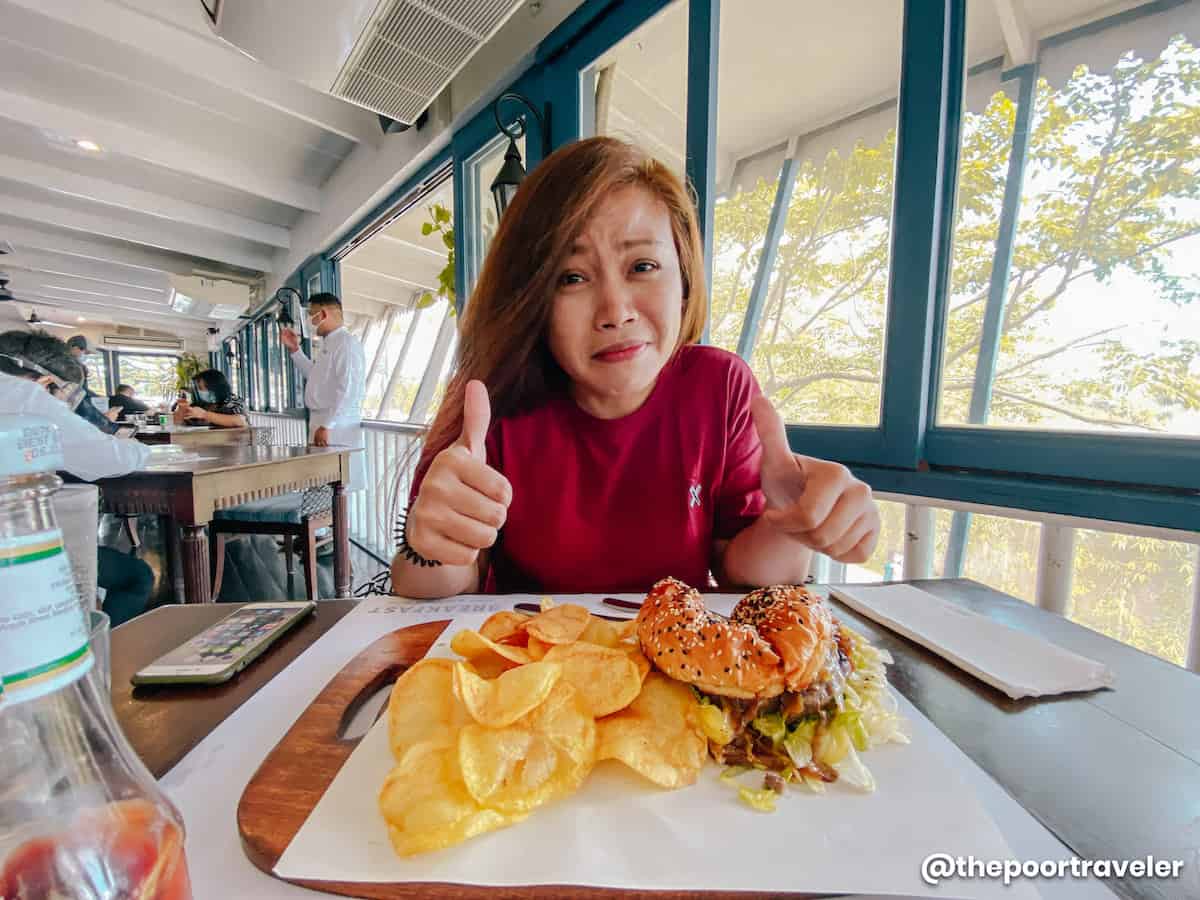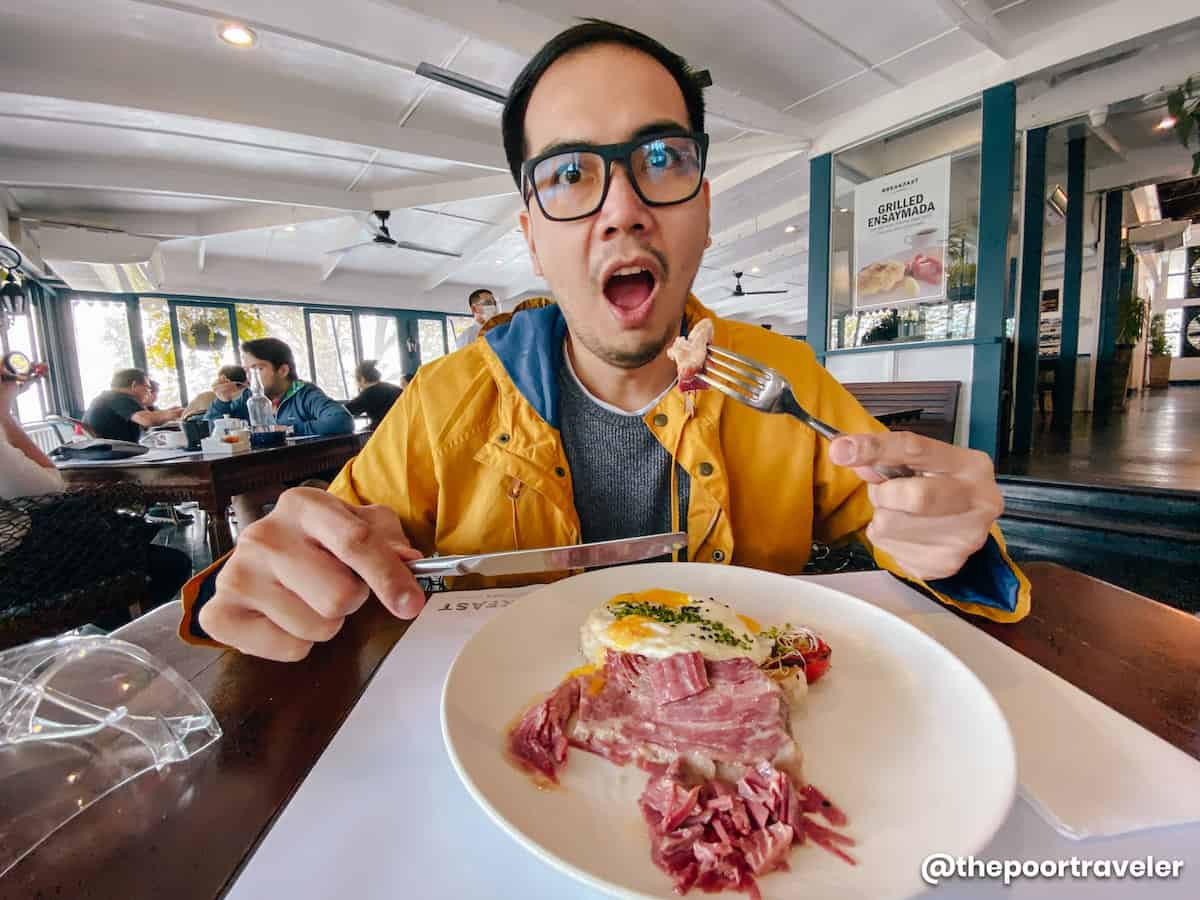 ---
Other Tips and Reminders
Wear face mask and face shield.
Always observe social distancing.
Stay in your designated area. No loitering around the establishment.
All food and drinks are inclusive of 12% VAT and have a 10% service charge. Availability may vary depending on days and seasons and prices may change without prior notice.
Contactless payment — credit card or debit card — is highly encouraged.
Contact the management first before going because the opening hours may change without prior notice.
No reservations. First come, first serve policy.
Again, only guests 15-65 years old are allowed inside the establishment. Bring valid ID reflecting your age or birth date. You might need to present your ID to the staff at the entrance or reception.
Pregnant women and persons with comorbidities, immunodeficiencies, and other health risks are not allowed also.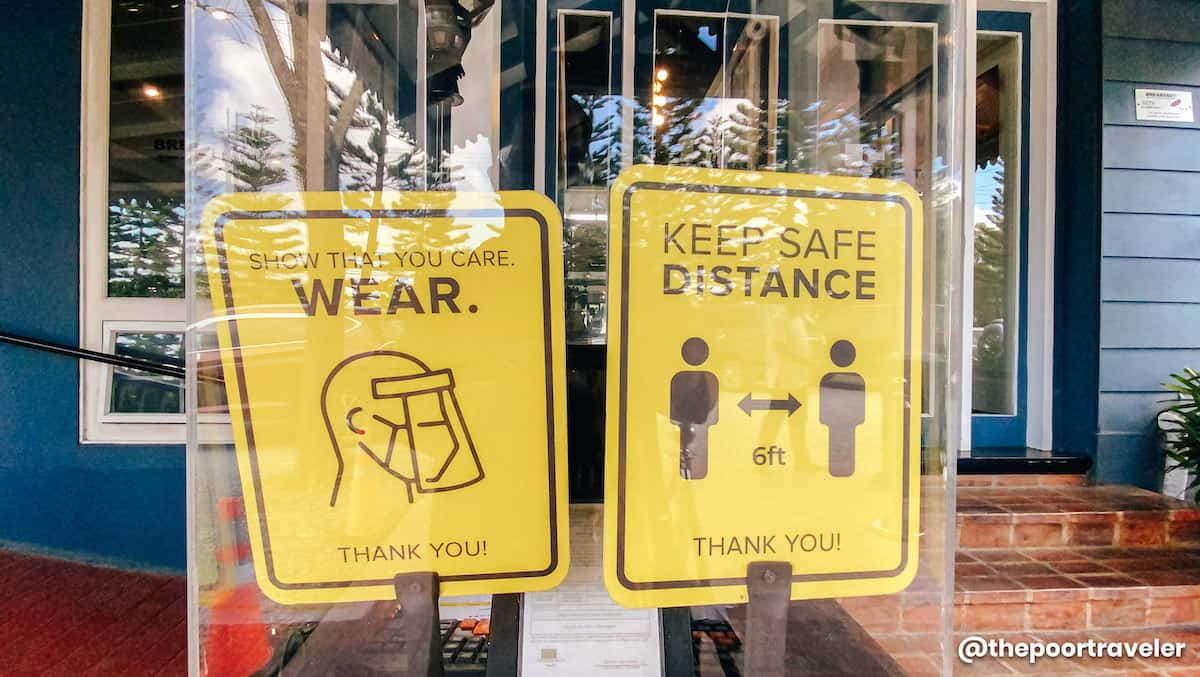 ---
Breakfast at Antonio's Contact Details
Breakfast at Antonio's only accepts reservations for corporate events, social functions and other gatherings.
For inquiries and events reservations/booking, you may contact the management through any of the following:
Landline: (046) 413 0738 / (046) 404 6199
Mobile Number: 0909 234 7304 / 0925 706 0837 / 0917 163 8374
E-mail Address: LAlvarez.AGR@gmail.com
Official Website: www.antoniosrestaurant.ph/breakfast-at-antonios/
Facebook Page: Breakfast at Antonio's
---
Top Tagaytay Hotels
If you plan on staying overnight in Tagaytay, here are some of the top hotels that are relatively budget-friendly, as scored by Agoda customers.
---
---