When it comes to tourism, Tagaytay was one of the first destinations to flourish south of Manila. It's easy to see why. Its cool, rustic atmosphere provides an easy respite and a very different vibe from the capital, even though it is not too far away.
If you wish to escape to Tagaytay like we always do, this article will share with you how to get there from Manila. But first, it is important to be familiar with the geography of the place. For tourists, Tagaytay has three main areas:
Olivarez. Sometimes called Tagaytay-Rotonda Area. This is the geographic and economic center of the city. The major roads running across the city start or end here. Several public bus routes also start or end here.
Along Tagaytay-Nasugbu Highway. This is a little bit farther than the Rotonda area, but this has the best view of the lake and the volcano, provided that you book a hotel on the lakeside. This is also where Sky Ranch and Ayala Malls Serin are located. Farther, this road will take you to Mendez, Alfonso, and the neighboring province of Batangas, including Nasugbu and Lemery.
Along Tagaytay-Calamba Road. This area is closest to tourist spots like Tagaytay Picnic Grove and People's Park in the Sky. Lots of restaurant and hotel options too, with some also offering a good view of the lake.
Tagaytay has become so popular among tourists that it has become synonymous with the mountainous southern area of Cavite. Many hotels, inns, lodges, guesthouses, restaurants and attractions are often marketed as Tagaytay properties even when they are actually located outside the city. It's not uncommon to find a place with "Tagaytay" in its name even when they are technically located in Mendez, Alfonso, Silang or even as far as Batangas.
Being located outside the city isn't really an issue. I actually prefer staying in the outskirts of the city. But like I said, this area is big. It is important to know the actual location of the place if you're taking public transportation to get there.
WHAT'S COVERED IN THIS GUIDE?
MANILA TO TAGAYTAY BY BUS
TAGAYTAY BUS TERMINALS IN MANILA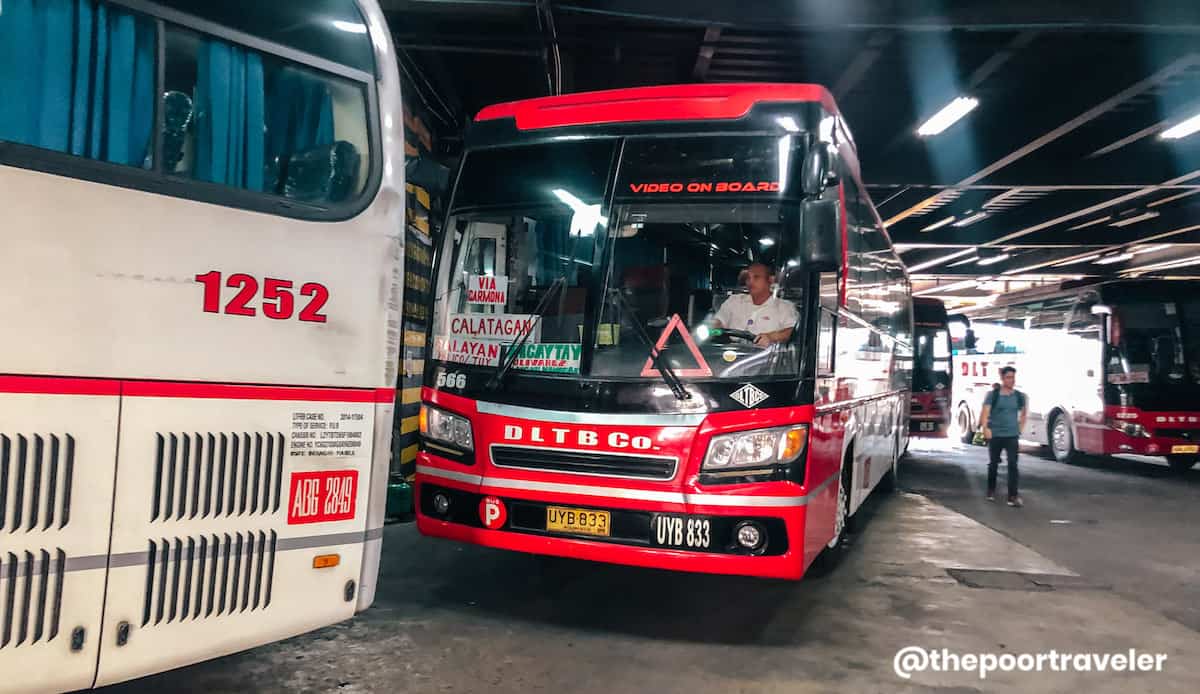 You can catch a bus to Tagaytay at the following terminals.
Uniwide Coastal Mall in Paranaque. Make your way to the Paranaque Integrated Terminal Exchange (PITX), also called South West Integrated Provincial Terminal. Board a bus bound for Tagaytay, Mendez (neighboring town), or Nasugbu. This bus will be taking Emilio Aguinaldo Highway.
DLTB Terminal at LRT Buendia area (near LRT Gil Puyat Station), Pasay City. Board the bus bound for either Nasugbu or Calatagan. This will be taking South Luzon Expressway (SLEX) and Carmona Exit and will pass through Tagaytay.
Travel time is 2-3 hours, depending on traffic conditions. Might be much longer during rush hour.
Fare: Around P87.
We were told that one can also catch a bus at Araneta Bus Terminal in Cubao. But we haven't really tried it yet.
DO NOT TAKE THE BUS TO LEMERY. Lemery-bound buses take the SLEX + STAR Toll. It doesn't pass through Tagaytay. Buses are not allowed to take Diokno Highway, which connects Tagaytay and Lemery. I know this because I'm from Lemery.
---
MANILA TO OLIVAREZ
Make your way to any of the above terminals.
Board a bus bound for Tagaytay, Mendez, Nasugbu, or Calatagan.
Alight at Olivarez stop.
It's that simple!
---
MANILA TO SKY RANCH OR WIND RESIDENCES
Sky Ranch, Wind Residences, Robinsons Supermarket, and Summit Ridge Tagaytay are located along the part of the road that most buses bypass. They usually take Mahogany Avenue. Hence, you will need to alight just before the bus makes a turn onto Mahogany. See the map below.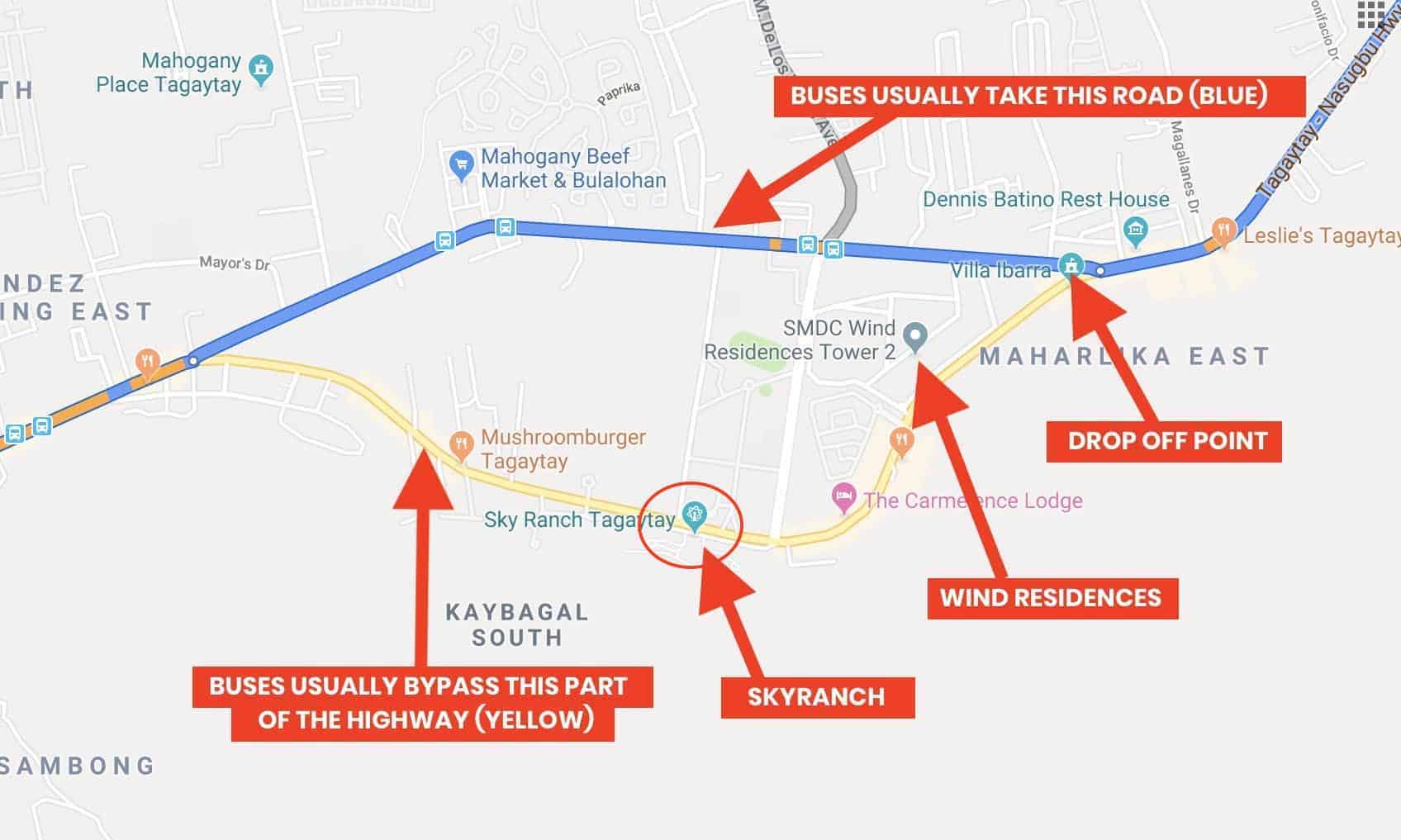 Make your way to any of the above terminals.
Board a bus bound for Mendez, Nasugbu, or Calatagan.
Tell the conductor you're going to Sky Ranch or Wind Residences. They will tell you if it will pass by it. If not, they will drop you off at the Petron Gas Station at the corner.
Alight at Petron Gas Station.
Travel on foot to your destination. Wind Residences is just a 10-minute walk away. Sky Ranch, 20 minutes.
Wind Residences is definitely an easy walk. Sky Ranch takes more time. If you don't want to walk all the way to Sky Ranch, you can get off the bus at Olivarez or Petron and ride a jeepney to Sky Ranch.
---
MANILA TO TAGAYTAY BY VAN
You can also ride a shared van to Tagaytay. Vans bound for Nasugbu, Calatagan or Lemery pass through Tagaytay.
The great thing about these shuttles is that they are more flexible than the bus. For example, if they find that one passenger wants to alight in front of Sky Ranch and no one else wants to alight along Mahogany Avenue, then they can drop you off in front of Sky Ranch.
You can catch a van at the following places.
Starmall EDSA-Shaw. You'll find vans bound for Lemery at the terminal in front of the mall, along EDSA.
Alabang. There are vans bound for Tagaytay at Festival Mall Alabang, near the Goldilocks exit. (I haven't tried it, though.) In addition, there used to be vans bound for Lemery dispatched from the parking area of Starmall Alabang. But they already moved to the area behind the mall, near the ukay-ukay area and PNR Train counter. The number of available vans and passengers has been dwindling so you might be in for quite the wait.
Metropoint Mall. I'm not sure if there are still vans here going to Calatagan. There used to be, but I haven't checked in a long time. If there still is, you can take the van going to Calatagan. If vans no longer operate here, you can cross to the other side of EDSA and catch a bus to Calatagan instead.
Whatever you take, tell the driver to drop you off in Tagaytay. Better if you can be more specific. If you're getting off in Olivarez, Sky Ranch, Ayala Malls Serin, or whatever hotel along the way, say so and they might just drop you off right there if they can.
Fare is P180-P200, depending on which part of Manila you're originating. It's pricier because vans behave like point-to-point shuttles. Even though you're alighting in Tagaytay, you're still paying for the full journey. A passenger getting off in Tagaytay pays the same as another getting off in Batangas.
Important reminders:
If you're taking a van to Lemery, tell the driver to drop you off in Tagaytay. Unlike their bus counterparts, Lemery-bound vans usually pass through Tagaytay. However, there are instances when the driver chooses to take the SLEX-STAR Tollway route. It usually happens when there is heavy traffic in Tagaytay or Santa Rosa areas. To be sure, let the driver know that your destination is Tagaytay so he won't take any detour.
Vans don't follow any fixed schedule. The vehicle will NOT leave the terminal unless it is full. If you're in a hurry and there's only one vacant seat, you can pay for it and the driver will gladly start the journey. If time is of the essence and there are a lot of empty seats, take the bus instead.
---
Where to Stay Near Sky Ranch Tagaytay
If you decide to stay overnight in Tagaytay, here are some of the top places to stay as rated by Agoda customers.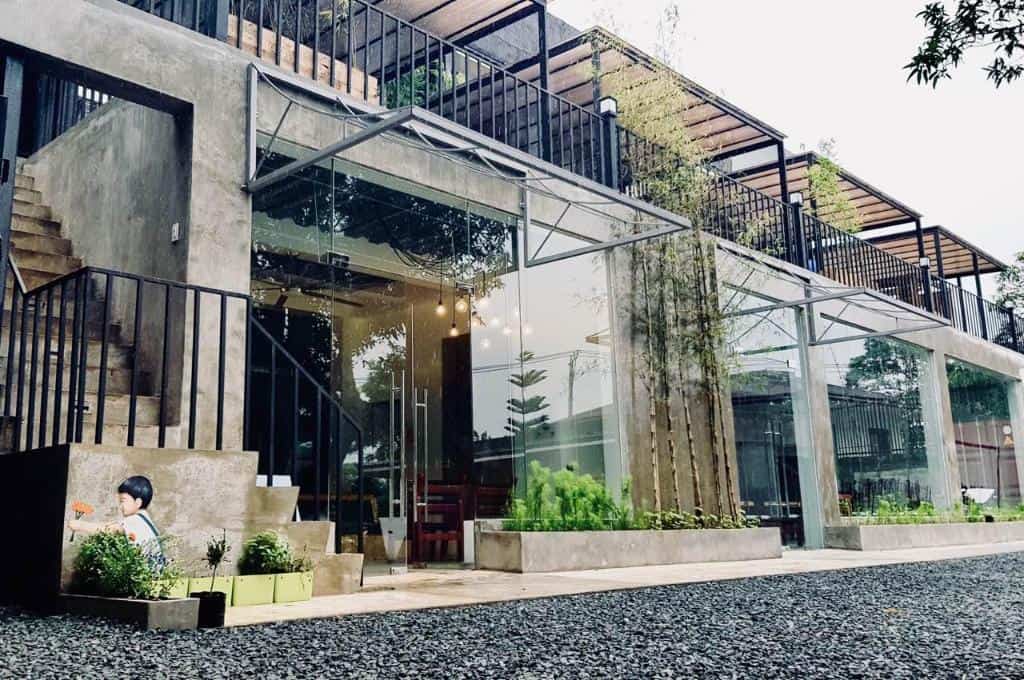 ---
---
2️⃣0️⃣1️⃣9️⃣ • 1️⃣2️⃣ • 3️⃣0️⃣