2021 • 4 • 26
Balay Dako means "big house" in Negrense, which is absolutely fitting because this popular restaurant in Tagaytay is big in more ways than one.
First, it is housed in an enormous Filipino-Spanish villa that houses spacious rooms. As soon as you step into the building, you'll be greeted by a roomy waiting area decorated with a massive chandelier and framed portraits. From here, you'll be ushered into one of the three vast dining rooms, one on each floor: Terraza, Comedor, and Silong. From any of them, the irresistible view of the Taal Lake is framed by huge windows. The house is also bookmarked by verandas, in case you want an unobstructed vista or an al fresco dining experience. There's even a snack shop, where you can buy pasalubong, too!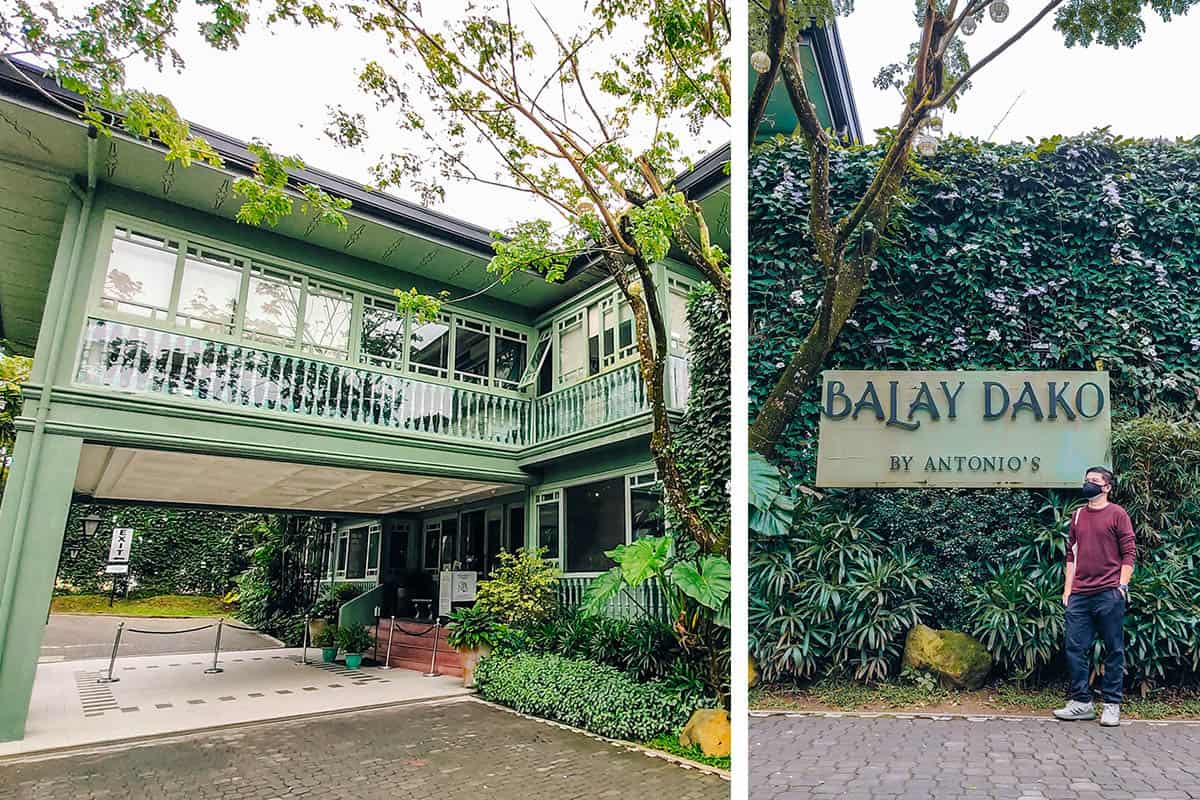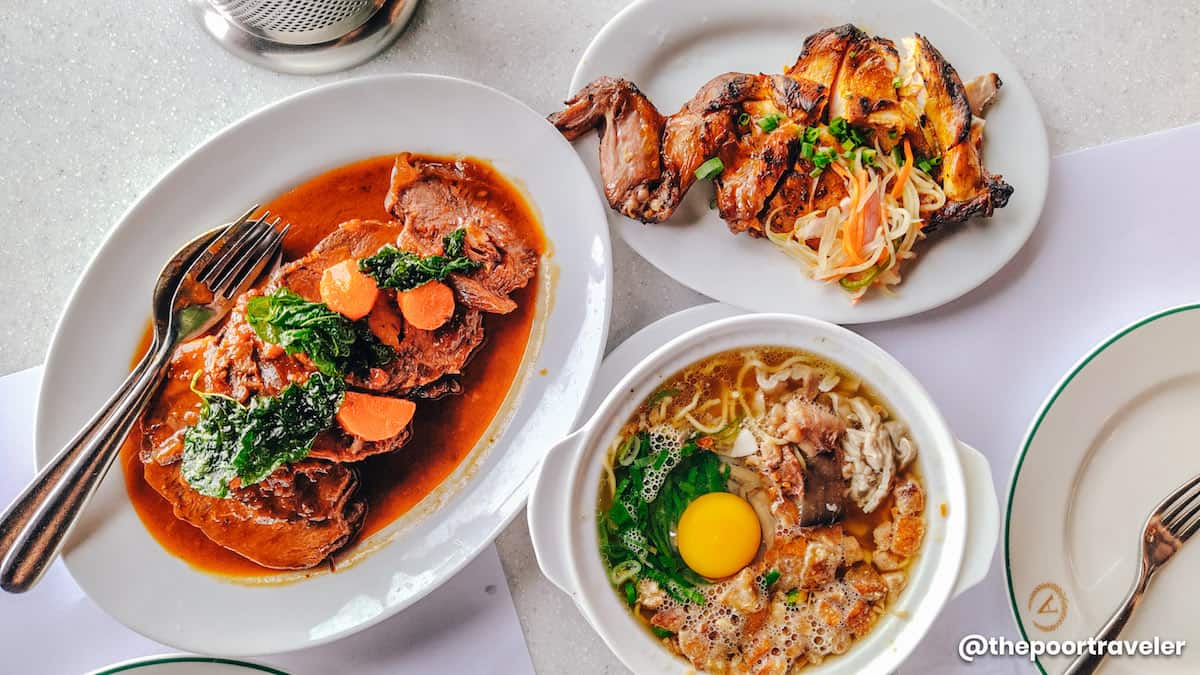 Second, it has a pretty extensive menu. You'll be presented with a rich menu boasting Pinoy faves like chicken inasal and batchoy to Spanish raves like callos and pastel de lengua.
And lastly, it is helmed by Chef Tony Boy Escalante, one of the biggest names in the local culinary world. Yep, the same creative force behind Antonio's, another juggernaut in Tagaytay's food scene.
We have visited Balay Dako a number of times now, with the most recent under MGCQ status. In this article, we'll share with you our dining experience and the "new normal" safety guidelines and protocols.
---
WHAT'S COVERED IN THIS GUIDE?
What are the operating hours?
11:00 AM – 9:00 PM
Monday – Friday
8:00 AM – 9:00 PM
Saturdays, Sundays, & Holidays
This was the updated schedule as of December 2021. Note that this may change, so check the official Facebook page for the latest announcements and updates.
When Tagaytay was still under GCQ status, establishments were closed on Mondays for general sanitation and maintenance. But they recently announced that they would now be operating on Mondays too.
---
Do we need to make a reservation first?
Balay Dako does not take table reservations. It operates on a "first come, first serve" basis.
If you want to get the best table with a view, you have to come early or during lean hours like brunch and late afternoon.
If you happen to visit during peak hours, the waiting area is spacious and staff will assist you and make sure you are comfortable.
---
When is the best time to go?
On a weekday. For those who prefer dining with fewer crowds, go on a weekday. There's a high chance that you will get the spot that suits your preference.
If you can't avoid going on a weekend or holiday, visit during lean hours, which is before or after lunch and dinner.
Check the weather too. If you are also coming for the view, make sure to go when there's a low probability of raining or fogging.
---
How to Get There?
Balay Dako is located along Tagaytay-Nasugbu Highway beside Leslie's and across Magallanes Square. Whether commuting or driving your own car, you will not have a hard time finding Balay Dako.
Private Car. From South Luzon Expressway (SLEX), take Mamplasan Exit or Santa Rosa Exit. If you want to avoid traffic and you already have EasyTrip RFID, take Mamplasan Exit which leads to CALAX. Make a right turn to Santa Rosa-Tagaytay Road when you exit CALAX. Continue driving and make a right turn again to Tagaytay-Nasugbu Road at the junction. Continue driving past the roundabout (rotonda). Balay Dako will be on your left. Your landmarks are Leslie's and Magallanes Square.

It's best to use Waze or Google Maps if you want to know the real-time traffic situation.

Public Transportation. From Manila (PITX), take a bus bound for Nasugbu. Alight at Magallanes Square or Leslie's.
This is based on what we have gathered so far. We've visited Tagaytay multiple times since GCQ and MGCQ days; however, we traveled via private car. We tried commuting, but that was before the pandemic. We have yet to try getting there and around via public transportation recently.
To ensure that you are getting on the right bus, ask the PITX staff which bus will ply the route. Inquire also if it's still allowed to alight in that area or where is the nearest designated bus stop to Balay Dako.
---
Is there a designated parking area?
Yes! There's a huge space for parking right after the entrance gate. The area between the gate and the restaurant building's facade serves as the parking space for the guests.
However, during busy hours, especially weekends and holidays, slots fill up fast!
---
What is the admission process?
Below is Balay Dako's new normal system:
Find a parking spot.
Once you have a parking spot, you will be given a stub that has a number and 2 QR codes.

– The number is your queue number.
– The first QR code will take you to the health declaration form.
– The second code is the menu.

Enter the restaurant building. Your temperature will be checked. Show that you have accomplished the health declaration form.
Wait for your number to be called at the Waiting Area. You can use this idle time to look around or take pics because the place is well-decorated. You can also check out the menu and decide what your orders will be.
When your number is called, follow the staff who will take you to your table. If the table is not yet ready, you'll be led to the outdoor section (patio) where you can enjoy an unobstructed view of the lake and the volcano. The patio has some picture-worthy spots and backdrops too.
Once the table has been completely disinfected, take a seat. A waiter will immediately approach you for your orders. In case you lost your stub, there is another QR code on the table.
When your order arrives, enjoy your meal!
---
Are kids and senior citizens allowed?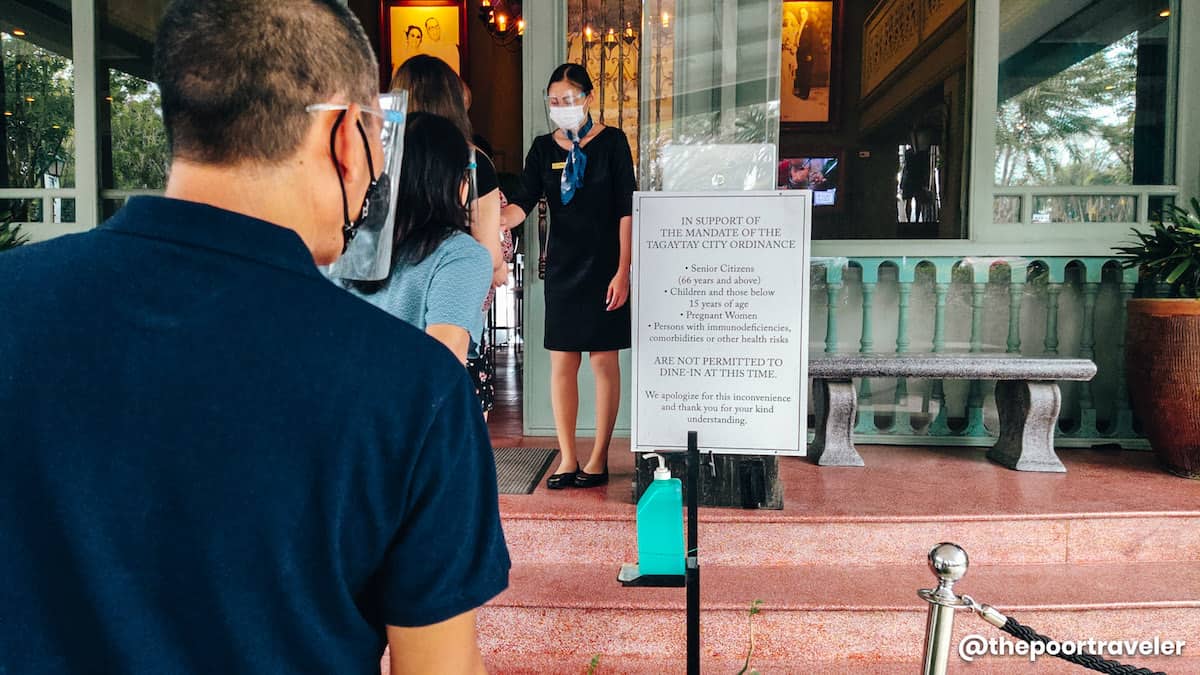 As of November 18, 2021, Balay Dako is now welcoming guests of ALL AGES. Under Alert Level 2 classification, there are no more age restrictions, and wearing face shields is no longer mandatory.
---
Where is the best spot?
The spot near the huge windows if you prefer dining indoors; the veranda if you prefer dining outdoors. Balay Dako's huge windows and spacious interior exude a breezy atmosphere, promising a delightful dining experience.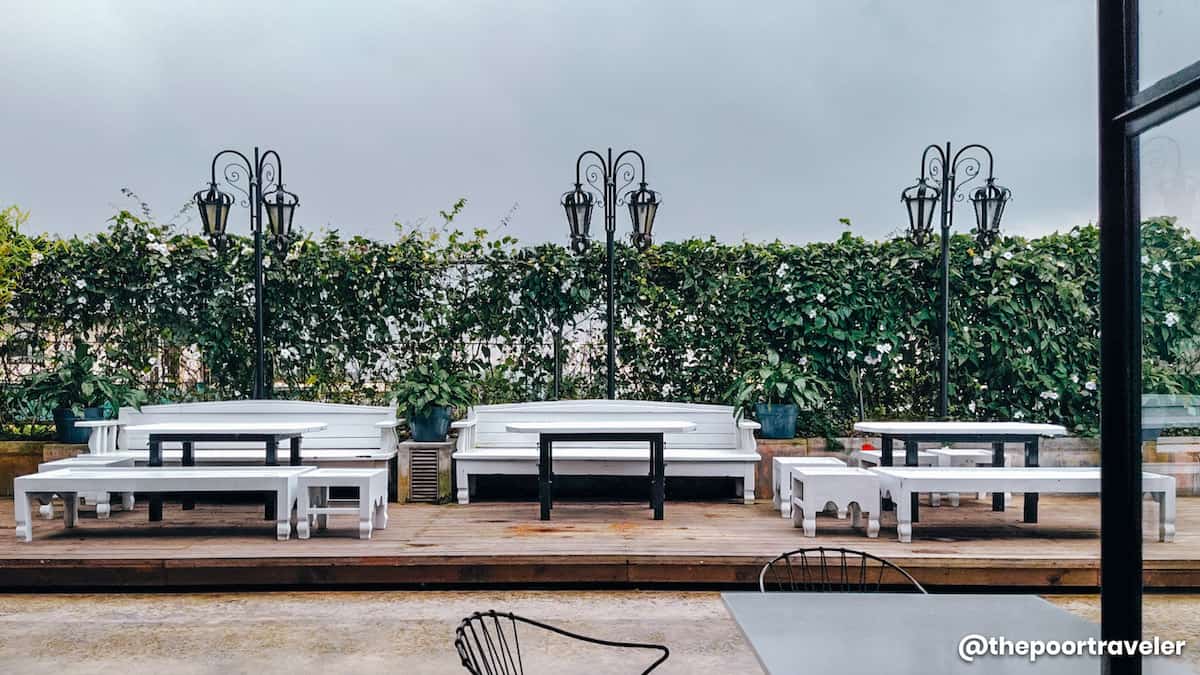 If you happen to visit during peak hours, those spots might be occupied already.
Here are more pics of the interior: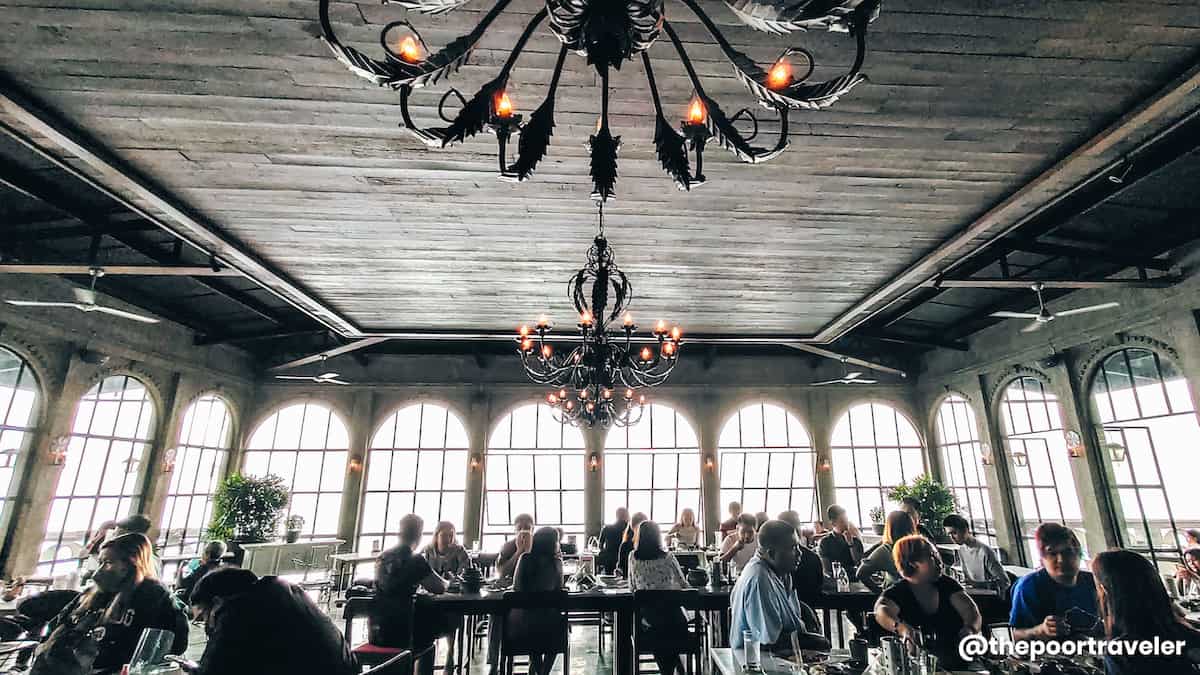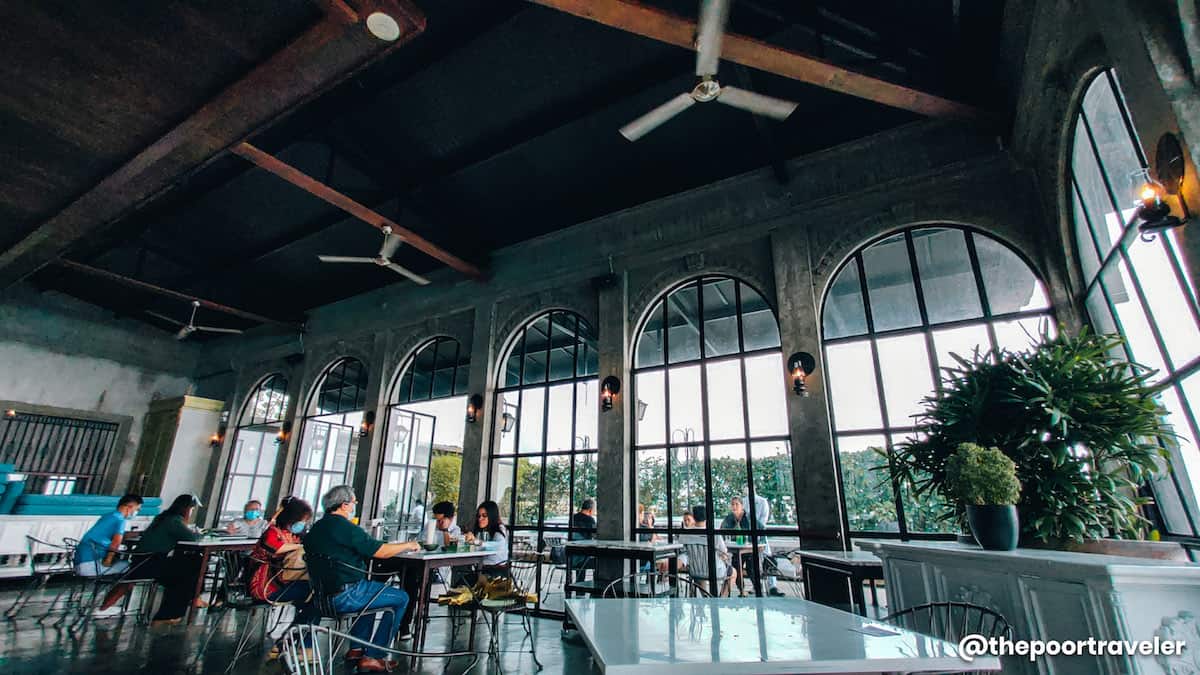 ---
What's on the menu?
Balay Dako serves appetizers, rice dishes, soups, vegetables, salads, desserts, grilled and fried dishes, and hot and cold beverages. You can find the full menu here.
Balay Dako's bestselling dishes are found on the House Favorite list. The bestsellers include kare kare klasik, crispy pata, lechon kawali, sizzling bulalo, halabos na hipon, tortang alimasag, lechon manok, crispy adobong pitaw, and bistek tagalog among others.
On our last two visits, we ordered the following: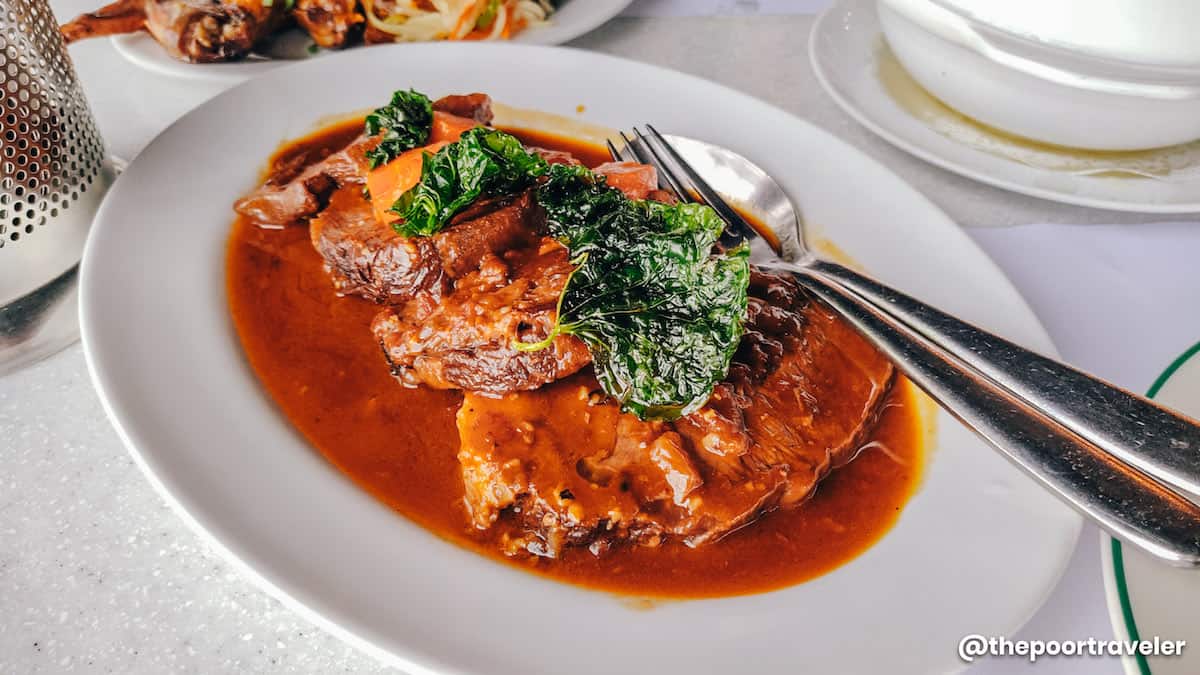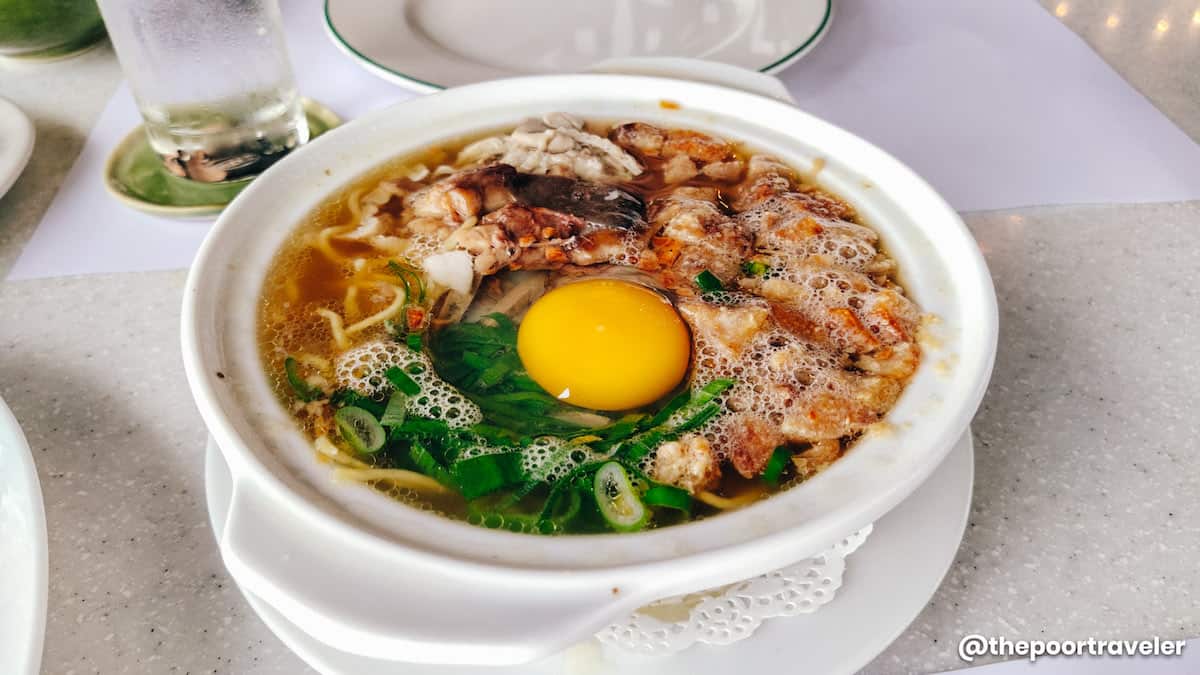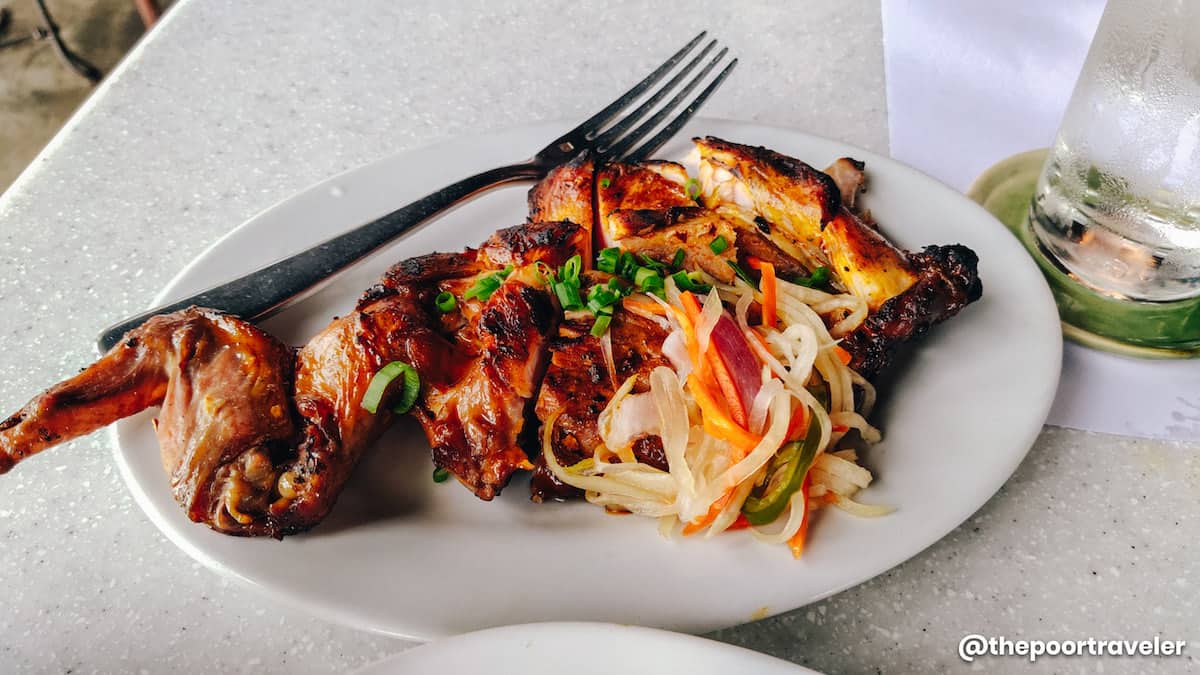 If you are craving classic Filipino merienda, the Filipino Favorites section has the taho, champorado, ginataang halo-halo, arroz caldo, puto bumbong, bibingka, kutsinta, puto, cassava, sapin-sapin, maja blanca, and palitaw.
Want to try all the rice cake delicacies? You can get the assorted kakanin which is a sampler of the traditional Filipino delicacies. The items on the Filipino Favorites list are available every weekend and holiday from 8:00 AM onwards.
For big groups, you can choose from the set meal selections, which can serve up to 10 people. The seafood paella is available on weekends only.
Don't forget to try the freshly-cooked (or baked) piaya! But it takes time to prepare so order piaya first before your meal and it should be ready when it's time for dessert. You can actually see how they cook it downstairs, right at the dining area's entrance.
Aside from the dishes and meals, Balay Dako also offers deli and pasalubong items like bread, jams, dressings, curds, and gourmet sardines/tuyo.
---
What's the view like from Balay Dako Tagaytay?
Like this: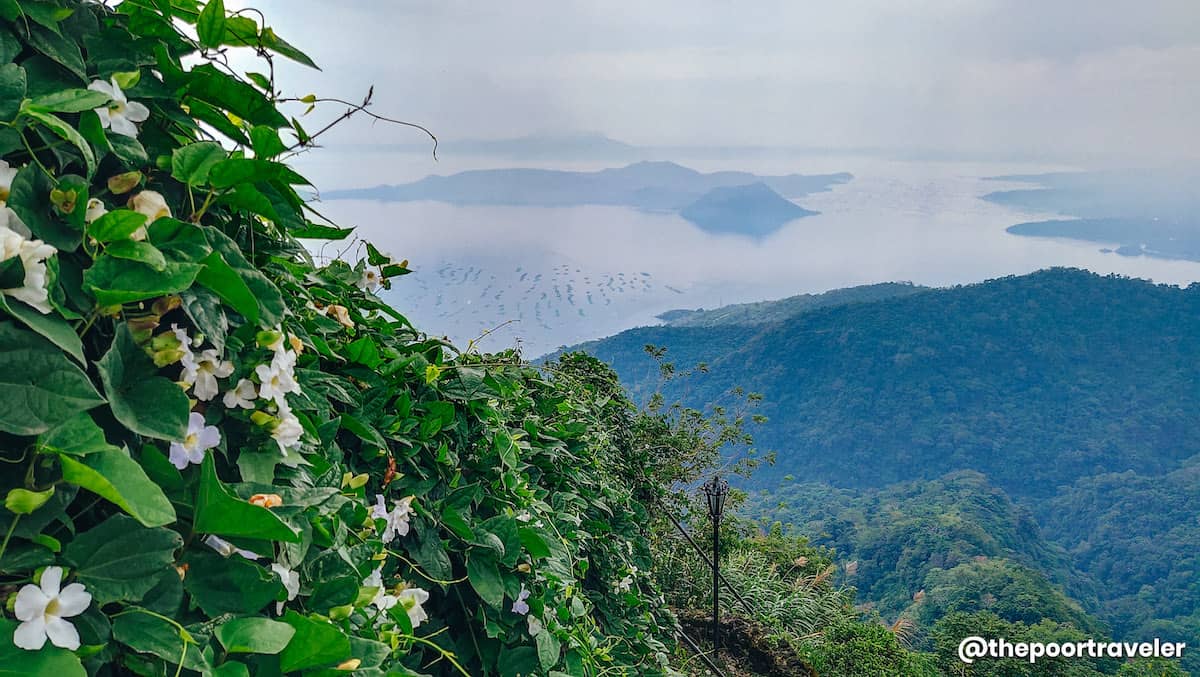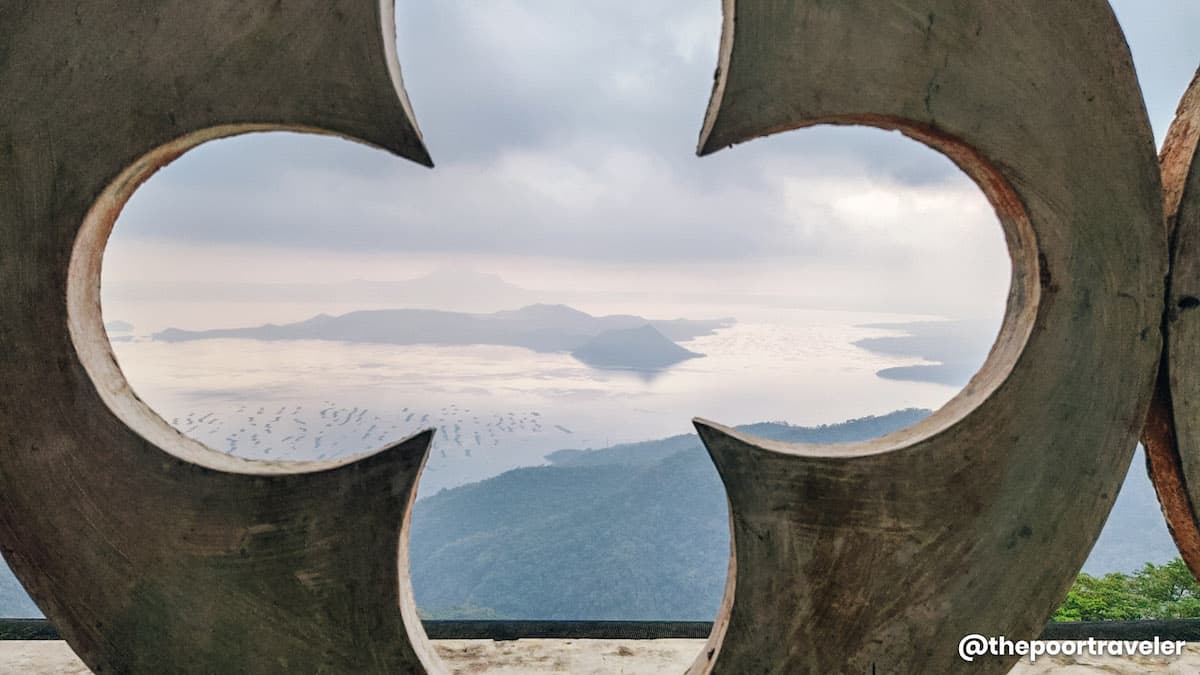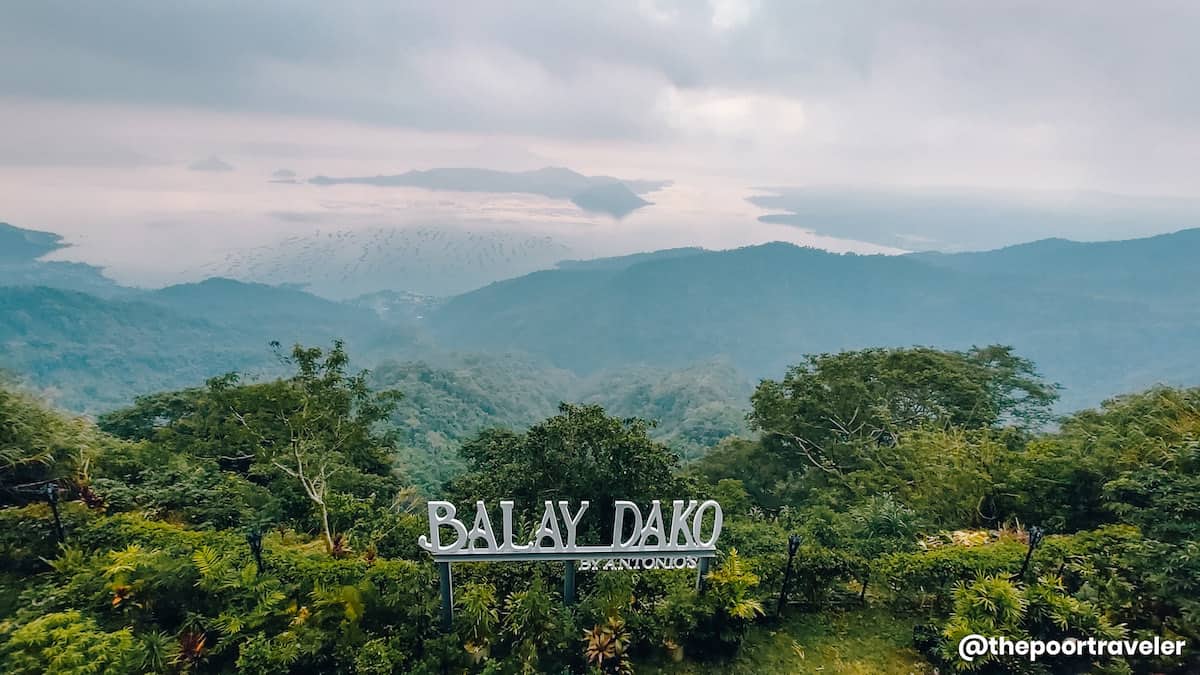 ---
Is it worth it?
Balay Dako might be on the pricier end of the spectrum but the view, the service, the food, and the overall experience are all worth it.
Parking on busy days and hours is just a minor inconvenience. Actually, the establishment has a spacious parking area, but the waves of regular guests and curious diners during lunch and dinner hours are proof that Balay Dako is one of the favorite dining places in Tagaytay.
---
Other Tips and Reminders
No face mask and face shield, no entry.
Always observe social distancing.
All food and drinks are inclusive of 12% VAT and have a 10% service charge. Availability may vary depending on days and seasons and prices may change without prior notice.
Contactless payment — credit card or debit card — is highly encouraged.
Contact the management first before going because the opening hours may change without prior notice.
No reservations. First come, first serve policy.
Again, only guests 15-65 years old are allowed inside the establishment. Bring valid ID reflecting your age or birth date. You might need to present your ID to the staff at the entrance or reception.
Pregnant women and persons with comorbidities, immunodeficiencies, and other health risks are not allowed also.
---
Balay Dako Contact Details
Balay Dako only accepts reservations for events or other functions. For inquiries and events reservations or booking, you may contact the management through any of the following:
Landline: (046) 413 4866
Mobile Number: 0923 726 6290
E-mail Address: balaydakoevents@gmail.com
Official Website: www.antoniosrestaurant.ph/balay-dako/
Facebook Page: Balay Dako
---
Top Tagaytay Hotels
If you plan on staying overnight in Tagaytay, here are some of the top hotels that are relatively budget-friendly, as scored by Agoda customers.
---
---