Tagaytay City is a favorite weekend getaway destination for many residents of Metro Manila and nearby provinces like Laguna and Batangas. Aside from the cooler temperature, people get to enjoy a wide array of restaurants and places that offer different views of the beautiful Taal Lake. One of these establishments is Sky Ranch Tagaytay.
A leisure and entertainment park, this 5-hectare property offers exhilarating rides, dining places, horseback riding, and a fantastic view of Taal Lake. This is a place where kids and adults alike will enjoy. Aside from being family-friendly, this amusement park is also open to events and gatherings. It has a 2000sqm events area called The Venue that caters to corporate events, receptions, and other social gatherings.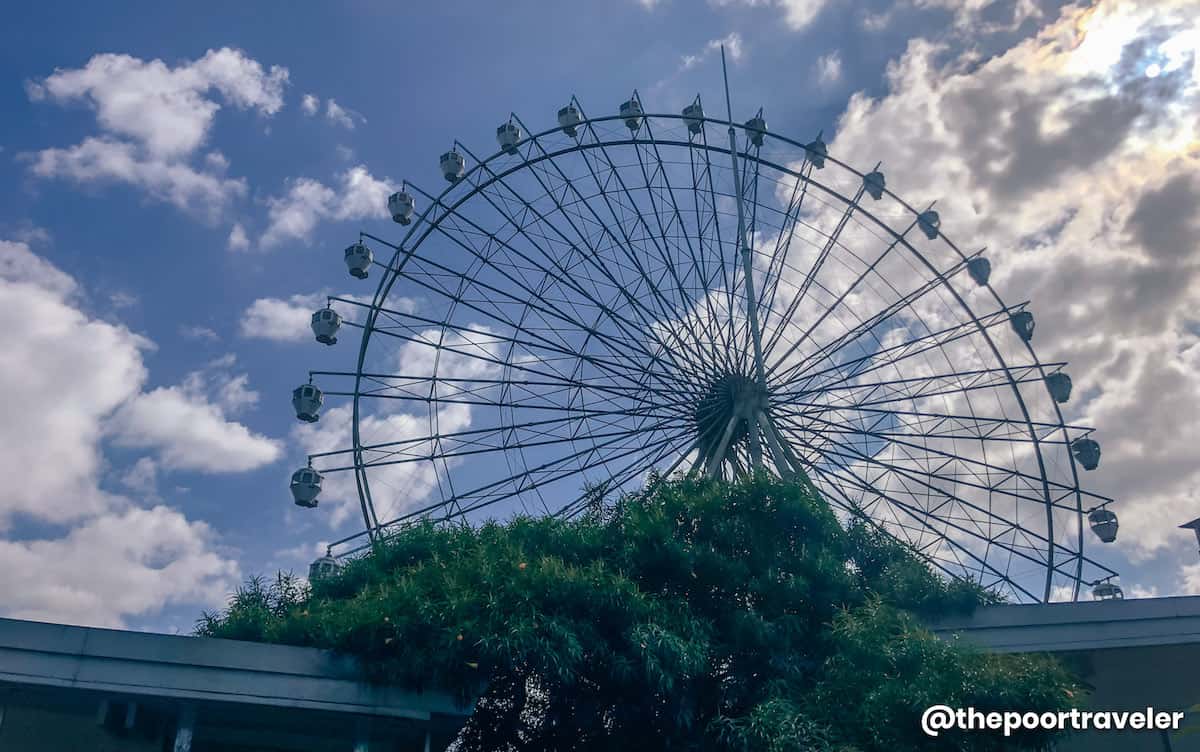 The most notable structure is the Sky Eye, a 63-meter tall Ferris wheel that towers over the site.
For first-time visitors, here are some of the things you might want to know before you go.
---
WHAT'S COVERED IN THIS GUIDE?
What are the operating hours under GCQ?
As of writing, the current opening hours are the following:
Weekdays (Tuesday – Friday)
10:00 AM – 7:00 PM
Weekends
8:00 AM – 8:00 PM
Note: The schedule may differ during holidays. Please check the official Facebook Page for updates and announcements.
HEADS UP! According to their Facebook post (February 12, 2021), the park will start operating again on Mondays starting March 8, 2021!
---
What are the regular operating hours of Sky Ranch Tagaytay?
Weekdays (Monday – Friday)
10:00 AM – 10:00 PM
Weekends/Holidays
8:00 AM – 10:00 PM
---
What is the new admission process under GCQ?
Before you go, please note that only guests 15-65 years old are allowed inside the park. Don't forget to bring one valid (ID) with birth date info! Now that we are clear on that, here's the new admission process at Sky Ranch Tagaytay:
Step 1: Health Declaration. You just need to scan the QR code at the entrance/admission gate. You might want to take a photo of the accomplished health declaration form or the confirmation because you need to present that later.
Step 2: Admission Ticket. Proceed to purchase your ticket at the designated booth.
Step 3: Admission Entrance. Present your admission ticket for scanning and your accomplished health declaration card.
---
How much is the admission ticket?
The rates for weekdays and weekends/holidays are different. The weekday rate is cheaper than the weekend rate.
P80: Monday to Thursday
P100: Friday to Sunday and Holidays
Notes:
You can purchase your admission ticket at the ticket booths located at the park's front gate only.
This only covers the admission ticket. Rides and attractions have separate tickets which you can purchase at the designated ticketing booths inside the park.
Entrance fee for children 3ft and below is FREE.
Tickets cannot be refunded, exchanged, or replaced if lost, stolen, or destroyed.
Tickets are only valid on the day (or date) of purchase.
Re-entry is allowed but you need to present your admission ticket official receipt and stamp. No ticket O.R. and stamp, no re-entry.
---
When is the best time to go?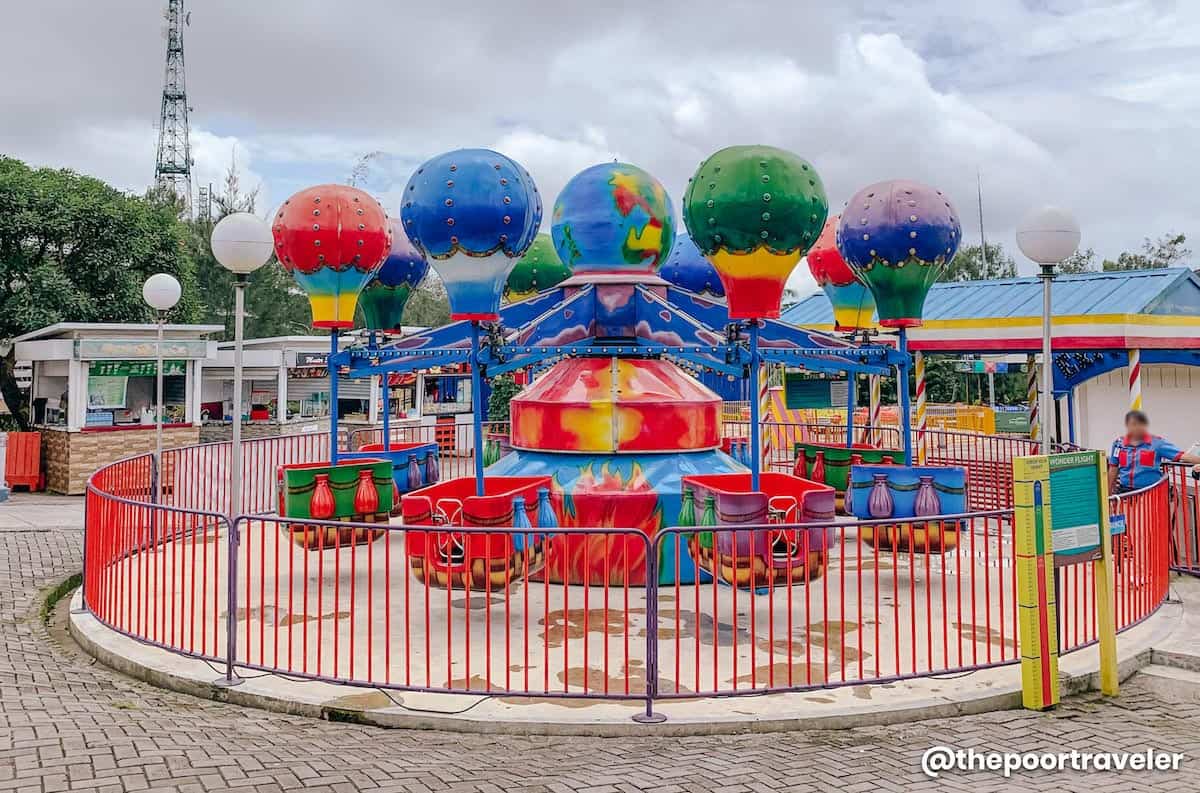 The best time to go is during weekdays, particularly Wednesday to Friday when there are fewer people. We visited on a Thursday and I got to try all the rides that I wanted to try without burning too much time waiting in line.
The park is crowded during holidays and weekends.
---
How to get to Sky Ranch Tagaytay from Manila
By Public Transportation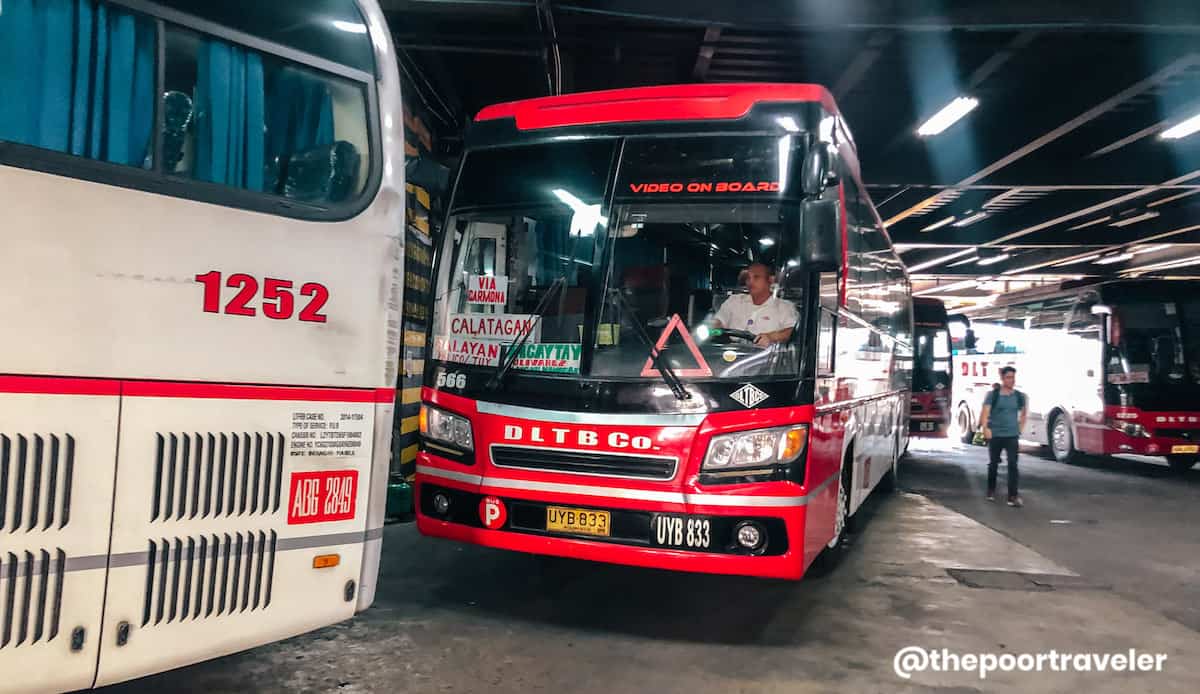 To get to Nasugbu by bus, you need to make your way to the following terminals:
Uniwide Coastal Mall in Paranaque. Make your way to the Paranaque Integrated Terminal Exchange (PITX), also called South West Integrated Provincial Terminal. Board a bus bound for Tagaytay, Mendez (a neighboring town), or Nasugbu. This bus will be taking Emilio Aguinaldo Highway.
DLTB Terminal at LRT Buendia area (near LRT Gil Puyat Station), Pasay City. Board the bus bound for either Nasugbu or Calatagan. This will be taking South Luzon Expressway (SLEX) and Carmona Exit and will pass through Tagaytay.
We were told that one can also catch a bus at Araneta Bus Terminal in Cubao. But we haven't really tried it yet.
Travel time: 2-3 hours, depending on traffic conditions. Might be much longer during rush hour.
Fare: Around P87.
From here, you have two options.
OPTION 1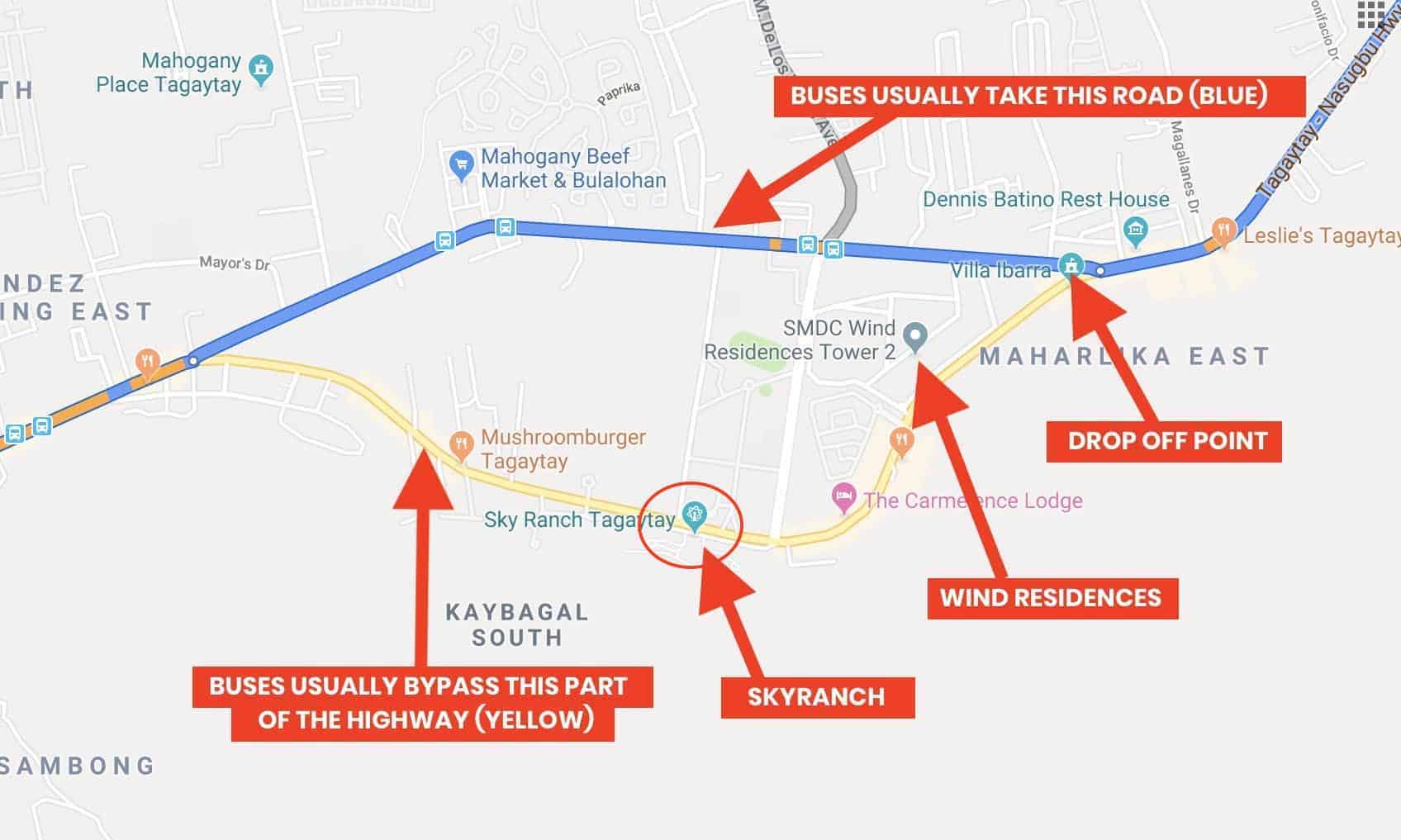 Tell the conductor you're going to Sky Ranch. There's a big chance the bus will not really pass by Sky Ranch because most buses take Mahogany Avenue, which bypasses a section of Tagaytay-Nasugbu Highway approaching Mendez. Instead, they will drop you off at the Petron Gas Station. SEE MAP ABOVE.
Alight at Petron Gas Station adjacent Mahogany Avenue, opposite The Lake Hotel.
Walk to Sky Ranch. It's a 20-minute walk.
OPTION 2
Alight at Olivarez/Rotonda.
Ride a jeepney bound for Mendez/Alfonso. Tell the driver to drop you off at Skyranch. The jeepney fare is P10.
Get off right in front of Sky Ranch.
---
By Private Vehicle
From Manila, drive through the South Luzon Expressway (SLEX), then take Santa Rosa Exit or Eton City.
Continue driving along Santa Rosa-Tagaytay Road until you reach Tagaytay Rotunda.
From Tagaytay Rotunda, continue driving through Tagaytay-Nasugbu Highway until you reach Sky Ranch Tagaytay.
If you have Waze, it will make it much easier for you to get there.
---
What are the rides & attractions inside the park?
Here are the rides and attractions with the corresponding rates: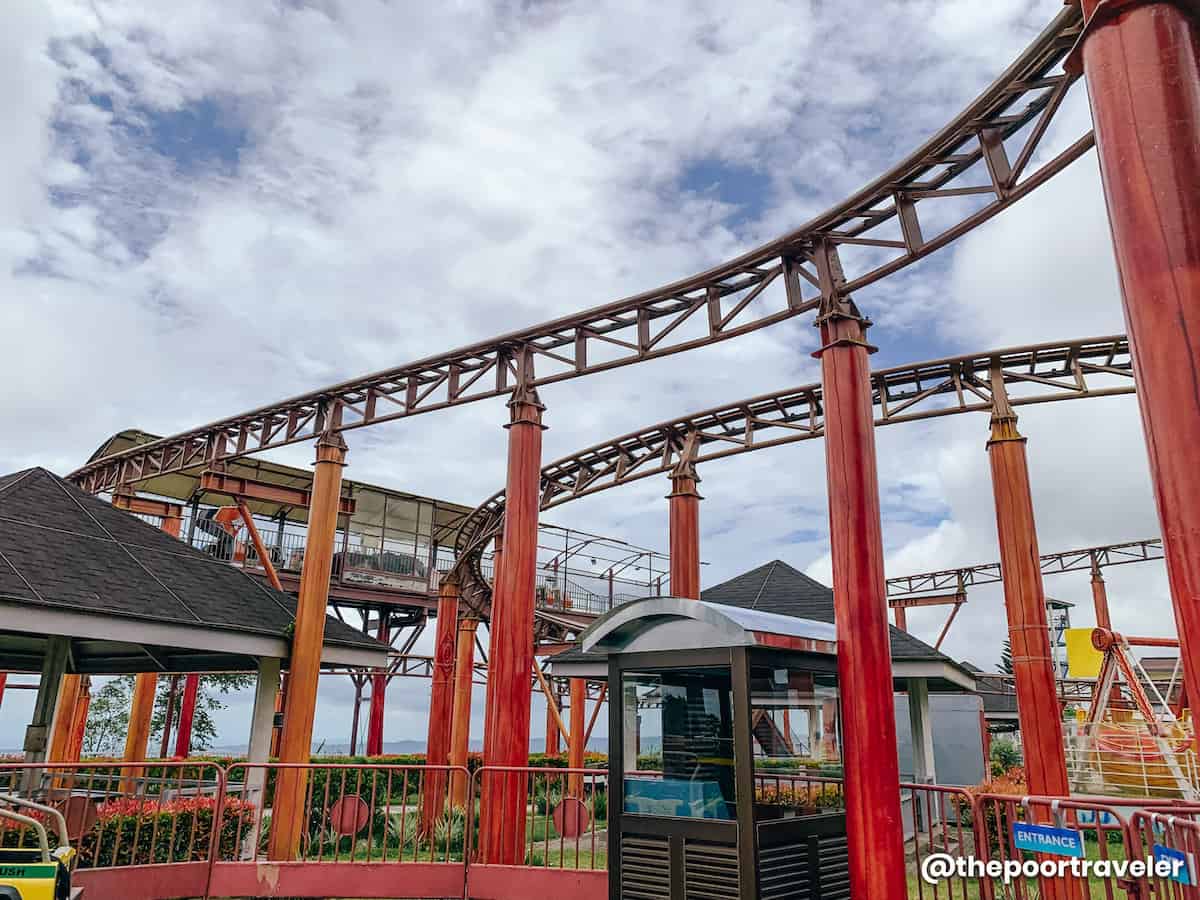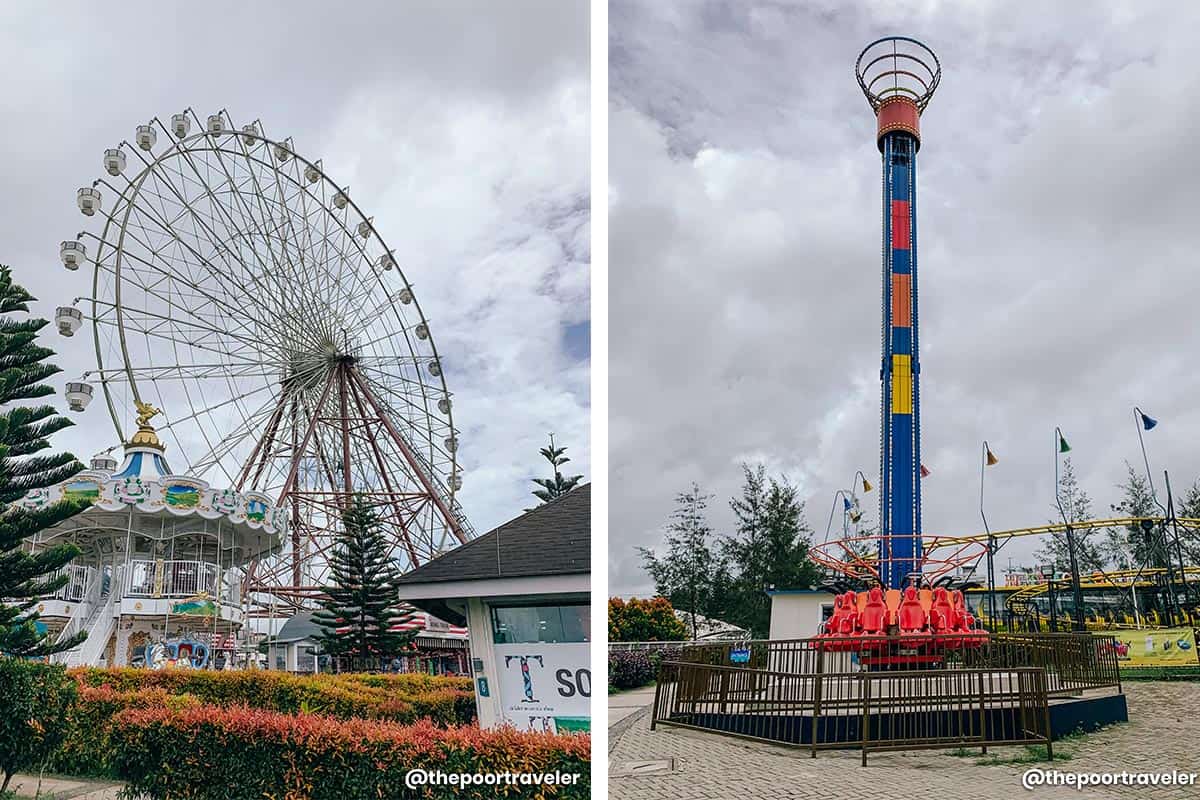 ---
Best Rides
Sky Eye: P150
Safari Splash: P120
Super Viking: P100
Drop Tower: P100
Log Coaster: P100
---
Phase 1 Rides
Sky Eye: P150
Safari Splash: P120
Super Viking: P100
Drop Tower: P100
Bumper Car: P100 (Driver);
P50 (Passenger)

Express Train: P80
Kiddie Train: P80
Rocking Tug: P50
Nessie Coaster: P50

Wonder Flight: P50
Red Baron: P50
Double Decker Carousel: P50
Lolly Swing: P50
---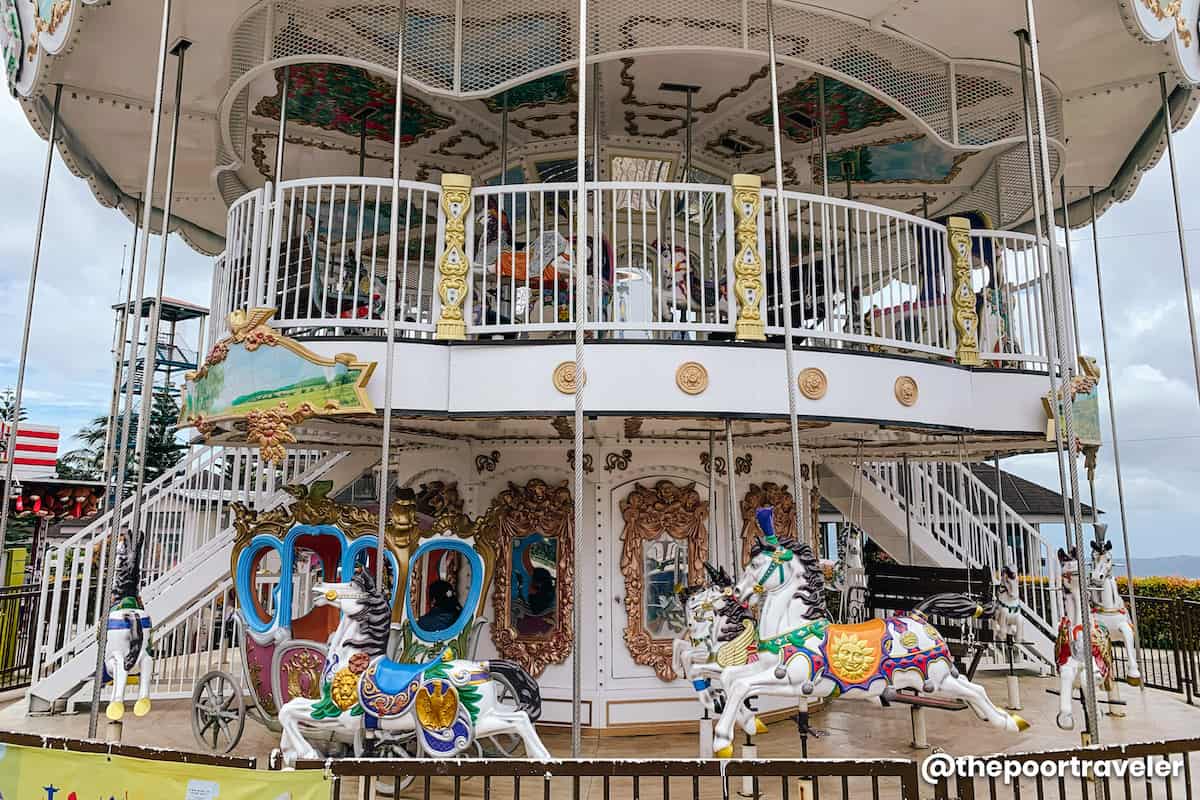 ---
Phase 2 Rides
Sky Cruiser: P100
Log Coaster: P100
City Rail: P80
Mini Viking: P50

Bumper Boat: P100
Boat Parade: P50
Fun Bike: P50 (3 minutes)
Toy Swing: P50

Fastrak Convoy: P50
Bumper Race: P100
Bubble-O-Fun: P50
---
Other Attractions
Baby Bumper: P50 (3 minutes)
4D Simulator: P100/ride
Top Drift: P100/ride
Sky Rope Adventure: P160 (20 minutes)
Playzone Soft Play: P200 (30 minutes); P300 (1 hour)
Gaming Console: P200 (30 minutes); P300 (1 hour)
XBOX: P200 (30 minutes); P300 (1 hour)
Riding Loop: P300 (30 minutes)
Zipline: P500 (two-way)
Walking Animal
Trampoline: P50 (10 minutes); P100 (30 minutes); P150 (1 hour); P300 (unlimited)
Playzone Inflatable: P50 (10 minutes); P100 (30 minutes); P150 (1 hour); P300 (unlimited)
---
Reminders:
These rates may change without prior notice.
Some rides are free of charge for children belonging to a certain age and height bracket.
Rides and attractions have age and height requirements. The usual height requirement for children is 4 feet and above; children three feet and below need to be accompanied by their guardians to ride or participate.
Both the kid and the guardian must have tickets for some rides and attractions that require a child of a certain height and age to have an accompanying adult.
---
Where can we park our vehicle?
If you are driving your own car, you don't have to worry about parking space. There are two areas for parking: the Main Parking, in front of the park, and the Annex Parking, located just across the street. Here are the rates:
P30 – Bicycle/Motorcycle
P50 – Car
P150 – Bus
---
Are there ATMs inside or nearby?
Yes! We've spotted BDO and RCBC ATMs within the park's premises, but bring enough cash in case these machines go offline or run out of cash.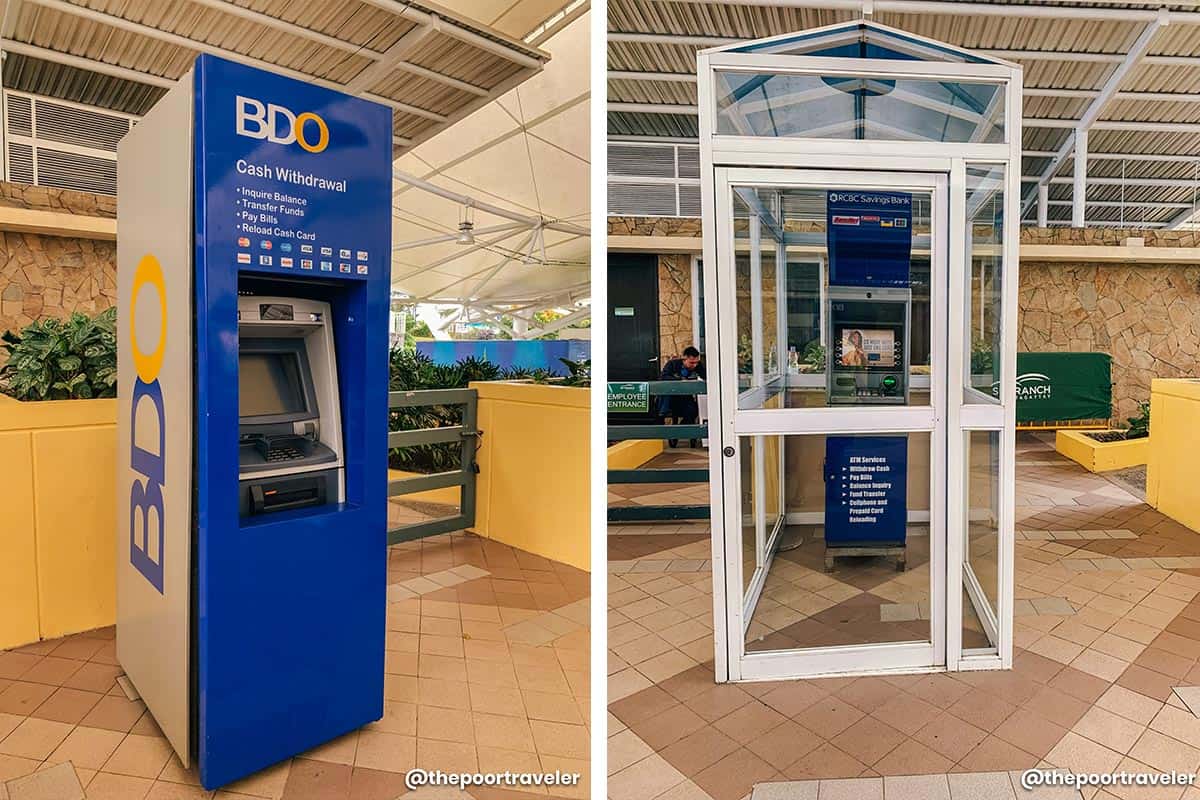 ---
How safe are the rides and attractions?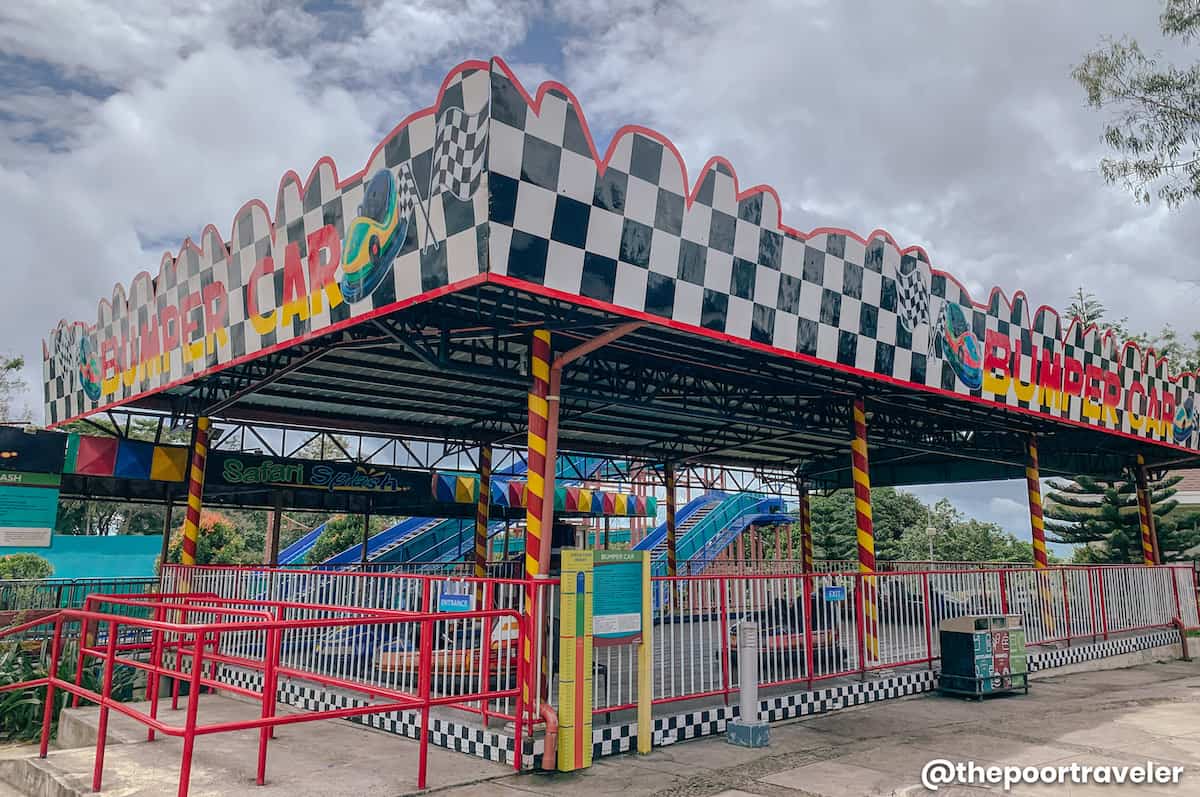 The rides have height and age requirements. These are for the protection and safety of the park's guests. The park also has its own clinic. Moreover, we need to follow the rules and regulations set by the park and always keep an eye on your belongings, especially during weekends and holidays when the park is buzzing with many visitors.
---
What are the rules and regulations inside the park?
No illegal drugs, firearms, or deadly weapons.
Individuals who are under the influence of alcohol or drugs are prohibited to enter the park.
Pets are allowed if they have diapers.
Re-entry is allowed as long as you keep your wristband with you and it's on the same day.
No outside food allowed in the park.
---
Where to eat in or around Sky Ranch?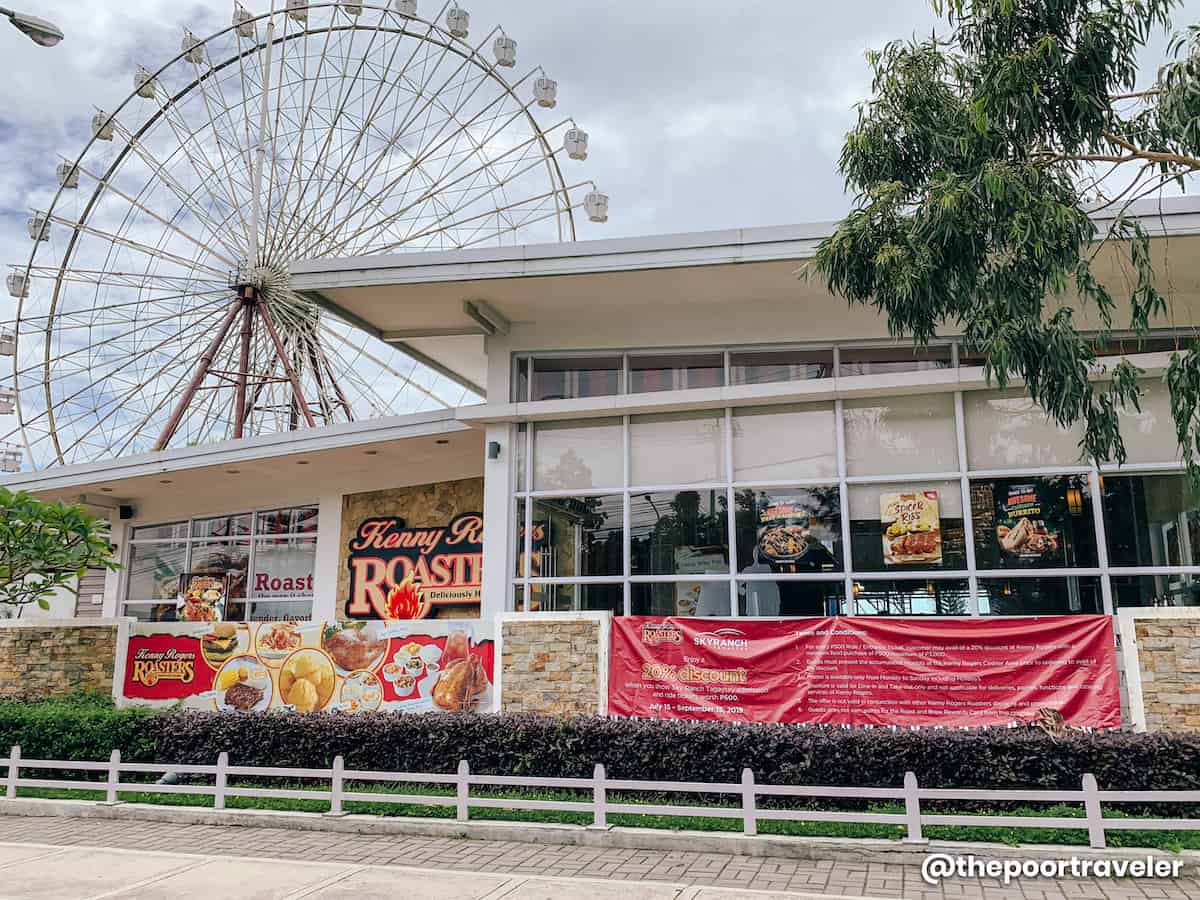 UPDATE! During our last visit in February 2021, the only available restaurant is Kenny Rogers. Pre-pandemic, you have a lot of choices for food and drinks. The property houses several restaurants and food kiosks. In case you want to know the roster of food places before Covid-19, here they are. Who knows, maybe in the future they will be back to serve again.
Food Kiosks
Potato Corner
Smootea
Buko Twix
Master Siomai
Tender Juicy

Belgian Waffle
Kettle Korn
Cotton Candy
Kerrimo
Turks
Restaurants
Kfc
Hermana
Kenny Roger's
Krispy Kreme
Kuse

Tokyo Tokyo
Leslie's Restaurant
7 Eleven
Uncle Cheffy
Mesa
There are also a lot of dining places tucked along the perpendicular alleys on the other side of the road, including Neul Borm Korean Restaurant and AHOY! Mix Mex Match. McDonald's, located across Taal Vista Hotel, can be reached in just a few minutes on foot from Skywalk.
---
Where to Stay Near Sky Ranch Tagaytay
If you decide to stay overnight in Tagaytay and Sky Ranch is your main destination, here are some of the nearby hotels and lodges available on Agoda.
---
---
Where can I contact the management for further inquiries?
Landline: 857-0100 local 1450 & 1653 (Tagaytay); 862-7704 (Metro Manila)
Email: info@skyranch.ph
Official Website: www.skyranch.com.ph/skyranch-tagaytay/
Facebook Page: Sky Ranch
---
Other Sky Ranch Tagaytay Tips
Wear comfortable clothes and footwear.
Bring sun protection.
Do not lose your admission ticket official receipt. You will need that for re-entry (for that date only).
Have your mobile phones charged full or bring a power bank.
---
More Tagaytay Travel Tips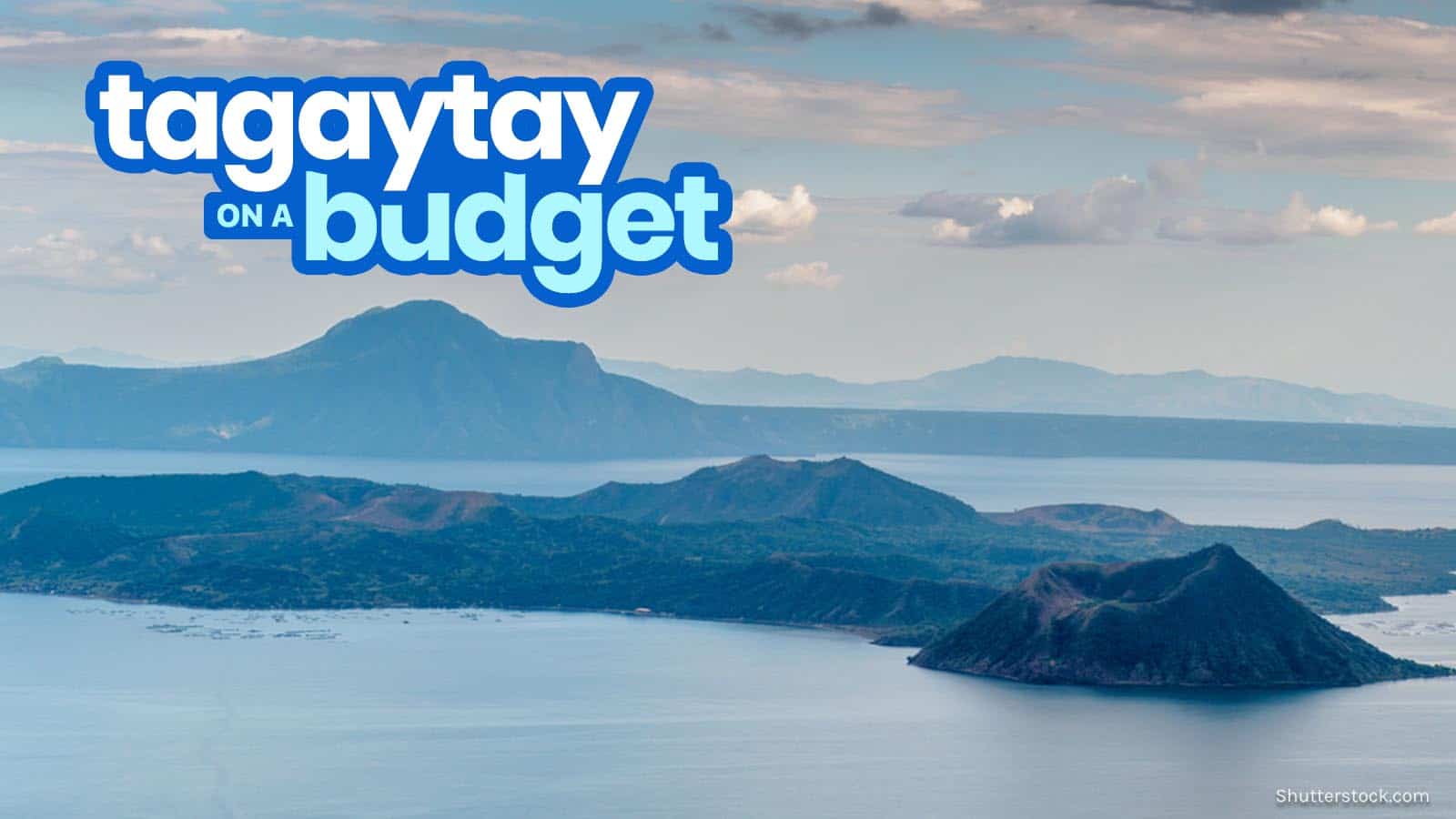 Interested in other attractions in Tagaytay? If you need help with planning a trip bigger than a visit to Sky Ranch, check out our Tagaytay Travel Guide with sample itinerary, budget breakdown and other tips.
✅ READ: TAGAYTAY TRAVEL GUIDE
---
Words by Asta Alvarez
Photos by Pycan Leynes
2️⃣0️⃣1️⃣9️⃣ • 1️⃣2️⃣ • 3️⃣0️⃣
---