Ask any local or frequent traveler and they'll probably tell you that the best way to explore Iceland is by going on a road trip via its major circumferential road called the Ring Road. By renting a car, you'll get to reach the best destinations throughout the country, including those a little bit off the beaten path.
In fact, for locals, the car remains the main mode of transportation. Why? Because Iceland has no passenger railway system and public bus options decrease significantly when winter is coming.
But not all travelers can drive or have enough time. If that sounds like you, well, you'll be glad to know that it is also entirely possible to see many of Iceland's top attractions on separate day trips from Reykjavik. The capital city is the most ideal jump-off point because it's close to Iceland's biggest airport and the majority of accommodations, travel-related offices and services, and restaurants are based here.
For carless explorers, the most recommended option is by joining a group tour. You'll find plenty of tour operators in Reykjavik and they usually cover roundtrip transfers and the services of a knowledgeable guide. Here are some day trip destinations from Reykjavik. We've included Klook links where you can book and reserve your slot.
---
WHAT'S COVERED IN THIS GUIDE?
Northern Lights Tour
This tour depends highly on weather and solar activity, so you must book this as early as you can. It's recommended to schedule it on your first night in Reykjavik because there's a possibility that it won't appear on your original schedule if the conditions are not met.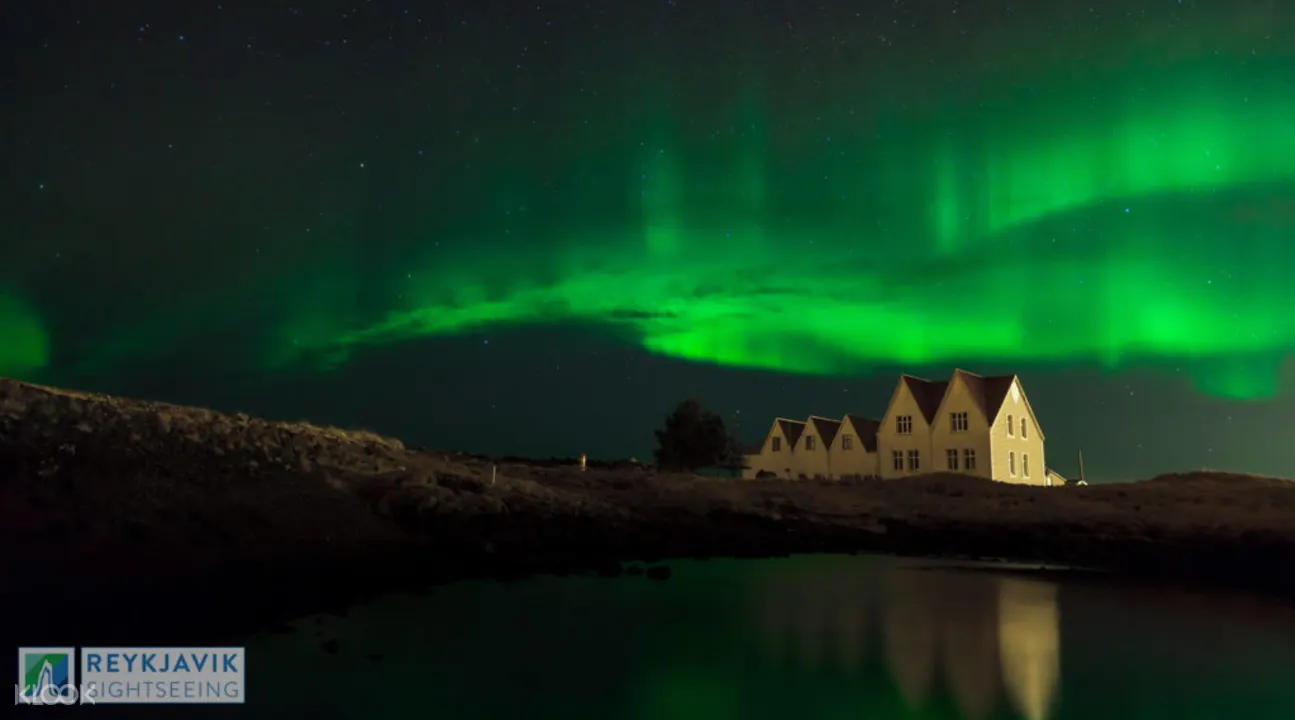 If that happens, the tour company will move it the next night without incurring additional expenses. If you still fail to catch the elusive Northern Lights on your last night in Iceland, most of the companies will give you a refund.
Booking this tour early gives you more chances of seeing it during your intended length of stay. Mid-September to mid-March is the period when the Northern Lights are most visible and happen frequently. The tour normally starts at 8PM or 9PM.
Duration: 3-4 hours
Rates: ISK 5,990 – 6,500 (EUR 37-41)
✅ CHECK UPDATED RATES or RESERVE HERE!
---
Golden Circle Tour
A huge part of Iceland's interior, the area further away from the fringes of the island and deeper into the rugged center, is uninhabited. The perimeter of the island nation is clustered with towns and cities, while the widely protected inland portion is brimming with natural wonders. The Golden Circle route involves delving deeper inland and is extremely popular among travelers. There are many travel companies offering this tour.
This route encompasses three equally incredible natural attractions: Þingvellir (Thingvellir) National Park, Geysir Geothermal Area, and Gullfoss Waterfall. The classic Golden Circle tour usually includes these three sites; some add one or two other stops. Klook is offering a day tour package that covers the following: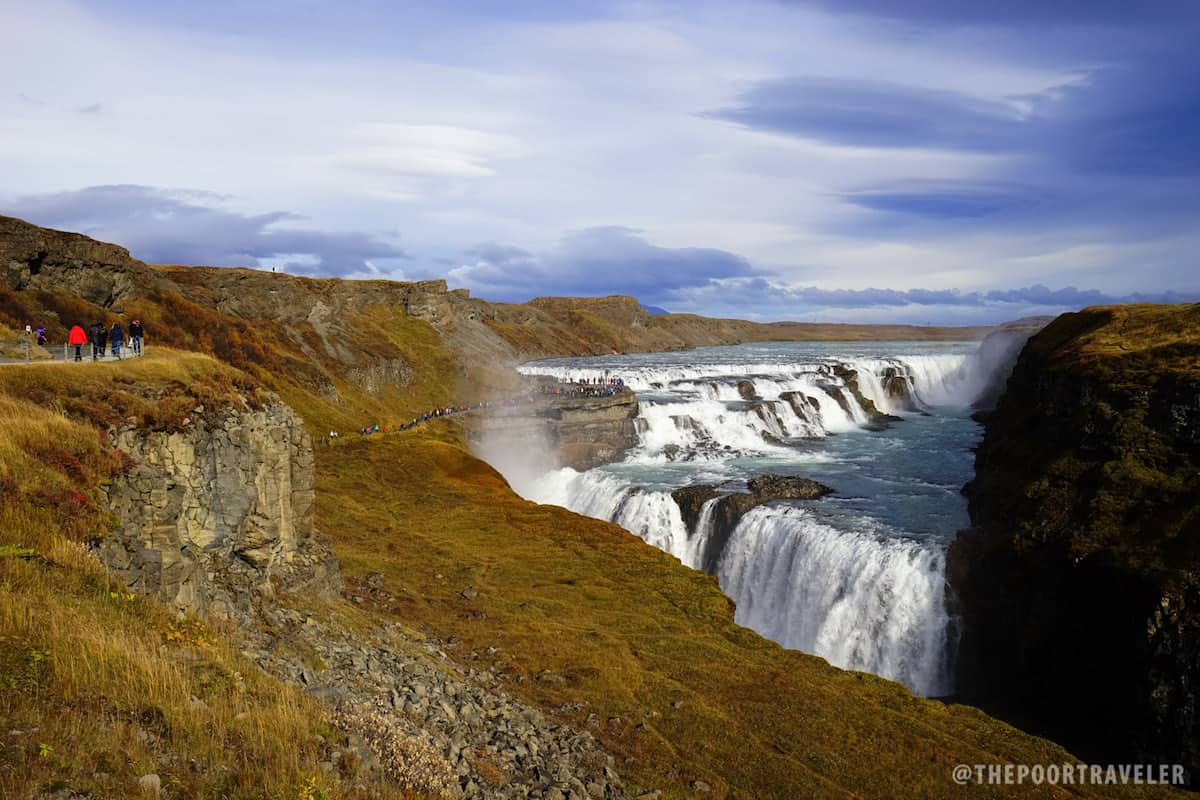 Þingvellir National Park. This is a UNESCO World Heritage Site. What makes it special? Well, aside from being the first of the three national parks in the country, this is where the North American and Eurasian tectonic plates pull apart.
Geysir Geothermal Area. The area is dotted with hot pools and fumaroles. But what makes people awestruck is the Strokkur Geyser shooting steaming water skyward. There is another geyser named Geysir, but it does not erupt as frequently as Strokkur.
Gullfoss Waterfall. Just a few minutes' drive from Geysir Geothermal Area is the mighty Gullfoss Waterfall, the spectacular cascade formed as a glacial river plummeting 32 meters into a deep canyon.
Kerið. This is a volcanic crater that emerged after a large magma chamber collapsed.
Duration: 8 hours
Classic Rates: ISK 9,890 – 12,000 (EUR 79-95)
✅ CHECK DETAILS or RESERVE HERE!
---
South Coast Adventure Tour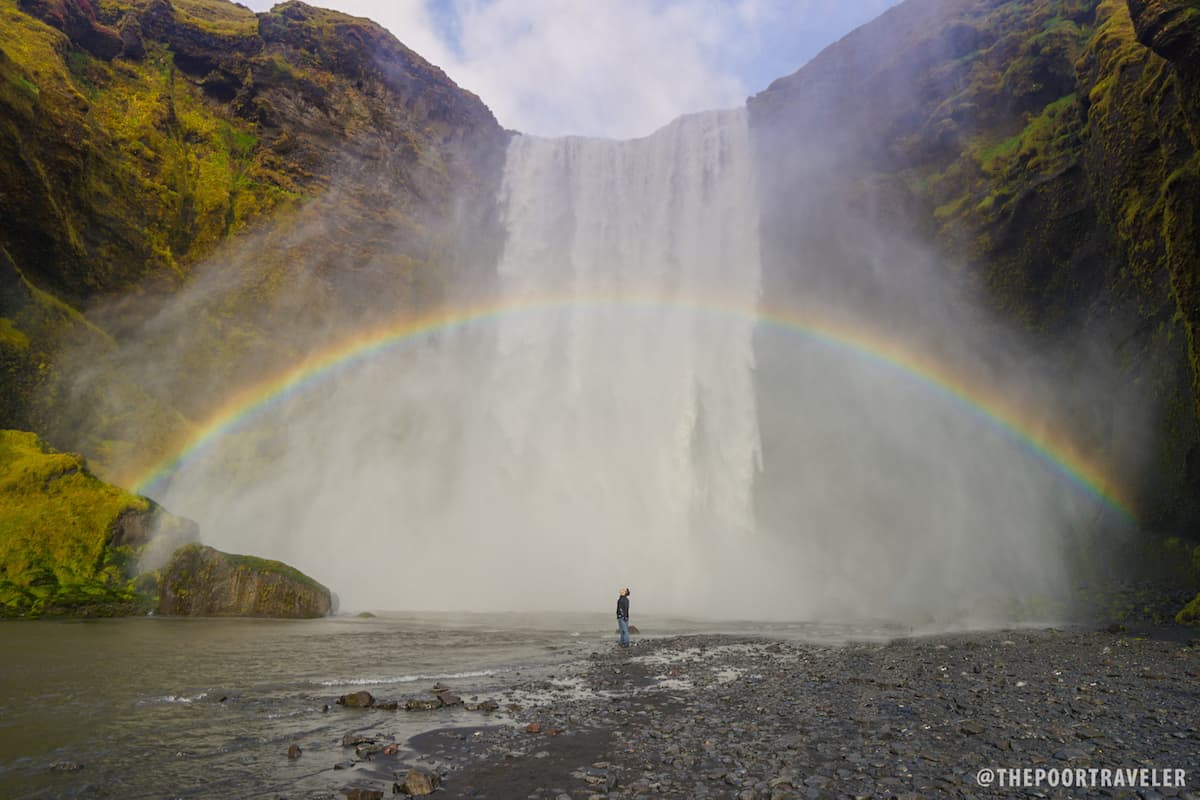 The southern coast of Iceland is home to scenic natural sites that have drawn tourists to its waves, cascades, and basalt cliffs. The itinerary of this tour includes the following stops:
Reynisfjara Beach. This is considered the most beautiful black-sand beach in Iceland. The roaring waves of the North Atlantic Ocean hit the basalt cliffs and other rock formations adorning the black shores. You can even get closer to these basalt stacks and examine them.
Vík. This is the usual lunch stop of this tour. This is Iceland's southernmost coastal village. With only 300 residents and a nearby glacier as a backdrop, the serene neighborhood is always picture-perfect.
Skógafoss. This colossal waterfall might intimidate visitors at first, but the rainbow that usually accompanies it has made the site even more fetching, captivating a lot of tourists.
Seljalandsfoss. This is another remarkable waterfalls, gushing 60 meters from a cliff. The cascades hide a walking trail that people can traverse, walking behind the falls and into a spacious cavern. Bring extra clothes if you want to walk around it.
Eyjafjallajökull. This is a small glacier-capped volcano that recently erupted in 2010, disrupting Europe's aviation industry. This tour will,let you admire it from a distance.
Duration: 10-12 hours
Classic Rate: ISK 12,990 – 14,500 (EUR 81-107)
Klook's tour also stop at Skogar Folk Museum!
✅ SEE MORE DETAILS or RESERVE HERE!
---
South Coast and Glacier Hike Tour
This tour will also take you to most stops that the Classic South Coast Tour includes in its itinerary. But because there is just soooo much to see and do on this side of Iceland, tour operators usually bundle it with other activities or combine it with other tours.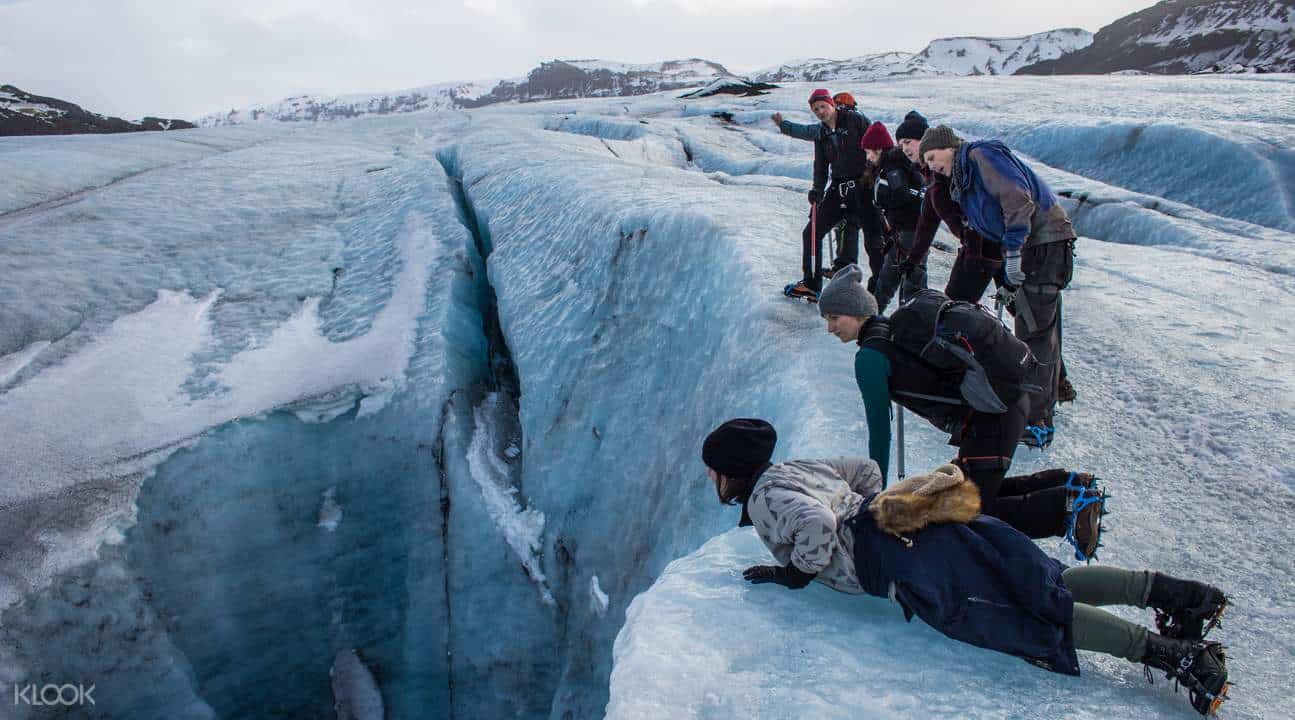 The most common activity paired with it is an hour-long hiking trip of Sólheimajökull Glacier. The standard rate is ISK 21,990 – 28,000 (EUR 162-206).
You can score a good deal when you book Klook's South Coast Tour with Glacier Walk.
✅ GET MORE INFO ABOUT THIS TOUR HERE!
---
Blue Lagoon
The picture of the milky blue water has intrigued tourists from around the world, putting it in the bucket list of many travelers. The dark lava field and rock formations highlight the light blue water of the lagoon, which is the result of the nearby geothermal plant supplying water into the pool.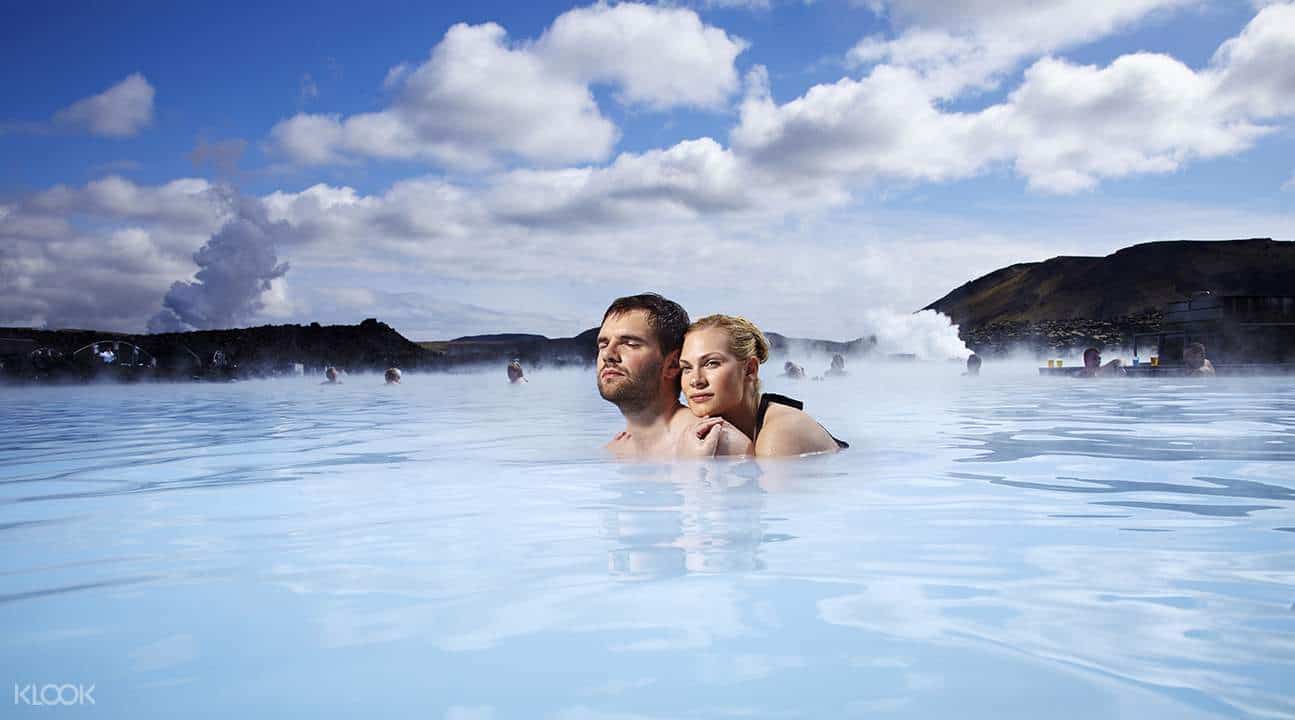 The water renews itself every two days, so it's clean and packed with silica and salt. Bathing facilities line the manmade lagoon, offering different services like spa, wellness, and retreat venues.
The Blue Lagoon is located between Reykjavik and Keflavik, close to the country's primary airport. You can either visit directly from the airport or a day trip from Reykjavik, whichever suits your schedule.
Because of its popularity, you must book in advance days or weeks prior to your visit.
Standard Rates: ISK 6,400 (winter); ISK 7,900 (summer). Additional ISK 5,000 for the transfers.
If you are going on a day tour from Reykjavik. Klook offers roundtrip transfers from Reykjavik with their tickets. Slots are extremely limited so make sure you book in advance.
✅ RESERVE TICKETS HERE!
---
Secret Lagoon
Located in the countryside, the Secret Lagoon can be reached from the city center in more or less 90 minutes. This is considered the oldest geothermal bath in Iceland, dating back to 1891. The water comes from the natural hot springs in Hverahólmi.
It also boasts a nearby small geyser is visible from the pool when it shoots up water and steam every five minutes. Compared to the more popular Blue Lagoon, the Secret Lagoon is way less crowded so if you're after a quieter time, this might be for you.
Standard Rates: ISK 3,000 (Adult); ISK 2,200 (Senior & PWD); FREE (14 y/o and below, must be accompanied by a guardian)
The best way to get to the Secret Lagoon from Reykjavik is by booking a roundtrip transfer or joining a day tour. Klook is offering a package that is inclusive of an admission ticket, a bath towel, and roundtrip transfers.
✅ RESERVE YOUR SLOT HERE
---
Snæfellsnes Peninsula Tour
Snæfellsnes Peninsula juts out in the North Atlantic Ocean on the western portion of Iceland. It is characterized by different types of landscapes. It has black sand beaches, glaciers, mountains, and one of the most significant volcanoes in the country, the glacier-capped Snæfellsjökull, dominating the westernmost part of the peninsula.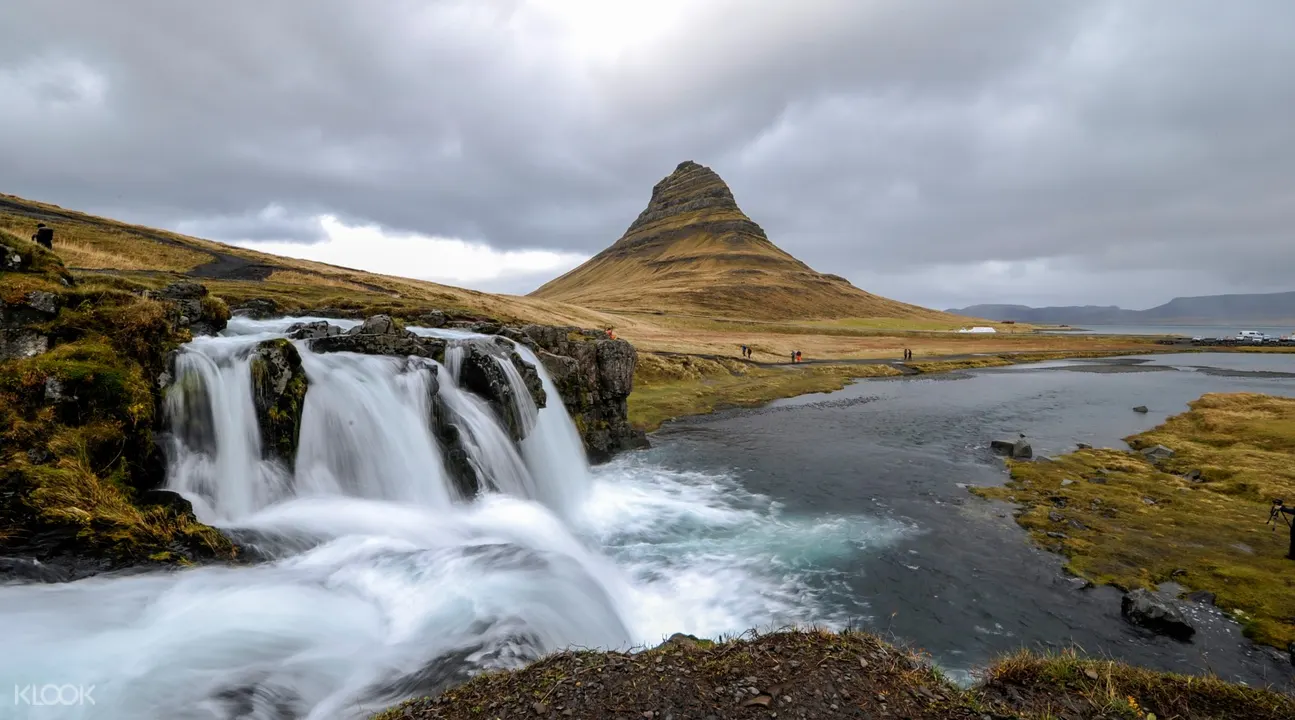 Klook's Snæfellsnes Peninsula Tour will lead you to the following sites:
Djúpalónssandur. A bay with a black sand beach located at the foot of Snæfellsjökull. You can admire the magnificent glacier-capped volcano as you explore the beach.
Kirkjufell. Located on the north coast of the peninsula, this peculiar-shaped mountain is said to be the most photographed in Iceland. It was also featured in the Game of Thrones TV series.
Ljósufjöll. This is a fissure vent system that stretches about 90 kilometers.
Lóndrangar. Located on the southern portion of the peninsula, it features two prominent basalt pinnacles that appear like pillars facing the ocean.
Fishing villages. The peninsula is home to a few small fishing villages such as Grundarfjordur, Arnarstapi, and Hellnar.
This also includes a stop at Borgarnes, the largest town in the peninsula. Other inclusions are roundtrip transfers, an English-speaking guide, and onboard WiFi service.
Duration: 10-11 hours
Rates: ISK 14,600 – 16,000 (EUR 107-118)
✅ RESERVE YOUR SLOT HERE
---
Jökulsárlón Glacial Lagoon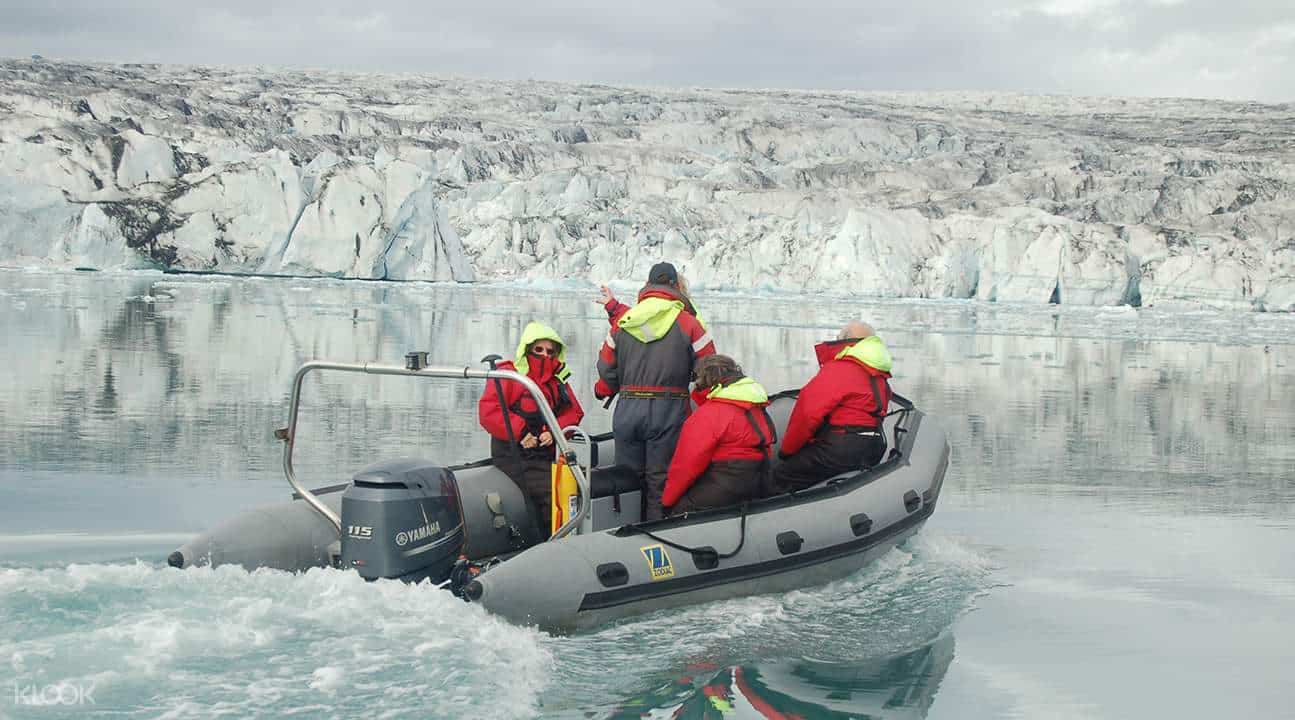 Part of Vatnajökull National Park, Jökulsárlón is a lake formed by the melting of glaciers on the southeastern coast of Iceland. It is dotted with floating bluish icebergs in various sizes and shapes.
Klook is offering a day tour package that allows you to sail in between thousand-year-old icebergs! As you head your way to the lagoon from Reykjavik, you will pass by picturesque landscapes and quaint small towns.
Duration: 14-15 hours
Rates: ISK 23,800 – 25,200 (EUR 149-158)
✅ BOOK THIS TOUR!
---
Silfra Snorkeling
Located in Thingvellir National Park, a UNESCO World Heritage Site, Silfra Fissure is where the Eurasian and North American tectonic plates meet. The clear blue water is glacial in origin. The earthquakes that occurred in 1789 created a lot of fissures in the area, including Silfra.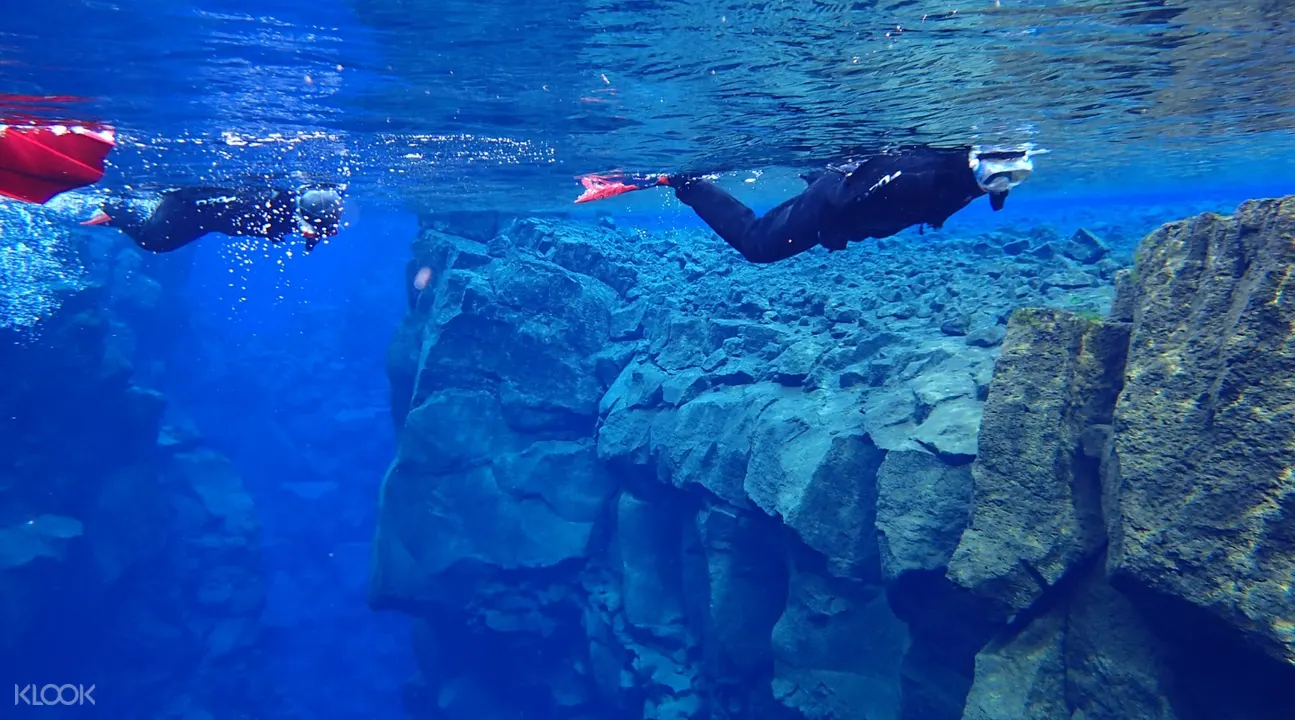 However, what made it exquisitely peculiar is the clear, cold water filling it — the result of the fissure hitting an underground reservoir of glacial meltwater.
If you are the type who likes to delve into and explore the beautiful unknown, this snorkeling experience in Silfa Fissure will satisfy your adventurous and curious spirit. Klook's tour package is inclusive of roundtrip transfers, an English-speaking guide, certified divemaster guide, snorkeling gear and drysuit, safety equipment, admission fee, and snacks — usually hot chocolate and cookies.
Duration: 3-4 hours
Rates: ISK 17,000 – 20,500 (EUR 106-128)
✅ CHECK DETAILS or RESERVE HERE!
---
Lava Caving at Leiðarendi Cave or Gjábakkahellir
Iceland is known for its volcanic activities and the resulting lava fields. But there is so much more to see beyond the surface. Underneath some lava fields are lava caves (or lava tubes) that also exhibit their own charm. They display unique natural and colorful rock formations.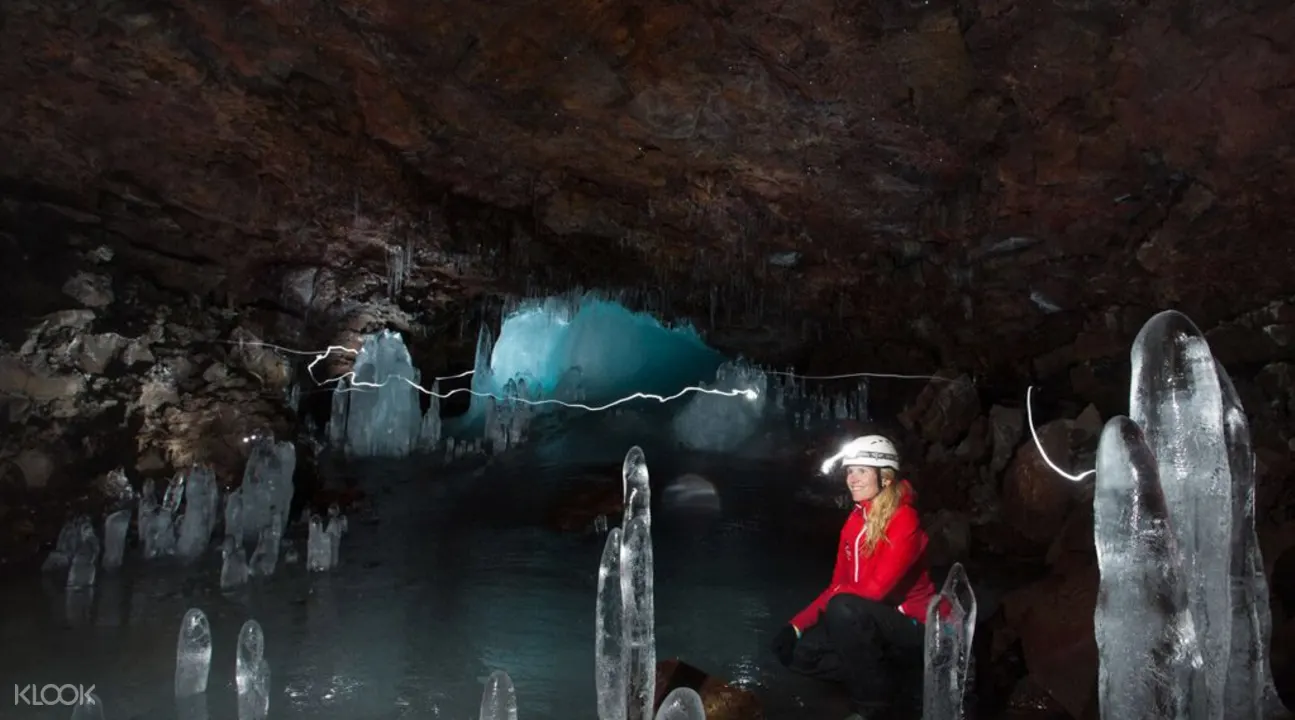 Two popular lava caves in Iceland near Reykjavik are Leiðarendi Cave and Gjábakkahellir. The former is situated further south of the city, while the latter is located in Thingvellir National Park.
Klook is offering a lava caving tour that allows you to explore the hidden wonders of lava tube/caves. You will explore Leiðarendi Cave or Gjábakkahellir, whichever is available and more accessible during your visit. The tour covers roundtrip transfers, professional caving guide, helmet, and head torch.
Duration: 3-4 hours
Rates: ISK 11,500 – 14,500 (EUR 72-91)
✅ BOOK CAING ONLY HERE!
If you want to combine this with snorkeling at Silfra Fissure, Klook is offering this tour package too!
✅ BOOK CAVING + SNORKELING HERE!
---
Katla Ice Cave Tour
Have you ever wondered what will happen when a volcano erupts and it encounters a glacial icefall? Well, you only have to marvel at the beauty that is Katla Ice Cave, which was formed when Katla Volcano erupted and met the great Mýrdalsjökull glacier, the fourth largest in Iceland.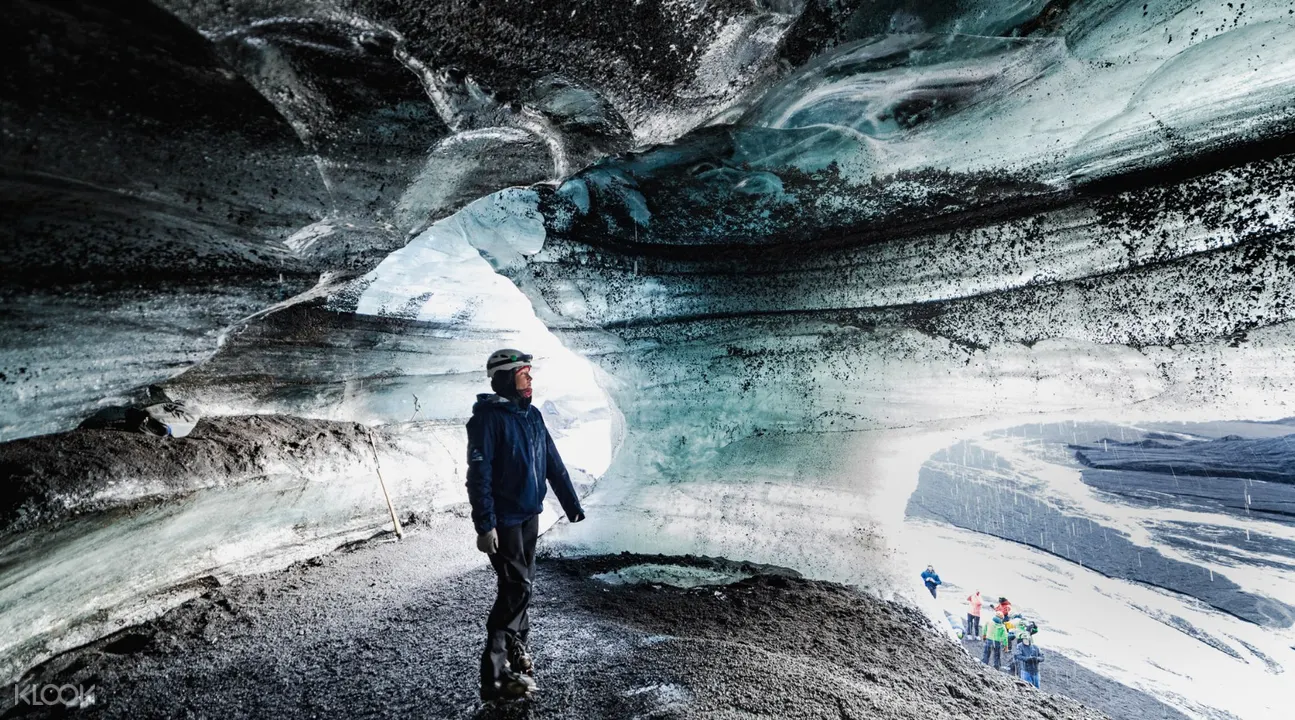 You will be greeted by a volcanic ice dome, Kötlujökull, an icefall/outlet glacier of the much larger Mýrdalsjökull. Going further into the volcanic ice cave, you will be surrounded by luminous layered ice walls in various shades of blue, black, and white.
Klook tour offers a package that also stops at Skógafoss Waterfall before heading back to Reykjavik. The package inclusions are roundtrip transfers, Super Jeep ride, glacier guide, and crampons for walking on ice.
It's sometimes called DRAGON GLASS KATLA ICE CAVE TOUR.
Duration: 11 hours
Rates: ISK 25,000 – 29,000 (EUR 156-181)
✅ BOOK THIS TOUR HERE!
---
Whale Watching Tour
If you want to encounter "big time" figures while in Iceland, you will need to get on a whale-watching vessel to meet them! Who would not be in awe seeing these enormous marine creatures? Learn more about these huge "celebrities" and other sea animals that you might see as the friendly and knowledgeable staff share information about them while you are cruising.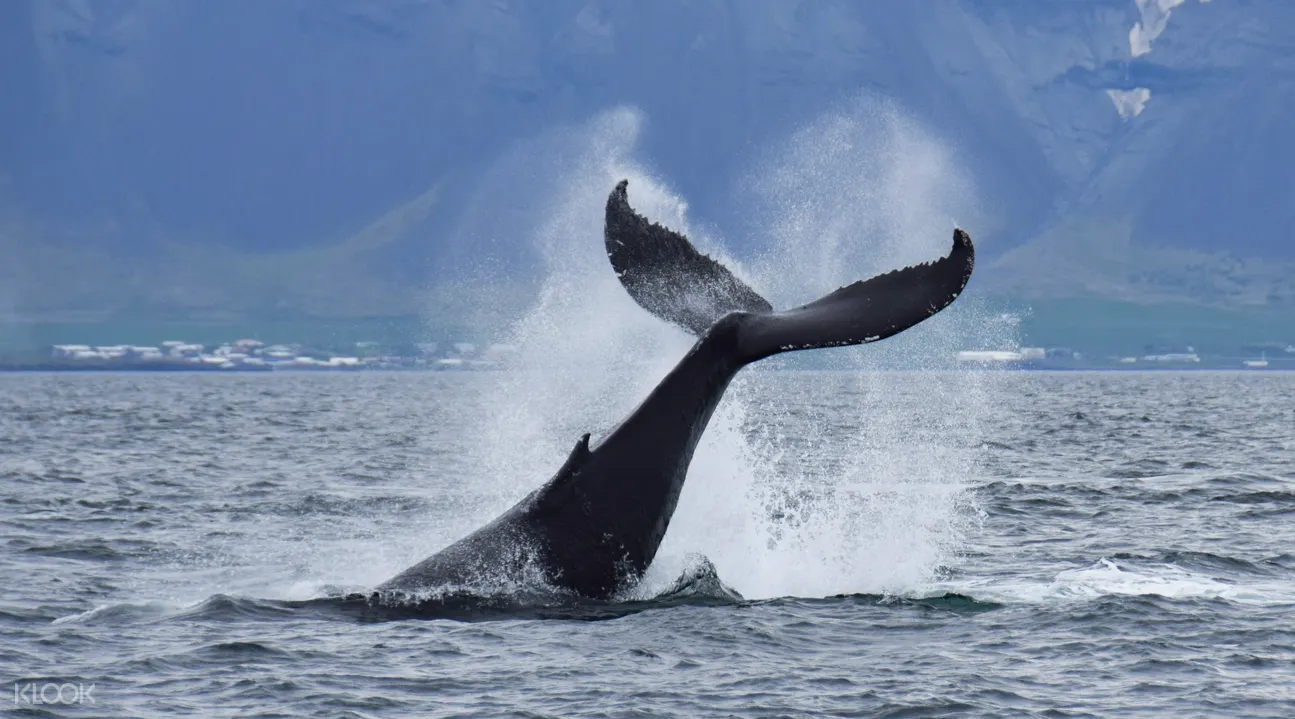 This tour follows the strict Ice Whale code of conduct. The ship has comfortable interiors and spacious exterior viewing decks. If you were not able to spot any whales on your scheduled trip, you can still join the next day FREE OF CHARGE.
Check the inclusions on Klook!
✅ BOOK THIS TOUR HERE!
---
Game of Thrones Tour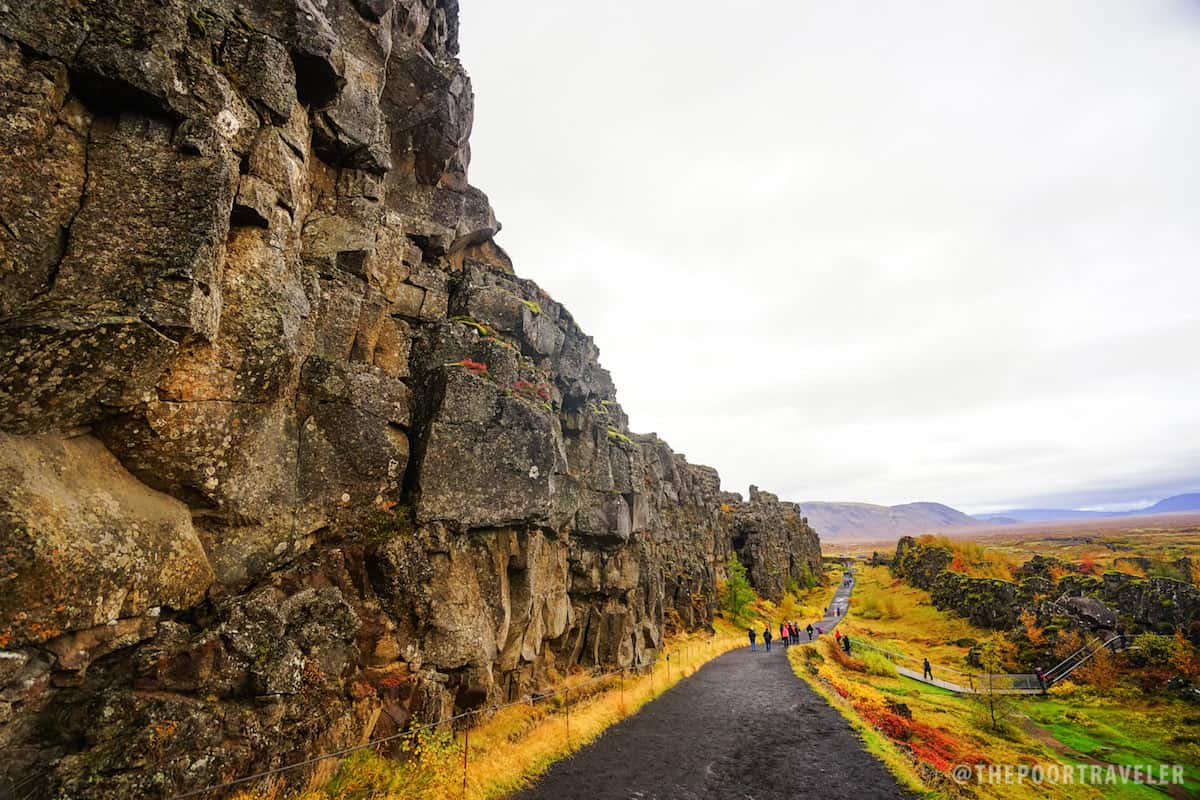 Attention GoT fans! Hold your horses and keep calm as you embark on a journey to some of the filming locations of your beloved TV series with behind-the-scene stories per stop from your guide, who is also a GoT fan.
But you don't need to be a fan to appreciate this tour. The stops are naturally stunning, even without its association with the HBO hit series. Here are some of the sites you'll visit:
Thorufoss Waterfall. This is where Brienne and Hound fought for Arya Stark and where one of Daenery's dragons attacked a herder's goat.
Þingvellir National Park. This UNESCO World Heritage Site is also famous for being the location of the narrow passageway to the Eyrie — the Bloody Gate. Arya and Sansa walked through this path on separate occasions.
Þjórsárdalur Valley. The film set where a whole village was massacred is a lodge with a settlement-era theme.
This tour includes hotel/bus stop pick up and drop off, roundtrip transportation, and professional tour guide.
Duration: 8 hours
Rates: ISK 15,000 – 17,000 (EUR 94-106)
✅ CHECK DETAILS or RESERVE HERE!
---
Langjökull Glacier Ice Cave Tour
Langjökull Glacier is the second largest in Iceland and features manmade caves. The area is also famous for extreme outdoor activities. Some portions of the ice caves have black-and-white stripes that add texture to the cave walls. Other parts are clear blue ice walls.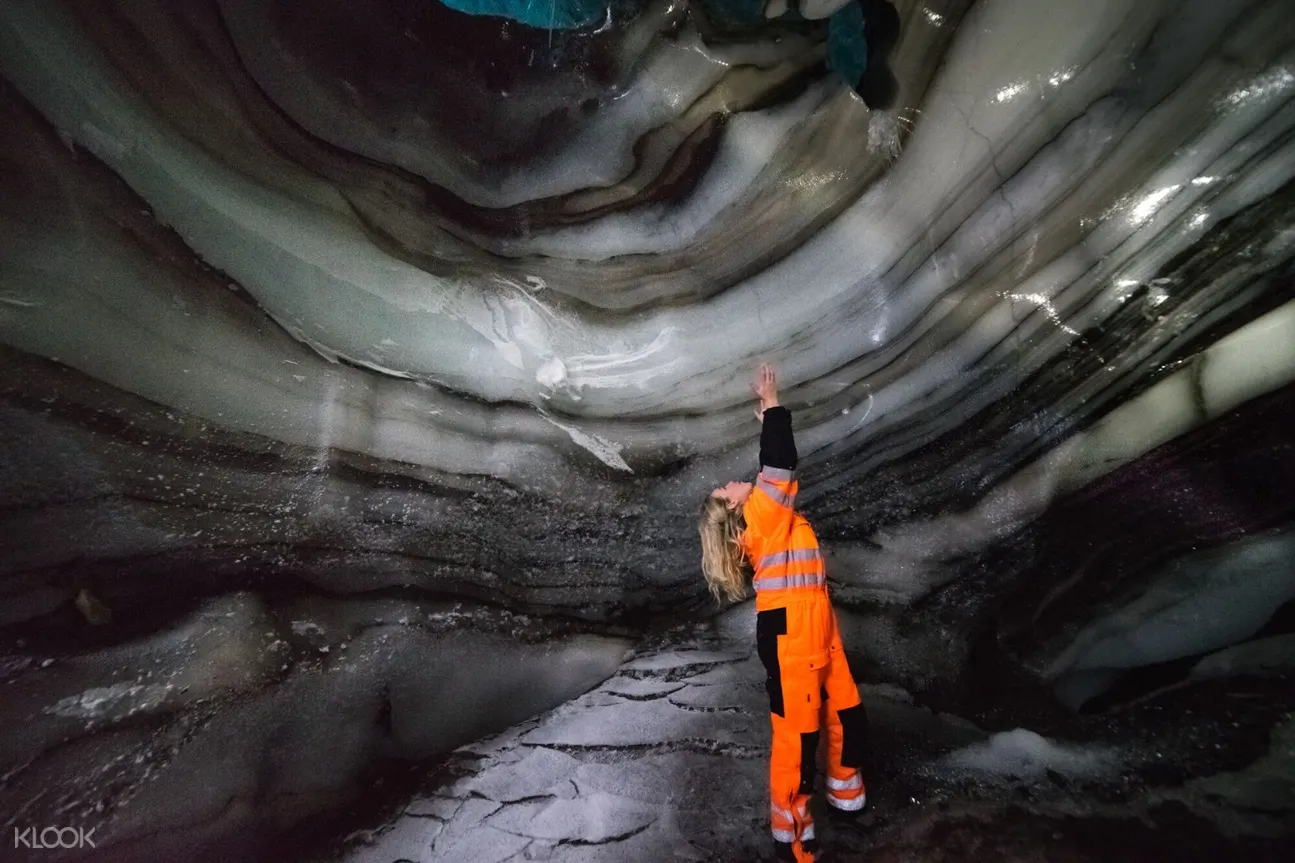 Klook has a full-day tour package that covers snowmobile rides, ice caves explorations, glacier guide, and roundtrip transfers.
Duration: 9-10 hours
Rates: ISK 20,000 – 39,000 (EUR 125-243)
Check Klook rates and reserve your slot!
✅ BOOK THIS TOUR HERE!
---
Reykjavik City Tour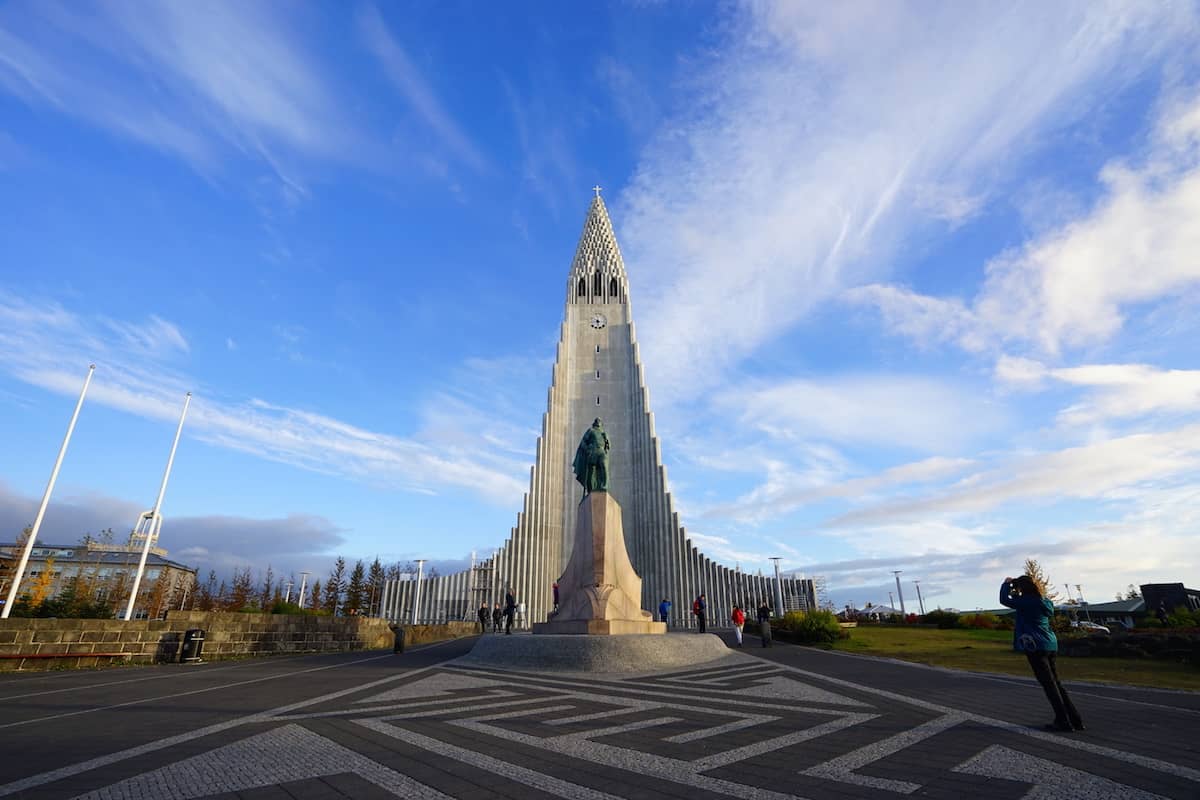 If you want to see most of the city's historic and cultural sites in a day, it is possible to pull a D-I-Y as these tourist spots are located close to each other. But if you want to dig deeper and know more about the places, you can book a guided walking tour instead.
Klook is offering an afternoon walking tour of Reykjavik that includes transportation and a multilingual guide. Some of the stops are the Hallgrímskirkja Church, Höfði House, Harpa Concert Hall, and Perlan.
Duration: 2-3 hours
Rates: ISK 7,000 – 8,500 (EUR 44-53)
✅ CHECK DETAILS or RESERVE HERE!
---
Top Reykjavik Hotels & Apartments
Here are some top hotels, apartments and guesthouses in Reykjavik that won't break the bank — at least not as hard as most other hotels — as ranked by Agoda guests. Note that accommodations in Iceland in general are pretty expensive so these are already budget-friendly by Icelandic standards.
---
Edited by Asta Alvarez
Photos by Yosh Dimen & Vins Carlos
Additional images under license from Shutterstock.com or furnished by Klook
2021 • 05 • 25
---