Welcome to Reykjavik, the capital of Iceland. The city is the economic, political, and cultural center of the volcanic island nation. Much of it lies on the peninsula jutting out to Faxafloi Bay, while the suburbs creep eastward and northward.
It is also the northernmost capital city in the world, making it one of the most accessible and most convenient places to see the mesmerizing northern lights. Aside from its natural wonders, Reykjavik is also home to some cultural attractions and eye-catching architecture.
Here are some of the best things to do and places to visit in Reykjavik. This list covers mostly the attractions in the city center and a few in the outskirts of the city. For farther attractions, we have a separate post: DAY TRIPS FROM REYKJAVIK!
---
WHAT'S COVERED IN THIS GUIDE?
Reykjavik Walking Tour
Reykjavik is a small city and most important historical and cultural sites lie close to each other, so it is entirely possible to see many of them in a day, even on your own.
But if you want to have a better appreciation of the places, you can join a guided walking tour. An afternoon walking tour of Reykjavik is available on Klook. Here are just a few of the stops: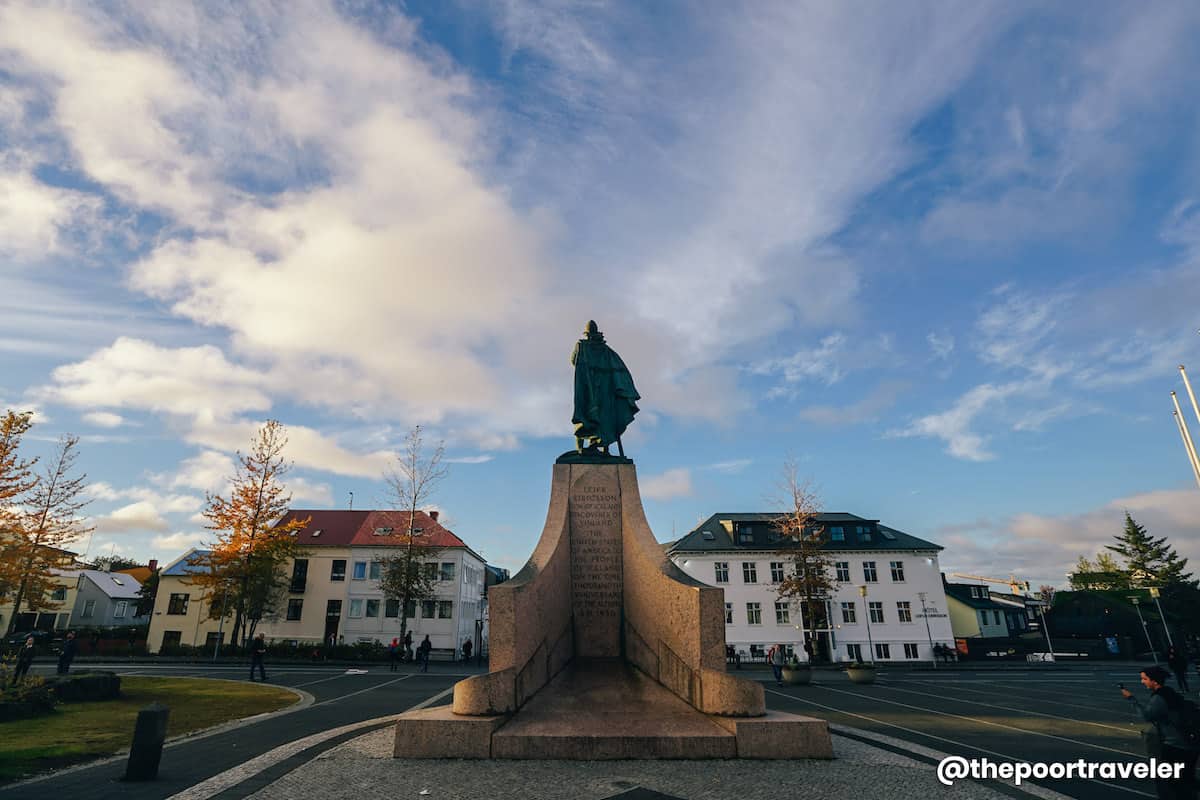 Hallgrímskirkja Church
Höfði House
Harpa Concert Hall
Perlan
Note that this is only a sightseeing tour so you'll need to pay separately if you wish to enter at your own time. The tour also covers transportation and a multilingual guide.
✅ CHECK RATES or RESERVE!
---
Blue Lagoon
One of the coveted things to do in Iceland is taking a dip in the Blue Lagoon. The image of that milky blue water against the dark lava field and rock formations entice many tourists to the manmade lagoon. Yep, you read it right: manmade.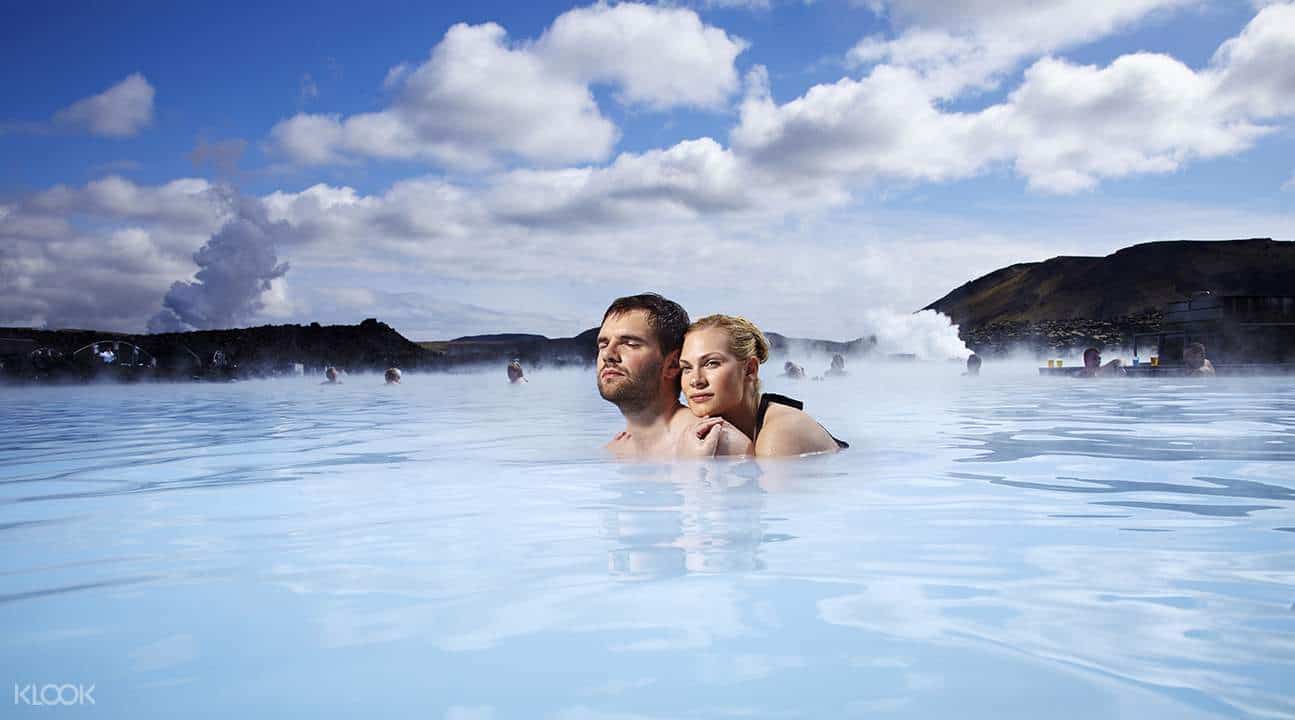 Unknown to many of us, the lagoon is the product of the nearby geothermal plant, supplying water into the lagoon. But there's nothing to worry about as studies proved that the waters are safe and, in fact, beneficial to the skin because of its silica, salt, and algae content. And the water renews itself every two days.
The geothermal spa is located between Reykjavik and Keflavik. You can either go there straight from the airport or make it your last stop before heading to the airport and fly out of Iceland. If coming from the airport, there are buses that directly shuttle visitors to the Blue Lagoon. The travel time is about 20 minutes. The most efficient way of doing it is if you book your transfers with your ticket.
You can have the service pick you up at the airport and drop you off in Reykjavik City Center. Due to its massive popularity, pre-booking is required. You need to reserve your slot days or weeks prior to your visit.
Address: Nordurljosavegur 9, 240 Grindavík, Iceland
Opening Hours: 12:00 PM – 9:00 PM (weekdays); 10:00 AM – 9:00 PM (Weekends)
Standard Rates: ISK 6,400 (winter); ISK 7,900 (summer). Additional ISK 5,000 for the transfers.
However, if that's not ideal for you, you can also just go on a day tour from Reykjavik. Klook offers roundtrip transfers from Reykjavik with their tickets. Slots are extremely limited so make sure you book in advance.
✅ RESERVE TICKETS HERE!
---
Secret Lagoon
The Secret Lagoon is another manmade geothermal pool located in the countryside, a 90-minute drive from Reykjavik. Constructed in 1891, it is considered the oldest geothermal bath in the country. The water here is supplied by natural hot springs from the geothermal area of Hverahólmi.
Compared to Blue Lagoon, it is less crowded and not as busy, so you can have a relaxing time here while enjoying the scenery. It has shower rooms for men and women, bar, and eating area. It also features a nearby small geyser that spouts steam and water every 5 minutes.
Address: Hvammsvegur, 845 Flúðir, Iceland
Opening Hours: 11:30 AM – 8:00 PM (Daily)
Standard Rates: ISK 3,000 (Adult); ISK 2,200 (Senior & PWD); FREE (14 y/o and below, must be accompanied by a guardian)
You can get to the Secret Lagoon from Reykjavik by booking a roundtrip transfer or joining a day tour. Klook is offering a package that is inclusive of an admission ticket, a bath towel, and roundtrip transfers.
✅ CHECK PHOTOS or RESERVE HERE!
---
Northern Lights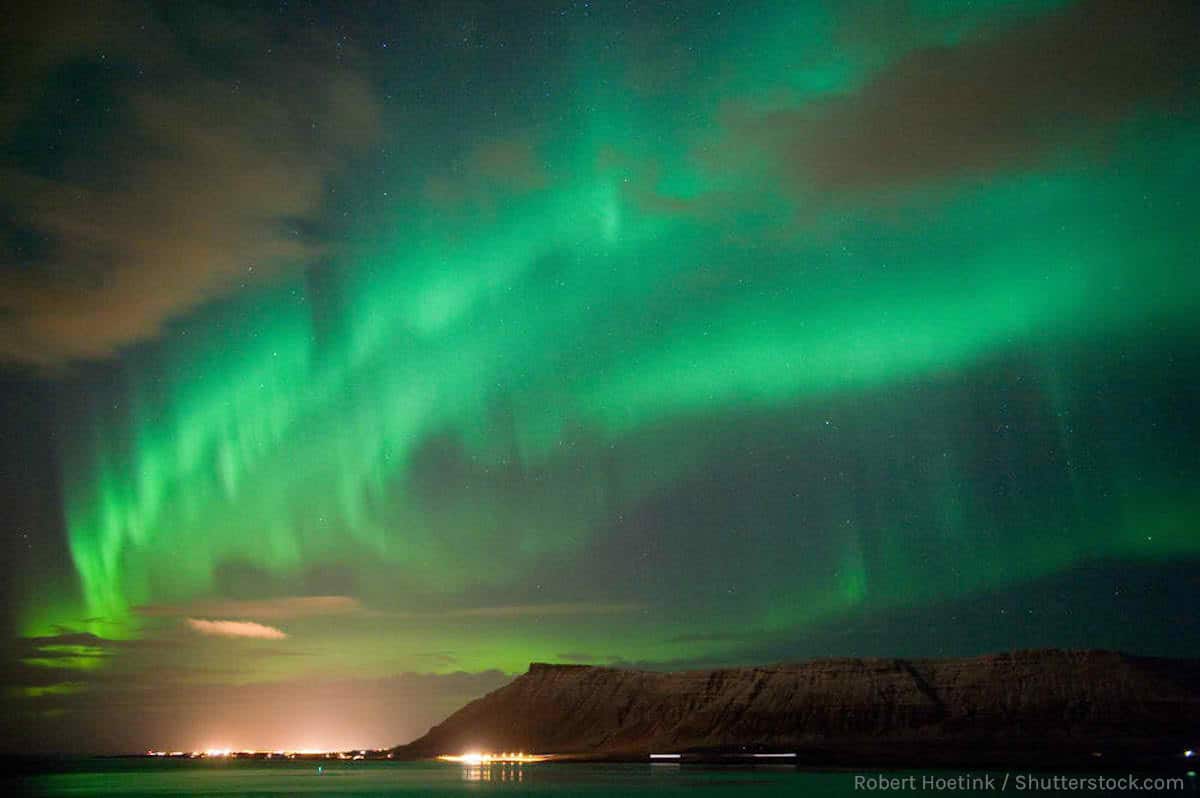 The natural magical display of lights is inarguably the main reason why tourists wander off to Iceland. If you are an aurora dreamer or hunter, you MUST plan your trip well because there are many factors in play when chasing the "elusive" natural light show: sky clarity, solar activity, and the darkness of night, just to name a few.
There's a better chance of seeing the aurora when the sky is clear or less cloudy and there's ample solar activity, usually between the months of September to April. Most of the time, you need to get out of the city to see the Northern Lights (farther north). Some even go on camping, while others join guided tours.
But if you're lucky, the lights can be so bright that they can still be clearly visible in the city center. On the 28th day of September in 2016, the city turned off its city street lamps and encouraged the residents to do the same to appreciate the brilliant dancing of lights over the city.
Another thing to consider is your intended length of stay. The longer your stay, the greater chance of seeing it. But then again, it's still not guaranteed. If you plan to stay 2-4 days, make sure that you plan your schedule well and prioritize this. Timing is everything.
For a more convenient experience, you can book a Northern Lights Tour on Klook!
✅ CHECK RATES or RESERVE HERE!
---
Hallgrímskirkja Church
One of the tallest in Iceland, this colossal structure looks like a sentinel guarding the capital.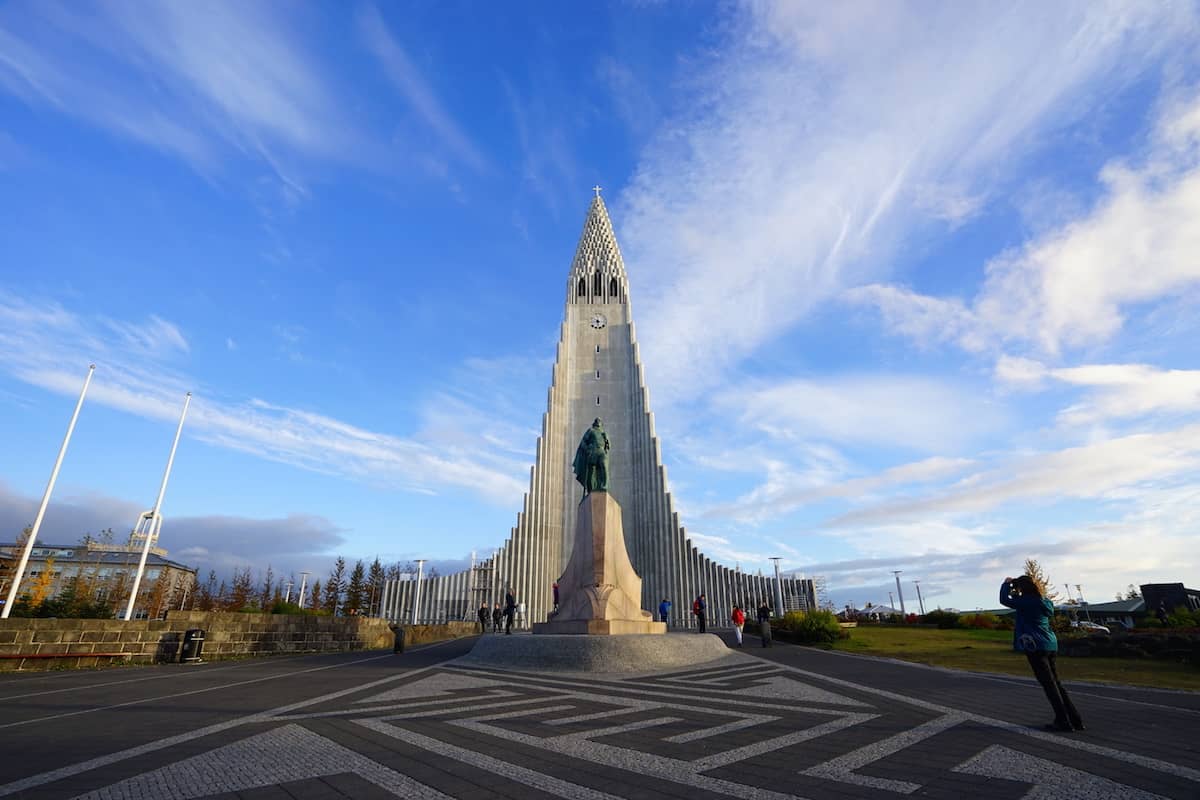 Following an expressionist type of architecture, this Lutheran church resembles and reflects the Icelandic topography, which is characterized by mountains, glaciers, and basalt cliffs. It features a 73-meter high tower that is open to the public and one of the significant landmarks in the city. It was constructed from 1945 to 1986 and was named after the poet Hallgrímur Pétursson.
You can climb to the top to admire one of the most breathtaking views of the city, for a fee.
Address: Hallgrímstorg 101, 101 Reykjavík, Iceland
Nearest Bus Stop: Egilsgata / Barónsstígur Stop (Bus 5, 15)
Opening Hours: Church 12:00 PM – 3:00 PM (Wednesday – Saturday), 10:00 AM – 3:00 PM (Sundays); Tower 12:00 PM – 2:45 PM (Wednesday – Sunday); CLOSED (Mondays & Tuesdays for both church and tower)
Admission Fee: Tower ISK 1,000 (Adult), ISK 100 (7-16 y/o)
---
Perlan
Perlan is a modern landmark with impressive structural design. In English, it literally means "Pearl", from which the building's shape takes after. Perlan is a museum that showcases the natural wonders of Iceland, particularly glaciers, volcanoes, and water.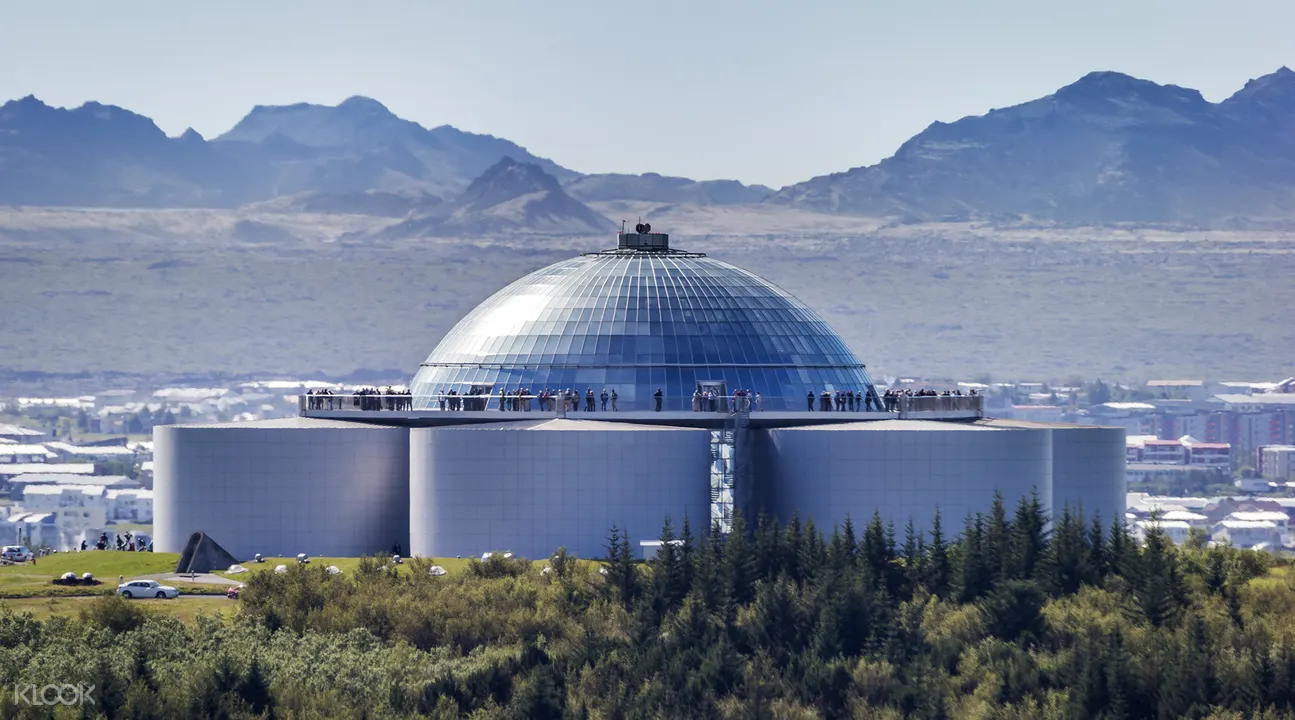 Learn how Iceland came to be from all the natural phenomenon that occurred over the millennia, mirroring how a pearl is formed — layer upon layer of natural "coating". Interactive state-of-the-art exhibits will keep you entertained while learning. The museum is perched on six hot water tanks on Öskjuhlíð hill in the city center. These water tanks supply the city of Reykjavik.
The museum boasts the world's first indoor manmade cave made of ice, a glass dome, an observation deck, and a planetarium. It also has a restaurant and a gift shop.
Address: Öskjuhlíð, 105 Reykjavík, Iceland
Nearest Bus Stop: Perlan Stop (Bus 18)
Opening Hours: 10:00 AM – 6:00 PM
Admission Fee: Wonders of Icelandic Nature ISK 4,490 (Adult), ISK 2,290 (6-17 y/o); Áróra – Northern Lights Exhibition ISK 2,690 (Adult), ISK 1,490 (6-7 y/o)
Perlan is one of the most visited attractions in Reykjavik. If you want to book and reserve your ticket in advance, Klook is offering a package that includes the museum entrance fee, ice cave, and glacier exhibition access, and observation deck access. You also have an option to include Áróra Northern Lights Film in the package.
✅ CHECK RATES or RESERVE TICKETS HERE!
---
Harpa
This modern building's cutting-edge architecture has won a lot of awards. The stunning structure is made of steel and glass panels that afford the guests the view of the surrounding mountain and the old harbor that is part of the North Atlantic Ocean.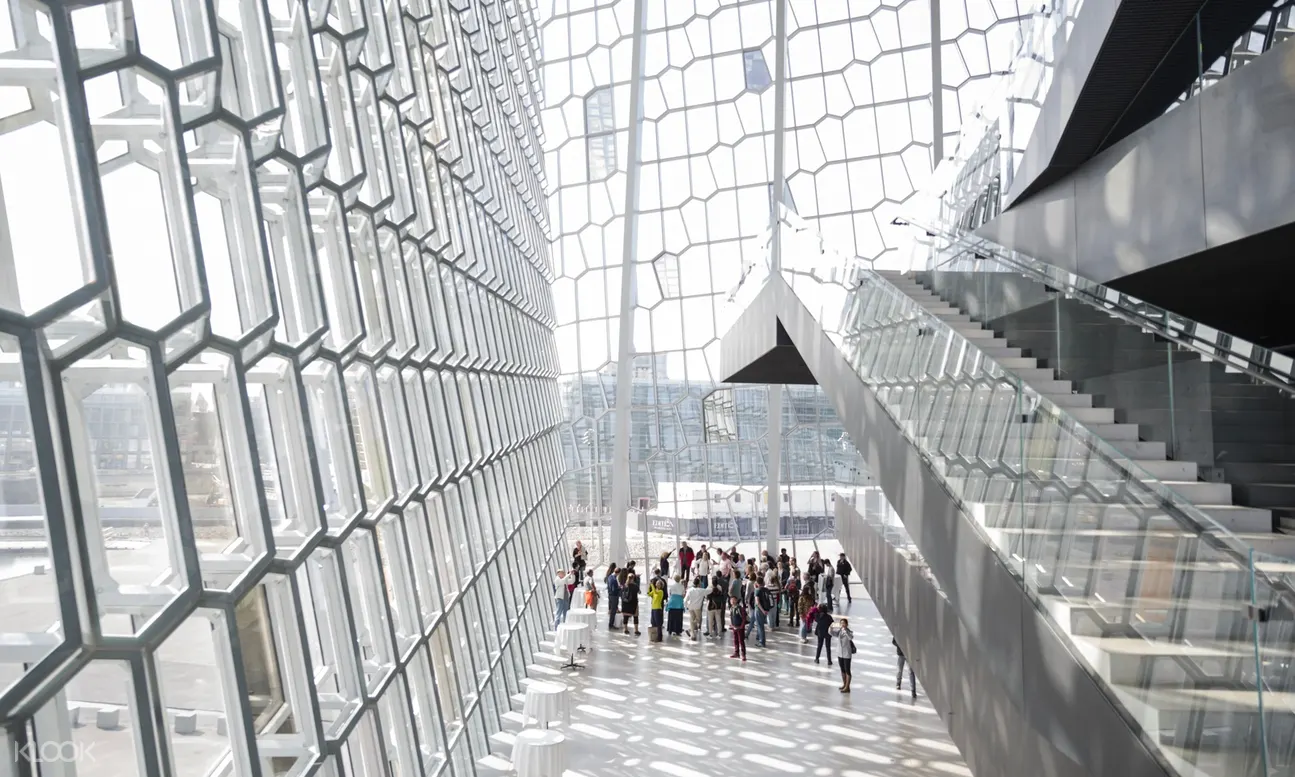 It serves mainly as a concert hall and a conference center with features that attract different types of visitors. It is also the home of the Iceland Symphony Orchestra and houses the offices of the Icelandic Opera.
Address: Austurbakki 2, 101 Reykjavík, Iceland
Nearest Bus Stop: Harpa Stop (Bus 3)
Opening Hours: 12:00 PM – 6:00 PM
Admission Fee: FREE
You can visit Harpa on your own, but there are also guided tours where you will be led to different concert halls and other interesting amenities!
✅ RESERVE YOUR SLOT HERE!
---
Lava Center
The Lava Center is located southeast of Reykjavik, where five volcanoes lie close. From the city center, it is accessible by bus; the travel time is about 1.5 hours.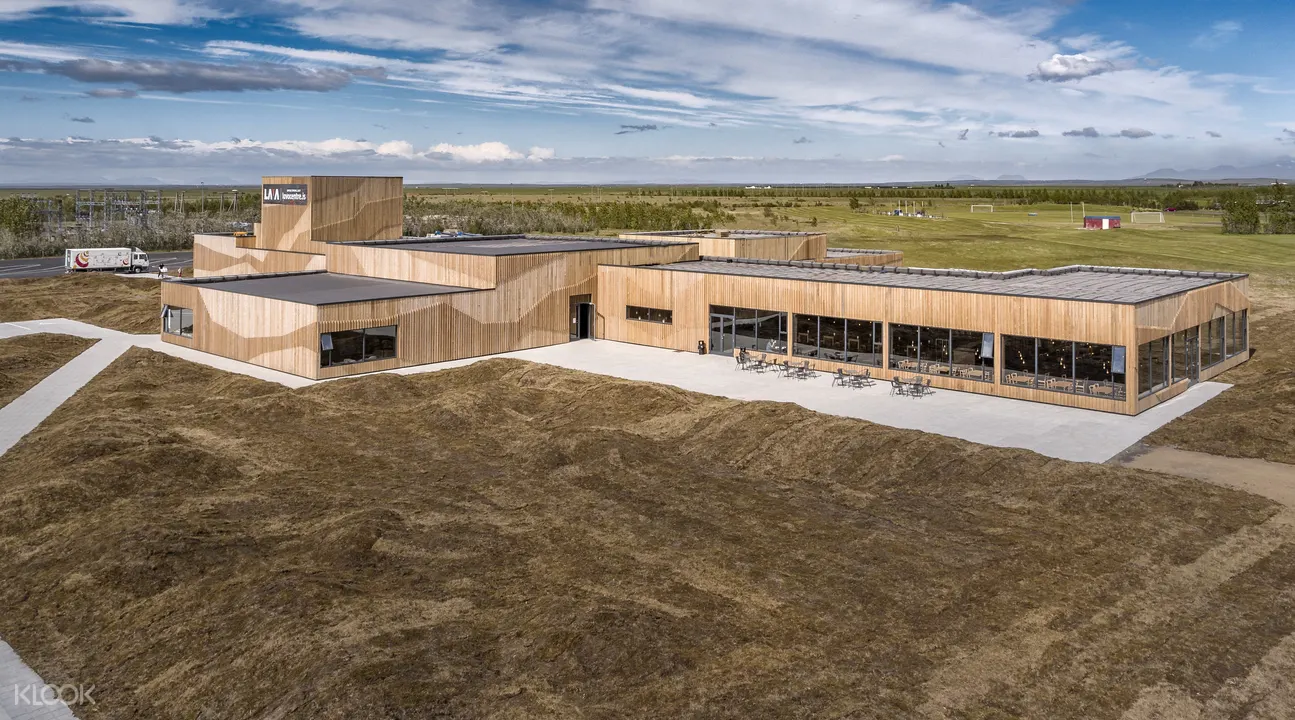 Launched in 2017, the building is dedicated to exhibitions that focus on volcanoes and earthquakes, and geology in general. There are interactive exhibits, display halls, and immersive corridors that will excite adults and kids alike. There are simulations and film viewings too! All of these are set up to tell how Iceland was formed and is still being shaped by volcanic activities and other natural occurrences.
Address: Austurvegur 14, 860 Hvolsvöllur, Iceland
Nearest Bus Stop: Hvolsvöllur Stop (Bus 52). You still need to walk for 9-10 minutes to the Lava Center from the bus stop.
Opening Hours: 10:00 AM – 4:00 PM (Thursday – Sunday)
Admission Fee: ISK 2,990 – 3,647 (Adult), ISK 1,495 – 1,903 (6-17 y/o), FREE (5 y/o and below). The ticket covers exhibition, cinema, and observation platform access.
Book your ticket in advance online via Klook!
✅ GET YOUR TICKET HERE!
---
Magic Ice Reykjavik
Located at the city center, Magic Ice Reykjavik is a Norwegian franchise with four other existing locations in Norway. The concept is an ice art gallery and a sub-zero ice bar experience.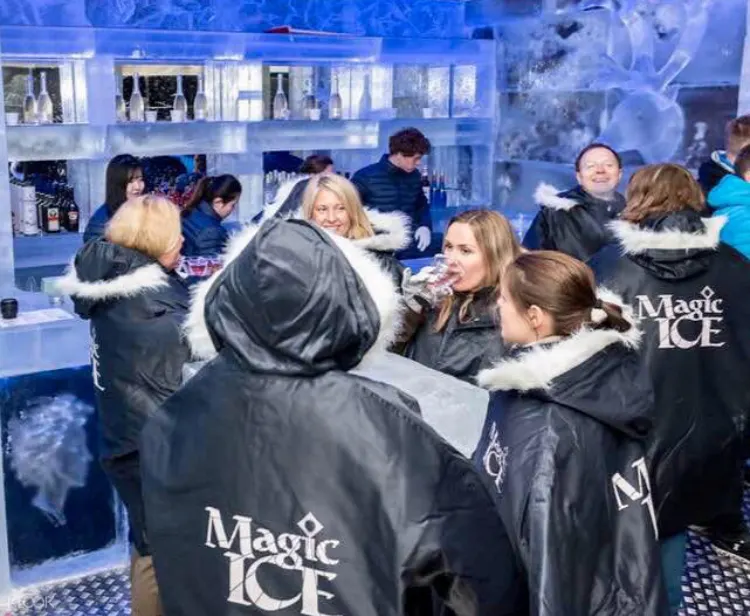 The gallery highlights the Vikings' part in Icelandic history through crystal clear ice displays and ice sculptures. The bar is also made of ice blocks and serves drinks in an ice glass.
Address: Laugavegur 4, 101, 101 Reykjavík, Iceland
Nearest Bus Stop: Þjóðleikhúsið Stop (Bus 1, 6, 11, 12, 13, 14). From there, walk towards Smiðjustígur turn to the corner where Mat Bar is located and continue walking until you reach Laugavegur.
Opening Hours: 11:00 AM – 11:00 PM (Sunday – Thursday); 11:00 AM – 12:00 AM (Friday & Saturday)
Admission Fee: ISK 3,900 (welcome drink, gloves, and poncho included)
Book the Magic Ice experience online through Klook! You can present either a printed copy or a mobile voucher.
✅ RESERVE YOUR SLOT HERE!
---
Icelandic Phallological Museum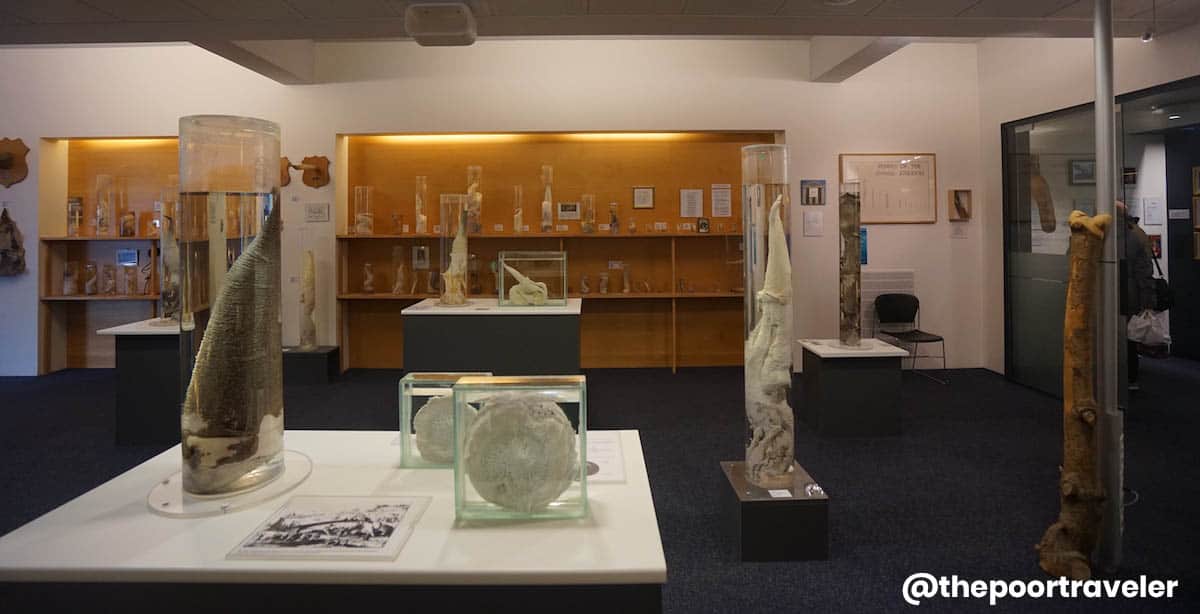 For those who lean towards the left field, one unconventional attraction that may arouse your curiosity is the Icelandic Phallological Museum.
Founded by a retired educator, Sigurður Hjartarson, in 1997, this family-managed museum has gathered over 300 reproductive organs of land and sea mammals in Iceland — currently the largest in the world. From its former location in Laugavegur, it moved to a bigger venue and is managed by the founder's son.
Aside from the real specimens, the museum also features items and crafts inspired by the male genitalia.
Address: Kalkofnsvegur 2, 101 Reykjavík, Iceland
Nearest Bus Stop: Arnarhóll / Lækjartorg Stop (Bus 3, 14)
Opening Hours: 10:00 AM – 7:00 PM (Daily)
Admission Fee: ISK 2,200 (Regular), ISK 1,800 (Reduced)
---
Einar Jónsson Art Museum and Sculpture Garden
If you plan on visiting Hallgrímskirkja Church, consider making another stop at the Einar Jónsson Art Museum and Sculpture Garden, situated nearby on Skolavorduhaed Hill.
The museum commemorates the works of Einar Jónsson, a prominent Icelandic sculptor. His works were born out of private and government commissions (public monuments) and personal projects. Several years later, he and his wife set up the sculpture garden behind the building. The museum was opened in 1923, while the sculpture garden in 1984.
Address: Eiríksgata 3, 101 Reykjavík, Iceland
Nearest Bus Stop: Egilsgata / Barónsstígur Stop (Bus 5, 15)
Opening Hours: 10:00 AM – 5:00 PM (Tuesday – Sunday); CLOSED (Monday)
Admission Fee: Museum ISK 1,000 (Adult), FREE (Under 18 y/o); Sculpture Garden FREE
---
City Hall and Tjörnin (The Pond)
Tjörnin is a lagoon-turned-lake (or -pond) right at the heart of the city. The lakeside is hemmed with a paved sidewalk that caters to both pedestrians and cyclists.
Around 50 waterbird species regularly visit the lake, so it's also a favorite place to unwind and relax. During winter, when the water freezes, the lake becomes a venue for ice skating. The Reykjavik City Hall is situated on the northern bank of the lake. Apart from being the administrative center of the city government, the building also functions as a venue for art exhibits and other events. It also houses a big 3D map of Iceland.
Address: Tjarnargata 11, 101 Reykjavík, Iceland
Nearest Bus Stop: Ráðhúsið Stop (Bus 13)
Opening Hours: City Hall 8:00 AM – 6:00 PM (Monday – Friday); 10:00 AM – 6:00 PM (Saturdays); 12:00 PM – 6:00 PM (Sundays); 24/7 (Tjörnin)
---
National Museum of Iceland
Founded in 1863, the National Museum of Iceland was first named Antiquarian Collection until 1911, when it was declared a national museum. It was housed in many national government buildings' attics before moving to its current location in 1950.
The museum aims to record and tell the cultural history of Iceland and to preserve their nation's heritage through the displays and exhibits.
Address: Suðurgata 41, 101 Reykjavík, Iceland
Nearest Bus Stop: Þjóðminjasafn Stop (Bus 12)
Opening Hours: 10:00 AM – 5:00 PM (Daily); CLOSED (Mondays from September to April)
Admission Fee: ISK 2,000 (Regular), ISK 1,000 (Reduced), FREE (Below 18 y/o, PWD)
---
Bæjarins Beztu Pylsur
This is a humble family-managed hotdog stand chain in Reykjavik that was founded in 1937 by the current owner's grandfather.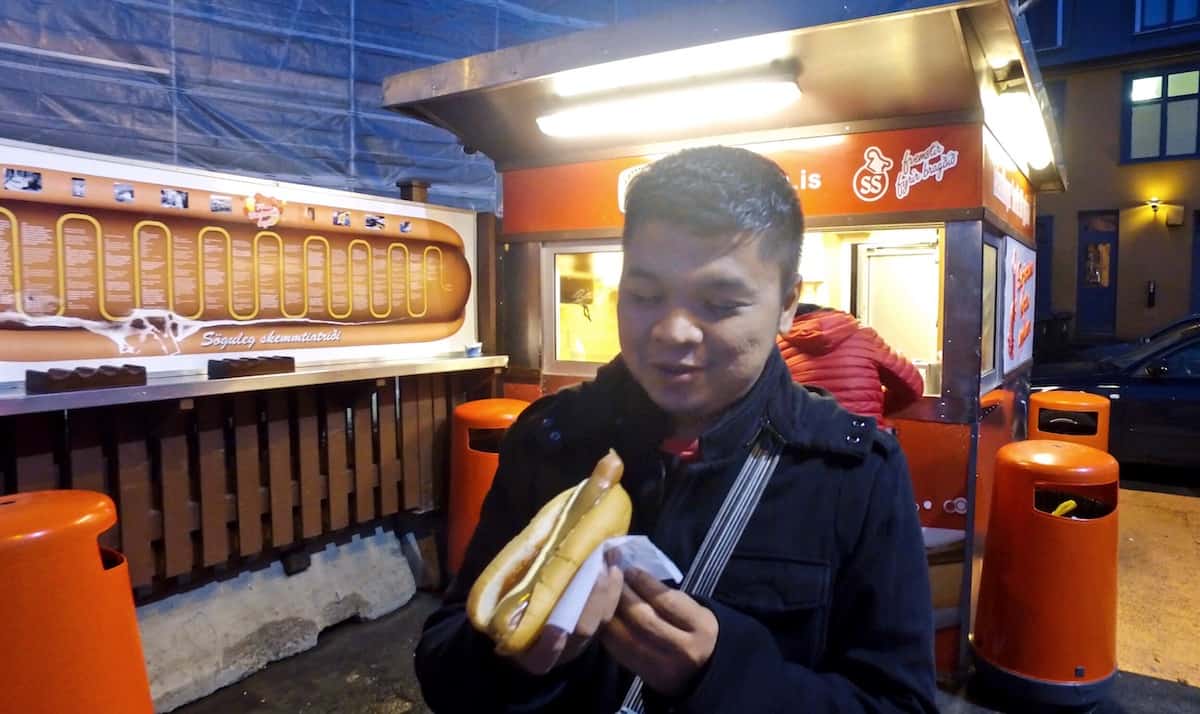 Translated in English, it says "The Town's Best Sausages", but its popularity extends far beyond the town or even the country. It is considered by many the Best Hotdog in Europe. Many famous personalities have tried it — Bill Clinton, Kim Kardashian, John Green, etc.
The flagship stand across Harpa was featured in Anthony Bourdain's travel and food program, No Reservation. We were lining up for it every single day of our stay in Iceland. Price: ISK 450.
---
DIY Food Trip
Aside from the world-famous hotdogs, Iceland also has a lot of delicious signature treats to offer visitors.
We were able to ask a few locals (including our AirBnB host Helga) for places that they go to for "cheap" eats (by Icelandic standards). Here are their recommendations that we were able to try.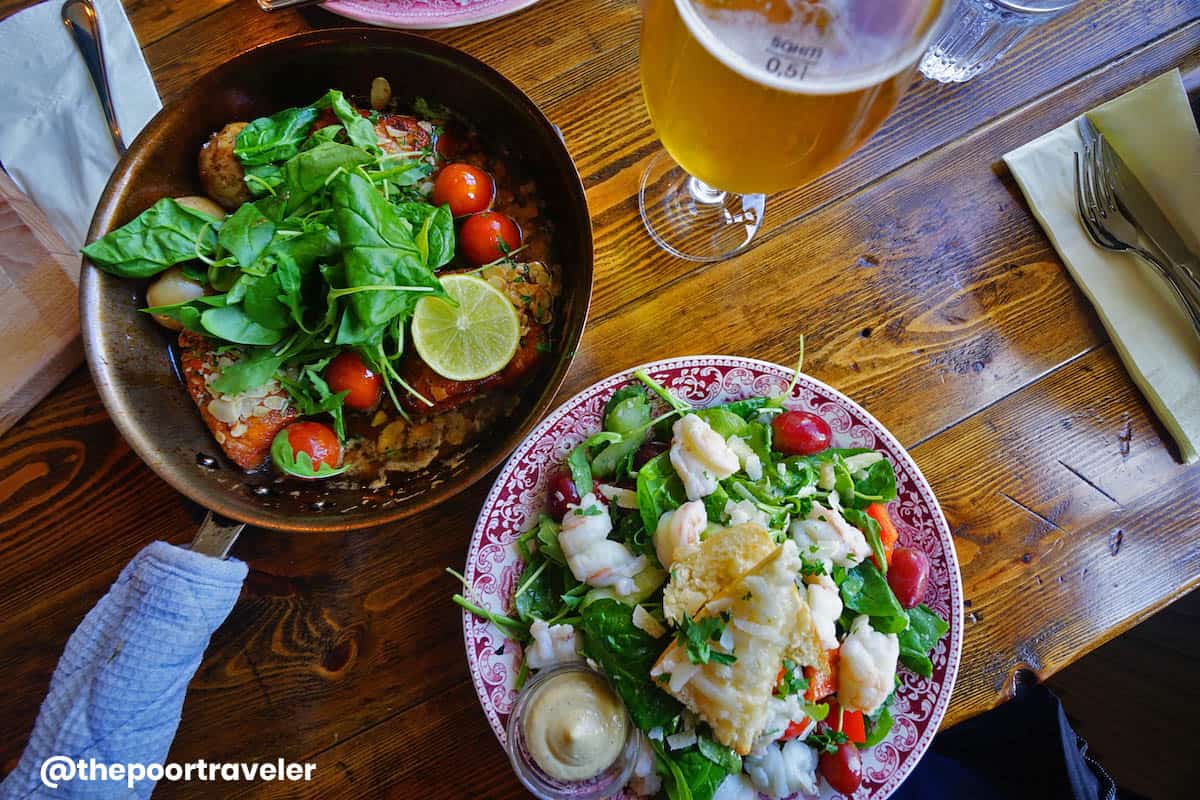 Messinn. A small restaurant serving Scandinavian dishes. Messinn gave us the most delicious meal we've had on our weeks of traveling in Europe. Order the CURED SALMON (ISK 1100) for the entree and the PAN-FRIED ARCTIC CHAR (ISK 2100) for the main course. DIVINE.
Krua Thai. This small, unassuming eatery near the Hallgrímskirkja Church offers giant plates and bowls of Thai favorites. The food here is so flavorful, it's easy to forget you're halfway around the world from Bangkok. Try their Panang Curry (ISK 1790), Chicken Noodle Soup (ISK 1490), and Spring Rolls (ISK 1550). This is our 2nd favorite resto in Reykjavik; we returned again and again.
Fish and More (Salka Valka). Their signature dish is the Traditional Plokkfiskur (ISK 2400), cod and haddock cooked with onions, herbs, and potatoes, and served with rice, veggies, butter, and rúgbrauð (Icelandic traditional bread). The place is pretty low-key and the menu short, but the servings and flavors big.
Prikið, the oldest restaurant-cafe in Iceland, was also recommended to us, but we didn't get to try it.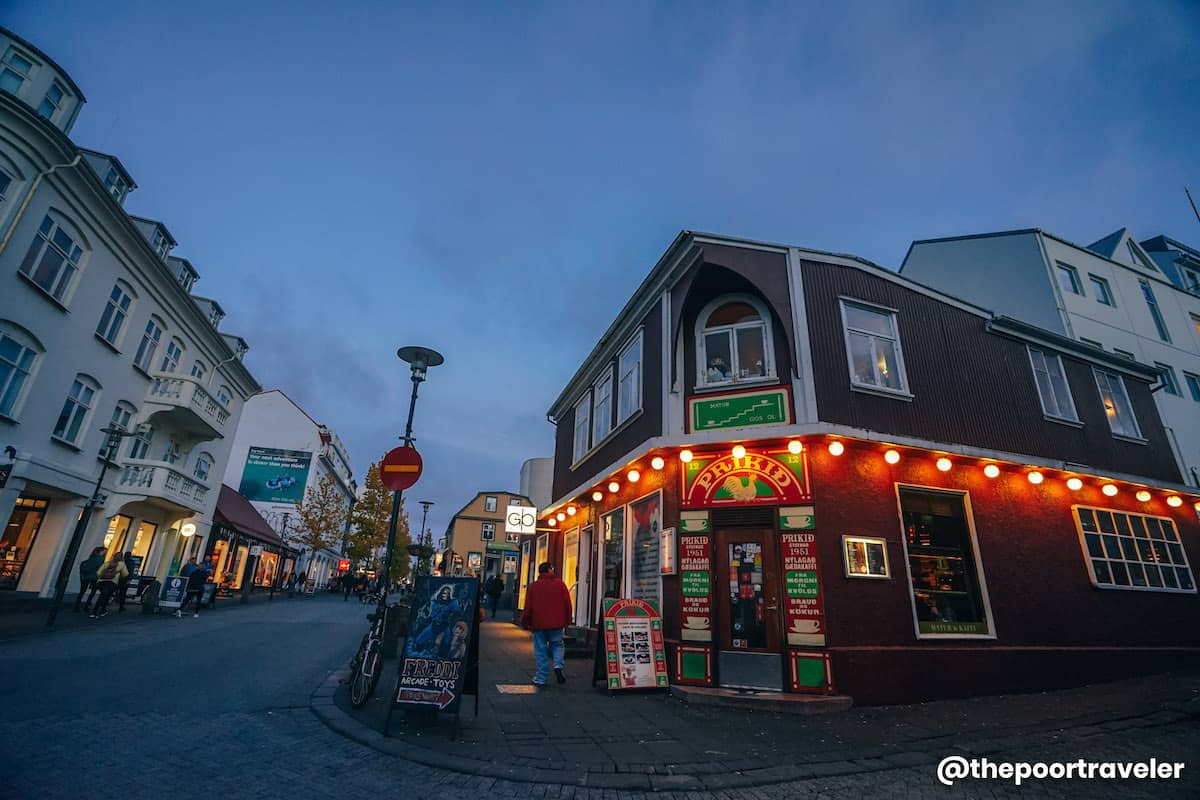 Note that Icelandic serving sizes are HUGE. I'm a pretty heavy eater but it's such a struggle for me to finish a dish even when they taste so good because there's just so much food. For example, a single order of Arctic Char at Messinn will give you 3 large chunks of that fish; it's basically good for 2. Helga, our AirBnB host, said that even she would share a dish with a friend because of this.
---
Guided Food Tour
If you want to learn more about the history of Iceland's cuisine and their food culture, you can join a guided food tour.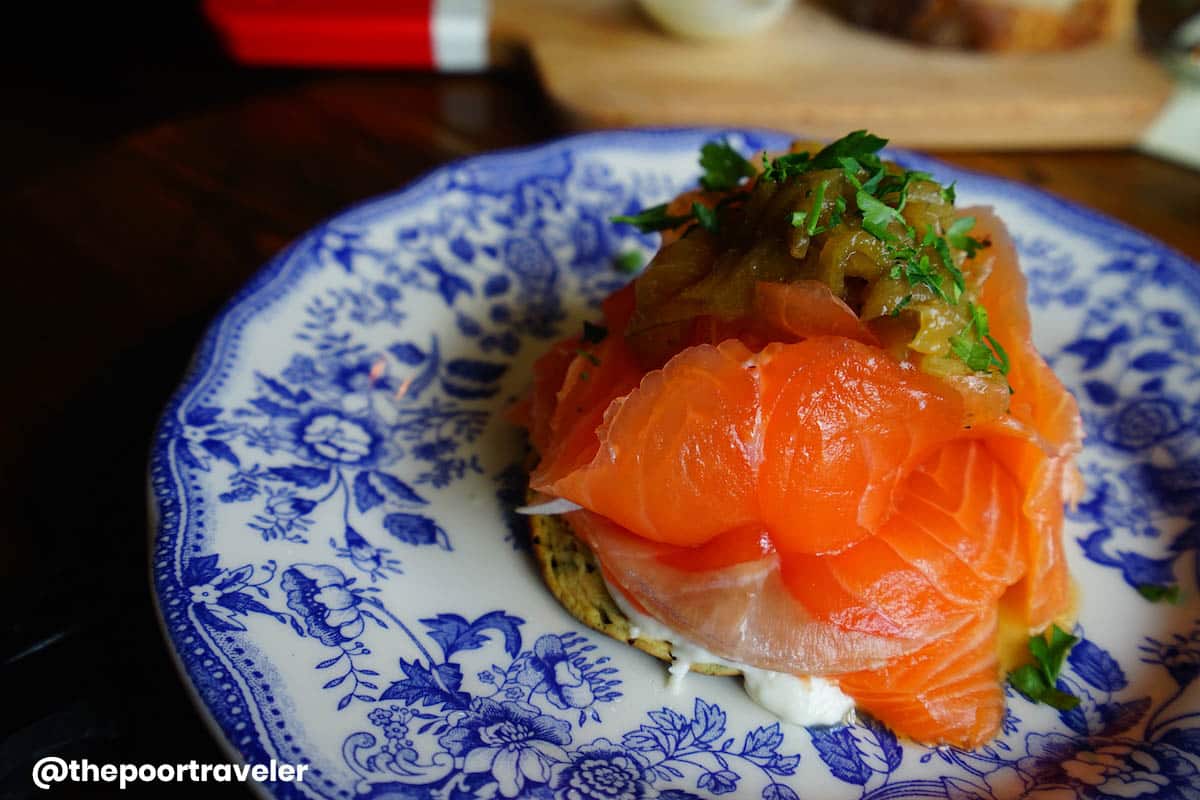 Klook has one that is conducted by a local host who will share the information about Iceland's food traditions and customs. Learn the origin of ales and craft beers and how they have become part of Icelandic culture. Enjoy your time with your host and other foodies and beer lovers as you sample six different types of Icelandic beer, paired with Icelandic signature dishes, presented tapas-style.
✅ RESERVE YOUR SLOT HERE
---
The Elf School
Did you know that more than half of Iceland's population believes in elves and other supernatural beings?
If you like otherworldly stuff or just plain curious, let yourself drift into the magical world of elves and hidden people. The Elfschool, operating for three decades now, will give you more insights and interesting stories about mythical creatures and nature spirits. Find other people who share the same fascinations as you when you reserve your slot for a class that can last up to 3-4 hours. Snacks and drinks are included in the fees. Visit their official website for more info: The Elfschool.
Address: Síðumúli 31, Reykjavík, Iceland
Nearest Bus Stop: Grensás Stop (Bus 2, 14, 15, 17). From here, walk towards Fellsmuli, and then turn to Síðumúli.
Opening Hours: Class starts at 3PM on Fridays.
Admission Fee: ISK 8,600 – ISK 8,900
---
Saga Museum
Another extraordinary museum, it highlights the key moments that shaped the course of the country's history and the plight of the Icelanders as a nation through life-size and lifelike wax figures of prominent historical figures.
You will be given an audio guide and it will narrate to you the saga of Iceland and its people in 5 different languages, including English. The narration is also accompanied by sound effects.
You can also try on a Viking costume and have your picture taken in one of the rooms. If you want to know how the museum was formed, there's also a room dedicated to that.
Address: Grandagarður 2, 101 Reykjavík, Iceland
Nearest Bus Stop: Grandagarður Stop (Bus 14)
Opening Hours: 10:00 AM – 5:00 PM (Daily)
Admission Fee: ISK 2,500 (Adult); IKR 2,000 (Student, Senior, PWD); IKR 1,000 (6-12 y/o)
---
Reykjavik Street Art
When strolling around the streets of Reykjavik, it is impossible to not notice the murals and graffiti dressing up building walls, houses, bridges, passageways, and other bare structures or spaces that are possible street art canvases.
Most of these murals are products of the collaboration between Iceland Airwaves and Urban Nation for a project titled "Wall Poetry". They teamed up musicians and artists to create murals inspired by one of each musician's songs. True to the nature of street art, some of these graffiti are gone or replaced, while others still remain.
Apart from the Wall Poetry Project, there are other street arts that add color to the city.
---
Laugardalslaug and Other Heated Pools
Heated pools are part of Icelandic culture. Locals, from kids to seniors, go to these public heated pools not only to relax and unwind but also to socialize. Many old houses in the city don't have shower rooms or bathrooms, because traditionally, they go to a public pool for that.
Reykjavik's map is dotted with several public heated pools that are powered by geothermal energy. Most of these thermal pools are outdoor and they also feature saunas, hot tubs, steam baths, and jacuzzis. The poolwater's temperature is about 28°, while the hot tubs have various temperatures that you can choose from.
Laugardalslaug is the biggest and the most popular among locals and tourists. It features a large water slide and a cold tub aside from the main pools, hot tubs, a steam bath, and other amenities.
Sundhöllin is the oldest but has just been renovated. Álftaneslaug and Lágafellslaug are the two other popular thermal pools in the city. If you want to try this, note that you have to go in naked. There are designated areas for showering and dressing, where guidelines and rules are also plastered.
---
Árbæjarsafn
To preserve the "old Reykjavik" amid the continuous modern development in the city, Árbær Museum was founded in 1957. The old and abandoned farm was converted into an open-air historical museum that looks like an old Icelandic village with traditional structures, which are carefully restored for the purpose.
There are over twenty structures inside the museum complex — traditional turf houses, stable, a historical church, granary, slaughterhouse, and many more.
Address: 4, 110, Kistuhylur, Reykjavík, Iceland
Nearest Bus Stop: Árbæjarsafn Stop (Bus 12, 24)
Opening Hours: 10:00 AM – 5:00 PM (June – August); 1:00 PM – 5:00 PM (September – May); CLOSED (Christmas and New Year). Guided tour is available daily at 1PM.
Admission Fee: ISK 1,740 (Adult); IKR 1,120 (Student); FREE (17 y/o and below, PWD)
---
The Settlement Exhibition
This museum was built on the archaeological ruins of a 10th-century Viking longhouse that were unearthed in 2001. The displays and exhibits, a combination of conventional and modern multimedia technology, revolve around the period of the Settlement Age.
The highlight is what was left of a 9th-century wall, one of the oldest manmade structures in Iceland. Apart from the relics found here, there are other Viking-related items from other excavations in Reykjavik.
Address: Aðalstræti 16, 101 Reykjavík, Iceland
Nearest Bus Stop: Ráðhúsið Stop (Bus 1, 3, 6, 11, 12, 13, 55). From here, walk towards Suðurgata. It's a short walk to The Settlement Exhibition.
Opening Hours: 9:00 AM – 5:00 PM (Weekdays); 9:00 AM – 6:00 PM (Weekends); CLOSED (Christmas)
Admission Fee: ISK 1,740 (Adult); IKR 1,120 (Student); FREE (17 y/o and below, PWD)
---
Maritime Museum
Located near the Saga Museum along the old harbor, the museum building was a former fish-freezing factory. Launched in 2005, the Maritime Museum focuses on Iceland's major industry and livelihood — fishing. It showcases how the early settlers survived by fishing and how the industry developed into a full-blown economic driver of the country.
One of the main draws is the former Coast Guard vessel, Óðinn, which was added in 2008 and was transformed into an exhibit venue. The ship is securely docked near the museum building.
Address: Grandagarður 8, 101 Reykjavík, Iceland
Nearest Bus Stop: Grandagarður Stop (Bus 14)
Opening Hours: 10:00 AM – 5:00 PM (Daily); CLOSED (December 24-26 & January 1)
Admission Fee: Museum ISK 1,740 (Adult); IKR 1,120 (Student); Óðinn ISK 1,330 (Adult); ISK 1,120 (Student); Museum + Óðinn ISK 2,660 (Adult); ISK 2,240 (Student); FREE (17 y/o and below, PWD)
---
Viðey Island
This hauntingly charming island off the coast of Reykjavik is one of the popular tourist destinations in the city. It was previously inhabited, but the village was deserted since the first half of the 1940s. It is famous for its natural attractions, perfect for hiking, birdwatching, and just enjoying nature.
A significant landmark is the Imagine Peace Tower, designed and financed by Yoko Ono as a tribute to her late husband, John Lennon, one of the members of the legendary band, The Beatles.
The church-monastery and the house of the Skuli Magnusson, hailed as the "Father of Reykjavik", are some of the historical structures on the island. Other points of interest are sculptor Richard Sierra's work, Milestones, and the graveyard, where many prominent Icelanders are laid to rest.
Jump-off Point: Skarfabakki Ferry Terminal, Old Harbour, and Harpa (Ingólfsgarður). All three operate daily in summer, but only Skarfabakki has an hourly departure. During winter, Skarfabakki is the only available ferry terminal, running on weekends only.
Ferry Fare: ISK 1,650 (Adult); ISK 1,500 (Senior, Student & PWD); ISK 825 (7-15 y/o); FREE (6 y/o and below)
---
Fish and Chips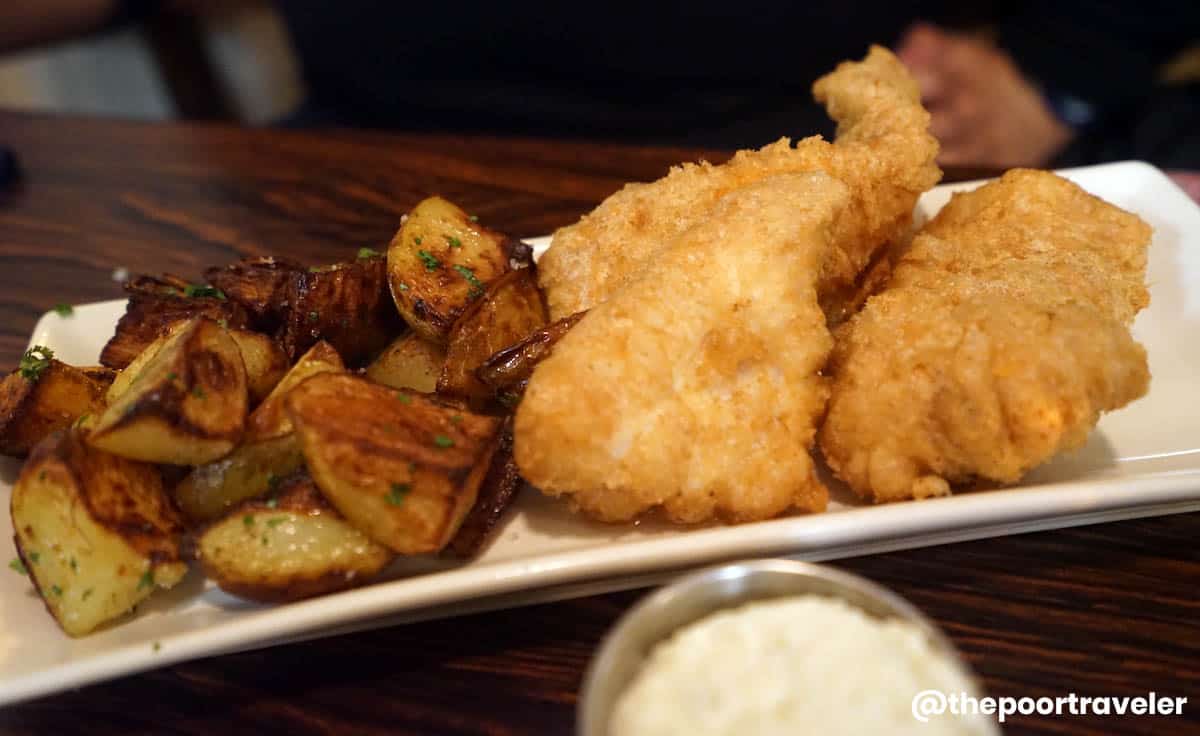 Iceland's surrounding water has blessed it with bountiful catch and seafood haul. Not surprisingly, the best restaurants in the city mainly serve fish. In fact, the Old Town is enveloped with the appetizing aroma of fried fish at dinner time, enticing you and making you crave it.
Plenty of fish-and-chips spots are scattered throughout the city. It's usually battered and fried cod, ling or haddock, with potatoes or salad on the side. It costs ISK 1700-ish to 2000.
---
Top Reykjavik Hotels & Apartments
If you're spending your nights in Reykjavik throughout your Iceland trip, here are some top relatively budget-friendly hotels, guesthouses and apartments, as scored by Agoda customers. Note that accommodation costs in Iceland in general are pretty steep so these are already inexpensive by Reykjavik standards.
---
Edited by Asta Alvarez
Photos by Yosh Dimen & Vins Carlos
Additional images under license from Shutterstock.com or furnished by Klook
2021 • 05 • 25
---
More Tips on YouTube ⬇️⬇️⬇️