When it was my turn to speak, the Kangaroo Dundee threw me a curious look as though something about what I had to say was remotely interesting. Our group gathered around him, each having their turn at sharing who we are, like a small support group in need of guidance and direction. Now that I think about it, we kind of were.
There were a father and a son from Darwin, an old couple from England, and friends from Melbourne. "How about you, boys?" he asked. "Where are you from?"
The Philippines, I said. Shocking, apparently.
"I've never had anyone from the Philippines here at the sanctuary. You're the very first ones," he shared excitedly.
"I doubt that," I replied with a sheepish smile. "But if it's true, it's our honor."
I meant it when I said it. But I didn't realize I would mean it much more by the time the visit was over.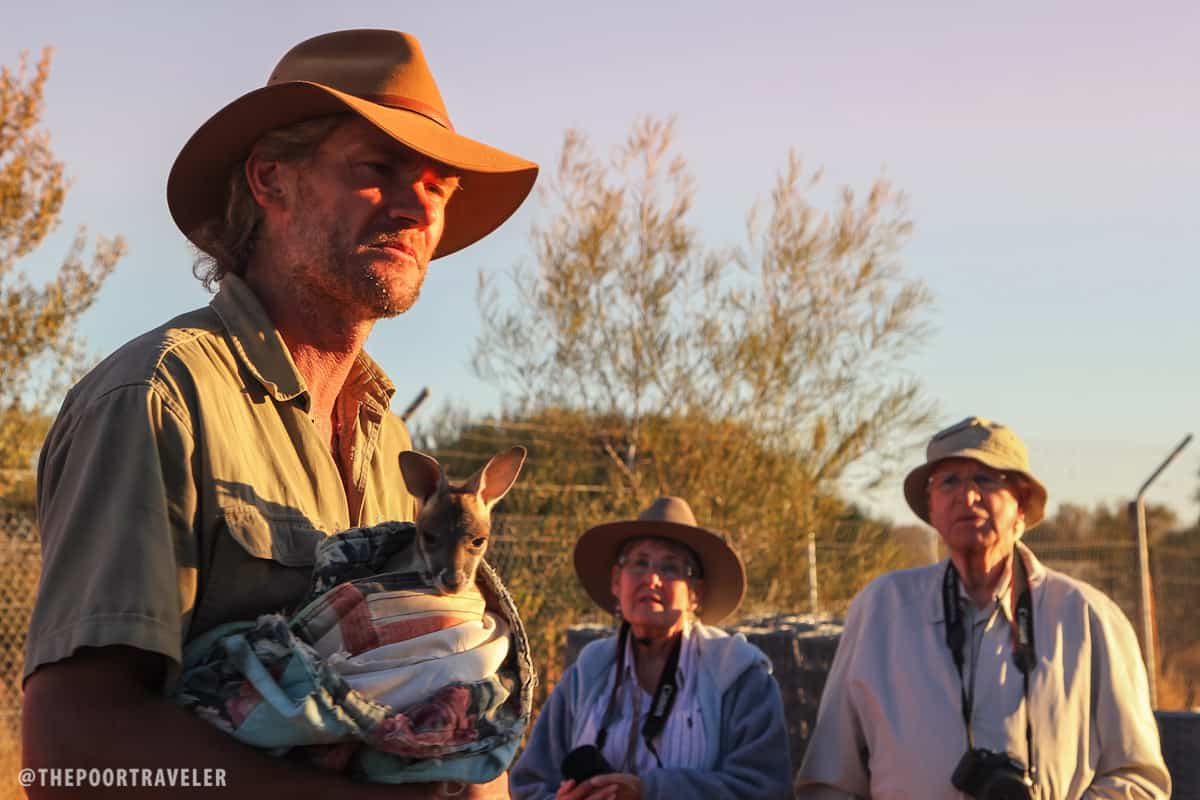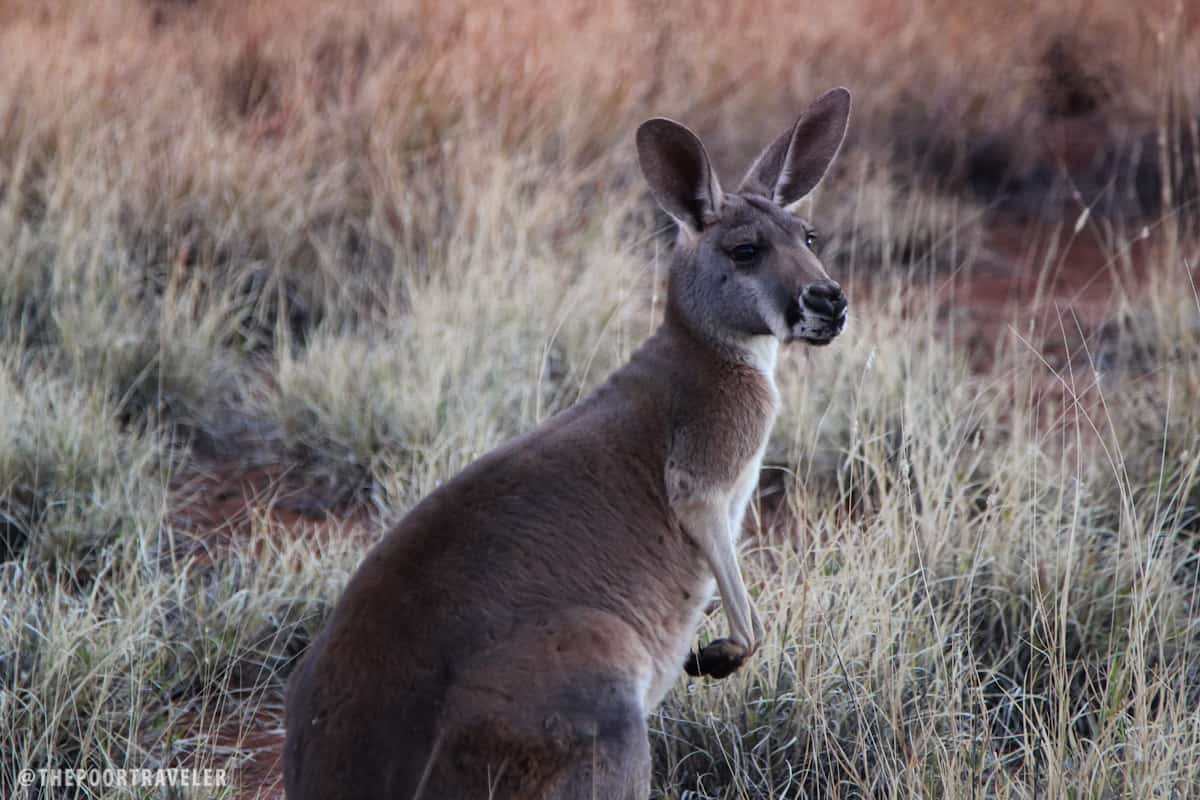 WHAT'S COVERED IN THIS GUIDE?
The Kangaroo Dundee
Roadkills are not uncommon in the deceivingly empty roads that cut across the Outback. Just on our trip around Australia alone, we almost hit an animal crossing the road many times. "Young grass usually sprout on the roadsides," Brolga shared. "And kangaroos love this fresh, green grass."
It's no surprise then that one of the most usual victims of roadkill is — wait for it — kangaroos. It is usual in the Outback to find a dead kangaroo lying by the road. It is also usual for people to just pass by them. Dead kangaroo. Boring. Next. But one day in 2005, something unusual happened. Someone stopped. That someone was Chris "Brolga" Barnes, and he was at the time working as your typical tour guide doing something not so typical: check the pouch of the kangaroo. In the pouch, he found a joey, a baby kangaroo, and decided to be, however unlikely, its new mother.
Brolga later set up the Baby Kangaroo Rescue Center, where he accepted more joeys even from other people who would stop and check the pouch of dead kangaroos. Today, it has evolved into a 90-acre kangaroo sanctuary which shelters around 30 individuals. It wasn't long before international media took notice. BBC featured his advocacy in a TV documentary show called "Kangaroo Dundee," exposing his good deed to more audiences worldwide.
"We're huge fans," the couple from England shared nervously. Brolga nodded a little bit and shook their hands. He thanked them before asking if the old lady wanted to carry the joey he had been carrying in what looked like a pillow case, a substitute for a pouch. She was more than happy to.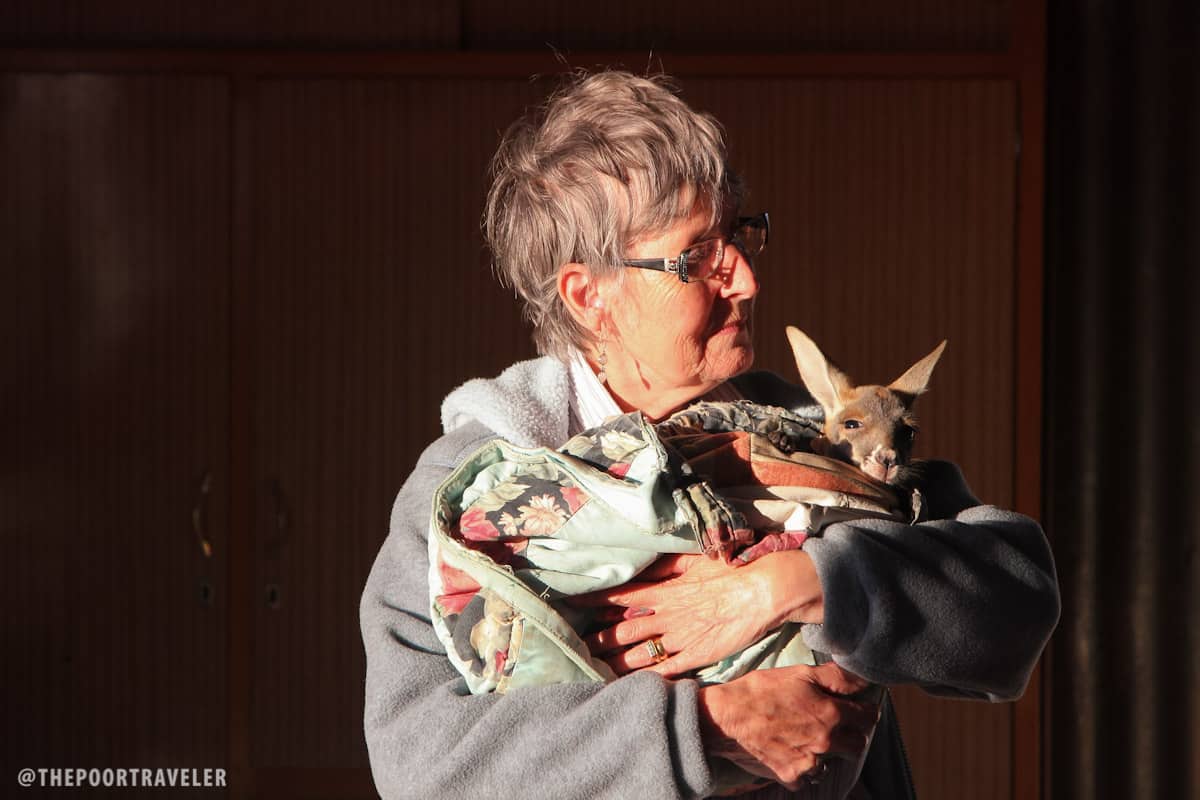 Walk in the Park
Brolga fixed his hat and led us into his trailer away from the reach of the honey-colored sun. The room was small and bare, but not empty. He filled it with stories from that first day he nursed an orphaned joey up to the day BBC returned to do another series of the highly successful show. The BBC crew was there during our visit.
On the other side of the room was the door that opened to the sanctuary. With a pail of feeds in one hand, he walked past the small gate with us in tow. "Welcome, welcome," he said as three female red kangaroos greeted him like children waiting for their dad come home from work. Dusk is the time when these nocturnal marsupials are just starting to be active, thus the sunset tours. Each of them have names, and like a real parent knew which is which, to our amazement. They all kind of looked alike to the rest of us.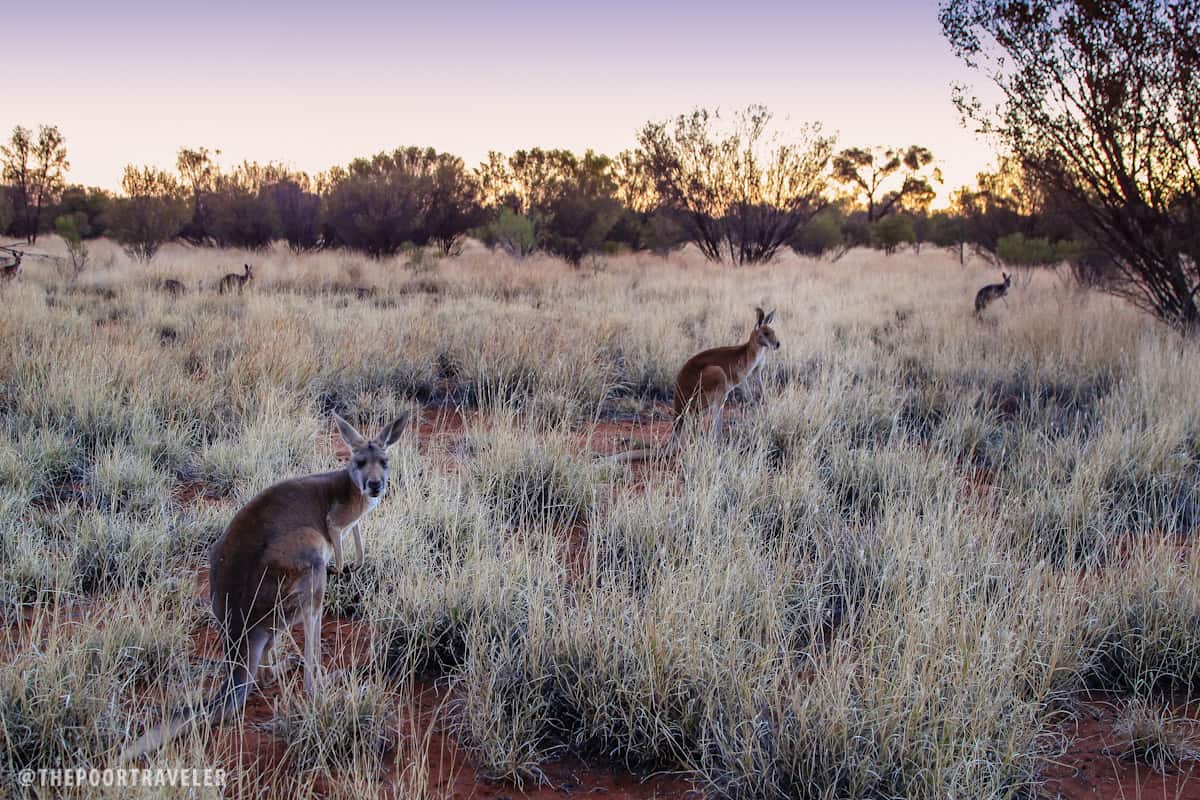 With the exception of Roger and a couple others, the kangaroos could move freely within the sanctuary. We walked around with Brolga while kangaroos overtook us. As the golden sunlight began to dwindle, more and more kangaroos emerged hopping out of the bush. The only thing that kept them from the rest of the world was a fence, installed only to protect them from dingoes. As we went deeper into the sanctuary, a wedge-tail eagle soared overhead.
"How do you protect them from the wedgies?" one asked.
He let out a mild laugh, "I don't. We can't cover the area with a roof."
He said he wished he could let them go back to the wild, but those who grew up in the company of humans have no chance at surviving out there. He discourages people from keeping kangaroos as pets. It's dangerous, especially if the kangaroo is a male.
Meet Roger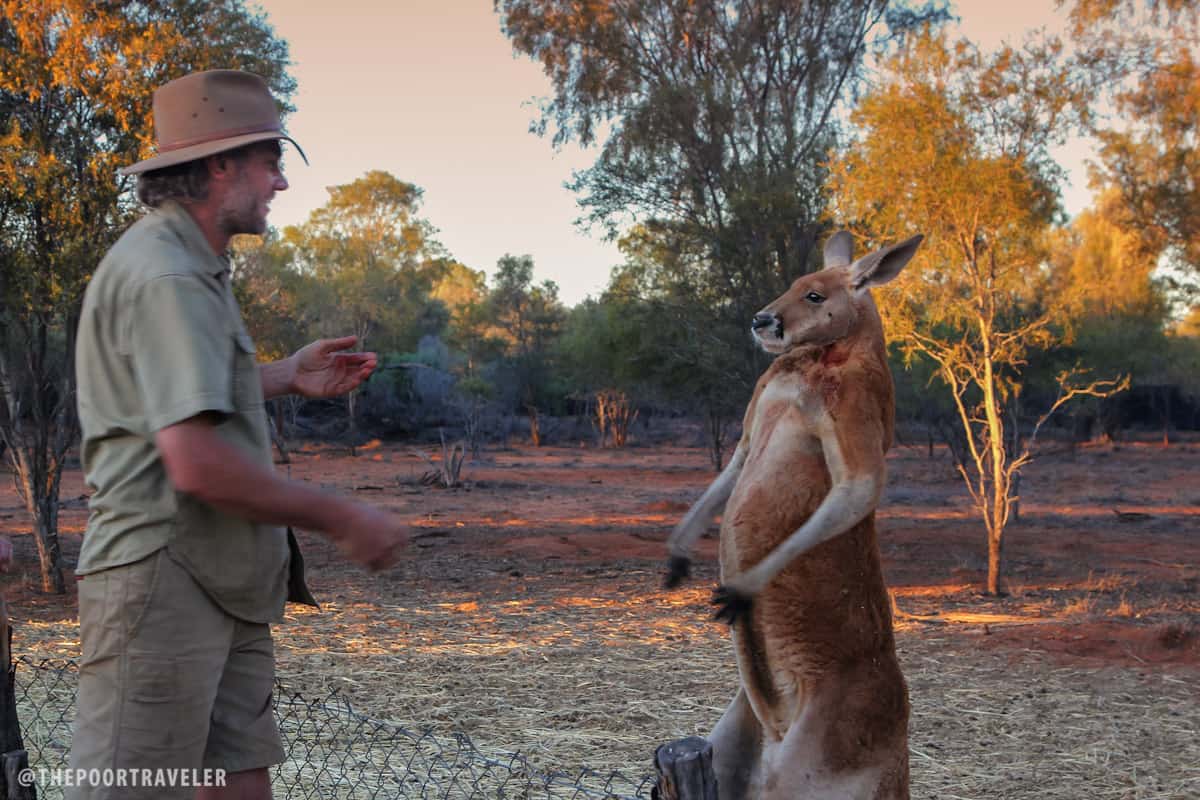 Roger is one of Brolga's first joeys. Back then he was cute and gentle. But after so many years, nature has totally claimed him. Roger is now highly aggressive, like most male kangaroos. He is the leader of the mob in the sanctuary. Male kangaroos stand tall and expand their chests when they are threatened. While their forelimbs are considerably short, their legs are a killer. They are incredibly strong and is equipped with sharp claws that can disembowel even humans.
Brolga approached Roger to show us how it would react when challenged. The alpha male immediately rose to a kick-boxing position prompting Brolga to step back out of its kicking range and out of Roger's area. "He kicked me in the groin last year," he told us, feeling quite embarrassed. "Six stitches. It didn't feel good."
He then pointed at the red stain on Roger's chest. Apparently, it's a strong-smelling glandular secretions that males produce naturally to mark the females and let the other males that they already belong to a mob.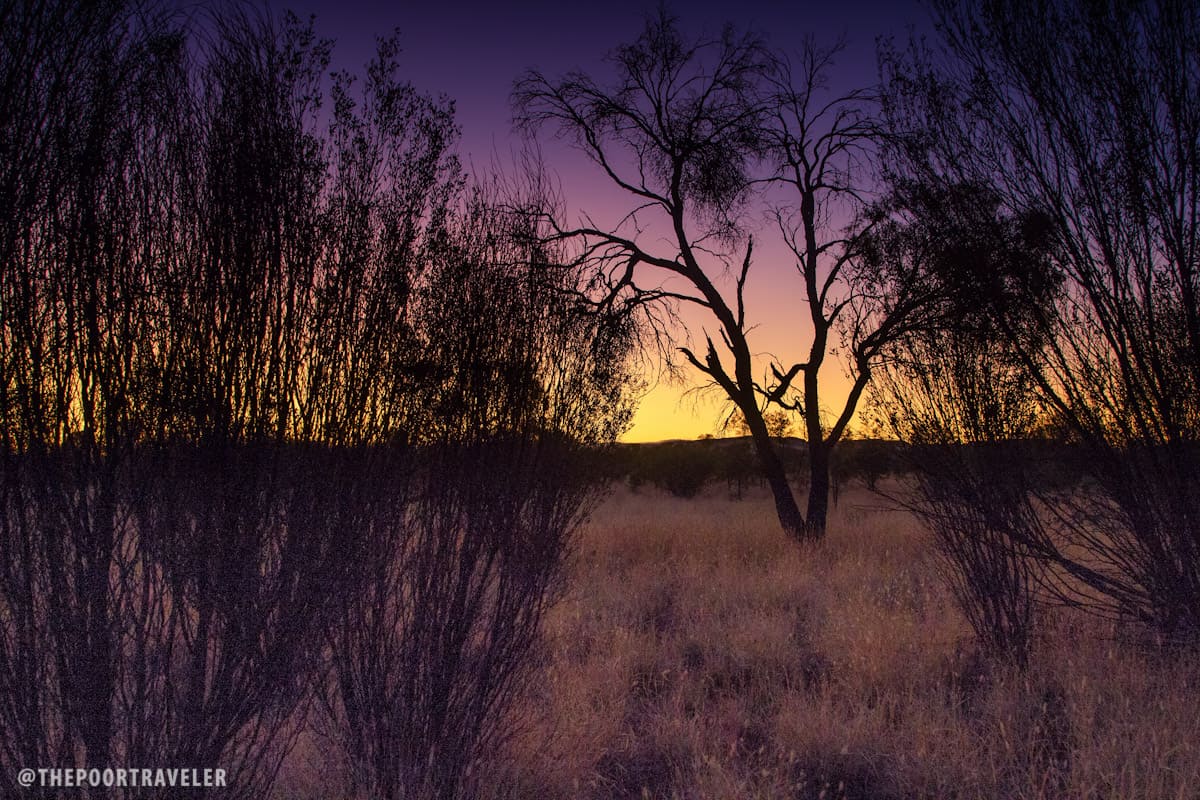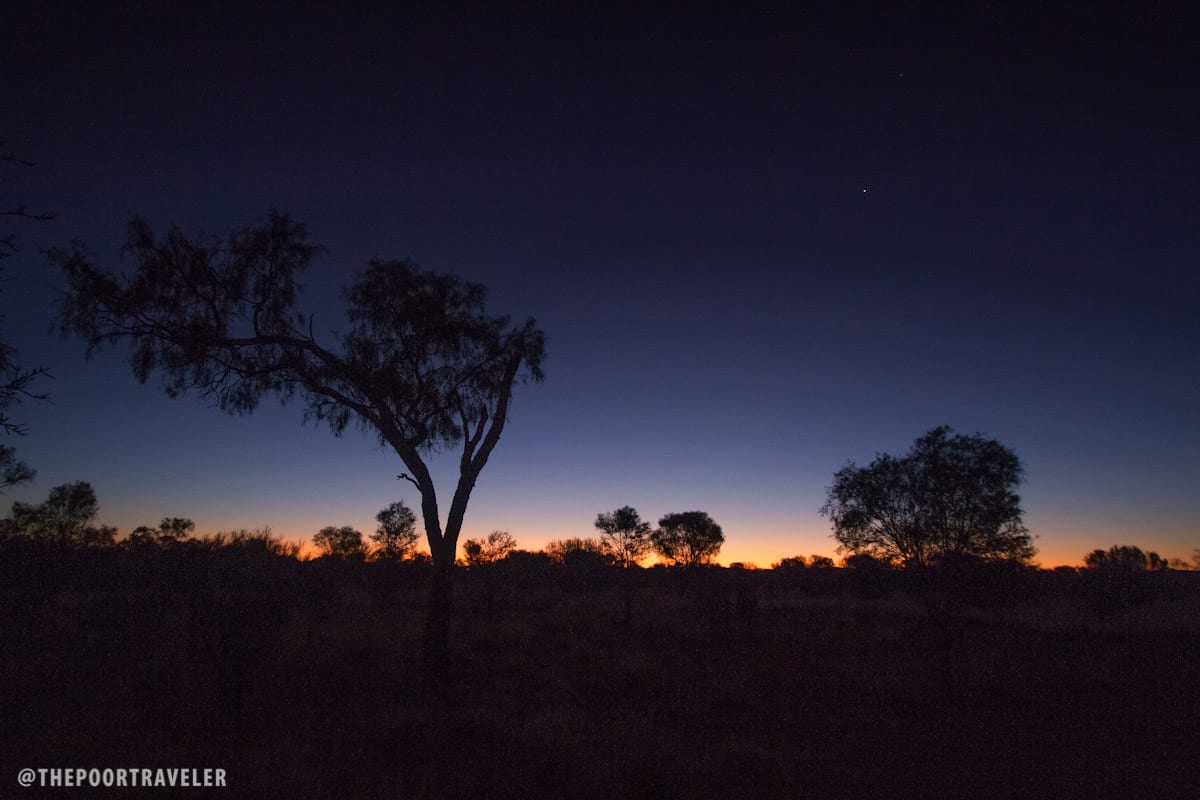 We continued the walk until all that illuminated the skies was the faint afterglow of the sunset. Just above the horizon were Venus and Jupiter, brighter than I had seen them before. By nightfall, we were on the way back to where we started.
Brolga approached me and asked if I wanted to carry the joey this time. I came out of the sanctuary as a mother, wanting to protect the this beautiful baby wrapped in a soft pillowcase.
Kangaroo Sunset Tour
Operating Days: Wednesday, Thursday or Friday
Duration: 2.5 hours
Rates: AUD 85 (adult), 45 (3-17yrs)
Rates include free bus transfers.
Contact: admin@centrebushbus.com.au or you can book via Alice Springs YHA

Where to stay: Alice Springs YHA Hostel offers affordable accommodations right at the heart of the town center. Kangaroo Dundee Tours and Outback Tours (to Uluru) are also available. Visit their official website at www.yha.com.au or book here: Alice Springs YHA Hostel.
More Tips on YouTube ⬇️⬇️⬇️