"We're in the middle of nowhere," I whispered as I picked up another stick.
Middle of nowhere. No other collection of three words had been as overused since we first set foot in the vastness of the Australian Outback. In this part of the world, almost everywhere is the "middle of nowhere."
Our group was divided into pairs, all collecting firewood in between low trees and tall shrubs, sparsely fringing the red dunes. It had all the makings of a tragic thriller: temperature dropping, light dwindling, and dingoes howling in the distance. Every stick we picked up from the ground was followed by a deep sigh (or a silent prayer, had I been a theist). It was always a relief not finding a venomous snake or spider underneath. Australia's deadly reputation is hard to shake off.
I wrapped my left arm around a stack of half-dozen sticks and dragged a whole slender tree trunk with my right to the side of the road, where our van was parked. Then, we broke the big, long branches into smaller pieces before handing them one by one to Nick, our tour guide, who stood atop the trailer and ensured that every firewood, down to every last twig, was in place.
"We're gonna need these to sleep soundly tonight," Nick said as he jumped off the vehicle. "We're spending the night in the middle of nowhere."
There's that phrase again.
"And by 'middle of nowhere', I mean the middle of fckin' nowhere," he added before climbing back to the driver seat. We followed suit, finding our spot inside the van, where we spent the next hour wondering where the hell we were. Soon, the concrete road turned to dirt and the van shook as we headed straight into pitch darkness. After several minutes, we pulled over and braved the cold.
"Welcome to the middle of nowhere," he said as he started a small fire, allowing us a look at our home for the night. And he wasn't kidding.
This was just the first night of our three-day camping trip that straddles 1500 kilometers across Australia's Red Center. Bundled with our accommodation arrangement at Alice Springs YHA, this epic journey organized by The Rock Tours began in Alice Springs, the Outback's biggest settlement.
WHAT'S COVERED IN THIS GUIDE?
Day 1: Alice Springs and the Kings Canyon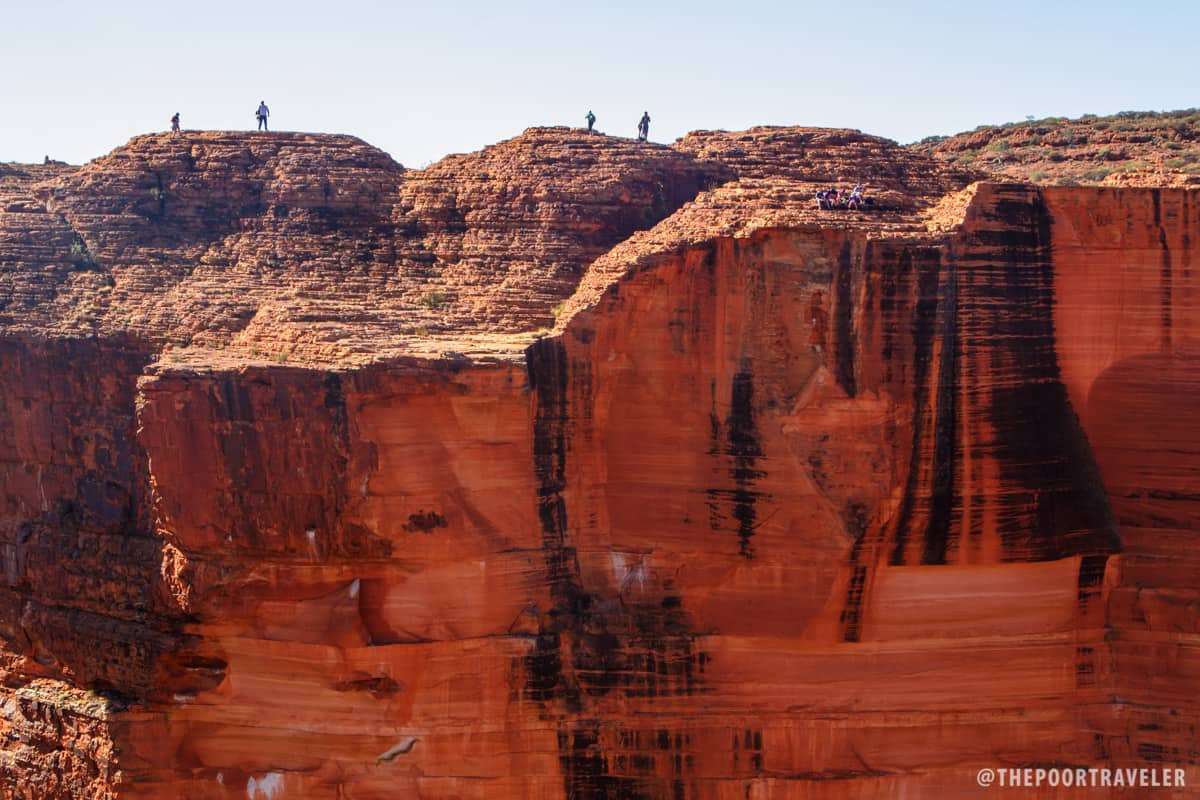 Nick picked us up at around 5am at Alice Springs YHA where we spent the previous night. Picking up a couple of other passengers along the way, we made our way to our first stop: Kings Canyon.
The Kings Canyon is part of the 71,000-hectare Watarrka National Park, often overlooked by tourists for the more famous Uluru. The site's most striking feature is its imposing red sandstone cliffs, reaching as tall as 300m. Wrinkling the western edge of the George Gill Range, these walls were a result of the erosion of small cracks in the land over millions of years.
There are three walking trails that one may take to explore the site, and we chose the one that would allow us to have the full canyon experience — the Rim Walk. It begins with a climb up the Heartbreak Hill, so-called for the agonizing 500-step trek to the top, where I almost fainted. I wish I could say it was simply because the sights left me breathless — they were spectacular, of course — but also because I was vomiting air in utter exhaustion. It was a steep climb, and one must take the challenge at their own pace.
But it was worth it. We hiked across the rippled hilltops (all used to be underwater millions of years ago), skirted weathered sandstone domes, squeezed ourselves into crevices, and got acquainted with the site's geology and ecology. The 6km trail also led us across a permanent waterhole called the Garden of Eden.
READ: Kings Canyon Rim Walk
After a quick lunch, we hit the road again and headed for our camp site. Along the way, we pulled over to the side of the road three times: to collect firewood, to have a good look at Atila (Mount Connor), and to catch the sun set over Lake Amadeus Salt Lakes.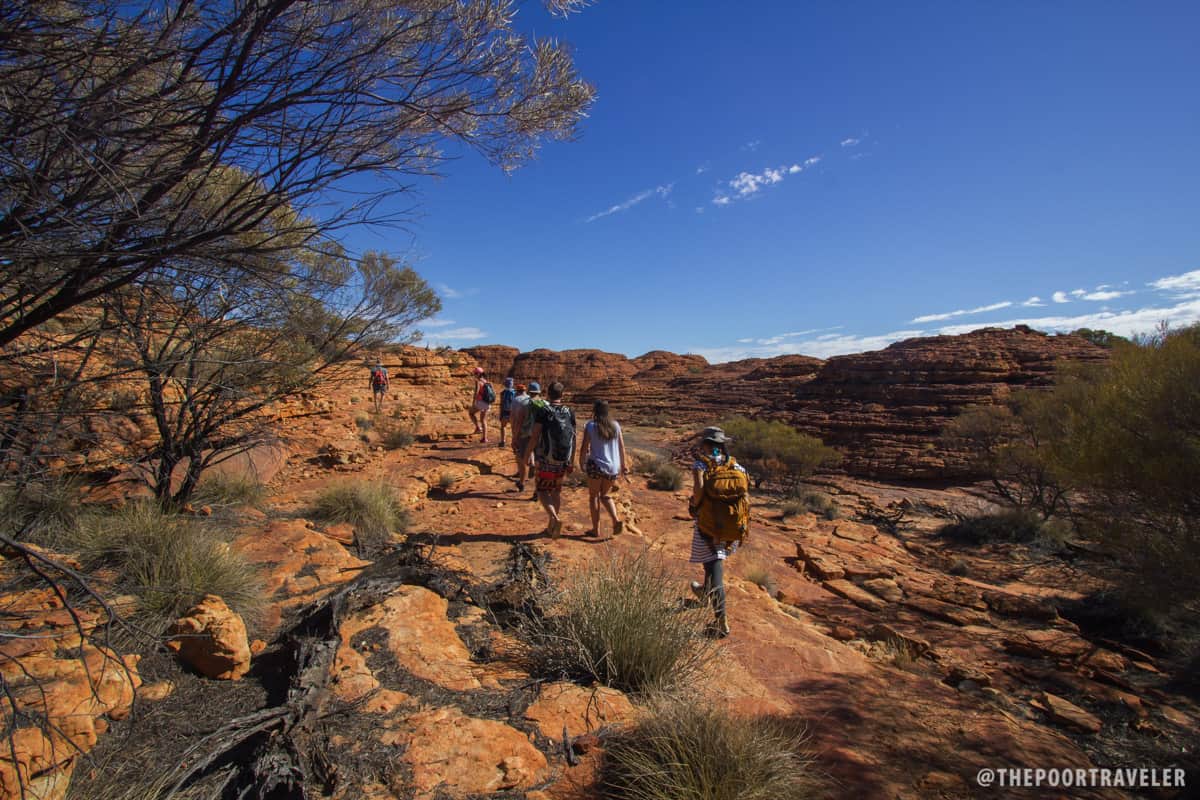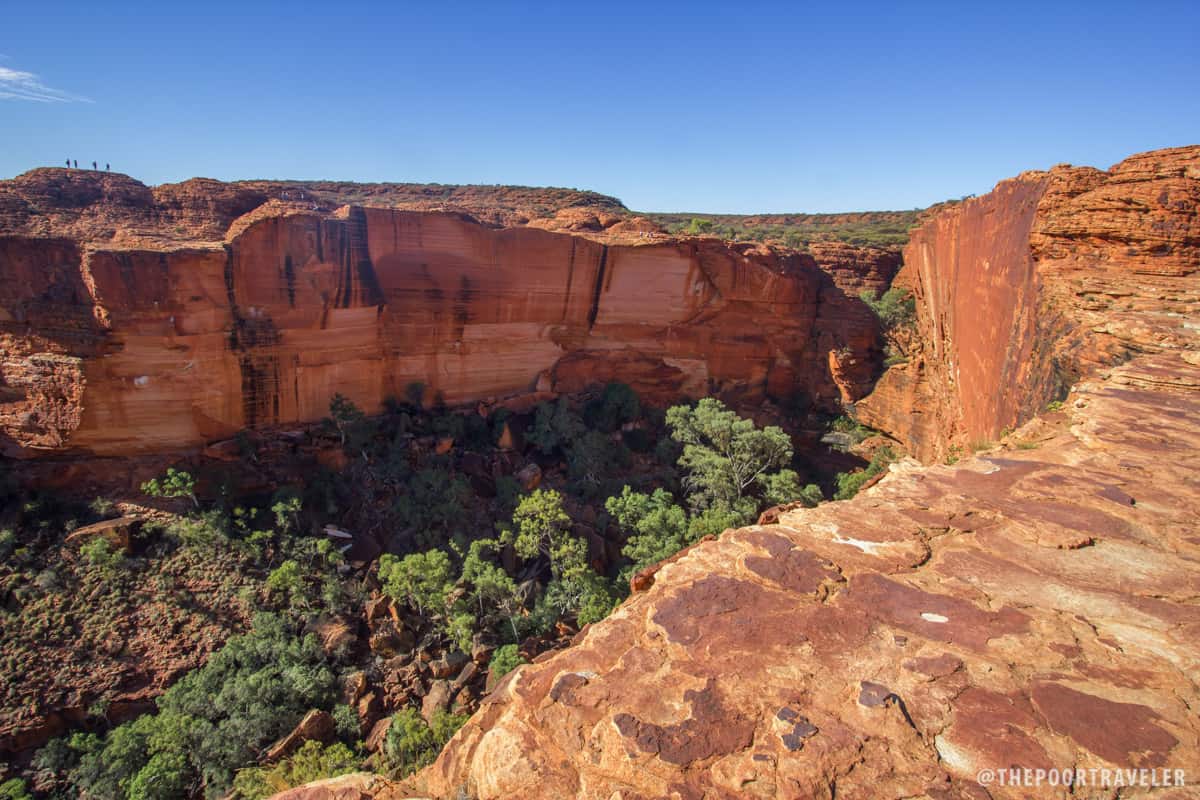 Night 1: Getting the Swag
Nick continued driving even after nightfall onto a dirt road, which ended at a camp site, where Nick immediately started a bonfire, taught us how to bake a damper (a basic type of bread that uses beer as a key ingredient), and prepared a simple camp meal. All hands were on deck. Every single one of us was assigned a task. Labor of love, they say, and it made supper a lot tastier and more filling.
After doing the dishes, we gathered around the fire and watched Nick show us how to use what they call "swags", basically a sturdier and a glorified version of the sleeping bag. "The first think you do after opening one," he said, "is to check for spiders. Or scorpions. Or whatever." Nick's humor is sometimes on the rough, honest, almost-scary side, but we love him for it. (I can absolutely say that he's been the best tour guide we've encountered in any country ever. He's a no-nonsense guy but still very adorable. Dunno how he does it.)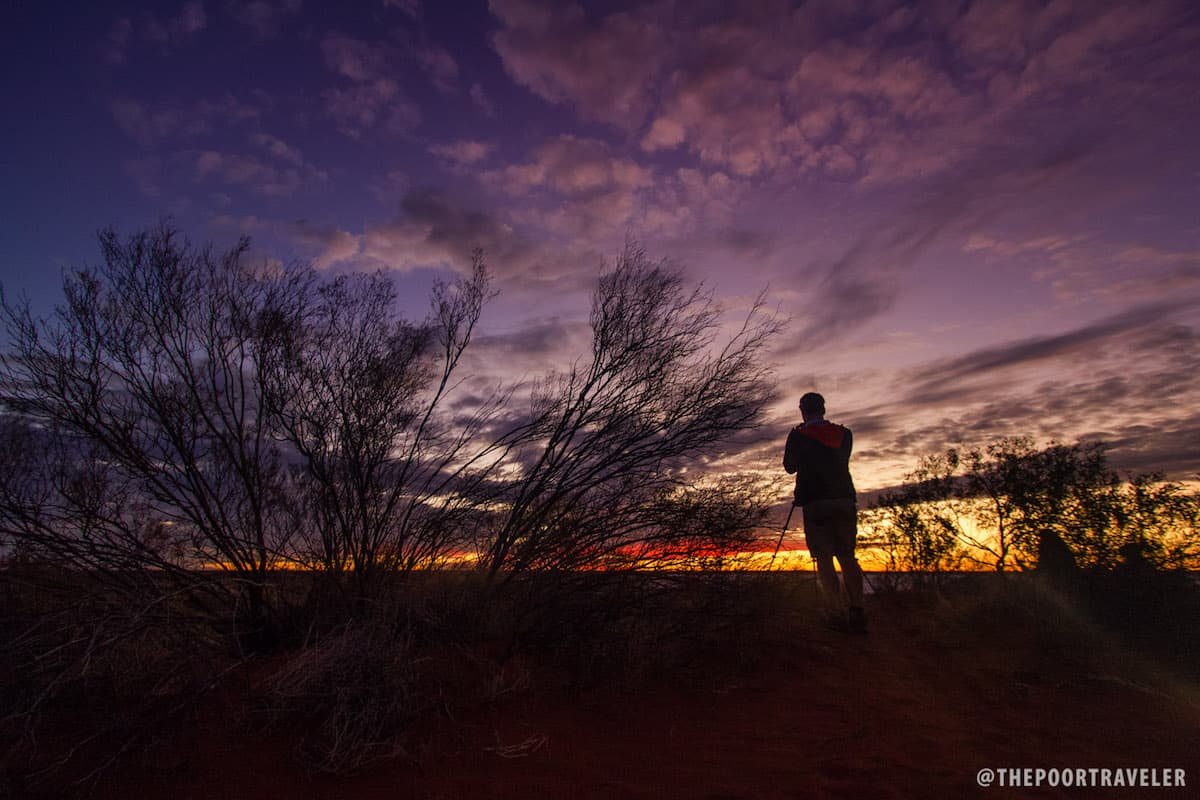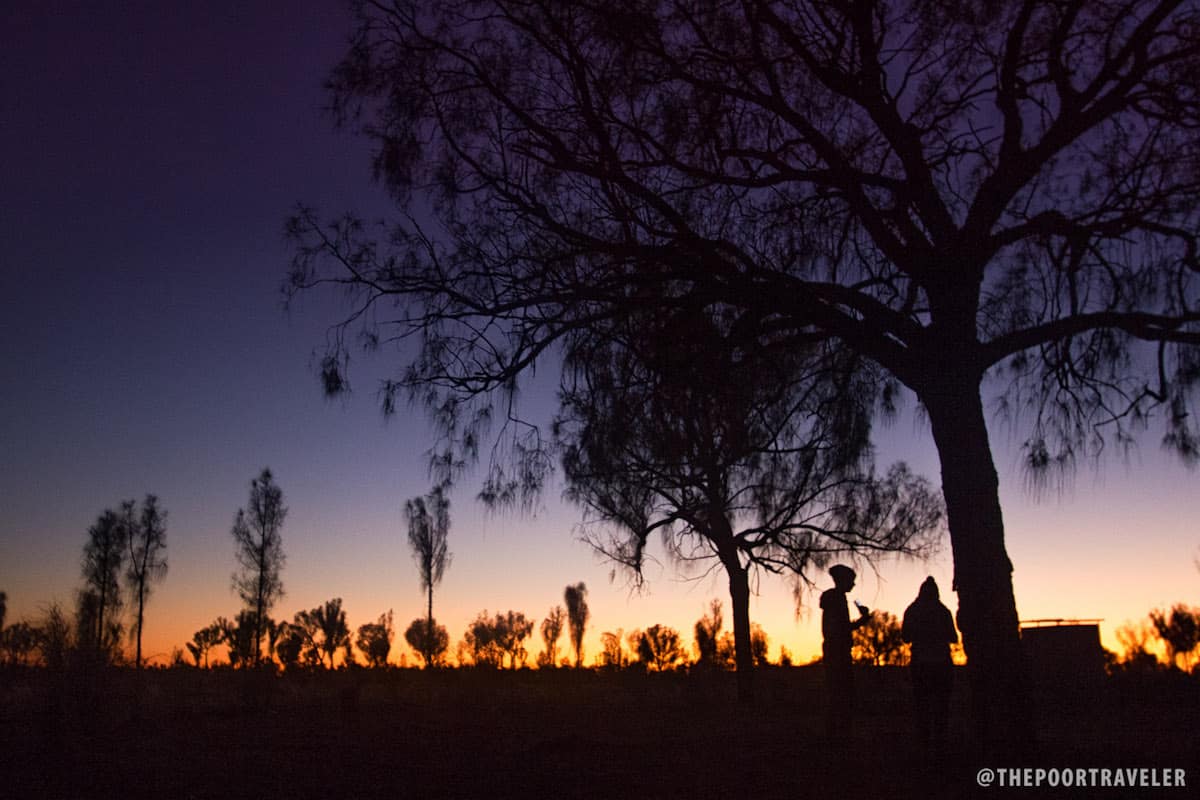 When we had our swag and found our spot by the fire, the group exchanged stories about our personal backgrounds, travel plans, backpacking, America, gun control, everything.
There were no restrooms around. "If you need to go," said Nick, "take the shovel and go." No one went that night.
I slept in the safety of my swag with only my eyes exposed, glued to the stars. I had never seen the stars twinke this bright. The Southern Cross was there. Venus, Mars, and Jupiter shone so close to each other. And then, nothing.
Day 2: Kata Tjuta and Uluru Sunset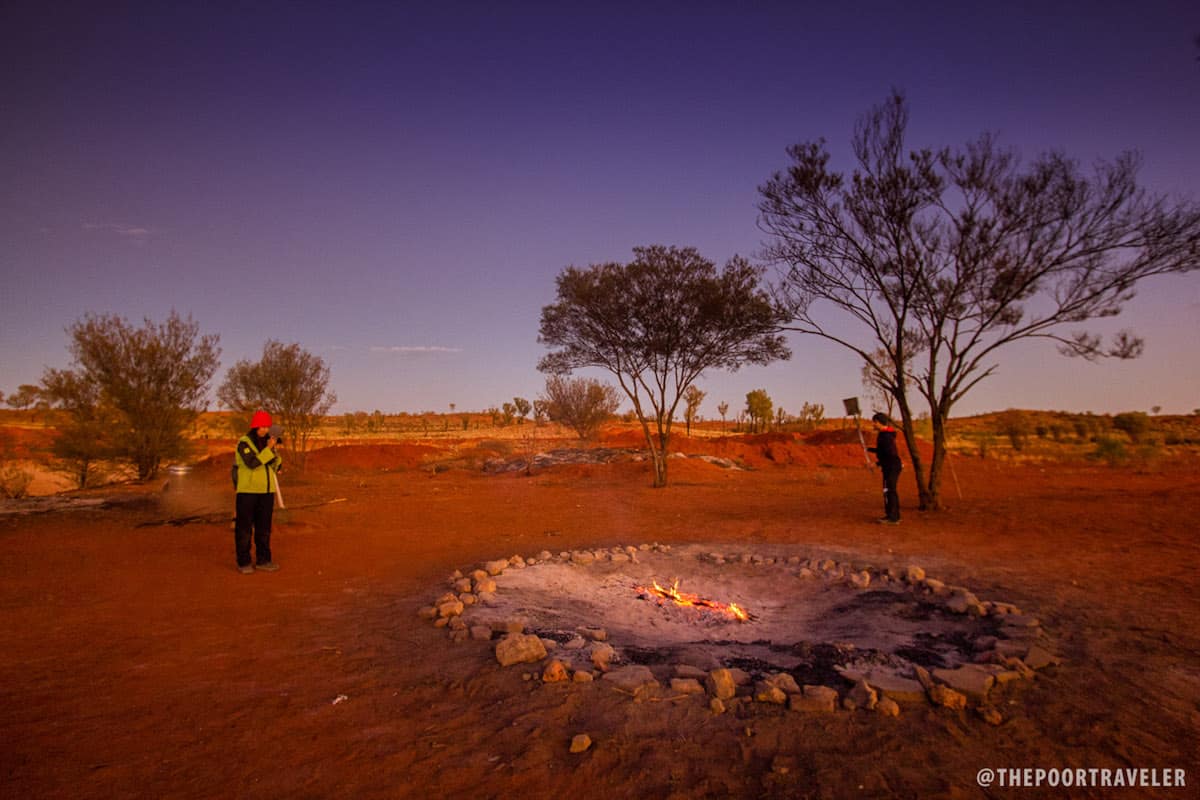 I woke up to Nick, walking around with his speakers, blasting Wham's Wake Me Up Before You Go Go! In an instant, everyone was on their feet, rolling up their swags. After a quick stretching, cleaning up, and breakfast, we were on the road again.
Our first stop was an important one: bathrooms and toilets. But as soon as everyone's freshened up, we were on our way to Kata Tjuta.
Also called Mount Olga, Kata Tjuta is a group of 36 large domed rock formations that span an area of 21.68 sq. km. The rocks are made of conglomerate, boulders bound together by sandstone. It is an important, sacred site for the Aborigines, especially to the women.
Although there are steep sections and some loose rocks to negotiate, hiking around Kata Tjuta is a lot easier than Kings Canyon. For roughly three hours, the walking track took us to the site's most breathtaking lookouts.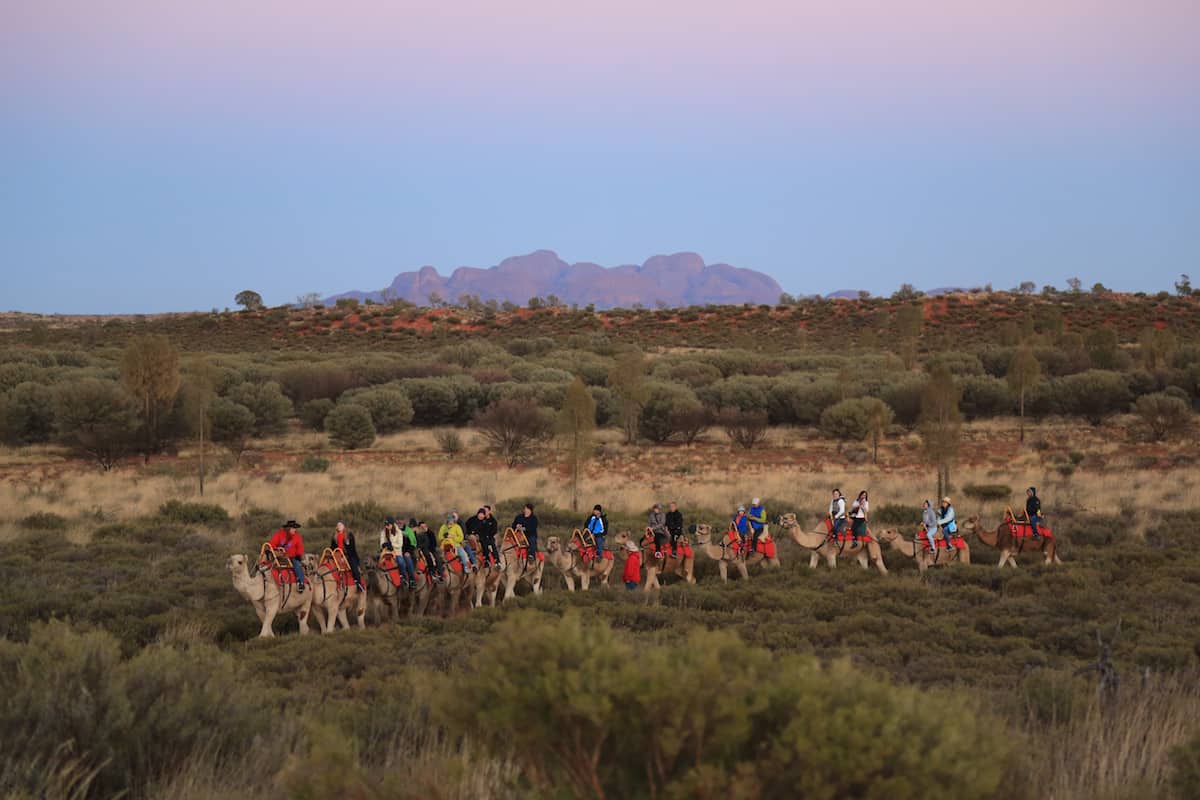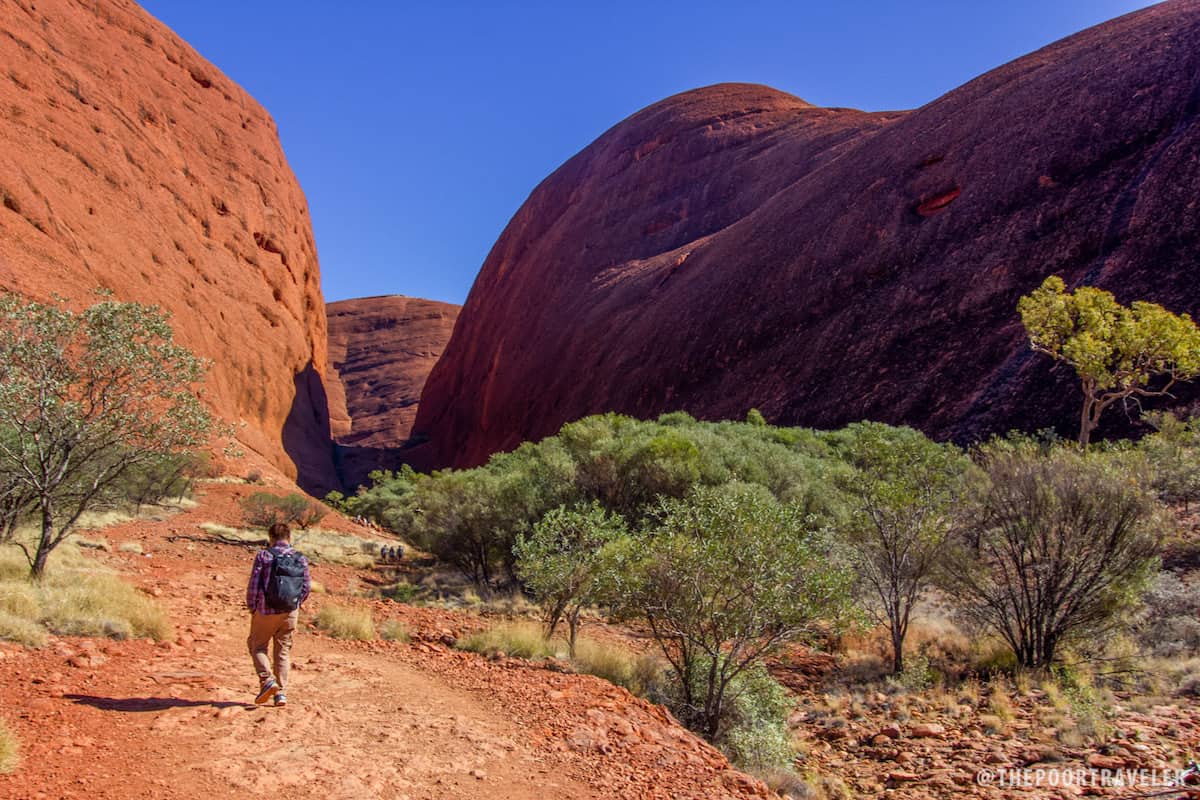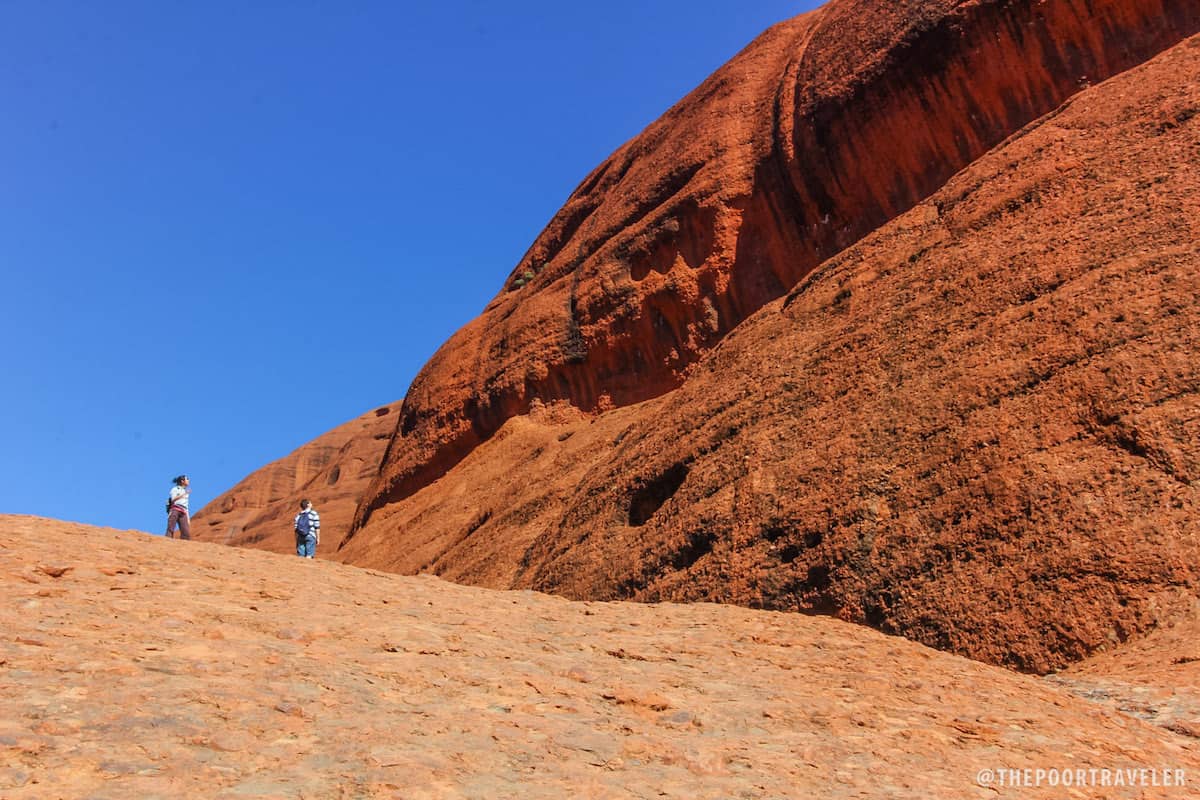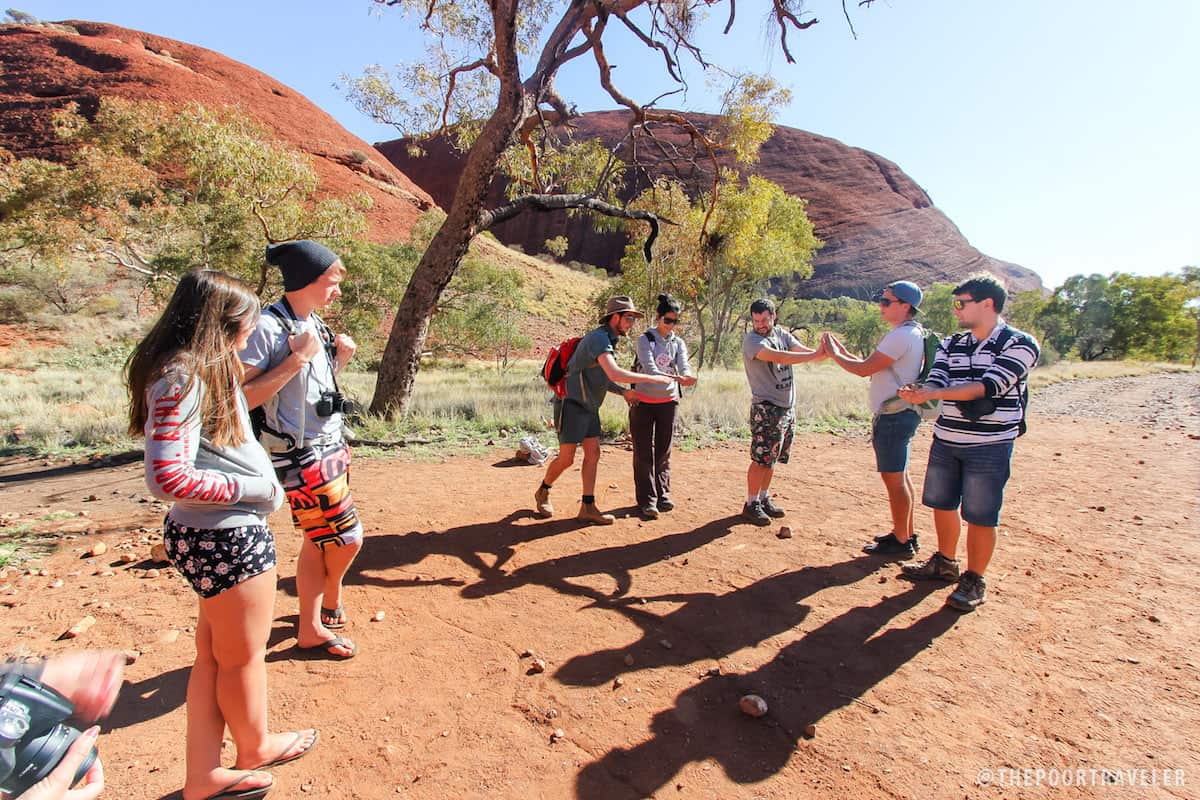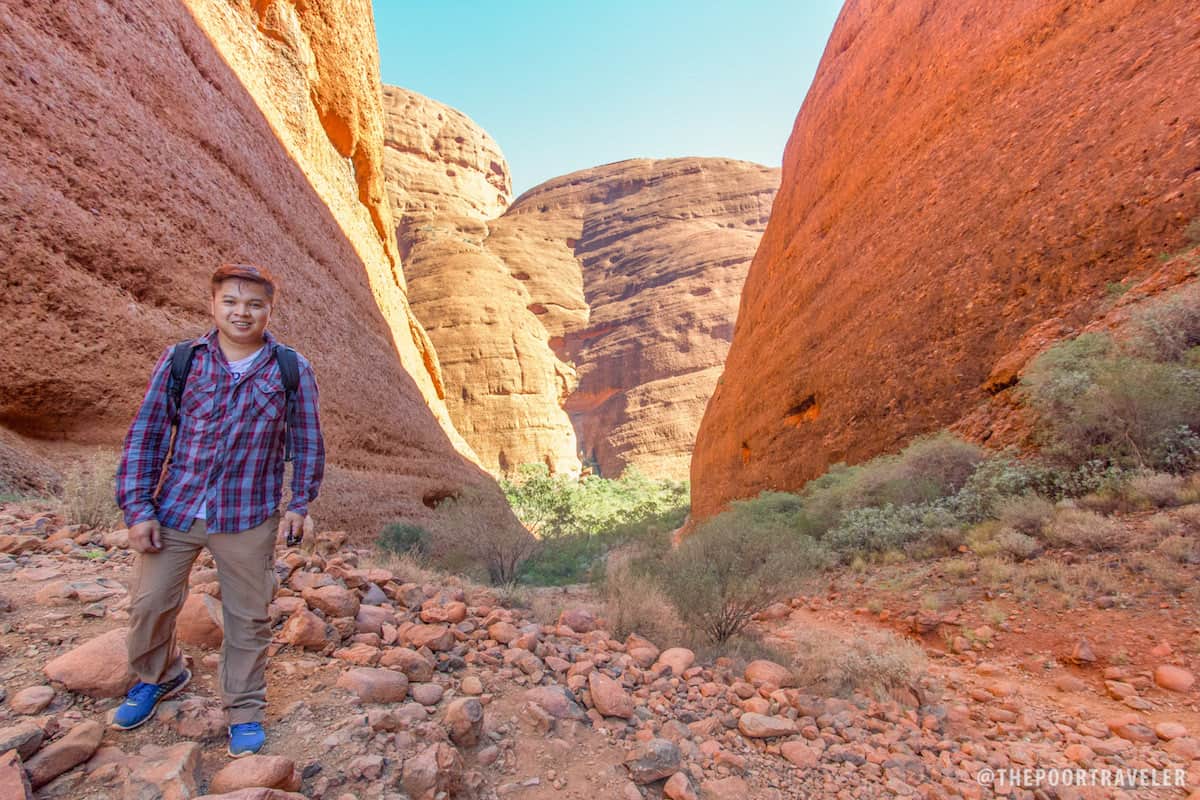 Next in the itinerary was Uluru, the Outback's most famous landmark. Our mini-bus stopped on the side of a viewpoint, and we hopped out of the vehicle carrying a camera in one hand and a bottle of beer in the other. We had a good spot, our time-lapse camera was rolling, and the light was beginning to dwindle. Right in front of us was Australia's most iconic symbol.
"I can't wait for it to glow," our new friend Rachel couldn't contain her excitement.
It's not every day that it does, warned Nick. Still, everyone hoped that it would that evening. Our shadows painfully, slowly grew longer as the sun started its descent behind us. The blue skies were no more. The horizon exuded a golden radiance that painted the scene honey and purple.
And then, it glowed. Uluru reflected the sunset so beautifully, we had to hold our jaws in place.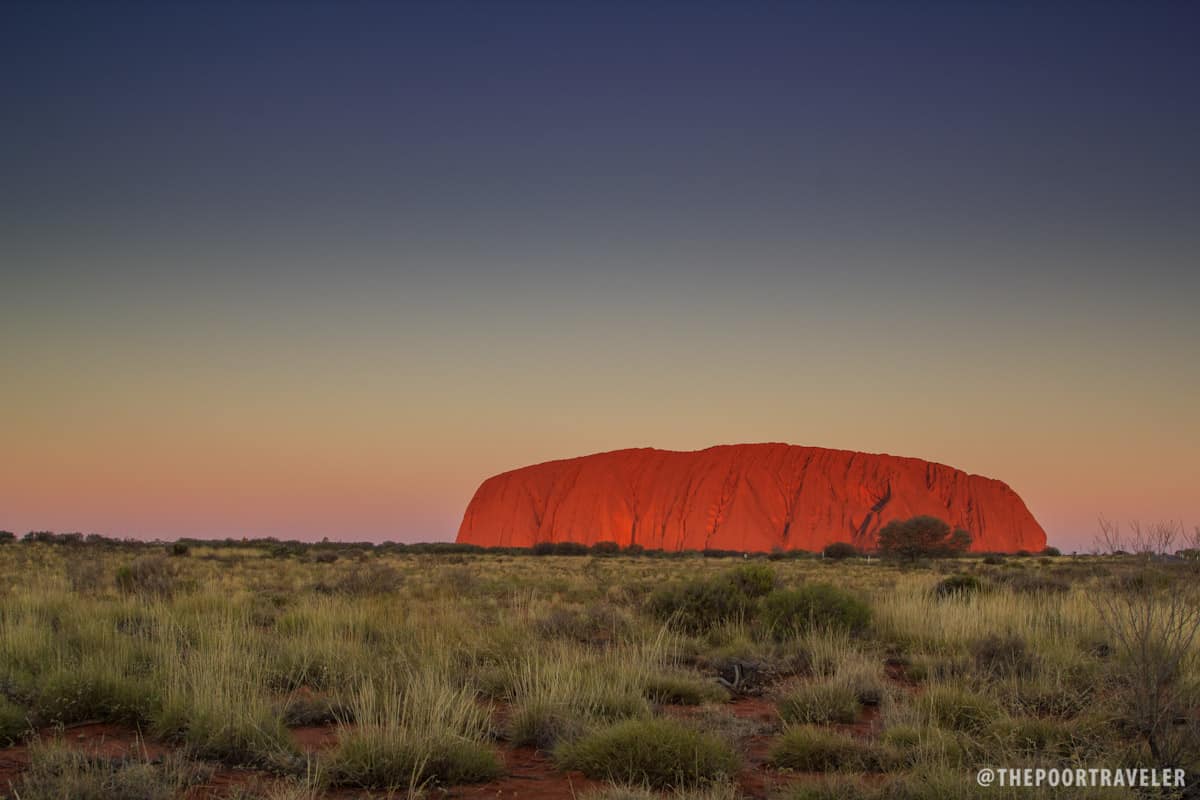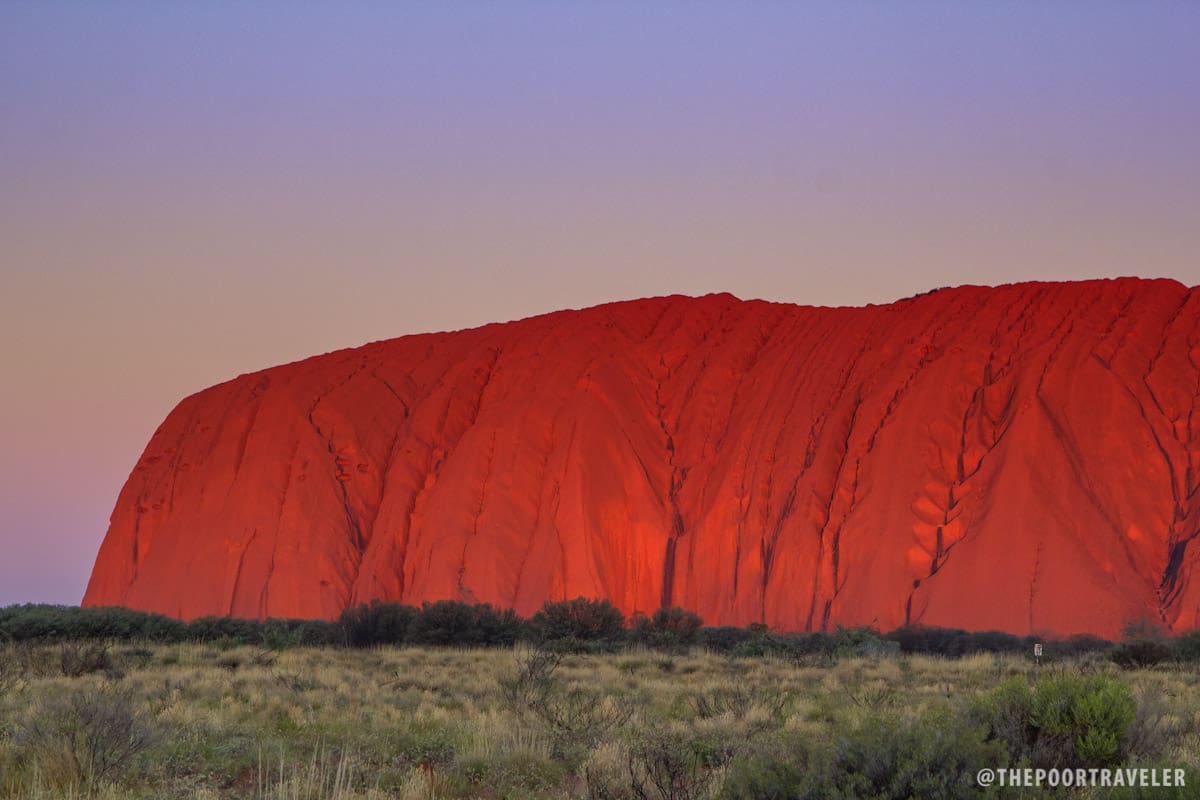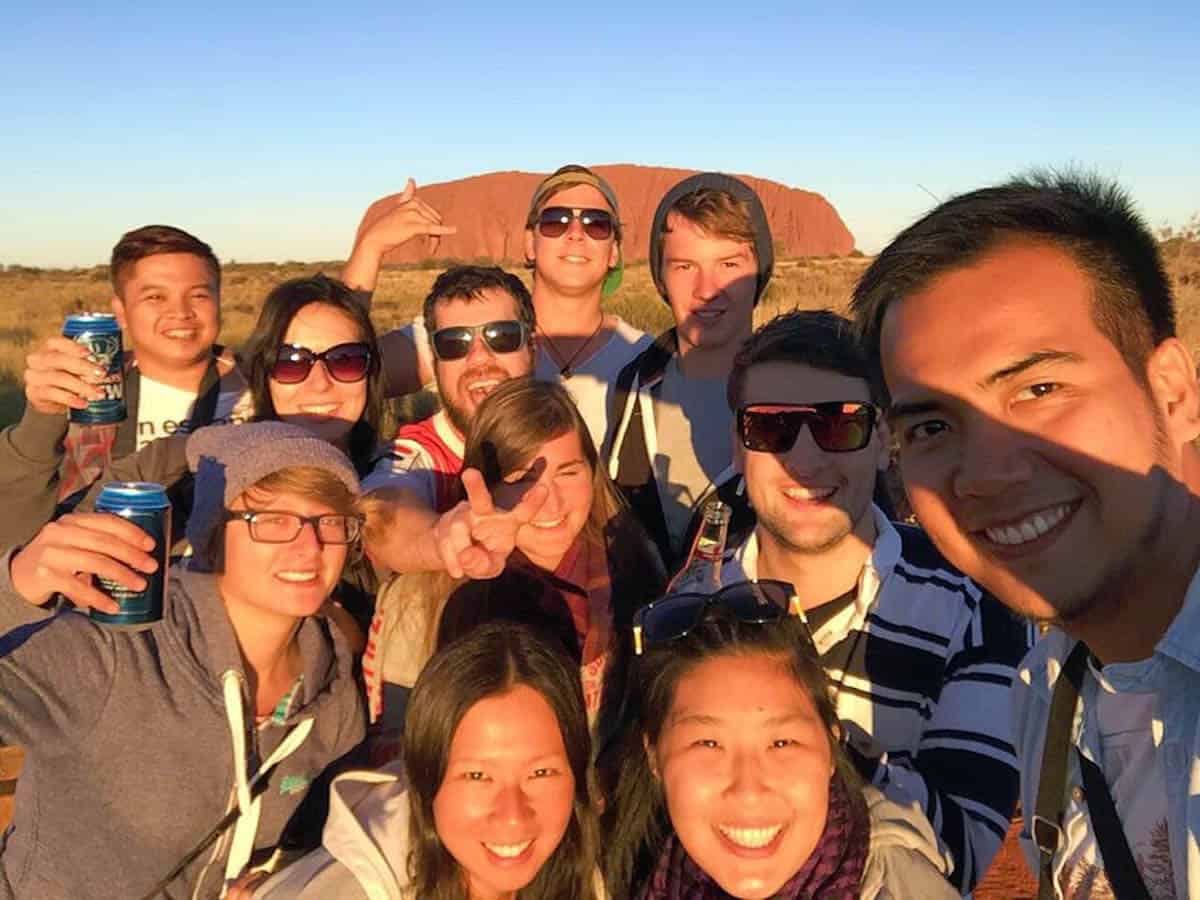 Night 2: A More Comfortable Sleep
After a great dinner at the viewpoint, we headed back to the camp. This time, we already knew the drill. We fished our swags out of the trailer, rolled them open, checked for bugs, and had a good night's sleep after another conversation by the fire. It was a lot more comfortable this time, as we didn't feel we were in the middle of nowhere anymore. There were other campers not too far away, you could hear their laughter. And there were restrooms. No more walks of shame with the shovel in tow.
Day 3: Walking 'Round Uluru
Our day began much earlier than the previous morning. This time, we wanted to catch the break of dawn at the same viewpoint where we watched Ayer's Rock glow. The winter cold was permeating our not-so-thick jackets, but we stood there just waiting for another celestial free show. It wasn't long until the sun emerged from behind the giant rock, slowly rising as it painted the skies blue this time. It was beautiful minute, something I still wish lasted much longer.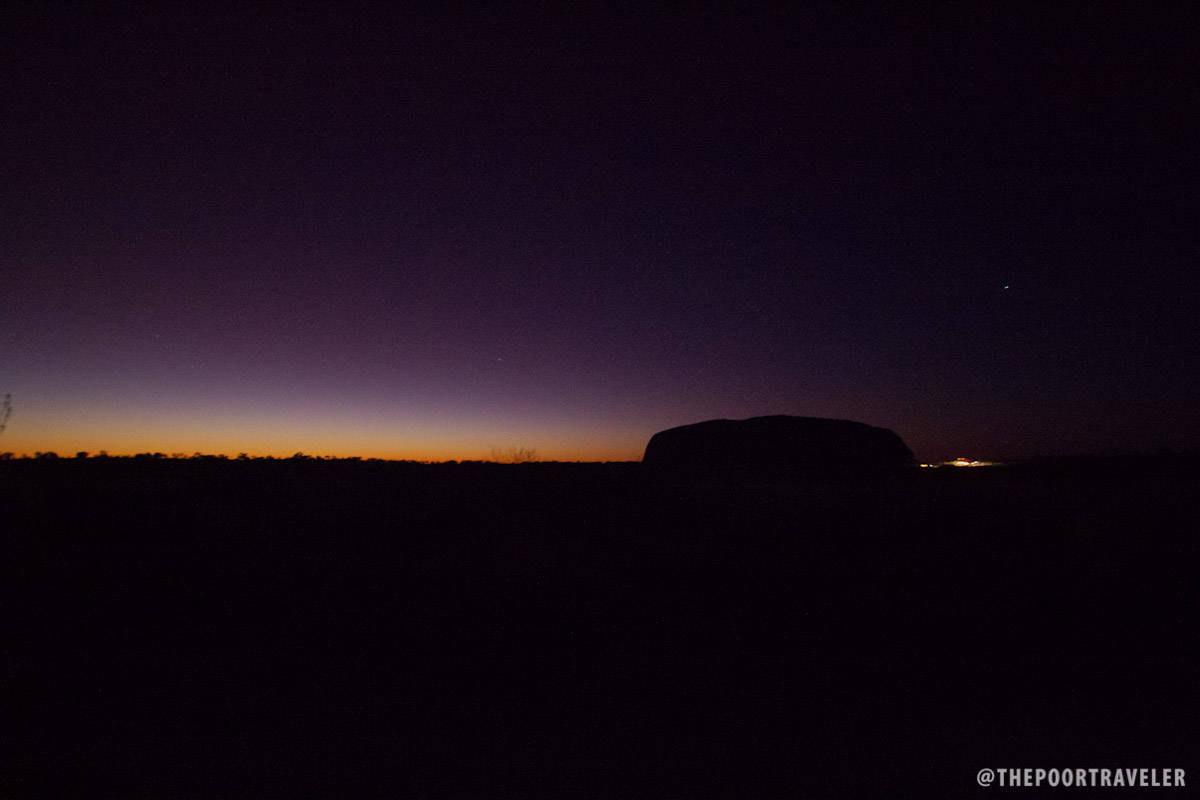 As if the heart of Australia, Uluru stands at the very center of the continent. It is an "inselberg", or what my friend Wikipedia defines as "an isolated rock hill or knob that rises abruptly from a gently sloping or virtually level surrounding plain." The sandstone giant stands 348m tall. But what makes it remarkable is that it is a homogenous monolith, which means that it lacks parting and jointing at bedding surfaces.
Also called Ayer's Rock, a name given to it in 1873 in honor of Sir Henry Ayers, the local Anangu call it Uluru. Today, both names are accepted. Over the century, "ownership" and control of this wonder had been a major issue for the Aborigines and the government. Since it was opened as a tourist site in 1936, it has been promoted as a place to climb, which (among others) upset the local Pitjantjatjara people. For them, Uluru is sacred and they have always been forbidden to climb it. On 26 October 1985, the land was returned to the local Aborigines by the government but must be leased to the National Parks and Wildlife Agency. The government and the locals then co-managed it.
READ: Uluru Sunset, Sunrise, and Sensitivities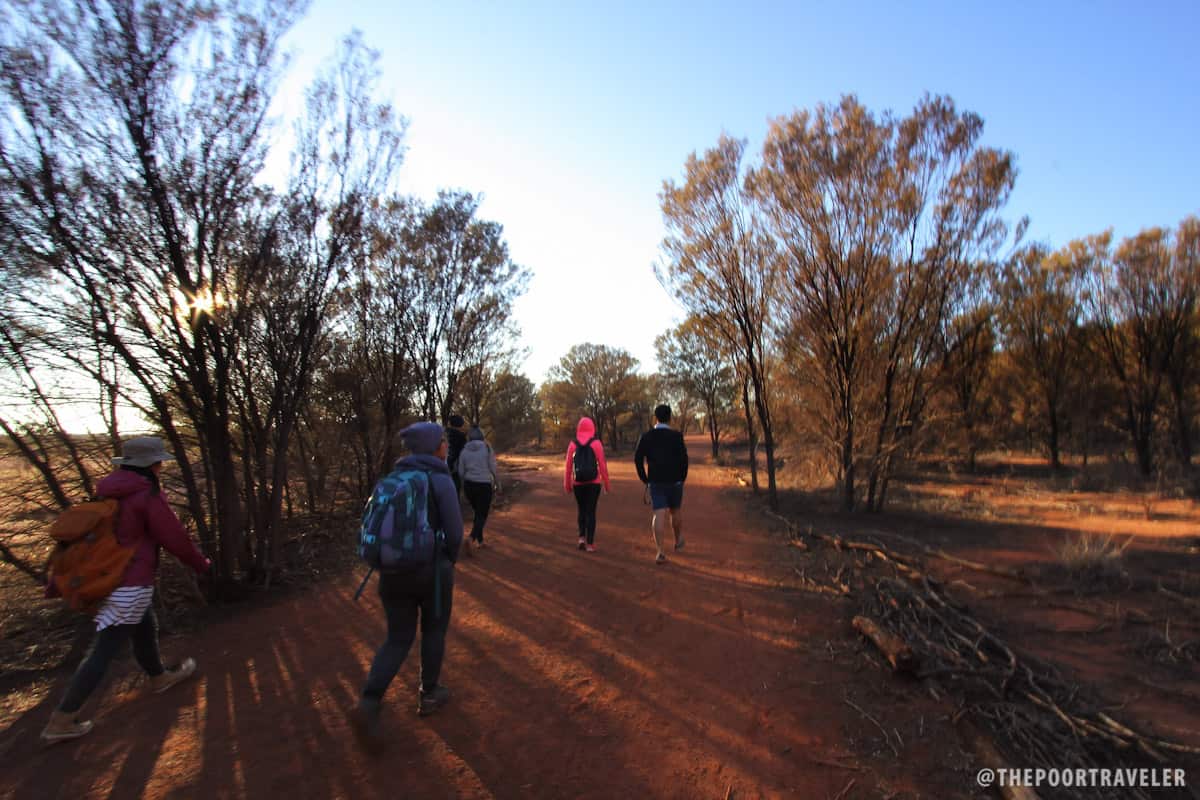 So instead of climbing it, we decided to just walk around it. Called Uluru Base Walk, the 10-km trail takes three to four hours to complete, making brief stops to read at rock formations and important nooks and crannies. Photography is prohibited in many areas, most of which remain the venues for "private rituals" that not all Anangu peole can see.
After the walk, Nick brought us the Uluru YHA, where we would be spending the night. The tour ended for us right then. But the rest of the gang was able to visit a camel farm on their way back to Alice Springs.
We visited Uluru as part of a YHA tour package. It comes with 2 nights stay at Alice Springs YHA and a 3-day camping trip to Uluru courtesy of The Rock Tour, which makes a stop at Kings Canyon (Day 1), Kata Tjuta (Day 2) and finally Uluru (Days 2-3).

For more information or to book the tour, visit this site.

Where to stay: Alice Springs YHA Hostel offers affordable accommodations right at the heart of the town center. Kangaroo Dundee Tours and Outback Tours (to Uluru) are also available. Visit their official website at www.yha.com.au or book here: Alice Springs YHA Hostel.
2️⃣0️⃣1️⃣6️⃣•6️⃣•1️⃣4️⃣