Brisbane may be a bona fide metropolis, but it isn't as bustling or chaotic as other cities. If anything, it isn't chaotic at all. Despite the concrete pavements and tangled streets, life here seems to move at a gentle pace. We discovered something pleasant at every turn. On our way to Riverlife at Kangaroo Point, for example, we stumbled upon many interesting sites including the Nepalese Peace Pagoda, the Streets Beach, and the Queensland Maritime Museum. Curious (sometimes out-of-place) artworks are scattered across the city and the suburbs. What's more, many of these can be enjoyed at no or little cost. Here are some of 'em.
WHAT'S COVERED IN THIS GUIDE?
King George Square, Brisbane City Hall, and Brisbane Museum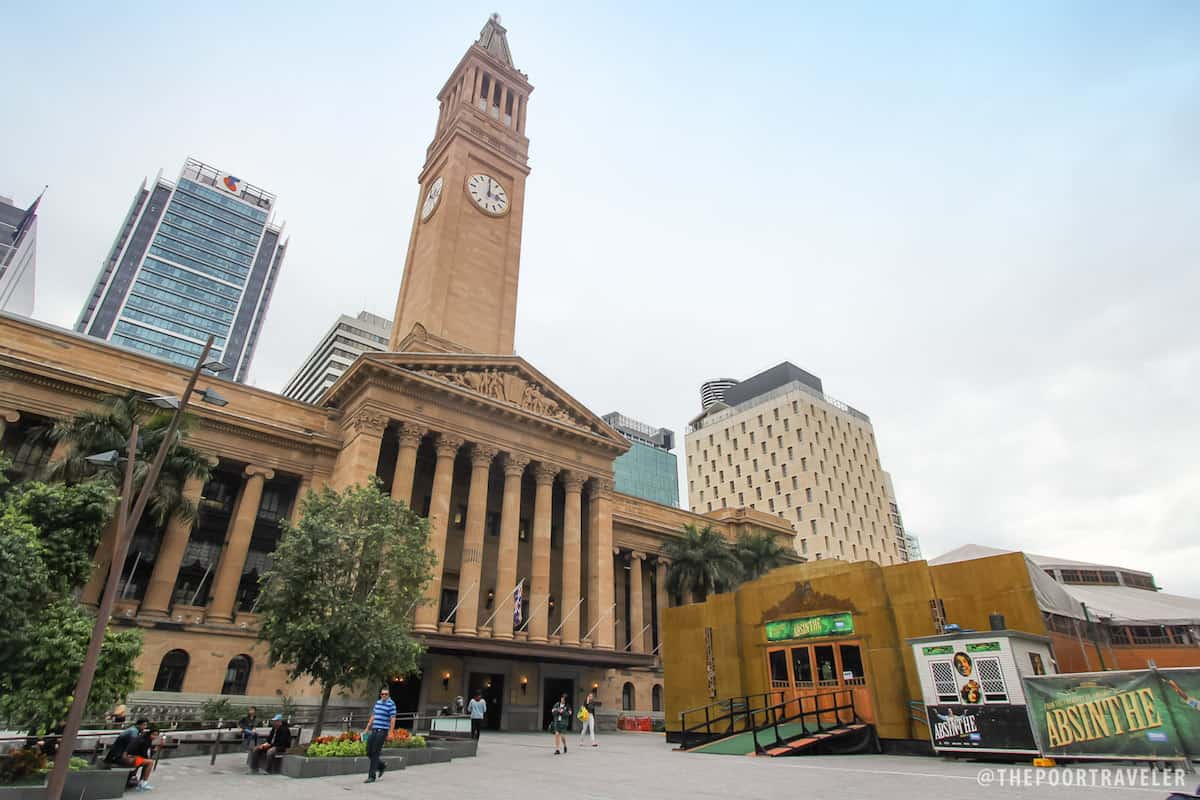 Lying between Ann and Adelaide Streets, King George Square is one of the city's most visited public squares. It is surrounded by many recognizable landmarks including the Brisbane City Hall, a recently refurbished building that you may explore on a free guided tour. Don't miss Brisbane Museum and the Clock Tower tour!
---
Albert Street Literary Trail
Rejoice, bookworms and poetry fans! Time to go for a walk. And a walk in Brisbane can be as educational and inspirational as it is relaxing.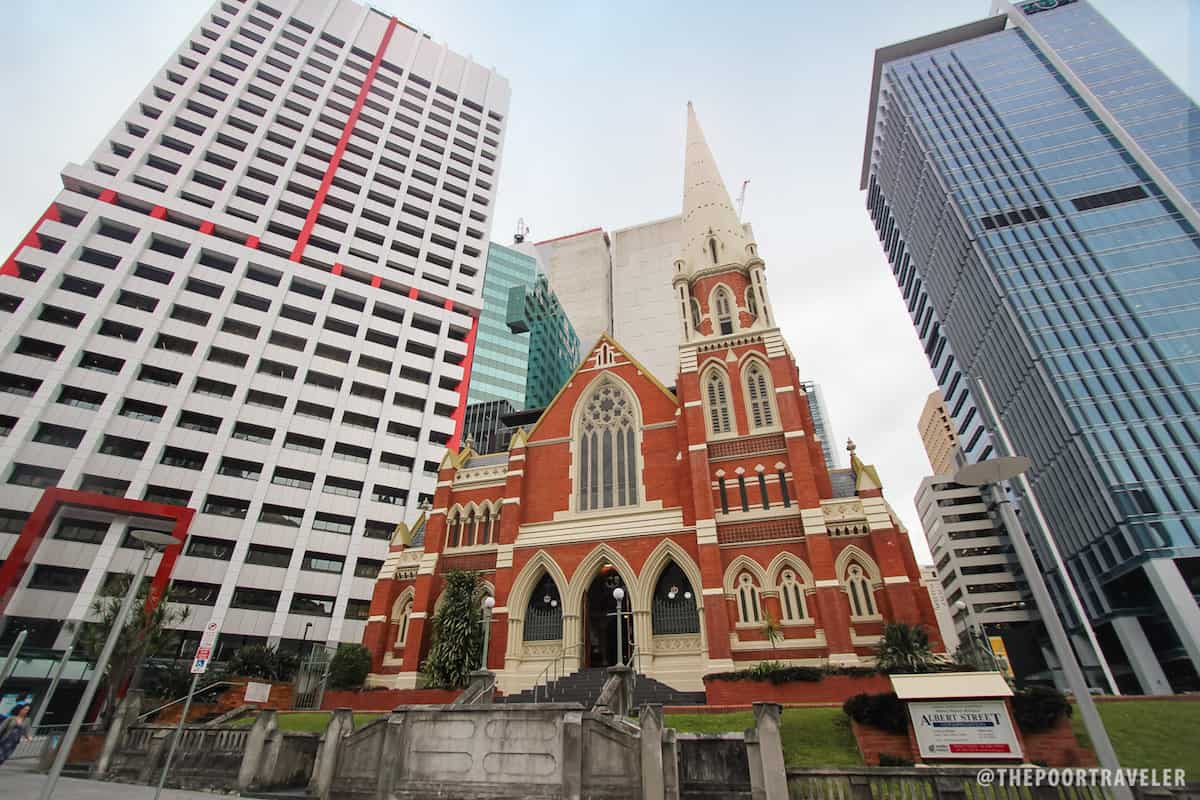 Brisbane's Albert Street is punctuated with 32 brass plaques installed on the pavement, all bearing literary quotes from 32 Queensland writers, who have lived in the city at one point in their lives. The trail was launched at the 1996 Brisbane Writers Festival. Francis Adams, Andrew McGahan, David Malouf, Steele Rudd, and Kath Walker are just some of the authors whose words are immortalized in Albert Street.
---
Queen Street Mall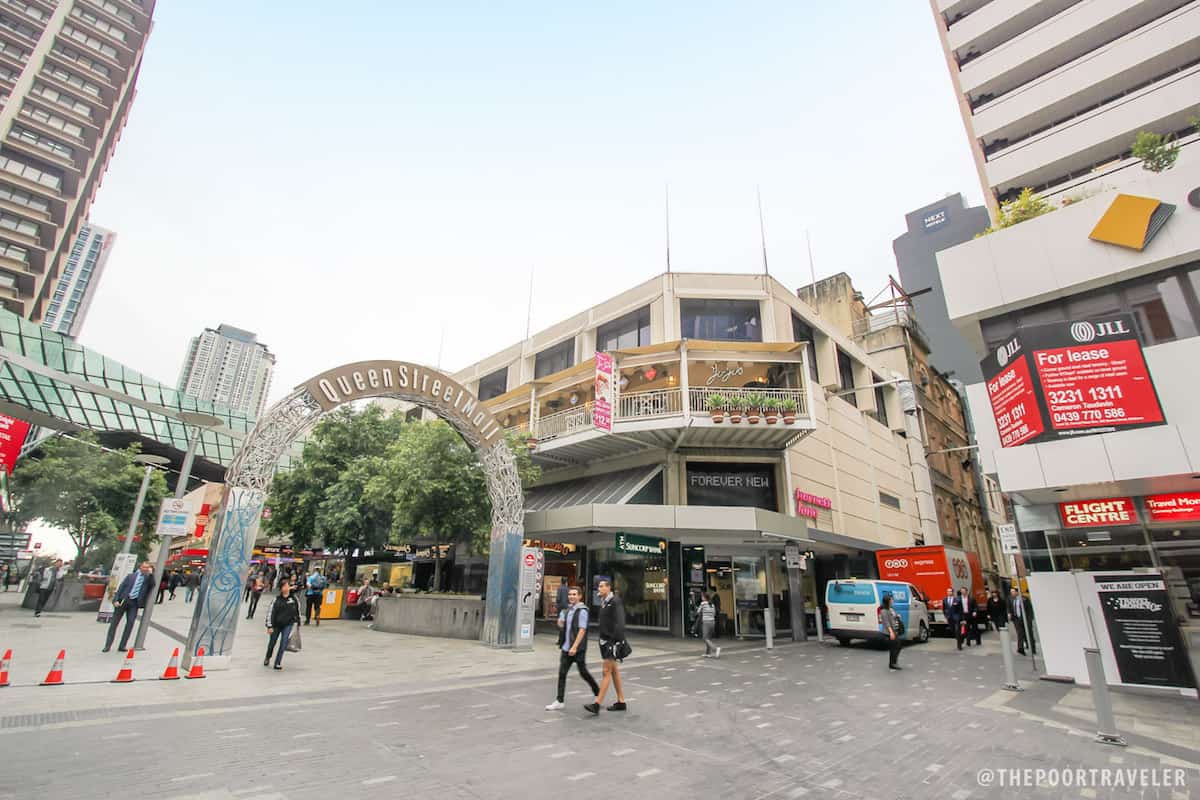 Entertaining over 26 million visitors a year, the Queen Street Mall is said to be the most popular pedestrian mall in Australia. Situated adjacent the City Hall and just across King George Square, it is a vibrant lifestyle destination at the heart of the Central Business District. Flanking its streets are more than 700 choices of apparel stores, restaurants, and souvenir shops.
Don't forget to make a stop at the QueensPlaza, Wintergarden, Brisbane Arcade, and Tattersall's Arcade.
---
City Botanic Gardens
The oldest park in Brisbane, this was once a land tended by convicts to produce crops for the prison colony but was later transformed into a public space for recreation. Situated by the river, it allows a great view of the skyline, serves as a perfect picnic venue, and offers great walking and biking lanes. Two of the most visited sections are the Bamboo Grove, which showcases 23 bamboo species, and the Weeping Fig Avenue, planted in the 1870s. Other attractions include the ornamental ponds and the Jemmy Morrill and the Brolgas sculpture.
You may take a free guided walking tour, available from Monday to Saturday (11am-1pm).
---
South Bank Parklands
You know you're in the South Bank Parklands area when the 42-gondola Wheel of Brisbane towers above you. Opened to the public in 1992, this complex of plazas, restaurants, greens, and rainforest cover what used to be the site of the World Expo 88. There's a lot to see here, including the Nepal Peace Pagoda, constructed by German architect Jochen Reier as part of the Kingdom of Nepal's participation in the Expo.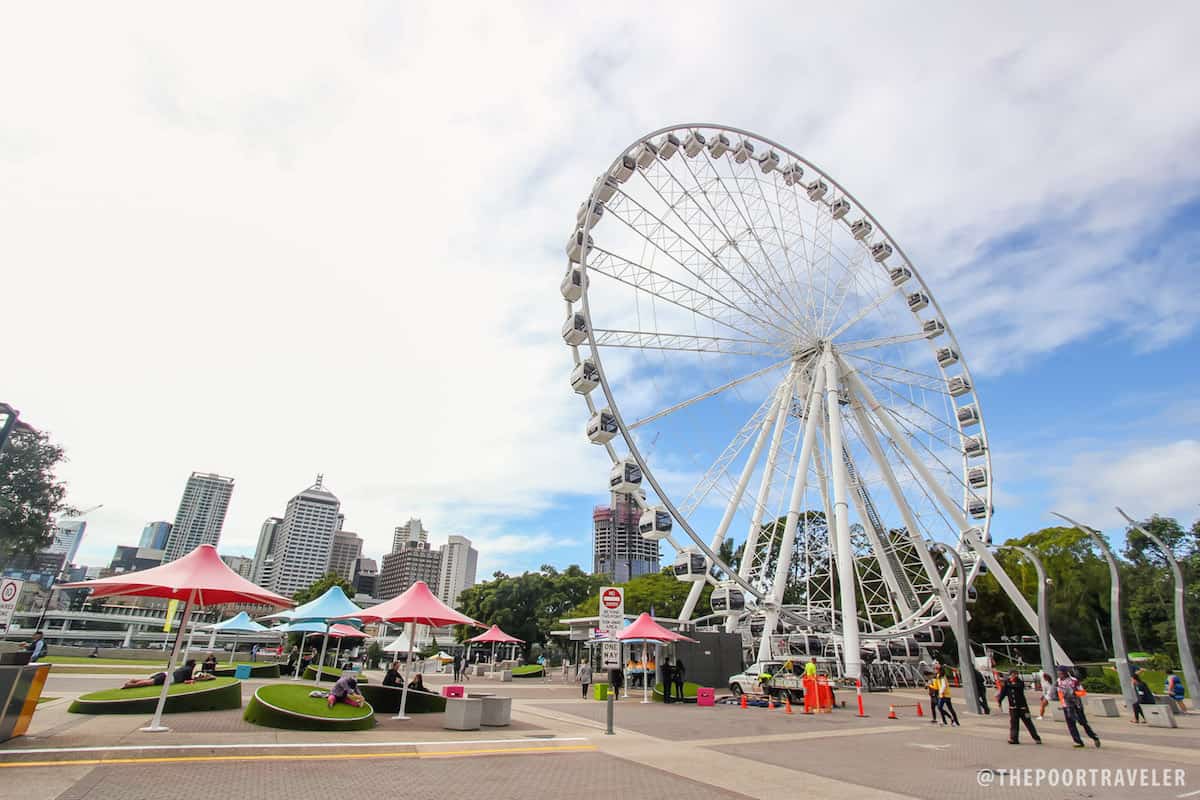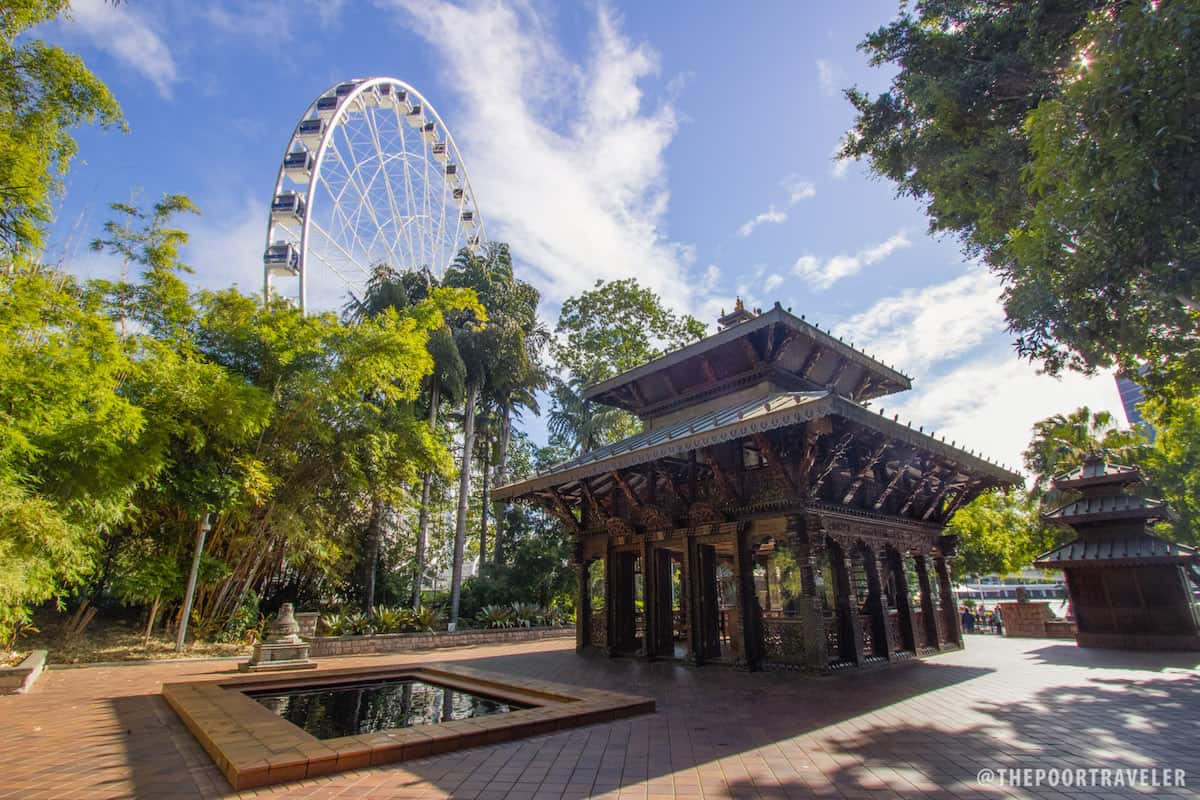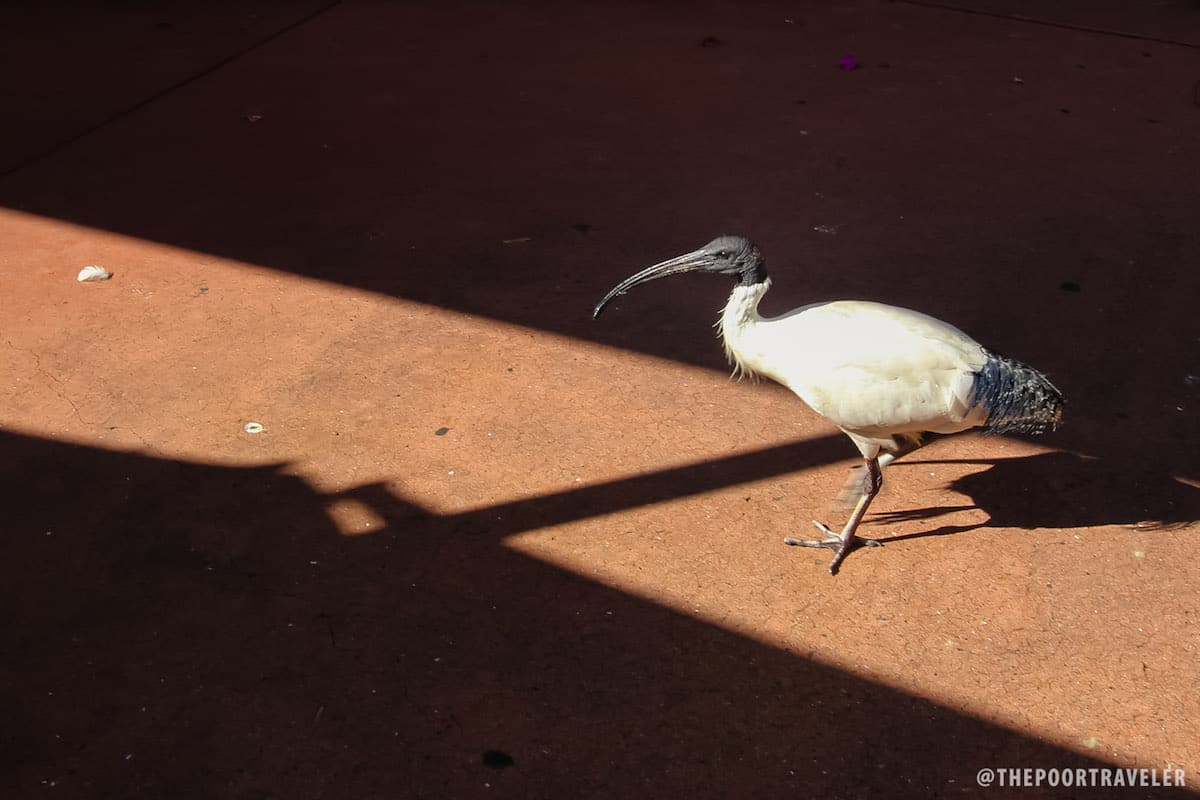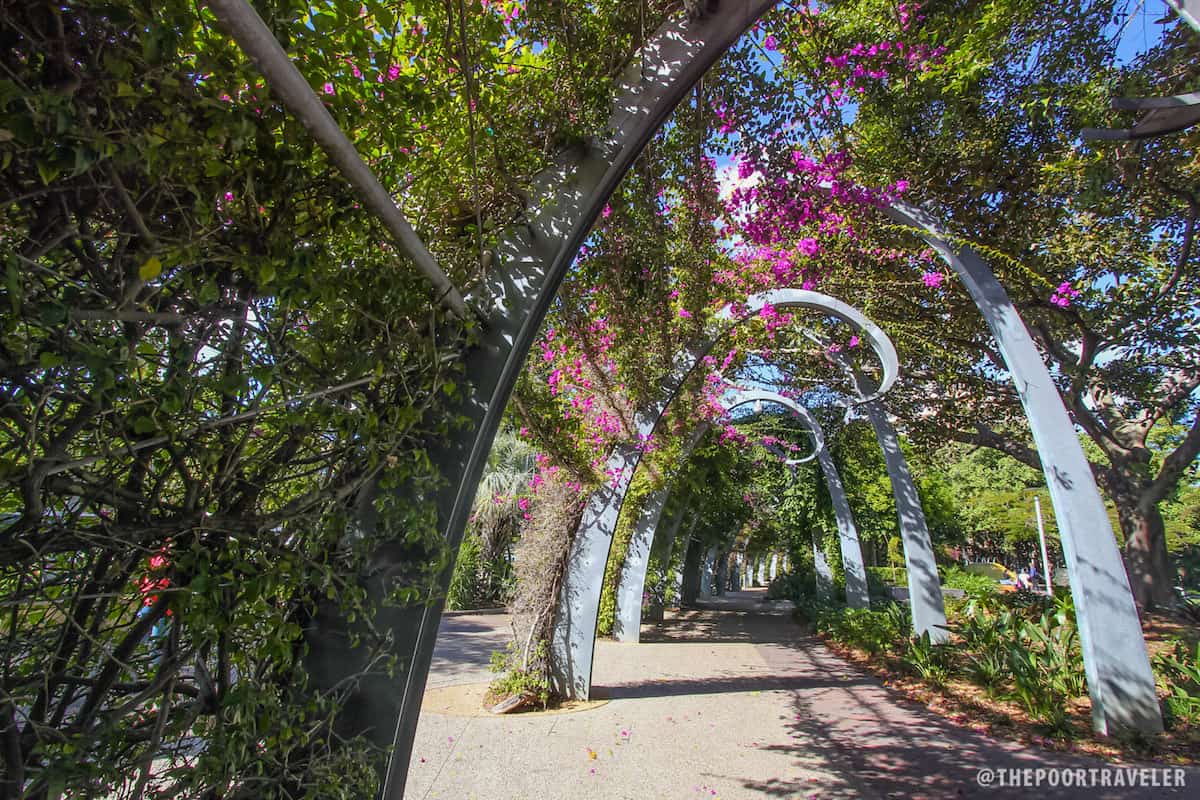 Visitors may also choose to walk around and enjoy the scenery at the riverfront promenade and the Grand Arbour, a kilometer-long bougainvillea-canopied arched pergola that covers a pedestrian walkway linking the Cultural Forecourt to the Griffith Film School.
---
Streets Beach
Part of the South Bank Parklands, the Streets Beach is a unique man-made lagoon next to the Brisbane River. Being here gives that illusion that you have left the metropolis, but it is the only beach within a city in all of Australia. It is a swimming beach, complete with glittering white sand, fringed with tropical trees. Swimming is allowed here.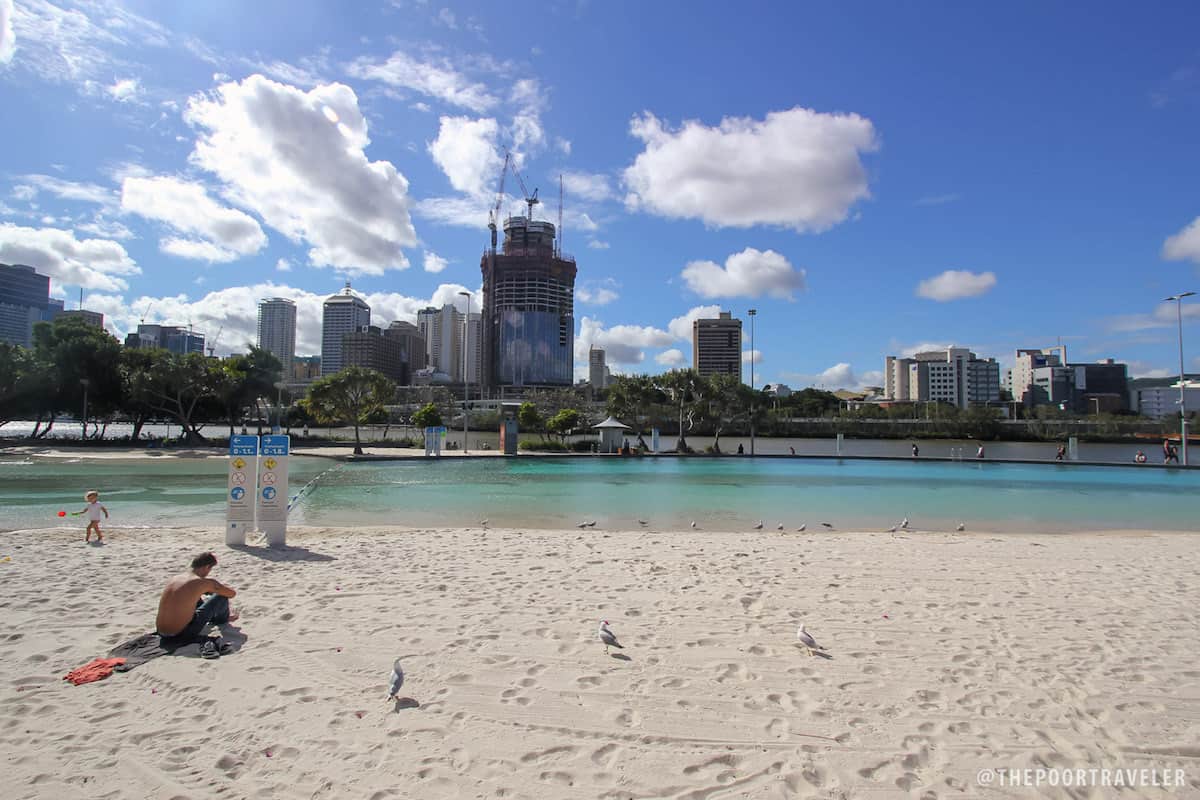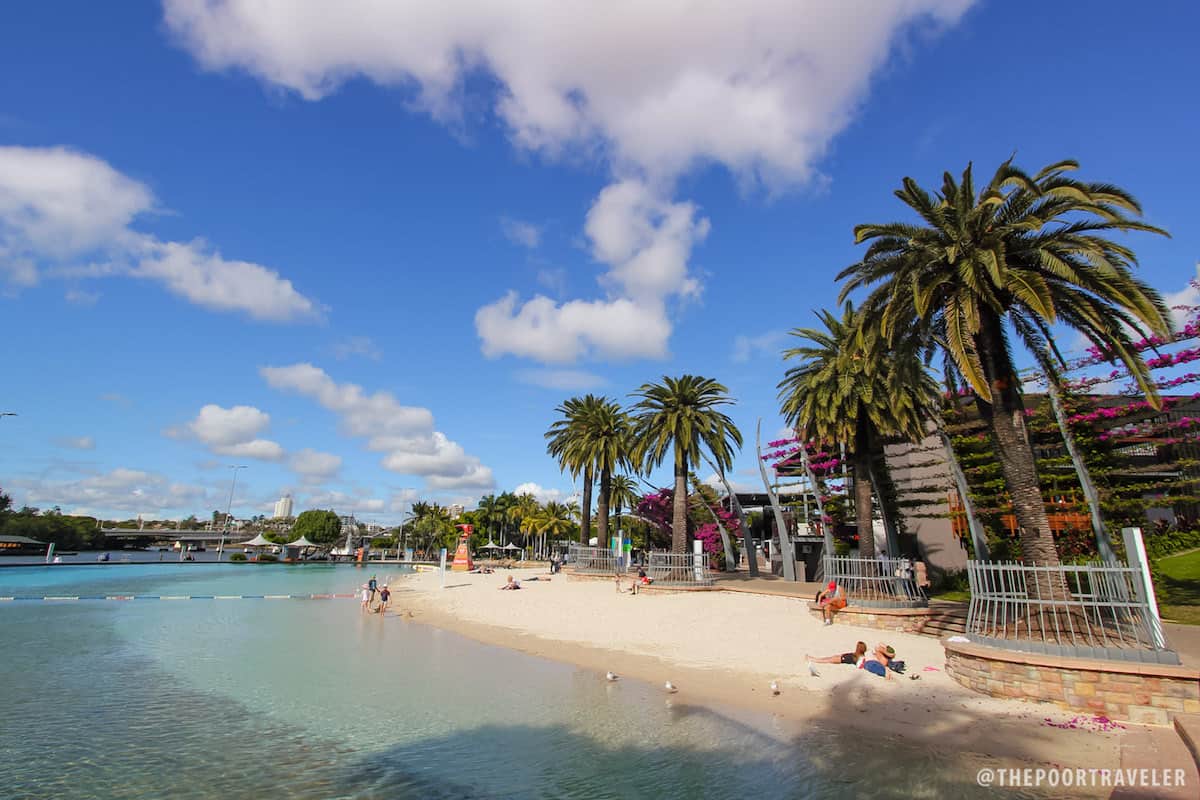 ---
Fashion and Art Weekend Markets
Over the past years, Brisbane has seen pop-up markets sprout in its streets and parks. Those showcasing clothing and art in particular have enjoyed popularity among locals and tourists alike. Explore one and you might find something that matches your taste, from quirky trinkets to handmade accessories, and vintage souvenirs to limited edition art pieces. Here's a short list of weekend markets: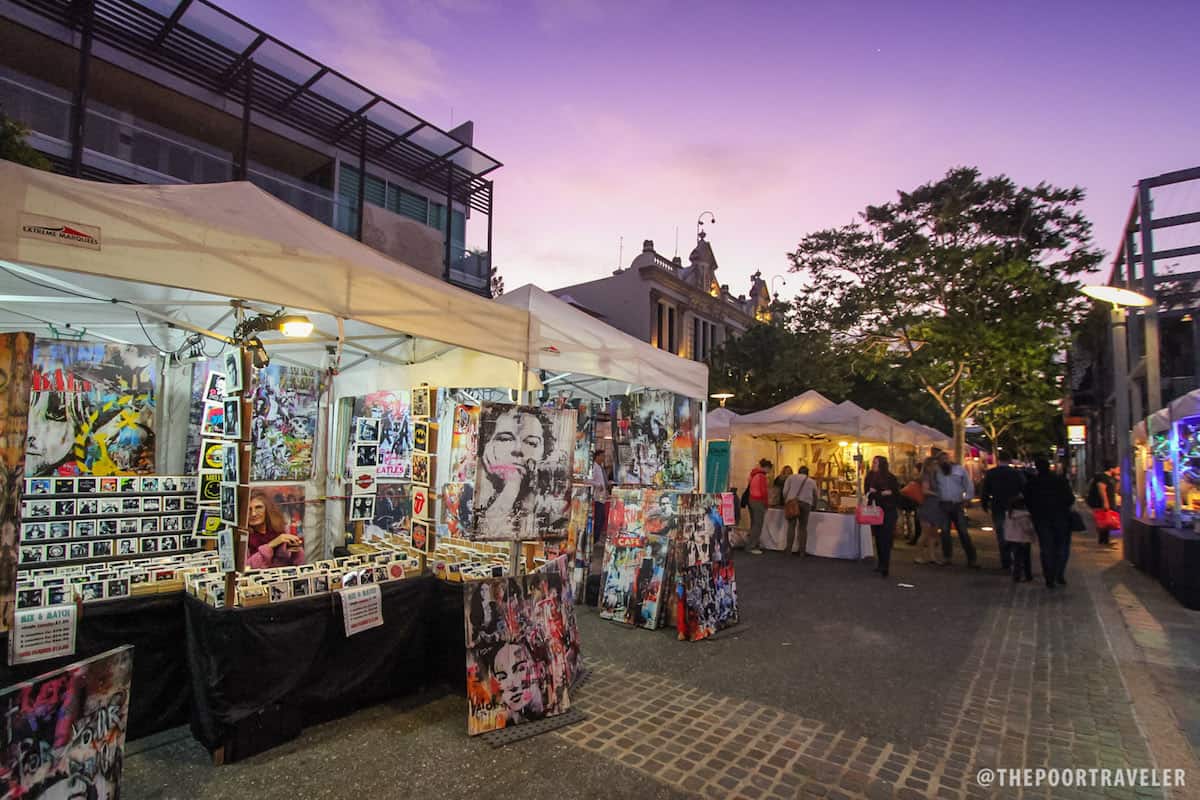 The Collective Markets
Location: Stanley Street Plaza, South Bank
Opening hours: Friday-Sunday evening
South Bank Young Designer Markets
Location: Little Stanley Street, South Bank
Opening Hours: First Sunday of the month, 10am – 4pm
BrisStyle Indie Twilight Market
Location: King George Square
Opening Hours: Some Friday nights, 4–9pm
Valley Markets
Address: Brunswick Street Mall, Fortitude Valley
Opening Hours: Saturday and Sunday, 9am – 4pm
---
Food Trip
There are also food markets around town selling fresh organic produce, quick bites, delectable desserts, and baked goods.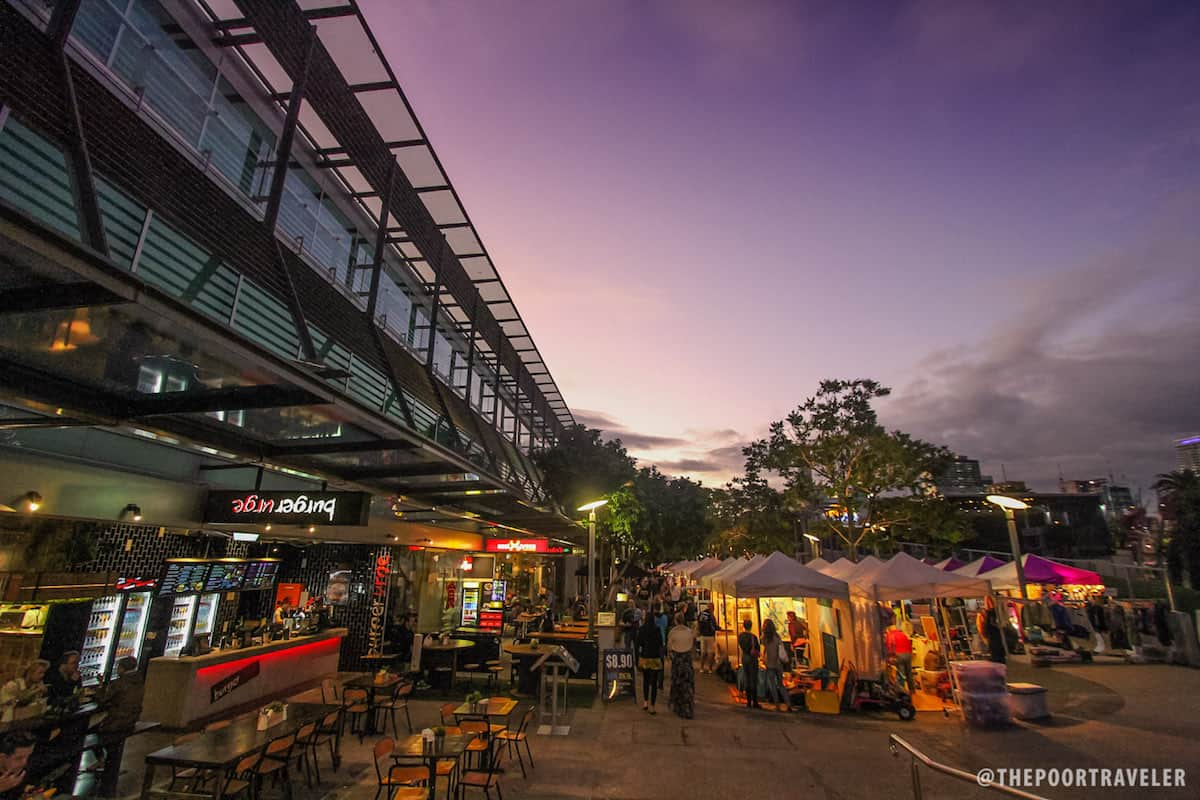 Eat Street Markets
Location: MacArthur Ave, Hamilton Wharf
Opening hours: Friday-Saturday, 4–10pm
Jan Power's City Farmers Markets
Location: Queen Street Mall (George St side)
Opening hours: Wednesday, 10am–6pm
Bakery Lane Providore Markets
Address: Bakery Lane, 690 Ann St, Fortitude Valley
Opening hours: First Saturday of the month, 9am–1pm
---
BBQ Picnic at Kangaroo Point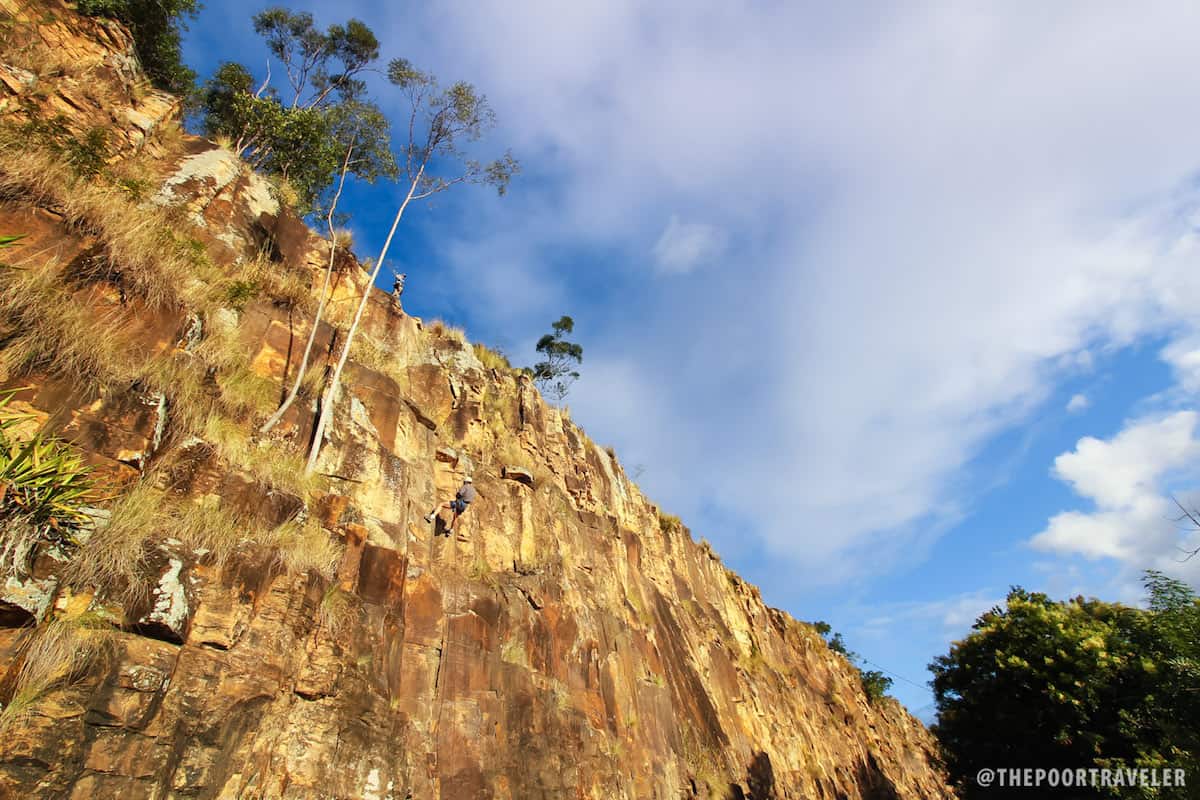 You can also have barbeque picnic with (newfound) friends! Kangaroo Point offers not only fantastic vistas of the Brisbane River and the Central Business District but also free use of grills and tables situated atop the cliffs.
---
Live Music
On the way back to the hostel from Kangaroo Point, we passed through South Bank Parklands once again, but we our attention was stolen by an acoustic act happening in one of the greens. Brisbane's music scene has been exploding over the past years, and if you know where to go, you can actually join a gig at no cost. Check out this Events Calendar to see all the free concerts and other gigs.
Where to stay: Brisbane City YHA Hostel offers clean and affordable accommodations in Brisbane.

Book here: Brisbane City YHA Hostel.
2️⃣0️⃣1️⃣6️⃣•5️⃣•3️⃣0️⃣
More Tips on YouTube ⬇️⬇️⬇️