By the time I emerged from the train station, I was almost completely spent. Brisbane is the sixth and final stop in our trip across Queensland and the Northern Territory. Albeit rewarding, it had been an exhausting journey. A good rest would be very welcome. Thankfully, we would be staying at Brisbane YHA.
As YHA's flagship branch in Queensland, we expected only great things from this hostel and we weren't disappointed. When we made it through its gates, we were greeted by a spacious common area and a adequately-staffed reception. After checking in, we were told to make it to the next building through the backdoor, and to our surprise, we were greeted by a 5-story building. Judging from the hostel's facade, I wouldn't have known that this place was huge.
Rooms and Rates
We booked a twin room, airconditioned. It was simple and minimalist, with only a television set and a framed image adorning its walls. The room looked and had a good view of Brisbane River. The beds weren't hotel-grade (expected) but it was comfortable and smelled clean.
After dropping my bags, the first thing I did was check out the rest room, the cleanest I'd seen in any hostel anywhere. It wasn't that big but had enough room to move around.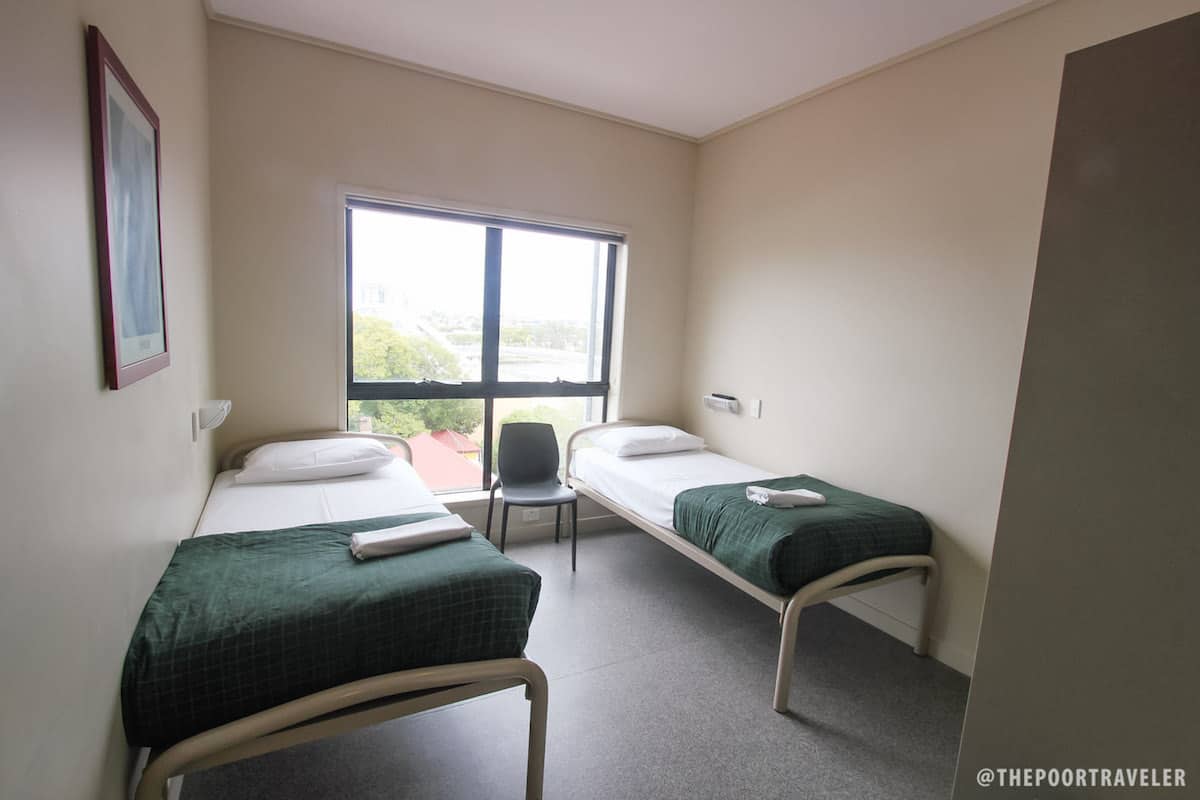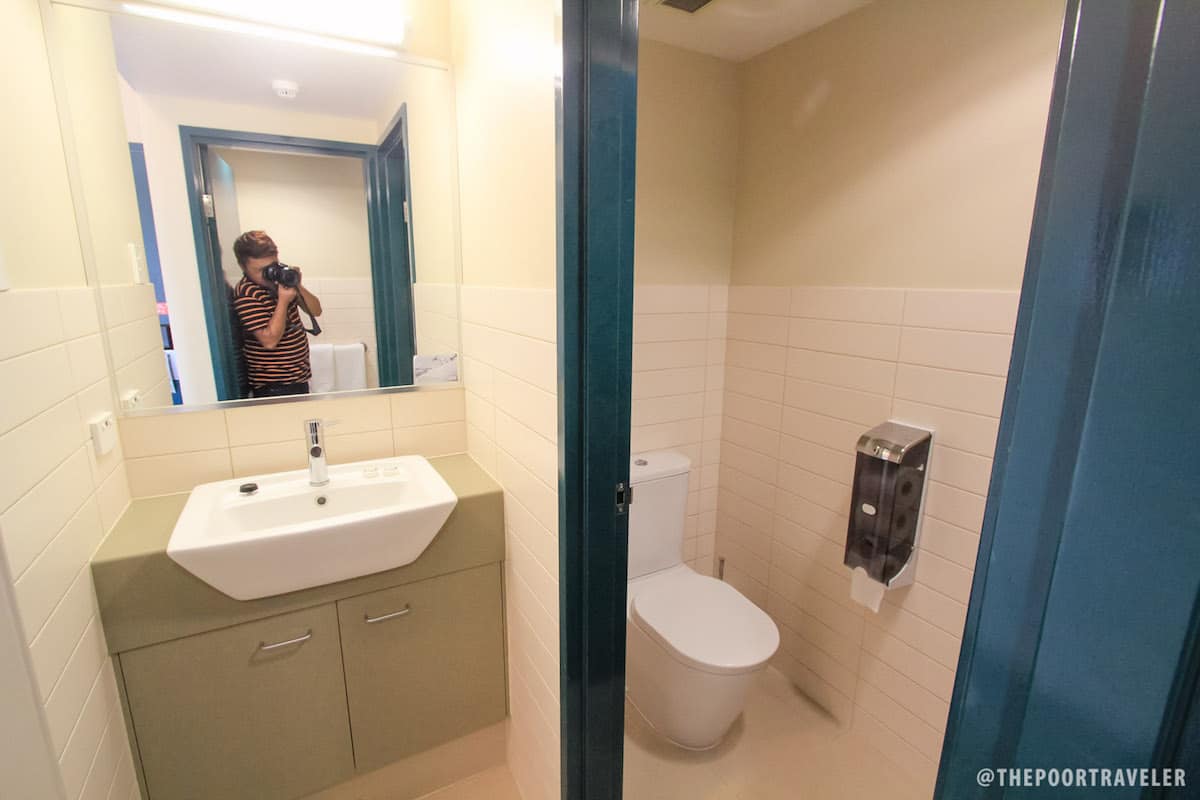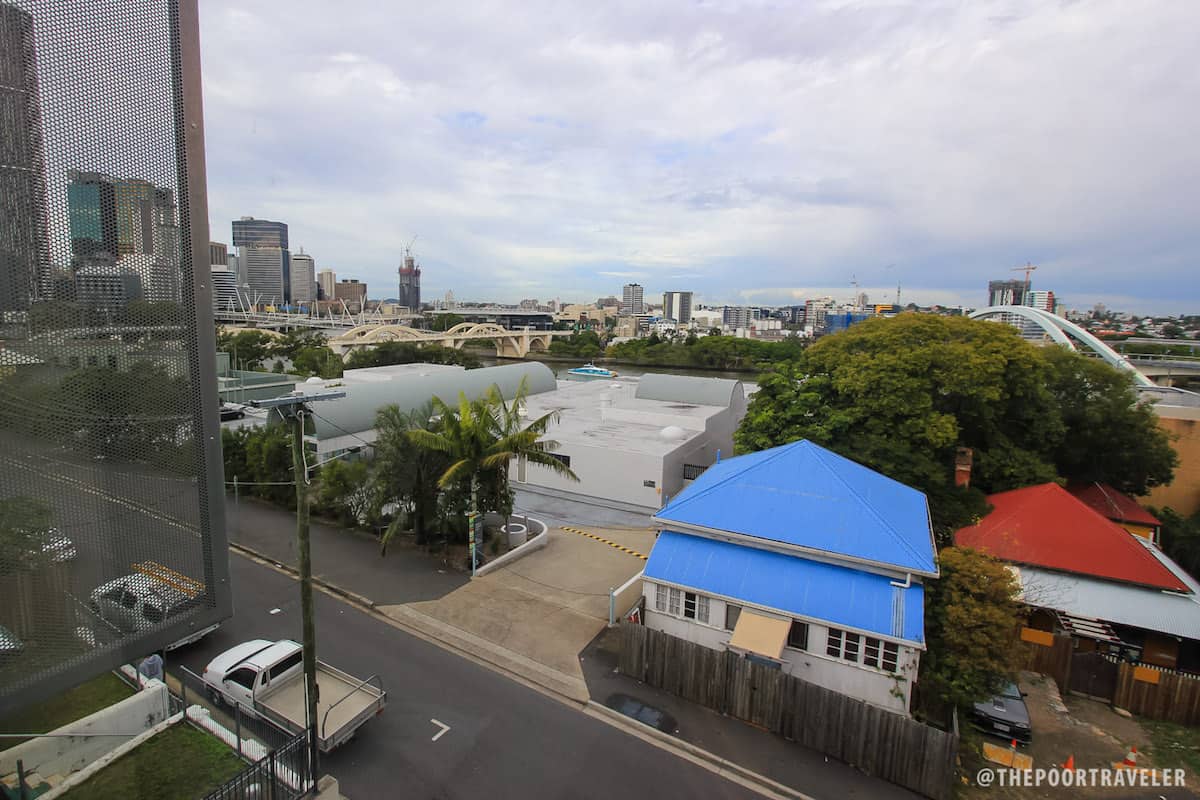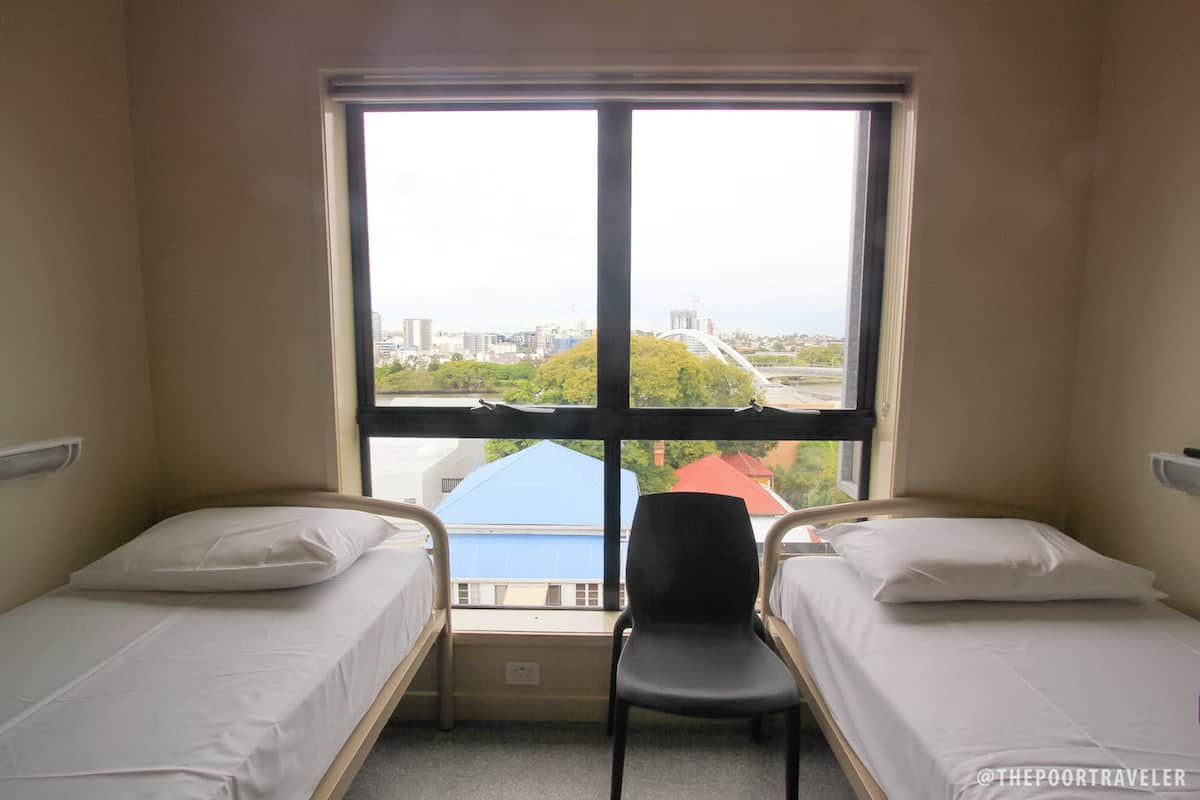 As of January 2016, here are their room rates for YHA members:
6-bed dorm: AUD 30.5
6-bed dorm with private bathroom: AUD 36
4-bed dorm: AUD 34
4-bed dorm with private bathroom: AUD 30.5
Twin room: AUD 87
Twin room with private bathroom: AUD 105
Double room: AUD 87
Double room with private bathroom: AUD 105
Family room with private bathroom: AUD 130.5
For non-YHA members, here are the standard rates:
6-bed dorm: AUD 34
6-bed dorm with private bathroom: AUD 40
4-bed dorm: AUD 38
4-bed dorm with private bathroom: AUD 42
Twin room: AUD 97
Twin room with private bathroom: AUD 117
Double room: AUD 97
Double room with private bathroom: AUD 117
Family room with private bathroom: AUD 145
.
Amenities and Service
Brisbane YHA has almost everything a weary backpacker needs. It already made a good impression even before reached our room. The building where rooms are housed was accessible via a keycard, which ensures that only guests can enter. The lobby of each floor is decorated with Australian scenes, from surfboards dangling from the ceiling to images of the Great Barrier Reef.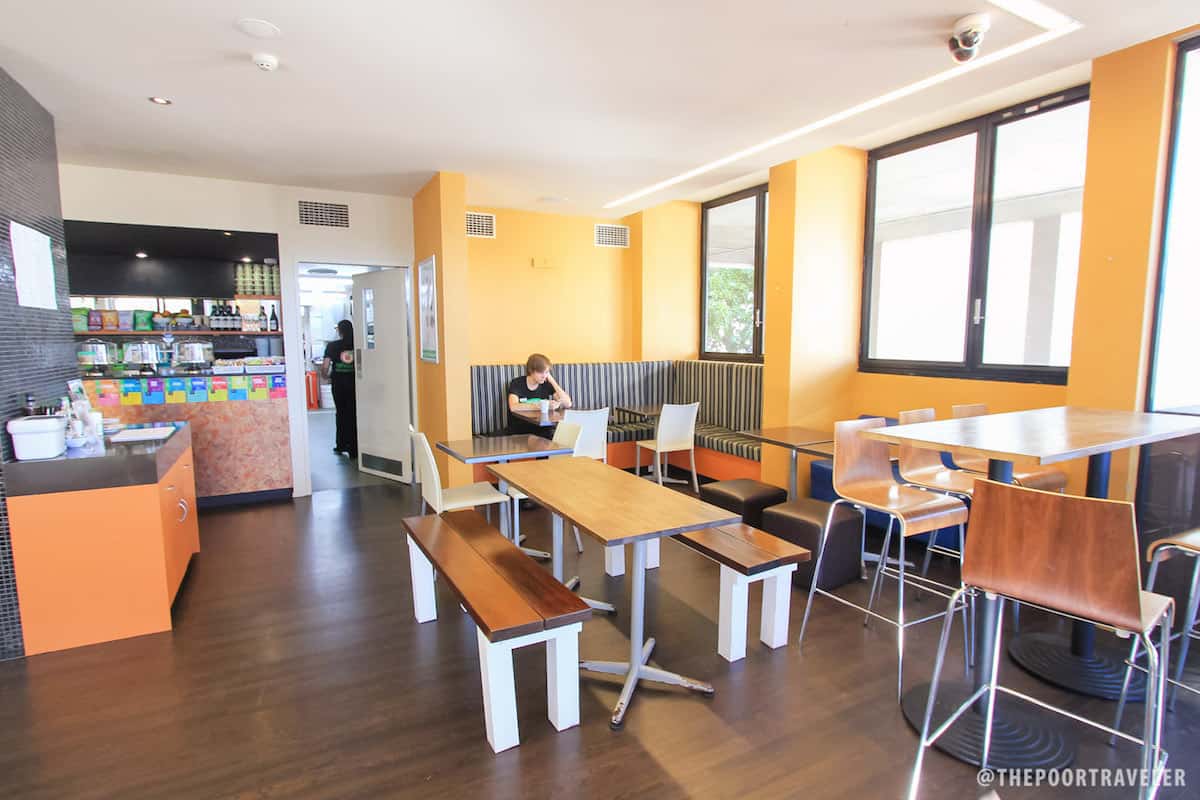 Kitchen and Cafe. There is a cafe on the ground floor, where you can meet like-minded guests. Or you could prepare your own meal at their well-equipped kitchen. For the playful, there is a games room, where you can enjoy a round of billiards.
Wi-fi. There is free wi-fi, but as expected it is good only for browsing and probably watching light videos. Faster connection is available for a fee. We didn't have to worry about it because the wi-fi passcode that we purchased online back in Airlie Beach was also working in Brisbane.
Other Amenities. The reception also has a tour desk, where you could see a gazillion brochures so you could choose from the many activities you can do in Brisbane. And you can also ask someone from the staff, who were always smiling, friendly, and eager to help. The reception is open 24 hours.
Bike rental is also available. The best part, there is a swimming pool on the rooftop, overlooking Brisbane River and the Central Business District.
After checking out, we were delighted to learn that we could store our luggage in their locker room (for a small fee) because our flight was not until the evening.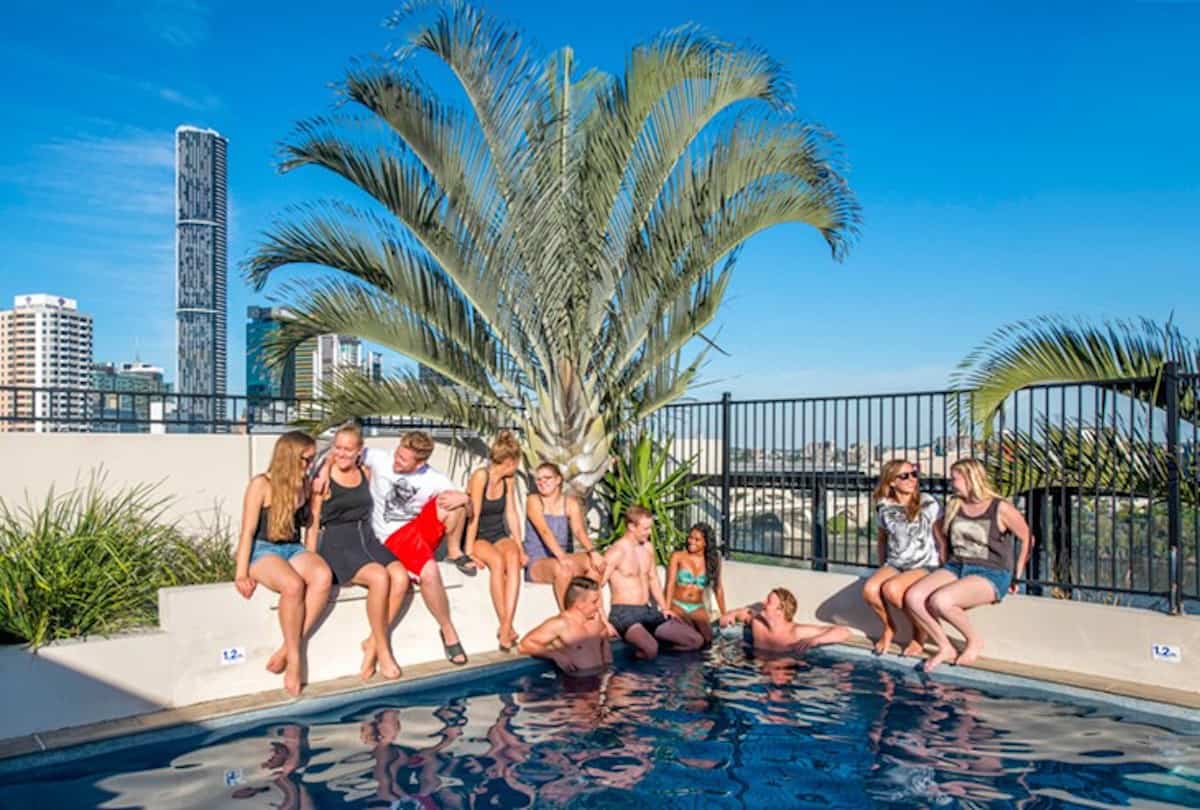 Location
Located along Upper Roma Street, it can be reached after a 10-minute walk from the Roma St. Train Station. But with 20kg on my back and a slightly uphill route, it kind of felt a bit longer. But it stands next to other well-known hostels in the area.
I'm not sure if there are better areas in the city, but one thing I liked about it is that it's just a short walk to South Bank, where we spent much of our time. The Central Business District is a little farther, 20 minutes on foot. But it's always a joy walking around Brisbane so we didn't really mind. Along the way, we even had small chats with other travelers loitering in front of the other hostels.
All things considered, it was definitely our best hostel experience in Australia and one of the best anywhere in the world.
Brisbane City YHA Hostel
392 Upper Roma Street, Brisbane , 4000 QLD
Email: brisbanecity@yha.com.au
Phone: (+617) 3236 1004

Book here: Brisbane City YHA Hostel.

How to get to Brisbane YHA: From the airport, take the train to Roma Street Station. Once you've exited the terminal, cross the street and walk to your right. Continue walking up that road. After two and a half blocks, you'll find YHA to your left.

Disclosure: While this is an honest review, let it be known that YHA invited us to stay at this hostel at no charge so we could experience their services firsthand.
2️⃣0️⃣1️⃣6️⃣•1️⃣•2️⃣4️⃣
More Tips on YouTube ⬇️⬇️⬇️