So you have only two weeks to travel around Southeast Asia? Well, that's definitely NOT enough, but you can still have a great time.
This topic — sample 2-week multi-country itineraries for Southeast Asia — is one of the most requested from us. And we get it. Travelers who have very limited time tend to squeeze everything into their itinerary in hopes of maximizing the rare opportunity they have. We're not really fans of it, and we always advocate staying longer, but alas that's easier said than done for full-time employees who have finite leave credits.
So here it is!
In this post, we'll be focusing on Singapore and continental Southeast Asia that are best explored by land: Malaysia, Thailand, Cambodia, Laos, and Vietnam. Although it is possible to travel to Myanmar by land, the most convenient way of reaching it is still by plane. For Indonesia, the Philippines, Brunei, and Malaysian Borneo, we'll be creating separate posts for them, so we're not including them here.
These are sample 2-week itineraries. Emphasis on 2-week. If you have fewer days, you might want to check out this post: Sample Southeast Asian Itineraries (5-7 Days)

If you need help planning or budgeting your trip, this post might help: Southeast Asia Travel Guide
Important notes:
The sample itineraries here are all multi-country, which means you will be crossing a border on at least two points during the trip. If you're an ASEAN resident, no need for visa. If not, make sure you do the necessary paperwork.
Every sample itinerary has an indicated Estimated Budget range. The lower end of the range assumes you're staying at a dorm in a hostel, the higher end if you're staying in a private double room and splitting the cost with a companion. It also allocates around US$30 per day for activities. The $30/day allowance has a big margin already and should only serve as a guideline. If you spend $50 on a tour today, then pull a DIY or adjust your activity spending the next day.
Hotel Stop means the city where you will be spending the night. Even if most of your day is spent in Ayutthaya but you will be spending the night in Bangkok, it will be tagged Bangkok. If the day is tagged Transit, it means you will be spending the night on the road (overnight train or bus).
Tours are done DIY-style. But if you want to join a group tour for comfort, we've provided links below so you can book in advance.
If your hostel or hotel does not serve free breakfast, visit the supermarket on your first day to buy food (biscuits, drinks, bread).
We're using major airport hubs as entry and exit points — Singapore, Kuala Lumpur, and Bangkok — because tickets to these airports are usually the cheapest.
Useful links are provided for each sample itinerary. This will allow you to book bus transfers or tours. Hotel recommendations are also provided towards the end of this post.
Airfare is not included in the estimate.
To book bus or train seats in advance, Reserve Here!
WHAT'S COVERED IN THIS GUIDE?
Route #1: Thailand-Cambodia-Vietnam
Stops: Bangkok + Ayutthaya Day Tour, Siem Reap, Mui Ne, Ho Chi Minh City
Entry point: Bangkok
Exit point: Ho Chi Minh City
Estimated Budget: USD 500-700 (P25,000-35,000)
I've done this trip in 2014 as part of a longer journey. (Mine started in Phuket but continued this way.) What I liked about this is that it showcases the key attractions in Thailand, Cambodia, and Vietnam, and they're pretty diverse too. The Bangkok stop is more about people and food, Siem Reap about ancient history, Mui Ne about natural landscapes, and Ho Chi Minh City about modern history.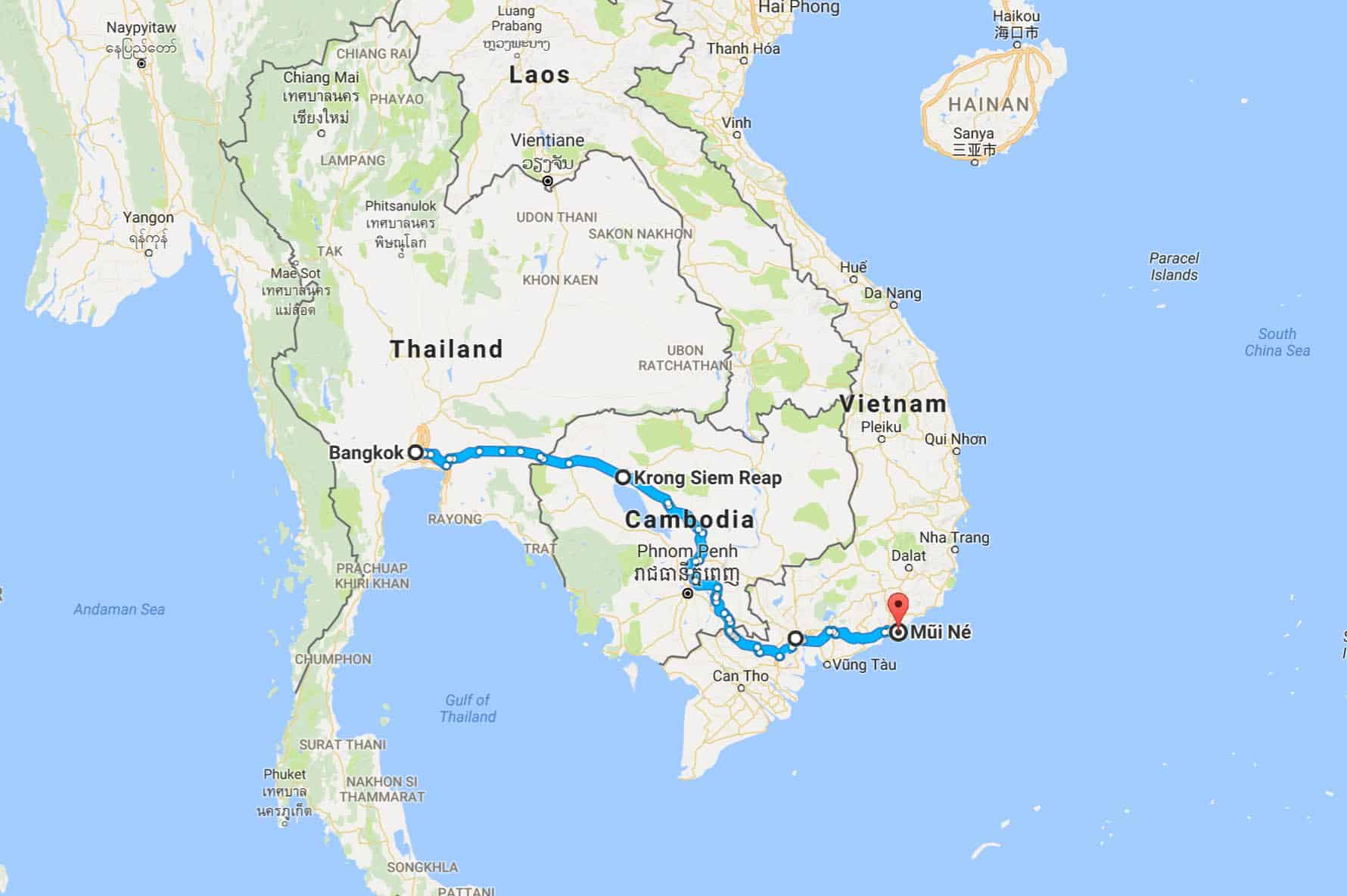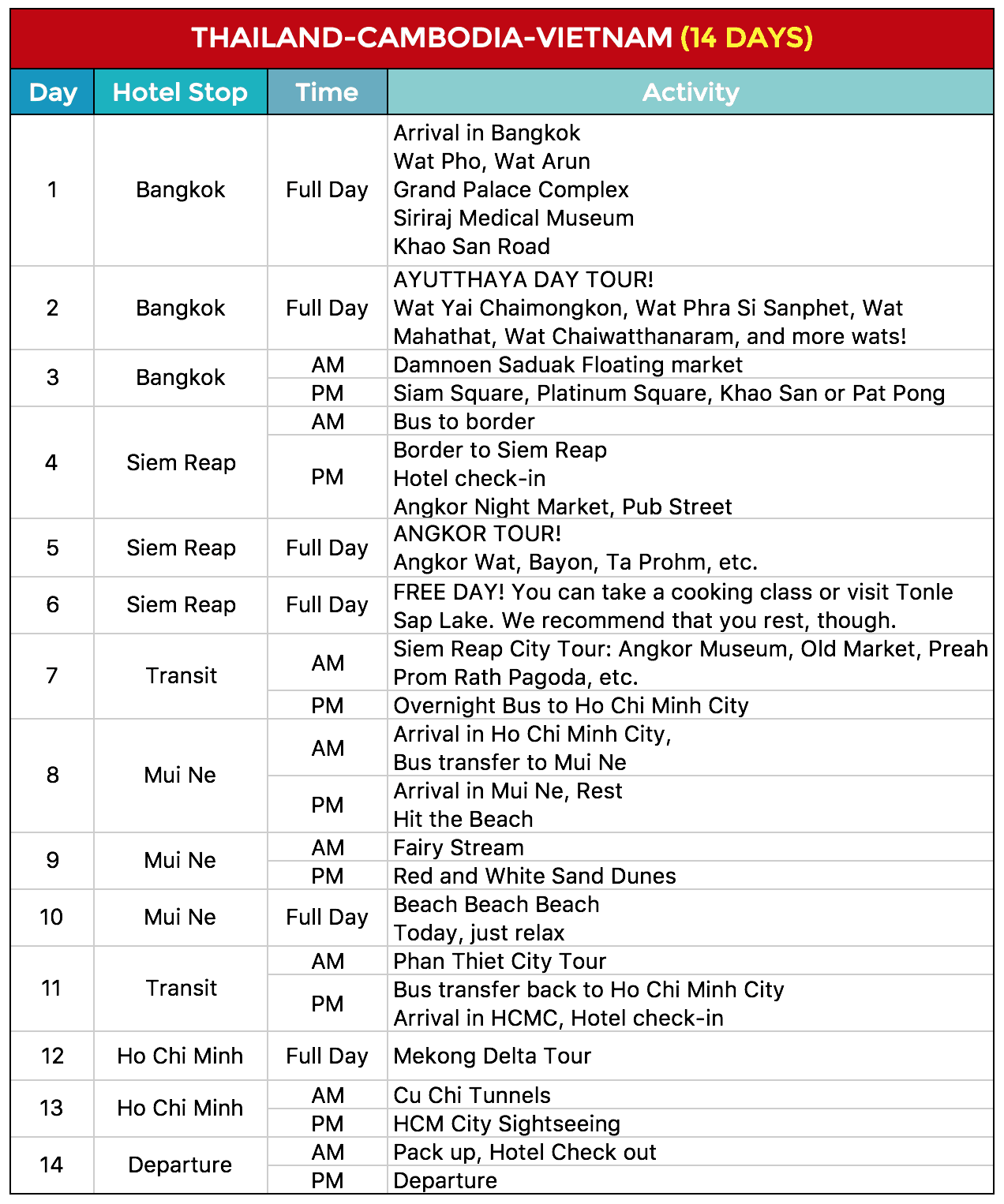 Bangkok-Siem Reap Bus: Reserve Here
Siem Reap Tours:
Ho Chi Minh City Tours
___________
Top Budget Hotels in Siem Reap: Search Here
The Golden Gecko Villa
Street 20, Siem Reap Central Area

Visoth Boutique Hotel
Sok San Road, Siem Reap Central Area
Top Budget Hotels in Saigon: Search Here

CCentral Hotel De Tham
216 De Tham Street, District 1, Ho Chi Minh City, Vietnam

Ava Saigon 3 Hotel
137 De Tham, District 1, Ho Chi Minh City, Vietnam
___________________
Route #2: Thailand-Laos
Stops: Bangkok + Ayutthaya Day Tour, Chiang Mai + Chiang Rai Day Tour, Luang Prabang, Vang Vieng, Vientian
Entry point: Bangkok
Exit point: Bangkok
Estimated Budget: USD 600-800 (P30,000-40,000)
This route begins and ends in Bangkok. It starts in the Thailand capital and then takes you north to Chiang Mai and Chiang Rai. From here, you will have to fly from Chiang Mai to Luang Prabang in Laos. There is another way — taking the boat — but it's not something I recommend because it takes days. Flying is not that expensive and will get you there in an hour.
I've done a version of this route back in 2012, but instead of flying, I traveled from Chiang Mai to Vientiane by land and then proceeded to Vang Vieng and Luang Prabang.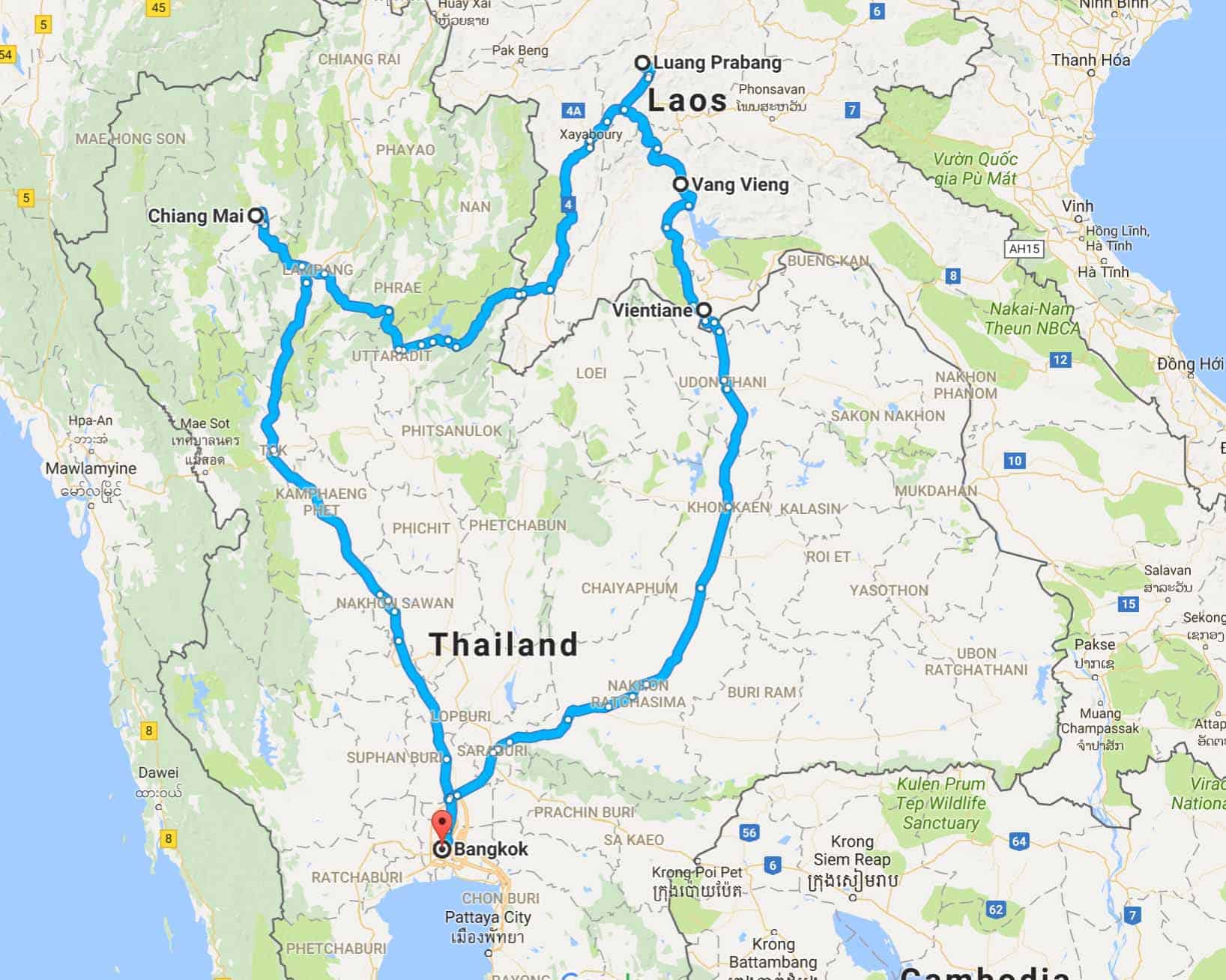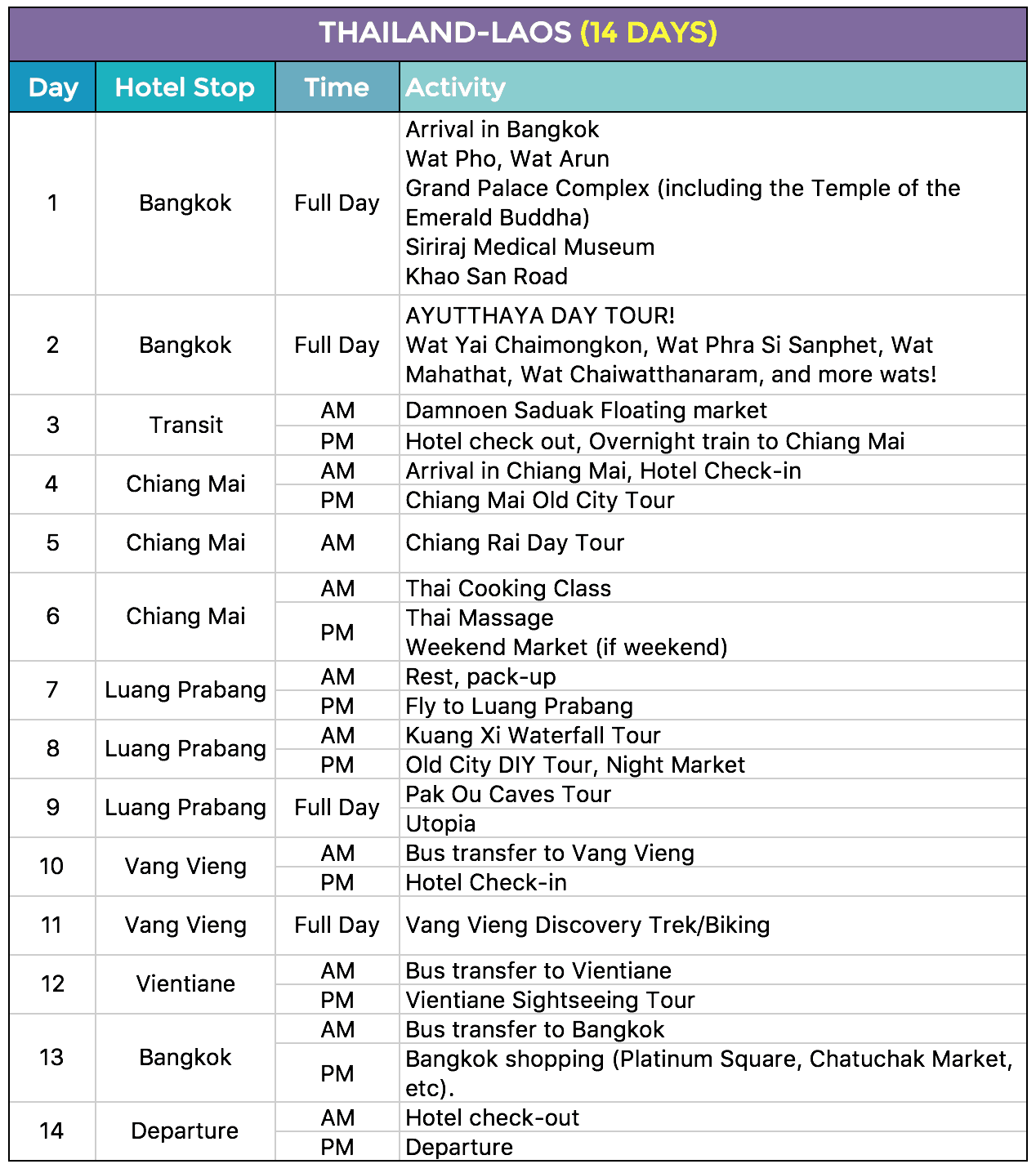 Bangkok Tours:
Top Budget Hotels in Bangkok: Search Here

Aster 9 House
84/8 Sukhumvit 33, Klongtoeynua, Wattana, Bangkok

Nap@Pan Bangkok
50/25 Pan Road, Silom
___________
Top Budget Hotels in Vientiane: Search Here

S Park Design Hotel
40 Dongnasok Road, Ban Nakham, Sikhottabong District, Vientiane,

PVO Hostel
Rue Pangkham, Vientiane City Center
___________
Route #3: Singapore-Malaysia-Thailand
Stops: Singapore, Malacca, Kuala Lumpur, Langkawi, Phuket, Bangkok
Entry point: Singapore
Exit point: Bangkok
Estimated Budget: USD 600-700 (P30,000-35,000)
This route has been done by many of my blogger friends. If you follow this, you'll begin your journey in Singapore and make your way up north to Malaysia and further up mainland Southeast Asia to Thailand. It gives you a taste of three state capitals and has a pretty varied offerings, from Singapore's urban treats to Malacca's and KL's heritage to Langkawi's and Phuket's beaches to Bangkok's temples and food.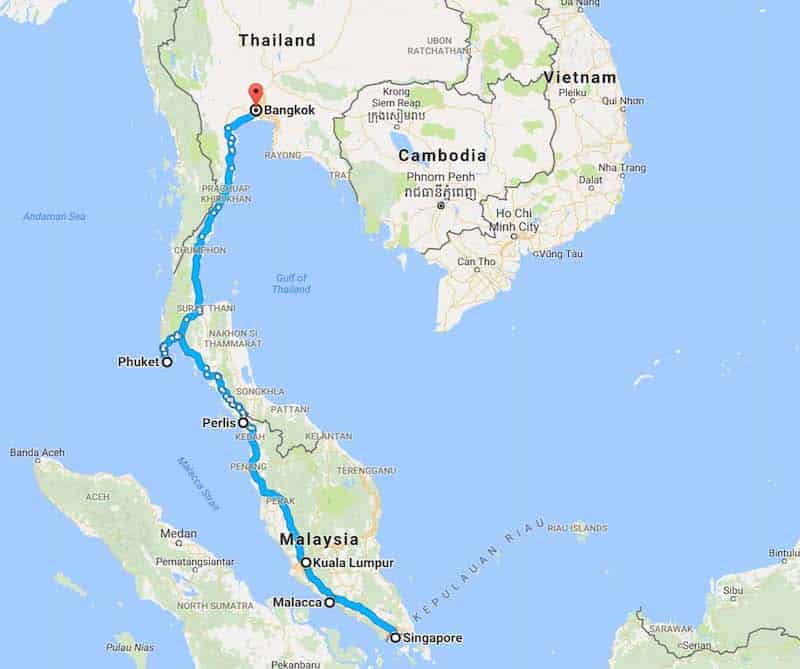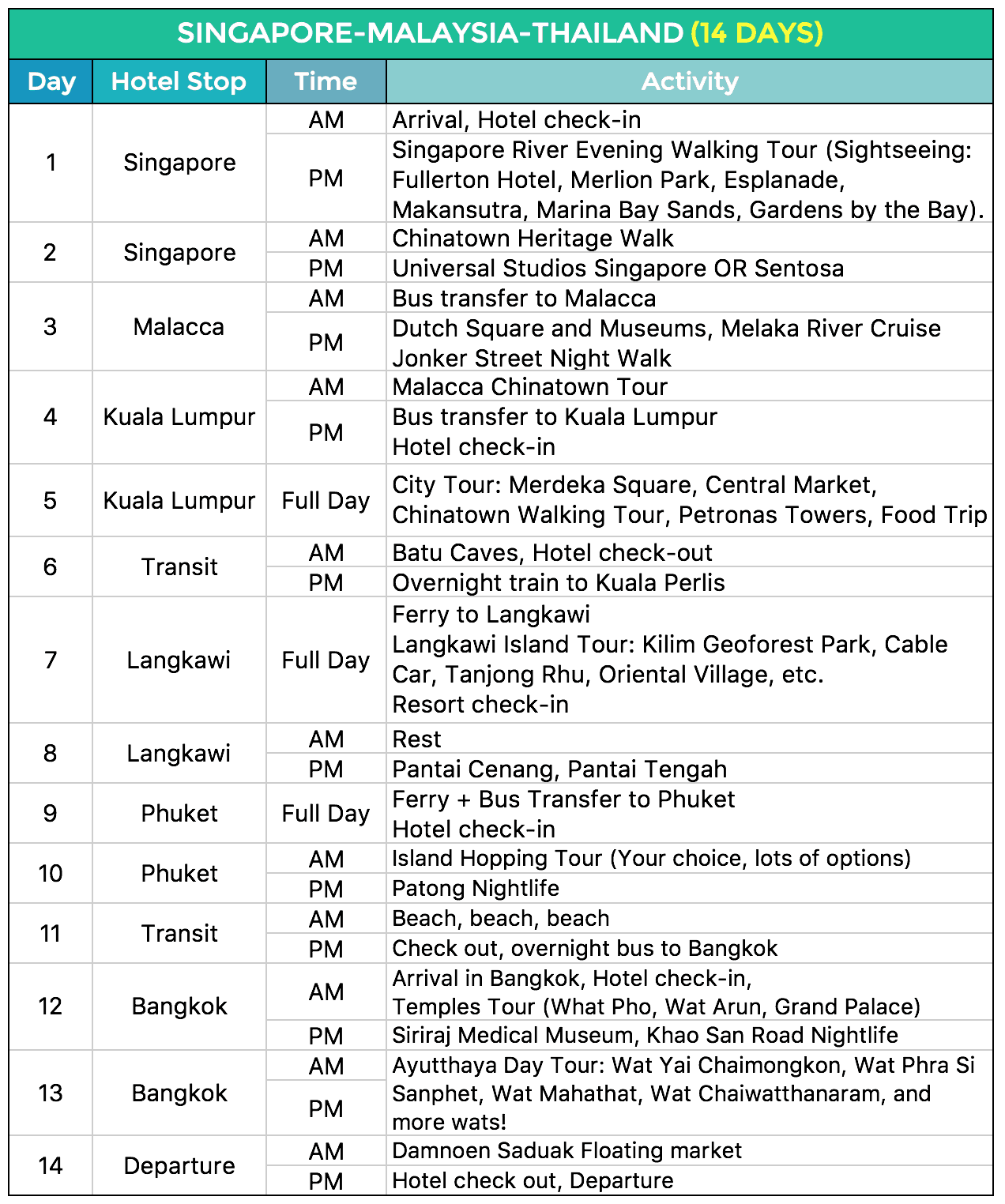 Singapore to Melaka Bus: Reserve a Seat Here
Stay Connected in Singapore: 4G SIM Card (Pickup at Changi Airport): Reserve Now
Singapore Attractions:
Top Budget Hotels in Singapore: Search Here

Cube Boutique Capsule Hotel @ Chinatown
76, 78 Smith Street (2nd & 3rd Level), Chinatown, Singapore

Dream Lodge
172 Tyrwhitt road, Kallang, Singapore
___________
Route #4: Malaysia-Thailand
Stops: Kuala Lumpur, Cameron Highlands, Penang, Langkawi, Phuket, Bangkok
Entry point: Kuala Lumpur
Exit point: Bangkok
Estimated Budget: USD 500-700 (P25,000-35,000)
This route is similar to #3, except it begins in Kuala Lumpur (not Singapore) and makes extra stops in Cameron Highlands and Penang before moving on to Langkawi, Phuket, and Bangkok.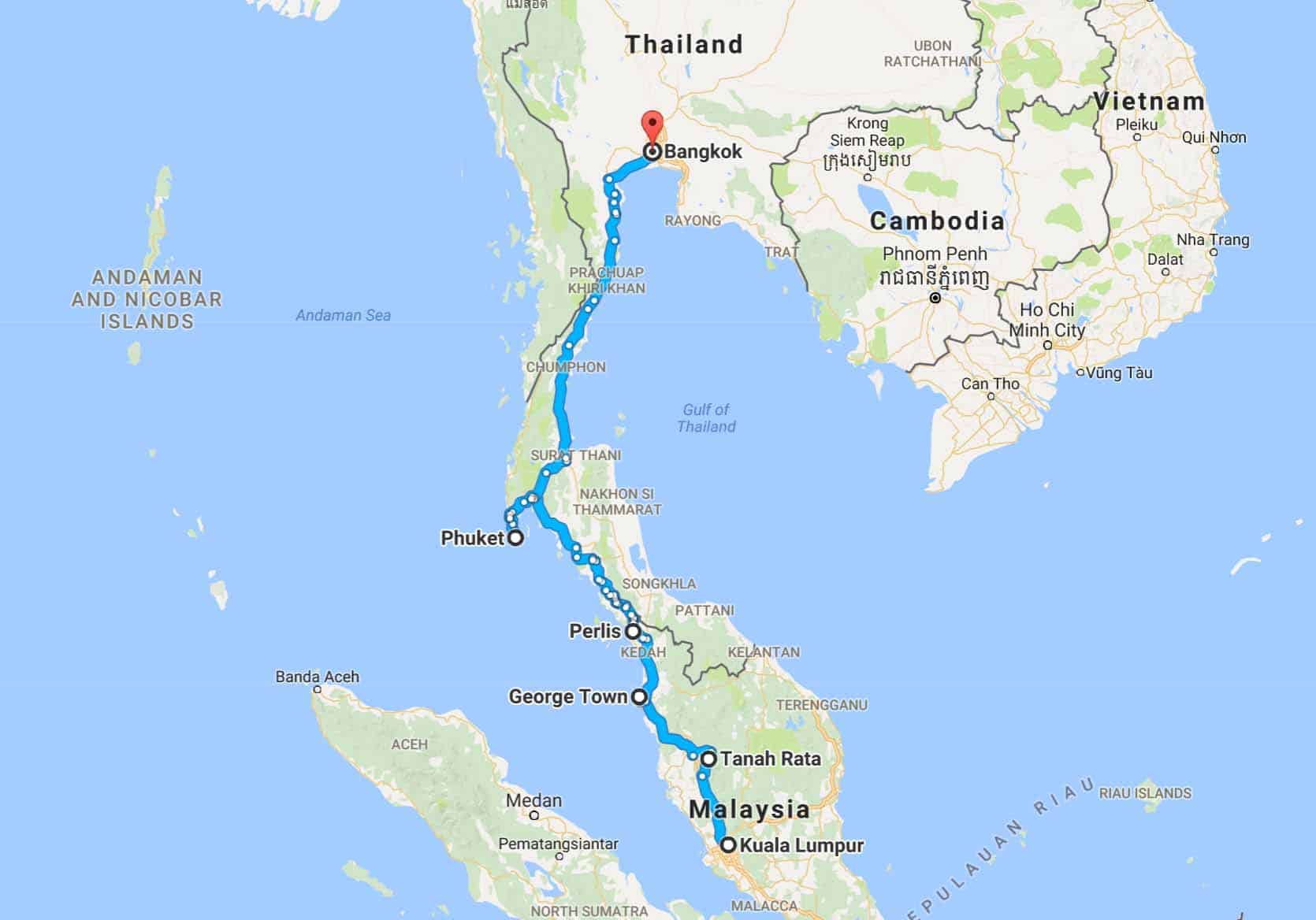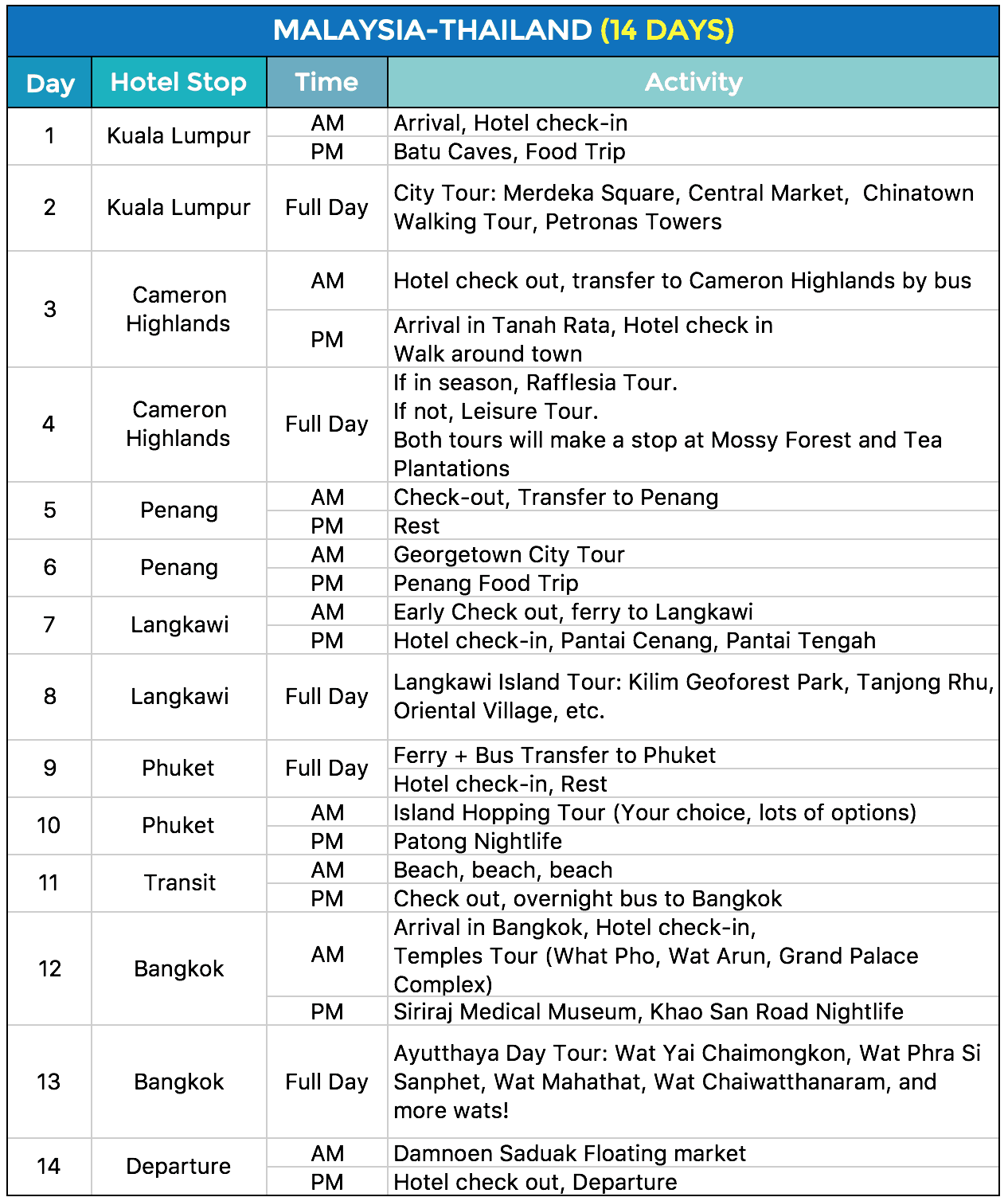 Kuala Lumpur Attractions:
Top Budget Hotels in Kuala Lumpur: Search Here

Q Hotel Kuala Lumpur
No 51 Jalan Tiong Nam, Off Jalan Raja Laut,, Kuala Lumpur, Malaysia

Pacific Express Hotel Kuala Lumpur
Jalan Hang Kasturi, Kuala Lumpur, Malaysia, 50050
2️⃣0️⃣1️⃣7️⃣ • 6️⃣ • 1️⃣7️⃣