Getting ready for your trip to Berlin, Germany? Here are some tourist attractions to consider for an enjoyable and unforgettable BERLIN ITINERARY! If you need to do more research, check out our detailed BERLIN TRAVEL GUIDE!
Berlin has three UNESCO World Heritage Sites: the Museumsinsel (Museum Island), Berlin Modernism Housing Estates, and the Palaces and Parks of Potsdam and Berlin. Even though much of the city was reduced to rubble during World War II, many of the structures have been reconstructed and restored to their original beauty.
Here are some of the top places to visit in Berlin. I also indicated the entrance fees and the nearest train or tram stations so you could easily get to them.
WHAT'S COVERED IN THIS GUIDE?
Brandenburg Gate
Nearest Station: Brandenburger Tor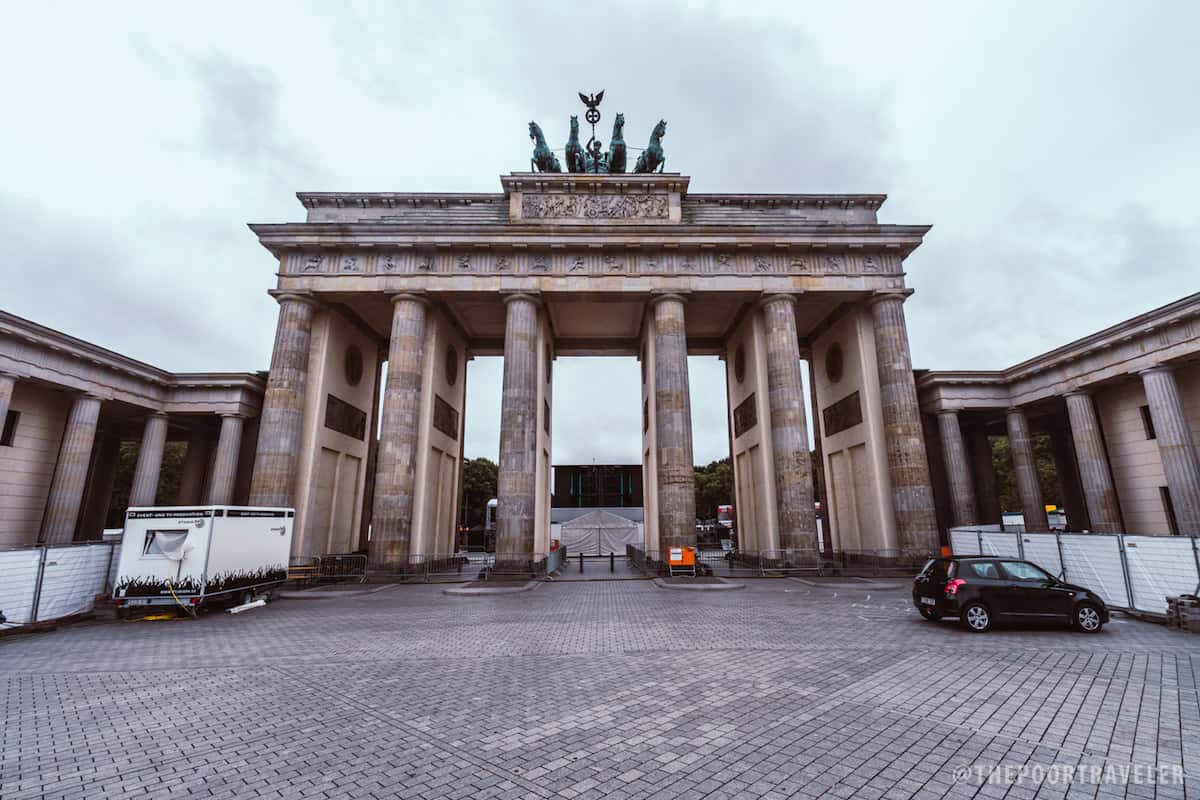 A trip to Berlin is not complete without visiting this historic monument. Completed in 1791 under the orders of Frederick William II of Prussia, it is a symbol of two things: Germany's rich past and unity. Brandenburg Gate was closed from August 14, 1961, when the city was split into East and West, until its fall in 1989. Your Berlin itinerary will not be complete without it. No entrance fees, it's FREE!
---
The Berlin Story Bunker
Location: Schöneberger Str. 23A, 10963 Berlin
Nearest Station: Anhalter Bahnhof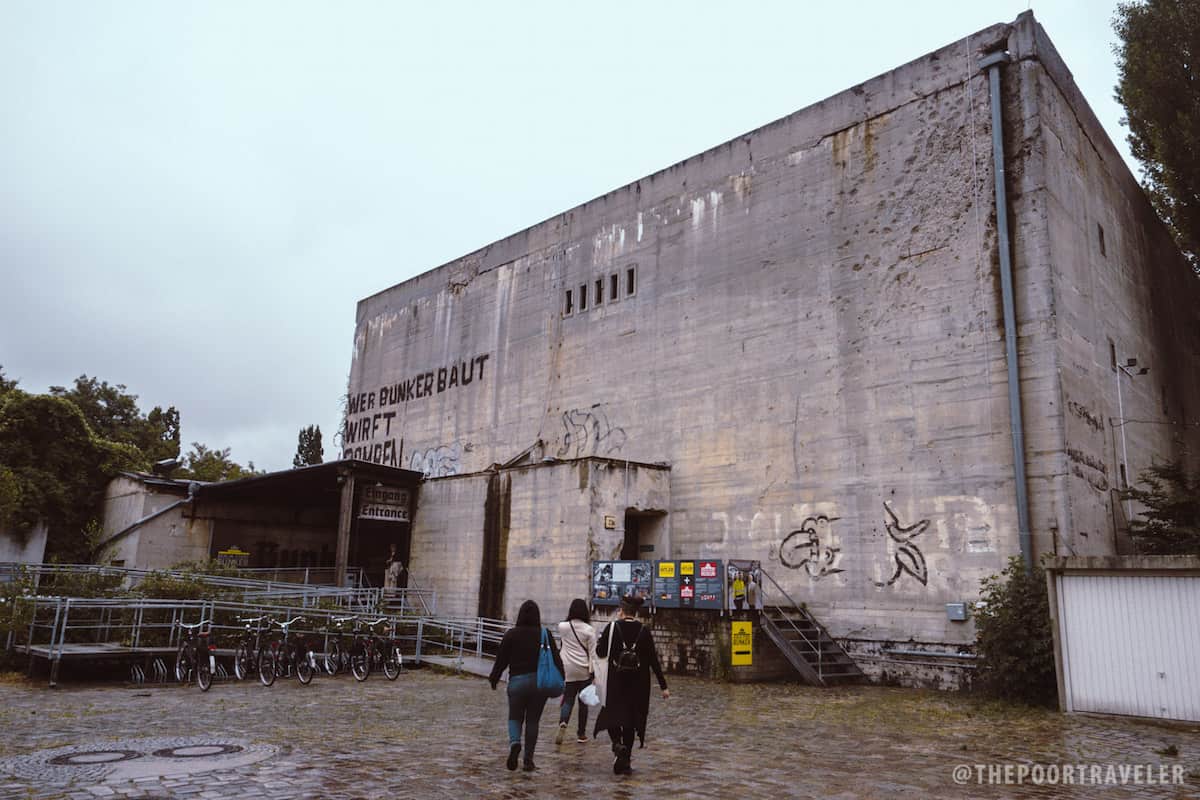 It's an old air raid bunker, where refugees took shelter during World War I air raids. Inside the bunker you'll see pictures and objects from the war to Hitler's rule. There are two exhibitions inside the bunker: the Berlin Story Museum and "Hitler – How Could it Happen."
The Berlin Story Museum. Ticket Price: €6.00 (€4.50 if you have a valid Berlin Welcome Card).
HITLER – How Could it Happen. Ticket Price: €12.00 (€9.00 if you have a valid Berlin Welcome Card).
Open: Monday – Sunday, 10:00AM to 07:00PM
---
Memorial to the Murdered Jews of Europe (Holocaust Memorial)
Nearest Station: Brandenburger Tor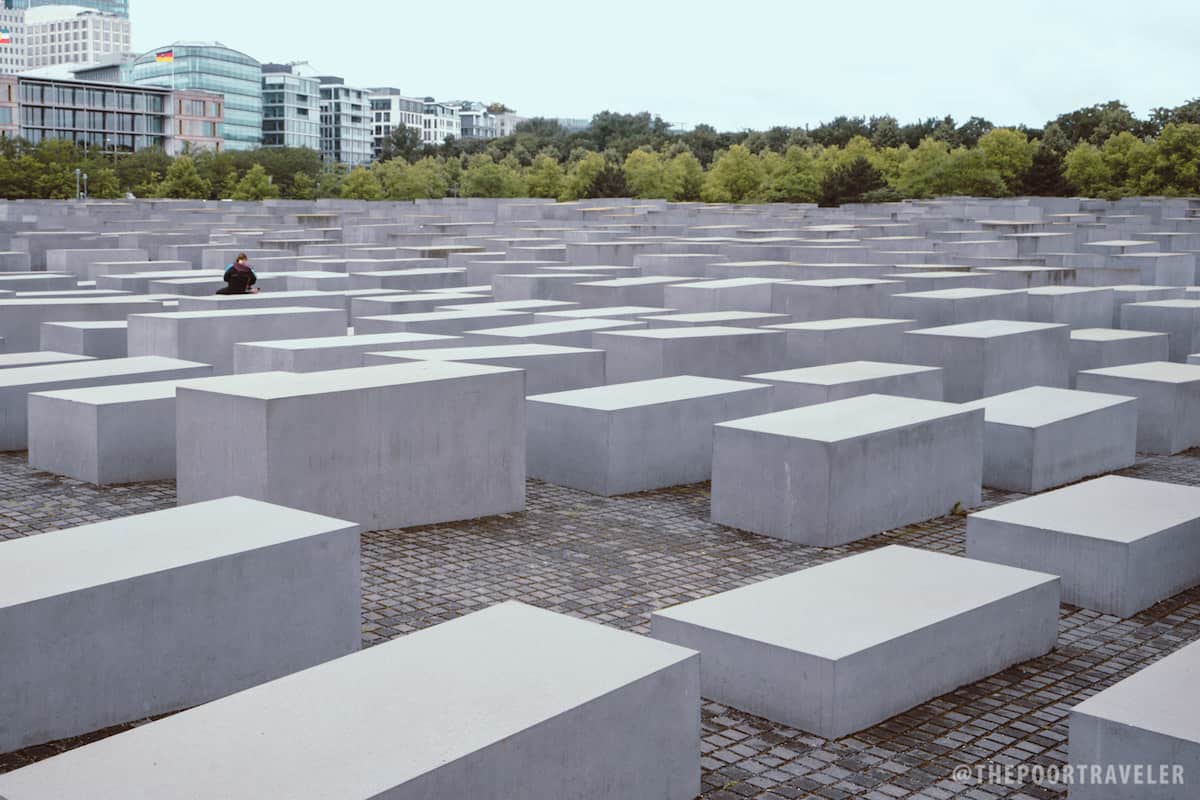 Also known as the Holocaust Memorial, it was built from 2003-04 in honor of the six million Jews murdered in the Holocaust. It was inaugurated in 2005, sixty years after World War II ended.
The monument, made up of 2711 rectangular blocks forming a grid, lies on the site where the Berlin Wall used to stand, a structure that once split the city into East and West.
---
Parliament Quarter (Reichstag and Reichstag Dome)
Location: Platz der Republik 1
Nearest Station: U Bundestag (Berlin)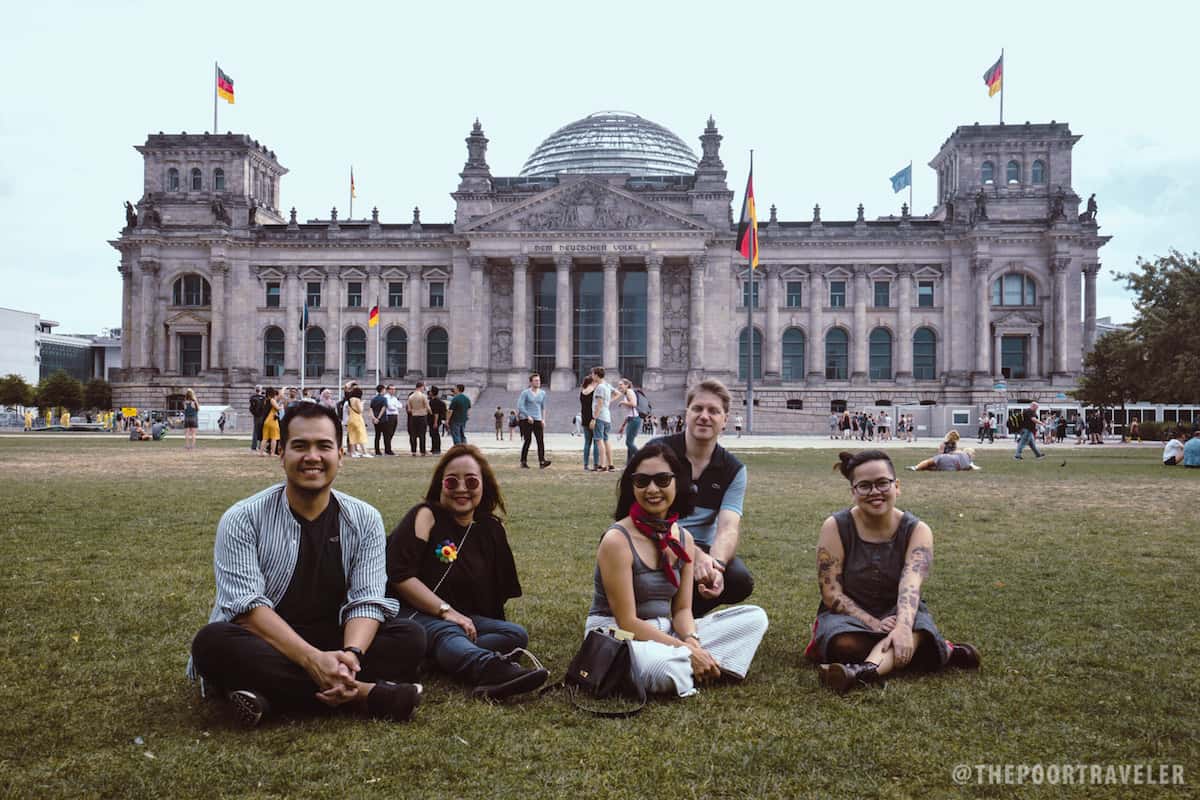 Originally built on 1884, this is where Germany's Parliament government offices are located including the Reichstag, one of Berlin's most significant historic landmarks. You can climb to the Reichstag dome where you can enjoy a 360-degree view of the city. You can also sit or lie on the grass, relax, and enjoy the view of surrounding buildings if the weather is friendly, just like what we did.
---
Museum Island
Nearest Station: S Hackescher Markt (Berlin)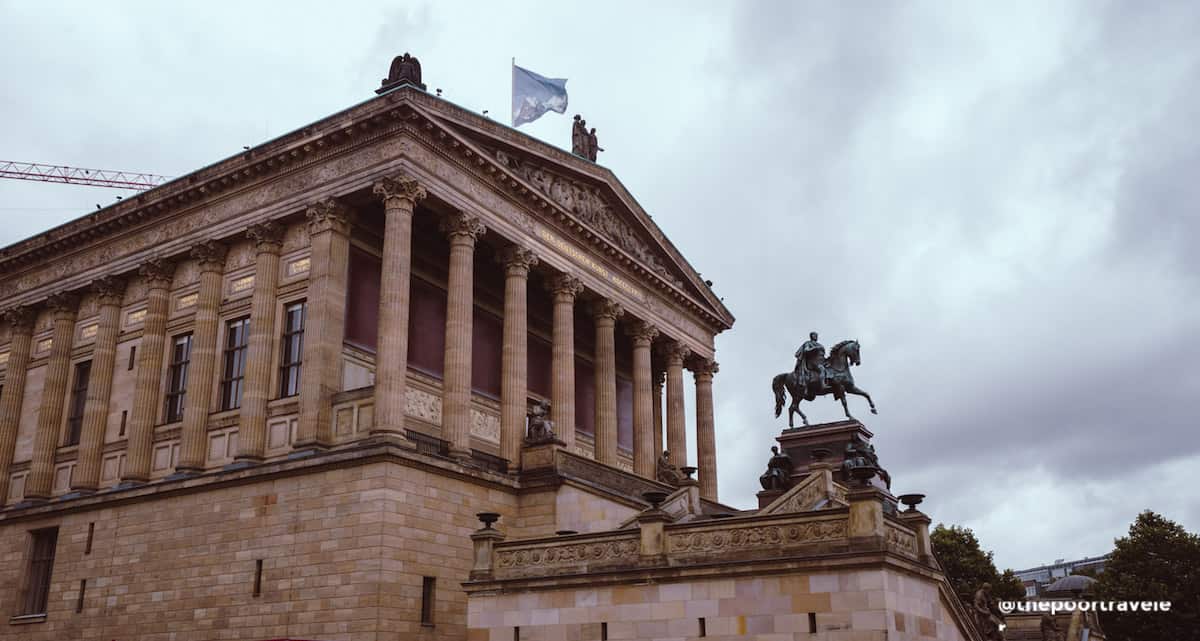 A UNESCO World Heritage Site, it first opened in 1830, but the completion of the 5 museums happened in 1930. One of the museums here is the Pergamon Museum, which houses Nebuchadnezzar II of Babylon's Ishtar Gate. Another museum to visit is Neues Museum, which shelters the famous original bust of Nefertiti and ancient artifacts and papyrus related to this Egyptian pharaoh. These pieces are here the excavation that led to their discovery was commissioned by Ludwig Borchardt, a German archeologist, and his team in 1912. Other museums include Bode-Museum, the Alte Nationalgalerie museum, and Altes museum.
Each museum collects entrance fees. But if you plan on seeing two or more, best to purchase a Museum Island Pass, which costs 18€ (adult), FREE (below 18yo).
---
The Berlin Dungeon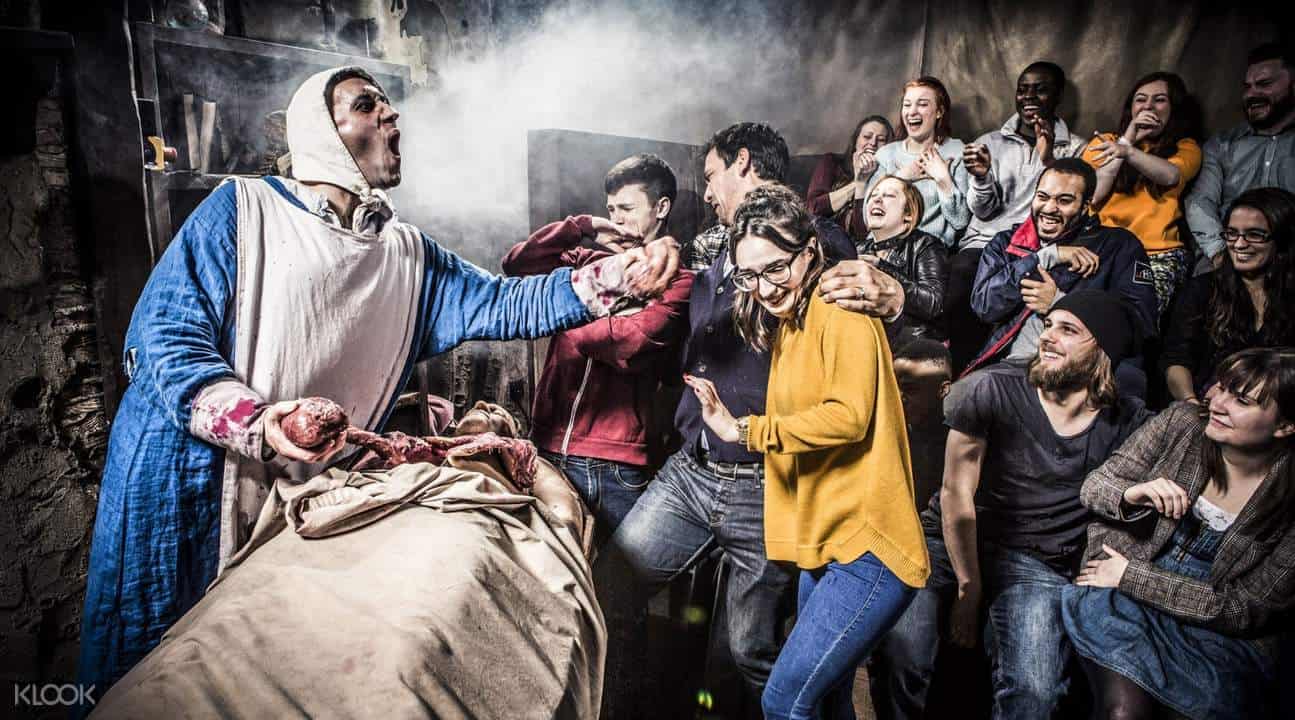 For those who have a penchant for the macabre, learn about Berlin's untold dark but real stories through actor-led interactive shows. It is also home to EXITUS, the city's only free fall tower.
CHECK UPDATED RATES HERE
---
Berlin Victory Column (Siegessäule)
Nearest Station: Tiergarten
Another must-visit attraction in Berlin best known for a 220-ft tower with a bronze statue of Victoria. It commemorates the victory of the Prussians in the Danish-Prussian War. The monument is also a viewing platform. From here, you'll also get to see the Brandenburg Gate and Reichstag. You need to buy a ticket to get to the viewing area of the tower. Ticket Price for viewing deck access: €3
---
East Side Gallery
Nearest Station: Berlin Warschauer Straße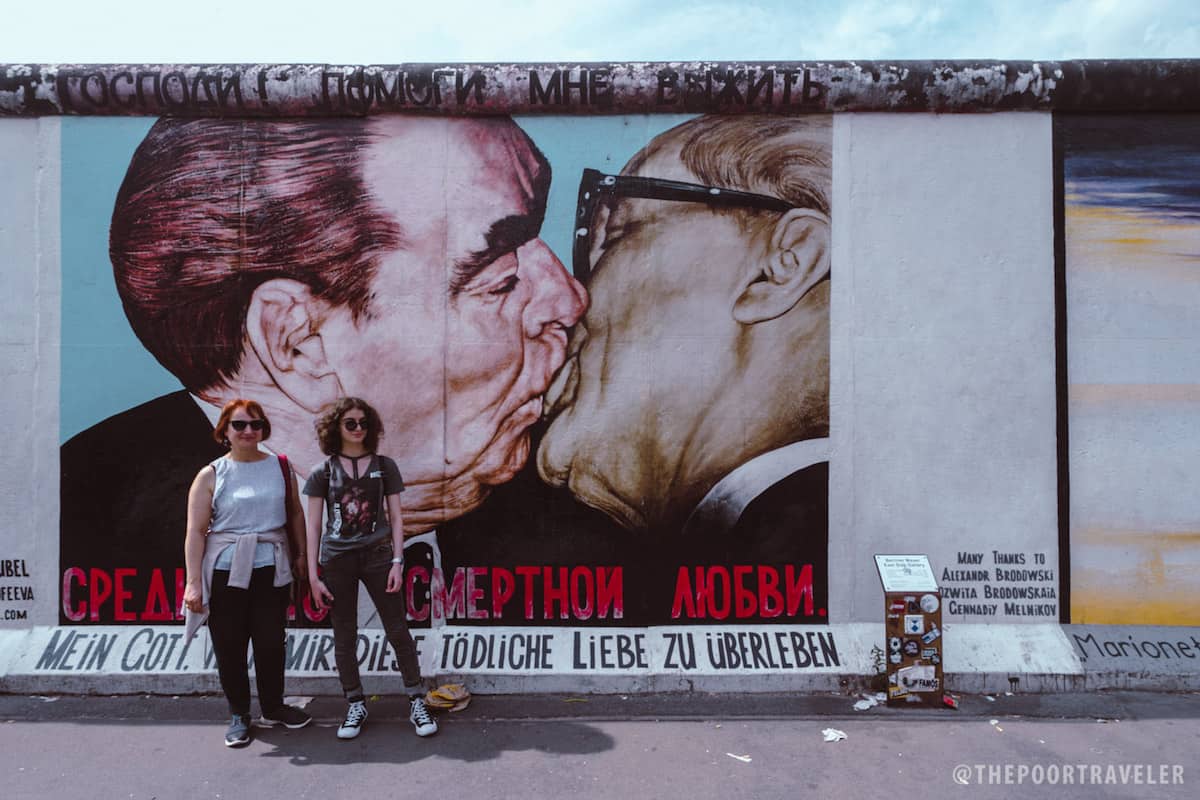 Here you will see of what remains of the Berlin Wall, a 1316-meter long concrete wall containing mural arts from different artists. The East Side Gallery is a declared heritage landmark by the government. Don't miss the famous Leonid Brezhnev and Erich Honecker Fraternal Kiss (aka "My God! Help me to survive this deadly love!").
---
Alexanderplatz
Location: Alexanderplatz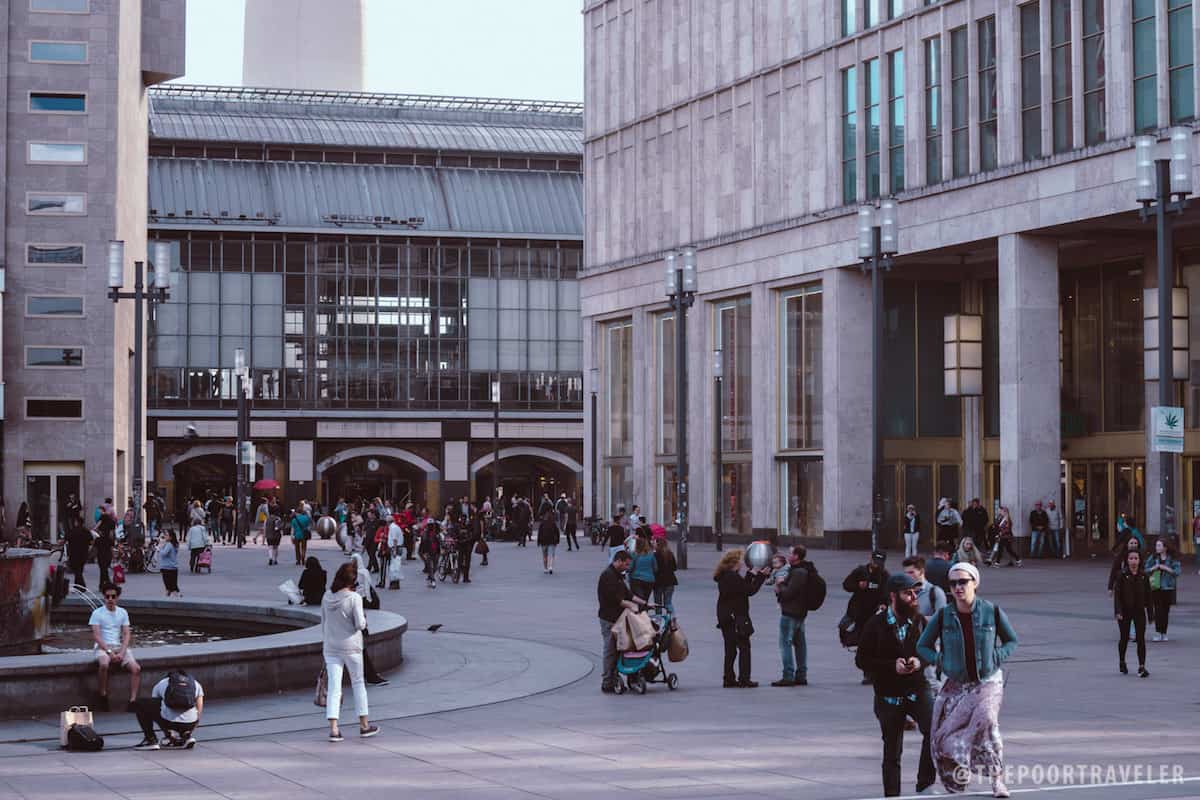 Germany's largest city square, it is one of the most popular tourist spots in Berlin. Situated just a few meters from the Berlin TV Tower (Fernsehturm), it harbors the Neptune Fountain, built in 1891, and the World Clock, which displays the current time in 148 major world cities.
Alexanderplatz is also a major transportation hub. This is where the tram, bus, and train lines connect. Beautiful structures like Berlin City Hall (Berliner Rathaus), Museum Island, and Berlin Cathedral are just right beside this famous square.
---
Berlin Modernism Housing Estates
Nearest Stations: U Parchimer Allee (Berlin), U Blaschkoallee (Berlin)
A UNESCO World Heritage Site, this collection of six housing estates dates back to the Weimar Republic in the early 20th century. According to UNESCO, the site is "an outstanding example of the building reform movement that contributed to improving housing and living conditions for people with low incomes through novel approaches to town planning, architecture and garden design. The estates also provide exceptional examples of new urban and architectural typologies, featuring fresh design solutions, as well as technical and aesthetic innovations."
---
Potsdam
Potsdam is a city just outside the borders of Berlin but is part of the Berlin/Brandenburg Metropolitan Region. Sanssouci, Germany's largest UNESCO World Heritage Site, can be found here. It's the summer palace of King Frederick the Great of Prussia. Aside from the magnificent palace, it also has large gardens, a vineyard, and a windmill.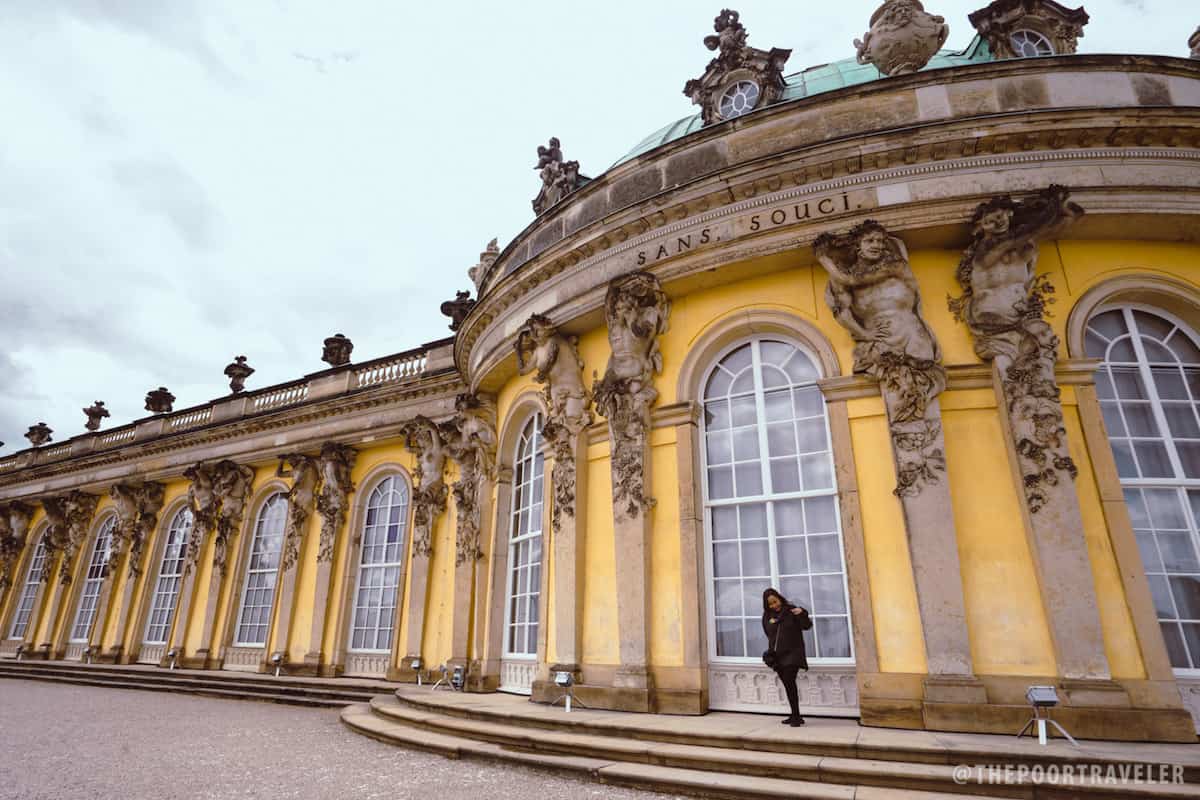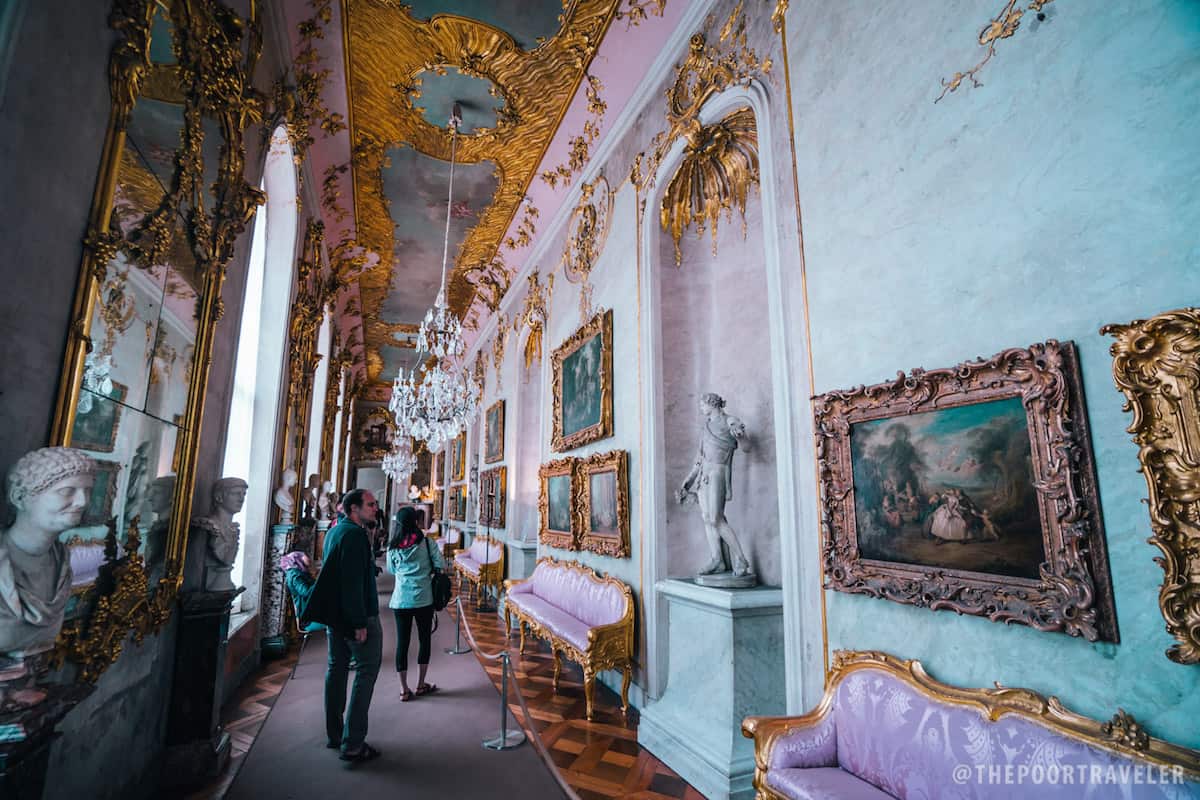 Aside from the Sanssouci, you can also visit the Dutch Quarter which was built from 1733 to 1740. Potsdam is 30 minutes away by train from Berlin and almost an hour bus ride.
Entrance Fee: 12€ (adult), 8€ (kid)
---
How to Get Around Berlin
Berlin's public transportation system is centralized, which means a ticket will give you access to the train, bus and tram. For this to work, the city is divided into 3 zones: A, B, and C. To better understand this, take a look at the transportation network below: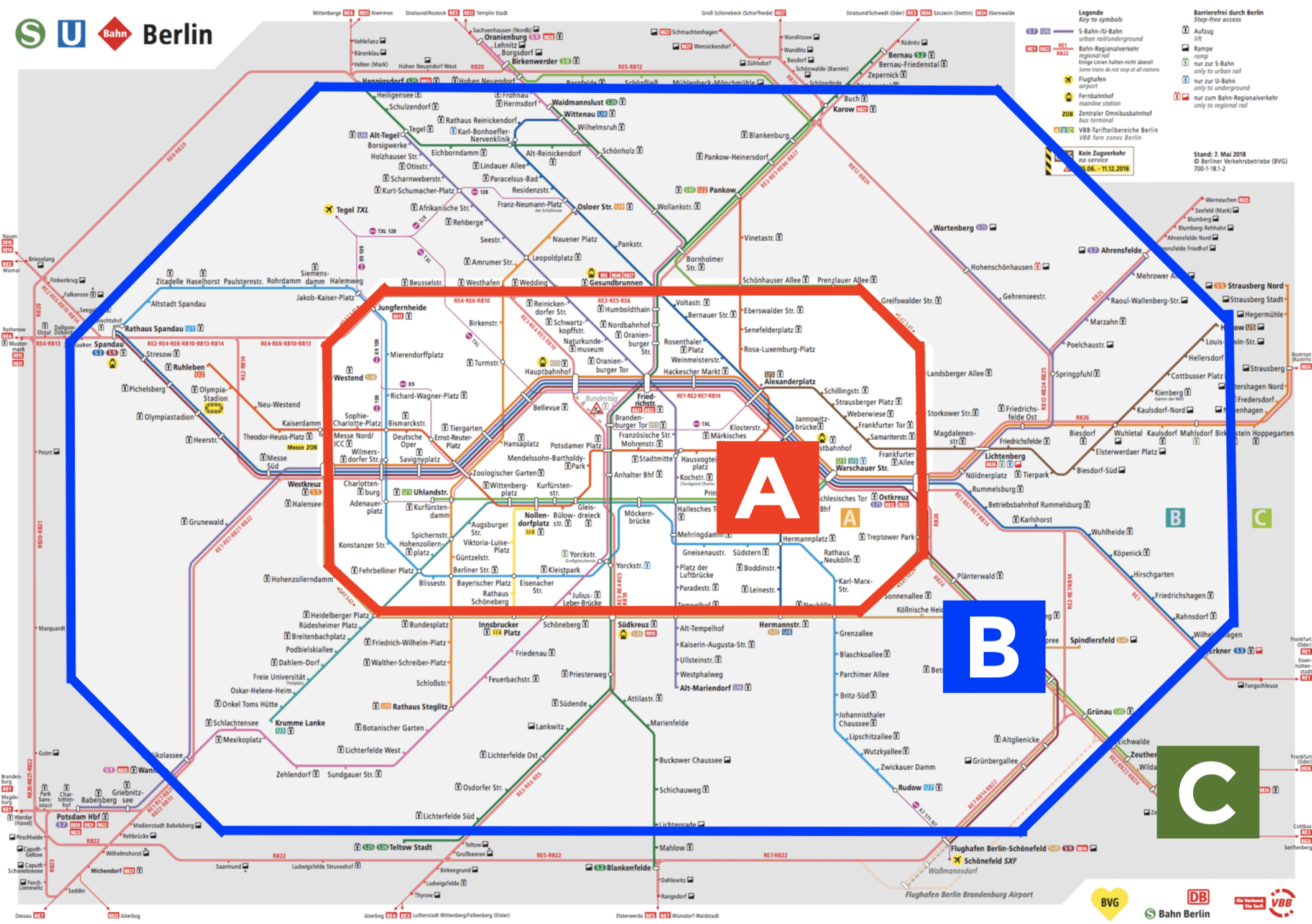 If you want to see a larger version of the train map above, click here.
Zone A is the area within the red circle, which covers the city center.
Zone B is the area between the red circle and the blue circle, which is the city's boundary.
Zone C is the area surrounding the city: the suburbs and Potsdam Hauptbahnhof.
The cost of the fare depends on whether or not you'll be crossing these "circles". The cost of travel within zones AB is different from when you're traveling across zones ABC, which will be higher. Hence, three tariff zones are followed in Berlin: AB, BC, and ABC.
---
By Train, Bus, or Tram
An AB ticket will allow you to travel only within zones A and B but not C.
Single Ticket Costs
Zone AB: 2.80€ (adult), 1.70€ (kid)
Zone BC: 3.10€ (adult), 2.20€ (kid)
Zone ABC: 3.40€ (adult), 2.50€ (kid)
These are one-way tickets, which means you cannot go back to your starting point or go in that direction. For that, you will need to purchase a new ticket.
Changing and stopovers are okay as long as it's within 2 hours of validation and you're not going back.
There are many other types of tickets including a short-distance ticket, a one-day pass and a group pass. For more info, read: Berlin Travel Guide.
By Car Rental
There are a lot of car-rental companies in Berlin. Many use a dynamic pricing scheme. Notice how airline and even hotel prices change over time, depending on the season and demand? It's very similar to that. Sometimes, the price suddenly drops after you miss it just by a day or so, and it can get frustrating. Easyrentcars.com, however, has a solution to that. They introduce a so-called Price Drop Protector, which informs the customer and rebooks for them should a sudden change in prices happen.
How it works is simple: After booking, just set up the Price Drop Protector. If the rates decrease after you book, the system will notify you of the change. You can also have it rebooked automatically. Having this feature can give you savings. This is a good hack for your holiday car hire needs in Europe.
---
How to Get to Berlin
From Singapore or Manila, Scoot offers some of the cheapest flights to Berlin. If you book months in advance and pick a slow day like Tuesday or Wednesday, you can find fares for as low as SGD 279 (SGD 339 with 20kg baggage allowance) for Singapore-Berlin and PHP28,623 round-trip base fares for Manila-Berlin (with a stop in Singapore). See screenshots below: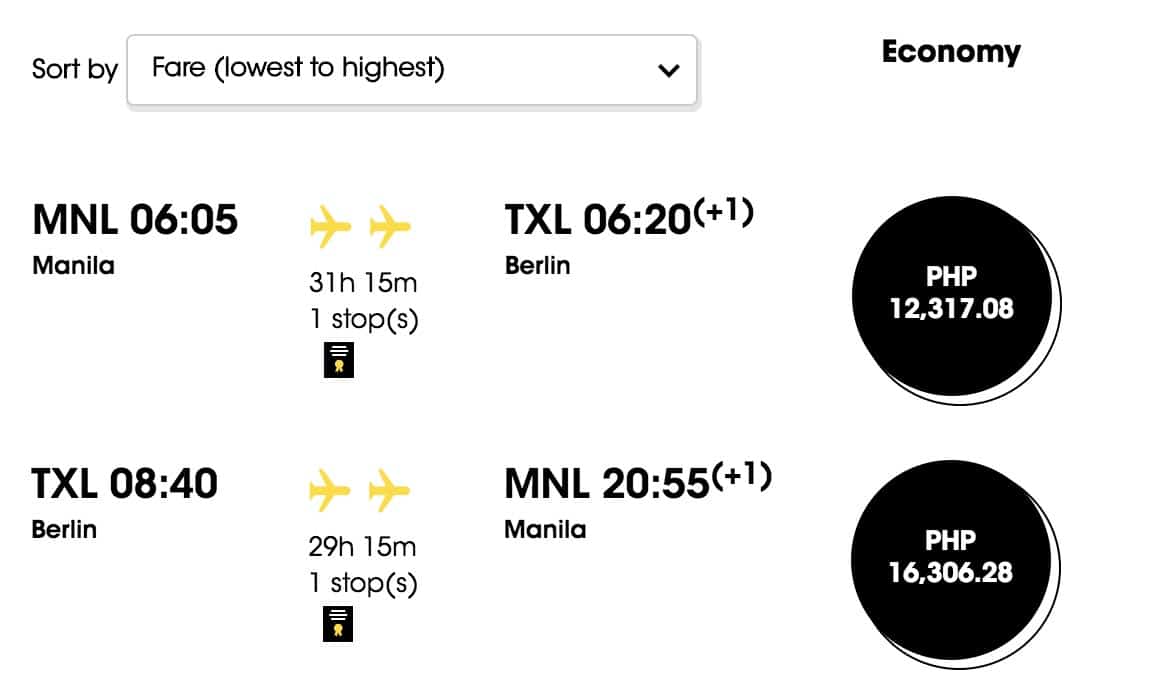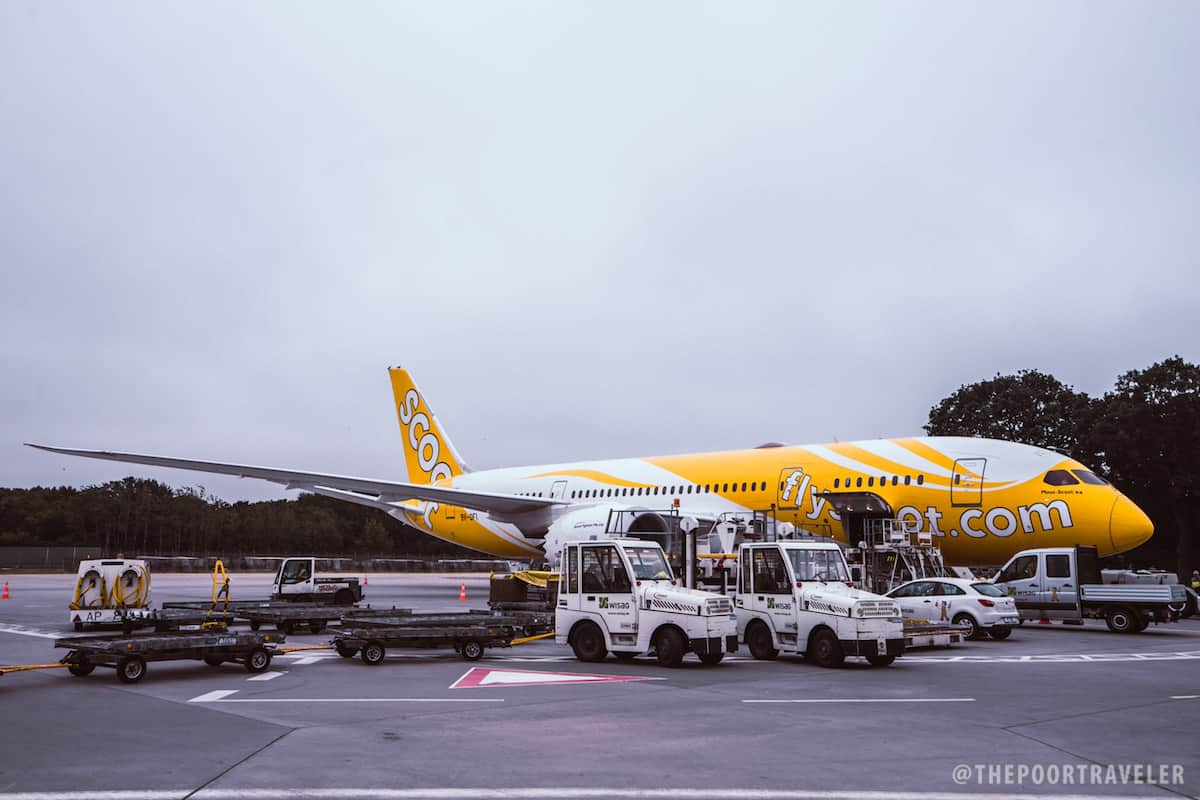 If you don't want to miss Scoot's Berlin's promo flights, you can set up notifications on their website!
2️⃣0️⃣1️⃣8️⃣ • 7️⃣ • 1️⃣6️⃣
More Tips on YouTube ⬇️⬇️⬇️