Bangkok is the epicenter of Southeast Asia's backpacking scene, thanks to its central location, cheap costs, and direct flights from almost every major city worldwide. Naturally, travelers use this as entry point and jump off point to other destinations not just in Thailand but in the ASEAN region.
Most travelers on a multi-city tour take one of these three usual routes: go north to Chiang Mai, go south to Phuket and Krabi, or go out to Siem Reap in Cambodia. If you're planning on taking the first route, this post is for you.
From Bangkok, you can reach Chiang Mai in three ways: by train, by bus, and by plane.
WHAT'S COVERED IN THIS GUIDE?
Bangkok to Chiang Mai by Train
The first thing you should do is to get to Hua Lamphong Station (aka Bangkok Railway Station), where trains bound for Chiang Mai start their journey. If you're coming from Suvarnabhumi Airport or Don Mueang Airport, here's how to get to Hua Lamphong: Airport to Hua Lamphong.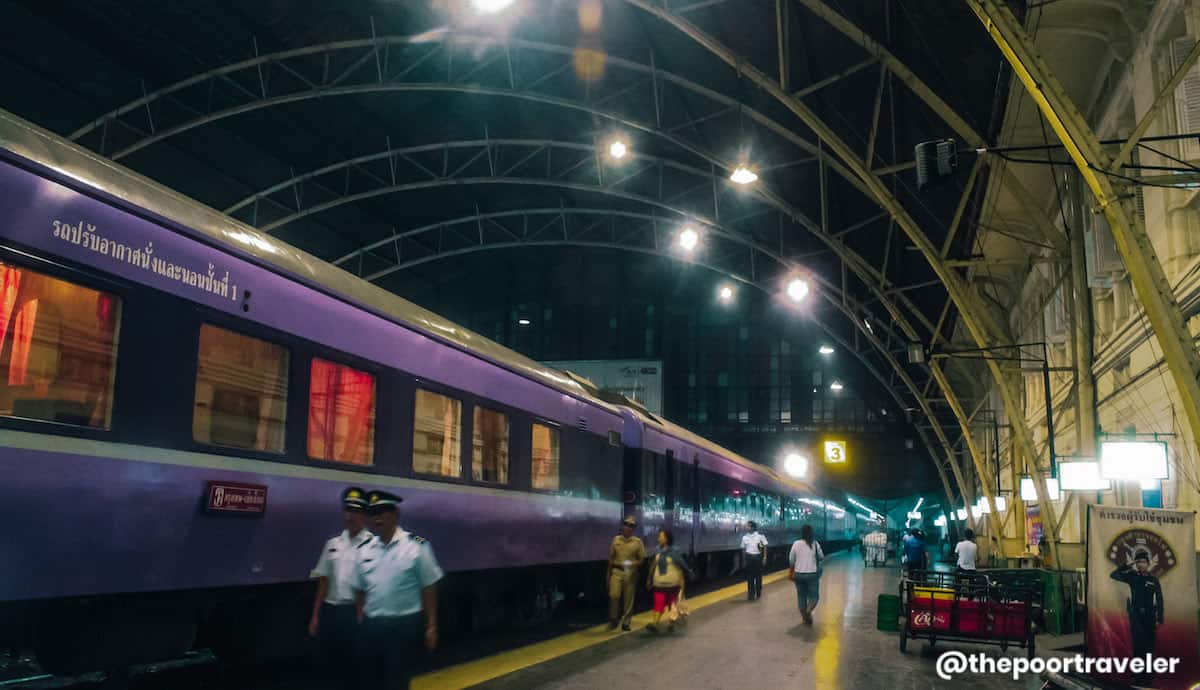 At Hua Lamphong Station, you have a choice to ride a daytime train or an overnight sleeper train.
The journey to Chiang Mai takes 11 to 16 hours, depending on what train you're taking. The daytime seat-only express Train #7 takes 11 hours, leaving Bangkok at 8:30am and arrives at 7:30pm. Fare is around ฿890 (USD27.32, PHP1460).
Hence, I recommend the overnight sleeper train so you won't waste a day and you actually save a hotel night.
All overnight sleeper trains have second class berths, but not all have first class. Some trains are air-conditioned; others use fan only. Double check before booking.
Second-class fare: from ฿830 (fan only) to ฿1300 (air-conditioned)
First-class fare: around ฿1753 (USD54, PHP2875)
Here are your choices: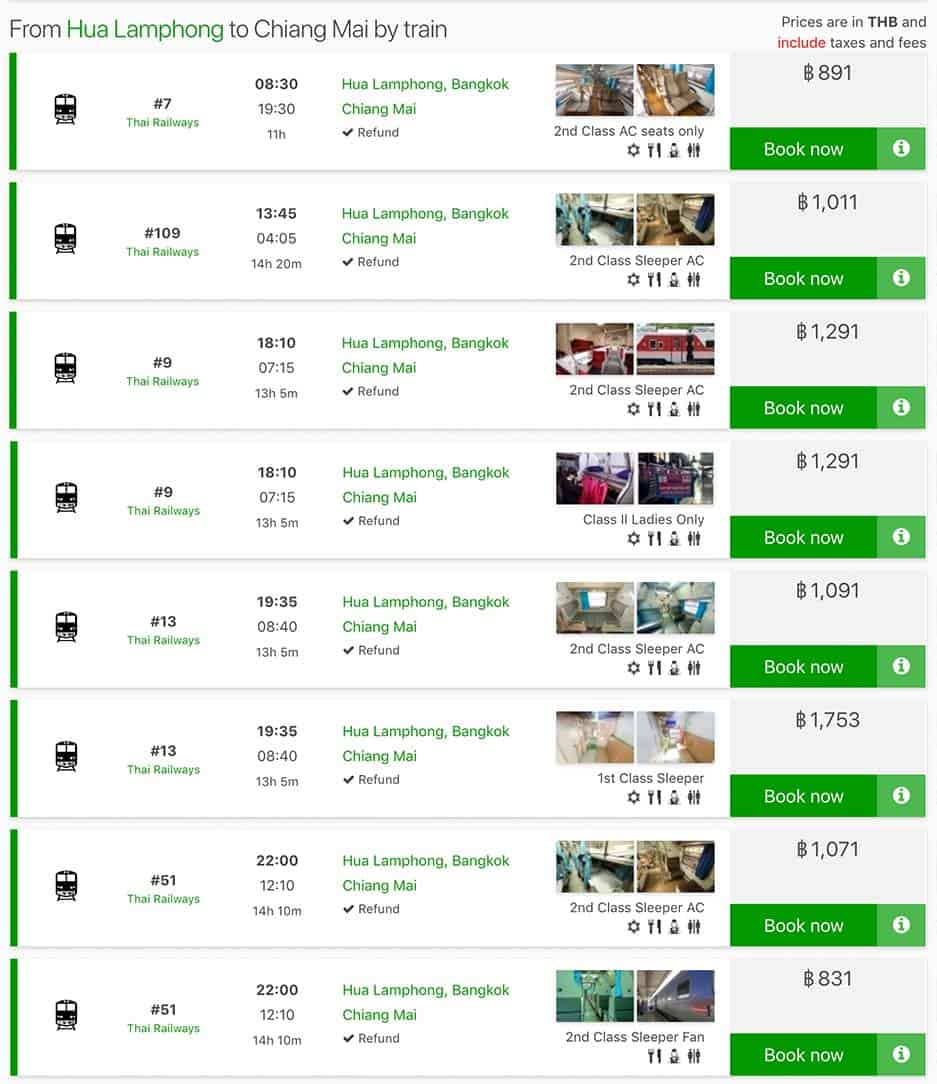 What I took was Train #13, which left Hua Lamphong at 7:35pm and arrived in Chiang Mai the next morning. Our train got delayed but it was a good experience overall. Just bring snacks onboard in case you get hungry.
✅ SEARCH FOR TRAINS TO CHIANG MAI HERE: BANGKOK TO CHIANG MAI
---
Chiang Mai Train Station to Old City
In Chiang Mai, the train stops at the Chiang Mai Train Station, which is only 3km from the city center. From here, you have several options to reach the Old City in the city center.
By Taxi. Fare: around ฿150, depending on which part of the city is your destination.
By Tuktuk. Fare: ฿120-150, depending on your negotiation skills and where in the city you're going.
By Bus. Take the City Bus B1. Fare: ฿15.
By Songthaew (shared taxi). Fare: ฿30 or more, again, depending on where you're going.
Expect the songthaew to wait for other passengers. Like at the airport, some drivers will also try to convince you to just rent the whole vehicle for ฿150 or higher. Don't. Just share with other passengers if you have time. You can also try to talk to other travelers too and form a group of four.
---
Bangkok to Chiang Mai by Bus
Another option is the bus. I haven't really tried this because I find trains, although slower, to be generally safer and more comfortable. But if you prefer the bus, here's how to reach Chiang Mai from Bangkok.
Daytime and overnight buses are also available, arriving at Chiang Mai Arcade. Fare is from ฿530 to ฿830, depending on the class and company.
You can board a bus at Mo Chit Bus Station or Viphavadee 13 Terminal.
---
From Mo Chit Bus Station
Also called Morchit Station or North Terminal. It's situated close to Mo Chit BTS Station and Chatuchak Weekend Market. If your hotel is close to a BTS Station, you can easily get here. This is also where locals catch long-distance buses.
Below are the bus companies, schedules, and fares.
---
From Sombat Tour Viphavadee 13 Terminal
Sombat Tour's own bus terminal near Chatuchak. Here, you can take a Sombat Tour bus or Bangkok Busline bus.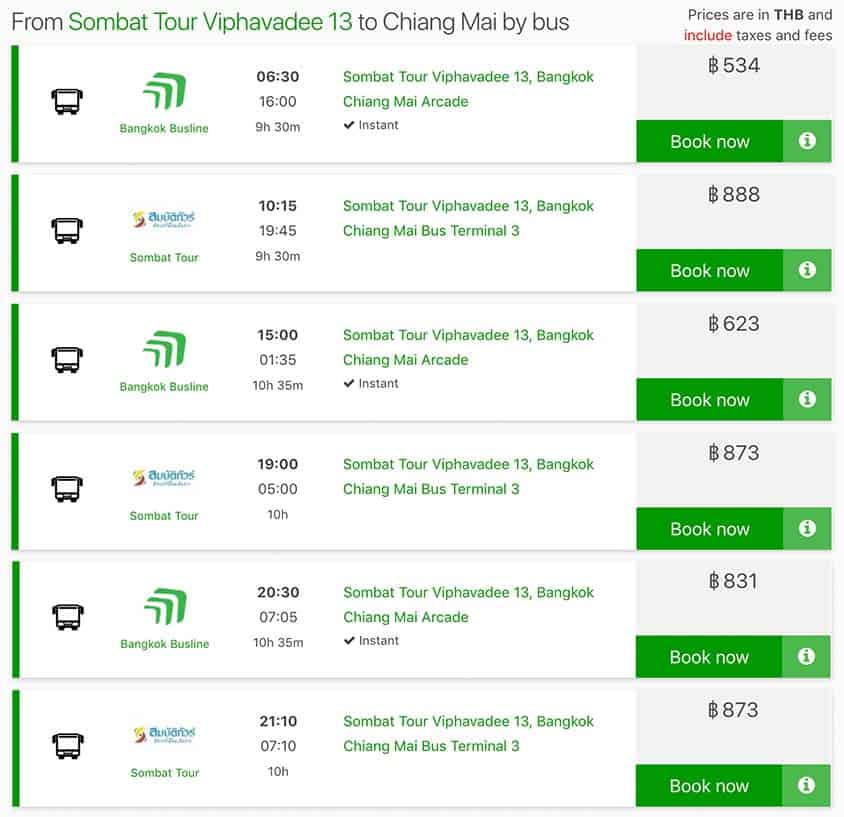 ---
More Bus Options
You'll find travel agencies that sell bus tickets to Chiang Mai. They usually cater to tourists so they're slightly pricier. The catch is, you'll also be taken to the bus station. It's usually bundled with a minivan transfer to the bus terminal. You also have to be cautious because Khao San is rife with scams. Book with reputable companies only. If you want full control of your time, just go to the terminal and catch the bus there yourself. Or you can book via 12go.asia.
For more bus options, you may use the search form below.
---
---
2️⃣0️⃣1️⃣8️⃣ • 8️⃣ • 3️⃣1️⃣