Looking at how easy it is to find anything online these days, it's hard to believe that there was a time when we had to browse through magazines and brochures for awesome deals. I know this because that's what my sister and I used to do. We would scour anything for the littlest discounts because, you know, a penny saved is a penny earned.
The Internet has changed all that. Brands have learned to create promo codes and "web-clusive" or online-only offers either to attract new customers or reward the most loyal of the lot. But it can be difficult following all of them. Blink and the promo is over, slipping through your fingers without you even knowing it.
Thankfully, for habitual bargain hunters like us, sites like Deal Grocer make it more convenient to score discounts.
Since 2010, Deal Grocer has been giving its members exclusive access to limited-time deals. Some are related to fitness, dining, and — of course – travel. You'll find discounts for luxurious getaways, relaxing staycations, and lavish buffets, among others.
Deal Grocer offers the best prices across all channels.
You know why? Because unlike other sites, Deal Grocer does not just collect or curate. They talk straight to partner merchants and work with them in order to come up with the best deals for their customers. Because Deal Grocer has a massive base of loyal members, they can negotiate for a much, much lower price than when you book directly on your own.
Hence, don't be surprised if you won't find some of their deals anywhere else. Many of the items on Deal Grocer are exclusive.
The savings you can get from Deal Grocer are already great, but how do you make sure you get even better and bigger deals? Here are some facts that you might want to consider for a hassle-free deal-hunting!
---
1. Discounts on Day Tours are available!
Be on the lookout for day tours! Most booking sites charge you per room per night. But for many of us who are availability-challenged, sometimes even staying overnight is not an option. Deal Grocer lets you snag exclusive deals not just on accommodations but also on day tours, so you won't need to book a room. Just enjoy the amenities of the resort.
This is perfect if you and your friends or colleagues have to work on something for a few hours and you just need a relaxing, more inspiring venue. For example, you'll find a number of day tours to hotels and guesthouses in Tagaytay.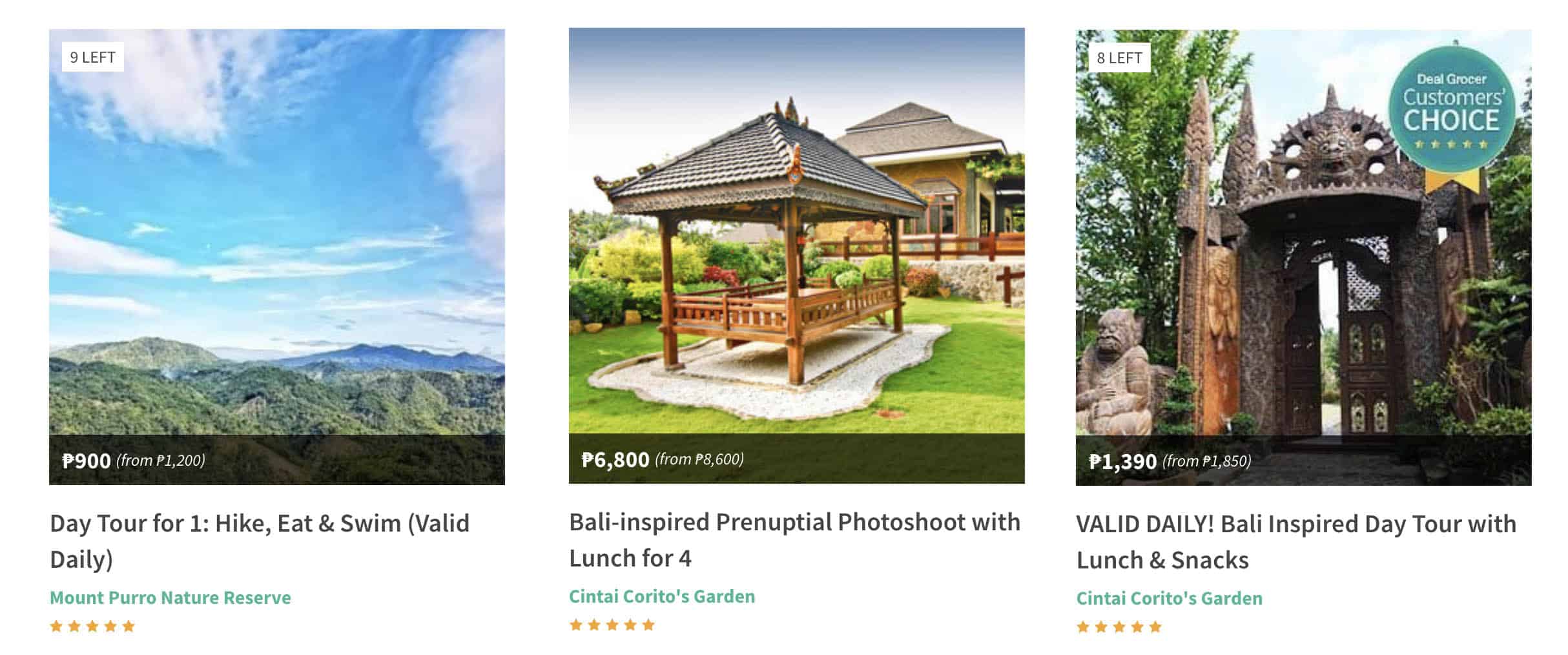 Another interesting day tour we found was for Mount Purro Nature Reserve, a family-run eco-park at the foot of the Sierra Madre in Antipolo, Rizal. You can book a hike-eat-swim tour of the hills via Deal Grocer.
Others are packaged with some add-ons. For example, lunch is often included. In the case of Cintai Corrito, a Balinese-inspired mountain resort in Batangas that is popular as a pictorial venue, you can even book a pre-nup shoot package.
---
2. Buffets and day tours sell out the fastest.
Of course, the number of deals available isn't infinite. (We wish!) Deal Grocer shared with us that buffets and day tours sell out the fastest! That's a great insider bit right there. So if you spot one that you like, grab it while it's still there.
The wonderful thing about Deal Grocer is that when availability is dwindling, the number of remaining slots is displayed on the thumbnail so you see it easily. I just think it's a nice touch because it allows you to make better decisions on the spot.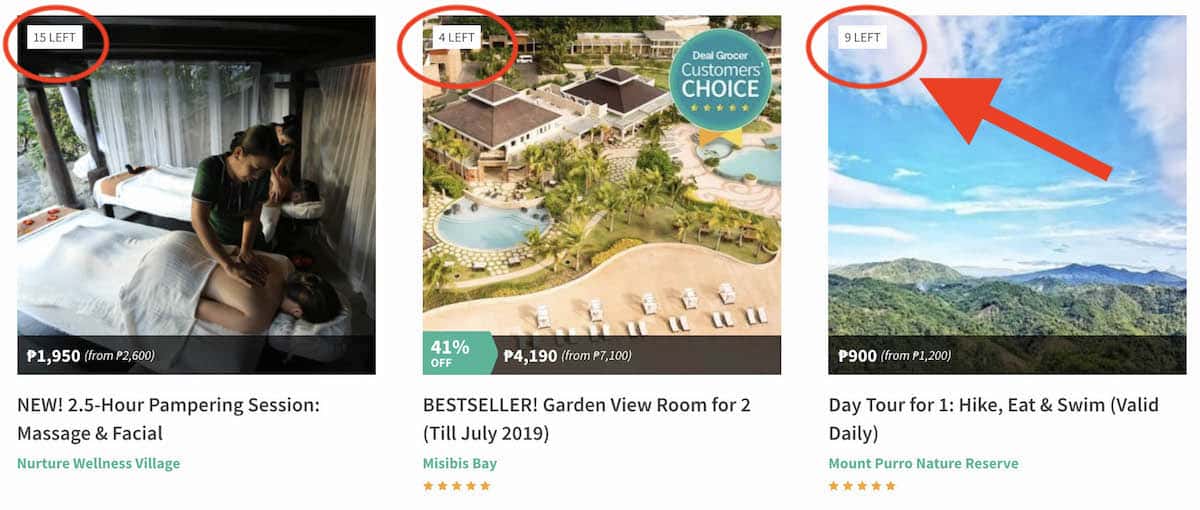 ---
3. Restaurants offer the best deals.
You don't need to go out of town to have a good time. Sometimes, all it takes is good food to make a moment memorable. Deal Grocer has a crazy range of dining options with massive discounts.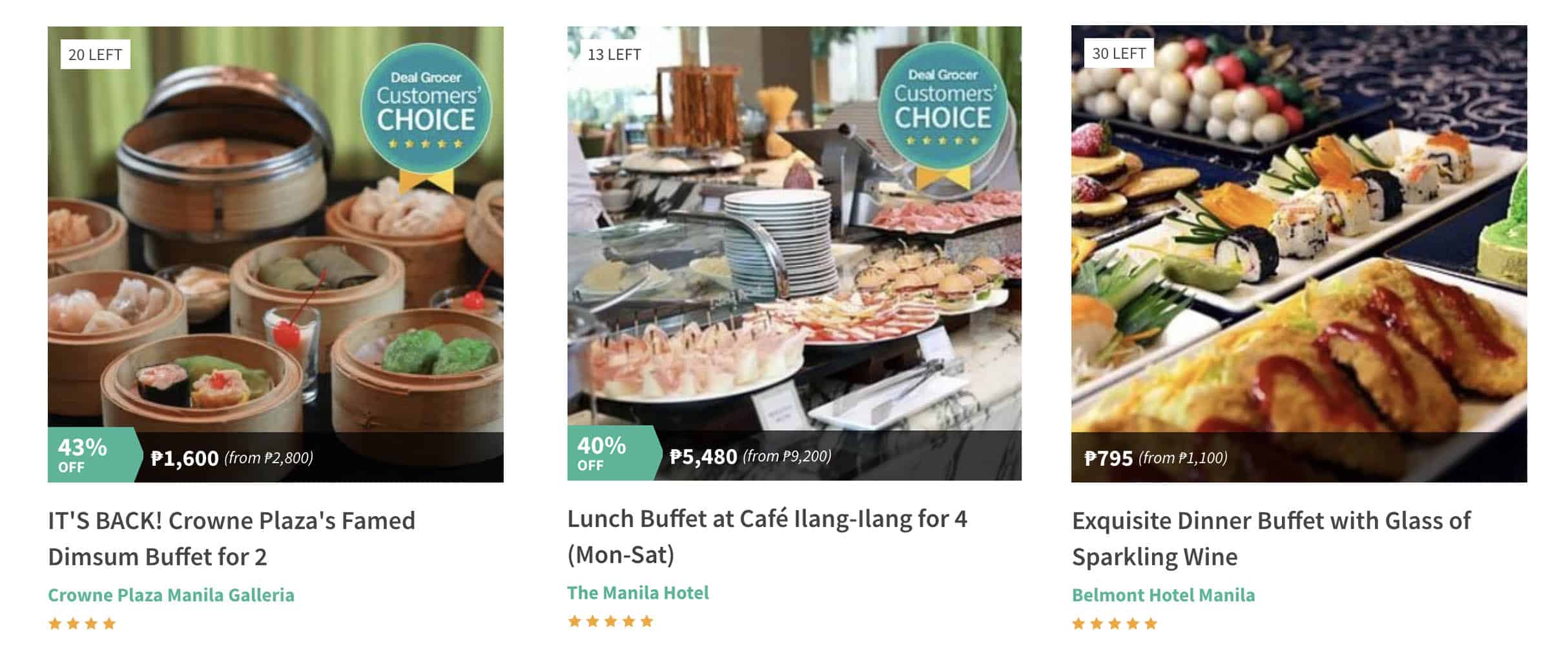 For families, buffets seem to be the best seller. As much as 45% can be slashed off the regular price. Many of these buffet restaurants are housed in hotels, so you might want to pair it with a staycation. For example, the Manila Hotel's Café Ilang Ilang offers a wide variety of deals for lunch, dinner, and Sunday brunch. Crowne Plaza Manila's famous dimsum buffet is also available.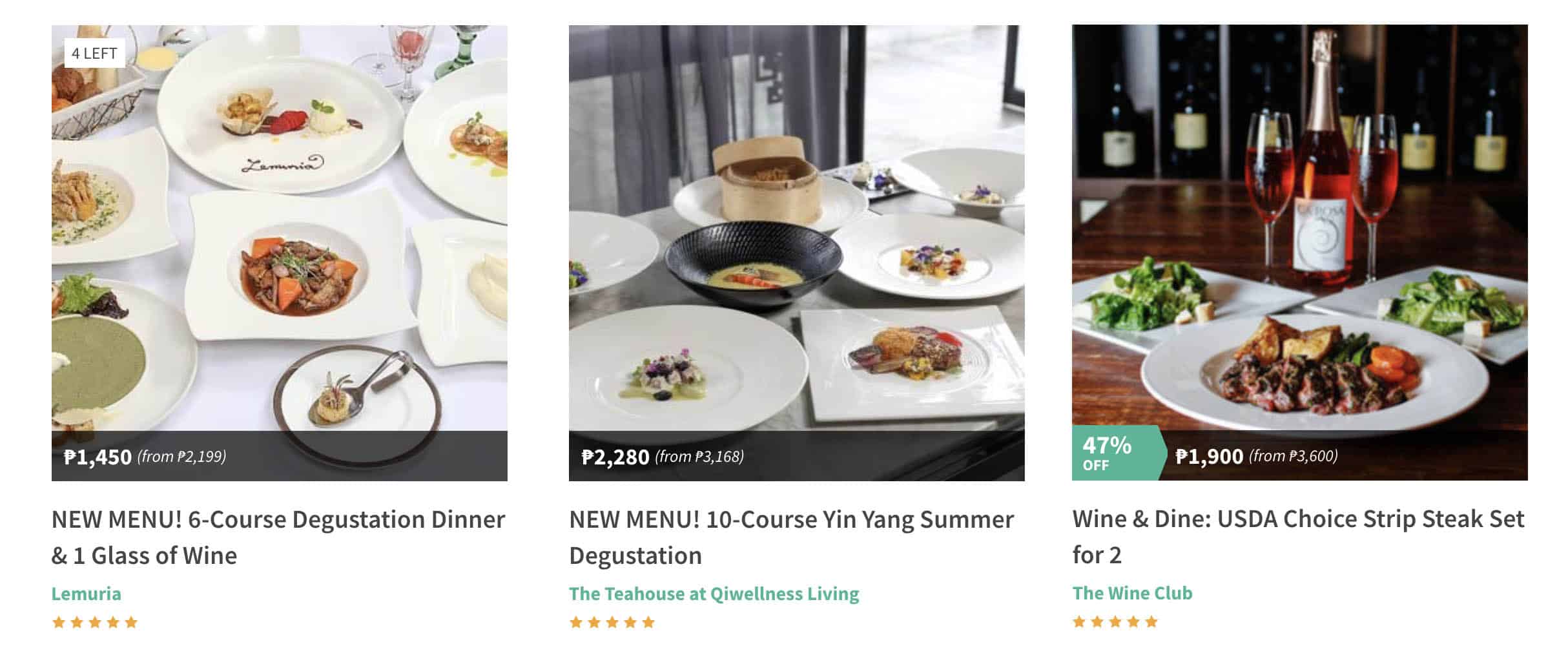 For a more romantic dining experience, you can book a multi-course degustation dinner at a fine-dining restaurant. You'll find a 6-course tasting menu at Lemuria Gourmet Restaurant. If you're planning a romantic getaway in Tagaytay, a 10-course meal at The Teahouse at Qiwellness Living will surely make the evening a lot sweeter.
✅ CHECK LATEST BUFFET DEALS HERE!
---
4. New deals are added every Sunday.
Another insider tip! If you miss a deal or you can't find any that fits your budget or schedule, try checking again on a Sunday. On this day, new deals are added to the system which means you have more options to choose from.
---
5. Sort the deals by location.
Because of the sheer number of deals available, the website can be overwhelming. While you're scrolling and looking for deals that you want, it's not impossible to miss something wonderful.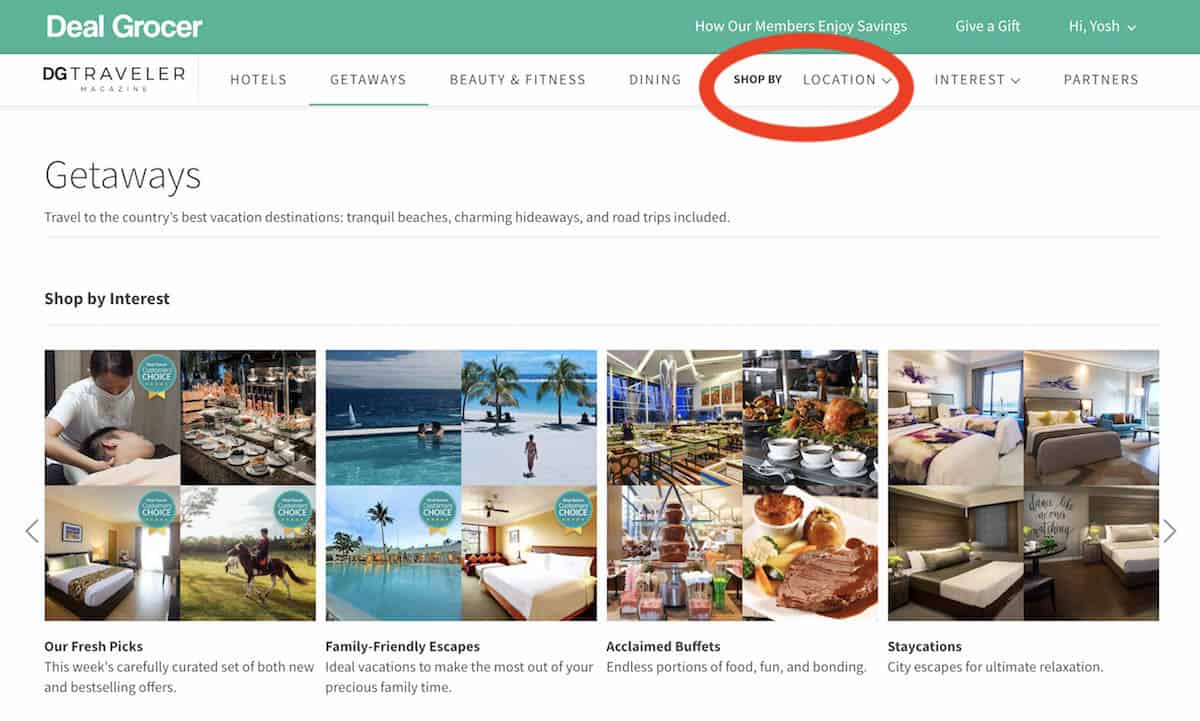 I recommend that you use the Location button on the top menu bar and sort it by location so you only see the deals that are relevant to you. You can sort it by specific city. For example, within Metro Manila, you can make the website display only those in Taguig if you're only after BGC deals.
It's also a great feature to filter out the countless Manila deals if you're only interested in scoring an out-of-town deal in Batangas, Tagaytay, or Rizal.
---
6. You don't need a credit card to book.
For those of us who don't own a credit card or who have one with a rather cute spending limit (ahem), non-credit card options are extremely important. I rarely use my credit card because I always forget to pay on time and I don't want to deal with monthly interests and late fees, so whenever there is another option, I take that.
Deal Grocer has an impressive list of payment options including the following: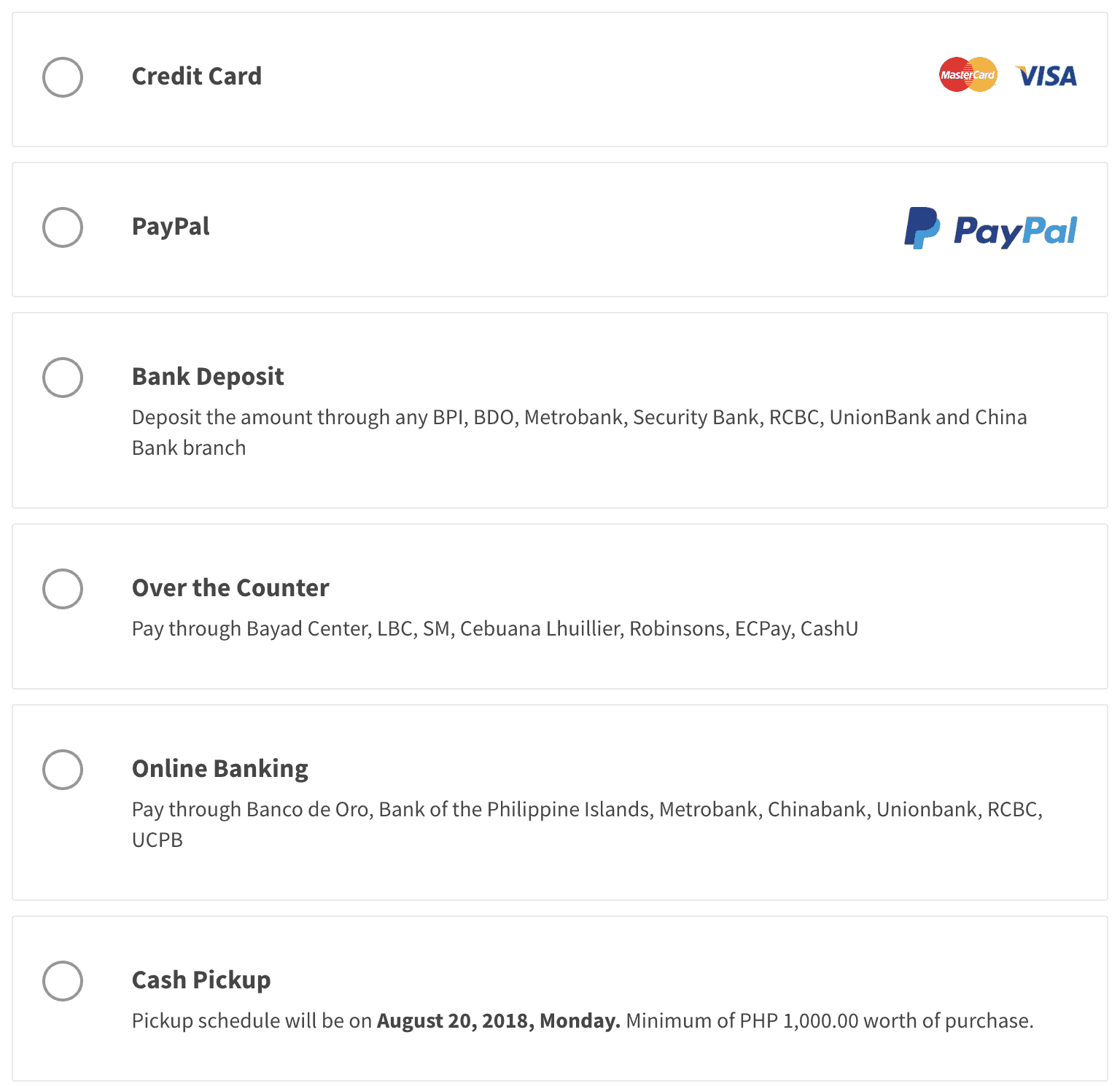 Bank transfers (BDO, BPI, Security Bank, Metrobank, RCBC, ChinaBan and Union Bank)
Online banking (BDO, BPI, Metrobank, Chinabank, Unionbank, RCBC,UCPB)
Over the Counter (Bayad Center, LBC, SM, Cebuana Lhullier, Robinsons, ECPay, Cash U)
Paypal
Cash pick up
Cash pick up is an awesome addition. You can actually have your payment picked up by a staff member instead of going out to pay yourself! This is available only for regular deals above P1000 and not for gift vouchers. Speaking of gift vouchers….
---
7. You can purchase a deal as a gift voucher.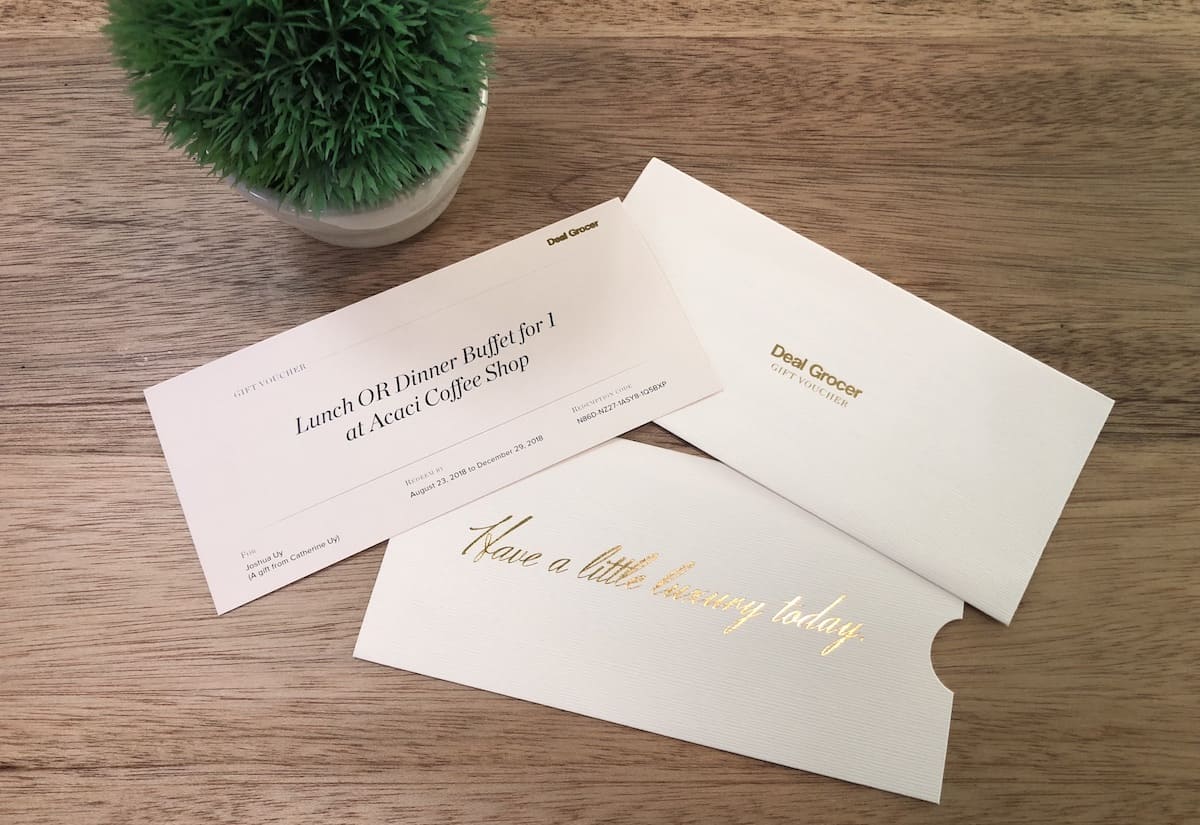 With Deal Grocer, you can grab a discount and then purchase it as a gift voucher to be used by someone else. That's super cool! You can treat a friend or family member to a vacation or a meal without having to call a resort or restaurant and without having to ask them for a lot of details. All you need to do is enter the name of the recipient.
Delivery of the gift voucher is FREE within Metro Manila! Just allot 2-3 working days to process and deliver.
---
Use the Deal Grocer App.
Most people spend more time on their phone than on desktop, so if you want to be able to access the deals more conveniently, download the Deal Grocer app if you use a smart phone.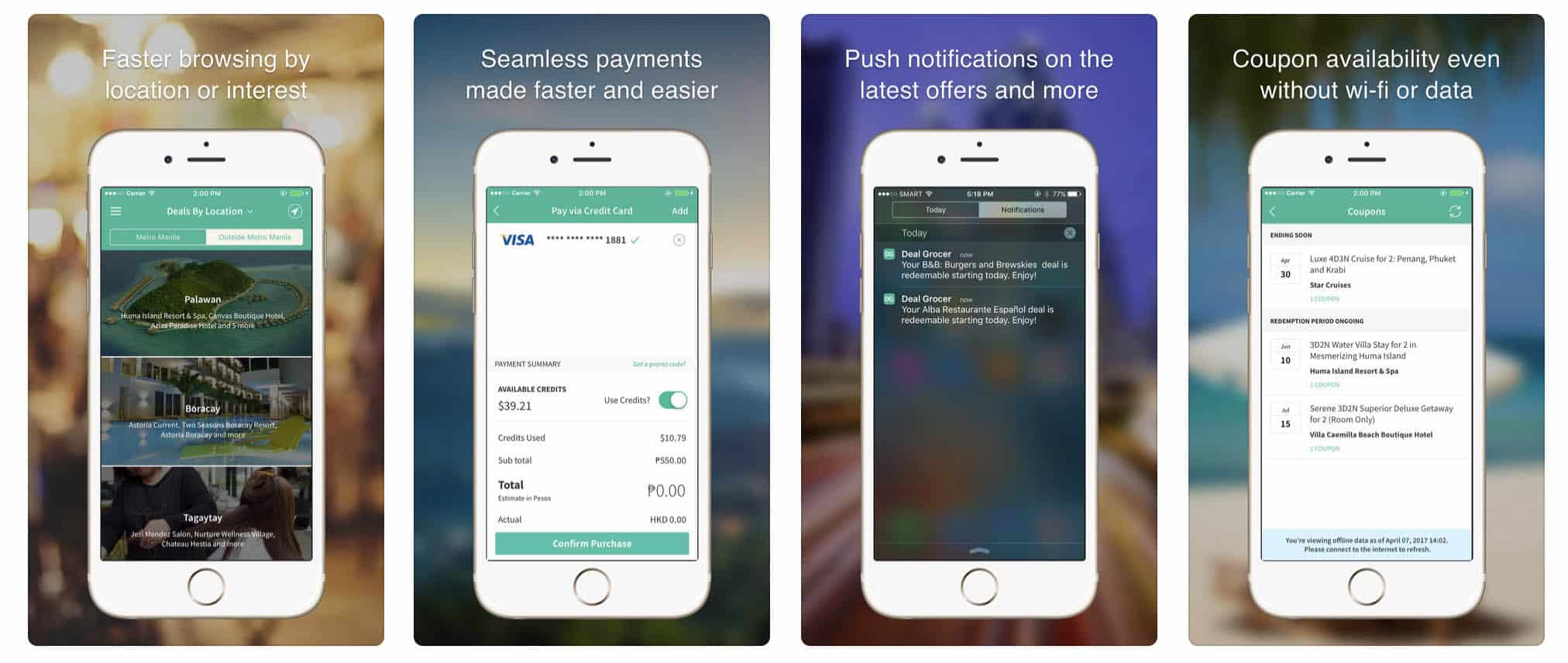 Not only will you be able to check deals anytime, you also get to keep a record of your purchased wherever you go. This means that when it comes to redeeming the deal, you don't need to print anything beforehand. Just go to the app and you'll find the details there. Show it to the staff, and you're good to go.
✅ DOWNLOAD THE APP RIGHT HERE.
Sign up for a Deal Grocer account! You can register using the app or on the website.
---
All images courtesy of Deal Grocer.
2️⃣0️⃣1️⃣8️⃣ • 9️⃣ • 5️⃣
---