Wondering what to do with your travel photos?
Most of you will agree that traveling is a magical experience. With all the waits, hiccups and other minor mishaps, it's always a worthwhile adventure nonetheless. More often than not, it produces hundreds of photos, leaving us slightly confused about what to do with the whole bunch. Surely, you could keep them jam-packed in your cloud storage. Alternatively, you can simply exhibit them in virtual space via Instagram. However, no medium will keep the memories as potent and alive as photo printing.
Pegs and Wires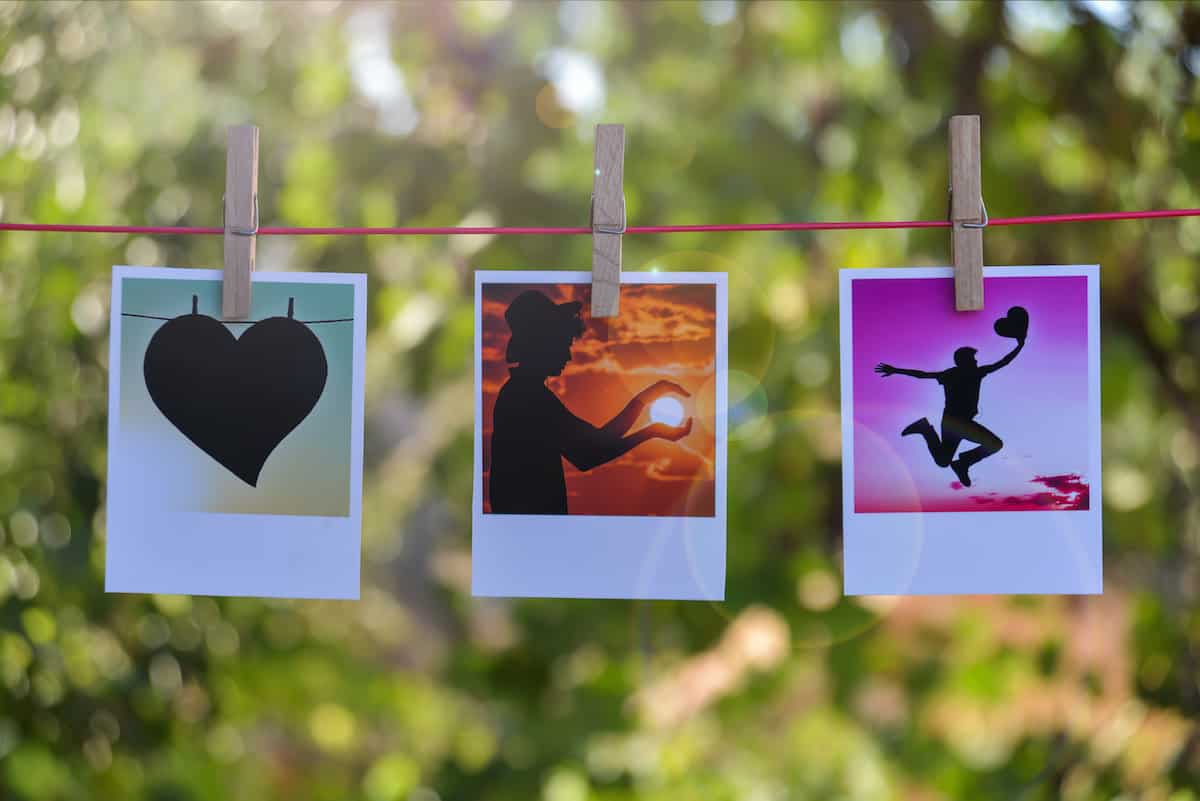 You know what this means. As hip and somewhat overused as it is, hanging your photos using pegs and wires is also a very convenient way of getting the majority of your travel photos actually printed and exhibited. Whether it's in your hallway, balcony, or a special memorabilia corner in your living room, this simple solution never fails to hit the right spot. It looks good and also provides an accessible way to view each and every photo. You are also free to use binder clips – it's just a matter of taste. Today, there are plenty of services that offer low-cost bulk printing of your photos.
---
Photo Collage Display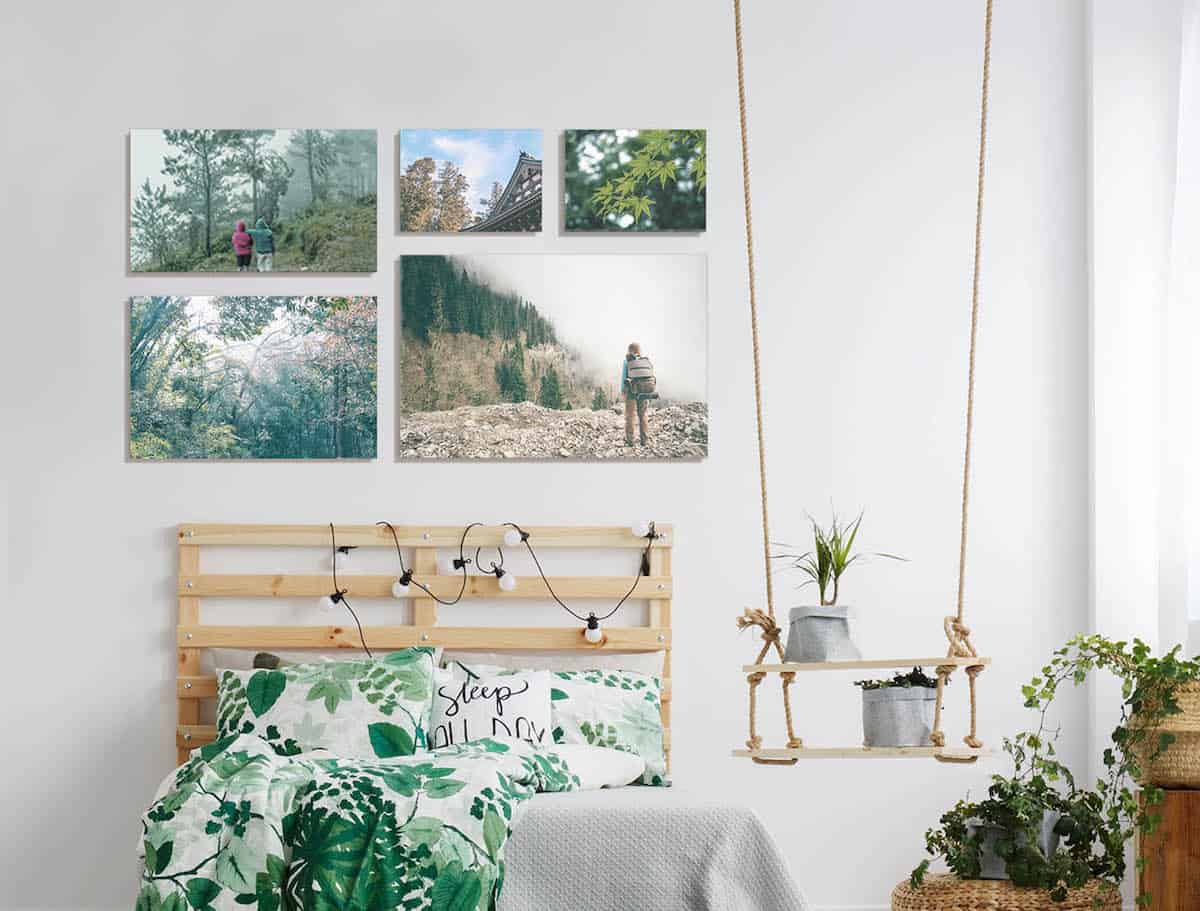 One adventure from numerous angles!
If there's one thing that's near impossible to figure out, it's definitely which photo you should pick for your next wall decoration. With this in mind, it's worth considering having a whole collage of photos as a set of photo canvas prints to capture the highlights of your latest epic journey!
Not only does this way of photo displaying significantly alleviate the task of selecting your photos, it's a great way to add character to your interior and create your personal wall of achievements. After all, isn't every travel an achievement of sorts? With entry prices of $9 per canvas, there's hardly a better way to celebrate all the landmarks you've visited!
---
Personal Postcard Rack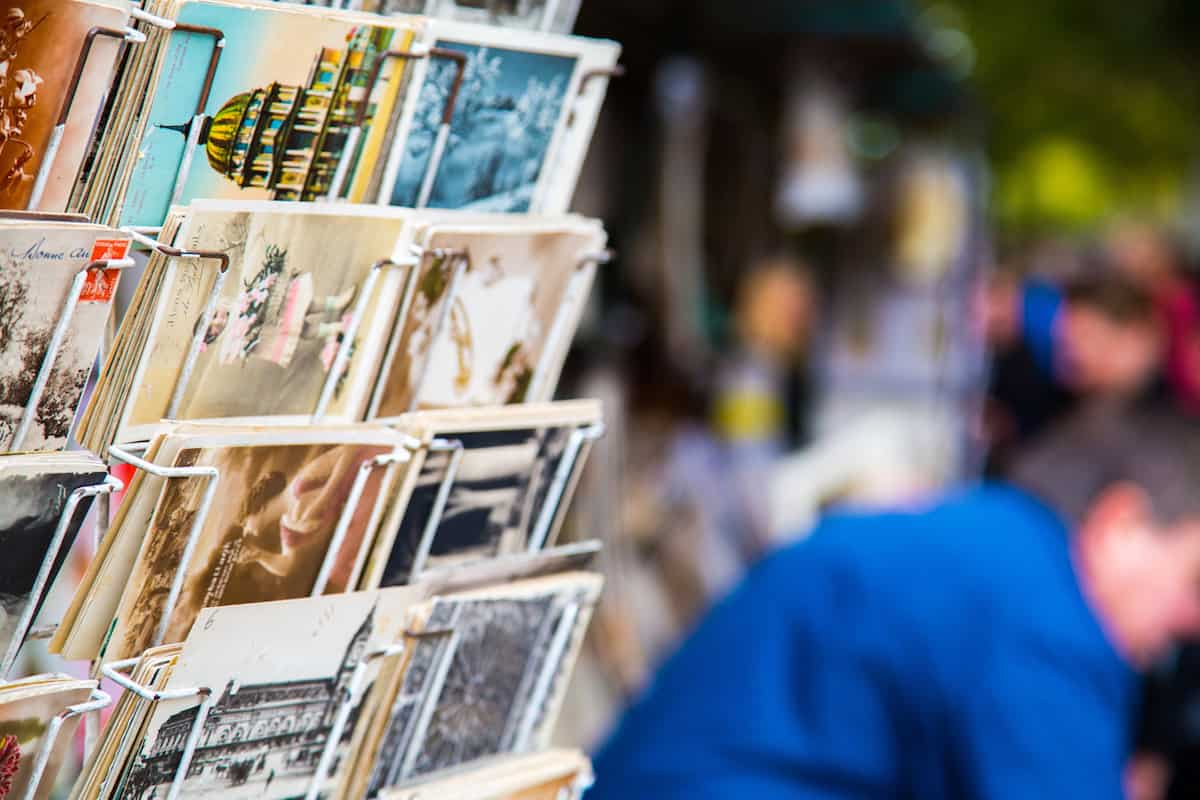 Well, you'd basically use it for the same purpose as the store owner in Madrid. The only difference is that next to neatly designed exotic postcards, you'd display your personal travel experiences. It's clever, visually appealing, and will also save you a lot of space. As for the racks themselves, they're really rather cheap and come in a variety of interesting designs! You can either check eBay offers or search for a subtler alternative in the vast Ikea catalog.
---
Large-Format Wall Art Piece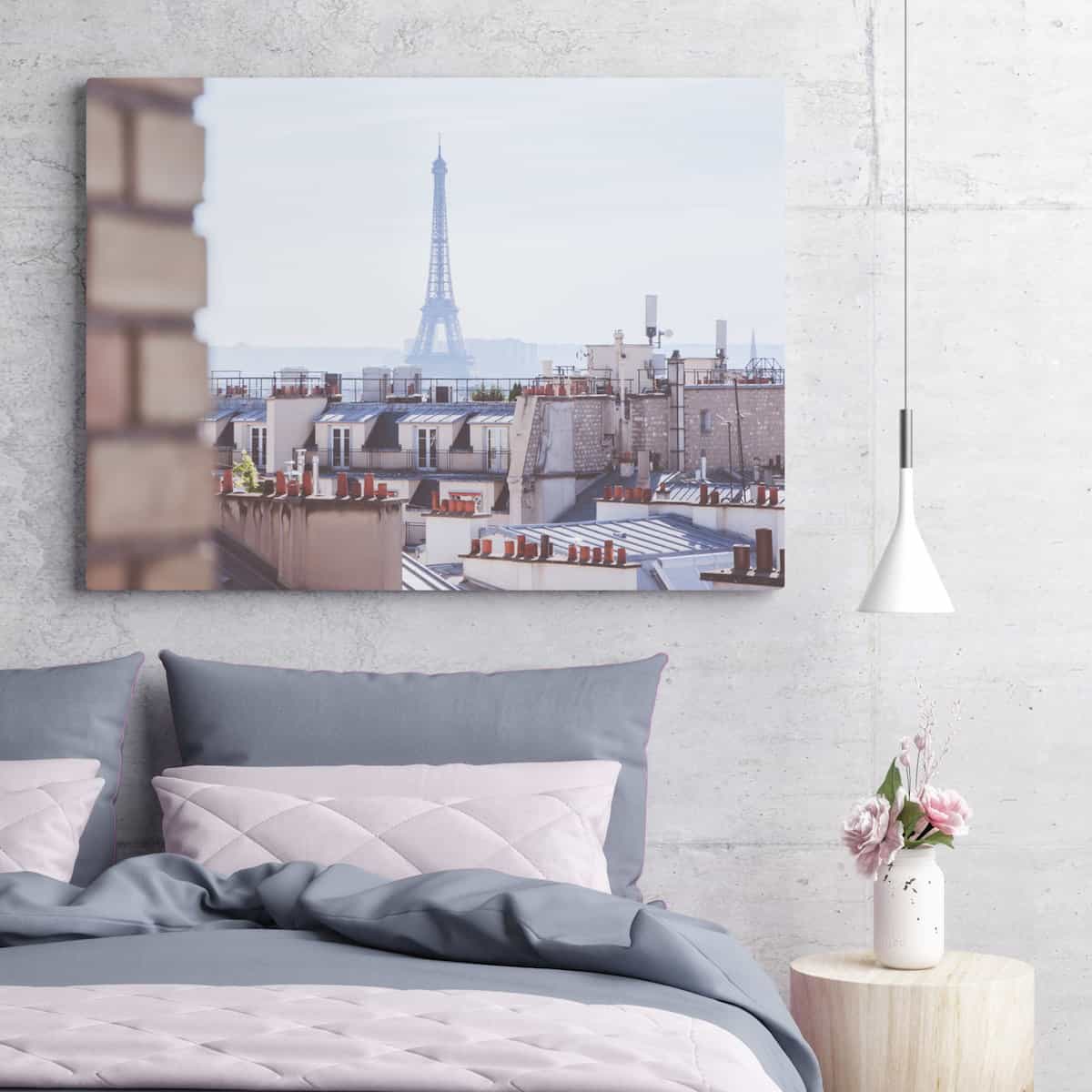 Blow up the most epic photo You've Ever Taken!
So, did you conquer that legendary mountaintop or canoe down the Mississippi? Did you sit next to the Sphinx or receive your engagement ring by the Eiffel Tower? These truly cinematic moments can only be properly displayed with a large-format wall decor piece. The energy that the moment contains cannot be conveyed via a cell phone screen. Majestic episodes in life really require equally grand presentations!
---
Pegboard or Corkboard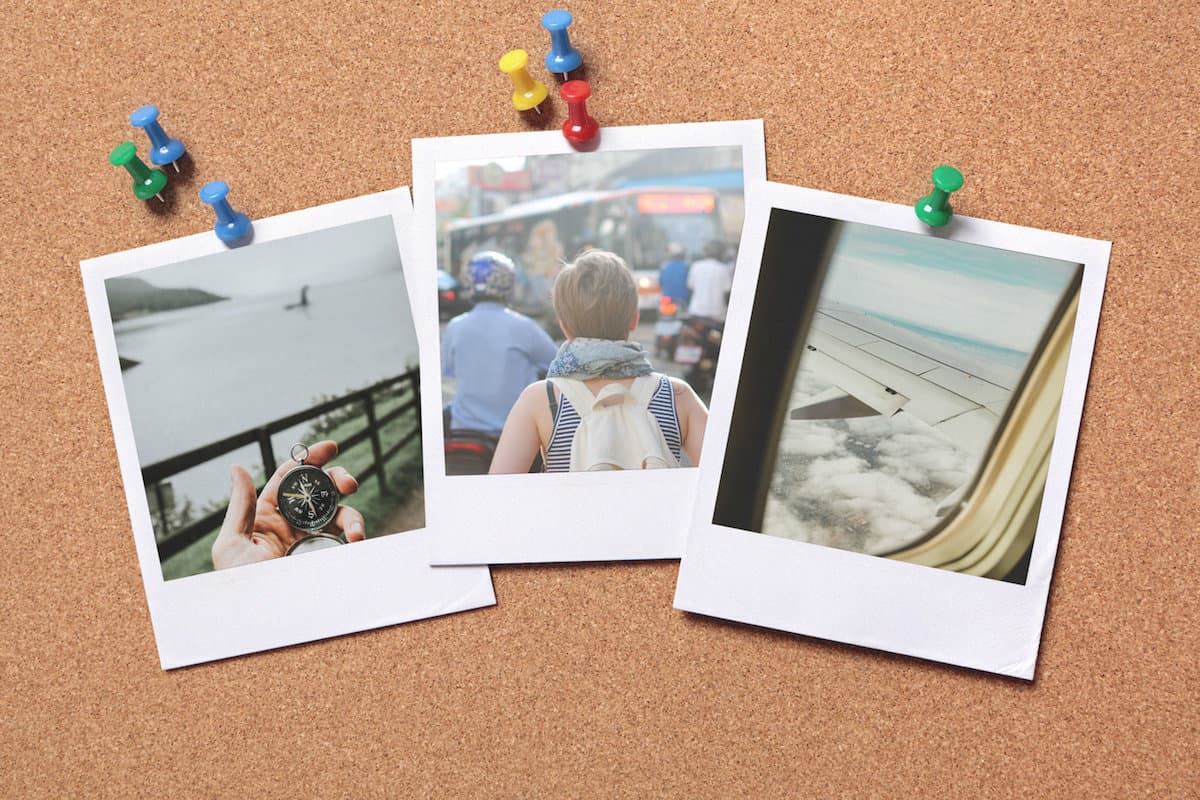 Now, despite the majority of them looking beautiful, it's often hard to distinguish where the travel photo was taken just by looking at it. For the sake of clarity and creativity, you can try a very original take on travel photo archiving. Install a sizeable enough chalkboard and draw a simple interpretation of the world map. Now, feel free to add your photo print to whichever place you visited using adhesive putties. The same formula applies to the corkboard with the only difference being the method of photo affixation. Here, you're free to use safety pins. Both methods will add a nice, creative edge to your surroundings!
---
Personalized Lifestyle Items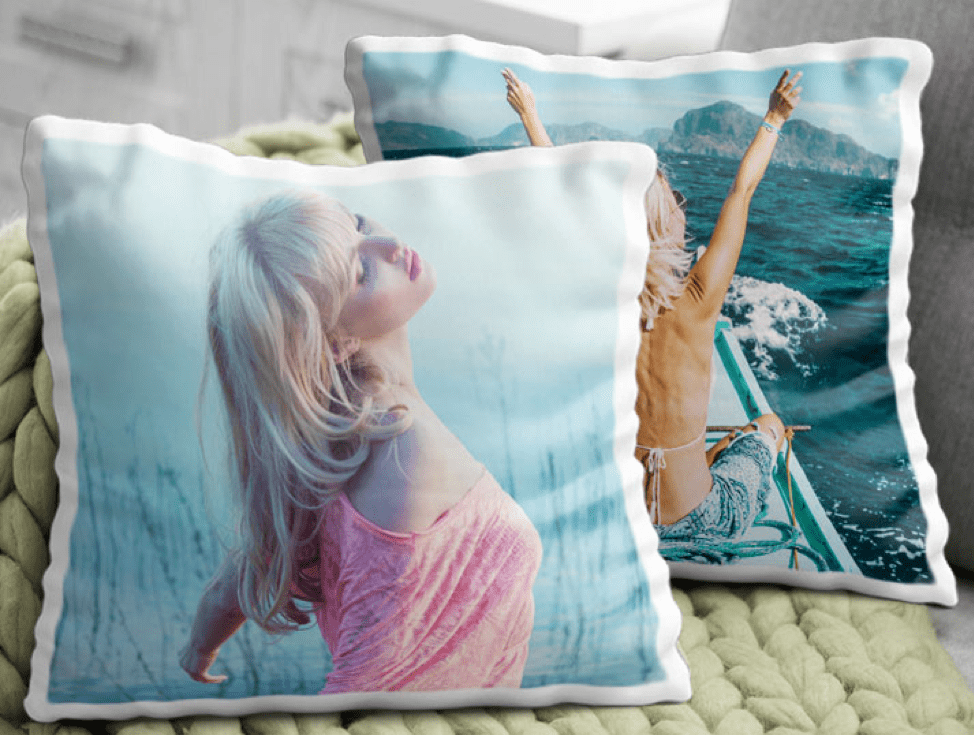 A sunset captured in Australia can travel with you to Mediterranean beaches. A prospect like this only solidifies the idea of an all-open, beautiful world! With items such as personalized photo cushions or phone cases, you'll be able to carry your most precious memory with you wherever you go. Wanderlust is, of course, one of the hardest cravings to satisfy. However, with a vivid memory of your worldly experiences right beside you, you'll feel constantly motivated to reach new heights and conquer new horizons! A little reminder of life's greatest moments won't hurt!
Already have tons of photos waiting to be displayed? You probably do. Get creative without breaking the bank! CanvasDiscount.com will be your reliable vendor if you decide to go for high-quality, low-cost photo printing!
---
About the author:
Gvido Grube is a writer and photo enthusiast working for CanvasDiscount.com. Being interested in practically all fields of interest, he likes to explore as many culture-related subjects as possible and among them, very prominently – questions regarding photography and photo printing. Always with ease and very simple – some tips that someone might find helpful or, at least – interesting.
2️⃣0️⃣1️⃣8️⃣ • 8️⃣ • 1️⃣2️⃣
---
More Tips on YouTube ⬇️⬇️⬇️