Many airlines leave customers with no choice when it comes to online payment. There's usually just one way: credit cards.
But not everyone has a credit card, and those that do own one don't always have high credit limits. Thankfully, there's a workaround. If you book your flights (or hotels) with Traveloka, you are given a much wider set of payment options. You may choose to settle via online bank transfer, via PayPal, or over the counter at Cebuana Lhuillier branches or 7-Eleven stores.
Traveloka is a handy app to have and to use, especially if you're making hotel and flight reservations on the go. For more information about Traveloka or if you just want to check it out, visit their official website: www.traveloka.com.
So yep, Traveloka provides users with multiple payment options. In this article, we'll provide you with a step-by-step guide on how to pay via bank transfer using your BDO or BPI account.
WHAT'S COVERED IN THIS GUIDE?
BPI Bank Transfer Payment Option
When using the app, here's what you need to do:
Step 1: After making a hotel or flight reservation, go to 'Select Payment' and click 'Transfer.'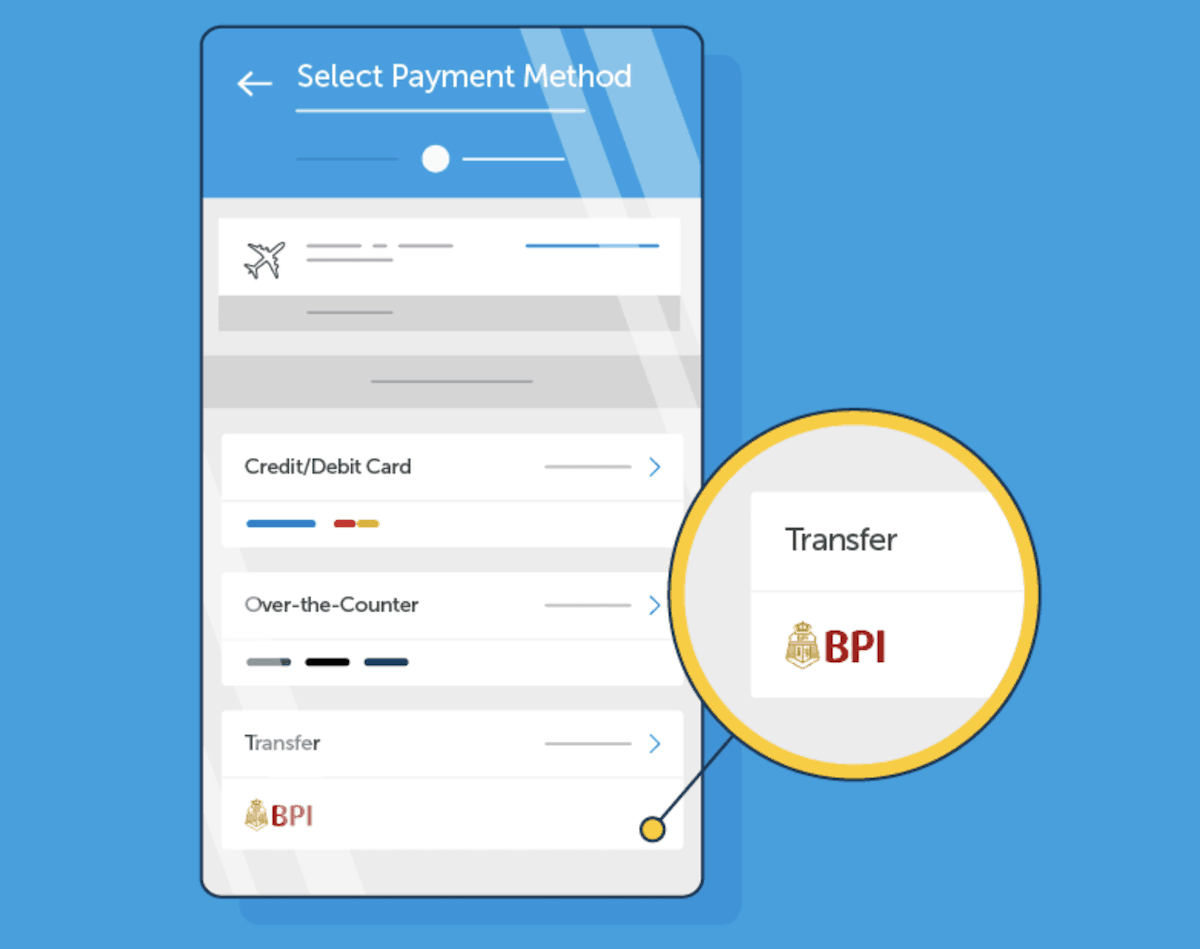 Step 2: You'll then be redirected to another page that has instructions. FYI: You will be moving between the BPI and Traveloka App – so keep track of the payment period. Input the EXACT account number and amount you have to pay from Traveloka to BPI's app. Click 'Transfer' and verify the details.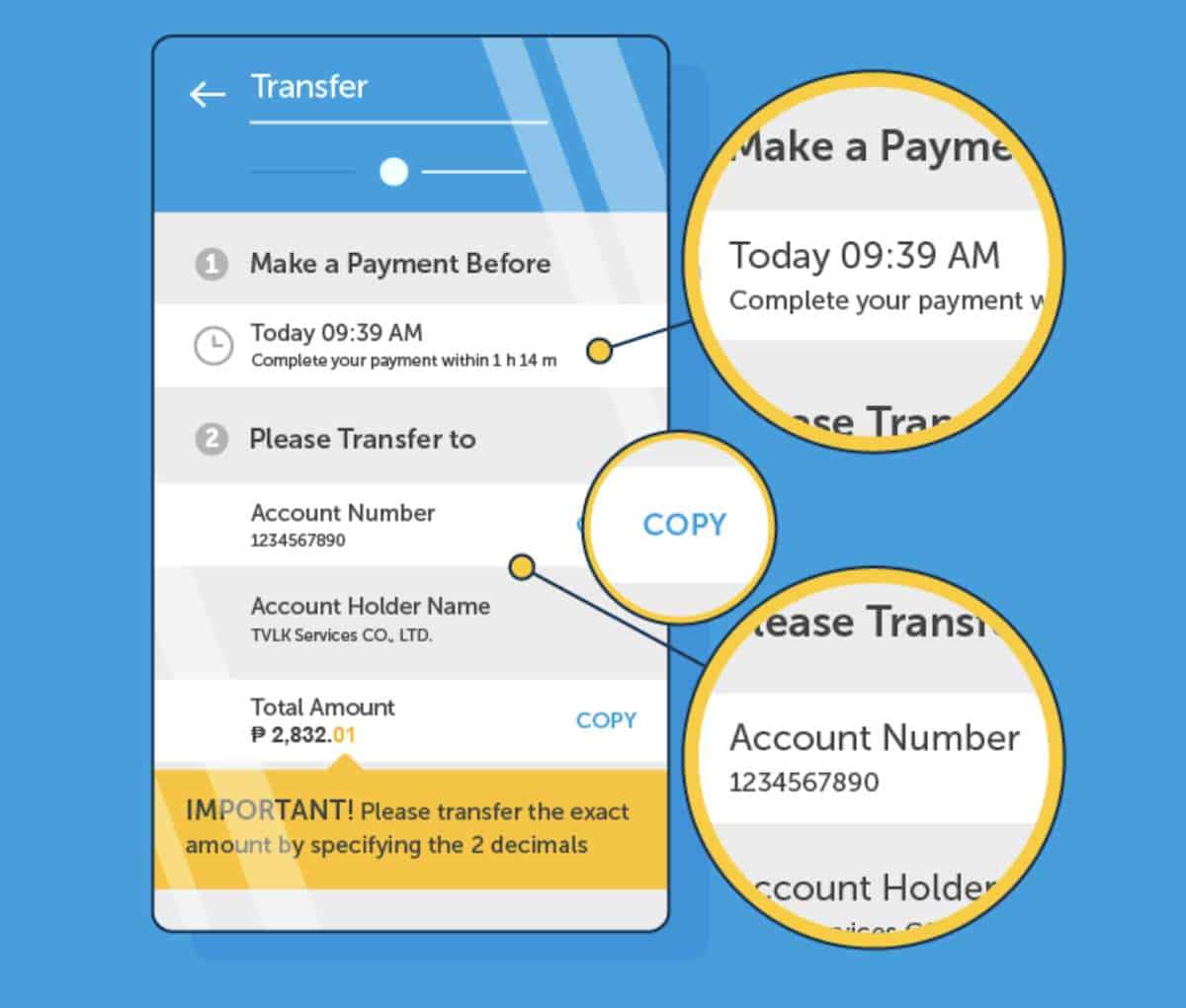 Step 3: After confirming the transfer, return to Traveloka and select 'I have completed payment.' To make the transaction faster, upload your proof of payment so that Traveloka can verify your booking.
Step 4: After payment and verification of bank transfer, check your email – this is where Traveloka will send you the voucher. You will also receive an SMS about your booking.
---
BDO Bank Transfer Payment Option
Other than BPI, you can use your BDO account for bank transfer payments on the Traveloka App, here is the step-by-step process:
Step 1: After choosing your flight and hotel, go to 'Select Payment', and click on 'Bank Transfer.'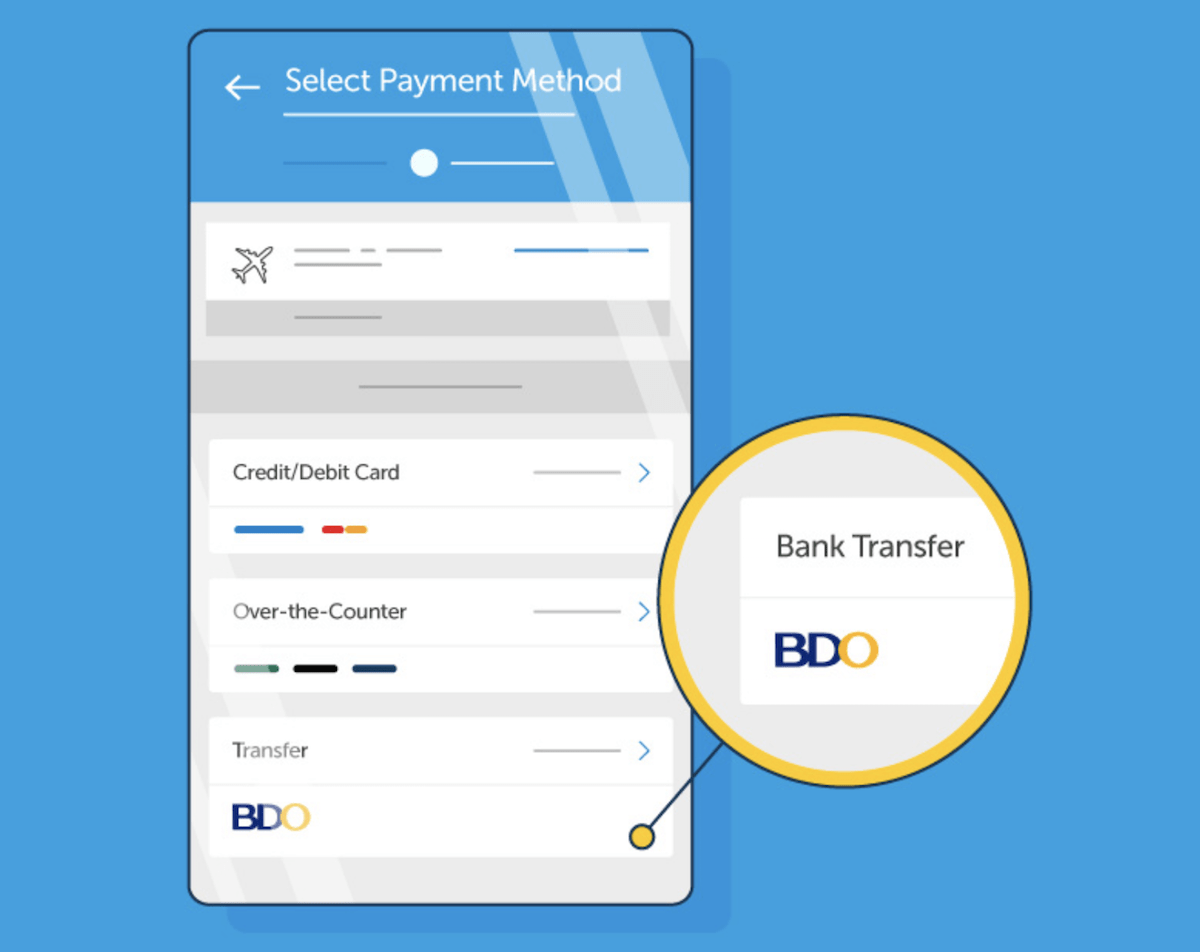 Step 2: You will then land on a page that has detailed instructions. REMINDER: You will have to move between the apps of BDO and Traveloka. Next, input the account number and EXACT payment amount (up to the last centavo) from Traveloka to the BDO app. Then hit 'Transfer' and confirm the information you entered.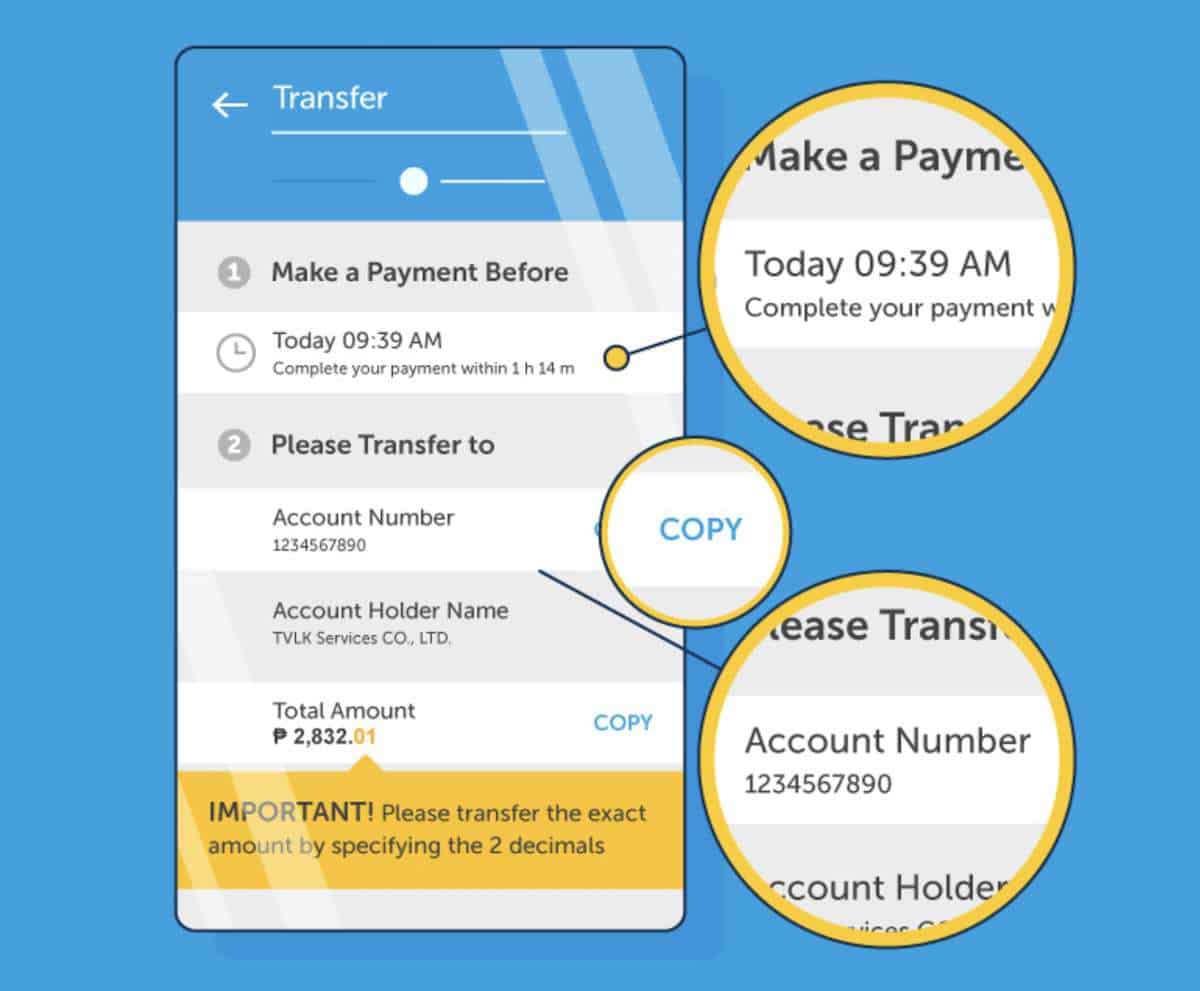 Step 3: After confirming the transfer, return to the Traveloka App and choose 'I have completed payment.' Upload proof that you've already paid to make the verification process faster.
Step 4: After everything, all you need to do is wait for the voucher, check your email if you already have it. Traveloka also sends an SMS after the verification of your booking.
You can also transfer funds from your BDO account using your desktop. Here's what to do:
Step 1: After choosing your flight dates and accommodation, go to the Select Payment section. Select 'BDO Transfer' and follow the instructions. After doing so, click on the button that says 'Pay with Bank Transfer.'
Step 2: The following page will indicate the time you have left before the payment period expires and the account where you need to make a deposit. You have the option to pay online or to pay over-the-counter at your nearest BDO branch. *IF YOU CHOOSE TO PAY ONLINE, MAKE SURE YOU ARE ENROLLED IN BDO's MOBILE BANKING.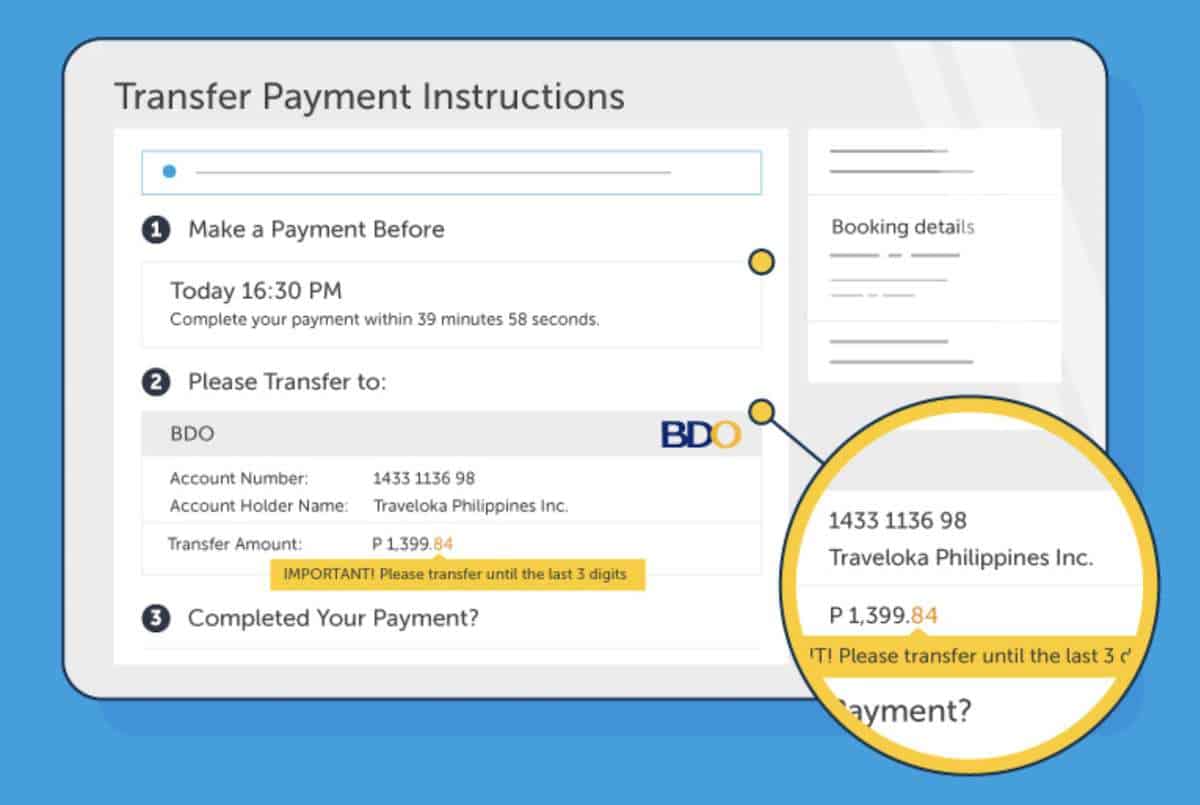 Step 3: Open your BDO app and enter the exact amount you need to pay and the account number in the corresponding spaces. The app allows users to copy and paste both details to avoid mistakes in inputting.
REMINDER: Only EXACT PAYMENTS are processed fully and verified.
Step 4: After completing the payment via app or bank, click on the 'I have completed payment' option. Upload proof of payment for easier processing and verifying.
Step 5: All you need to do now is to wait for the voucher; this won't take long. Check your email if you already received it. The app also sends an SMS upon the completion of the transaction.
---
Whether using your BPI or BDO account for bank transfer payments, Traveloka makes sure the transaction is safe and secure. They won't compromise your information. Just follow the aforementioned steps for a smooth transaction.
The app is a must for travelers because of the convenience and choices it offers. You can book several domestic and international destinations with various partner airlines and accommodations. Traveloka has promotions (some of which are app exclusive) that provide users with discounts and special rates for hotel and flight bookings. Save more money for your upcoming trip by booking on the specified dates of the promo. Their customer service is also responsive and attentive to the needs and queries of users.
---
*additional words by Yoshke
2️⃣0️⃣1️⃣8️⃣ • 8️⃣ • 2️⃣5️⃣