Yogyakarta has established itself as a prime tourist destination not only in Central Java but Indonesia in general. Its proximity to Borobudur and Prambanan is one of the reasons for the surge of tourists in the area as most of them make Yogya as their base to explore these historical sites. It is also the jumping-off point for outdoor activities like the Merapi Lava Tour and exploring nature parks.
To immerse yourself in Javanese culture, you don't even have to go too far from the city center. Kraton or the Royal Palace is a great place to learn more about the culture and the arts. And dotting the city map are places where you can learn more about the crafts and products produced by the locals — Batik textiles, silverworks, Wayang puppets, and more. If you like shopping and eating, Malioboro Street, the most famous street in Yogyakarta, is the place to be.
If you are coming from Manila, Jakarta will be your transit point as there are no direct flights to Yogyakarta from Manila at present. Also, you don't need to secure a visa if you are a Philippine passport holder because the Philippines is one of those countries who secured reciprocal Visa-Free Agreements with Indonesia.
---
WHAT'S COVERED IN THIS GUIDE?
By Air
There are two gateways to Yogyakarta: Adisucipto International Airport (YOG) and Yogyakarta International Airport (YIA). The Adisucipto Airport is located at Maguwoharjo, Depok in Sleman Regency, about 10km east of downtown Yogyakarta. It connects the city to other major cities in Indonesia and countries like Singapore and Malaysia (Kuala Lumpur). It is currently the main airport serving Yogyakarta but will soon be replaced by a bigger new airport, the Yogyakarta International Airport, that can hold the growing number of tourists.
The new airport is located at Temon in Kulon Progo Regency, west of Yogyakarta. It started its operation in May 2019 but the service is still limited. Full operation is targeted to start in 2020. Moreover, the airport is said to have a train that links it directly to Borobudur.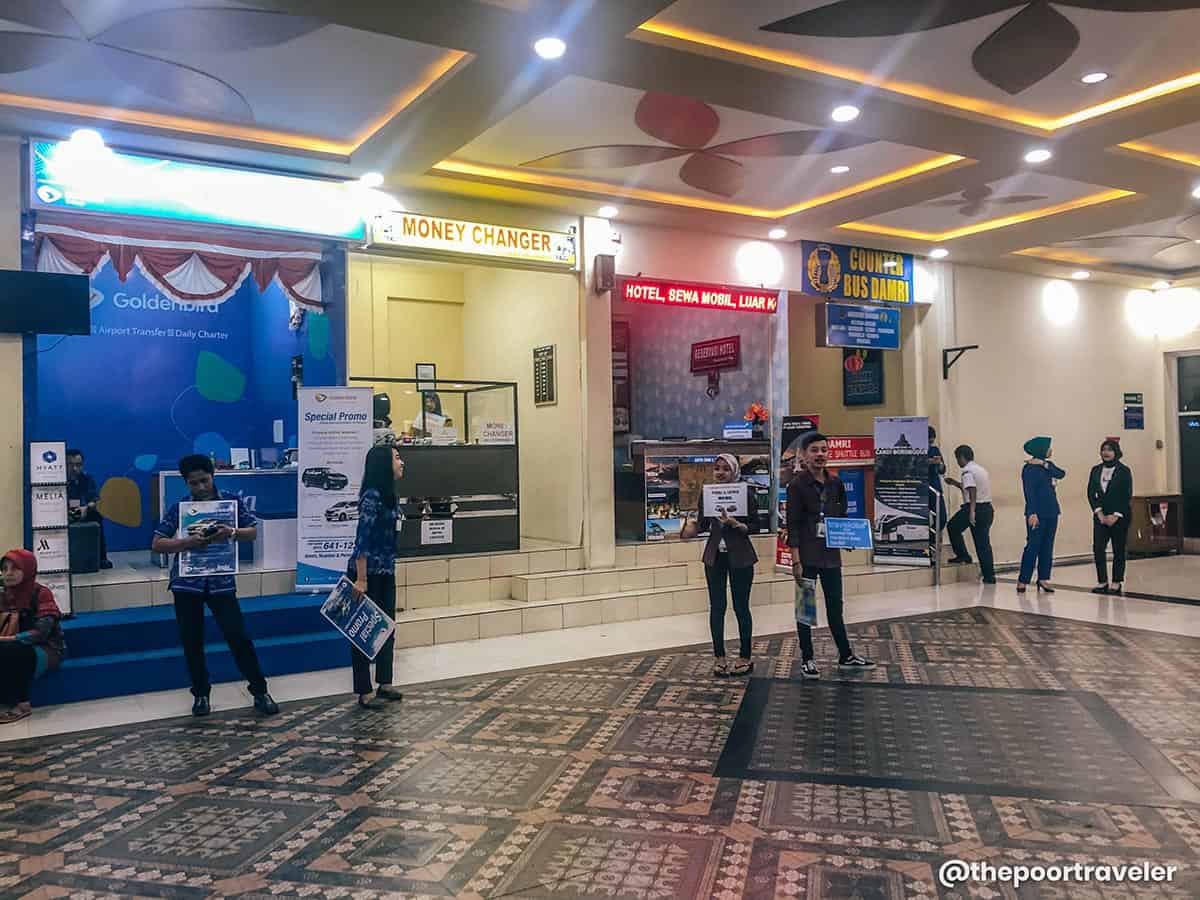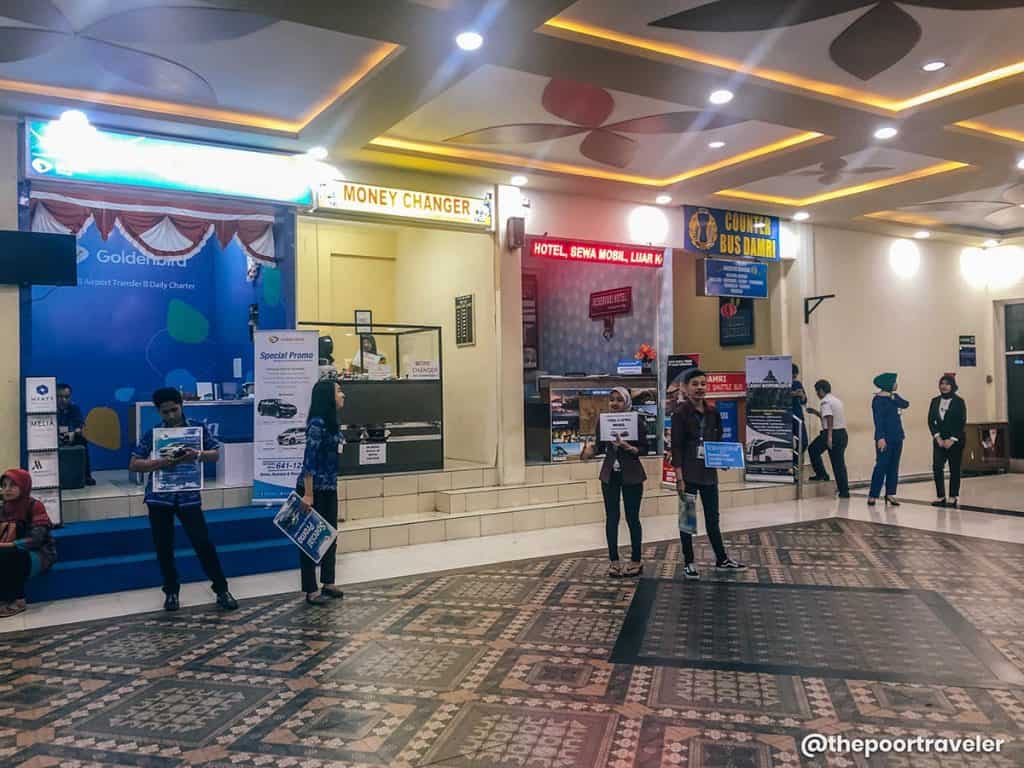 From Jakarta, you will most likely transit at Soekarno-Hatta International Airport. There are several airline companies that offer connecting flights from Jakarta to Yogyakarta via Adisucipto Airport.
Adisucipto Airport to City Center
You can reach the city center from the airport by train, bus, taxi, or ride-hailing apps like Grab.
BY TRAIN. Prambanan Express (Pramex or Prameks) is the railway service that connects the airport to the city center. It covers points between Surakarta (Solo) and Yogyakarta. The station nearest the airport is Maguwo Station, just a short walk from the arrivals exit then through an air-conditioned underpass leading to the station. Get off at Tugu Station near Malioboro Street. Fare: IDR 8,000 – 10,000 (PHP 20-37, USD .56-.71, EUR .51-.64); Travel time: Approximately 30 minutes
BY BUS. TransJogja (BRT) has routes that pass through Adisucipto Airport — Line 1A, Line 1B, and Line 3B. Take Line 1A; this will stop at Tugu Station and Malioboro Street. Fare: IDR 3,500 (single-trip ticket); Travel time: 45-60 minutes
BY TAXI. At the arrival hall, there's a counter for booking airport taxis along with the tourist information desk, currency exchange, and ATMs. The fare for the airport taxi varies and depends on the distance of your destination. Regular metered taxis are also available. Always insist on using the meter. Fare: IDR 50,000 – 150,000 (Airport Taxi) + IDR 2,000 (airport entrance fee) / IDR 25,000 – 50,000 (Regular Taxi); Travel time: 45-60 minutes.
BY RIDE-HAILING APP. You might need to walk outside the airport premises to get to your car service. Those who tried this mode of transportation had to walk 10-15 minutes to reach the pick-up point.
---
By Train
There are two central train stations in Jakarta for Yogyakarta-bound trains: Gambir Station and Pasar Senen Station. You will determine which station to depart from based on the ticket class you purchased. There are three classes of tickets — executive, business, and economy.
The executive class ticket gets you on the train that has fewer stops; therefore, it is much faster than the other two options but pricier. The business class and economy class tickets, which are the cheaper options, let you board a train with several stops. Executive and business class tickets are pretty much the same in terms of inclusions. The only difference is that executive trains have fewer stops.
The executive class trains depart from Gambir Station, while the business class and economy class trains depart from Pasar Senen Station. In Yogyakarta, there are two major train stations: Tugu Station and Lempuyangan Station. Tugu Station serves business and executive class trains, while Lempuyangan Station serves budget and economy class trains.
Travel Time: Approximately 8 hours (executive trains); Approximately 10 hours (business and economy trains)
Fares:
Executive Class: IDR 380,000 – 1,000,000 (PHP 1400-3695, USD 27-70, EUR 25-65)
Business Class: IDR 330,000 – 550,000 (PHP 1220-2030, USD 23-39, EUR 21-36)
Economy Class: IDR 180,000 – 300,000 (PHP 665-1108, USD 13-21, EUR 12-19)
Booking a Ticket:

Booking a ticket in advance online is possible. This is recommended during peak season and holidays. The official website of the National Train Company is only available in Indonesian language and might be quite complicated for foreigners. Another option is to book your ticket via www.tiket.com . If you reserved your ticket online, you must go to the designated station an hour prior to your departure time to pick up the ticket and in case a problem arises regarding your reservation, you still have time to troubleshoot it.
---
By Bus
If you are coming straight from Soekarno-Hatta Airport, Damri Bus operates there and will get you to several areas of Greater Jakarta for IDR 40,000 – 80,000 (PHP 150-300, USD 2.8-5.7, EUR 2.6-5.2). The travel duration is 60-90 minutes, depending on the traffic condition.
From the city proper, you can choose from various bus companies offering this route (Jakarta-Yogyakarta). Some of these companies are Handoyo (with toilet), Pahala Kencana, Laju Prima, Maju Lancar, Safari Dharma Raya, Ramayana, and Santoso. The main bus terminal in Yogyakarta is Giwangan Bus Terminal, about 6km from the city center.
Travel Time: 12 – 13 hours
Fares:
Non-AC: IDR 85,000 – 170,000 (PHP 315-630, USD 6-12, EUR 5.5-11)
AC (Executive/VIP/Patas/Business): IDR 180,000 – 275,000 (PHP 665-1015, USD 13-19, EUR 12-18)
You can book with 12go here: JAKARTA TO YOGYAKARTA BUSES

---
Top Budget Hotels in Yogyakarta
Here are the top budget hotels in Yogyakarta as rated by Agoda customers.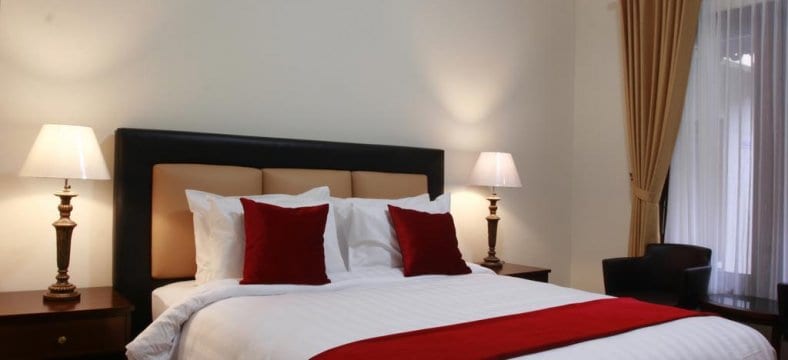 ---
---
2️⃣0️⃣1️⃣9️⃣ • 1️⃣0️⃣ • 8️⃣